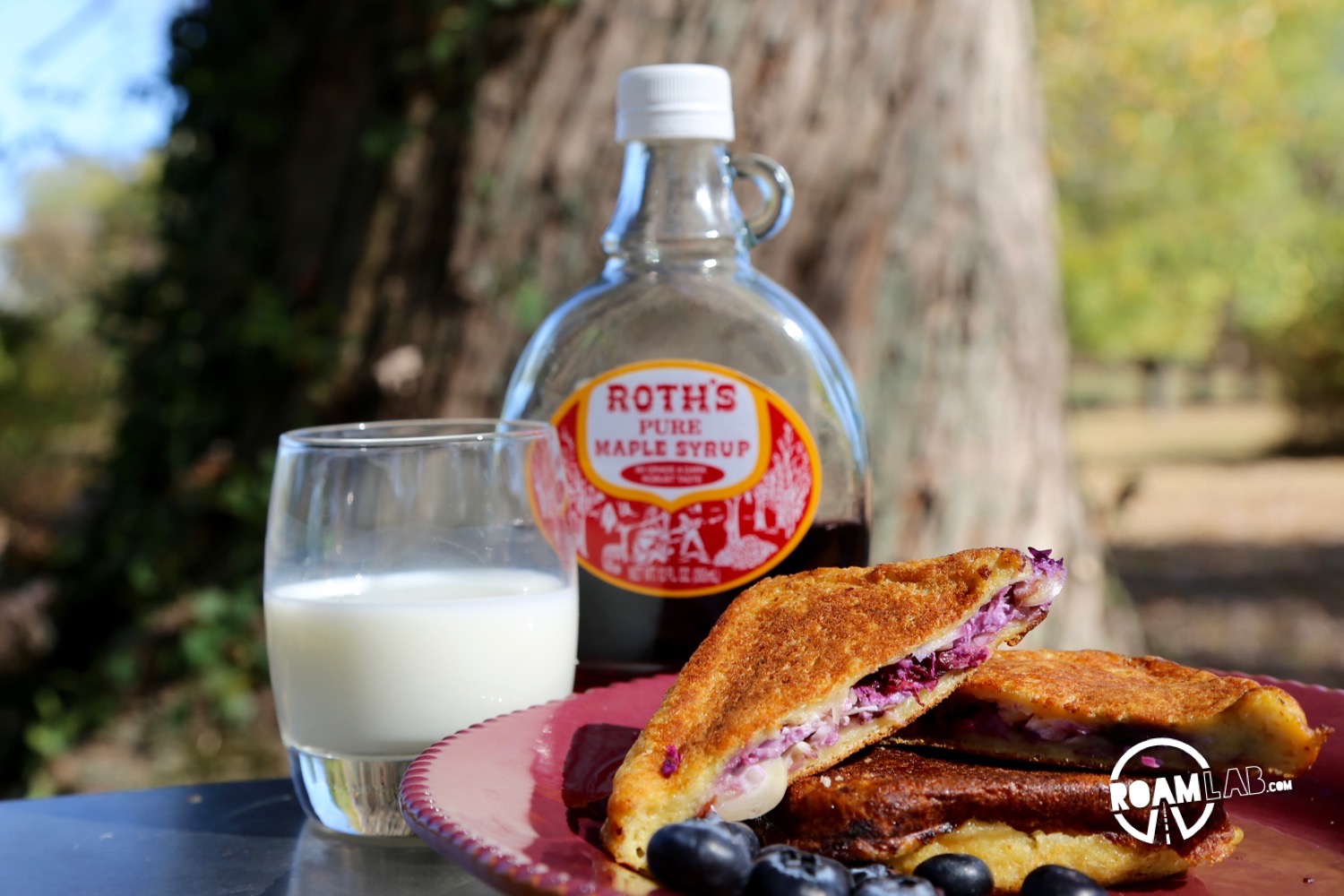 I have heard it referred to by many different names: the tonka toaster, the toastite, the pie iron, the sandwich cooker. Whatever you call it, this handy contraption allows campers to bake their meal over the open fire…in very small portions. As my first foray into pie iron cooking, I decided to make it as hard on myself as possible. Lets make a dish that is almost guaranteed to make a mess by combining two of my favorite breakfast dishes yogurt and french toast. I give you the Camper's Blueberry Almond Stuffed French Toast.
I had already seen some pie iron recipes for stuffed french toast. One in particular involved blueberries and cream cheese. I thought about it: there is another dairy product that I love to mix with blueberries for a healthy breakfast. In particular, I like to mix blueberries, sliced almonds, and coconut shavings in greek yogurt. Then, I could take this concoction that I already love and stuff it in french toast with the best type of bread: challah. It was messy and delicious.
Southwest Baked Egg Breakfast Pastry Recipe
Serves 4
Ingredients
Challah bread, 1 loaf
1 cup milk
4 eggs
1 tablespoon honey
1 teaspoon vanilla
1/8 teaspoon salt
1 tablespoon butter / nonstick cooking spray
Filling Ingredients
1 cup greek yogurt (plain)
1/4 cup blueberries
1 tablespoon coconut, shredded
1 tablespoon almonds, sliced
Equipment
Directions
Filling
Mix blueberries, coconut, and almonds in yogurt. Feel free to adjust to taste. Just be sure to go light on the coconut and almonds. A little chewiness makes a meal interesting. A lot of chewiness turns a meal into work.
French Toast
Coat inside of pie iron with butter or non-stick spray. Slice challah break in 1/2 inch slices. Cut to rough shape of pie iron. Mix eggs, vanilla, honey, and salt in a bowel. Deposit a spoonful of filling between two slices of bread. Dip bread in egg mixture. Place in pie iron. Regularly check pie iron to see that break has cooked through. Be careful to avoid ripping the french toast apart if it is stuck to a side of the pie iron. Once the egg is cooked through and the bread is a light golden brown, remove and search with syrup or your choice of breakfast topping.