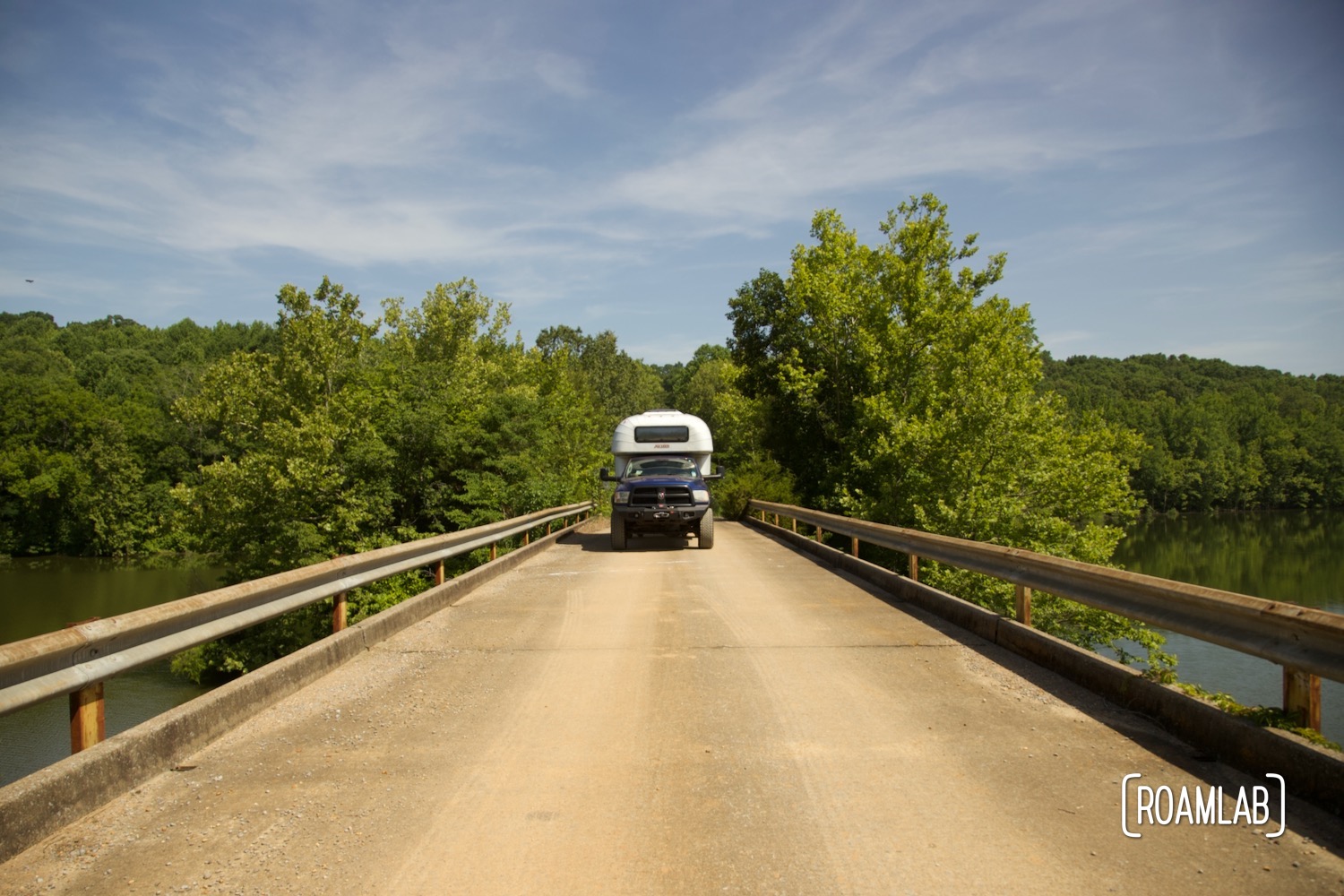 Overlanding on Forest Roads in Land Between the Lakes
Navigation, Safety, and Dispersed Camping
If you're looking for an adventure, and you have a high clearance rig with four-wheel drive, then the forest roads of Land Between the Lakes National Recreation Area are just what you need. These remote dirt roads will take you to some of the most inaccessible areas in the park, and if you're lucky, you'll be able to find dispersed camping opportunities along the way.
Before you set out on your adventure, however, there are a few things you should know. These forest roads are not for the faint of heart or ill-prepared. Fortunately, we are here to give you the lay of the land and offer pointers for a safe and fun time wheeling in the woods.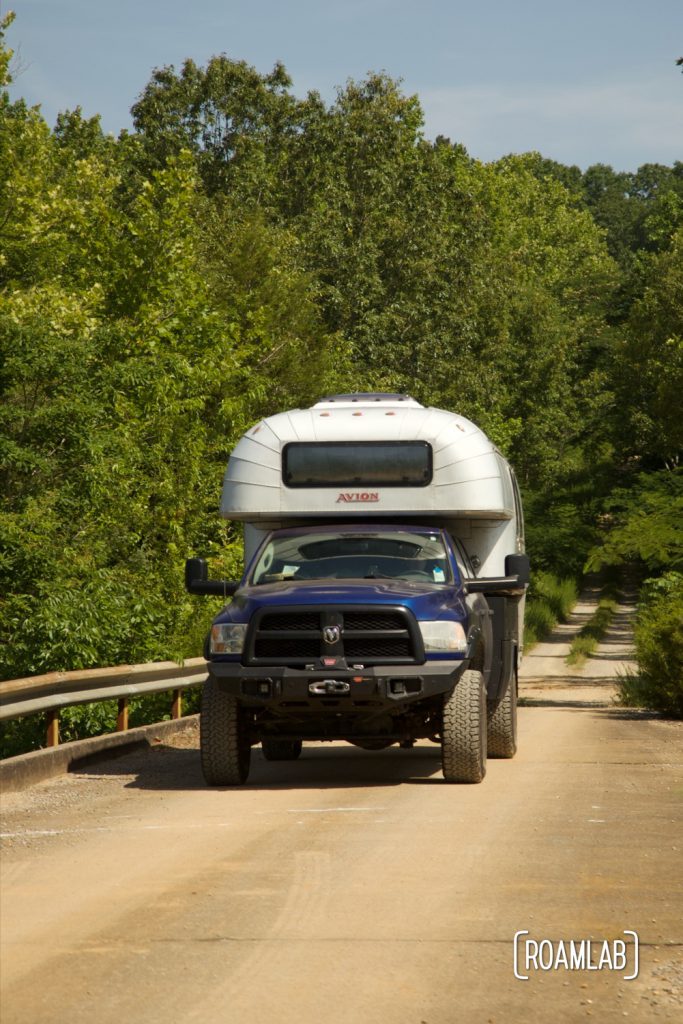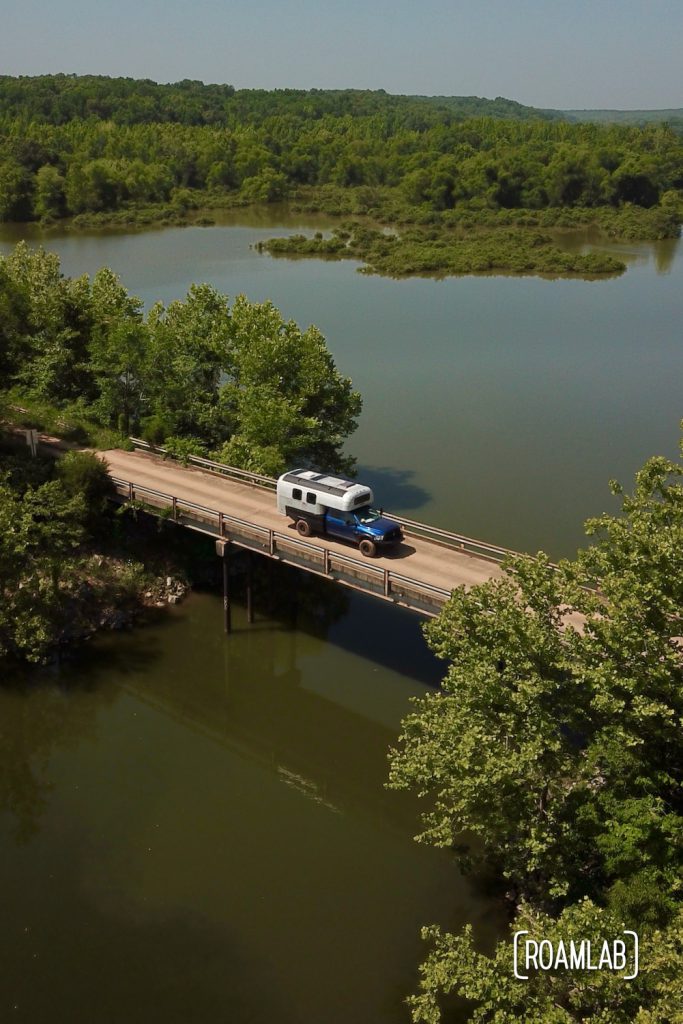 What is Land Between the Lakes National Recreation Area
Land Between the Lakes National Recreation Area is a 170,000-acre United States Forest Service Area that straddles the border of Kentucky and Tennessee. This forested land peninsula is geographically cut off from the rest of the landscape by Lake Barkley to the east and Kentucky Lake to the west. With 98,940 acres of forest, 300 miles of natural shoreline, and 500 miles of trails Land Between the Lakes is home to various outdoor recreation opportunities, including hiking, biking, fishing, and boating.
Many of the area's most popular destinations, such as the Homeplace 1850s Working Farm and Elk and Bison Prairie are accessible by the Woodlands Trace National Scenic Byway. This paved two-lane route bisects the Land Between the Lakes, connecting the northern tip at Grand Rivers, Kentucky, to its southern terminus in Dover, Tennessee. But to truly take in the full extent of what Land Between the Lakes has to offer, we will have to get off the paved roads and get into the dirt.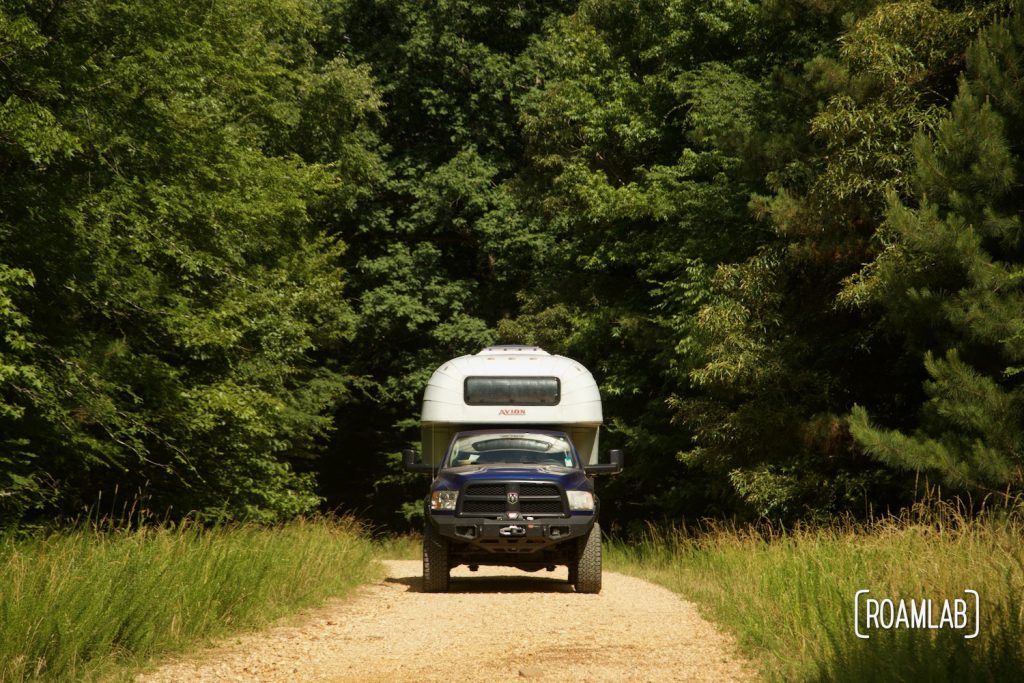 Places to Explore
While exploring the forest roads of Land Between the Lakes National Recreation Area can be fun in and of itself. There are more than just rough roads to conquer. We have the opportunity to see some of the most beautiful and remote areas of the park. Along these forest roads, we can find vistas that stretch for miles, access points to the shoreline, opportunities to view wildlife up close, and historical landmarks.
Before Land Between the Lakes was a wilderness area preserved by the Forest Service, many farming communities called this region home. While the people themselves were displaced by eminent domain as part of the Tennessee Valley Authorities (TVA) electrical works in the early 1940s, many of the old homes and buildings remain. Some notable structures were relocated to the Homeplace 1850s Working Farm. But others are only accessible by rough forest roads. Explore old cemeteries, tobacco bars, overgrown fields, and dilapidated farms. With a little bit of imagination, you can almost feel like you've stepped back in time.
In addition to the historical landmarks, Land Between the Lakes is also home to abundant wildlife. Deer, coyotes, foxes, river otters, and various species of fish can all be found in the park. With over 300 miles of shoreline, Land Between the Lakes is also a great place for bird watching. Various waterfowl, bald eagles, and osprey can all be found in the park.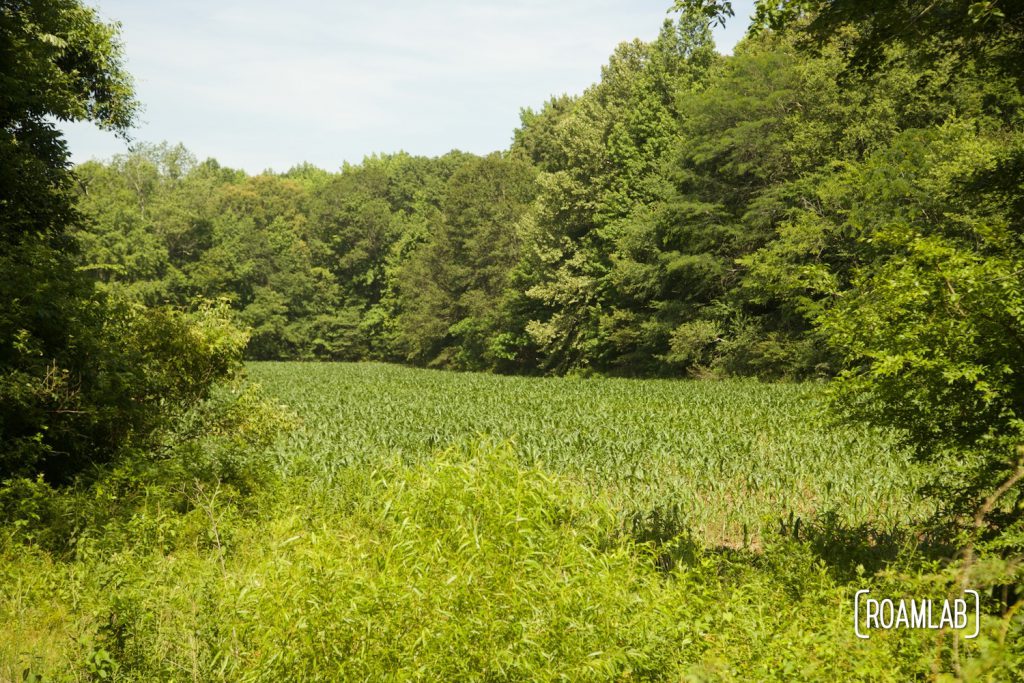 Vehicle Requirements
Exploring the forest roads of Land Between the Lakes National Recreation Area can be a daunting task, but with the right vehicle, it can be a rewarding experience as well. For those who are new to exploring forest roads, we strongly recommend confirming your planned route and vehicle with a forest ranger in advance. Trail conditions vary with the season and recent maintenance efforts. So our advice beyond this is contingent on a ranger's more current trail knowledge.
What makes Land Between the Lakes such a unique geographic feature is how this ridge of land rises dramatically from the lakes that flank it. That elevation change translates into some steep terrain that can be particularly challenging when churned into mud. A high clearance four-wheel drive vehicle is necessary, as many of the forest roads are rough and unpaved.
Know Your Rig's Limits
As much as high clearance is important, so is an awareness of overhead and side clearance. While the main forest roads are relatively well-maintained others can be obstructed by overgrown trees and brush. We have high clearance and four-wheel drive, but with our 1970 Avion C11 truck camper in the bed of our truck, we stand 10′ 6″ tall. Many trails that are accessible to Jeeps and other smaller rigs could result in some massive dents for us. So, we play it safe and stick to the better-cleared trails
Come Prepared
Before launching down any trails, ensure you are fully prepared. Make sure that your vehicle is in good working condition. Gas up and confirm that you have a spare tire, as you may be miles from the nearest town or service station. Come prepared with a map of the area, as cell phone service can be spotty at best. And finally, make sure to let someone know where you're going and when you expect to be back, as many of the forest roads are remote and isolated.
Preparation Check List
Get a detailed map of forest roads (available at forest ranger stations)
Pack a spare tire & recovery equipment
Check the weather and pack appropriate gear
Bring water and snacks
First Aid kit
Cell phone & charger (sometimes there is service)
Let someone know your planned route and expected return time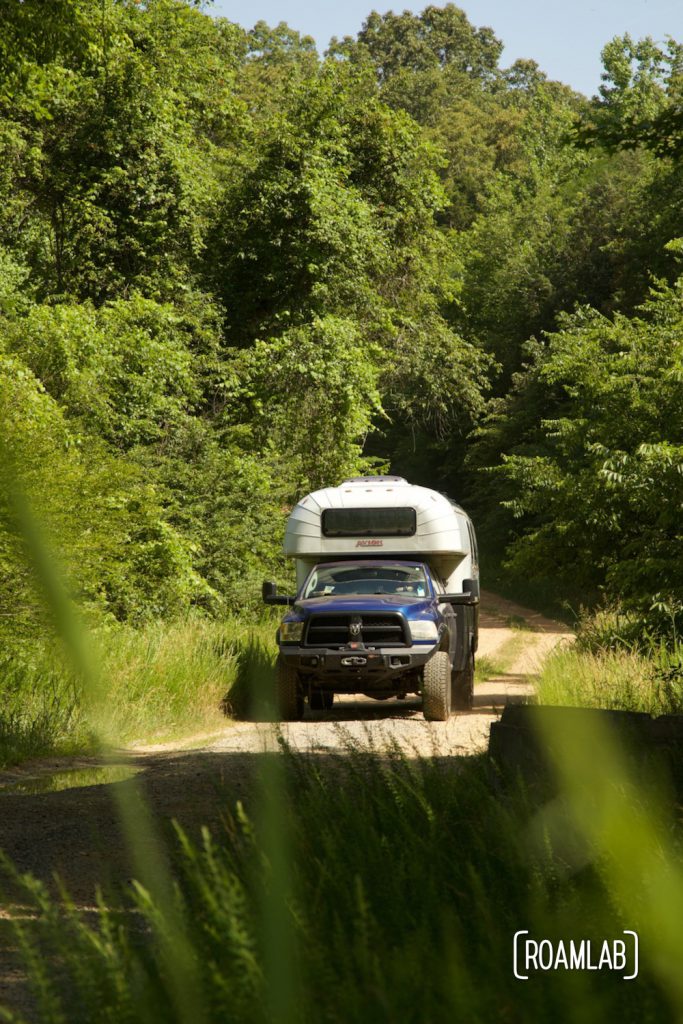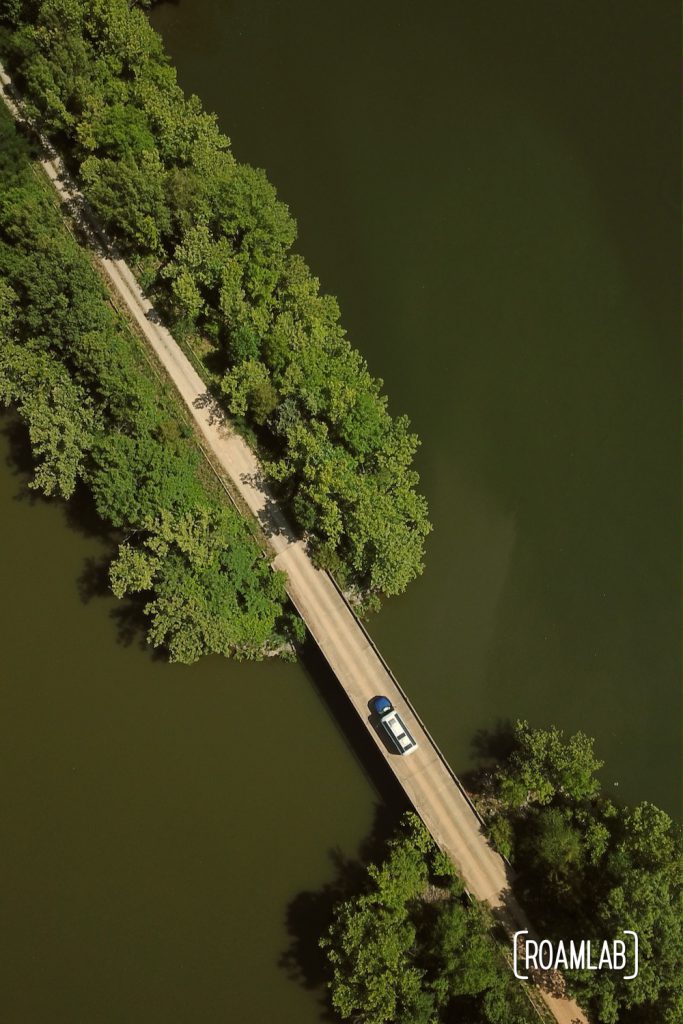 A Seasonal Risk
A lot of our precautions are around being self-reliant. We never encounter another vehicle while exploring the dirt forest roads of Land Between the Lakes. But we visit on a weekday in the summer. There is a season when other people should be top of mind: hunting season.
Along with hiking, biking, horseback riding, and fishing, hunting is a popular activity in the Land Between the Lakes. So be aware of when, where, and what is a fair game ahead of time and consider taking extra precautions such as wearing hunter orange or other bright colors to avoid being mistaken for something else.
Navigating the Forest Roads
Regarding navigation, the most important thing to know about the forest roads of Land Between the Lakes is the numbering system. Many of these roads don't have a name, they just have a number. But that number is far from arbitrary. The lower the number, the more accessible the road is likely to be. Trails in the 100s tend to be fairly drivable. Some are even paved such as Forest Road 134 to Energy Lake Campground and Woodlands Nature Station.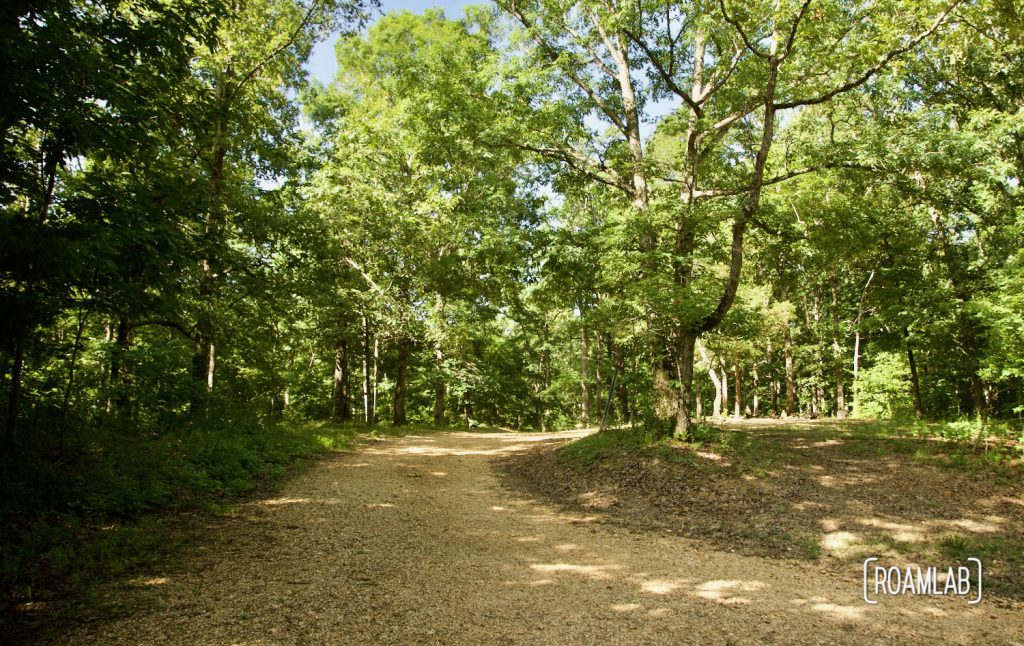 In contrast, forest roads number in the 200s can get a bit dicier. These roads will be dirt, more narrow, and less maintained. That said, they are generally still quite drivable, even for our truck with the camper in the back. We drove the length of forest road 201 without incident. But that's far from all roads in the 200s. So, we check ahead with a forest ranger to confirm our plans.
The trend continues with trails in the 300s. These are the least passable of the collection. Some are more attainable than others, but all are narrow and rough. From our experience, these are mainly Jeep trails. We are too tall to even chance most of these routes. Don't count on being able to drive these without prior knowledge of the terrain. Be prepared to have alternatives should a trail prove impassable.
A note on Navigating with Google Maps
We've covered this before on past back road misadventures such as our trip to White Pocket, but Google Maps are terribly unreliable in the backcountry. While many of the better-developed forest roads we travel are reasonably accurate, we also encounter several phantom roads that are marked on our phone screens but we can not find any evidence of a road ever being there. The opposite is true as well: there are forest roads in Land Between the Lakes that do not appear on Google Maps. Google can still be useful, but be sure to get official maps from the Forest Service rather than relying on your phone!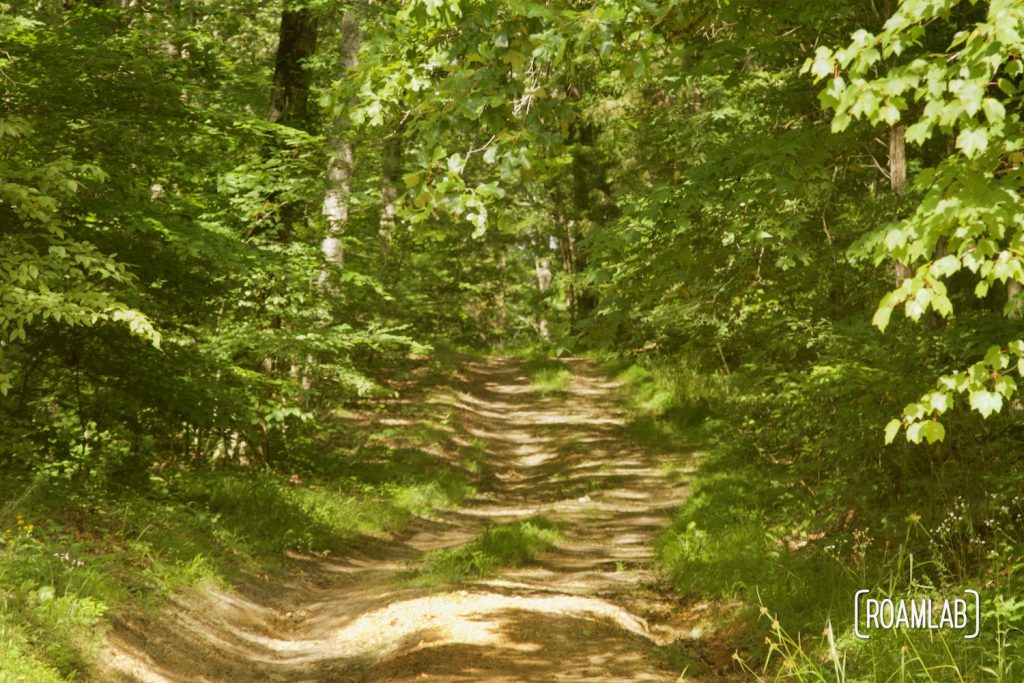 A Landscape in Flux
As noted earlier, all of this general knowledge is contingent on the current season, weather conditions, and trail maintenance efforts. According to the forest ranger that we spoke with, most of the trail clearing efforts tend to happen in the late spring and early summer. As such, trails can be fairly overgrown if rangers have not gotten to that part of the forest.
When we visit in the early summer of 2022, many of the roads we travel are well cleared, but recent severe thunderstorms also mean that fallen branches obscure some roads. Even paved roads like the scenic Kentucky Lake Drive have dangerously low-hanging branches. Evidence of the devastating tornado that shredded through southeast Kentucky is still present in parts of the Land Between the Lakes. The tree trunks have been cleared from the road, but we see them clearly along the shoulder.
Wet weather in this hilly countryside can lead to some particularly difficult terrain. We visit in the middle of a heat wave and find solid traction on the parched earth. But we see the old churned ground where past vehicles encountered more wet conditions.
Size up any trails you intend to tackle before turning on one. Many of these narrower routes barely have enough room for a small vehicle to drive down, let alone turn around. At one point, we have to back out of a trail that proves too overgrown for us to proceed and too narrow for us to turn around.
Dispersed Camping on the Forest Roads
Land Between the Lakes offers an unforgettable camping experience for those who are looking to get away from it all. Dispersed camping is camping outside of an official campground. This can include almost any remote spot in the forest. Popular choices include the end of forest roads and along the shoreline of either Lake Barkley or Kentucky Lake. This allows for a remarkable degree of seclusion but comes with its challenges. Campers need to pack in and pack out their equipment and supplies. This includes any shelter, food, water, and waste supplies. Be prepared for all weather conditions and pack out all trash.
Unlike dispersed camping in many Bureau of Land Management areas, a camping permit is required for dispersed camping in Land Between the Lakes. Campers can purchase an annual or three-day permit online or at any of the Recreation Area facilities. Even with an annual permit, however, one can't simply live in the back woods. Campers are limited to a maximum stay of 14 nights over any consecutive 30-day period. Should you reach the 15th day, the camping unit and occupants must move off the Land Between the Lakes National Recreational Area.
Selecting a Dispersed Campsite
Without a clearly delineated campground, it can be complicated to determine where one can and cannot camp. In general, sites should not obstruct any roads, keep a reasonable distance from bodies of water, and cause minimal damage to the plant and animal life nearby. Refer below for a full list of prohibited sites.
Prohibited Dispersed Camping Areas
Within cemeteries, picnic areas, and day-use areas
With horses
Nightly fee campgrounds
Colson Hollow Group Camp
Brandon Spring Group Center
Woodlands Nature Watch Area between Mulberry Flat Road and Silver Trail Road, east of Taylor Bay to Lake Barkley
Within 200 yards of US68/KY80, Woodlands Trace National Scenic Byway (formerly The Trace), Mulberry Flat, Silver Trail, KY Lake Drive, and Fort Henry roads
Within 200 yards of any public day-use facility, Nature Watch Demonstration Area in TN south of Ft. Henry Road, or Central Hardwoods Scenic Trail
Maximum stay, 14 nights during any 30 consecutive days. On day 15, the camping unit and occupants must move off Land Between the Lakes National Recreation Area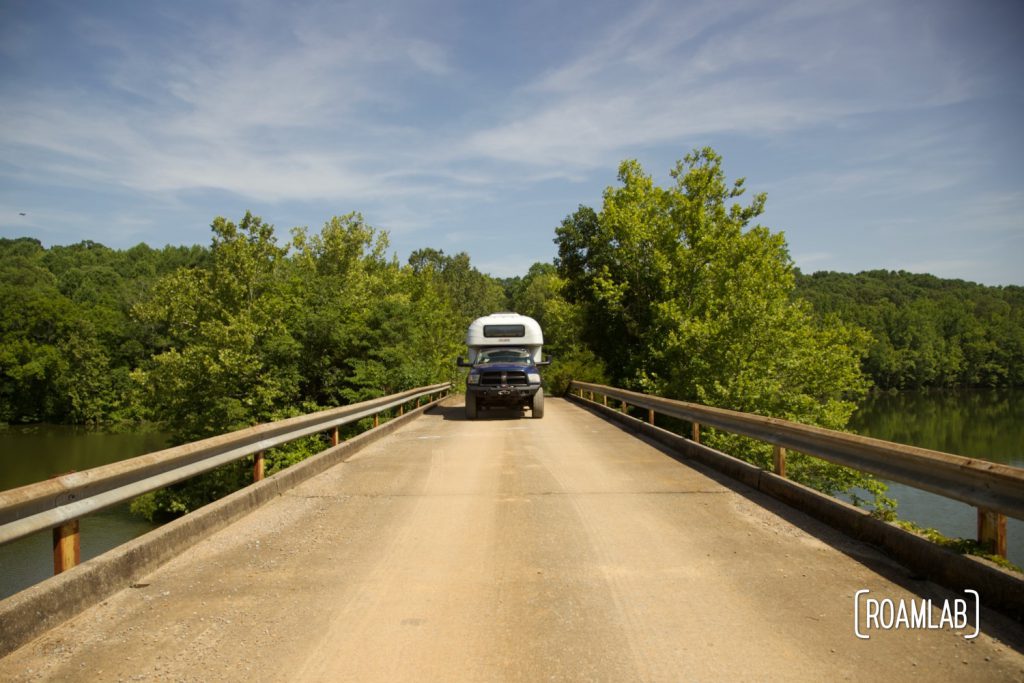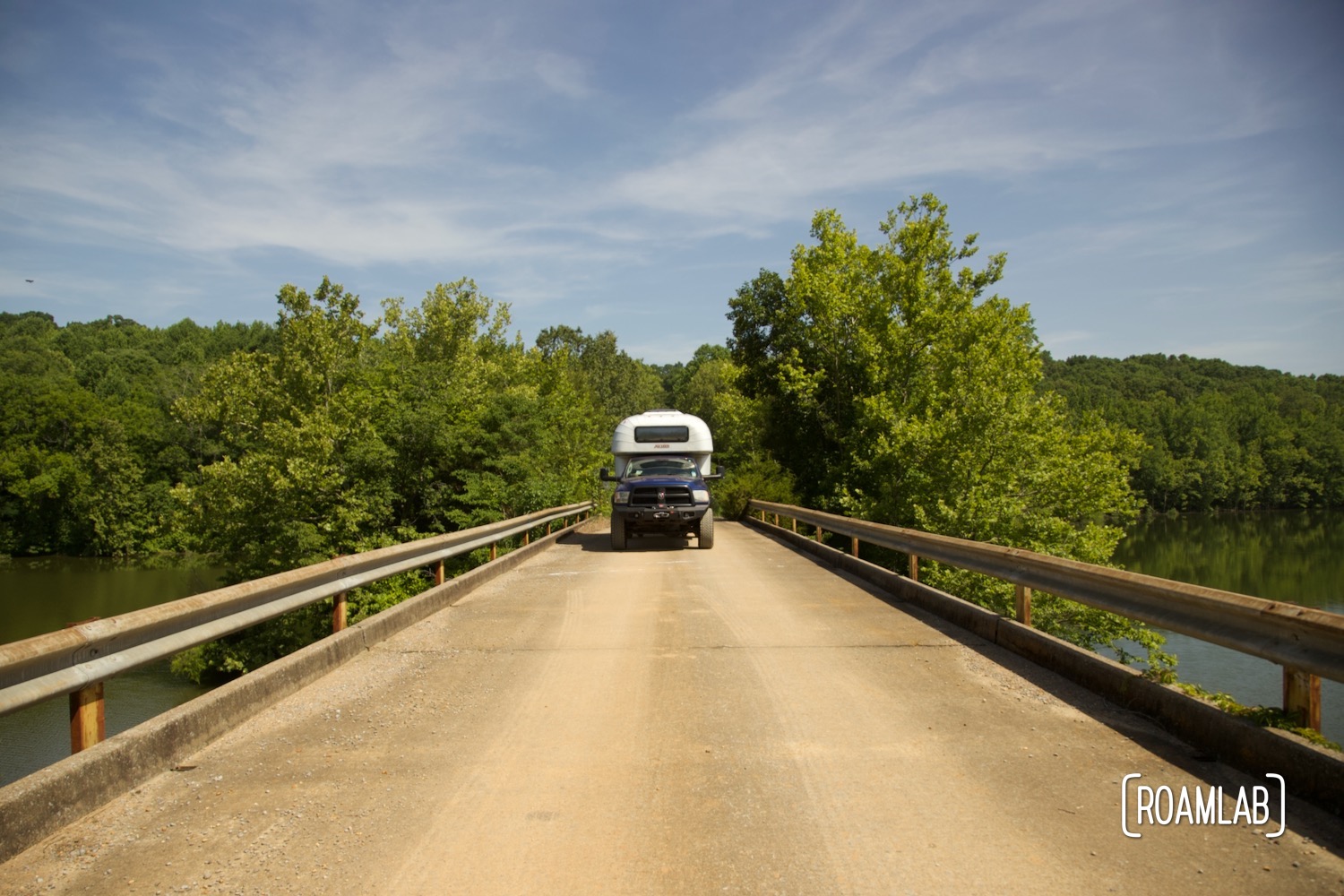 See you on the trail!
While this may have been a lot of information to absorb for what could be considered a car ride, we hope we have provided enough details to allow you to explore the forest roads of Land Between the Lakes with confidence. Do you have any pointers of your own to share or favorite trails to hit? Let us know in the comments!
Have fun and be safe!