Custom Truck Bed
More than half of the square footage of out 2015 Ram 3500 Tradesman is the truck bed. It holds our 1970 Avion C11 truck camper but it could be so much more. So, we are launching on our greatest truck mod of all by building something completely new: a custom truck camper bed. Follow along for the design, install, and final tour of a unique solution to truck camper living.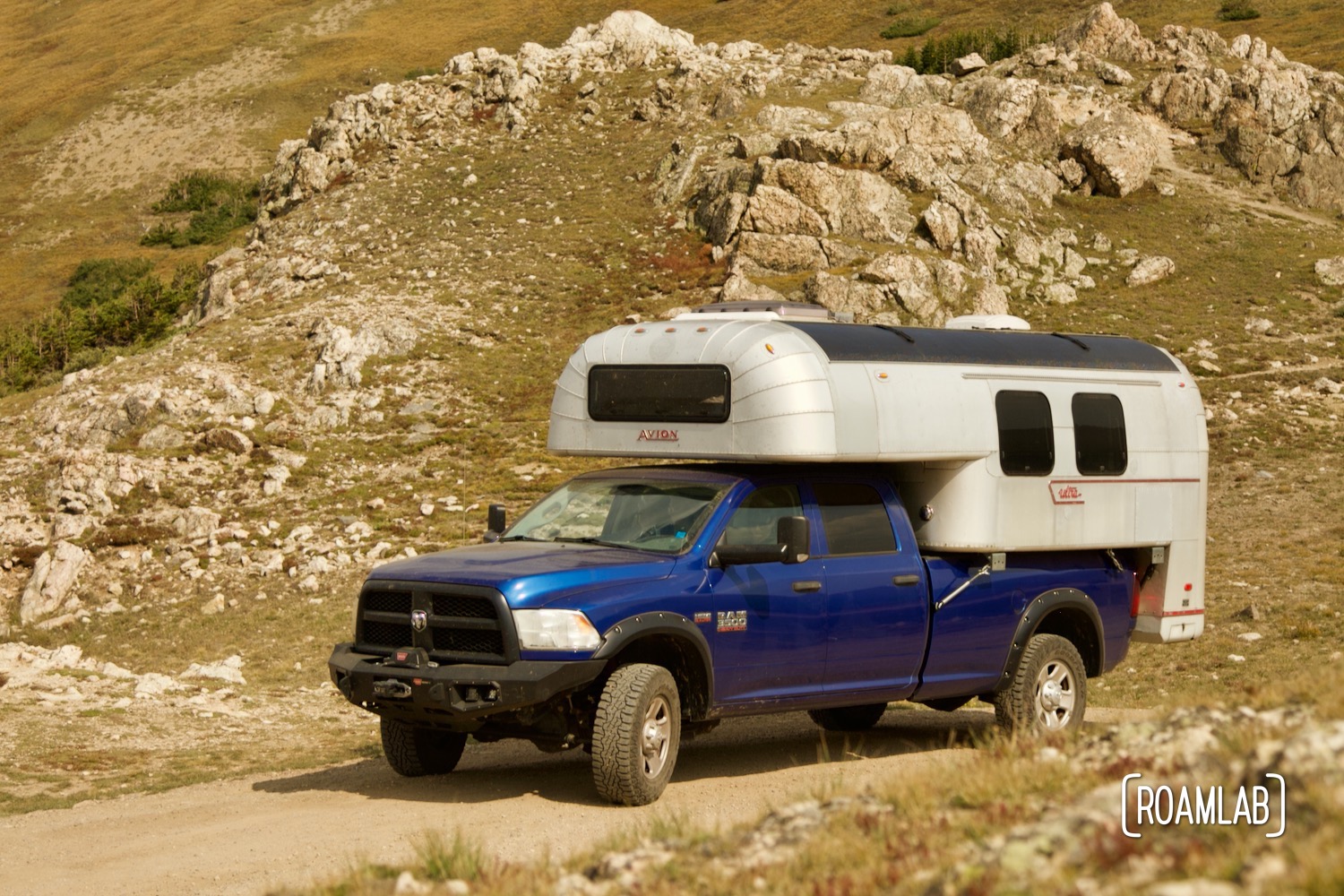 2015 Ram 3500
The Problem
A Waste of Space
There's no doubt, we love our 1970 Avion C11 truck camper. As far as we are concerned, it is the best rig for us. But we can't deny it is lacking in the storage area. Worst of all, when it comes to space, there is one glaring area that is being wasted: our truck bed.
Starting simple
We bought our 2015 Ram 3500 as a bare-bones Tradesman model. Sure, it's blue, but that's pretty much the only flair it had. Over the years, we've added a Warn bumper and winch, fender flares, and a tie-down system, but, overall, it's pretty much the basic truck it's always been and that includes the bed.
Making room for a factory bed
Most truck campers are designed to have cutaways along the floor area to make room for the wheel wells. Then the camper walls flair out and hang over the truck bed sides. This means that there's a lot of space around the wheel wells that aren't being used.
Until now…
We are upgrading the bed to better serve our truck camper and overlanding needs. That means a custom bed with built-in storage boxes to accommodate additional items and a rugged design meant for our active lifestyle. In a rare diversion from our usual DIY approach, we are contracting with a professional for the bed, Brent Bowen of Bowen Customs, but we still dabbled quite a bit with its design and installation.
The Design
We are very hands on with anything having to do with our camper. So, it's only natural that we are very involved with the design of our truck bed. They key is to optimize storage space while still leaving wiggle room for mounting and unmounting the camper. But working with a hand made vintage camper means that even the smallest detail can make a world of difference.
Read More
The Install
After a long design and fabrication process, we are excited to finanally be able to dismount our truck camper from the factory bed for the last time and watch the new bed come together before our eyes. The modular design of the bed means that we can watch the storage boxes be bolted onto the bed. Each step finally bringing our vision to reality.
Read More
Down to the Details
Truck bed accessories and follow-up mods
Quick-Release Bracket
Two-Part Jack Mounting System
Easily and securely fasten a truck camper to its jacks with this solid and descreet mounting system.  These quick-release brackets include a discrete mounting plate that is permanently bolted to the truck camper wing and a removable bracket that slides into the mounting plate when needed. It's a heavy-duty stainless steel combo designed and fabricated by the Bowen Customs team and allows us to easily mount and unmount the truck camper when needed and stow away the bracket when not.
Read More
Custom Tie-Down System
L-Track, Mount Points, & Turnbuckles
With the new truck bed comes a new method of securing our camper to the bed. Rather than exposed turnbuckles and chains, we have an internal system of airline-style L-tracks, ratcheting straps, and a custom mount point integrated into our new jack points. It all makes for a secure and sleek solution for an often messy problem.
Read More
Additional Mods
Now that we have our new Bowen Customs truck bed, there's a few other parts of our truck camper system that we have to update. Our old factory bumper may fit the factory bed like a glove, but it will need a little trim before it plays nice with the sleek and stylish shape of our new bed. In addition, our old tie downs need a little trim to fit our new, discreet tie-down system.
More DIY Projects
1970 Avion C11 Truck Camper
It's hard to talk about the truck without addressing the camper.  After all, we bought the 2015 Ram 3500 to carry our 1970 Avion C11 slide in.  This classic aluminum design stands out on its own, but we have done a lot of work to bring it out of the mid-century and into the modern-day with structural and technological upgrades.
Get the Whole Story