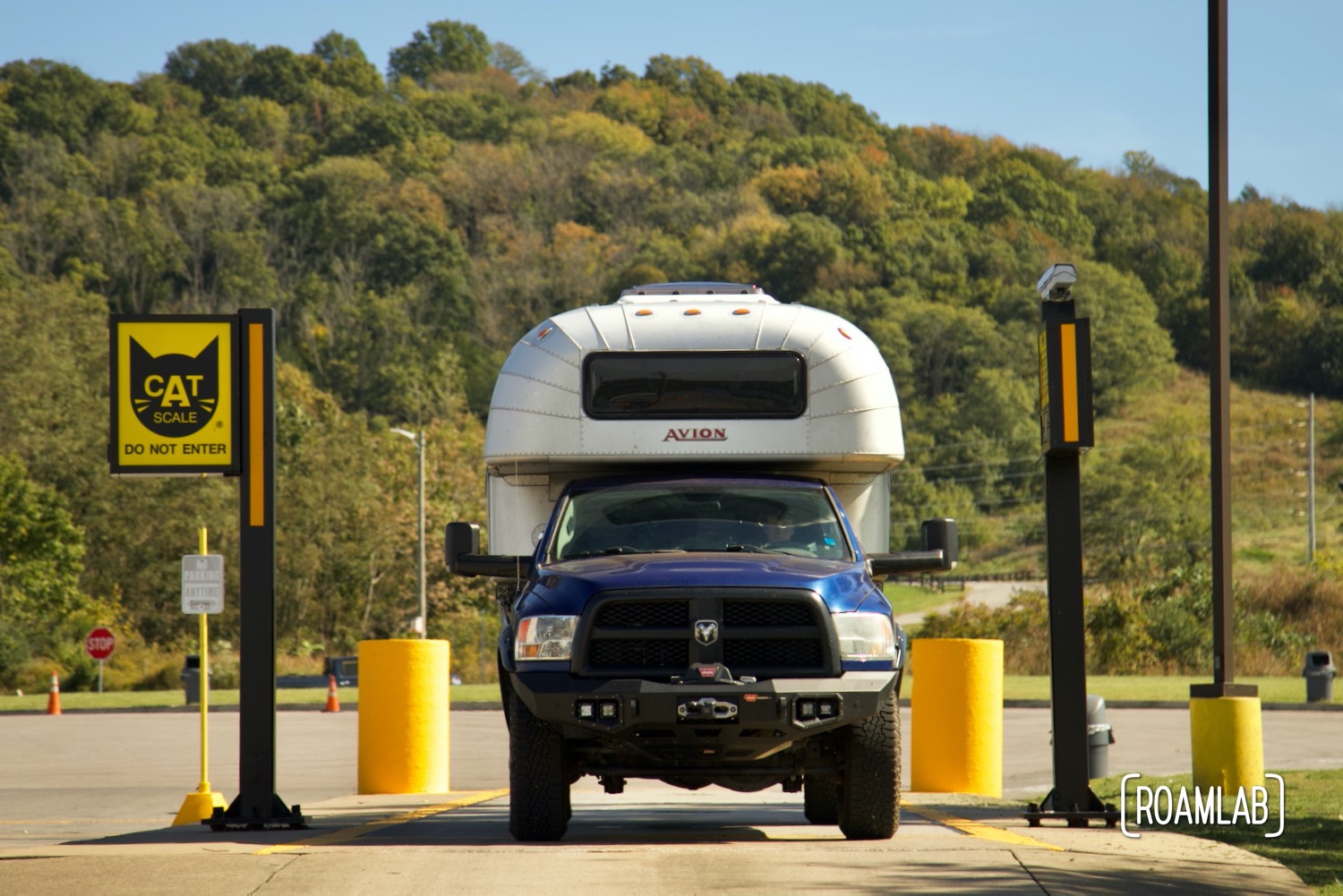 RV Weight
DIY Truck Camper
After "is that an Airstream?" and "What year was that made?" the most common question we get about our 1970 Avion C11 truck camper is "How much does that weight?" It's an understandable question. Weight in campers is a critical variable. Heavy campers need bigger trucks, consume more gas, and cause more problems on trails. Camper manufacturers list their campers with dry weight and estimated wet weight.
But what about campers with after-market modifications? We gutted our Avion and have been rebuilding it from subfloor to roof. What it weighed in 1970 has very little to do with what it weighs today. Fortunately, there are scales designed for vehicles our size and much larger. While there are some creative solutions that might save a bit of money, we prefer the CAT scales. Most truck stops across the US have a set of CAT scales that you can drive on and get an official weight of your front and back axels as well as trailer weight. These were installed for the trucking industry but anyone can pay to use them. Throughout our build, we have been weighing our camper to keep a gauge on how the weight has changed. And its shift over the years has been expressive of the progress we have made in between each weigh-in.
A note about camper weight: There are a lot of variables that can change the relative weight of our camper. While we are attempting to measure the difference in weight caused by our modifications, the amount of gas in the truck tank and random items in the truck and camper can change the weight. We do our best to remain consistent across weigh-ins by cleaning out the camper and truck. As the photographer, I am not in the truck when it is being weighed. As the driver, Chris is. Up until 2021, we attempted to reproduce the gas tank fill amount of the original camper weight (about 3/4 full). But in 2021, we switch to filling the tank completely for a more replicable weight.
Spring 2017 Camper Weigh-In (2837 lbs)
No sooner did we acquire our Avion camper than we weighed it. On our drive back from the previous owner, a new camper perilously perched in our truck, we stopped by a truck scale and registered our first weight. This begins our trend of intermittently weighing the camper as we modify it. But it is different from future weigh-ins because the camper weight includes the bedding, clothing, and ancillary gear that came with the camper when we picked it up from the previous owner. In future weigh-ins, we will unload anything that isn't part of the camper itself. But at this time, we barely managed to record a weight before unloading the camper and getting to work. Regardless, this sets an upper weight limit that we hope not to exceed in the future.
| | Truck w/ Camper (lbs) | Truck w/o Camper (lbs) | Camper (lbs) |
| --- | --- | --- | --- |
| Steer Axel | 4180 | 4,046* | 134 |
| Drive Axel | 5620 | 2,917* | 2703 |
| Gross Weight | 9800 | 6,963* | 2837 |
5/28/2017 Cat Scale Weight with Camper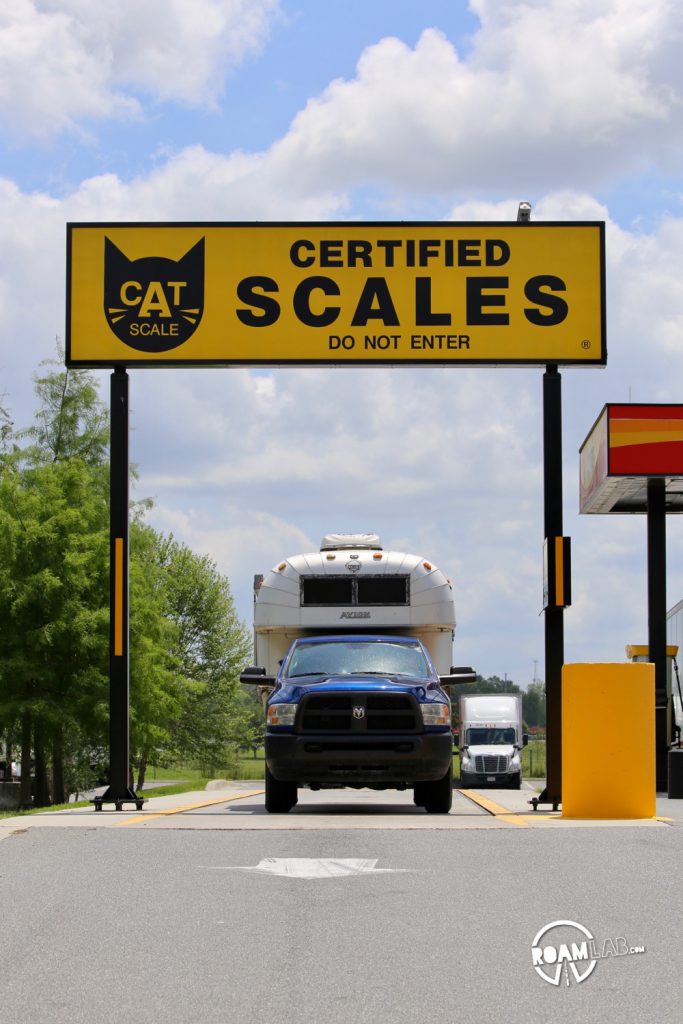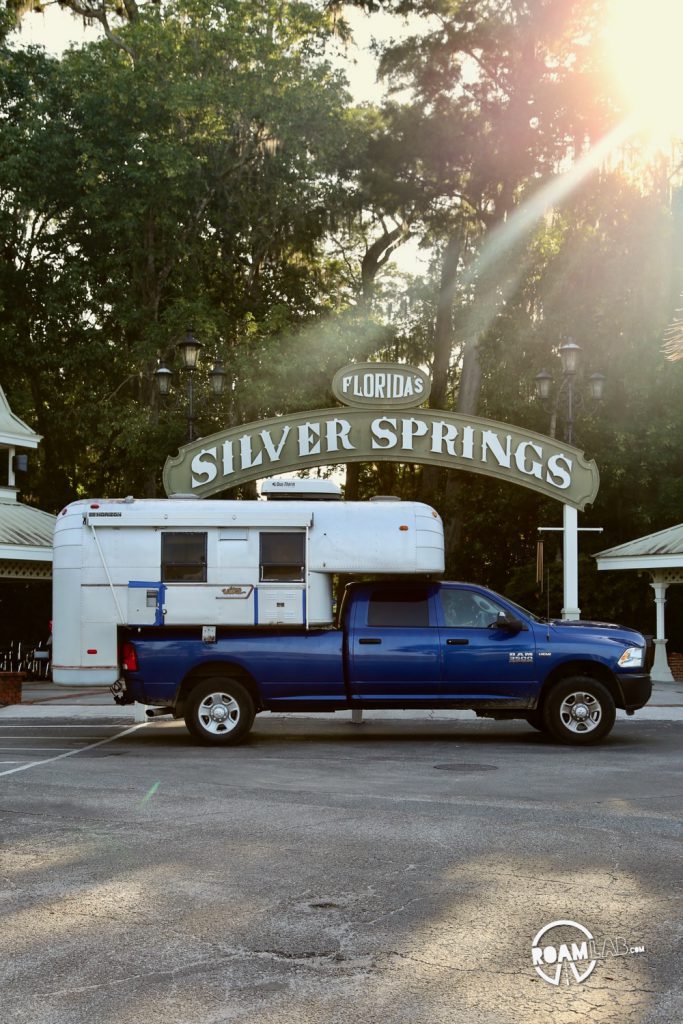 Winter 2017 Weigh-In (940 lbs)
By the end of 2017, we have gutted the camper interior and replaced the wings, sidewalls, and subfloor. It's a pity we couldn't capture the gutted weight before replacing the wings and subfloor, but we couldn't safely drive the camper to the weigh station. Unfortunately, this is the one time that I forget to take a picture of the camper. This could also mean that I may have been in the truck during the weigh-in, potentially adding over 100 lbs to the total weight. All the same, this weigh-in represents the lightest the camper has ever and will ever be on the road. Heavy appliances, batteries, water tanks, cabinetry, and even the interior walls are all removed. From here on, it will be a meticulous build attempting to balance weight and utility as we modernize this vintage camper.
| | Truck w/ Camper (lbs) | Truck w/o Camper (lbs) | Camper (lbs) |
| --- | --- | --- | --- |
| Steer Axel | 4200 | 4,046* | 154 |
| Drive Axel | 3740 | 2,917* | 823 |
| Gross Weight | 7940 | 6,963* | 977 |
12/13/2017 CAT Scale weight camper.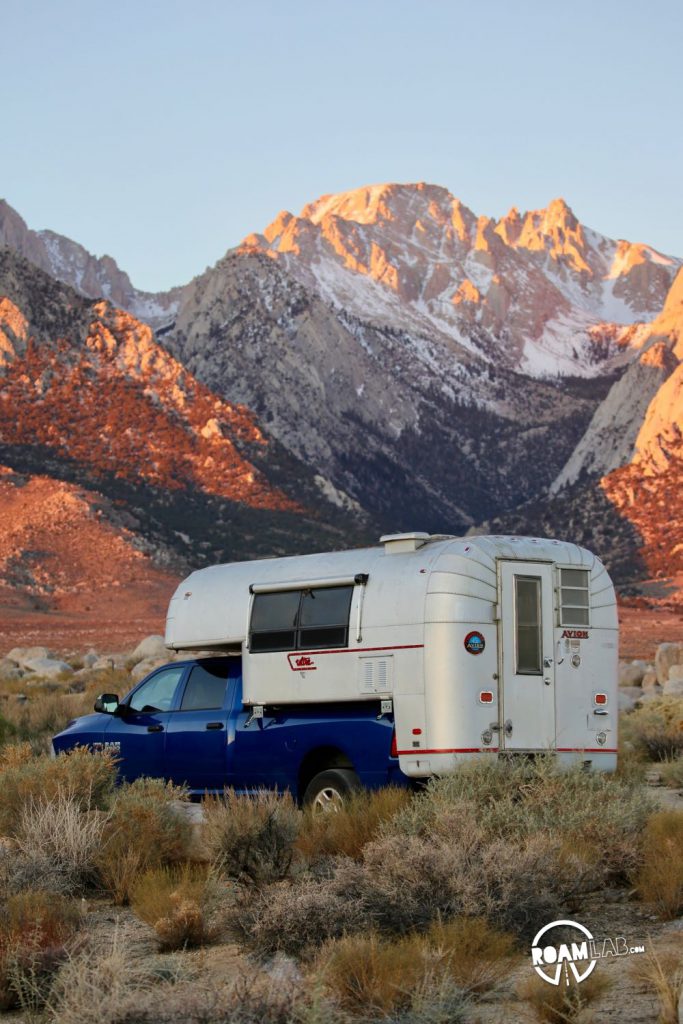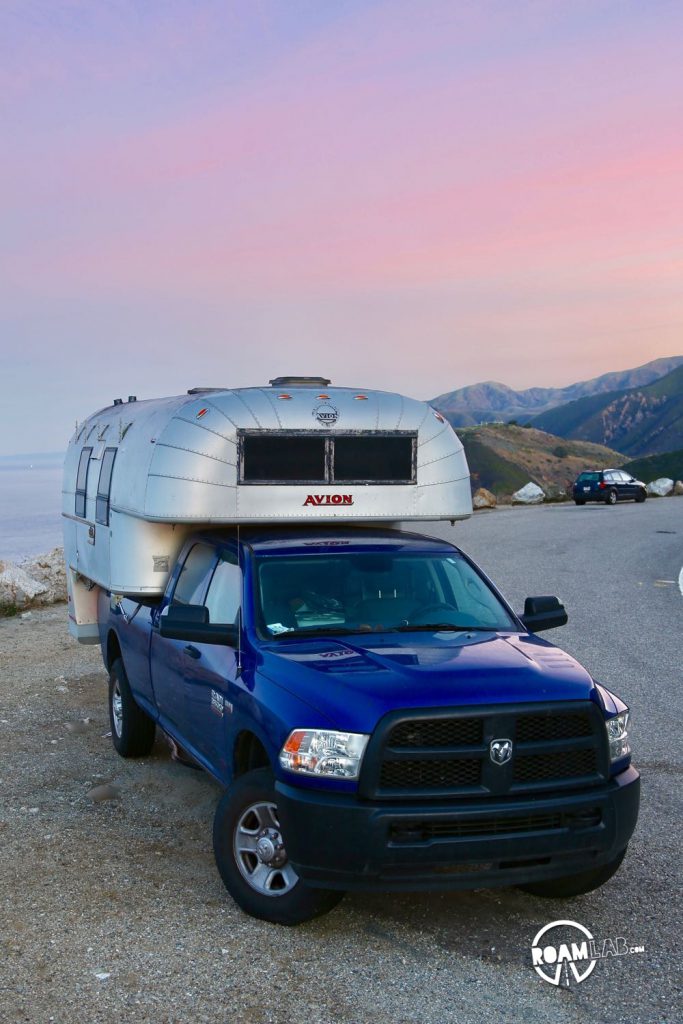 Renovations Since the Last Weigh-In
Fall 2018 Weigh-In (1080 lbs)
One year into our build and the Fall 2018 weigh-in marks significant structural changes in the camper. At this point, every remaining piece of wood has been replaced with slightly lighter weight Coosa but we have also extended the cabover, adding 18-inches to the length of the camper. This is effectively the new frame from which we will be building in the future. This also marks the first time that we weigh the truck after removing the camper for a better point of comparison.
| | Truck w/ Camper (lbs) | Truck w/o Camper (lbs) | Camper (lbs) |
| --- | --- | --- | --- |
| Steer Axel | 4280 | 4180 | 100 |
| Drive Axel | 3840 | 2860 | 980 |
| Gross Weight | 8120 | 7040 | 1080 |
11/16/2018 CAT Scale weight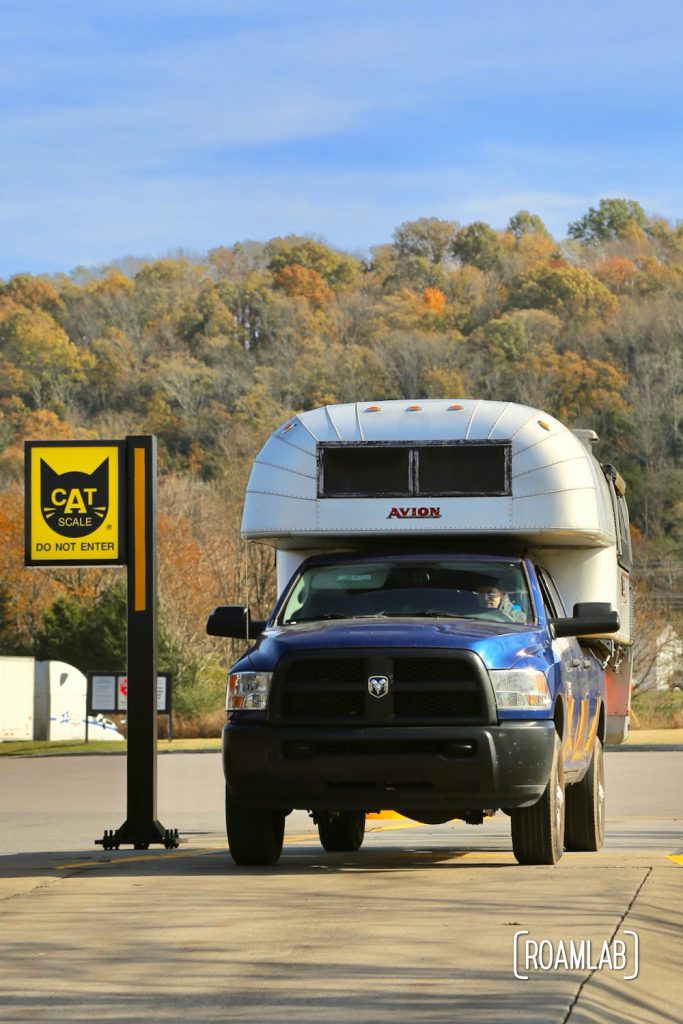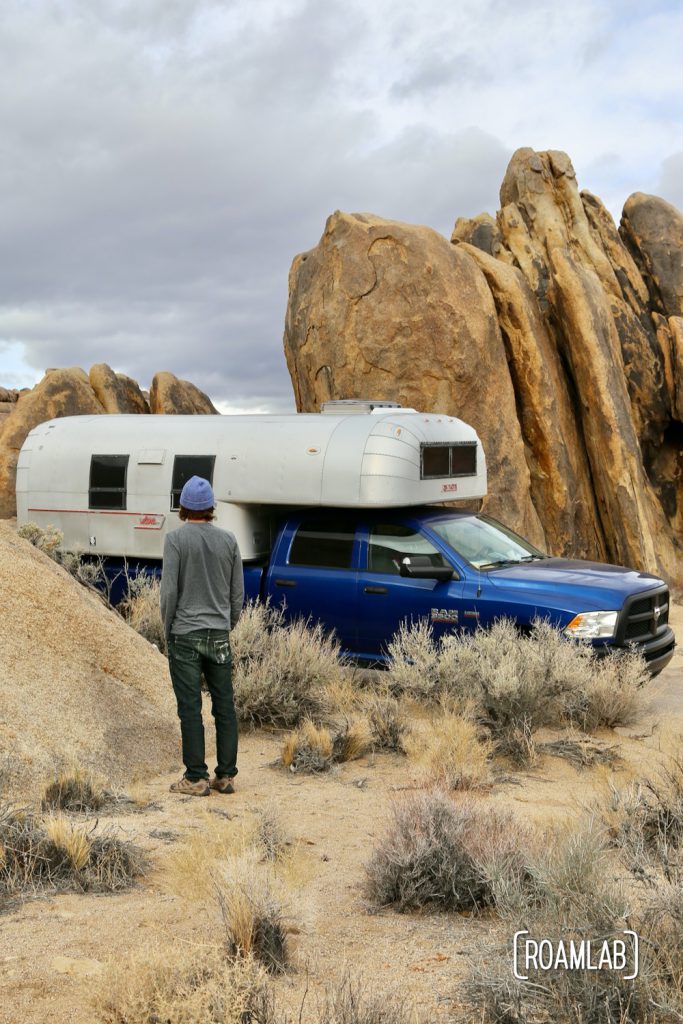 Renovations Since the Last Weigh-In
Fall 2021 Weigh-In (1360 lbs)
By 2021, we have pretty much completed any exterior work on the camper and are in the early stages of the interior build. Between patches and upgrades, we have gained 280 lbs. The increase is a bit of a shock until we tally up all the work we have done since the last weight in.
| | Truck w/ Camper (lbs) | Truck w/o Camper (lbs) | Camper (lbs) |
| --- | --- | --- | --- |
| Steer Axel | 4500 | 4440 | 60 |
| Drive Axel | 4260 | 2960 | 1300 |
| Gross Weight | 8760 | 7400 | 1360 |
2021 weight chart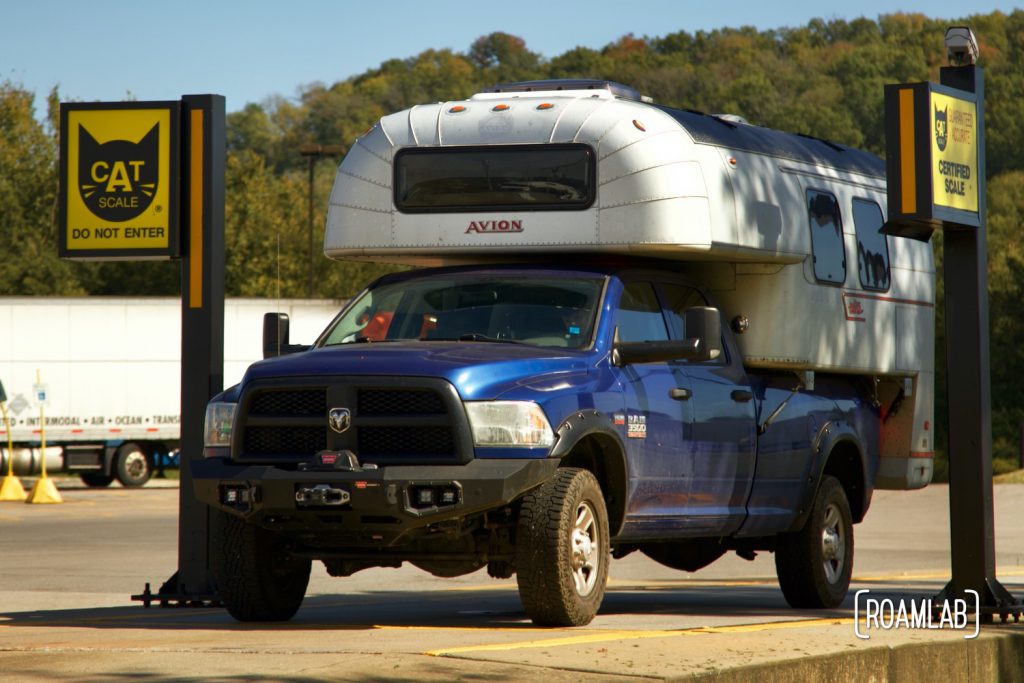 Renovations Since the Last Weigh-In
2021 Truck Weight
In a diversion from past renovations, however, we also see a change in the weight of the truck itself. Some of this is because we are switching from weighing the truck with a tank 3/4 full to completely full. But that roughly 24 lbs doesn't account for the 360 lbs weight gain. But there is plenty of work that we completed that does explain the change:
| | 2018 Truck (lbs) | 2021 Truck (lbs) | Difference (lbs) |
| --- | --- | --- | --- |
| Steer Axel | 4180 | 4440 | 60 |
| Drive Axel | 2860 | 2960 | 1300 |
| Gross Weight | 7040 | 7400 | 360 |
2021 weight chart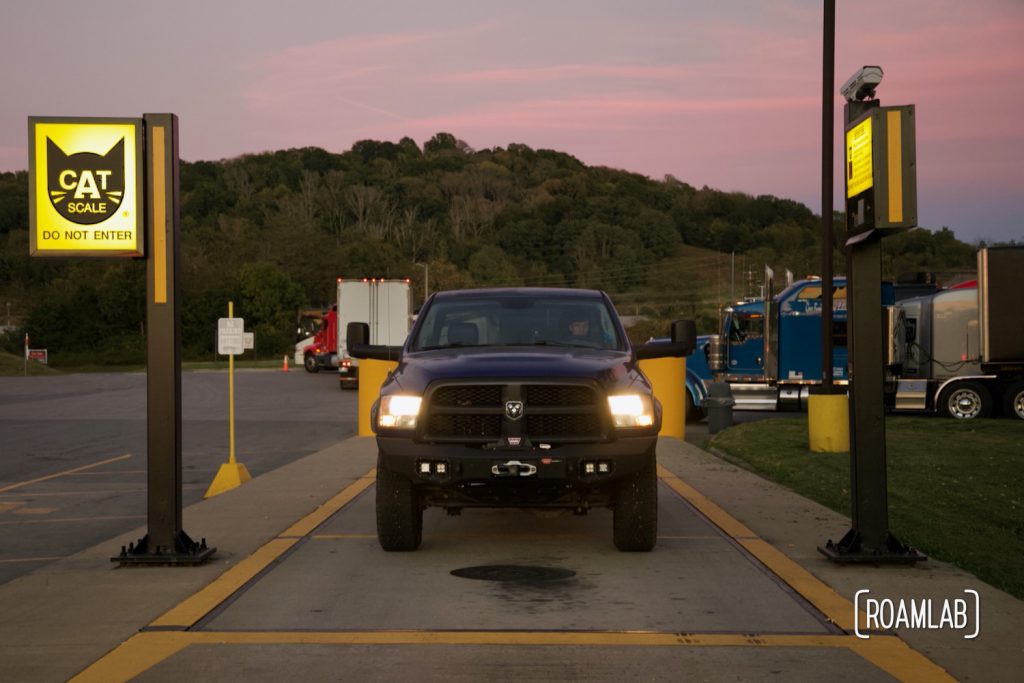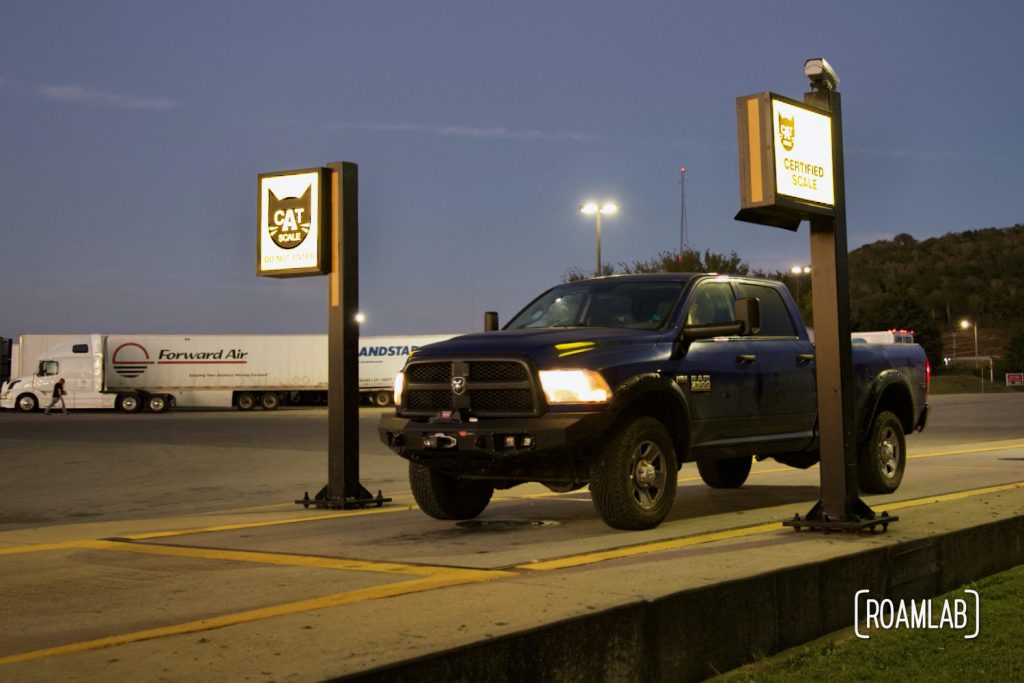 Renovations Since the Last Weigh-In
Spring 2022 Weigh-In
Almost five months after our last weigh-in and we already have a lot to consider. Unlike past weigh-ins, however, most of the changes are on our truck rather than the camper. We are most excited by our upgrade to a Bowen Customs truck bed, with 40 square feet of additional storage. After seven years on factory wheels, we downsize to 17-inch Method 305s and increase our tires to 35-inch All-Terrain T/A KO2s. This combination will give us much more traction on the trail while still maintaining excellent highway performance.
On the camper front, we are in the process of several new projects but nothing is complete. The only thing that should affect our camper weight is the aluminum sheet we are installing as inner walls to the camper. As noted, however, we are only partially done with this.
| | Truck w/ Camper (lbs) | Truck w/o Camper (lbs) | Camper (lbs) |
| --- | --- | --- | --- |
| Steer Axel | 4500 | – | – |
| Drive Axel | 4520 | – | – |
| Gross Weight | 9020 | – | – |
Spring 2022 weight chart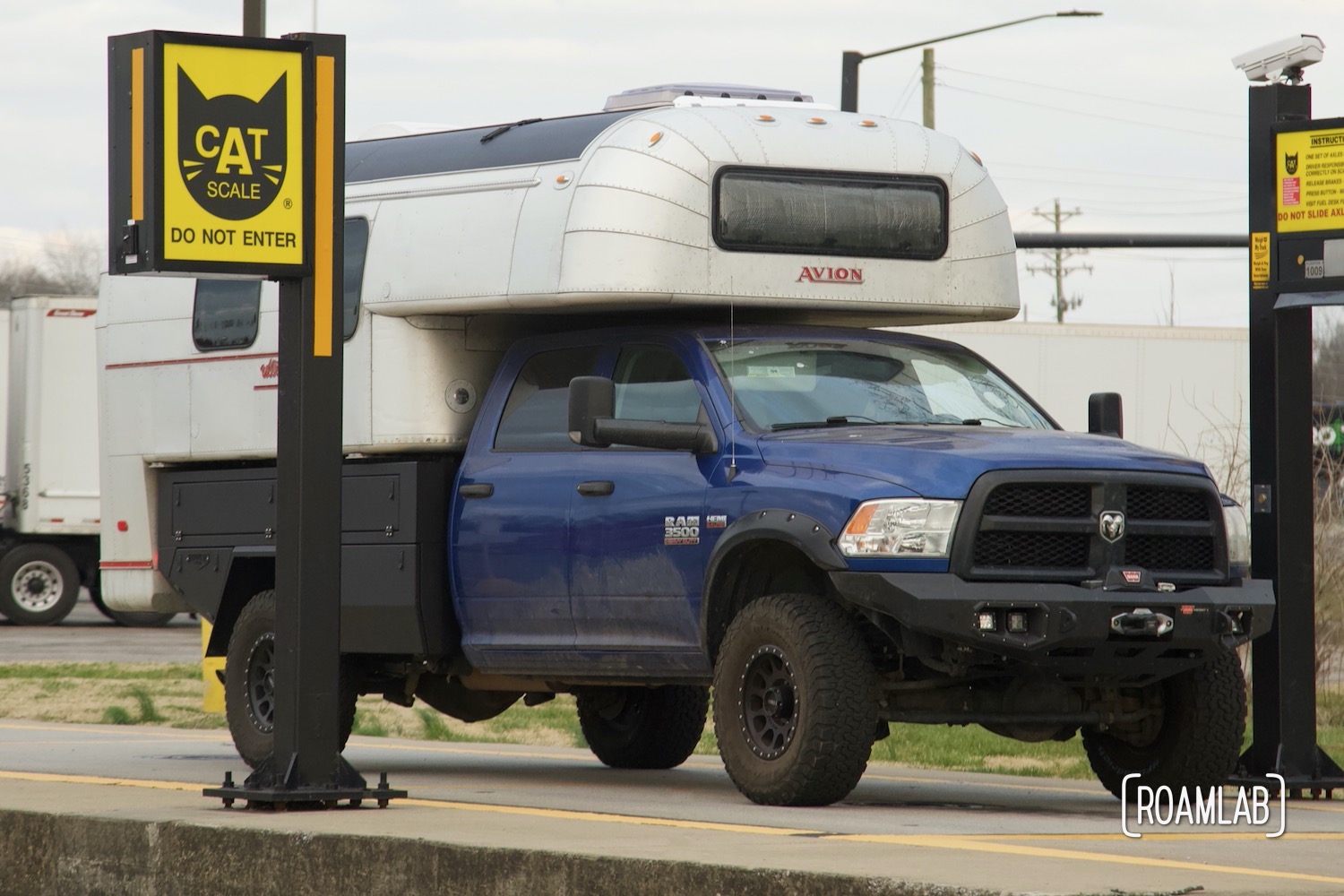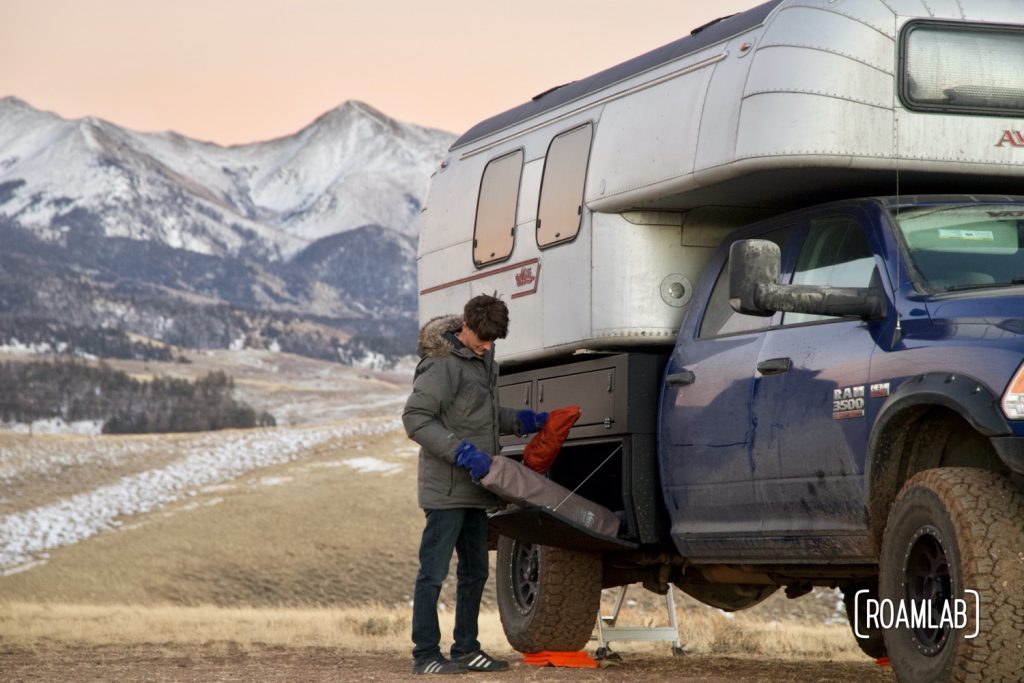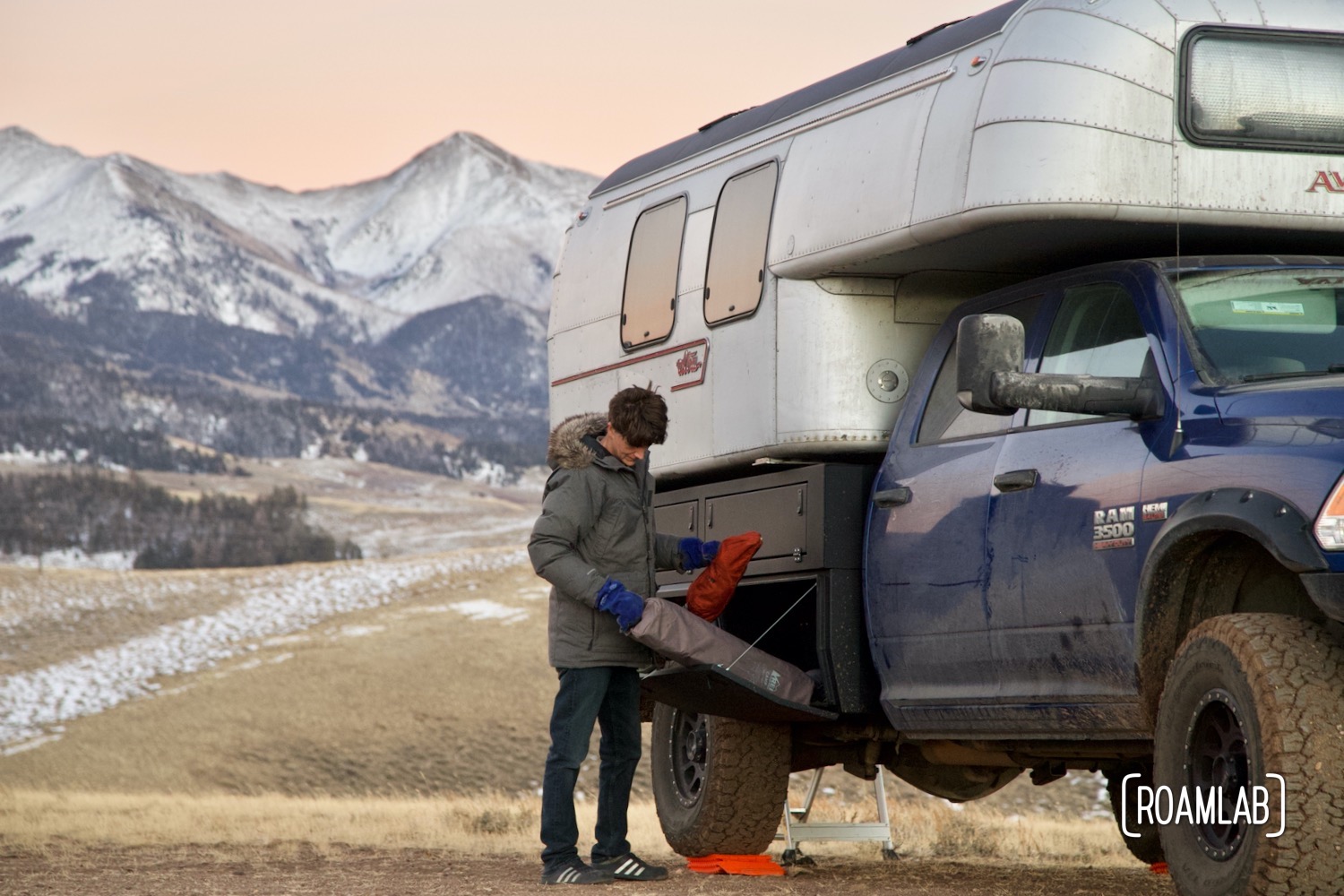 Renovations Since the Last Weigh-In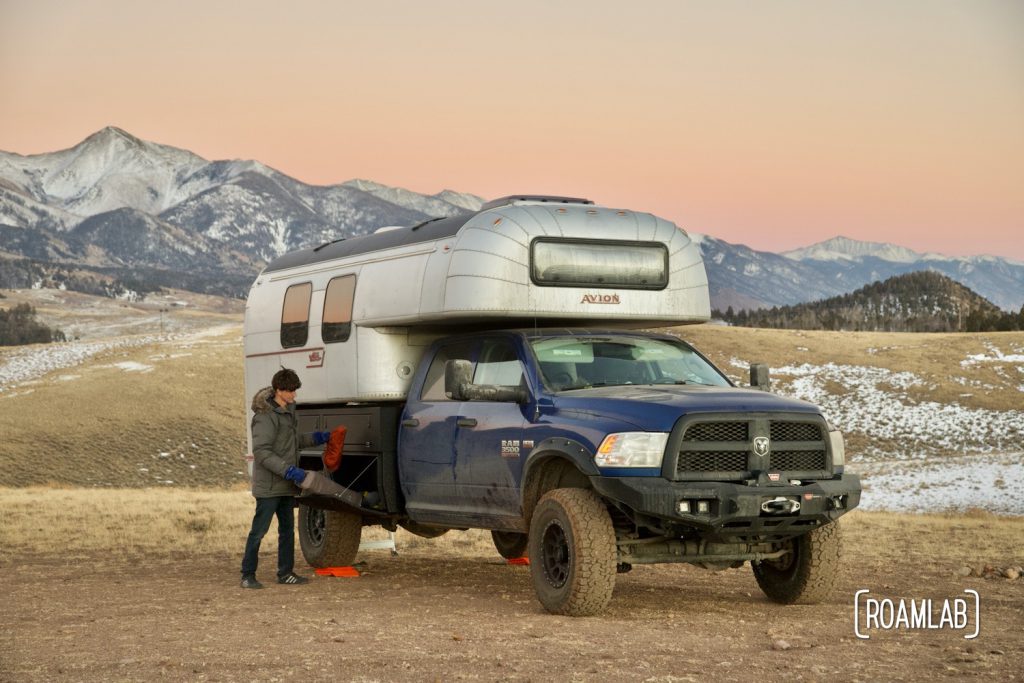 A Work In Progress
The passage of time may. be a bit of a shock. There are a lot of camper builds out there that are turned around in a matter of months. Of course, we are not the kinds to sacrifice quality in the interest of speed. And given our interest in experimentation and research, building decisions take time at the Roam Lab. Not to mention, we have been traveling in the truck camper throughout the years. So, yes, it's been years, and will take more before we might come close to considering this build finished. In the meantime, we will continue to update this page new additions warrant weigh-ins.
Join the conversation: Do you have any questions about RV weight? Let us know in the comments!
---
* Based on 6,963 lbs weight reported by the factory for a 2015 Ram 3500 crew cab long box, 4X4, SRW, 6.4L V8 HEMI 3.73 axle ration truck.