Truck Mods
Our offroad adventures are made possible by Dodgy II: The Truckening. This 2015 Ram 3500 Tradesman model truck came with very few frills aside from the crew cab, 4-wheel drive, and blue paint job. Now that we have it, however, we've been adding features, including a Bowen Customs truck bed, Warn winch, Bushwacker Fender Flairs, and Happijac Tiedown System in a series of DIY truck mod projects.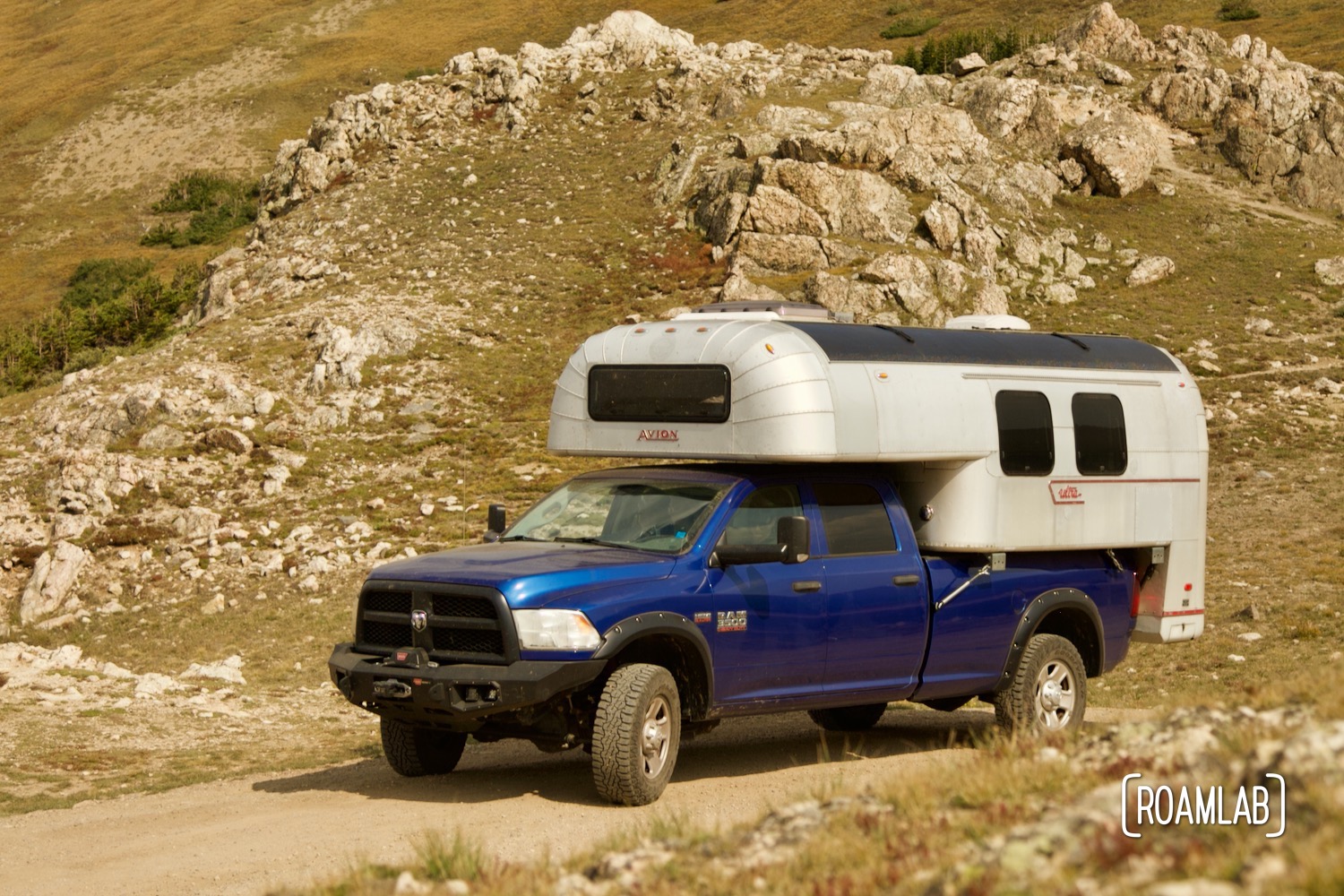 2015 Ram 3500
By the Numbers
We get a lot of questions about our setup and we are happy to share the details.
| | |
| --- | --- |
| Year | 2015 |
| Make | Ram |
| Model | 3500 |
| Cab | Crew |
| Bed Length | 8′ |
| Engine | 6.4L V8 HEMI |
| Fuel Economy | 8-16 mpg |
| Payload (Max) | 4,440 lbs. |
Modifications
We bought Dodgy 2: The Truckening for adventure with our 1970 Avion C11. That means we've made quite a few after factory modifications to accommodate our road tripping lifestyle of back roads and boondocking.
Bowen Customs Truck Bed
In our greatest truck mod yet, we're collaborating with Bowen Customs to design a custom truck bed to expand our storage options while maintaining a lightweight and sturdy mount point. Learn about our design process, installation, and an in-depth tour.
Get the Whole Story
Warn Front Bumper & Winch
Installing a Warn Ascent Front Bumper & Zeon 12S Winch
We've been renovating our 1970 Avion C11 truck camper with overlanding in mind.  And while we've made great progress on our home on wheels, one glaring omission to our overlanding adventures is a winch for vehicle recovery.  We also need a bumper that is sturdy enough to house the winch.  In this DIY truck mod series, we install our Warn Ascent front bumper and Zeon 12S winch.
Read More
More DIY Projects
1970 Avion C11 Truck Camper
It's hard to talk about the truck without addressing the camper.  After all, we bought the 2015 Ram 3500 to carry our 1970 Avion C11 slide in.  This classic aluminum design stands out on its own, but we have done a lot of work to bring it out of the mid-century and into the modern-day with structural and technological upgrades.
Get the Whole Story