Tidepools to Glaciers
Olympic National Park is a study in extremes. The 922,651 acres span 70 miles of coastline as well as mountains reaching 10,479 feet. Visitors can enjoy tide pools with colorful sea stars, moss-draped rainforests, and glacier-capped mountains in the same day. The wild coastline is populated by harbor seals, sea otters, and the occasional passing grey whale. It is home to rare temperate rainforests where 12 feet of rainfall every year. Alpine meadows are home to beautiful and hearty flora as well as elk, mountain goats, and black bears. Enjoy 611 miles of trail and 16 developed campgrounds.
Visiting Olympic National Park
Olympic National Park can be daunting. There is no single scenic route to tour through the highlights of the park but many points of attack to dive deep into divergent ecosystems. At the very least, allow yourself a few days to experience the dramatically different environments encompassed in this single park. We spent a day exploring the mountains, a day exploring the rain forest, and a day exploring the seaside.
Things To Do In Olympic National Park
Hike through the Hoh Rain Forest
Drive to Obstruction Point
Spot a sea star in the tide pools
Throw a snow ball and wade in the Pacific in one day
See Mount Olympus from Hurricane Ridge Visitors Center
Preparing for Olympic National Park
Much of the park's highlights are deep into the interior of the park while resources are found on the outskirts. Be sure to anticipate your needs. Stock up on snacks and meals before heading into the park, so you don't have to interrupt your exploration with long drives into the nearest town for meals. Be sure to dress in layers for beach fun, rain, and even snow.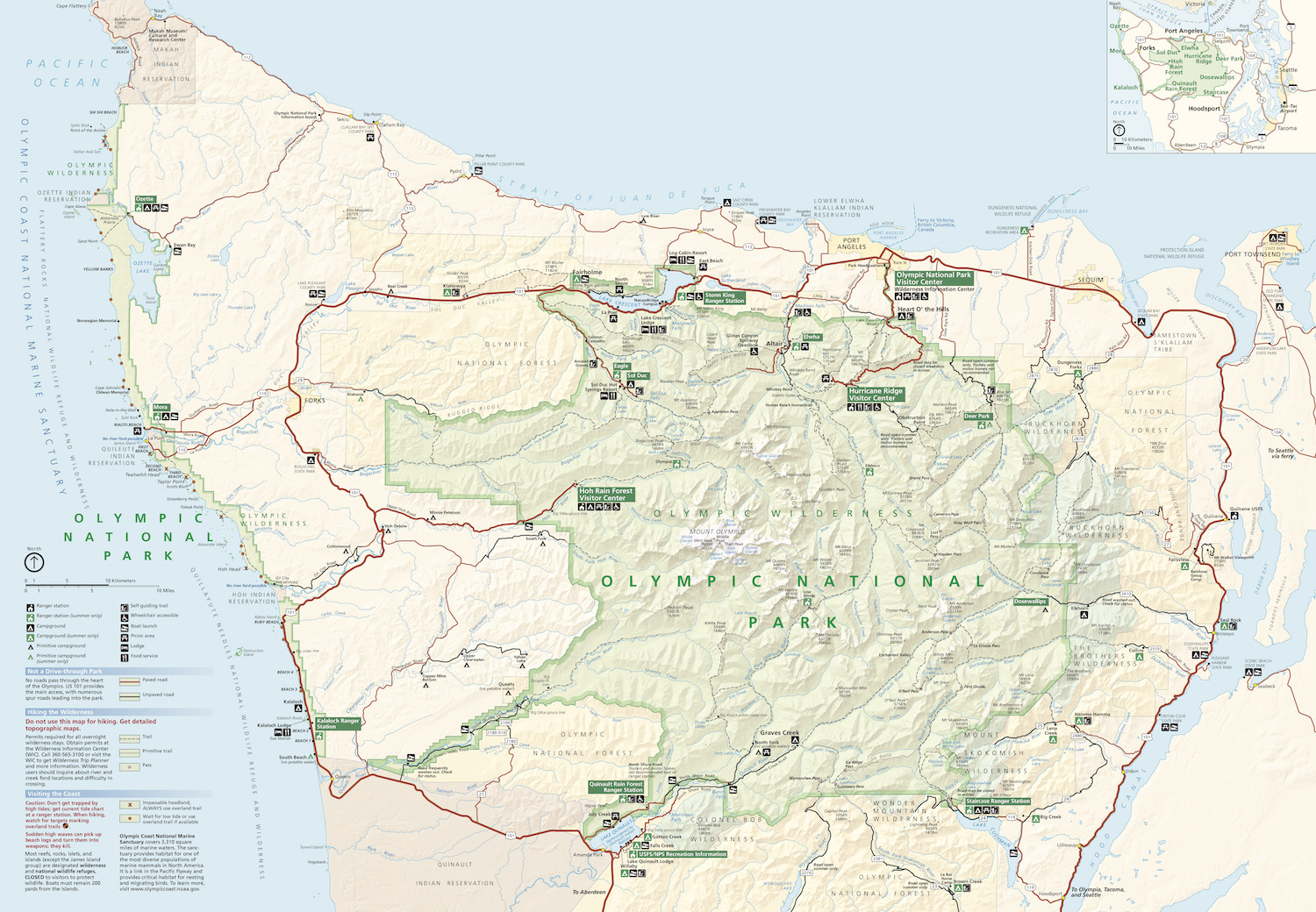 Olympic National Park
Map