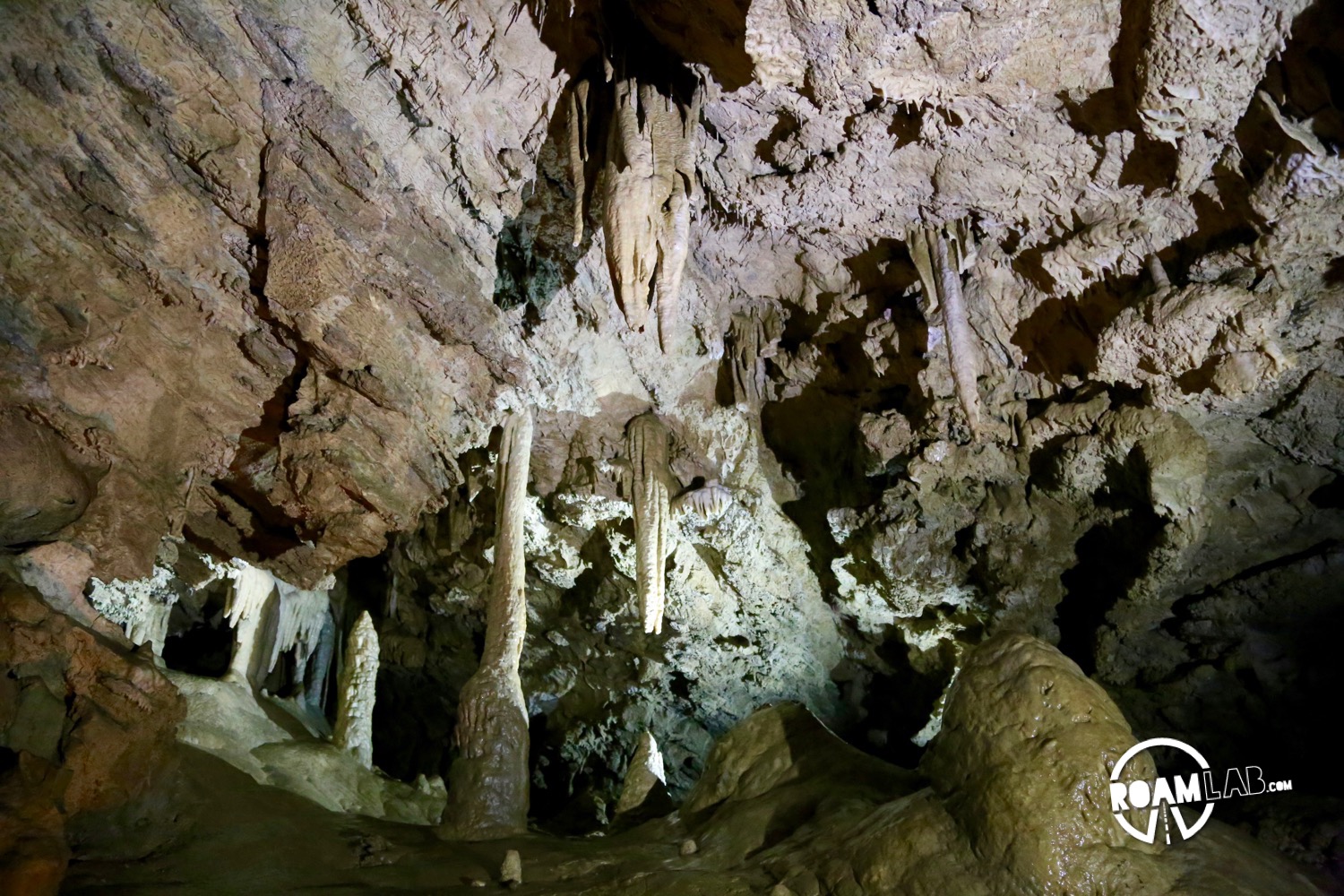 I had forgotten that I had been to the Oregon Caves before, when I was a grade school.  I have vague memories of lots of stairs into a cave.  What I didn't remember were the beautiful formations inside.
But before we could get inside, the park rangers had to clear us to go inside.  At the moment, white-nose syndrome is a pestilence on the bat community.  It has not yet reached the Oregon Caves, but it is something that we can carry between caves.  People can be the vectors for distributing this illness. And when they asked if we had been in any caves or mines in the last ten years I had a good laugh.  We are constantly in caves and mines.  We've probably visited more in this last year than I had in the rest of my life.
The ranger looked concerned, were we wearing the same coats?
What other coats would we have been wearing?  We don't have a wardrobe in the truck.
Our shoes and my camera had to be treated with a cleanser.  We couldn't bring our coats in but we could borrow one of their loaner coats.  My travel companion was a little concerned that if I had kept talking we might have been stripped of all the clothes off our backs before being permitted to enter.
Of course, there were other things that weren't allowed in the caves that didn't trouble us.  For example: a tripod.  One of the young college students that was also on our tour was floored when she was told that she couldn't bring her tripod into the caves.  When I saw her camera, I understood.  I first learned photography on a Canon Rebel.  It's a good way to start and explore the capabilities and limitations of a digital camera.  When I give talks about photography, I'm a big fan of tripods.  And even on the road, I have two tripods in the truck.  But I don't use them as much, anymore.  While she was desperately attempting to stabilize her rebel on hand railings, I was appreciating my full framed body with its massive lens all the more.  This is a major part of why I upgraded.  Full framed cameras perform so much better in low light situations.  Yes, light. Come into my lens!  I can make use of every last bit of you!  I do love my camera!
We've seen better caves but that doesn't mean, in any way, that these were not fantastic.  The delicately preserved lacy curtains of minerals collected over hundreds of thousands of years were a delight.  The precocious child who answered every question before there could be much build up to a discussion was not such a delight.  But we persevered.