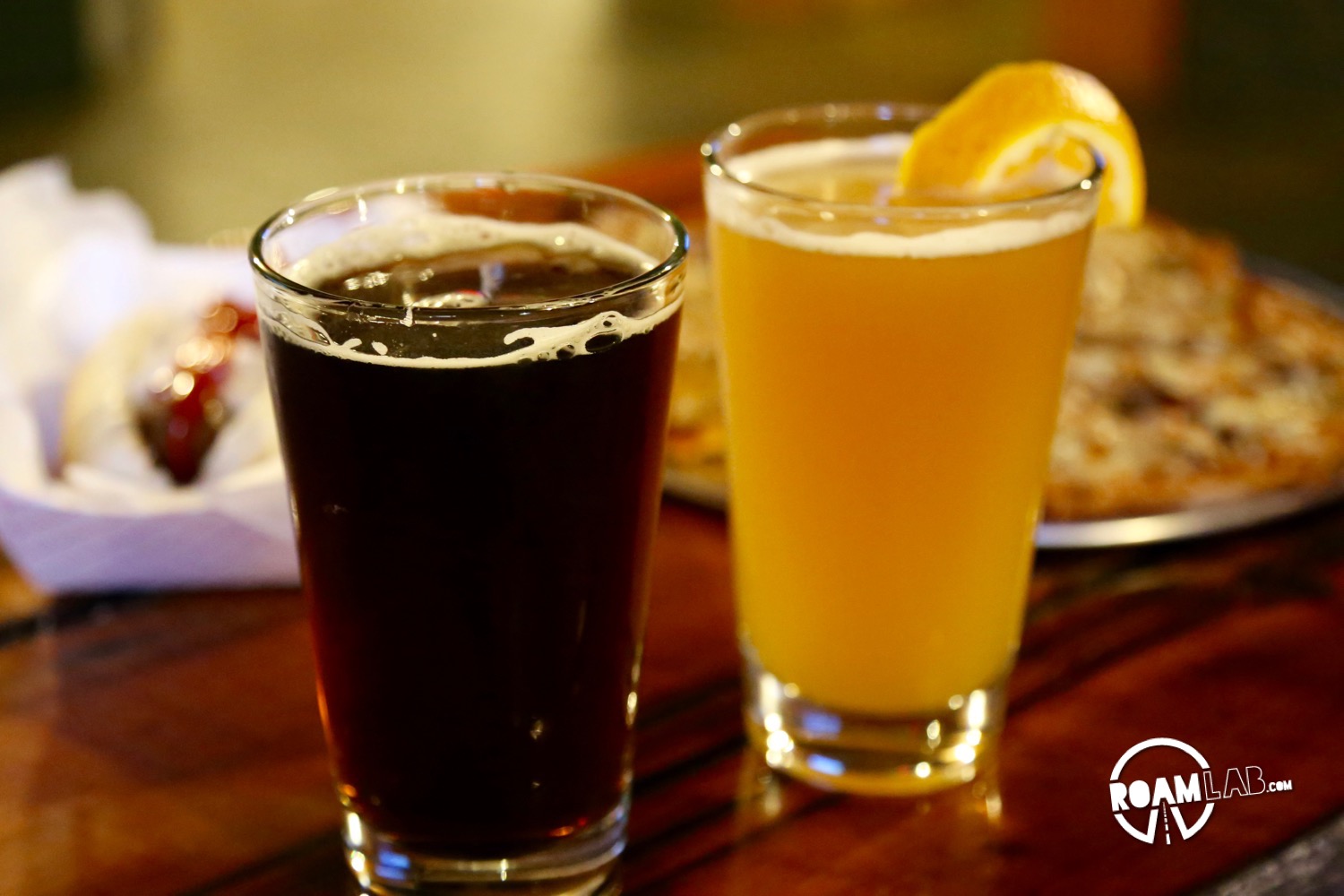 After a day at the Lewis & Clark Interpretive Center, we thought it only appropriate to complete the day with dinner and beer tasting at the Lewis & Clark Brewing Co.
The tasting room is on either the right or the wrong side of the tracks.  I'm not sure which. What I do know is that it backs right on to the tracks of the historic East Helena train depot. The two stories of the tasting room / event space can certainly fit more than the modest Friday evening presence. The stage probably has something to do wth that but there weren't any music acts until Saturday night.
The eating menu may be limited, but we could have anything we wanted so long as it was pizza or bratwurst. So, we ordered the pizza with bratwurst. The pizza dough is made from the spent mash of the day's brews with some amber ale in the sauce. Even the bratwurst buns are made with spent mash which makes for a rather nutty but light flavor.
Our tasting notes:
We came in already loving the Miners Gold, an American Wheat Style Hefeweizen. It is light, wheaty and the perfect drink for a summer afternoon. But we wanted to give due consideration to some of the other offerings.
Yellowstone Golden Ale is some easy drinking: light and yeasty with a slight hint of melon.
Amber Ale offers a more moderate body with light caramel tones.
Prickly Pear Pale Ale is an IPA but only moderately hoppy. All the same, for a sensitive pallet such as ours, it was still too overwhelming to notice much else.
Back Country Scottish Ale is malty but not oppressive. It makes for relatively easy drinking with some caramel and notes of dark fruit.
Barrel-Aged Back Country Ale is heavy but rich. That's what you get when you age a Scottish ale for six months in a bourbon barrel. It's almost like drinking a creamy liquor. The extra alcohol is apparent but not unwelcome. I'm not sure that I could drink more than one pint of this, though.*
The Pompey's Pilsner is refreshing, light, and crisp with some wheaty or possibly nutty notes that I can't quite nail down.
*Spoiler: we filled our growler with the Barrel-Aged Back Country Ale.  So I did drink more than a pint of it but we saved it for another day.