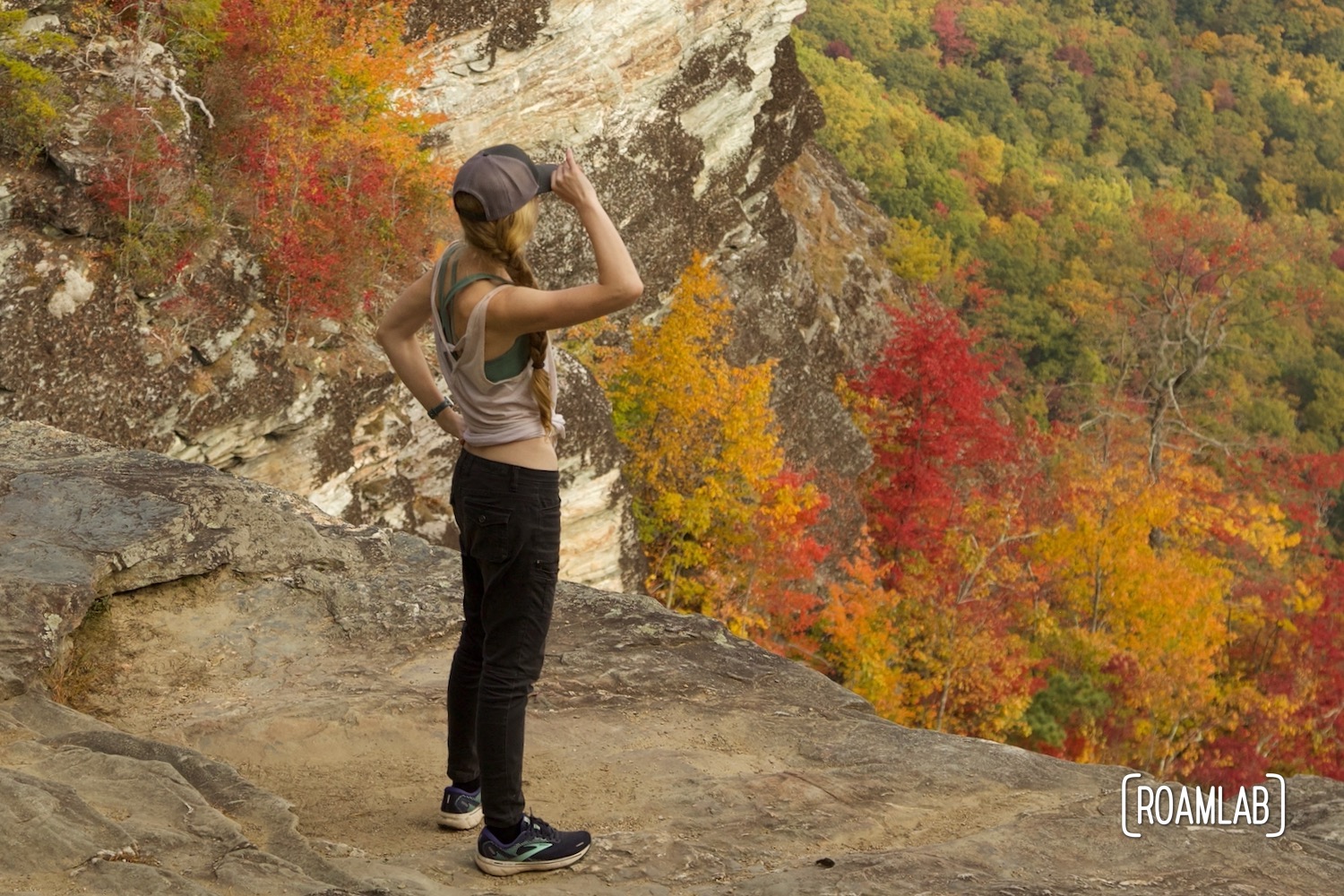 My First Marathon Training
I don't expect this post to be of interest to most of those who follow our travels. We normally write about scenic excursions and DIY camper projects. Not personal fitness. But exercise is part of our journey, whether that is walking, biking, paddling, or in this case, training for a marathon.
Early on in our travels, we made a point to hit the trails whenever possible. But as we shifted our recreational focus into overlanding, we spent more time in the truck and less time on the trail. I didn't initially notice a change. It was gradual. But, by the winter of 2021, I felt physically weak. Lifting equipment and wielding tools had become challenging. And how to reverse this trend wasn't immediately apparent. I just happened to be lucky that we were visiting family with a treadmill that winter. And while our camper remained parked in the driveway for weeks, I was sweating it out on the treadmill. And I really haven't stopped since then.
I Am Not An Athlete
In my youth, I never considered myself to be a "runner." I was a nerdy academic who focused on class performance and pulled many a stunt to avoid any form of physical education. There was a period in my teens when I'd ride a stationary bicycle while watching X-files. And then another blip in my mid-20s when I'd spend 40 minutes, every other day on a treadmill. And that was about it. A decade after my flirtation with a treadmill, I find myself on a running machine once more. This time, though, thanks to streaming instructors, I have input on good form, proper training routines, and nutrition tips that finally propelled me past the 40-minute mark without being stopped by cramps.
Unintentional Base Training
For the past year, I've been consistently running to the point that Chris has picked up the activity as well. We have run in deserts, along lakesides, and up mountains. In the summer, I added biking into my training routine as a low-impact cardio alternative. I've been happy to aimlessly alternate between my feet and wheels for this last year but Chris likes a goal and in the Fall, he found a marathon he wanted us to run together.
A marathon has become a common term to describe an extended effort. But in the world of running, a marathon means something very specific: 26.2 miles (42.195 km). The terrain may be flat or mountainous, and your speed may be fast or slow, but the distance remains the same.
I'm not a competitive type, I run for my own health. But the distance didn't seem that daunting. Most people train for months to prepare for a marathon but my casual running had already established a year of "base training" for a stable core level of fitness to build on. I'd already run the equivalent of a half marathon (13.1 miles) on a whim. So I agreed with little concern about completing it, until January.
Unintentional Over Training
By mid-January, I am in excellent form. I am easily running for at least an hour most days. But that is part of the problem. We are in the foothills of the Sierra Nevada, with terrain that I don't feel comfortable biking. So I mostly run. I can't say if it is the hilly terrain or the lack of proper recovery time that tips that scale, but in mid-January, I hurt my knee. And suddenly that marathon doesn't seem like the sure thing I thought it would be. The strong running base I have built over the last year is compromised as I nurse my knee. And any time it doesn't actively hurt, I feel compelled to run, which just aggravates the injury.
Intentional Recovery
So, for most of the months of February and early March, I stop running. This isn't to say I stop exercising. I double down on high-resistance bicycling. It keeps me active and builds my cardio strength, but cycling isn't marathon training. There are certain skills and strengths that can only be honed by practice.
By mid-March, my knee is still sensitive, but not to the degree that stopped my running in January. On March 10th, I run a tentative 30 minutes with a meticulous warm-up and cool-down. With careful attention to form and short fast steps, I can run without pain. I monitor how I feel for the next week and then, on March 17, I run 8 miles. I'm not worried about a personal record. PRing isn't in the cards, recovery is the goal. The challenge is maintaining impeccable form while tackling hills and a few modest accelerations. In the end, my quads burn and my biceps ache. But my knee feels fine. It's on.
Intentional Marathon Training
And by "on," I mean I'm ready to dive fully into marathon training. I have a little over a month to get back up to speed. But thanks to my cycling during recovery, I'm not starting from zero. And there's another unusual angle in my training, a little thing you may have heard of: Chat GPT. We turn to the open source AI for training recommendations. And after a few tweaks, we have a schedule:
Week 1:
Monday, March 20: Rest or cross-training
Tuesday, March 21: 5 miles at 10:00/mile pace (easy run)
Wednesday, March 22: 6 miles with 4 miles at 9:10/mile pace (tempo run)
Thursday, March 23: 5 miles at 10:00/mile pace (easy run)
Friday, March 24: 8 miles at 9:40/mile pace (steady-state run)
Saturday, March 25: 16 miles at 10:00/mile pace (long run)
Sunday, March 26: Rest or cross-training
Week 2:
Monday, March 27: 5 miles at 10:00/mile pace (easy run)
Tuesday, March 28: 6 miles with 4 miles at 9:05/mile pace (tempo run)
Wednesday, March 29: 5 miles at 10:00/mile pace (easy run)
Thursday, March 30: 8 miles at 9:35/mile pace (steady-state run)
Friday, March 31: 18 miles at 10:00/mile pace (long run)
Saturday, April 1: Rest or cross-training
Sunday, April 2: 5 miles at 10:00/mile pace (easy run)
Week 3:
Monday, April 3: 6 miles with 4 miles at 9:00/mile pace (tempo run)
Tuesday, April 4: 5 miles at 10:00/mile pace (easy run)
Wednesday, April 5: 8 miles at 9:30/mile pace (steady-state run)
Thursday, April 6: 5 miles at 10:00/mile pace (easy run)
Friday, April 7: 20 miles at 10:00/mile pace (long run)
Saturday, April 8: Rest or cross-training
Sunday, April 9: 5 miles at 10:00/mile pace (easy run)
Week 4 (Taper):
Monday, April 10: 6 miles with 4 miles at 8:55/mile pace (tempo run)
Tuesday, April 11: 5 miles at 10:00/mile pace (easy run)
Wednesday, April 12: 6 miles at 9:30/mile pace (steady-state run)
Thursday, April 13: 5 miles at 10:00/mile pace (easy run)
Friday, April 14: 12 miles at 10:00/mile pace (long run)
Saturday, April 15: Rest or cross-training
Sunday, April 16: 4 miles at 10:00/mile pace (easy run)
Week 5 (Taper continued):
Monday, April 17: 4 miles at 10:00/mile pace (easy run)
Tuesday, April 18: 3 miles at 10:00/mile pace (easy run)
Wednesday, April 19: Rest
Thursday, April 20: 2 miles at 10:00/mile pace (easy run), followed by a few strides
Friday, April 21: Rest
Saturday, April 22: Marathon Day! Aim for a 9:09/mile pace to achieve a 4-hour finish
Now, to see how well I can keep to it without another injury.
New Shoes
For this new phase of training, I also have a new pair of trainers. I started running in December 2021 in socks. At the time, all I had were heavy hiking boots or light slippers, so I opted for no shoes at all while running on a family member's treadmill. After a week of running shoeless, I decided that I liked running enough to justify investing in a pair of running shoes. (Adding another pair of shoes is a big decision when living in a little truck camper.) So, we stopped by REI and bought a pair of Brooks Ghost running shoes. They were light and with the right amount of cushion and support for my casual running. I ran in them until the fabric began tearing in December 2022. Time to demote the Brooks to everyday walking shoes and pick out my marathon shoes.
This time, we drop into a specialty running shop owned and run by an accomplished ultra runner. After trying on a couple of pairs of shoes and spending a few minutes on a treadmill, I leave the shop with a pair of Topo Phantom 2 running shoes. The shoes are lighter. The cushion is softer. And the toebox is roomy. I'm a fan except for one tiny problem: they are half a size too small. I didn't notice initially, but within a month my big toe is starting to wear a hole into the tip of the shoe.
In a way, it's a fortunate mistake. The time it took to wear a hole in the shoe, my knee also began developing its own problems, Suddenly I have more considerations than just speed when selecting a shoe. Soon, we swing into another running shop and I'm perusing the discount shelf when I encounter the Asics Gel-Kayanno Lite 2. There's something I really like about it. Its wider sole seems to force my foot to plant on the ground without rolling my foot to the side.
When I explain the sensation, the shop assistant confirms that, yes, these are for overpronation. That's what they are supposed to do. Overpronation hasn't been a concern in the past. It's typical of runners with low arches or flat feet which I don't have. But in protecting my knee, my foot does tend to roll in the way that these shoes address. For now, I want them. Unfortunately, I can only find one Asics Gel-Kayanno Lite 2. The other shoe in the discount box isn't a match. And so I have to shell out an extra $40 for a pair of new Asics Gel-Kayanno Lite 3 running shoes. But when it comes to something that might help my knee, the expense seems well worth it.
Picking Kit
I've been reading many articles and listening to a variety of podcasts about running. One major theme that seems consistent is to not try anything new on race day. Drink what you always drink. Fuel how you always fuel. And wear what you always wear. I think the only time I've ever put as much thought into an outfit as this was for Chris and my wedding. This time, the focus is more on comfort. (Though the confidence boost that comes from looking cute is still in play)
Fortunately, the question of what to wear is easily answered because I have a favorite pair of running shorts and a sports bra. They're light, don't chafe, and I do think they are cute. In fact, I'm ordering a second set for backup in case we have a last-minute upset.
I also plan to bring a cheap set of sweats from Goodwill to keep me warm before the marathon. Hopefully, there will be a donation bin that I can toss them in just before we start the run and continue the cycle of donated clothing.
The only thing that stands to ruin my plans would be foul weather since I don't have a running slicker.
The Countdown Is On
Each day is a day closer to the marathon. I'm not entirely sure what we have gotten ourselves into, but I'll keep updating our progress as we go. I hope this can be useful to someone. Maybe it's just for me. We'll see.