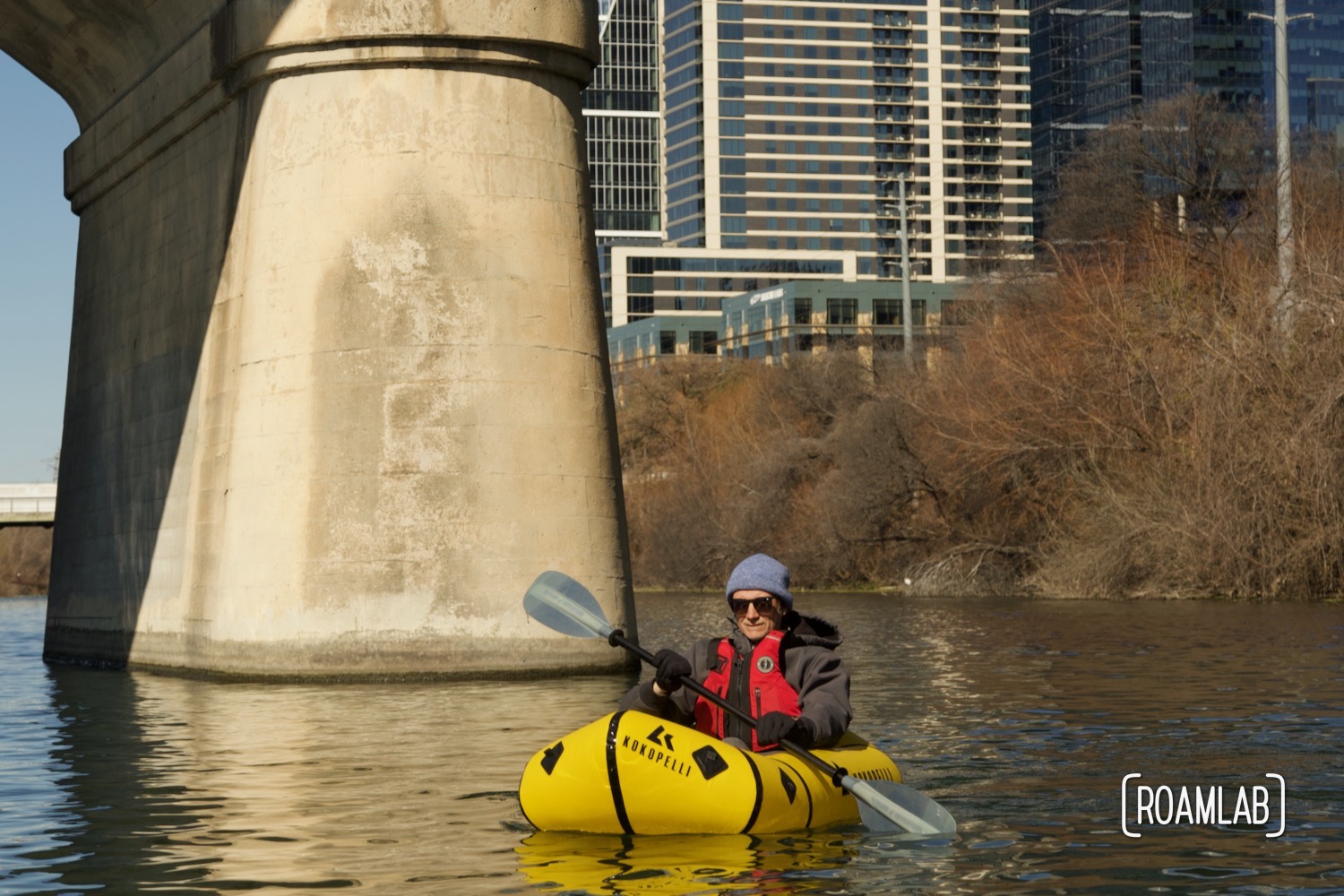 Austin, Texas may be an urban hub for tech and BBQ, but it also nurtures a culture of outdoor recreation.  Along with towering glass buildings, the metropolis is laced with greenways, and none is more pronounced than the series of parks that border Lady Bird Lake, the dammed-off stretch of the Colorado River which wanders through the heart of Austin. 
While labeled a lake, Lady Bird does have a mild current running west to east. It's common for paddlers to put in and out at the same point, paddling up and down the river. We, however, have inflatable pack rafts. So, rather than planning a return trip by water, we pack backpacks into our rafts and set out to paddle with the current and then return on foot—taking the opportunity to grab some lunch and explore the paved thoroughfares of Austin's downtown.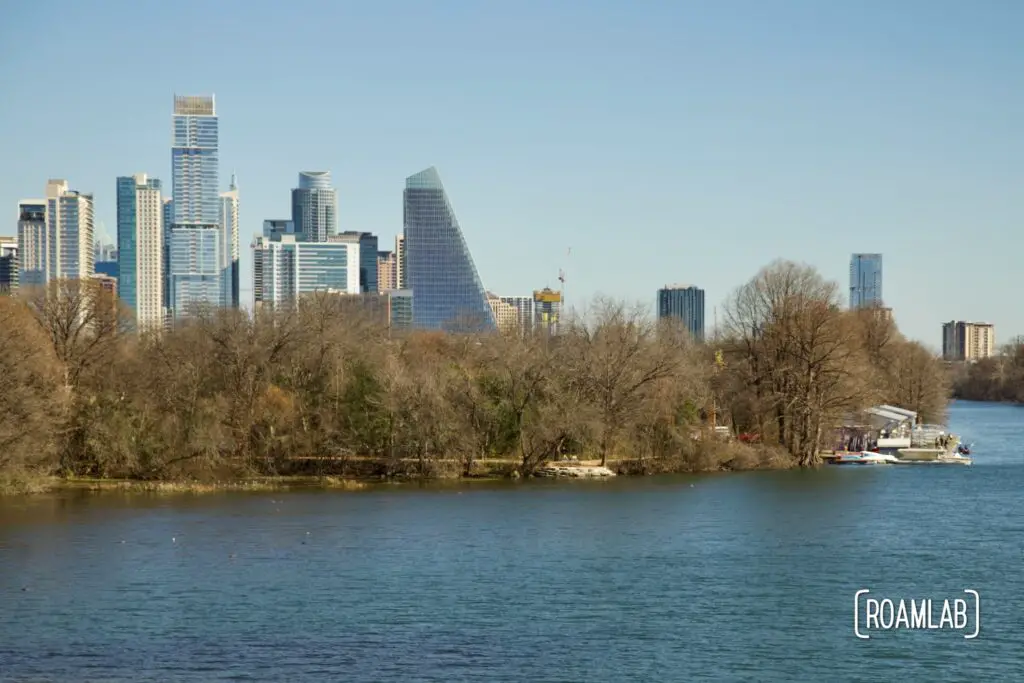 Paddling Lady Bird Lake
The Colorado wanders along the southwest edge of downtown Austin. Most of it is buffered from the busy city by public parks with paths, picnic pavilions, and other outdoor spaces. ⁠The southern shore is far less busy, and we find ample space to park in a dirt lot near the Zilker Botanical Garden. The spot is close to the water in terms of distance but not elevation. We are on a bluff with thick foliage. Finding a location to put in isn't immediate, but self evident when we find it.
Putting in on Lady Bird Lake
We pick our parking spot because there are several rowing rentals and clubs located nearby. While we didn't see any public launches or docks on Google Maps, we assume this density would coincide with something friendly to the casual paddler. I spot a few rough scrambles to the shoreline that we could attempt. But this isn't some wilderness launch point. This is Austin. There must be a more practical spot that doesn't unduly promote erosion on steep bluffs.
Fortunately, we can walk from our parking spot to a level launch point on the northern shore under the Roberta Crenshaw Pedestrian Walk Way. ⁠We clearly are not the only people using this as a launch point. It's a well-trodden area with evidence of many other launches. We inflate our rafts, stow our gear in dry bags, and push off. As we paddle downstream, we see another pair of paddlers at the end of their trip, paddling towards the level and clear stretch of land we had just vacated. Yup, it's a popular spot.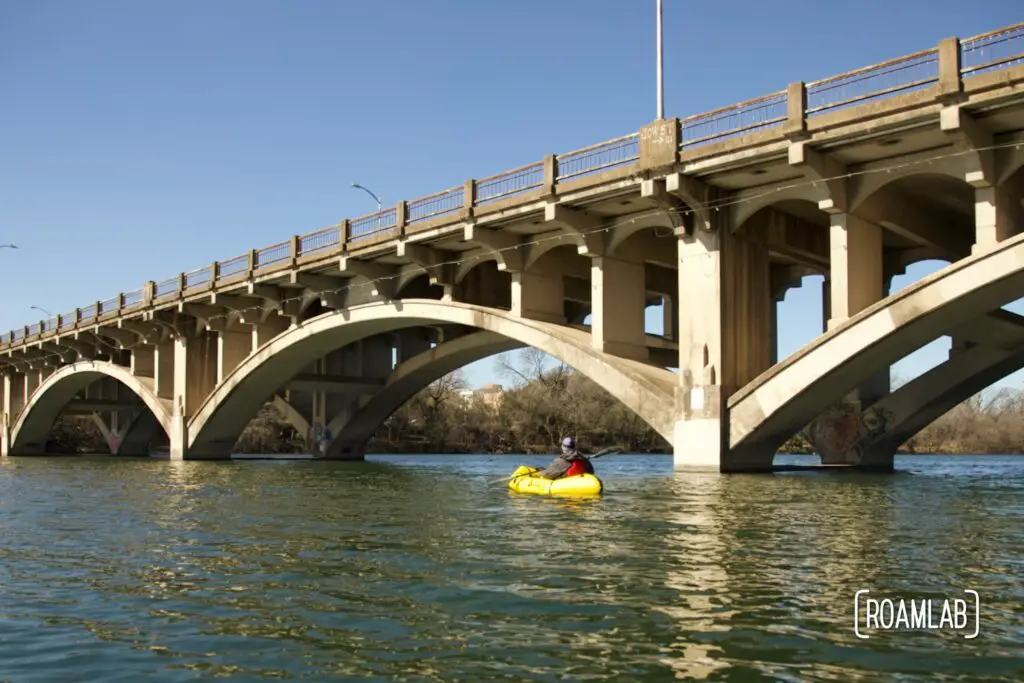 Exploring the Shoreline.
It's a relaxing paddle downstream from the launch point, with views of Downtown Austin. We spot Great Blue Heron, Snowy White Egrets, and humans grazing and engaging in courtship rituals. The only downside is that we are paddling east in the morning. So we are paddling into the sun. For a one-way paddle, we would be better served traveling west in the morning or east in the afternoon. But any paddling is better than no paddling. And we have things to see downtown.
We pass under several bridges. Some are utilitarian. Some are sculptural, And one is utterly unique. The Congress Avenue Bridge is more than just a towering river crossing; it is also home to a massive colony of bats.
The Bats of Congress Avenue Bridge
At the end of a warm, calm day, crowds gather around the Congress Avenue Bridge to see the bats flood the sky in one mass cloud of wings. It's an awe-inspiring experience…under ideal conditions, that is. And to understand what makes for the best bat viewing, you must understand the bats.
While many bats call Austin home, the Congress Avenue Bridge is home to a maternity colony of Mexican free-tailed bats. These migratory bats spend the winter in Mexico but return to Austin to birth and rear their pups. The bats roost in gaps between the road deck and concrete structures during the day and take flight in the evening to hunt for flying insects.
The number of bats that take flight each night varies depending on the season, weather conditions, and how hungry the bats are. While much of the spring and summer make for good bat watching, the peak time is August as the offspring mature. But numbers also vary daily. On a cold, windy, rainy evening, flying conditions are poor, and well-fed bats are far less likely to take wing. But on a warm, calm evening, the sky can be filled by the synchronized flight of the world's largest urban bat colony.
The Austin Bat Refuge puts out predictions for each night based on past behavior and weather.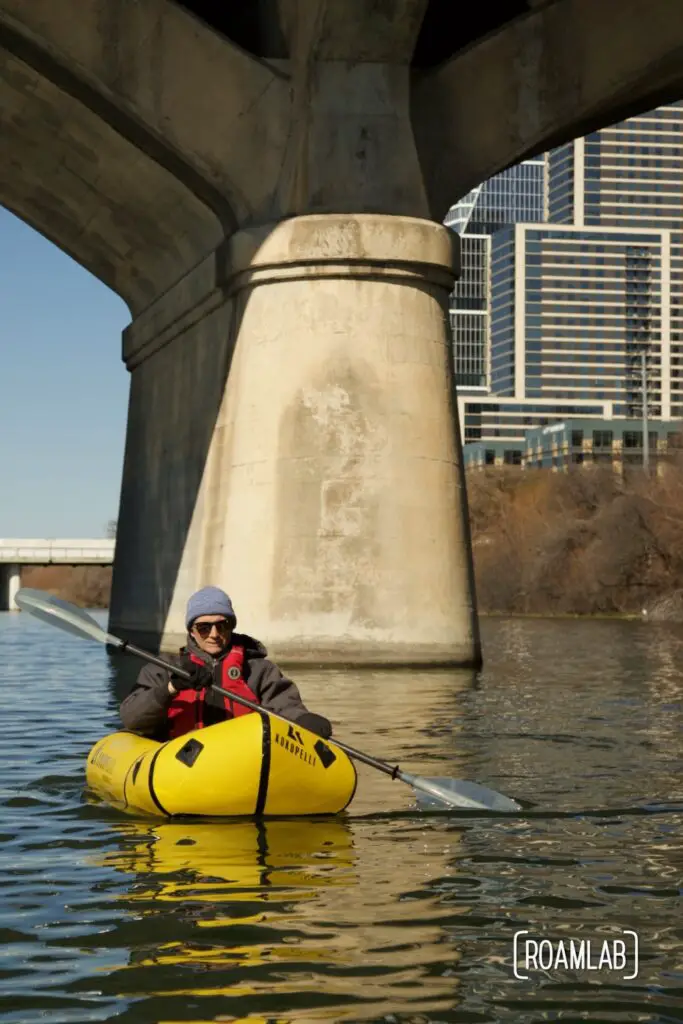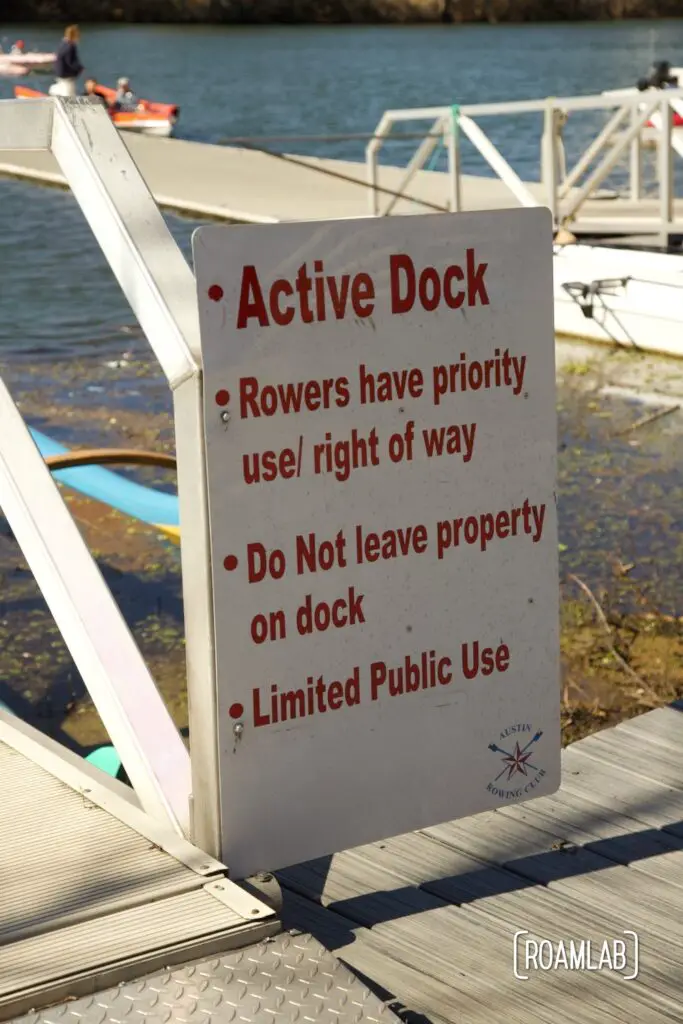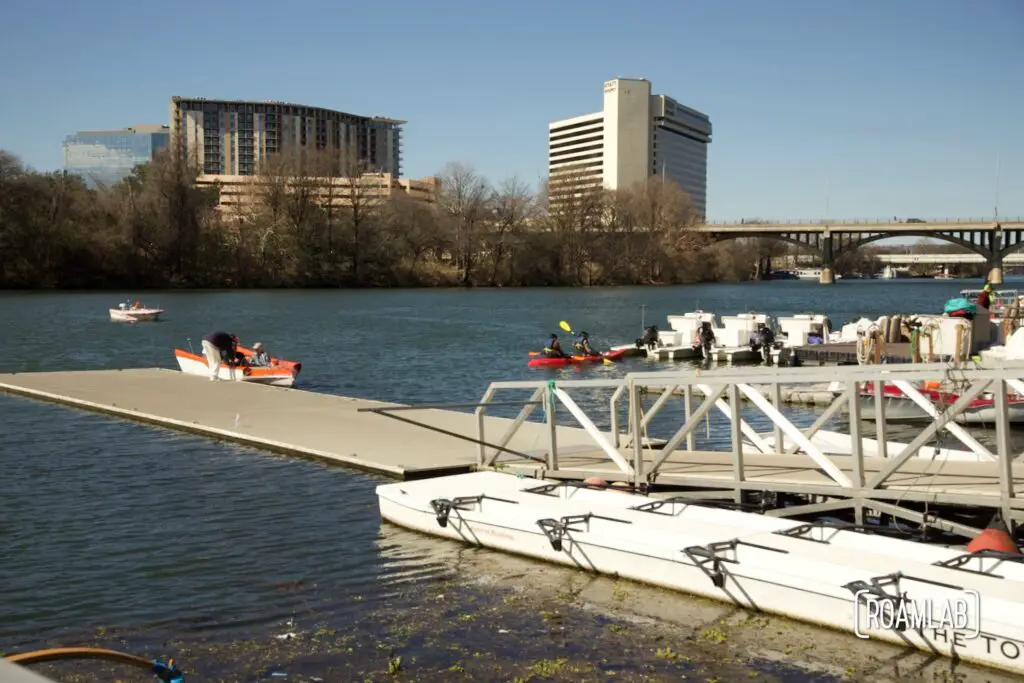 Walking Through Downtown Austin
While we could have continued paddling on the Colorado River, we find a dock on the north shore with limited public use at the Austin Rowing Club just after the Congress Avenue Bridge. We quickly deflate and pack our rafts in backpacks before exploring downtown Austin.
Driving through Austin can be harrowing, but the city is profoundly walkable.⁠ We are grateful to have the camper parked outside of downtown as we walk past parking garages with ambitious entry fees.
For those looking to commune with nature, it's a simple enough choice to return via the river walk. It's an uninterrupted scenic trail popular with walkers, runners, bikers, and anyone looking to relax outside. However, we opt to explore the city and wander down 6th Street, the touristy heart of Austin with quirky bars and oddities such as the Museum of the Weird. We enjoy margaritas at the Iron Cactus, find my favorite beer at a Belgian beer garden, and enjoy some Austin BBQ as we return to the camper.⁠
It's the perfect day. And by the late afternoon, we are speeding away from the busy city, headed for watery wilderness.⁠