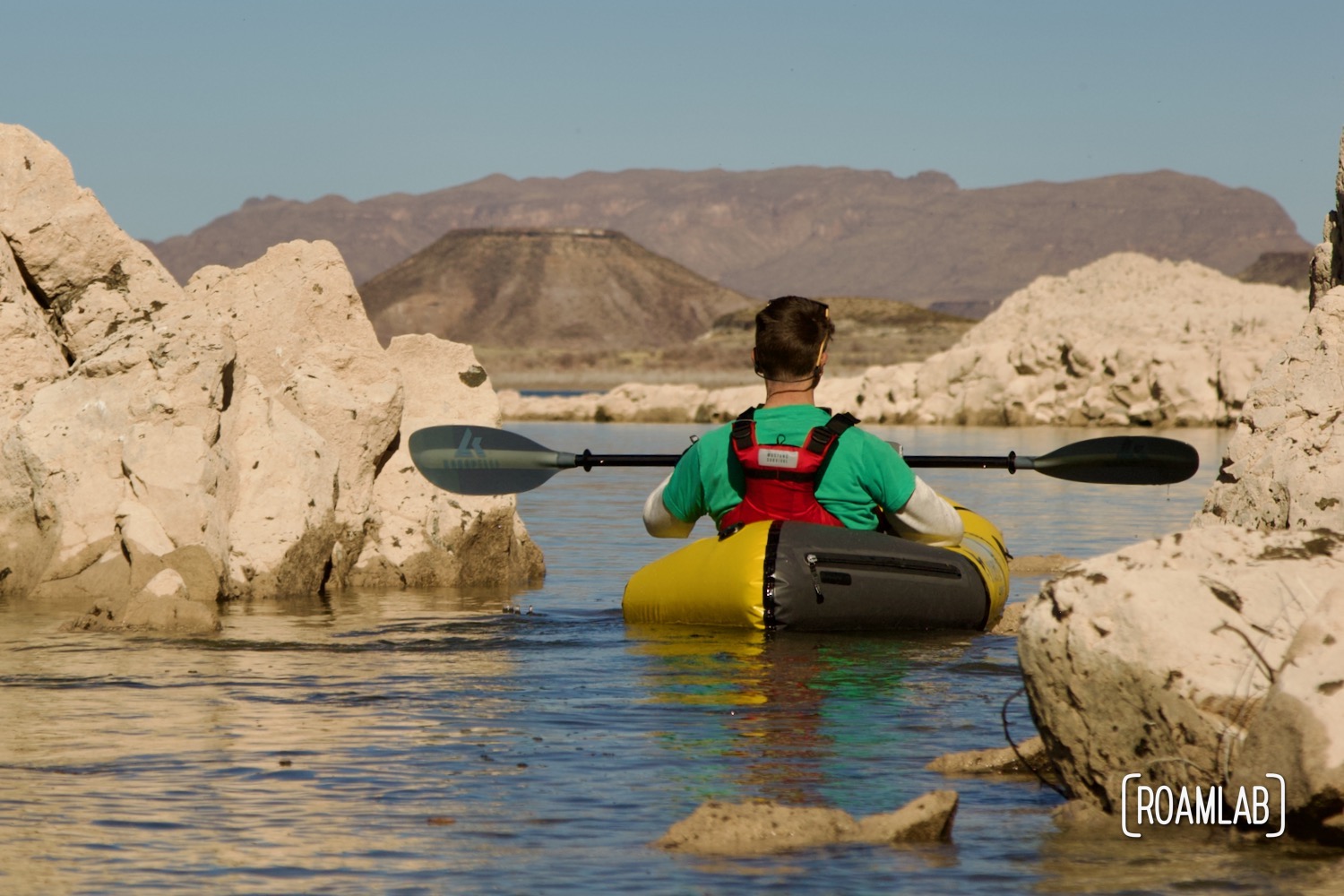 Paddling Elephant Butte Lake
Rafting, Kayaking, Canoeing, & SUP
We've visited Elephant Butte Lake State Park before, but this is the first time we have arrived with rafts.  Those distant rock formation on the other shore suddenly transform from a backdrop to a destination.  And, with paddle in hand, we are ready to take on this dynamic body of water.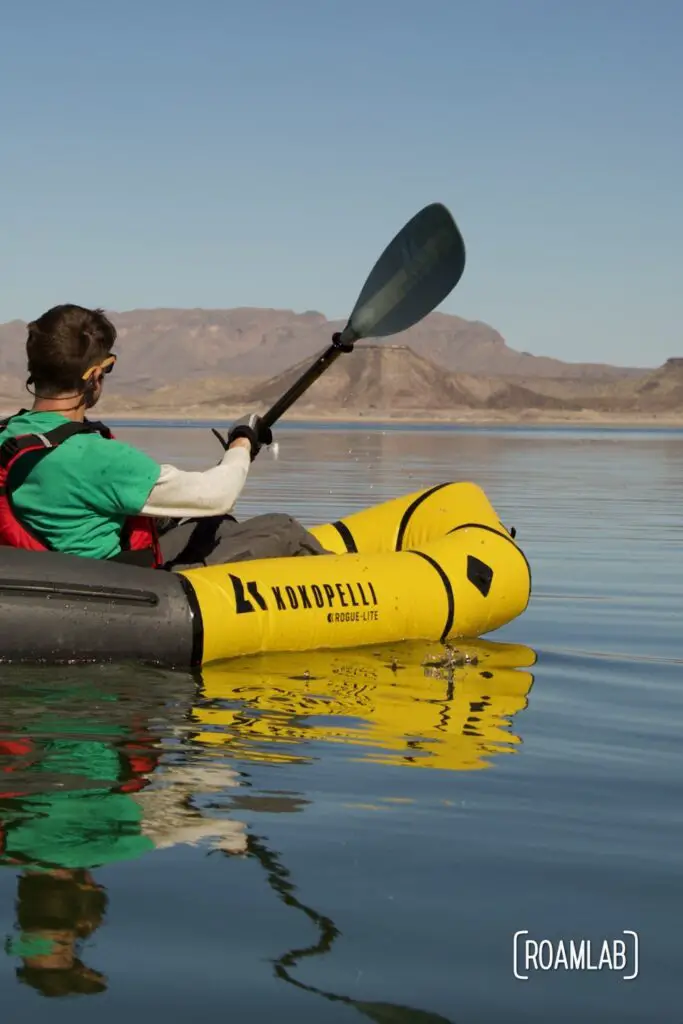 About Elephant Butte Lake State Park
Elephant Butte Lake State Park is a gem of central New Mexico, located a hop, skip, and a jump north of Truth or Consequences. The park encompasses a reservoir fed by the Rio Grande.  And while we have enjoyed camping, picnicking, hiking, biking, and running throughout the park, its main draw is, of course, water sports.
Historically, the levels of this reservoir have been consistently dropping.  But this year, in a surprising turn, we see the water level higher that last year.  One of the main dirt roads along the beach is flooded and if this trend continues, Rattlesnake Island may once again warrant its name if the low spit of land out to the rocky formation is submerged.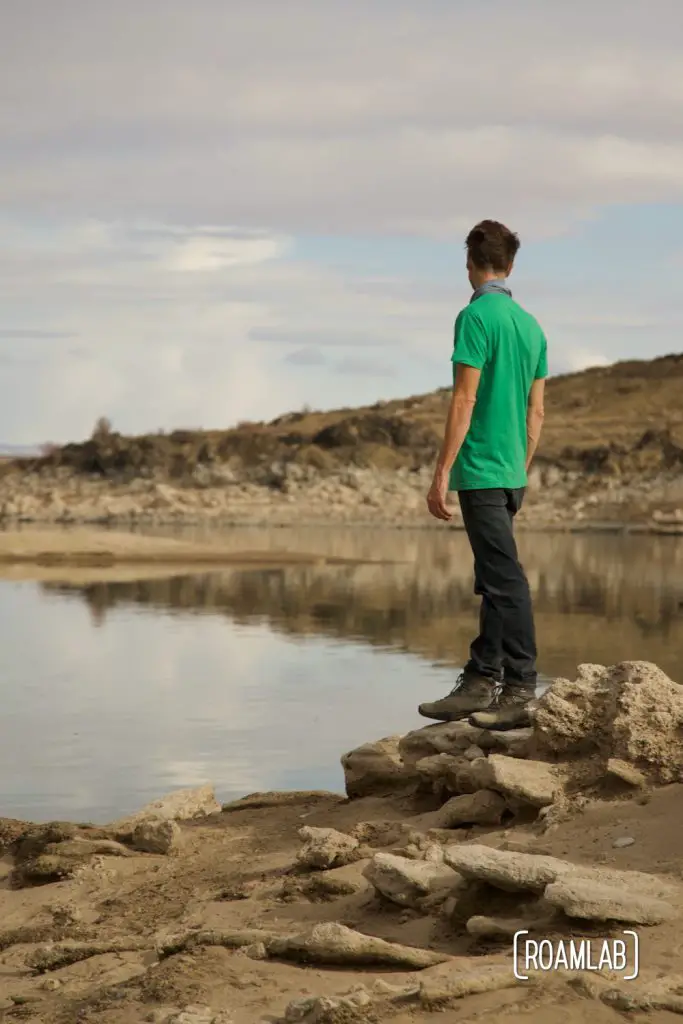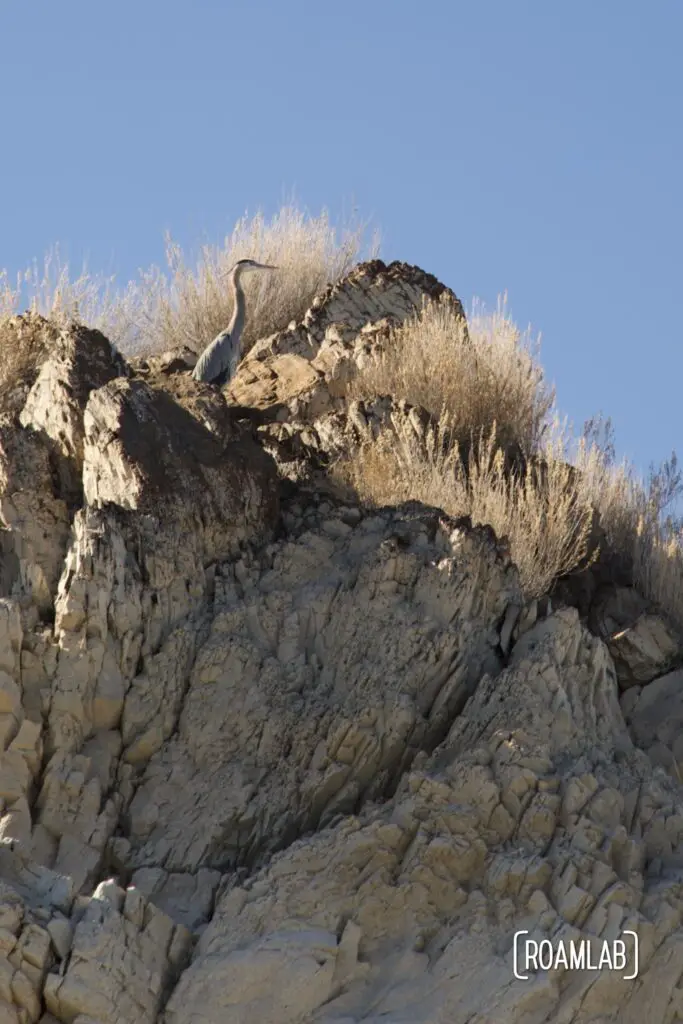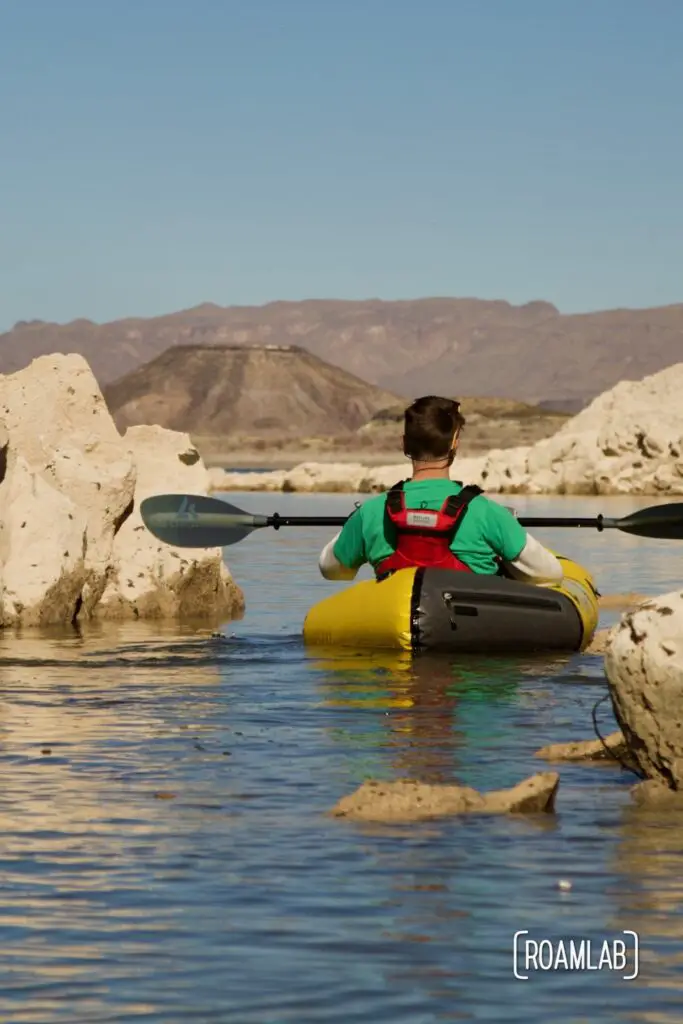 Paddling Elephant Butte Lake
While parts of the reservoir are hemmed in by buttes and other rock formations, the water is wide enough and the land flat enough that wind can speed across the surface and whip up choppy waves that buffet boats riding high on the surface—which, of course, includes us.  We encountered similar conditions on Lake Mead and opted to delay until the winds died down for risk of being swept away to some distant shore or capsized far from land.  Elephant Butte is a small enough body of water that we are far less concerned by the wind.  It makes for some rough paddling but most anywhere we stand to land we could walk back to our campsite.
We put in along Lions Beach, an easy hike from our campsite at Lions Beach Campground.  From there, we paddle around Rattlesnake Island, a reasonably sheltered spit of land that marks a half way point from Lion's Beach to the other side of the reservoir.  
While motor boats are permitted in Elephant Butte Reservoir, only a couple pass by. When we depart from Rattlesnake Island to reach the far shore, there are no motorboats nearby.  Instead of a rolling wake, it is the wind and choppy waves that we fight to reach the other shore.  Once there, we explore the rough rock outcroppings and inlets that mark this stretch.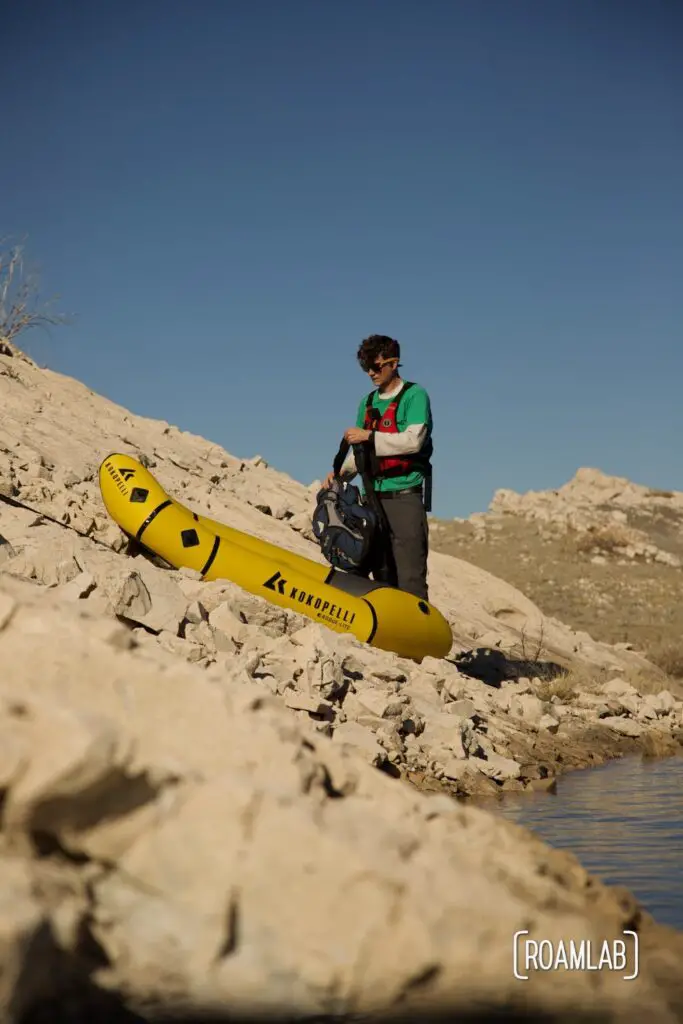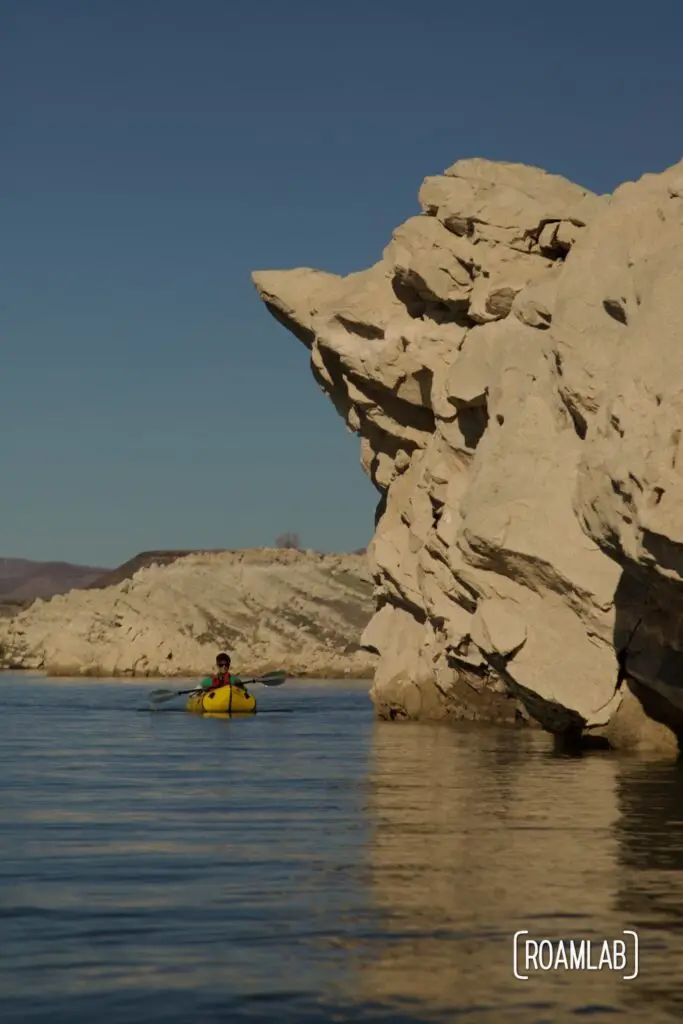 A Blustery Return
We could spend hours paddling but the short winter day has us paddling back to the other shore early.  Now, the wind howls along the reservior's surface and we are spritzed with water as we paddle into the waves and squint to the horizon where the sun sits low.  On a calm day, this would be a relaxed paddle, but with the wind, we cut out early, finding a close spit of land the put out, pack up the rafts and walk the rest of the way back to the campground. 
While I roll up the last raft and fold up the tarp I use for the process, a Jeep drives over along the sand an a man hops out.  He had seen us fighting the waves and offers to help us transport our gear back to our vehicle.  We appreciate the gesture but decline, it's not nearly the load he thinks.  I pass him a rolled raft to heft. It's 6 pounds.  Impressed, we chat away about the reservoir, camping, and New Mexico until I've packed everything away and walk back to our truck.
It's another successful day on the water. And, frankly, a bit of a workout. My biceps burn. Perhaps it's time to take up strength training to improve my performance?