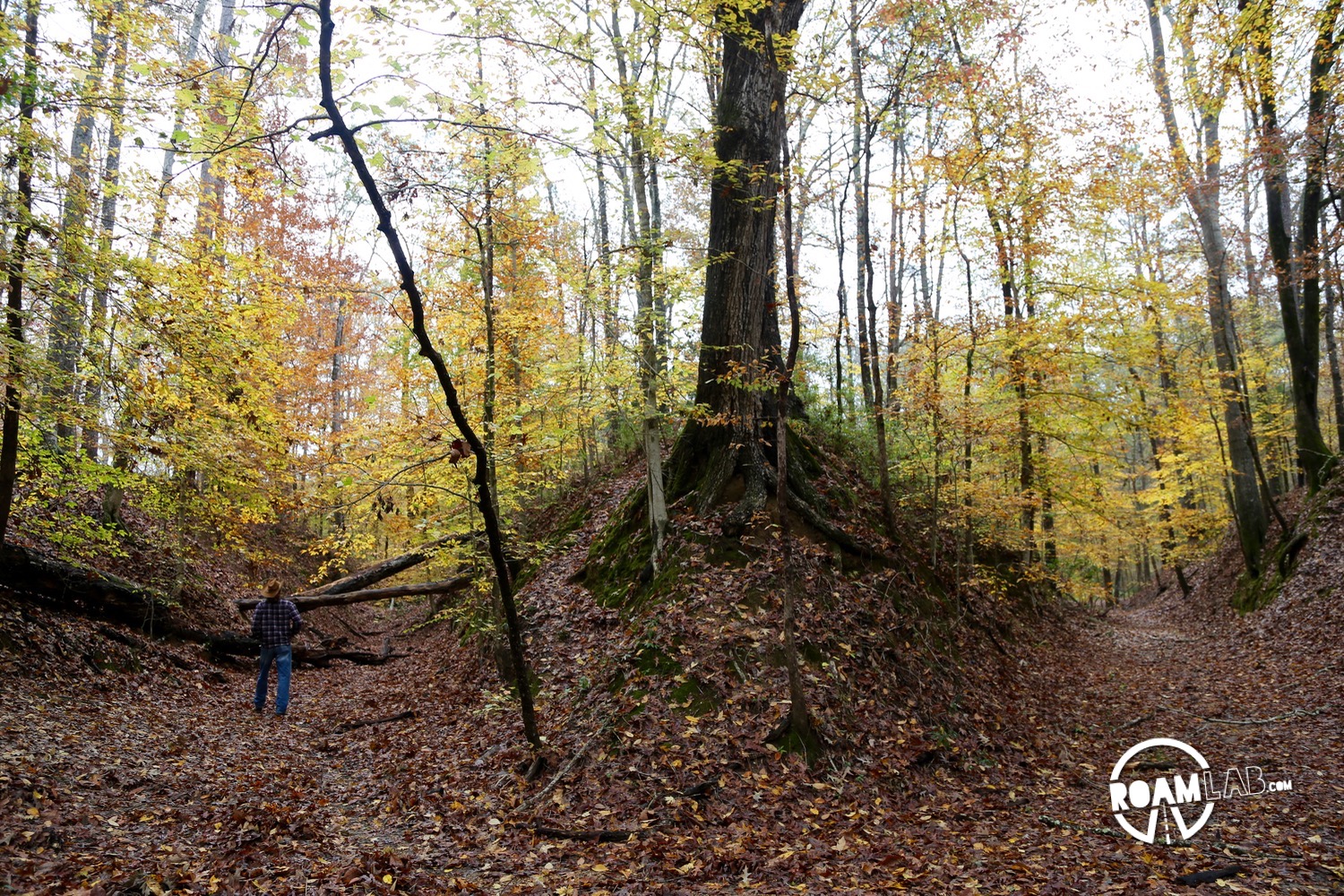 The Road Not Taken
As late in the fall as it may have been, leaves the color of sunshine clung to the trees. The less tenacious littered the ground. This portion of the Natchez Trace is so worn by centuries of use that it is now a deep gully. We climbed down into the ancient footpath and looked up at the walls. They rose above our heads to flatten out at the natural ground level. This is a path so tied to tradition that to walk it literally blinds you to all other directions.
Few options are so explicitly limiting. Usually, we think we have choices yet never consider what the alternatives to a traditional route actually are. Get a job. Get a house. Settle down… It's easy to loose track of the difference between the need to support ourselves and the desire to accumulate stuff. It is the Tyranny of Things. Got a bit more money? Great, you can upgrade. What we assume is self expression is just a different flavor of consumption.
This is the difference between the known unknowns and the unknown unknowns. The known unknowns are the routes we noticed but never investigated. We didn't even know that we missed the unknown unknowns. We keep walking forward and miss that there was a different path we passed by. It's easy to miss. It's not as well worn as the one everyone else took. The other path branched off just at that point that you really got into the swing of things. You had a job where you were finally, truly independent. You looked at that used car you had been driving and thought, "I want a new one." You didn't notice the path to the side, where you could have paused to think what would make you happiest. Maybe it is the new car…or would it have been an adventure? We get so lost in the trees that we forget that there are other ways to live.
It would be equally myopic to argue that everyone should sell their things and become nomads. A 9-to-5 job and a comfortable house can be heaven. Plenty of others will never enjoy that degree of security. Just consider if it is your heaven or someone else's.
It's silly for me to pretend that I have anything new to contribute to the conversation, thought. Robert Frost condensed the sentiment so eloquently that he even got the color of the leaves right:
Two roads diverged in a yellow wood,
And sorry I could not travel both
And be one traveler, long I stood
And looked down one as far as I could
To where it bent in the undergrowth;

Then took the other, as just as fair,
And having perhaps the better claim,
Because it was grassy and wanted wear;
Though as for that the passing there
Had worn them really about the same,

And both that morning equally lay
In leaves no step had trodden black.
Oh, I kept the first for another day!
Yet knowing how way leads on to way,
I doubted if I should ever come back.

I shall be telling this with a sigh
Somewhere ages and ages hence:
Two roads diverged in a wood, and I—
I took the one less traveled by,
And that has made all the difference.
The Road Not Taken by Robert Frost