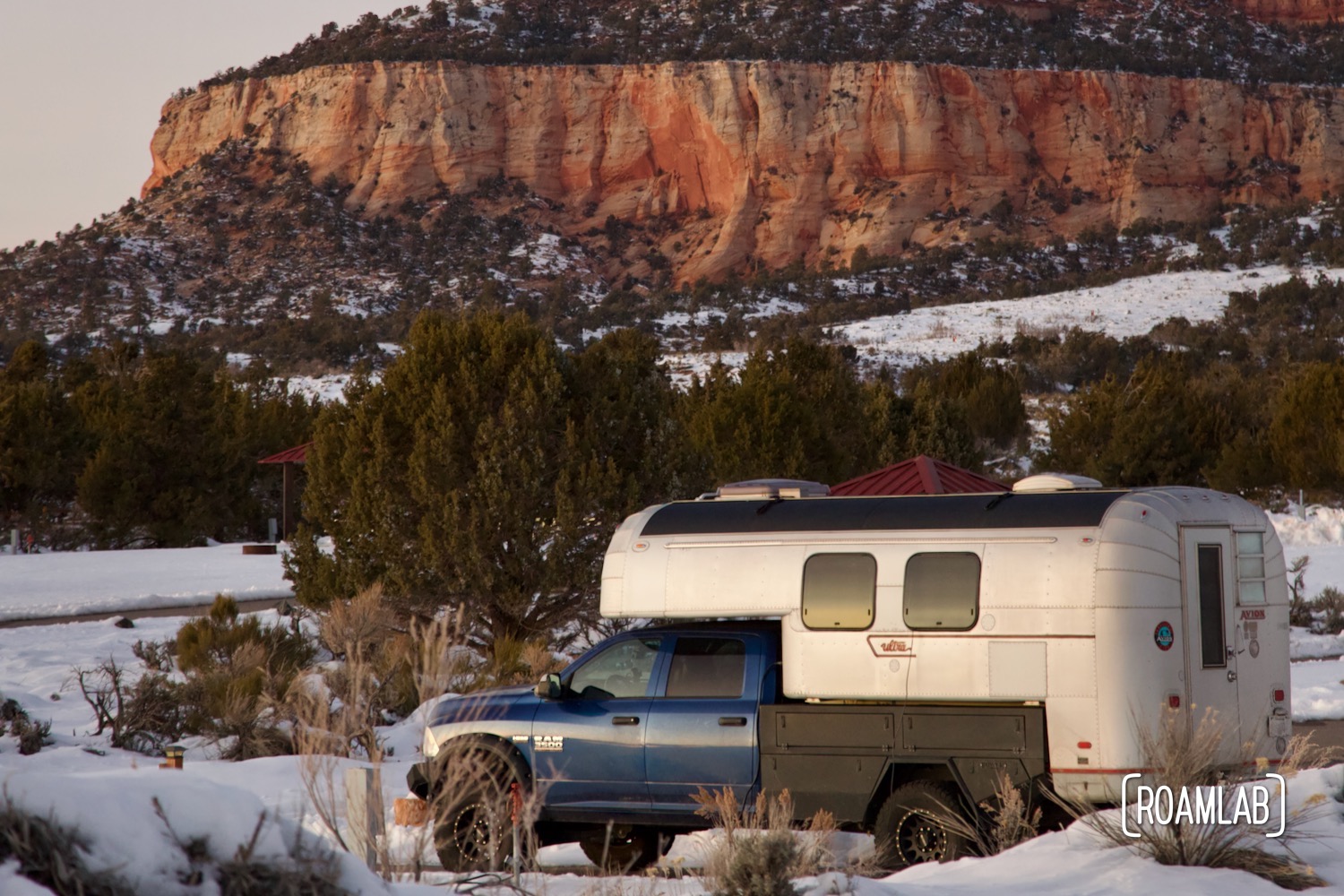 Camping Coral Pink Sand Dunes
Utah State Park
Coral Pink Sand Dunes State Park lives up to its name. The 1,200 acres of sand dunes are very pink, thanks to the Navajo Sand Stone found throughout the region. And, with so many stunning dunes and ways to explore them, it's no surprise that many visitors to this remote region of southern Utah would also want to camp overnight.
Camping in the park is restricted only to designated campsites. Fortunately, there are quite a few of them. Though, distinguishing between them can be a little messy.
The Coral Pink Sand Dunes State Park campground does not have a name, as far as I've been able to discern. It's also not one campground. There are two distinct camping areas. One sits directly in front of any prospective camper as they pass the ranger station. This is the RV campground with large open spaces and hookups. The other campground sits at the end of the park's short road. Google Maps refers to this campground as "Coral Pink Sand Dunes South Campground." So, by process of elimination, I will refer to the RV hookup campground (which Google Maps doesn't bother to distinguish as a campground and thus offers no name) as "Coral Pink Sand Dunes North Campground."
To be fair, while both campgrounds are distinct, they are within reasonable walking or biking distance. I've stayed in campgrounds that covered more ground than these two occupy. But it feels important to clarify. Because when you are visiting Coral Pink Sand Dunes State Park in the middle of the winter, with snow piled on the sides of the road and single-digit temperatures, these two campgrounds might as well be a world away.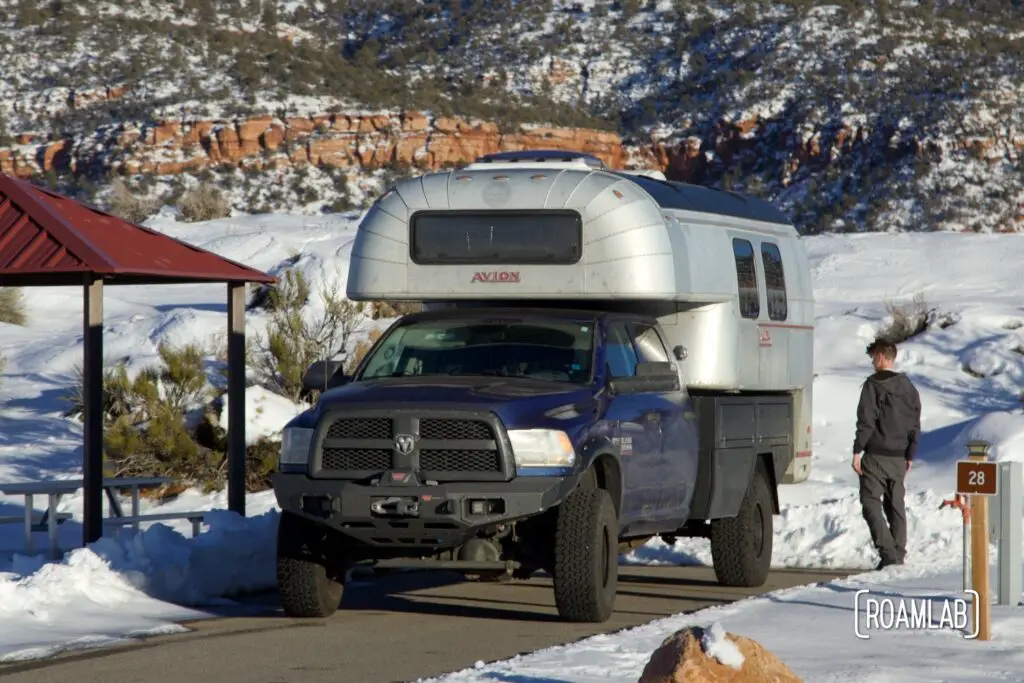 Coral Pink Sand Dunes North Campground
The entrance to Coral Pink Sand Dunes North Campground is roughly 150 feet from the ranger station. It's also incredibly visible, given that it is an open space with only small brush and no high trees that might brush up against RVs. That means no privacy between the RV sites but it also means clear views of the red rock cliffs on both sides of the dune field. All considered it's a reasonable terrain for a campground designed for RVs, complete with electrical hookups and a dump station. Each campsite also enjoys its own fire ring and covered picnic table.
There are two bathrooms at the campground. The more centrally located bathroom is a vault toilet. But the more northerly block of toilets not only are heated but includes running water and showers. About the showers….they look great. And when the weather isn't in the single digits, they may even be warm. As far as our experience is concerned, though, the water wasn't so cold enough to cause hypothermia but it also was not warm as advertised. I was grateful for our electrical hookup so that I could blast our heater until I stopped shivering. (which took a while.)
While there are a variety of campsites available, from back-ins to pull-throughs, only a few of the sites were shoveled free of snow, so we settled on one of the sites where we were less likely to slip on ice and break an ankle. The site was certainly worth the higher fee to have electrical hookups during the extreme cold. Any other time of year, we likely would have opted for the more down-to-earth and less expensive South Campground.
Coral Pink Sand Dunes South Campground
For those adventurous types ready for a trek, the Coral Pink Sand Dunes South Campground is a whole quarter of a mile further south of the ranger station and North Campground. As noted earlier, it's an easy walking distance between the two campgrounds but the landscape changes significantly. The south campsites are sheltered by juniper and pinion trees, granting each site a bit of privacy from the other but also introducing clearance issues for any larger rigs (say a truck camper) to clear without brushing up against a few branches. The sites also include fire rings and picnic spots. Better yet, in the heart of it all is a heated bathroom with running water and showers.
Now, I can't say that there was any meaningful difference between the South Campground bathroom and the North Campground bathroom. But after I nearly froze that night while showering in the North Campground, Chris decided to hold off on his own hygiene and try the South Campground showers the following morning. Perhaps it was the slightly less freezing conditions of the morning, perhaps is was the lack of any campers at the South Campground to deplete the hot water, or perhaps the water heater is just better. Whatever the reason, Chris enjoyed the nice warm, relaxing shower that I had expected the night before. So, maybe the lesson is to not try to shower in the single digits.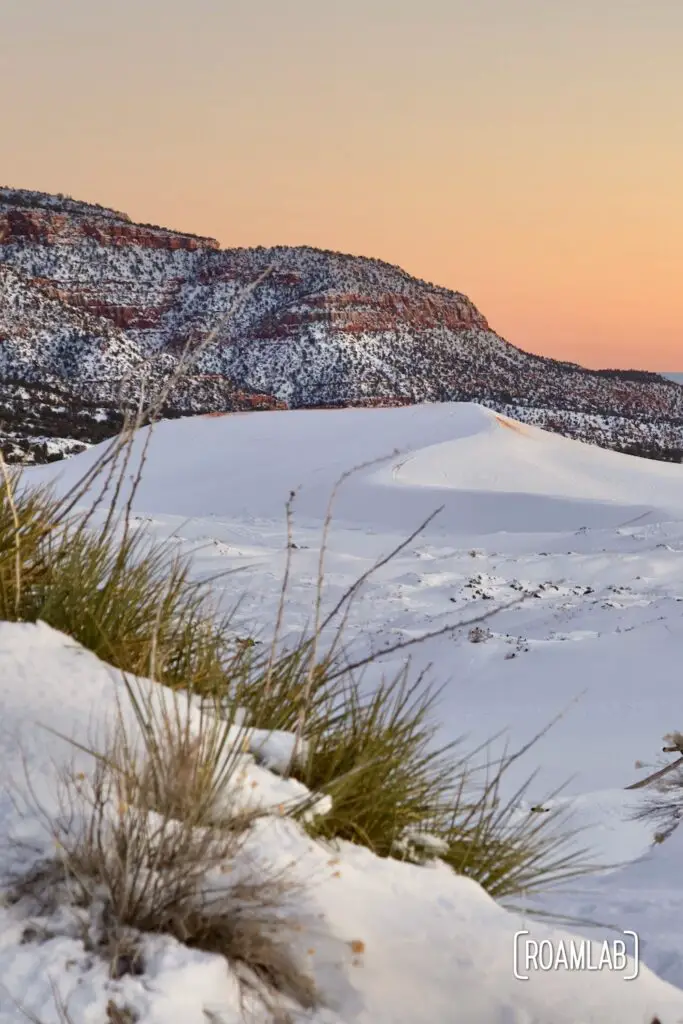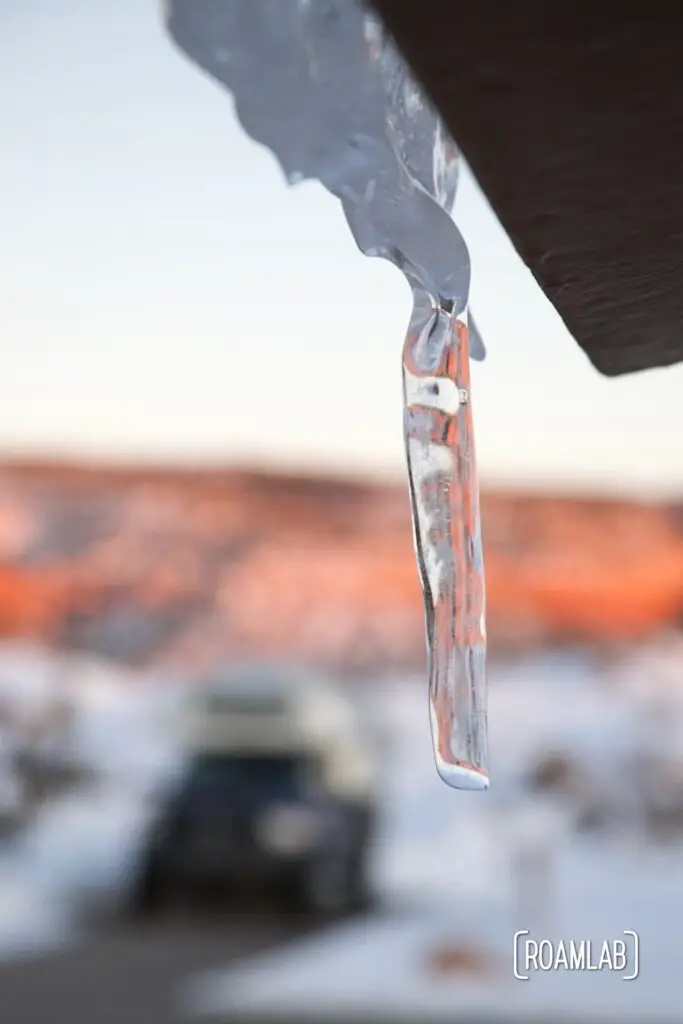 Our Experience
We arrive at Coral Pink Sand Dunes as the sun flirts with the horizon. This region of Southern Utah is remote and camping options are few and far between. We weigh our options: if we keep driving, we might get somewhere warmer. But if this park has campsites with hookups (and at that point, we didn't know the answer and didn't have cell service to find out) then we can get a well-needed break from the cold. Oh, did I mention that the heater in our truck wasn't working? Yeah, the heater in our truck wasn't working. We were already freezing and we had yet to step foot out of the truck.
So, with those considerations in mind, Coral Pink Sand Dunes Campgrounds had exactly what we needed at the moment: electricity and showers. Had we been anticipating snow, we might have even enjoyed the landscape more. As it is, we'll be visiting again sometime later when the park stays in the double digits and snow isn't covering the dunes.