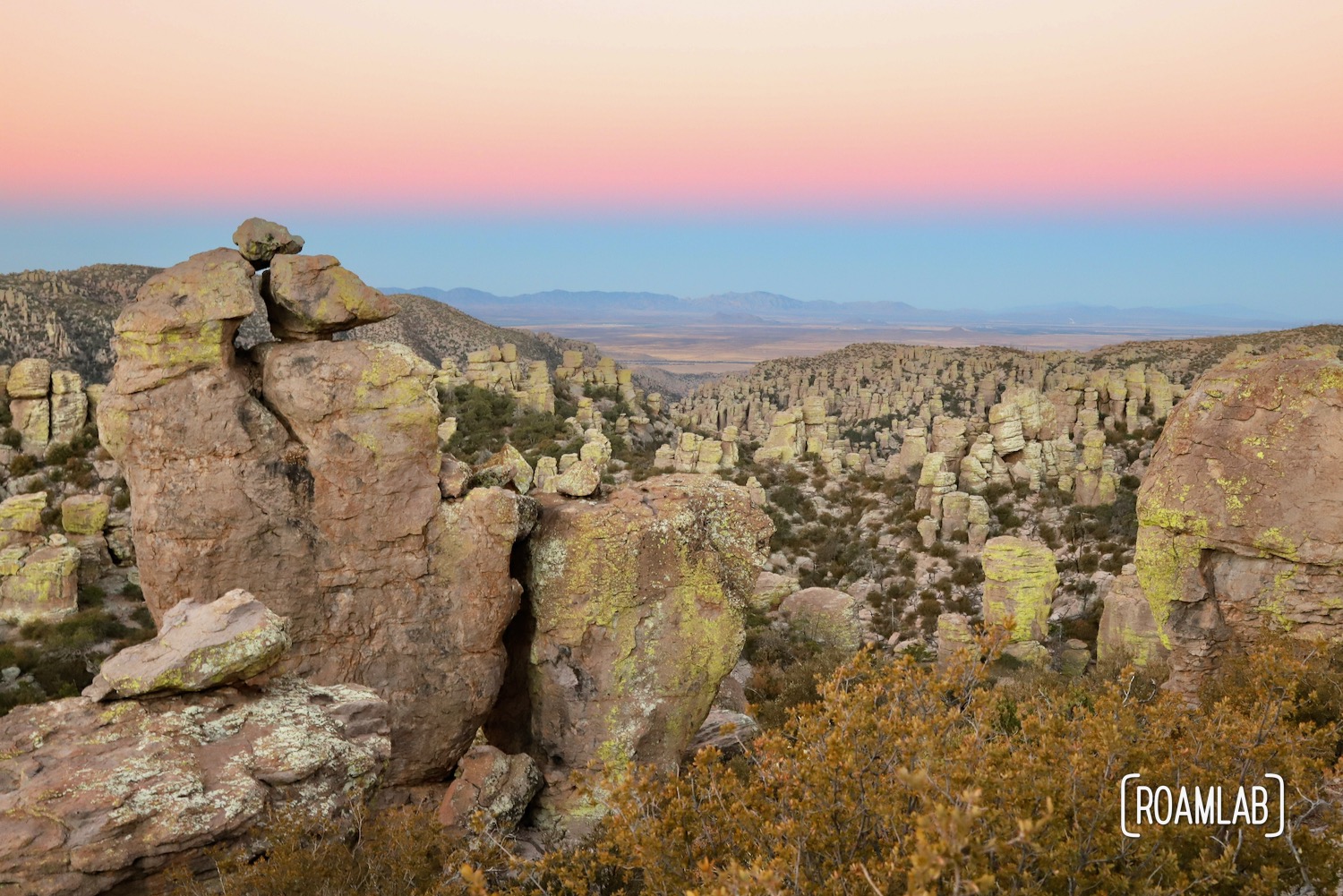 Hoodoos are odd enough on their own. These naturally occurring, freestanding rock formations don't take much to stand out. But rarely are they seen in the density and scale found in Chiricahua National Monument. While a relatively small park in a remote southeast corner of Arizona, Chiricahua preserves an expansive network of canyons littered with rhyolite hoodoos. After taking a moment to gape at its scale from Massai Point, the next thing to do when visiting this remote sky island is obvious: it's time to hike. And one of the standout trails for taking in these stone pillars is the 3.3 mile Echo Canyon Loop Trail.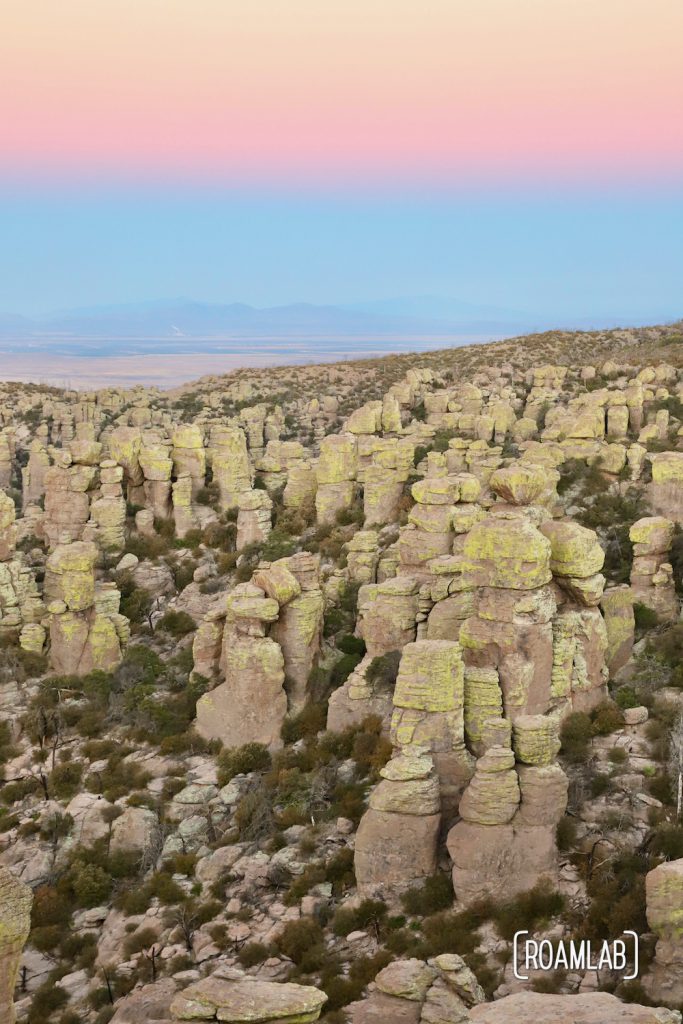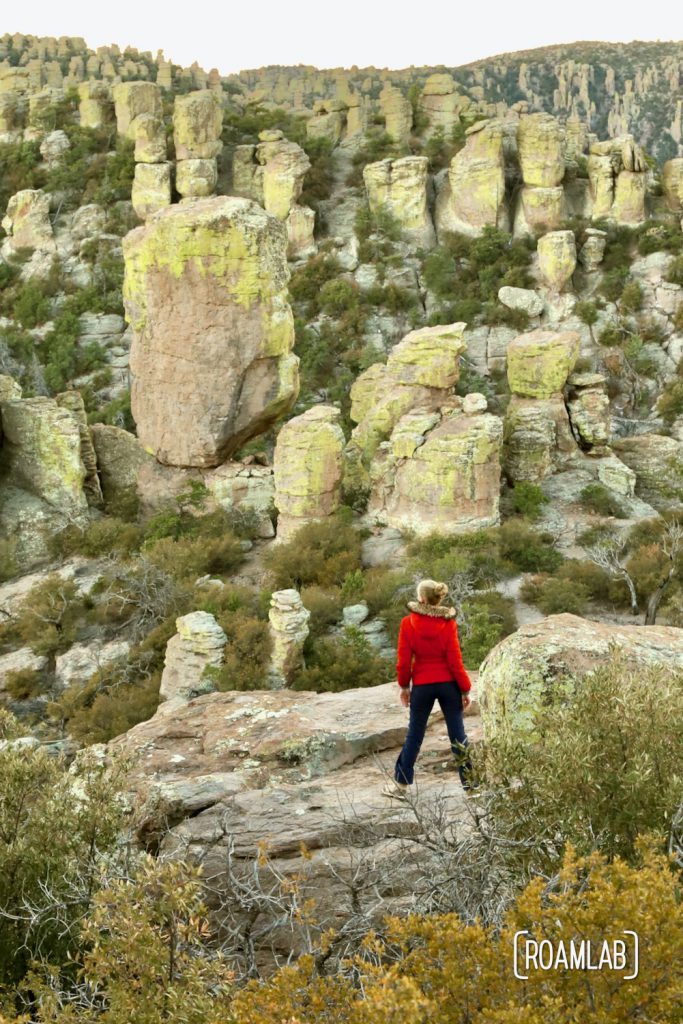 Chiricahua Rhyolite Hoodoos
Chiricahua's hoodoos strike an odd contrast to better-known formations such as the sandstone spires of Bryce Canyon National Park, but the comparison is noteworthy. While Bryce's whimsical pink formations draw millions from around the world, Chiricahua is a lesser-visited National Monument, but its rhyolite hoodoos are much larger and lime green. Well, the stone is grey, but they are covered in lime and mint green lichen. The effect is otherworldly.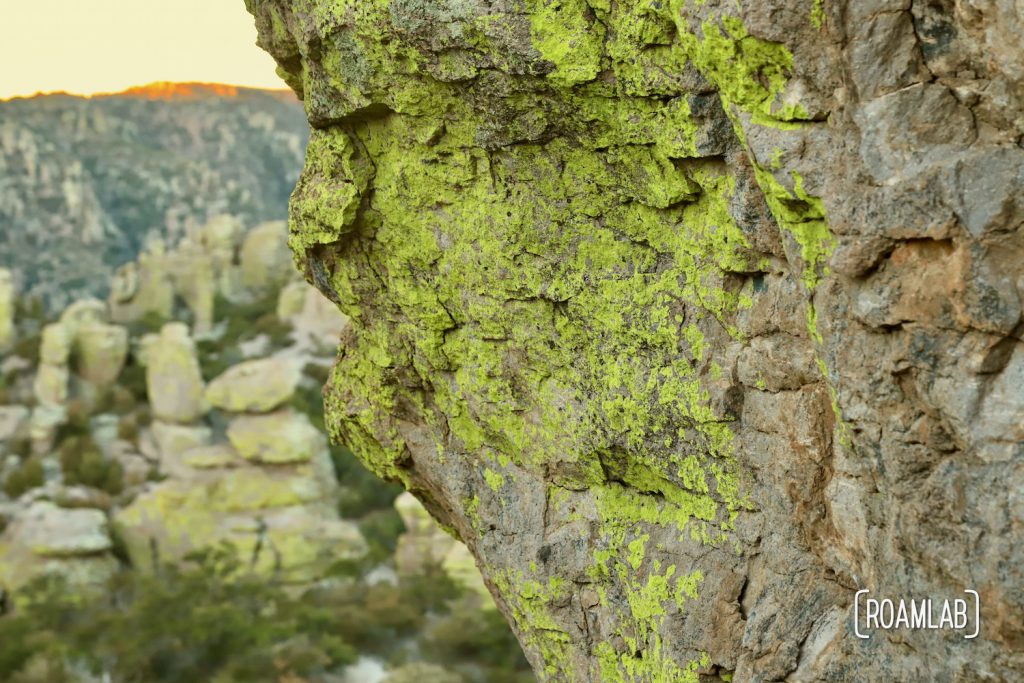 Visiting Echo Canyon
Echo Canyon's trailhead is accessible by a parking lot just off Bonita Canyon Road—the main drag through Chiricahua National Monument. This is the obvious and most direct starting point for those focused on hiking Echo Canyon Loop. But for those who can't get a spot in the Echo Canyon parking lot (it fills up early), the trail is also accessible from Massai Point via a 0.3-mile connecting trail. In fact, the Massai Point can be an ideal starting point regardless. It's hard to beat the views of Massai point as the beginning and end of this loop trail, even though it does add a little over half a mile to the hike.
The loop is best tackled in a counterclockwise direction. This way, hikers start by wandering among the hoodoos. While some sections of the trail have been carved out, much of this section involves walking on rock. This portion of the trail can be a little uneven and involve some large steps, which are best to tackle while fresh at the beginning of the hike. Halfway through the trail, the landscape opens up with views of Rhyolite Canyon and the grassy plains beyond the park in the distance. Up to this point, the trail gradually travels down into Echo Canyon. The second half of the trail is a relatively gentle elevation gain, now skirting the steep canyon walls on a long graded dirt track with occasional weathered trees.
There are three notable forks in the trail. The first, 1.6 miles in, splits south for the Upper Rhyolite Canyon Trail. Hike 0.8-miles further, and another trail forks south for Mushroom Rock Trail. Both are marked and include steep descents, so it is relatively easy to stay on the Echo Canyon route. The final fork is near the end of the Echo Canyon Loop and hooks up with Massai Point. As noted earlier, this can be a worthwhile detour for those with the energy but does add a little over half a mile to the overall hike. Otherwise, the trail concludes in a moderately steep climb back to the trailhead.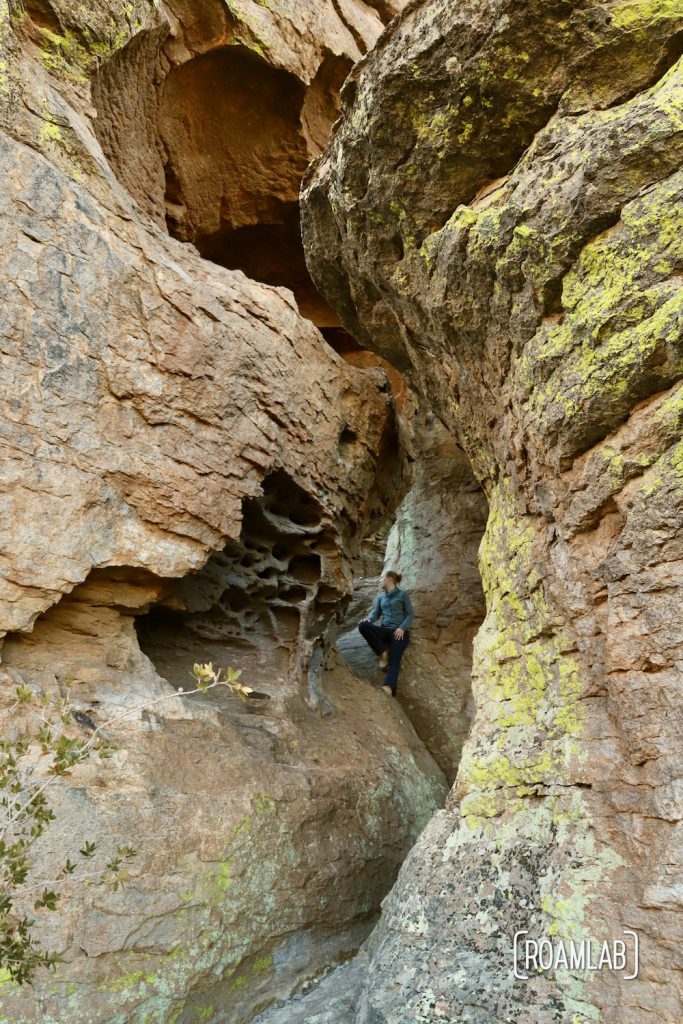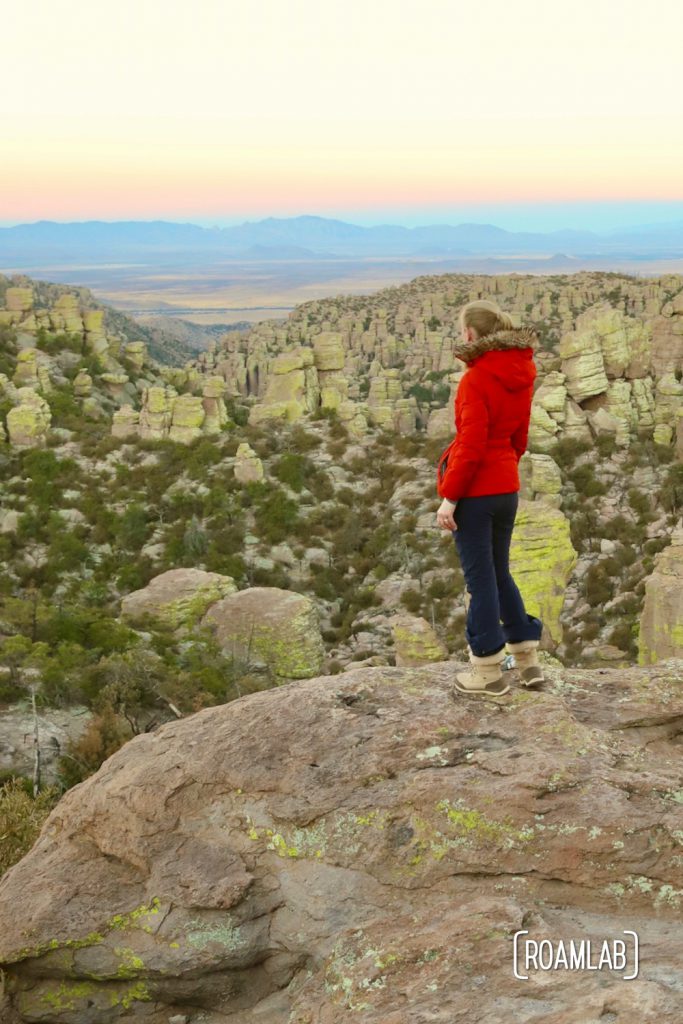 Safety
Chiricahua is a wilderness area. Emergency intervention can be slow and difficult. So, practice safe recreation by being aware of common risks in the area and preparing ahead of time. Cougars, black bears, and rattlesnakes are native to this park. Be aware of cacti, cliffs, falling rocks, desert temperatures, and changing weather. Before taking off, plan to be back before dark and alert someone outside of the hiking group of your plans. Stay on designated trails for your safety and the preservation of this wilderness. Wear proper footwear and be careful not to step on loose rocks. Travel with enough water and other nutrients for the trail you are tackling. I know it all seems obvious, but accidents happen, and preparation is a key to survival.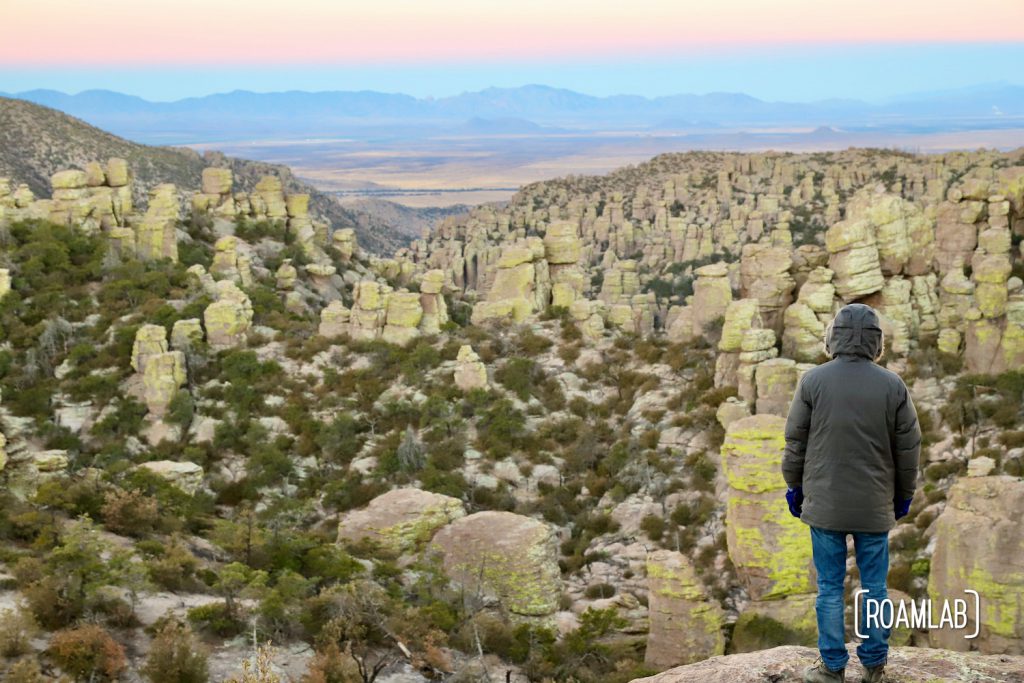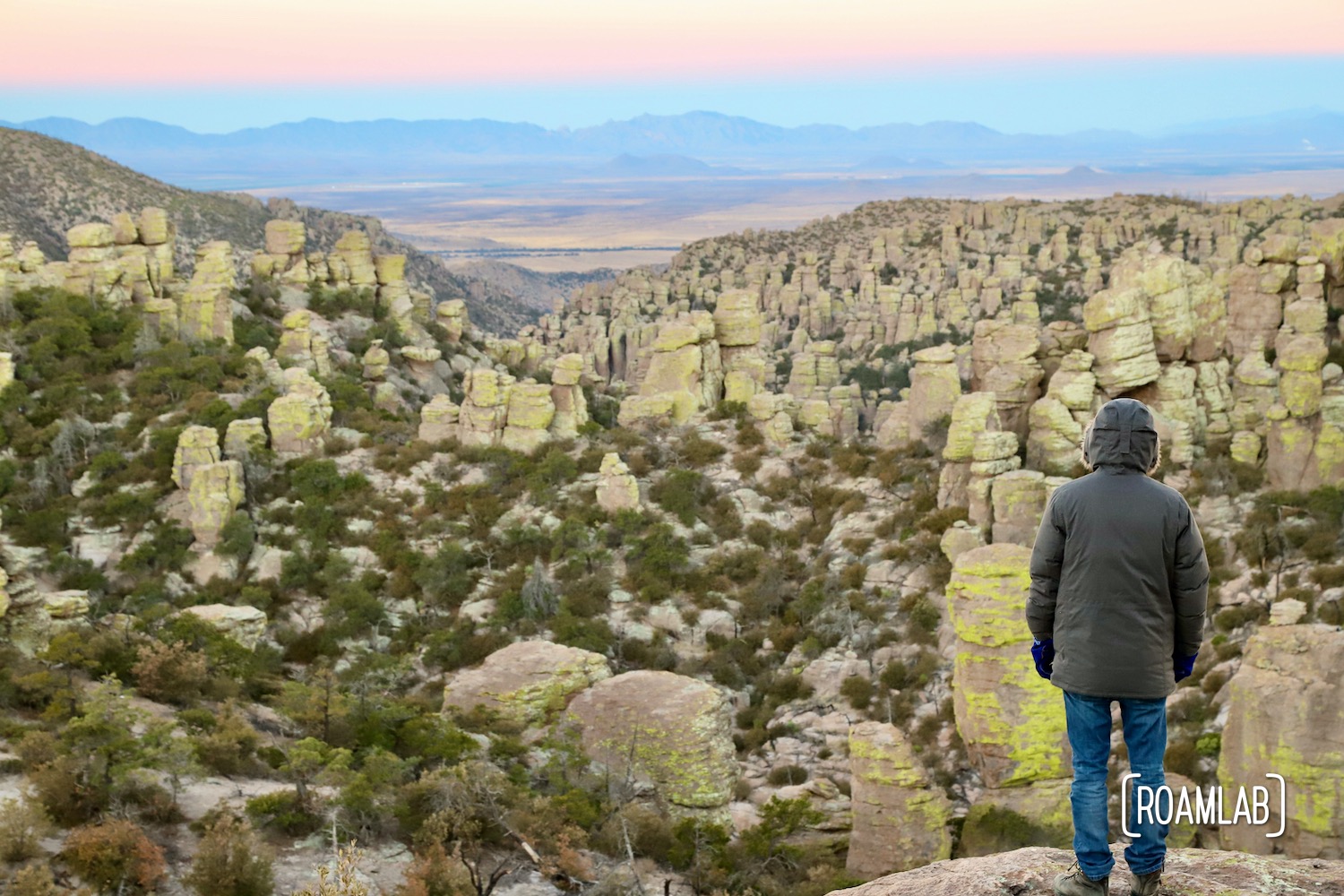 Our Experience
At 5:30 AM, we are up and preparing for our approach to Massai Point and sunrise over the rhyolite hoodoos. We watch the sky shift from pale grey to purple to pink to gold and finally settling into a brilliant blue while wandering the scenic Massai Nature Trail. Then we launch down the narrow gravel 0.3-mile connection to the Echo Canyon Loop trail. Here, the trail is a moderate 3.3 miles, but we take hours crawling through the cavernous Grotto and wandering down Wall Street. By the time the path turns back towards the trailhead, we have dipped into the canyon with extensive views of these radical rock formations on both sides. Best of all, our early arrival allowes us to experience the entire trail without encountering other hikers. Granted, even in more crowded circumstances, this is a hike worth the detour.