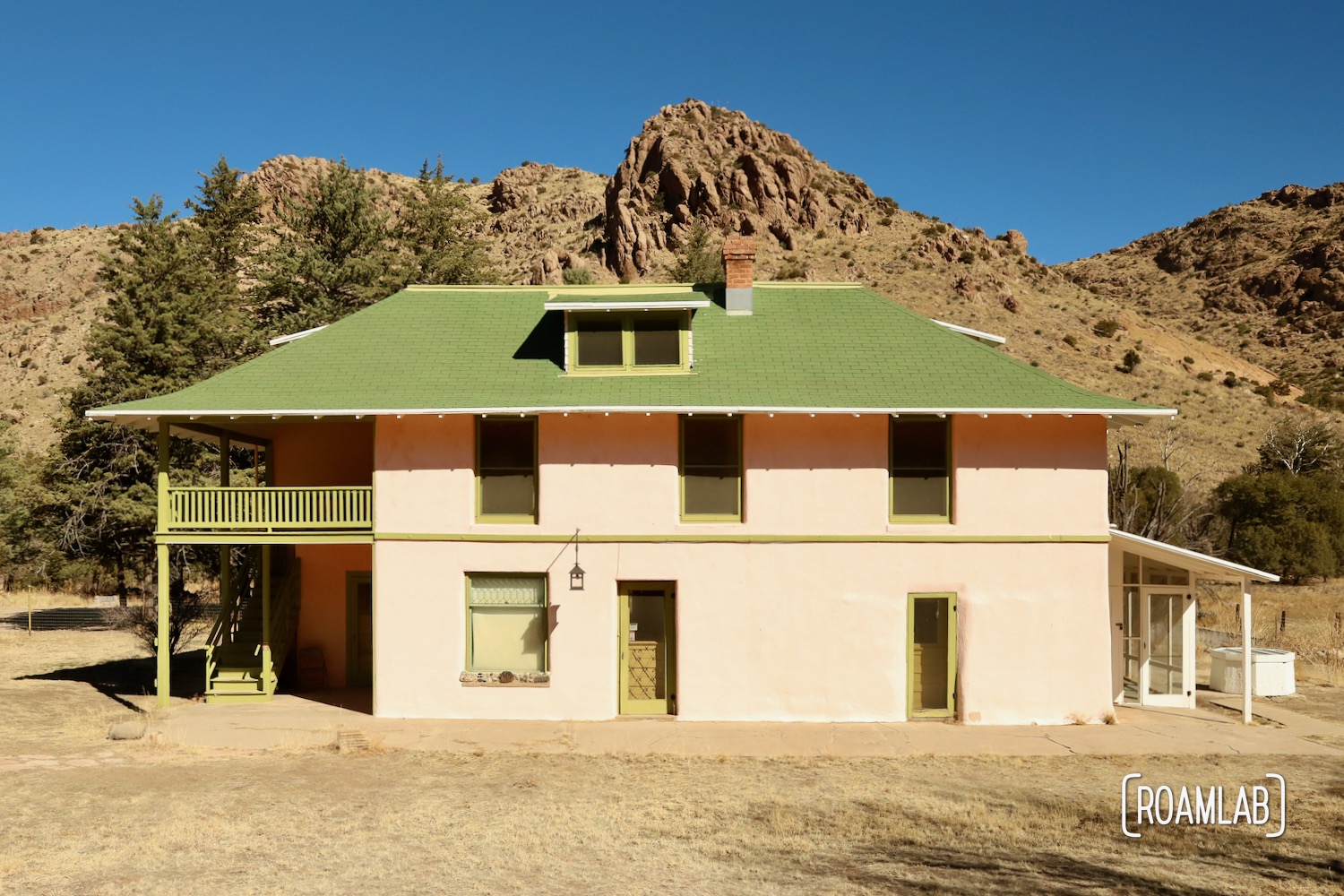 Most people come to Chiricahua National Monument to hike among the hoodoos. But after wandering through those unique rock formations, visitors can also dive into the history of this region—from substance homestead to national monument—by hiking the Silver Spur Meadow Trail. This relatively level 2.8-mile in-out trail follows a seasonal river bed past the Stafford Cabin built in the 1880s, the Faraway Ranch House, and crumbling fireplaces built by the Civilian Conservation Corps (CCC) in the 1930s.
Hiking Silver Spur Meadow
Reaching Silver Spur Meadow Trail is quite a trip for many. Chiricahua National Monument is a two-hour drive east of Tuscon, Arizona, or a 45-minute drive south of Interstate 10. Being a National Monument, there is an entrance fee, though owners of National Park Passes can get in with those. Once inside, the trail is one of the first trails—accessible only one mile into the park.
The Silver Spur Meadow Trail begins and ends at parking lots. Hikers can start either at the eastern terminus at the Faraway Ranch or the western terminus at Bonita Campground. If you don't already have a campsite, though, it will be much more straightforward to start at the large parking lot near the Faraway Ranch House.
Silver Spur Meadow is one of the easier trails in the monument to hike. The shady narrow dirt trail is relatively level with minimal elevation gain. While there are a few glimpses of the rhyolite hoodoos that Chiricahua is known for, this trail highlights the park's history and wildlife. (Pets are allowed on the trail, but leashes are required.)
From Homesteading to National Monument
The Silver Spur Trail wanders through Chiricahua's most accessible portion of the park. This relatively flat and sheltered meadowland is a logical home base for settlers and visitors alike who come to live and explore this mountainous region. So, the remains of the Stafford Cabin homestead, Faraway Ranch, and Civilian Conservation Corps (CCC) camp are all easily accessible along the Silver Spur Meadow Trail.
Stafford Cabin
Built by Ja Hu and Pauline Stafford in 1880, the Stafford Cabin is the oldest structure found along the Silver Spur Meadow Trail. Today, it is only 450 yards from Faraway Ranch, but it was relatively isolated at the time it was built. The Staffords planted a 2-acre orchard of apple, apricot, peach, pear, persimmon, walnut, and almond trees and made a living selling fruit and vegetables to soldiers and residents of neighboring settlements.
Faraway Ranch House
The Staffords were not the only settlers who came to Chiricahua's Bonita Canyon to homestead. Neil and Emma Erikson originally settle into the Faraway Ranch House in 1886 to homestead as well. Yet, by the 1920s, the Eriksons recognize a new opportunity and convert the Faraway Ranch House into a guest ranch. The scenic canyon is an easy draw for visitors, and the Eriksons lead tourists on horseback rides to see the remarkable landscape.
The Staffords raise their daughters Lillian, Ben, and Hildegard among the dramatic scenery of the canyon. With the help of their children, the ranch remains in operation into the 1970s. Yet, with the close of the decade in 1979, the house, land, and other assets that belong to the Erikson family are sold to the National Park Service. Today, visitors can explore the grounds and even attend tours in the house.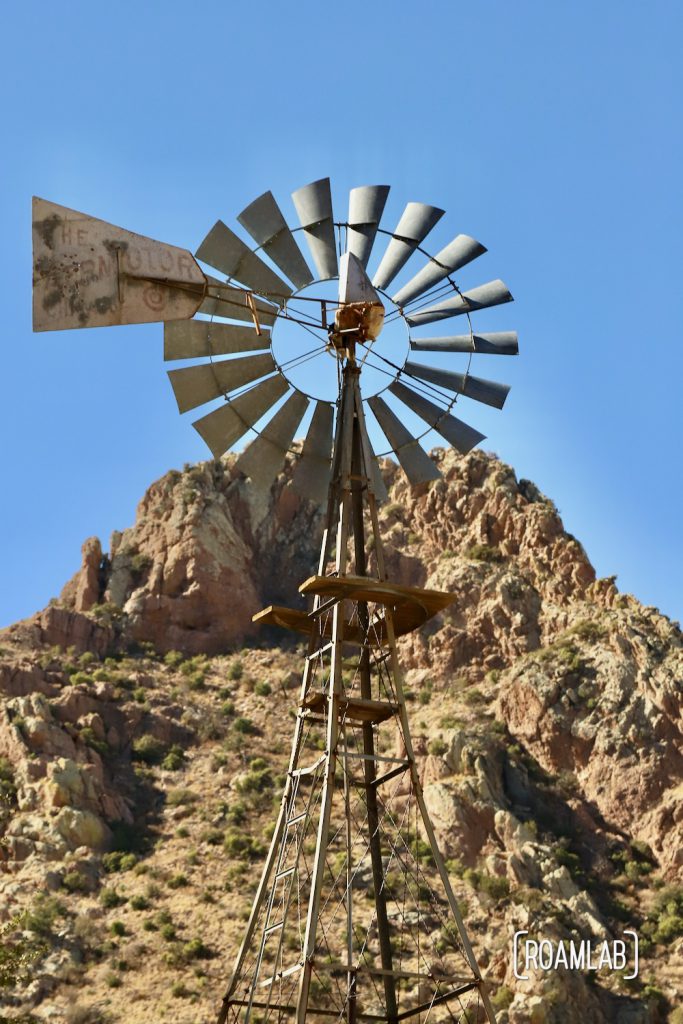 Civilian Conservation Corps Camp
Many of the trails in Chiricahua National Monument are built by the Civilian Conservation Corps (CCC). But in such a remote region, these workers needed somewhere to live while developing the park. Remnants of their camp remain along Silver Spur Meadow. One CCC company worked and lived in Bonita Canyon from June of 1934 to June of 1940. Hikers can still spot foundations, pipes, fireplaces, and a bear cage from the Silver Spur Meadow Trail.
Wildlife on the Silver Spur Meadow Trail
The mountainous terrain of Chiricahua National Monument results in a unique habitat known as a sky island. This elevated environment is home to a stunning collection of desert and mountain wildlife. Silver Spur Meadow Trail highlights this unusual ecosystem. Hikers wander through a delightful collection of 350 species of forest and desert plants in the canyon, including oak, sycamore, cypress, juniper, and mesquite.
It is a surprising mix of pine, grassland, and cacti. But not nearly as surprising as the wide range of fauna that also calls this remote region home. Chiricahua is home to 250 species of birds, 100 arthropods, 50 amphibians and reptiles, and 60 mammals. But none are more surprising than the coatimundi.
Coatimundi
The Coatimundi—or Coati for short—are relatives of raccoons though they look like a cross between a bear and a lemur. These curious striped scavengers travel in large packs and search the forest floor for ground litter, invertebrates, and fruit to eat. While coatimundi is generally found in only a few mountainous sections of southern Arizona and New Mexico, they are far more common south of the border into South America.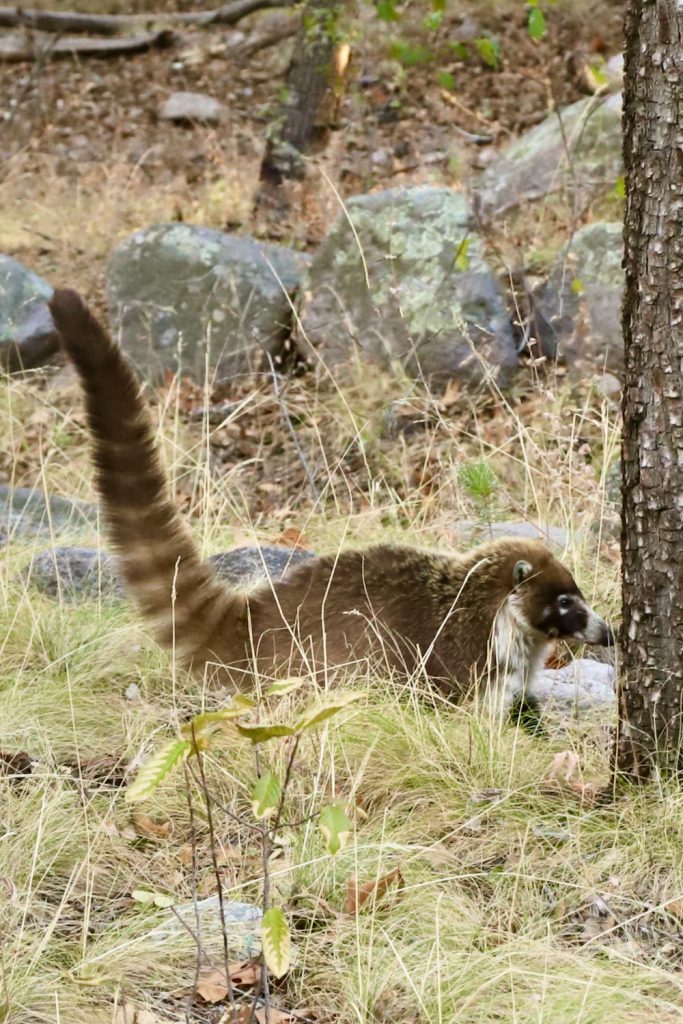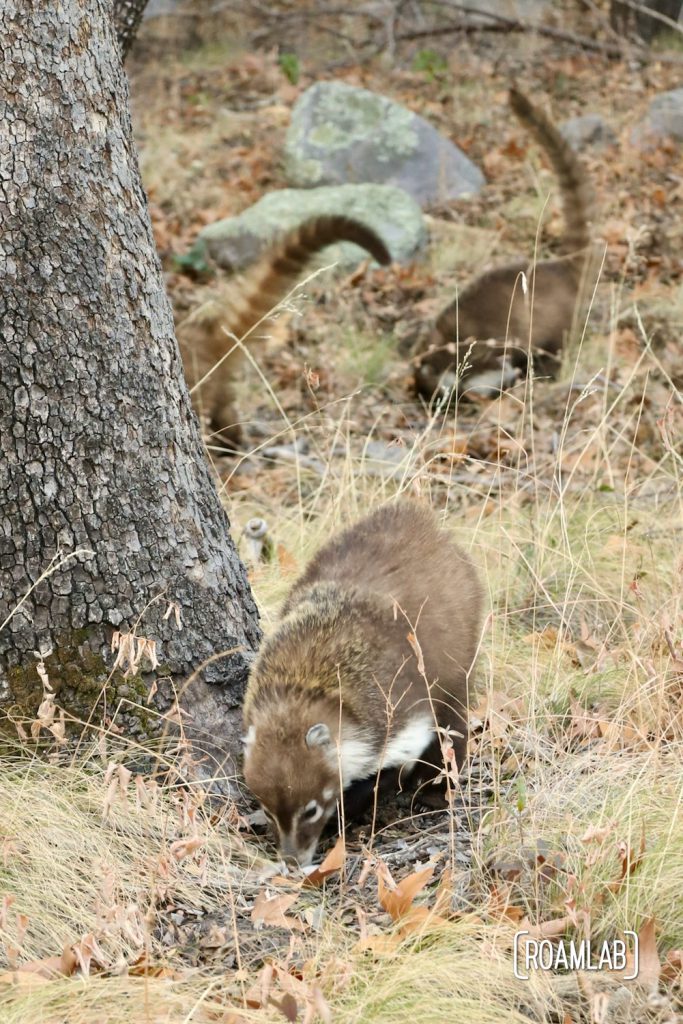 Mexican Jay
The Mexican jay is native to inland Mexico and finds a perch in eastern Arizona and western New Mexico. Their blue plumage is reminiscent of their blue jay cousins, and, like other members of the Corvidae family, the jays are quite intelligent. The Mexican jay's diet mostly consists of acorns and pine nuts, but these clever Corvidae are omnivorous and will eat your lunch if given the opportunity.
It doesn't take much to attract the attention of the Mexican Jays who frequent the Faraway Ranch. We pause for lunch at some picnic tables by the ranch parking lot, and the tree next to us quickly fills with at least eight jays. Someone clearly has been feeding the wild animals. Even so, they are cautious enough to keep their distance as well as an eye out for a stray scrap. A perfect distance for me to pause from my lunch to snap a few candids of our hungry company.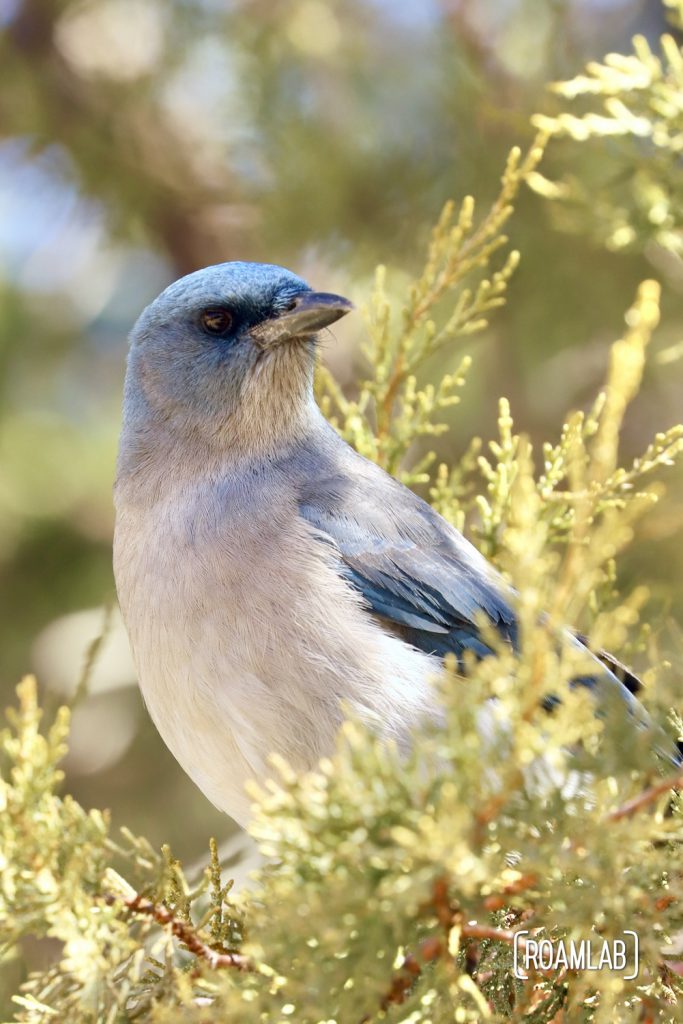 Our Experience
We take the last couple hours of daylight to hike the Silver Spur Meadow Trail. It's evening, so we have our eyes peeled for wildlife. But we don't see them first. It's the grunting of a pack of Choati that draw us in their direction. They're tails stand like striped brown masts marking their place while they paw the ground, snout submerged in soil, scouting for insects. 
There's plenty of reasons to hike the Silver Spur Trail. The historic structures include a lot of information panels to learn more about people who lived here. But more than anything, we revel in the animals who continue to live here. Species who relied on this habitat long before people arrived and still find a home among the mix of desert brush and mountain trees. This land is a wild and remote corner of Arizona and a privilege to explore.