Nature's Greatest Ampitheater
Southern Utah
Bryce Canyon National Park distinguishes itself for its natural amphitheater of red rock hoodoos.  These striking rock formations set an otherworldly scene for visitors to explore. Learn about the natural and cultural history of the Canyon at the visitor center.  Hit the view points along Highway 63. Hike into the canyon for to see the hoodoos close up.  Most of all, catch a sunrise to truly bring these red rock formations to life.
Hoodoos of Bryce Canyon
Amazing Rock Formations
Bryce Canyon National Park stands out for its hoodoos. These striking pillar-like rock formations are the result of stone deposited on an ancient lake or flood plane. Over time, uplift exposes this plane to weathering. While the more solid rocks resist the weathering, the sandstone below gradually erodes away, forming the delicate sandstone structures that define Bryce Canyon.⁠
While many people will only see these formations from designated vista points, there is a network of trails in the canyon that allow you to get a more intimate look. I don't think I can properly express how worthwhile a hike into the canyon is – however long or short you choose to make it. Many trails interconnect. So you can start your wanderings at Sunrise point and exit via sunset point. While the junctions are well marked, it definitely helps to bring a map for reference!⁠
Visiting Bryce Canyon
A Few Practical Notes
Bryce Canyon National Park sits in southwest Utah, near its more popular sister park, Zion National Park.  Bryce's greater distance from a major metropolitan area contributes to its lower visitor numbers.  For those looking for awe inspiring views with fewer tourists to compete with, Bryce may be your answer.  Of course, it's still a National Park.  So there will still be competition for parking midweek and off season. Visit early morning for a more intimate experience and enjoy a short hike into the canyon.
While Bryce Canyon is desert, it is high desert.  The temperatures in the park can shift dramatically throughout the day.  In winter, this means freezing temperatures and even snow.  Be sure to dress in layers to prepare for the chill of morning and evening as well as the heat of the afternoon.
Things to See in Bryce Canyon National Park
Greet the sun from Sunrise Point
Hike among the Hoodoos on Queens Garden Trail
Take on the switchbacks of Wall Street
Catch a selfie at Bryce Point
Cruise Down to Rainbow Point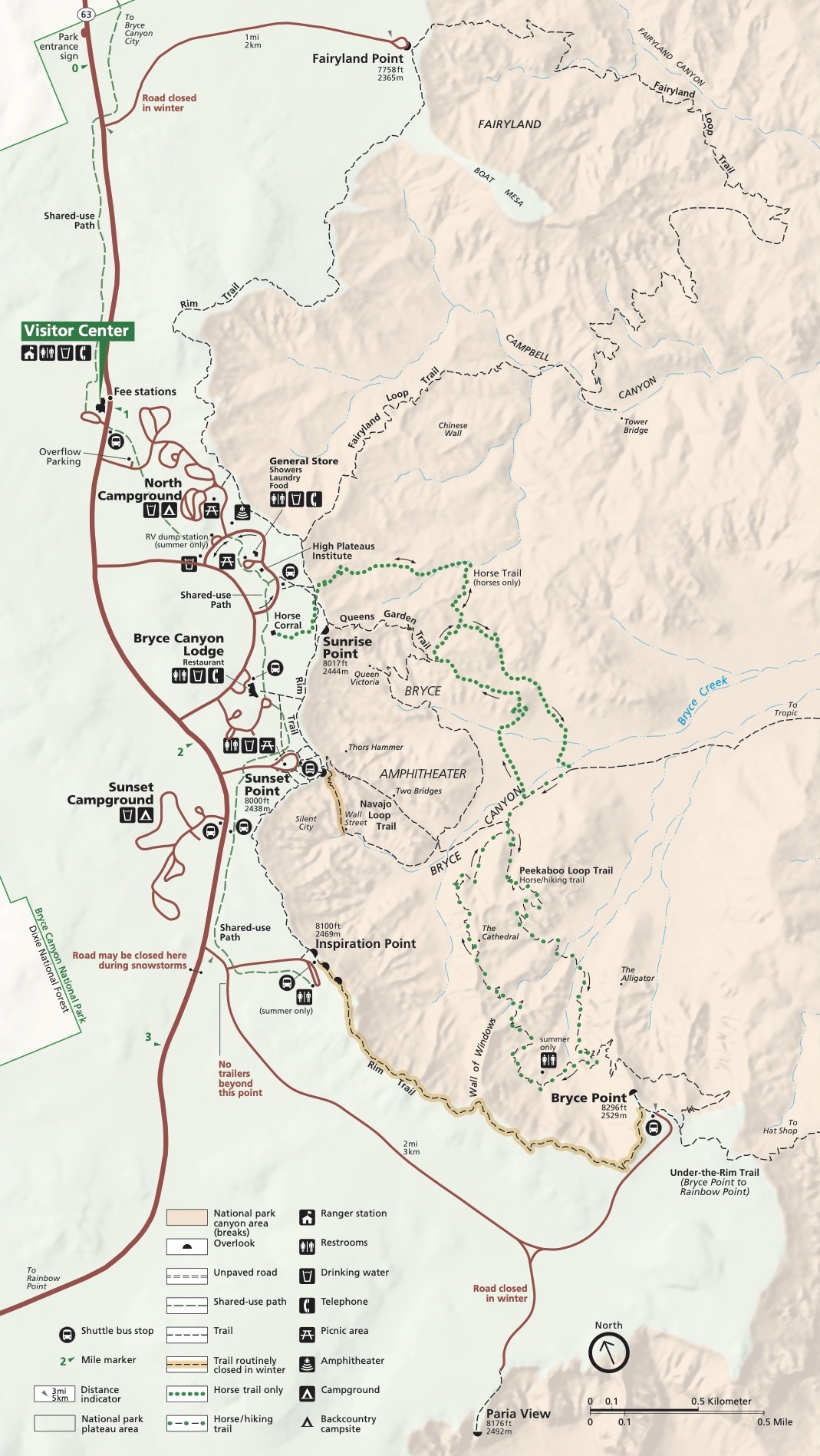 Bryce National Park detail map

Bryce Canyon National Park map
More About Bryce Canyon National Park
View All