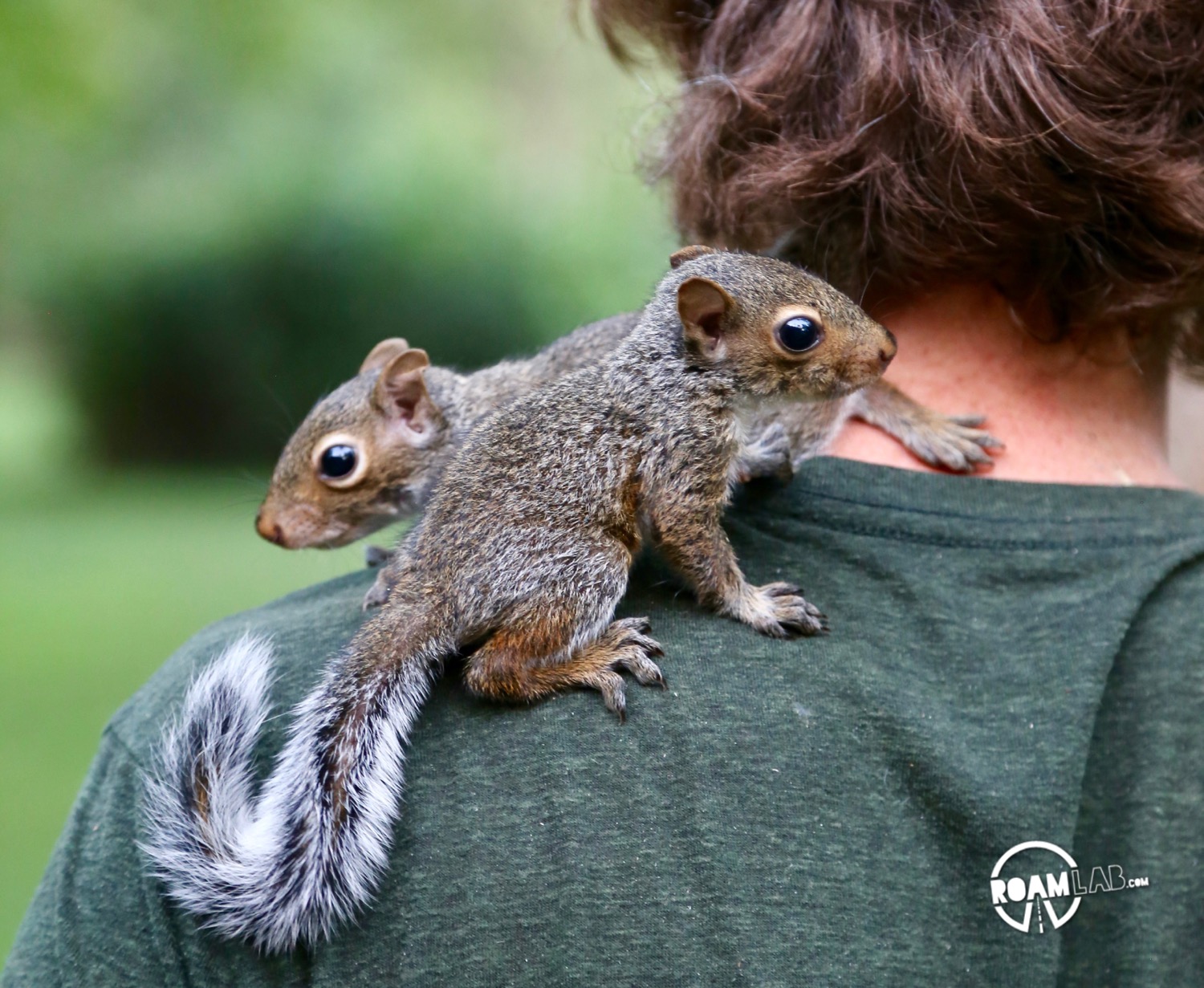 This is part 2 of a five part series about the rehabilitation to release of two young squirrels. We recommend starting at the beginning with Step 1: Find a Hungry Squirrel.
Step 2: Understand Squirrel Diet
With two squirrels now in our care, food becomes a high priority. While we mix a squirrel milk substitute1 the first few days, we quickly wean the baby squirrels onto hard foods of fruits and peanut butter. But, it is pretty clear what they want: nuts. They like almonds, hazelnuts, pecans, and peanuts. But there was nothing they love more than pistachios. We can coax them most anywhere with the promise of a pistachio.
And so they grow from scrawny, nearly hairless infants into curious and clever adolescents.
We have every intention of quickly releasing the squirrels back into the wild as soon as they are a little larger and coordinated. Yet, the one thing that isn't coming with their growth is strength. They are lethargic, surly, and clumsy. Initially, we attribute this to their transition into adulthood and the burgeoning independence that naturally guides their often solitary lives. But, after Hillary has a fit, we realizes this change is something much more serious: Metabolic Bone Disease.
Too Much of a Good Thing
While squirrels LOVE nuts, it really is the equivalent of candy to them. Calcium is critical to their diet—more so than most mammals—and an overabundance of nuts leads the young squirrels to overlook the bones, bark, and egg shells that naturally provides their calcium. Too many nuts can even hinder the uptake of what little calcium they do consume.
When there is not enough calcium in a squirrels diet, the body will eventually dissolve the calcium in its bones to support organ function. This process eventually leads to Metabolic Bone Disease resulting in loss of appetite, lethargy, muscle pain, paralysis, seizures, and eventually death.2
We go into emergency mode: crushing Tums tablets, mixing them with peanut butter and chopped pecans, and loading the concoction into pecan shells to entice the little ones to eat. We eat bone in steaks and give the cleaned bones to the squirrels to gnaw on. We constantly move the sick pups into the sun, a position that, while expose and scary, the Vitamin D aids in calcium uptake. This is our ritual for four days while we wait for a shipment of rodent block to arrive. This enriched cube offers a balance of the nutrients that the squirrels need.
It is agonizing to realize that their clumsy and labored movements hadn't been out of some adolescent apathy but the painful product of brittle bones. Yet, young squirrels can quickly recover from MBD. Within a week, they are friendly, energetic, and adventurous.
Maybe a little too adventurous…
---
[1] "Baby Squirrel Feeding With Eyes Closed," Squirrel Rehab.
[2] "What is Metabolic Bone Disease?," Henry's Healthy Pets.