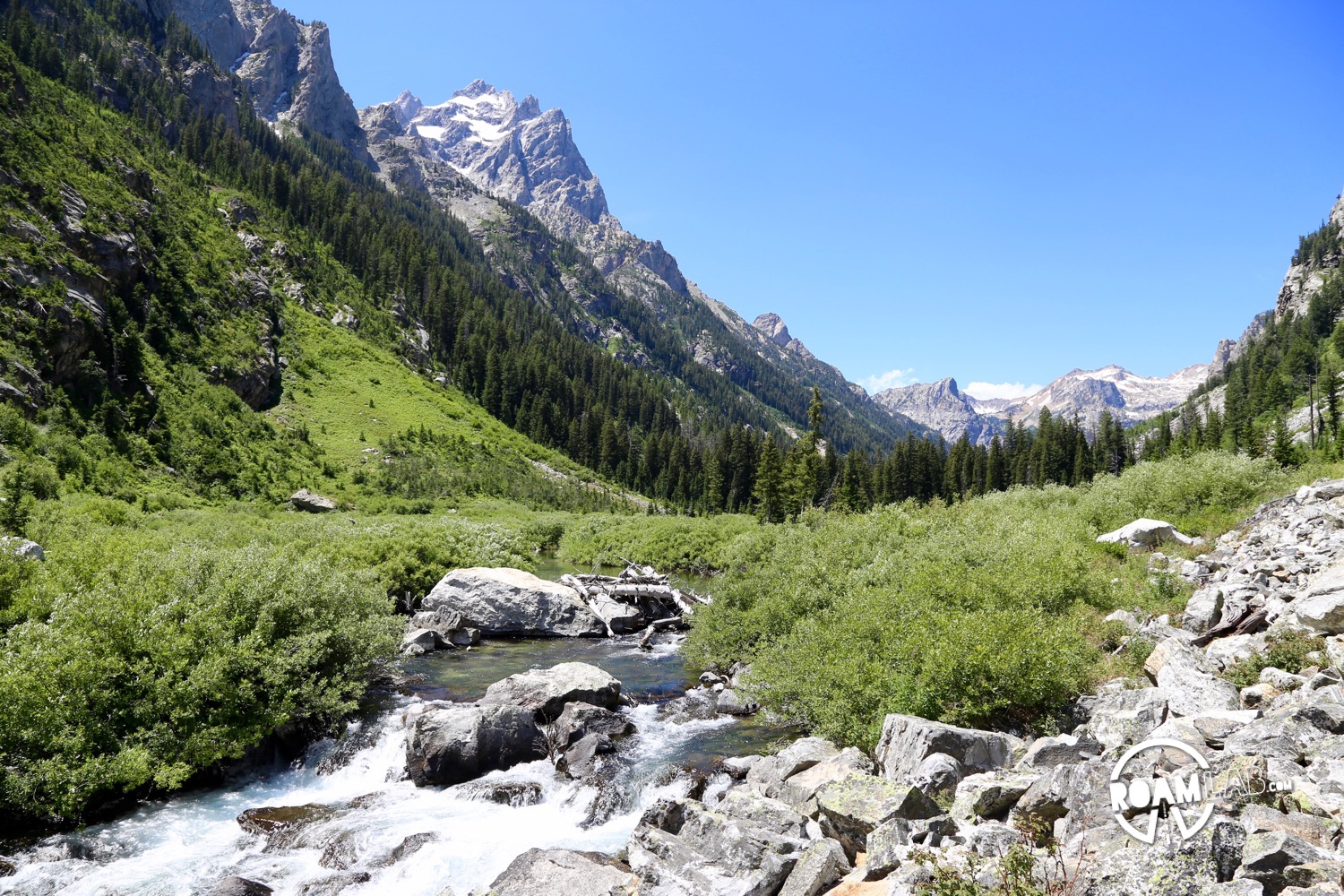 Tell anyone that you are going to the Grand Tetons, and they are likely to tell you to go to Jenny Lake. It's the Old Faithful of Grand Teton: Everyone goes there and it is, as a result, a logistics disaster. Parking is a fiasco. Points of trails are so narrow and hazardous that one has to wait for a stream of hikers to pass before traveling in the opposite direction. The wear and tear of these visitors led to one of the major allures of the lake trail, Hidden Falls, to be closed for reclamation.
And yet, it has its charm.  Most people hike to Inspiration Point and turn back.  Part of that may be because the hike to that point is a fairly rapid elevation gain and the average visitor is already worn out.  Inspiration Point is nice.  It is a vista overlooking Jenny Lake and the forests and prairies beyond. Granted, there will not be any spot along Inspiration Point that you can see the vista–to channel the view towards a transcendental experience of oneness with the earth and all its inhabitants–and not be overwhelmed by a parent loudly scolding a child for their lack of enthusiasm. That, or some kid will be wining that they are tired or standing on a cliff and can they please go back and get ice cream. (Parents, I know you want a magical outdoor adventure with your kids, but trust me, this ain't it.)  Frankly, the interesting part of Grand Tetons National Park is the mountains.  So its a bit of a waste to stop at a vista point when the exciting stuff is a little bit further and a much more mild incline.
Once you hike past Inspiration Point, you are wandering deep into the Tetons along Cascade Canyon. Here, one travels along the intersection of mountains.  The walls are so steep that rock climbers can be seen practicing their own perilous form of vertical yoga.  There are waterfalls, glaciers, rivers, forests, and that perfect marshy land that moose love so much.  We didn't see any moose.  We were there in the afternoon.  So we satisfied ourselves with the flora.