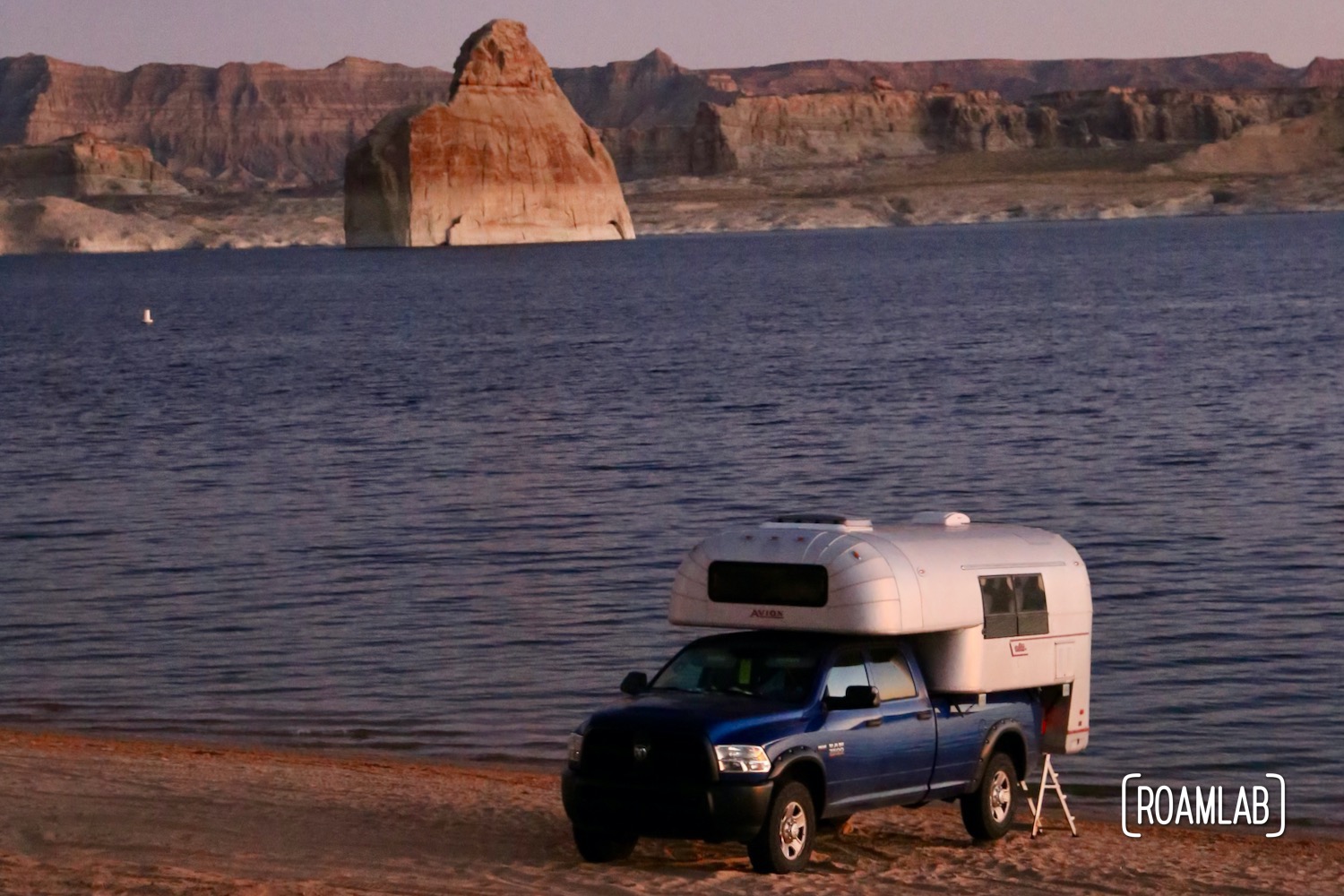 Lone rock campground on Lake Powell is listed as a primitive campground. But primitive campgrounds don't have running water in my book. Lone Rock does. Granted, even primitive campgrounds tend to have fire rings and solid, if unpaved, roads. Lone Rock does not. That is because Lone Rock is a beach campground and anyone that wants a scenic, lakeside site has to contend with loose sand.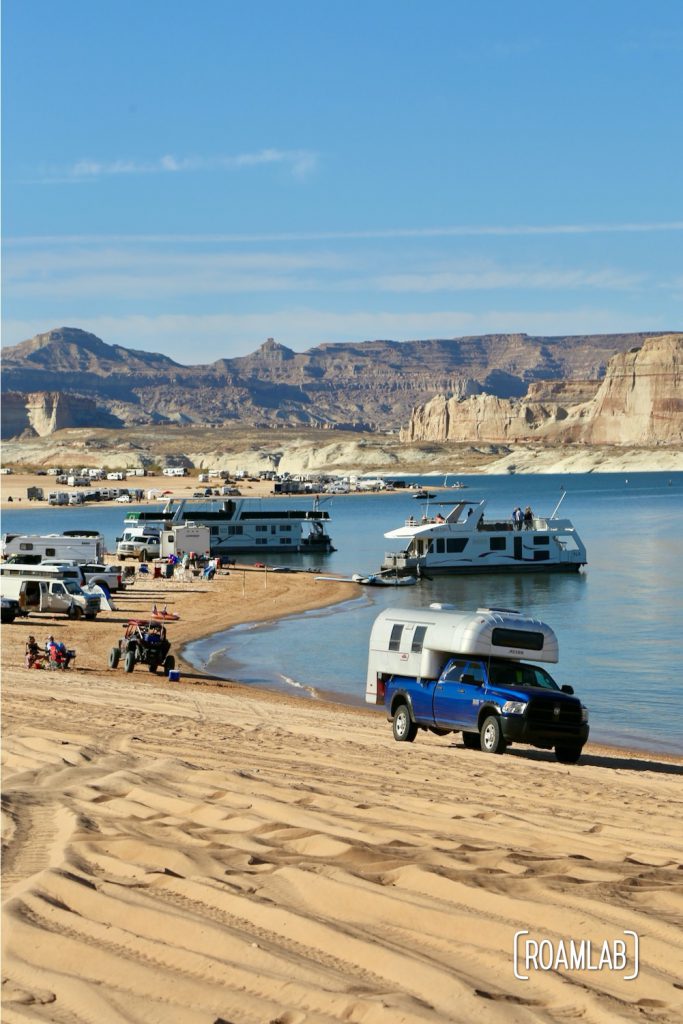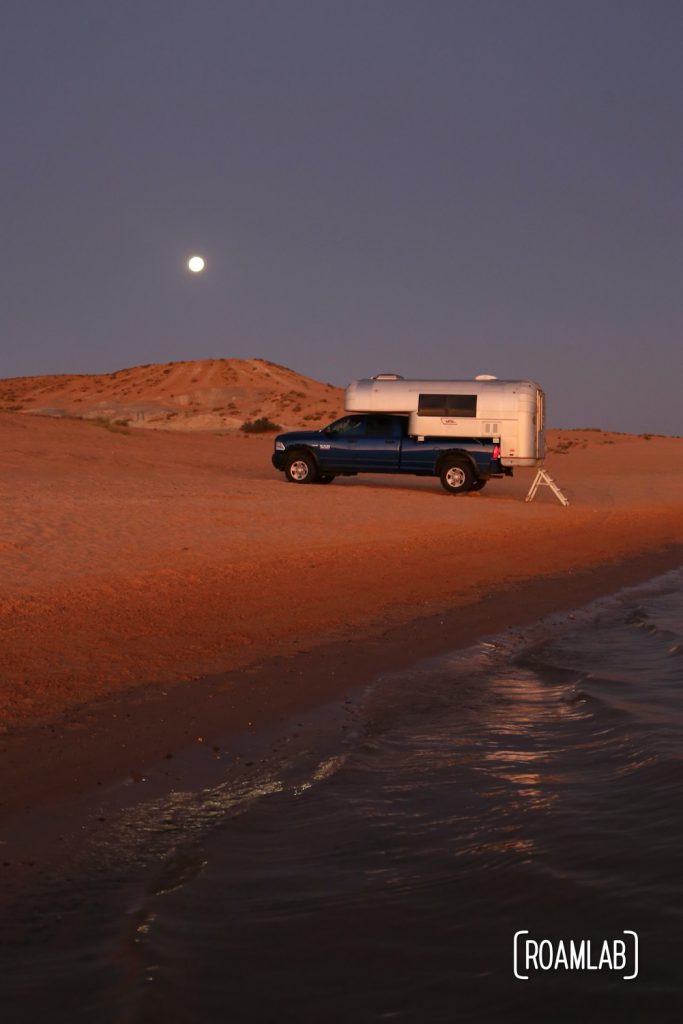 Yes, Lone Rock Campground Has Sand
While there is a paved entrance and parking lot, Lone Rock Campground distinguished itself for its beach front camping. The views are amazing, the water is expansive, but all these perks are limited to vehicles that can reach the shore without becoming bogged down in the deep sand. Thus, while you are free to park anywhere along the shore, most park as close to the road to minimize risk of getting stuck. Even so, we saw vans and smaller two wheel drive compact cars trapped in the sand. 
Ideal cars are light, with big, knobby tires, and 4-wheel drive. That doesn't stop other rigs from attempting the drive. Some make it others don't. We saw several vans and smaller two wheel drive compact cars trapped in the sand. 
When driving in sand, it helps to build up momentum, avoid deep patches of sand, and air down your tires. While there are products specifically designed to help extricate you from deep sand, for those unequipped, the floor mats in your foot space can act as handy substitutes to be placed under your tires for traction. For more tips on driving in deep sand, check out our post: How To Drive In Sand.
Rangers can extricate stuck rigs, but it isn't fast and it isn't free. So think before you turn down to that beachside paradise. Because, even if you can make it safely to the water front, you also have to make the more difficult climb out from the shore to the road. 
Camping Alternatives At Lone Rock
Why don't we just bring a tent? You may well ask. While we do spot a few tents, campers must have a portable toilet if they want to camp further than 200 feet from the bathrooms. Which explains some of the oddly positioned vans and trucks parked halfway to the beach, by the pit toilets. Yes, there are bathrooms scattered around the beach, but nowhere close to the shore. So, you either bring your own toilet or settle for sub-par campsites.
Off-Road At The Lone Rock Campground
We arrived at the Lone Rock Campground on the Sunday of a long weekend. While we are told it was much more busy the night before, most of the nearby beachfront is densely packed with trucks and vans. There are even a few small RVs and boats pulled up to the shore. Not ones to camp close to others, we work our way down to the beach and drive south into a more challenging but also less populated section of the campground.
We have our share of close calls. Despite our knobby, all-terrain tires and relatively light camper, the weight of our rig does increase the risk of our tires digging a hole rather than extricating ourselves . Still, we manage to keep up our momentum and never resort to digging ourselves out of a tight spot. The end result: a beautiful and lonely stretch of beach.