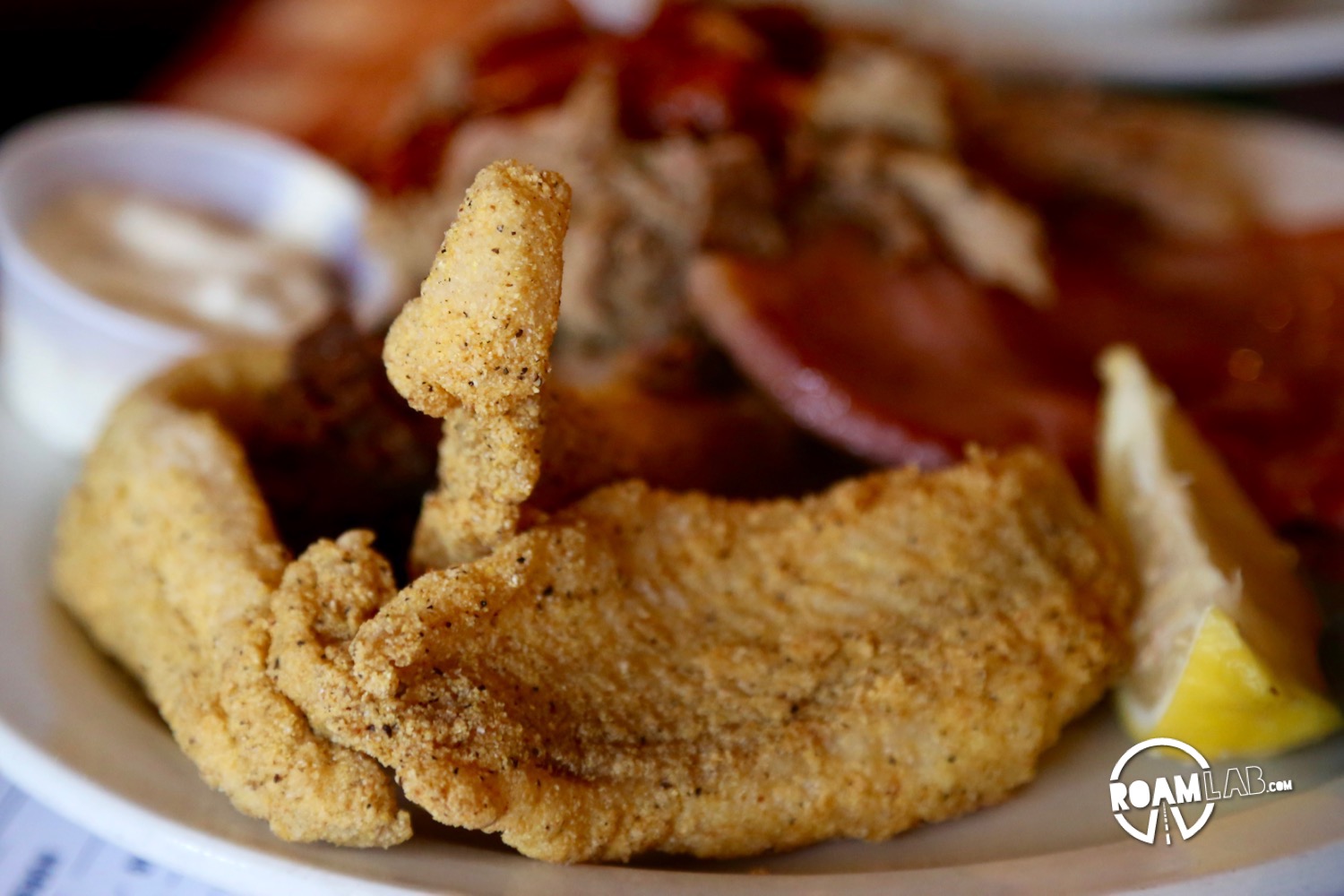 Loveless Cafe
Perched at the terminus of the Natchez Trace is the purveyor of BBQ and moonshine cocktails: the Loveless Cafe.
This iconic southern eatery traces its origins back to 1951. The "Harpeth Valley Tea Room" was purchased in 1951 by Lon and Anne Loveless and renamed the Loveless Motel and Cafe. Lon and Anne originally served chicken to visitors sitting outside at picnic tables. But as the Cafe expanded, it moved inside. While the couple sold the Cafe after 8 years, the name remained. Even today, the restaurant operates out of the original house. Visitors come great distances for the cafe's biscuits, country ham, and red-eye gravy.
We rolled in for a late lunch. We had heard that the cafe is insanely busy. But at 3PM on a week day, we were seated immediately next to a window. Our waiter was intensely well meaning but his jokes were a little awkward. For example, after ordering catfish and pork chops our waiter adds, "And I'll bill it to that table?" motioning to the table next to us. Even with the wink, I couldn't fathom the joke. I'd feel terrible to even entertain the possibility of sneaking our expenses into someone else's bill. But he cheerfully repeated the proposition to my shocked "What?" This time, the table in question heard the joke. Yes, things can get more awkward. One of the men at the table leaned over, clasped me by the shoulder and assured us "Don't worry buddy, I've got you." We all laughed…awkwardly.
I dealt with the awkwardness by ordering some moonshine mixed with peach tea. I know, it's the only healthy way to handle discomfort. When our meals came, we were impressed not only by the serving size but by how delicious it was. My pork chops were cooked through but not dry. The catfish was crispy but not oily. And the sides were fantastic. The fact that we had leftovers had nothing to do with the enthusiasm with which we ate. But there was so much food that we discovered that lunch would also cover dinner. So we had the remains boxed up and asked for the check.
There was no check.
The guy next to me who had clasped my shoulder actually did get the check and even paid the tip. We were shocked. I couldn't help but blurt out, "Well, that was unnecessarily kind!" Not that we could thank them, though. They had already taken off. In response do our questions:
No, he was not some wealthy country music singer
No, he wasn't a regular.
No, they didn't know who he was.
No, he had never visited the restaurant before.
Well, shucks. I guess we'll just have to pay it forward.