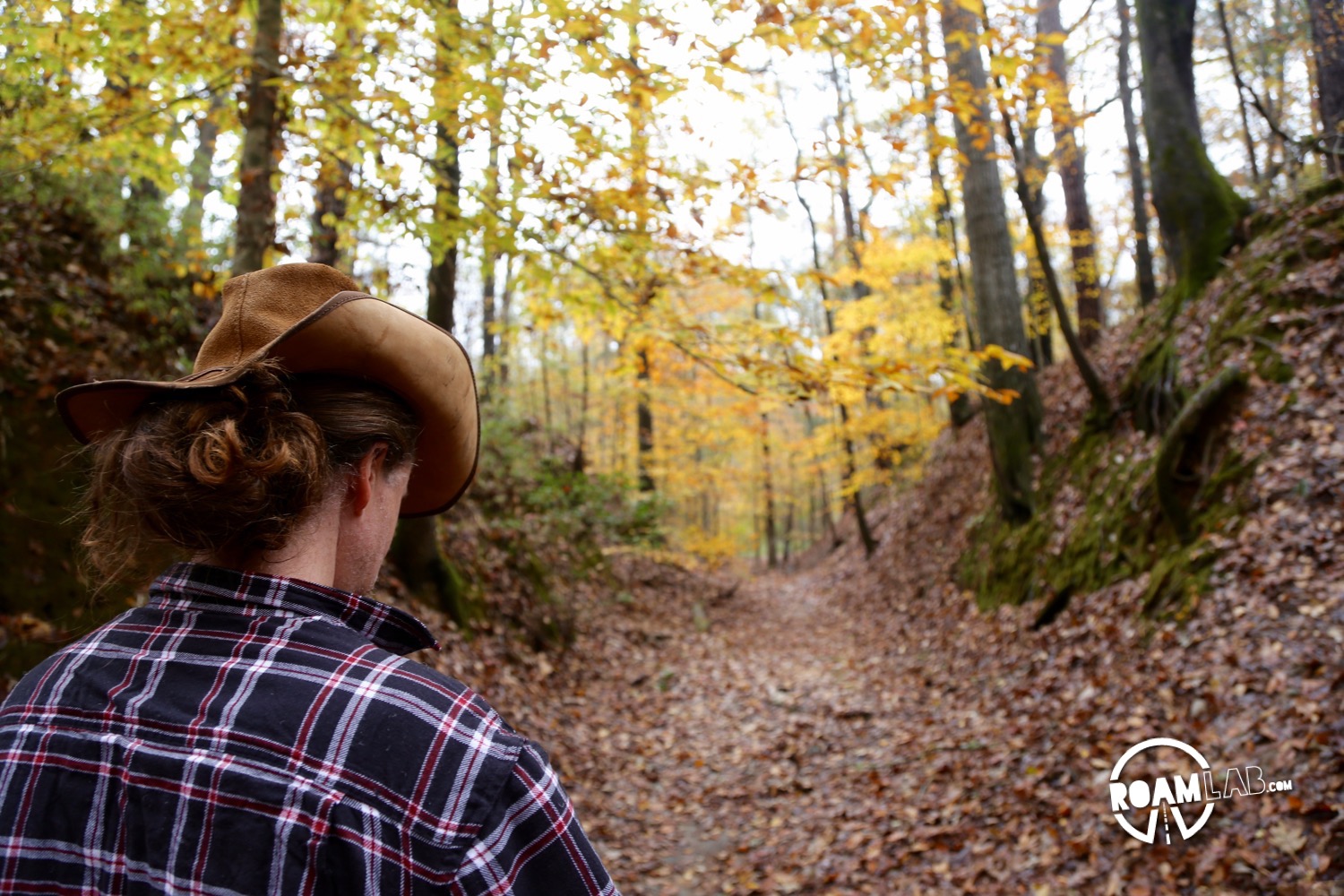 After traveling a portion of the Blue Ridge Parkway, we were determined to explore other scenic highways to their fullest extent. That was when we discovered that there was a parkway going precisely where we were headed: the Natchez Trace.
The Natchez Trace connects Natchez, Mississippi to Nashville, Tennessee. The 444 mile route roughly traces the historic dirt path that "Kaintucks" annually traveled.* These were farmers from the Ohio River valley who had loaded rafts with their produce and traveled with it down the Mississippi to sell in Natchez or New Orleans. There, they would also sell the lumber that made up the raft and then return, on foot or by horse, to their home via the Natchez Trace.
The route was a difficult one. Being of an era where most people did not maintain bank accounts, Kaintucks would travel the entire route of the Natchez Trace with the years earnings on their person. They were ideal targets for robbers. In consideration of this risk, Kaintucks would travel in groups for protection. Their wary trips have worn portions of the Trace down so far as to form banks on either side that are taller than the travelers themselves. In the year of 1810 along, over 10,000 Kaintucks traveled the Natchez Trace. It would take 35 days to cover on foot.
Today, we can travel from Nashville to New Orleans with much greater ease, but we are in no rush. Instead, we have three days to make the trip and enjoy many stops along the way. Over that time, we will be stopped by a roving gang of goats, sleep by the grave of an American icon, and wander over to the wrong side of the tracks for BBQ.
* The Kaintucks were hardly the first people to travel the Trace. The route was derived from paths use by native tribes. Impressive mounds were built along the path by ancient tribes—some for ritual, some for burial, some were so large that villages could live on top.
These routes, in turn, were based on animal trails. The Natchez Trace roughly follows a ridge line. This, high dry ground was favored by large foraging animals such as deer and bison. Their regular travel along the ridge line helped clear the path, making it ideal, also, for the native people to travel along.
More Destinations