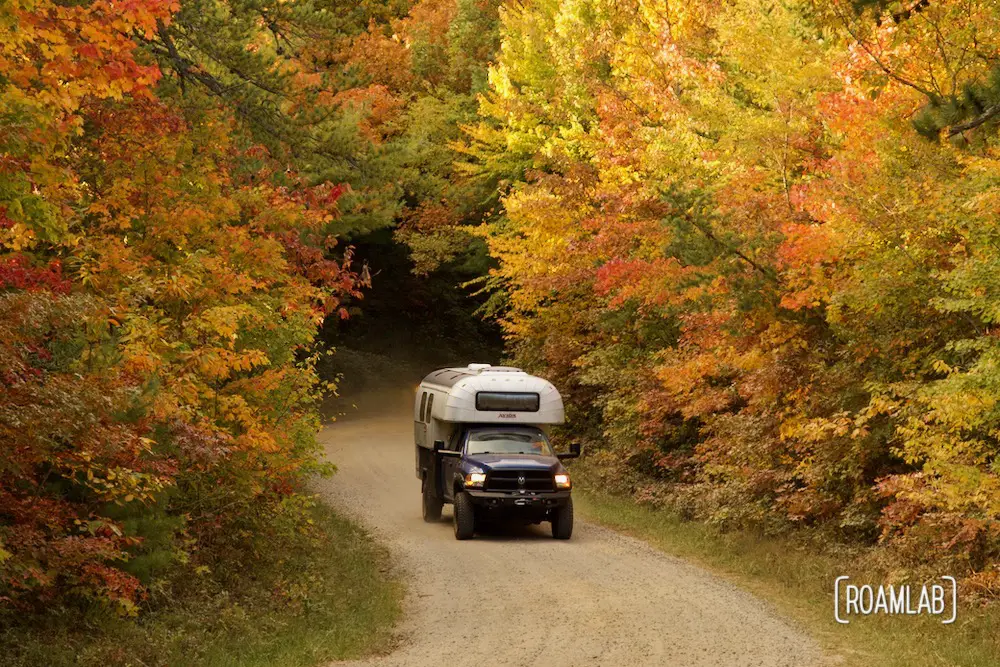 Old North Carolina 105
Linville Gorge National Wilderness
Old North Carolina 105 is steep, rocky, rutted, and amazing. We encounter this 14-mile dirt trail through North Carolina's Linville Gorge National Wilderness Area on a cool fall weekday. The leaves are turning. Occasional clouds soften the bright rays of the sun. And as we climb the ridge line formed by Linville Mountain, the greater solitude we encounter.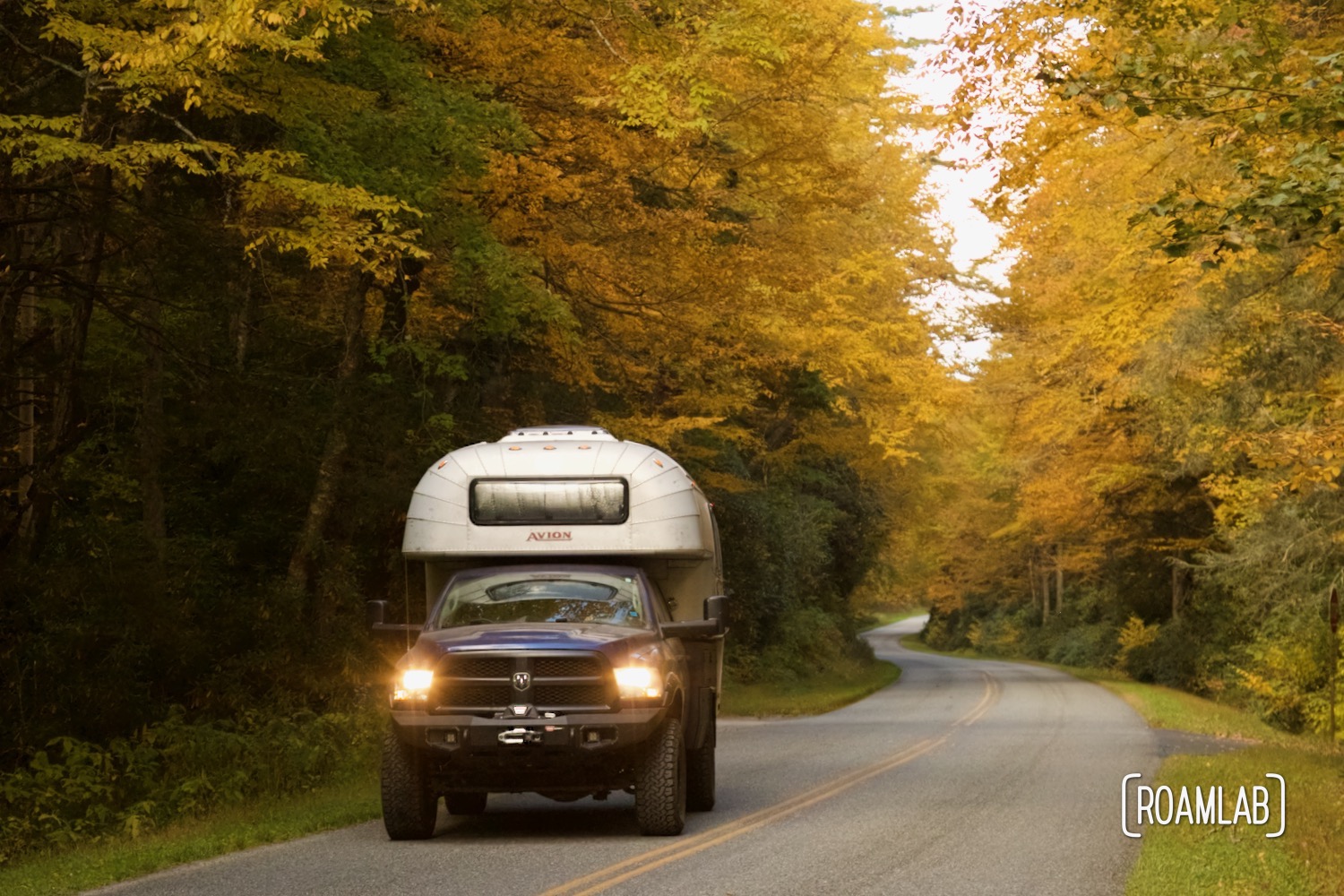 Linville Gorge National Wilderness
Linville Gorge National Wilderness is a 12,000-acre area located in Avery and Burke counties in North Carolina. The Linville Gorge is a deep and narrow river gorge carved by the Linville River. This wilderness is known for its steep cliffs, rugged terrain, and breathtaking beauty. The area is home to a variety of wildlife, including black bears, deer, bobcats, and otters. The gorge is also home to a variety of plant life, including rhododendron and laurel.
The wilderness area is a popular destination for hikers, backpackers, and climbers. The area offers a variety of trails, including the winding Old North Carolina 105 overland trail.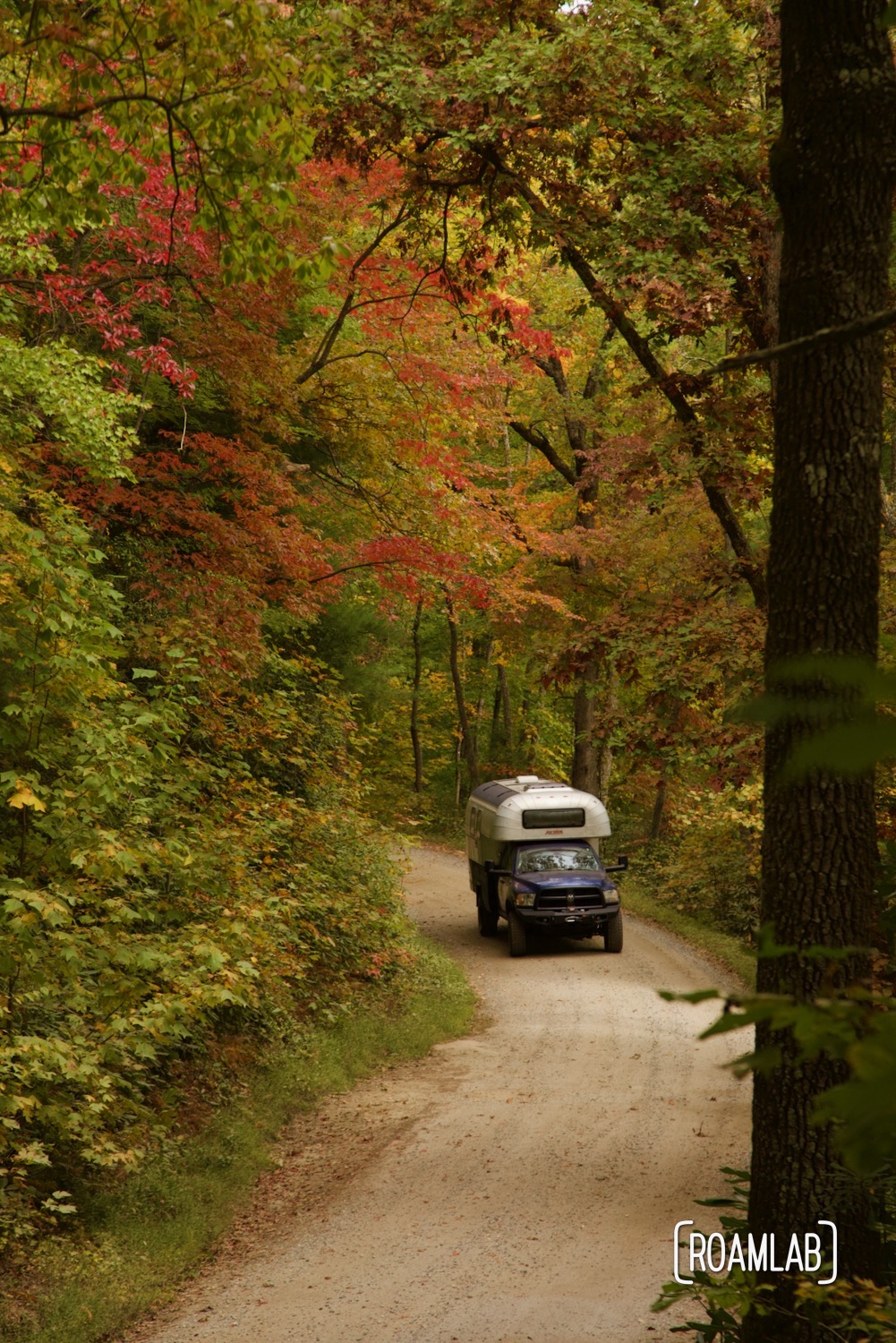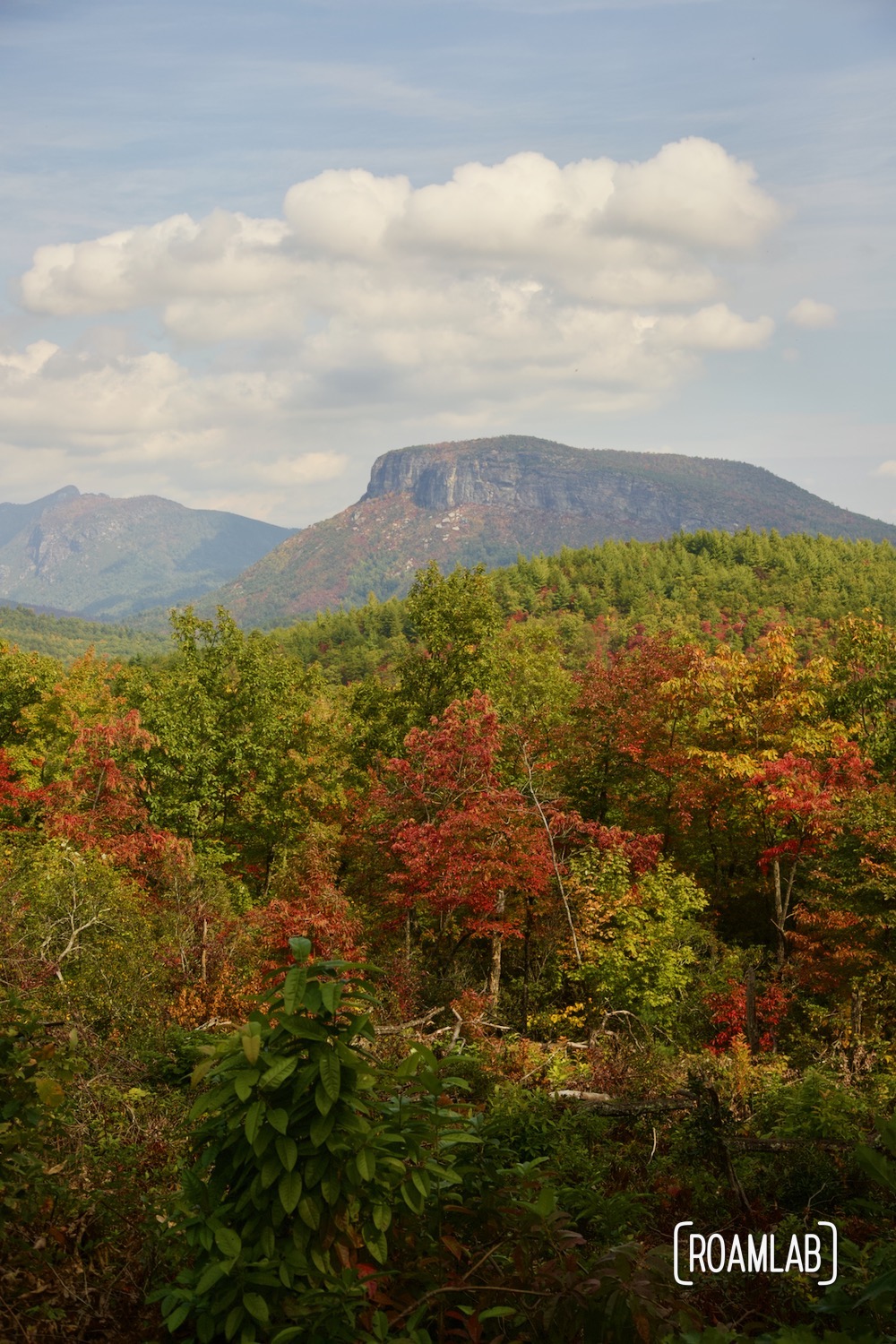 Trail Conditions
For a road, Old North Carolina 105 is rough. For a dirt trail, it is luxurious. This route is sufficiently maintained where branches and brush are cleared well away, making plenty of room for two cars to pass. And, better yet, plenty of overhead space for a truck camper. We travel with no concern for scratched siding or dented solar panels.
While the route twists and turns to travel along the peak of Linville Mountain's ridge line, rather than hairpin turns, the major challenge on this route is its steep elevation gains. This is no trail for trailers but with a high clearance rig, this trail is reasonably straightforward. While we travel the route on a dry fall afternoon, we see the rolling earth turned up by tires searching for purchase on the steep inclines.
But that steep grade is what allows those qualified rigs to travel the backbone of the ridge where the ground falls away on each side for breathtaking views of the surrounding Linville Gorge National Wilderness. In the fall, the trees practically glow with red, orange, and yellow leaves. And we are determined to cover Old NC 105's entire length.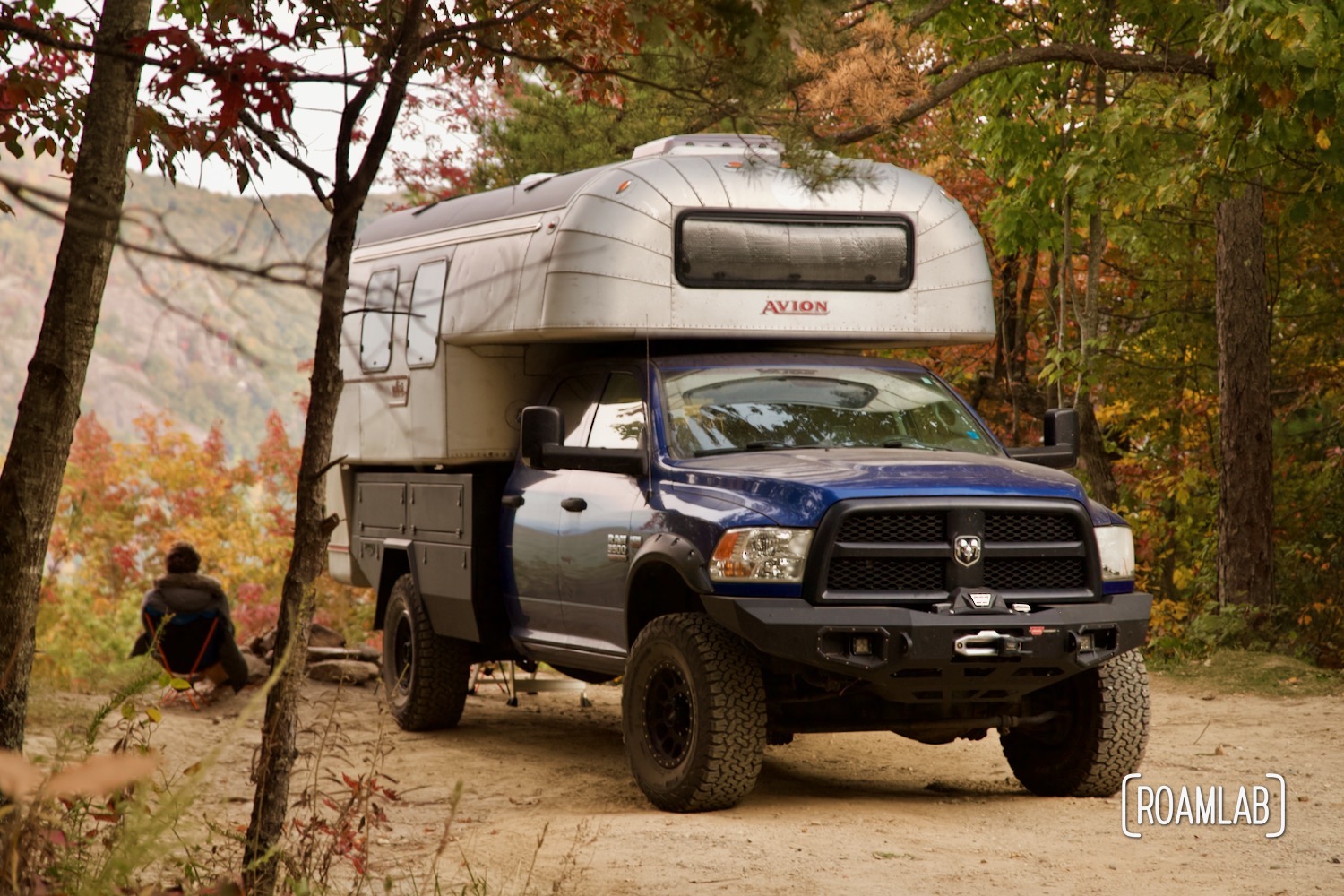 Driving Old North Carolina 105
All of Old North Carolina 105 is rough, but its rating varies as we progress south. The northern terminus begins off the Blue Ridge Parkway outside Linville Falls, North Carolina. This small town is the last opportunity to gas up and provision before launching on the road.
That said, most visitors do not have to plan too far ahead because they will only drive a short stretch of the road. After all, Old NC 105 is predominantly an access road for trailheads and vista points. Linville Falls Trail is a popular stop only 0.1-miles from the northern terminus of the road. This stretch of road—all the way to Wiseman's View Overlook—is considered gravel road and appropriate for commuter vehicles. That said, I wouldn't advise a low-clearance street car to drive much further than the Linville Falls parking lot.
Shortly after Lineville Falls trailhead, the route begins a steep climb. Deep ruts attest to points where vehicles struggled to find purchase while climbing these slopes in wet conditions, a contingency I would not recommend even on this "gravel" portion. (There is very little gravel) Even so, we pass by a compact vehicle in the middle of the road, surrounded by safety cones. Apparently, their tires were not up to the rough terrain. Ours confidently bite into the dirt as we continue to climb.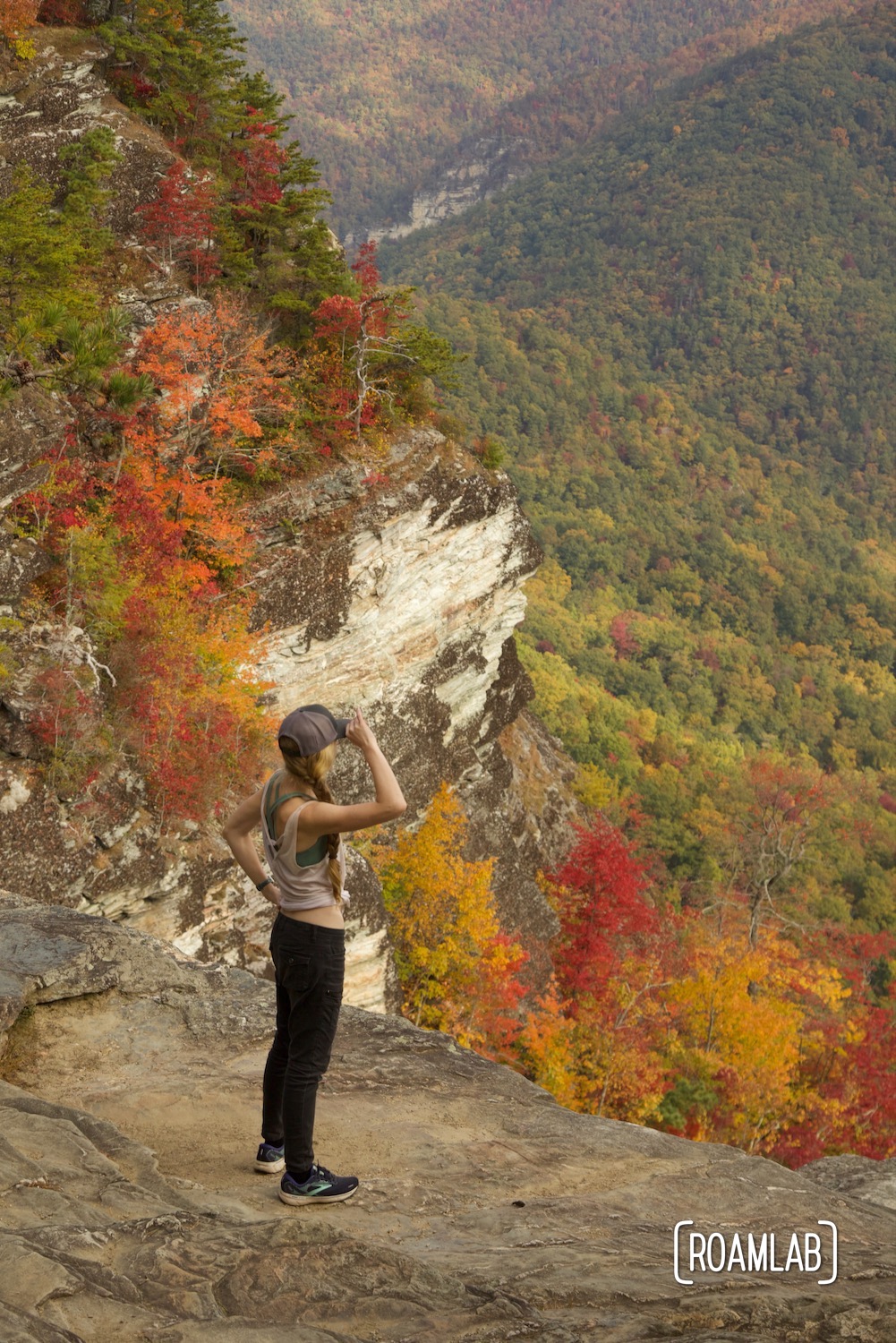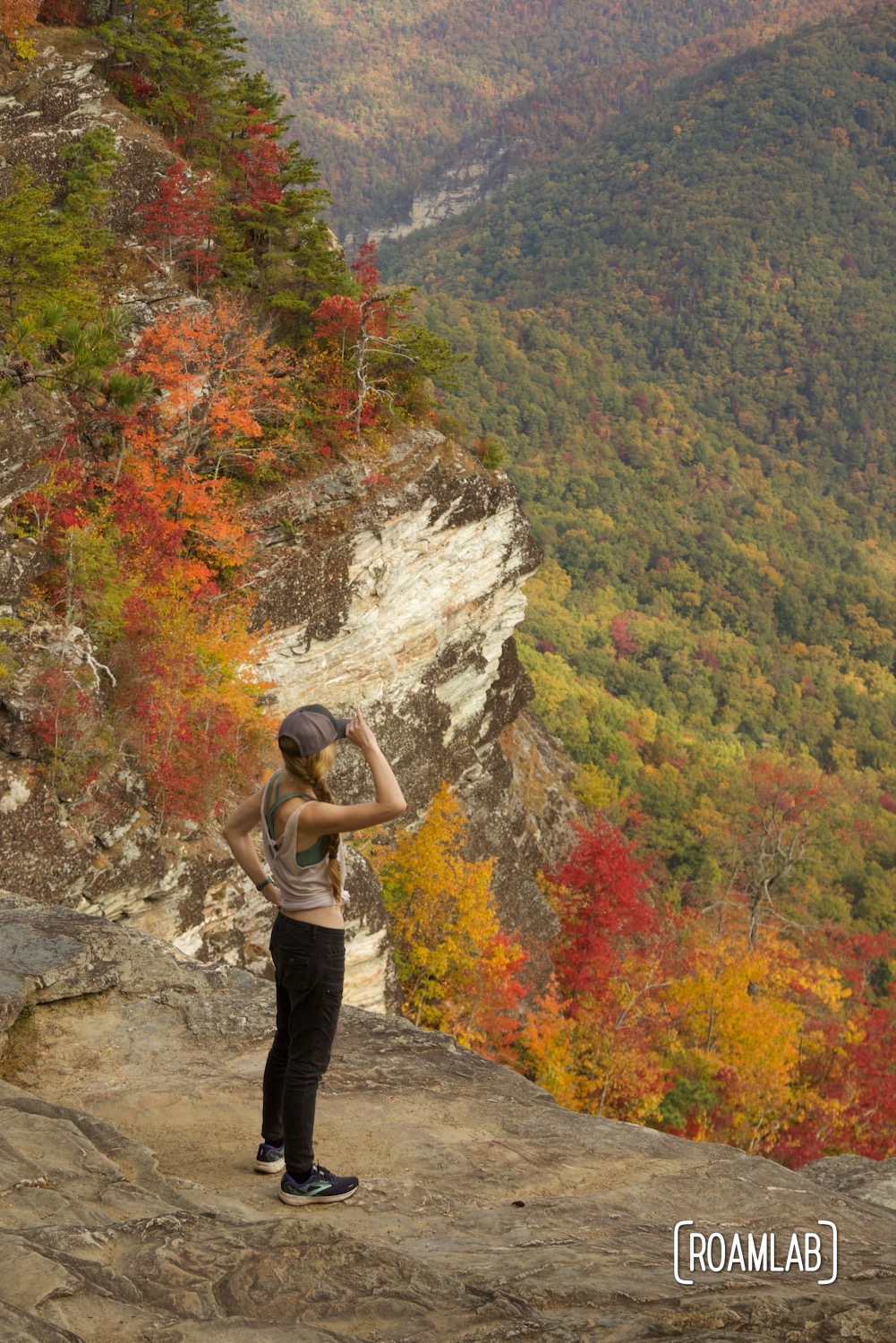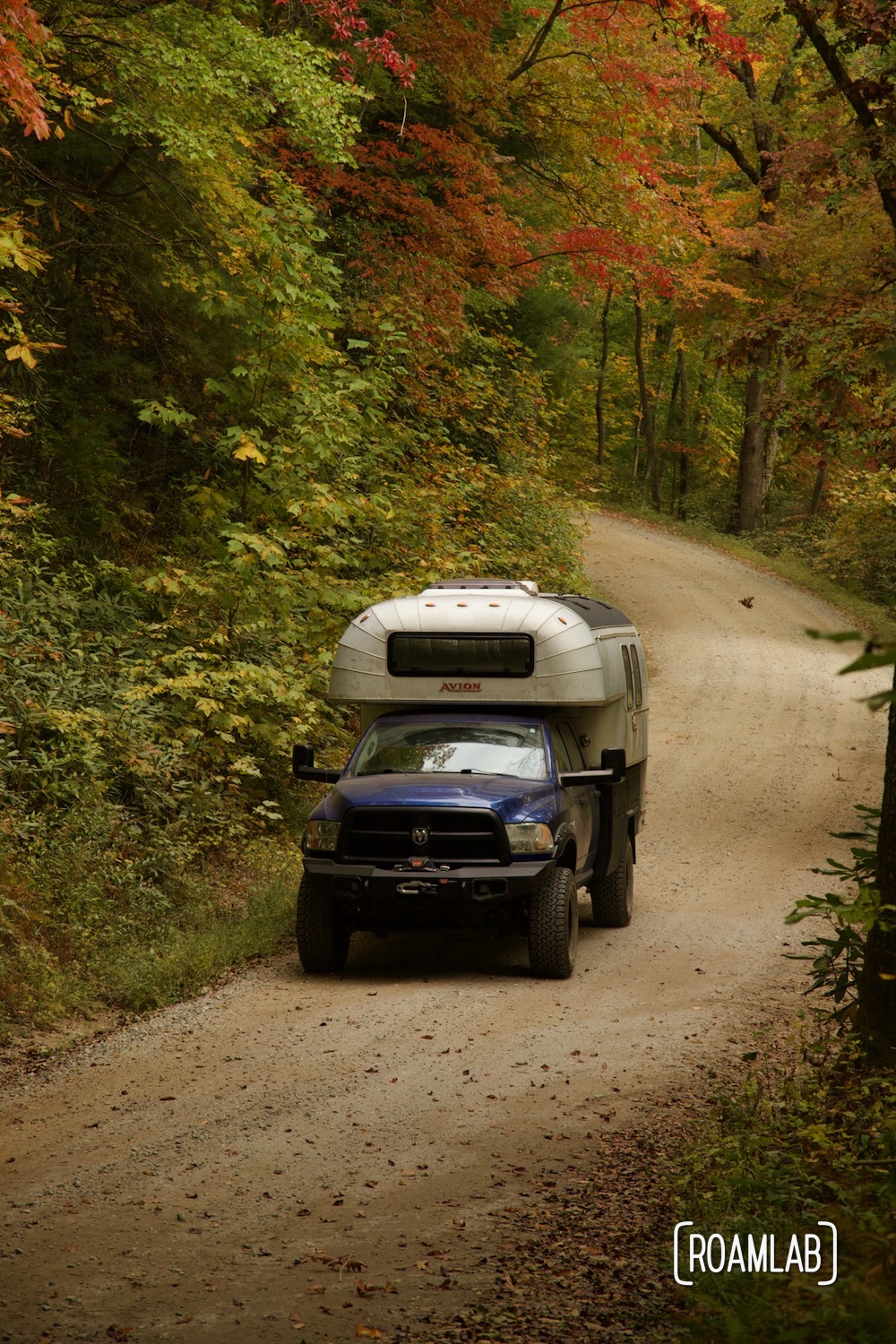 Camping on Old North Carolina 105
Campsites dot the length of the trail, from beginning to end. Some are uneven and exposed pullouts barely off the road. Others are cozy, level group sites. And, thanks to the ridge Old NC 105 follows, a rare parting of the trees comes with breathtaking views of the Linville Gorge below.
All sites are distinguished by a rock fire ring but not much else. There are no hookups, toilets, picnic tables, or trash bins nearby. Everything we need must be packed in and everything we produce must be packed out. And as evening falls, any inconvenience is well rewarded by the echoing silence of these remote campsites. Granted, some sites are closer to each other than others. Our initial site was within earshot of a raucous party. Fortunately, we only had to travel another quarter mile to find a gem in seclusion.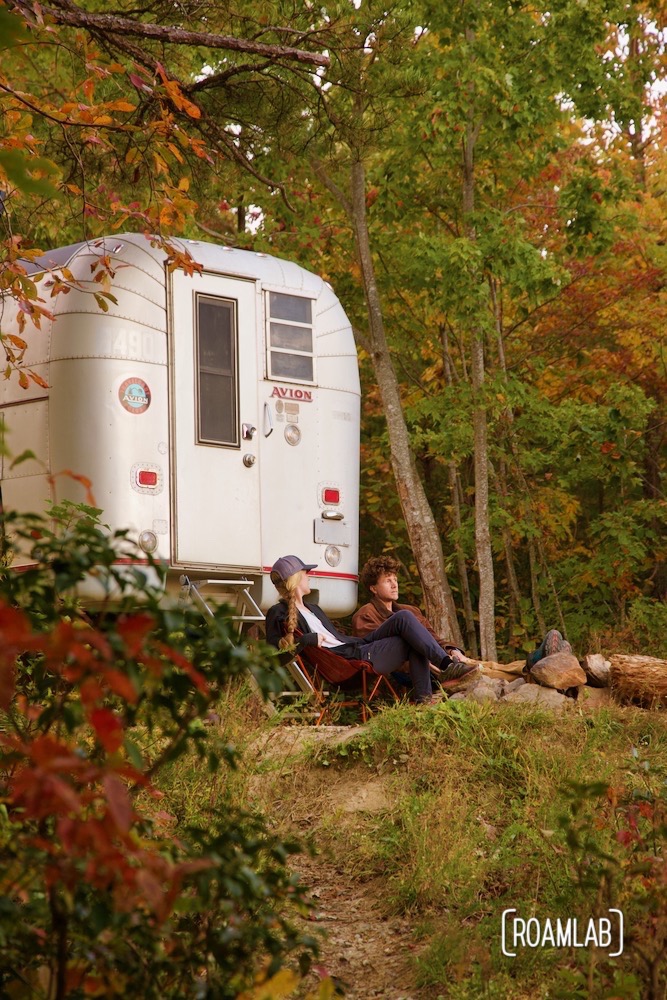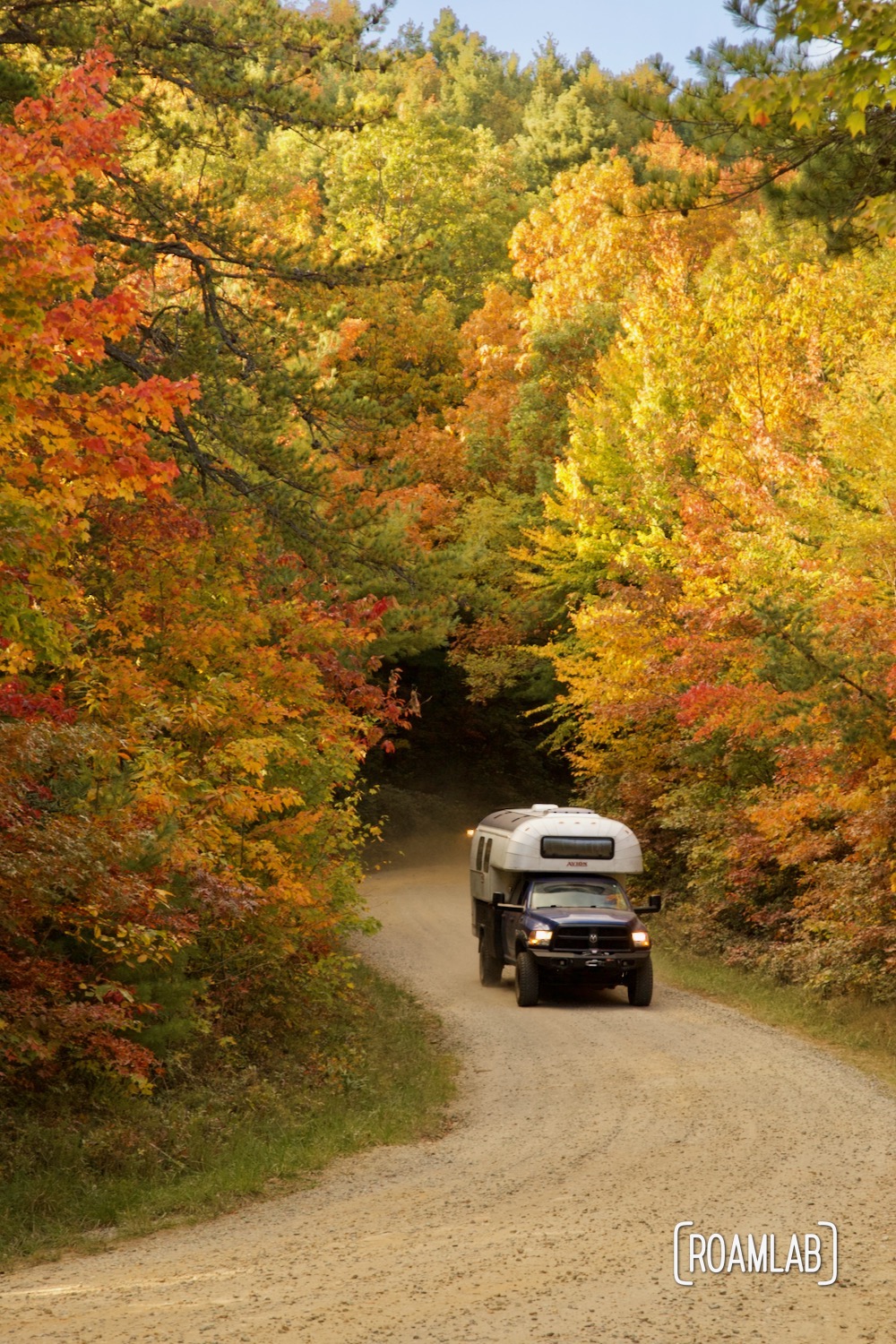 Wiseman's View Scenic Overlook
We camp south of Wiseman's View Scenic Overlook. In the morning, we hike back up to the breathtaking 180-degree views of the Linville Gorge. The Overlook looks east with views of Hawkbill and Table Rock Mountain. Had we arrived earlier, we could have watched the sun rise over the ridge. But, to us, the best time to visit is in the late morning or early afternoon when the sun is at its zenith, illuminating the whole of the gorge with hints of Linville River far below. And, frankly, the ultimate timing was ours, in the Fall, when the mountainsides are a riot of color interrupted by sheer rock cliffs.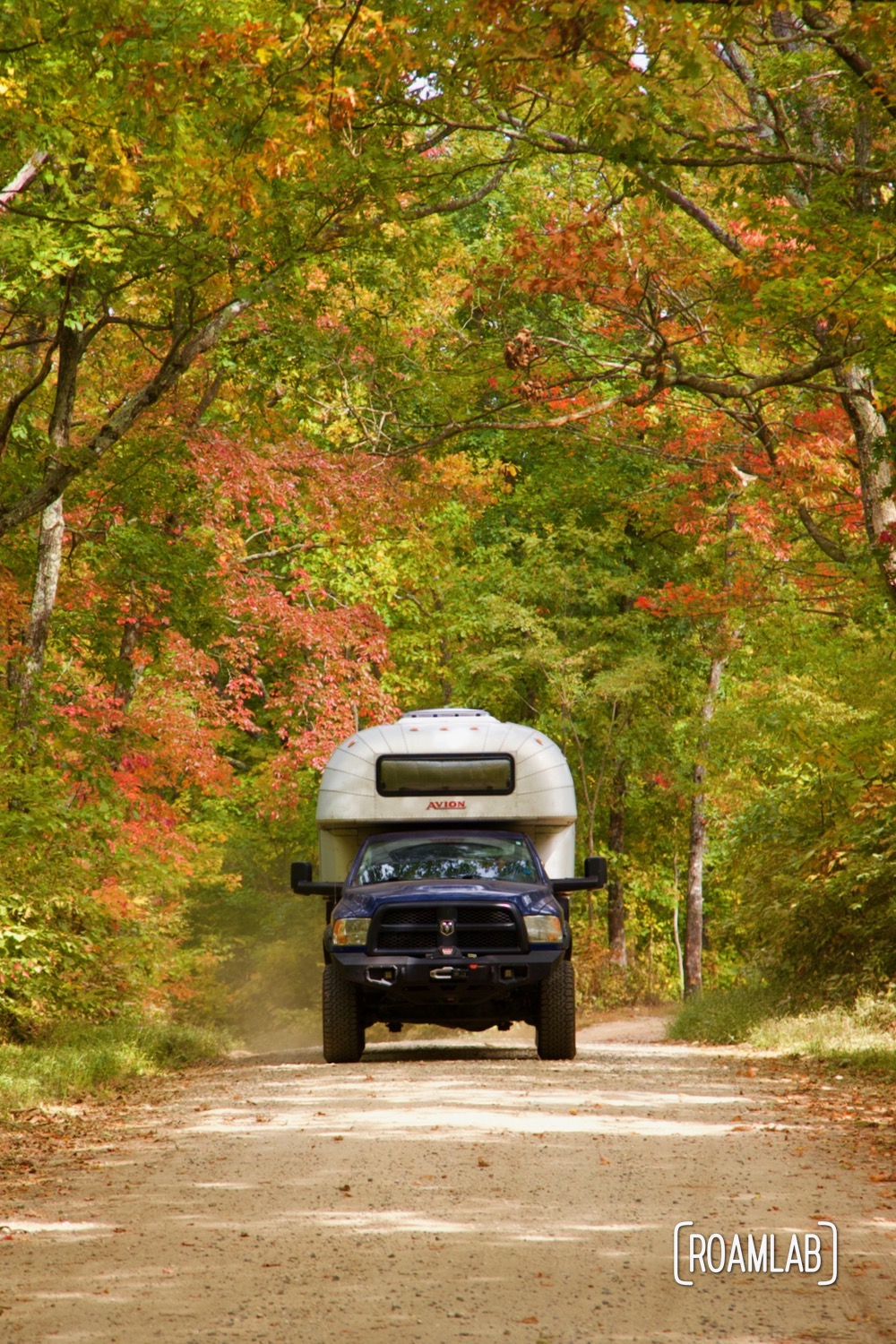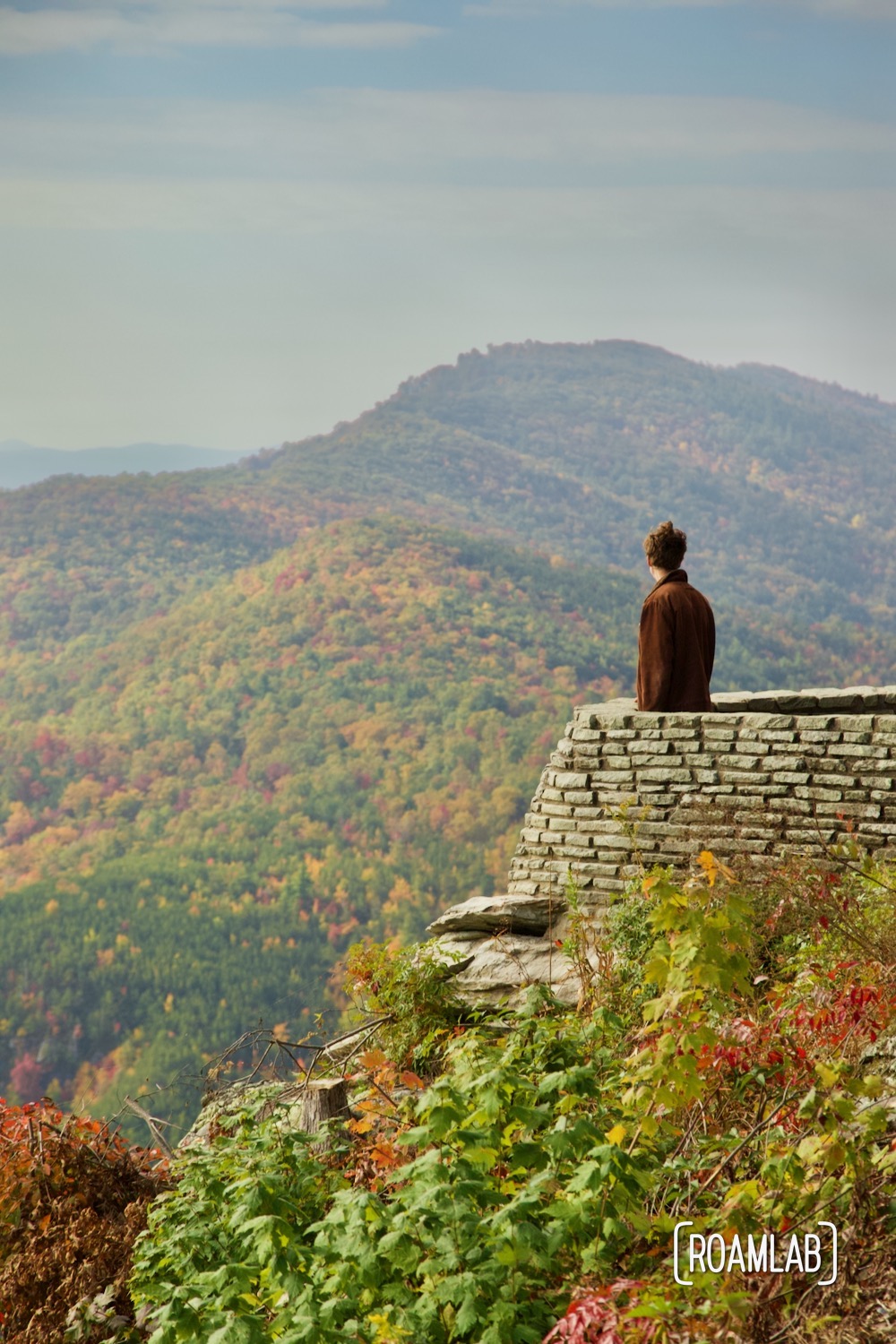 Old North Carolina 105's High Clearance Section
Beyond Wiseman's View, Old North Carolina is reclassified as a dirt road, only suitable for high clearance 4×4 vehicles. Though, on a dry fall morning, the difference is hard to discern. The trail continues as rough and rocky as ever. It may even (arguably) be less rutted thanks to the decreased traffic. This difference may be seasonal. After all, we are driving this route shortly after the dregs of Hurrian Ian drenched this region and likely introduced the conditions for some new ruts. Otherwise, the earlier stretch may be better maintained than this later dirt stretch.
The road continues to dip and rise, following the ridge south. We encounter more remarkable vistas but this stretch has fewer trailheads to draw out day trippers. The road is mostly ours and only a few campsites appear to be occupied.
One thing we do notice though is that we seem to be gradually losing elevation. We are working our way down to Lake James and the community of Nebo, North Carolina. Traffic picks up along the last few miles of Old North Carolina 105. Though that only means a few Jeeps and small trucks. Driving to or parked at trailheads.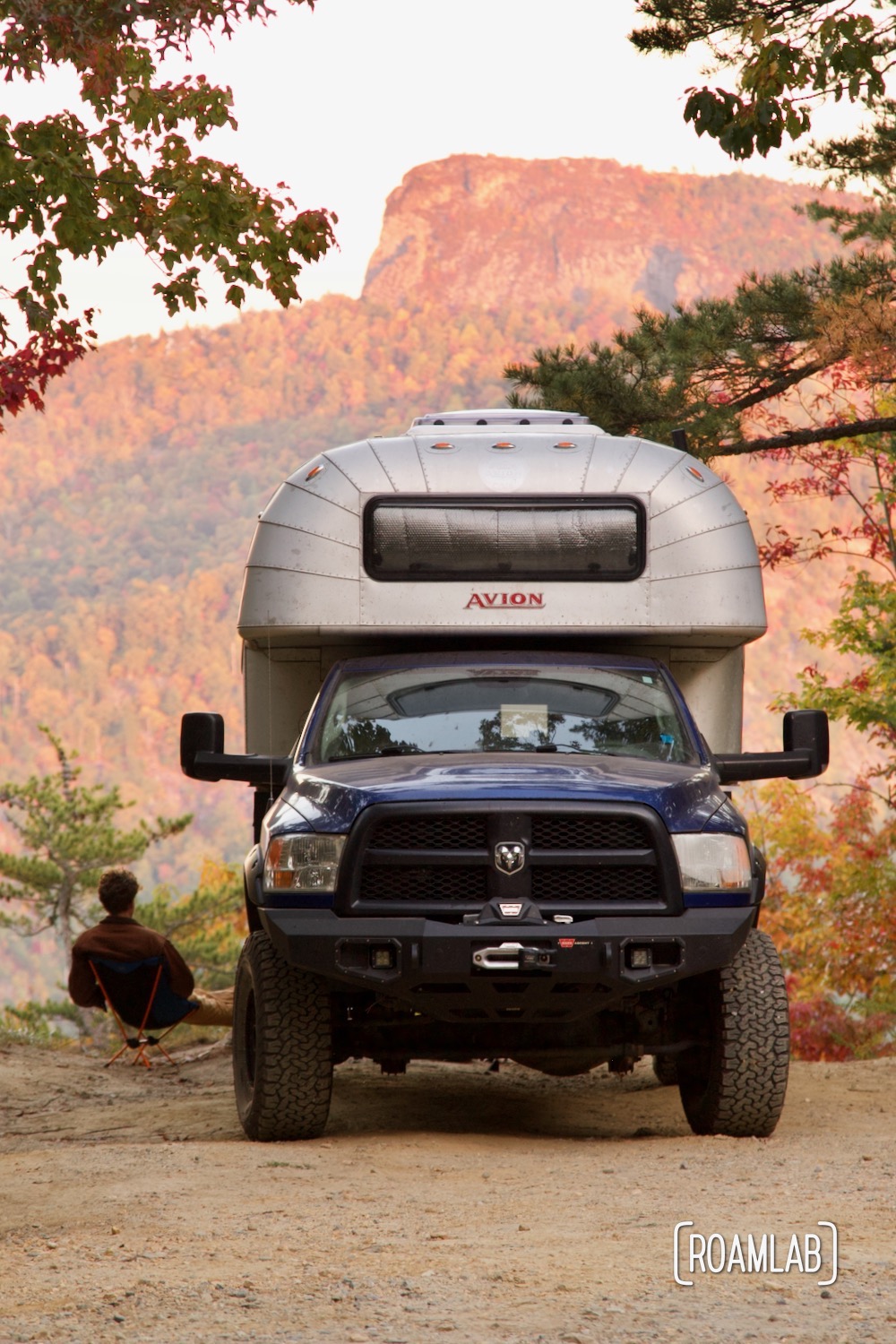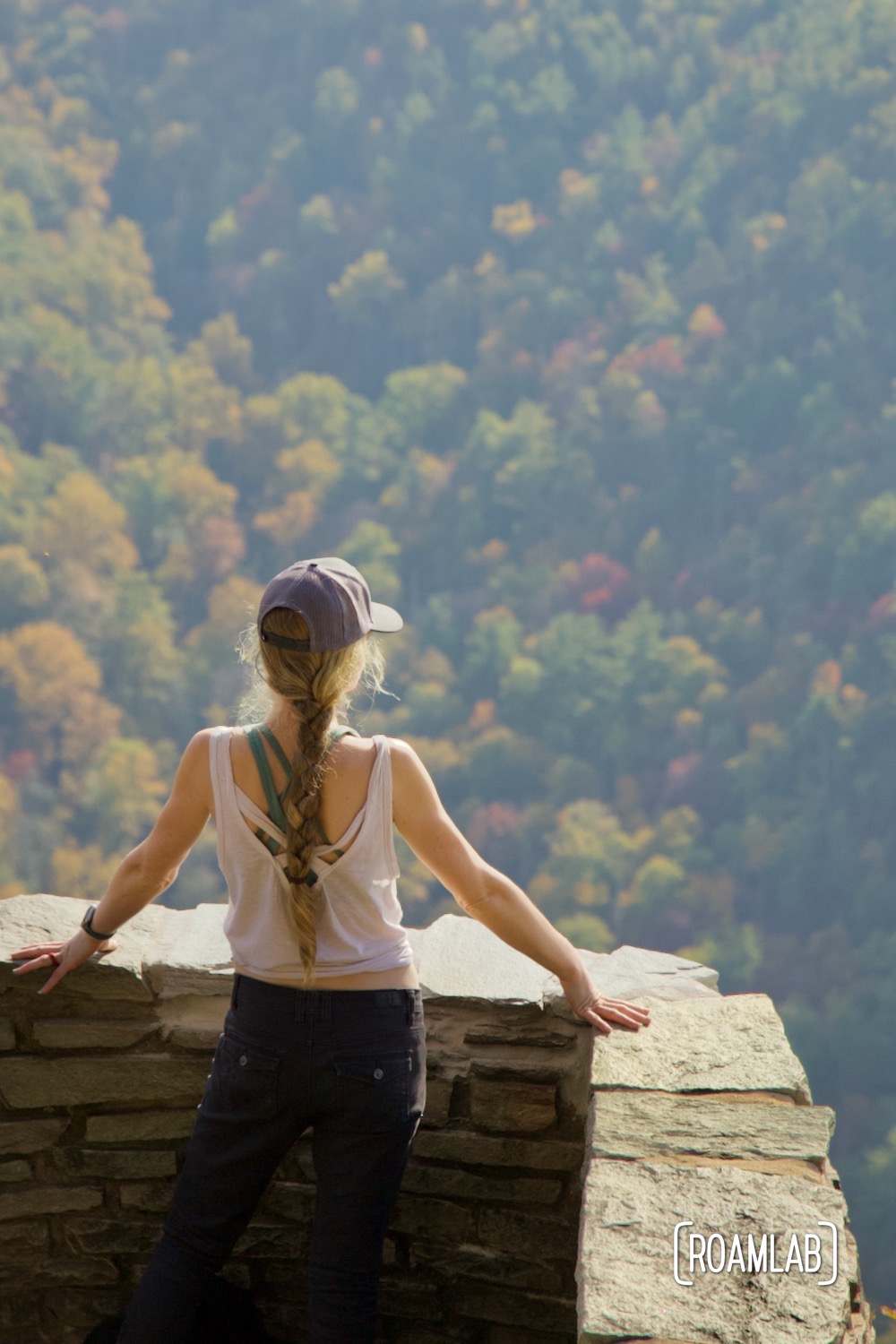 The Southern Terminus
We hit the pavement after nearly 14 miles of dirt and gravel. Over that distance, we have transitioned from 3275 to 1600 feet in elevation. Considering the many steep, rutted sections we encountered along we that, traveling north to south certainly has its advantages. We had less elevation to climb on dirt compared to those traveling north.
Looking back, we only feel grateful that the weather was mild and dry. With our heavy rig, we could have had some trouble scaling some of the steep sections under muddy conditions. Next time we drive Old NC 105 (and there will be a next time), we will be sure to check the weather ahead of time to make sure we don't find ourselves in a muddy mess.
In the meantime, we can't help but think about everything we want to do when we return. There are a lot of trails still to hike, views to take in, and campsites to overnight. And we want to do it all.