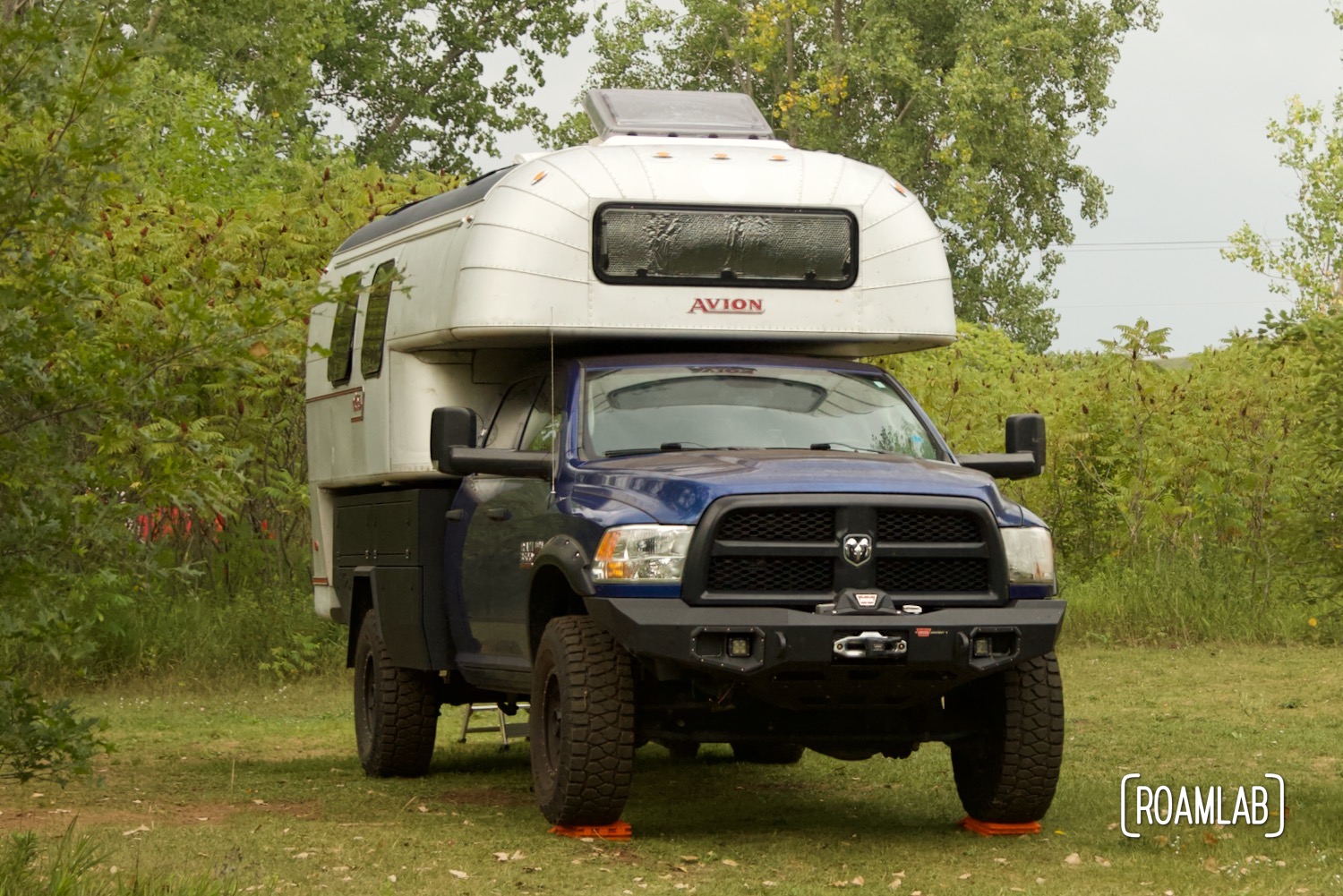 Portsmouth Campground
Cuyuna Country State Recreation Area
We camp for a variety of reasons: to be close to nature, to immerse oneself in a new environment, or to slow down and enjoy the simple things, like dinner cooked over the fire. And with these different goals come different types of campgrounds. There's everything from luxury glamping setups with scenic vistas and onsite yoga classes to equally scenic but profoundly remote dispersed sites where the only amenities are the ones you bring along. Portsmouth Campground in Cuyuna Country State Recreation Area is smack dab in the middle of the campground spectrum. It's a developed campground with serviceable facilities, running water, and showers. But what brings campers here is its location. Portsmouth Campground places campers right in the heart of outdoor adventure with mountain biking trails, a boat launch, and a beach all within walking distance. It's not your average secluded forest hideaway, however, this campground has a personality and practical features tailored to outdoor enthusiasts.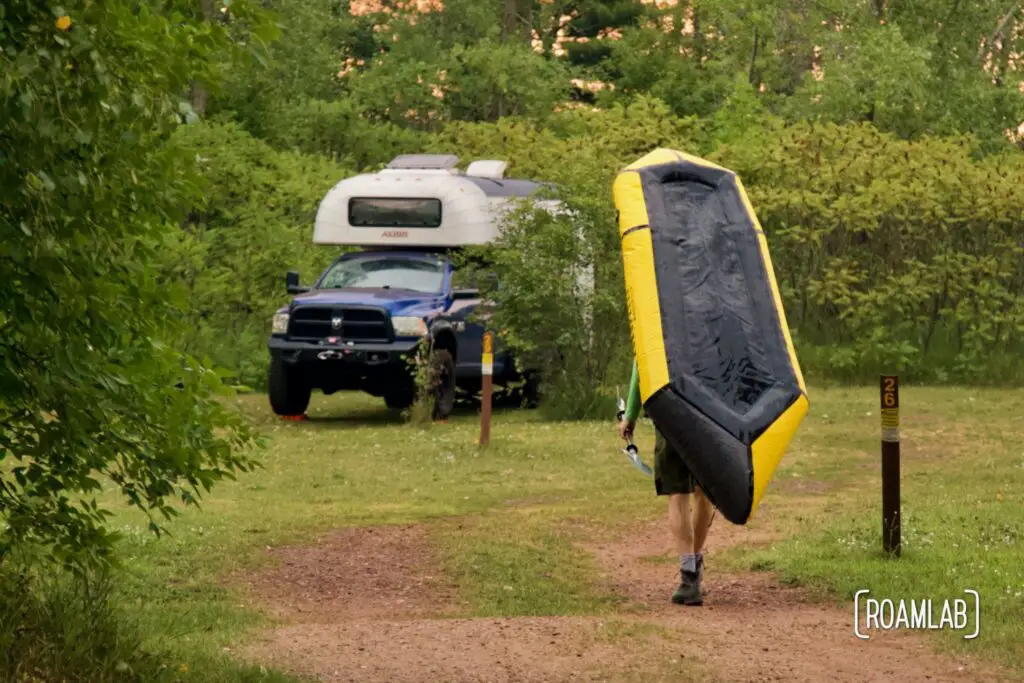 History of Portsmouth Mine
Just south of the campground, Portsmouth Mine holds historical significance as part of Minnesota's iron ore mining industry. While the mine is no longer operational, its presence is an integral part of the area's identity. The red dirt trails are a testament to the iron-rich ore that was mined and the "lakes" that define Cuyuna Country are actually flooded open pit mines. The recreational area has managed to integrate this industrial history into its outdoor activities, making our adventure here a unique blend of past and present.
The Lay of the Land
Most of the sites around Portsmouth are open and sun-drenched: great for solar panels, not so good for keeping cool in the summer. Cut from the forest, the campground primarily offers spaces that are exposed to both sunlight and the eyes of neighboring campers. However, if privacy is a key factor for you, aim for the sites along the campground's edge. These spots offer more shade and a greater sense of seclusion. A unique exception is the cart-in campsites, tucked away amidst a thicket of sumac trees, offering an extra layer of natural privacy.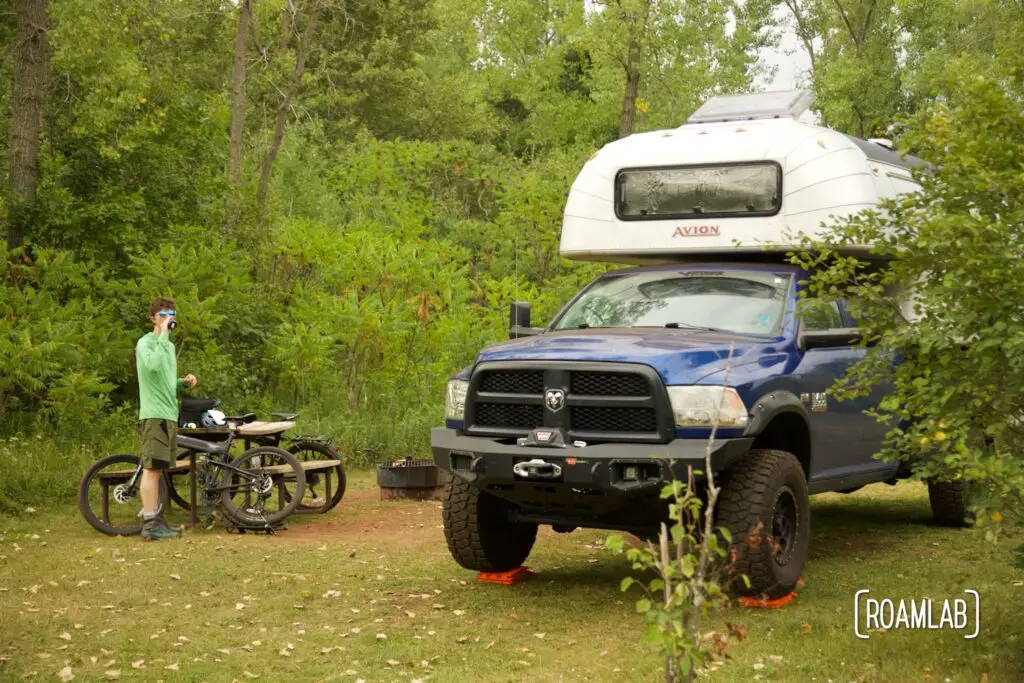 Amenities
When it comes to amenities, Portsmouth Campground has all the basic amenities without any special flair. The bathrooms are equipped with running water and showers—a luxury in the camping world. For mountain bikers, there's even a dedicated bike washing station.
Nature's Little Critters
It's worth mentioning that the campground has a buzzing community of bugs. While this is part and parcel of the outdoor experience, come prepared with your bug spray and maybe even a bug net. Oh, and, out of concern for everyone, please shut the bathroom door after yourself at night. The interior lights and drippy faucets can attract a swarm around the sinks.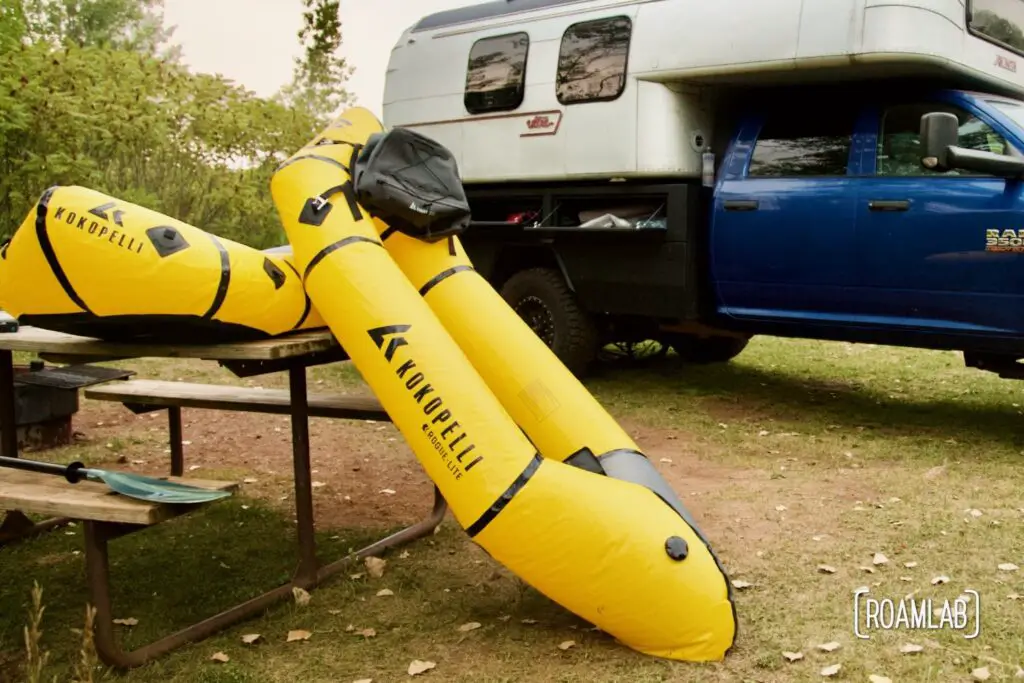 Location, Location, Location
Yet, as noted before, people don't come to Portsmouth for seclusion or luxurious amenities, they come for access. The campground is within easy walking distance to Portsmouth Mine, a former open pit mine now flooded and stocked with fish. Visitors can easily fish, swim, paddle, and view wildlife that are also attracted to this body of water. The swimming beach, close to the campground, is also an easy launch point for small watercraft such as kayaks, canoes, SUPs, and rafts. And it's only a short drive south of the campground to reach a boat launch.
While the scenic waterfront adds to the area's charm, what's clear is that people primarily come here for the trails. Almost every vehicle parked in the campground sports a bike hitch with a few mountain bikes. Along that same trail accessing Portsmouth Mine Beach, cyclists can pick up both the paved Campground Connector Trail and the red dirt single-track Drag Line mountain bike trail. Both routes connect riders with the area's larger trail network.