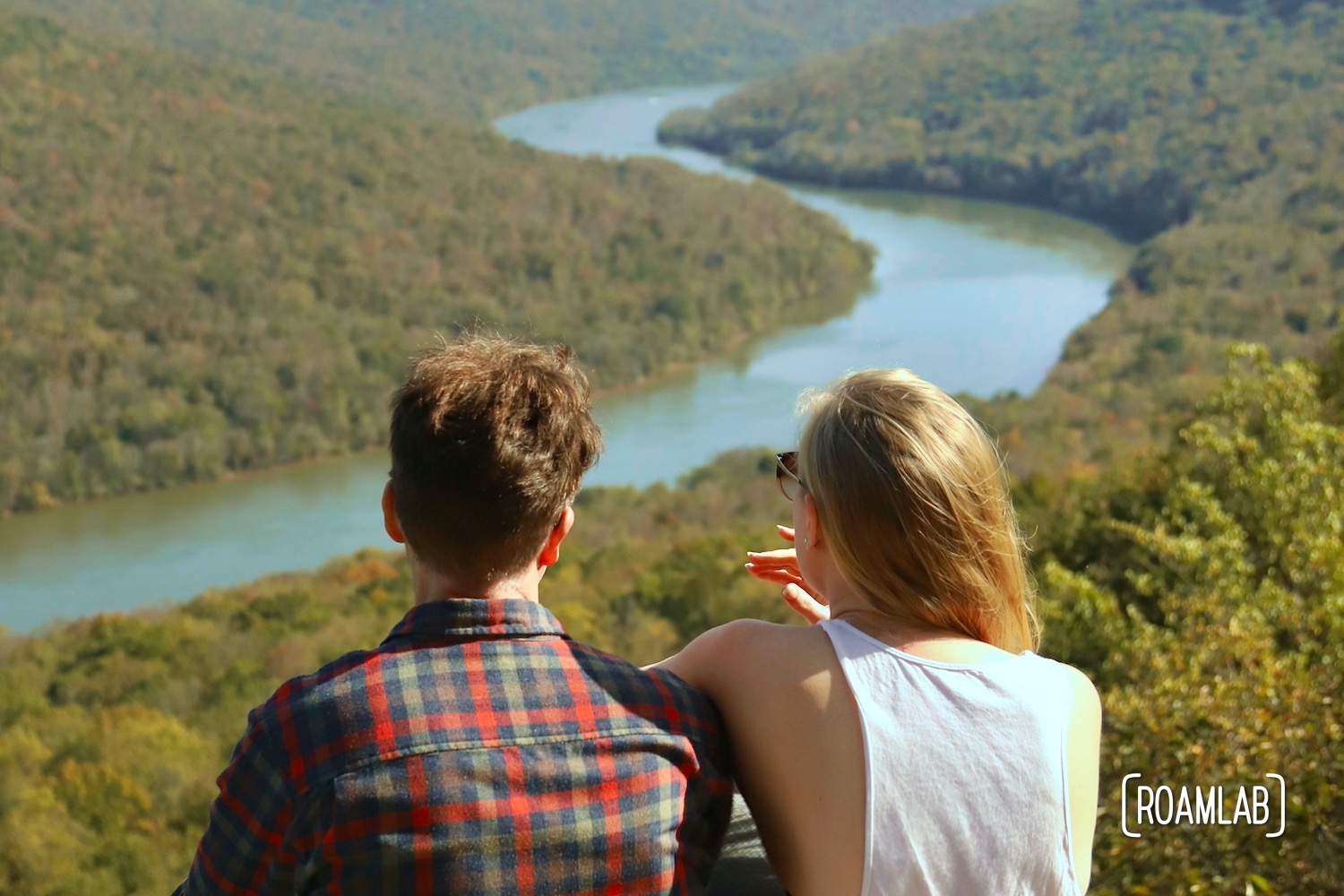 Ritchie Hollow hiking trail is a 2.7-mile point to point trail connecting a parking lot along the Tennessee River to the Davis Pond campground in Prentice Cooper State Forest. The route covers a 1,200-foot elevation gain that ramps up from a relatively level terrain to extended stretches of stairs and steep inclines. While there are occasional trail markers, junctions can be confusing, and it helps to tackle the trail with a map to cross-reference. Even so, for all its challenges, the Ritchie Hollow trail is awash in waterfalls and, with a well-deserved detour, it can conclude with one of the best views of the Tennessee River Gorge.
Ritchie Hollow Breakdown
The Ritchie Hollow trail's first mile is a leisurely shaded stroll through hardwood forest and past many small waterfalls. The frequency of the water features is enough to get us excited. And, for hikers unprepared for rough, uphill trails, it's fair to take in the falls and then turn around when the trail takes a steep turn.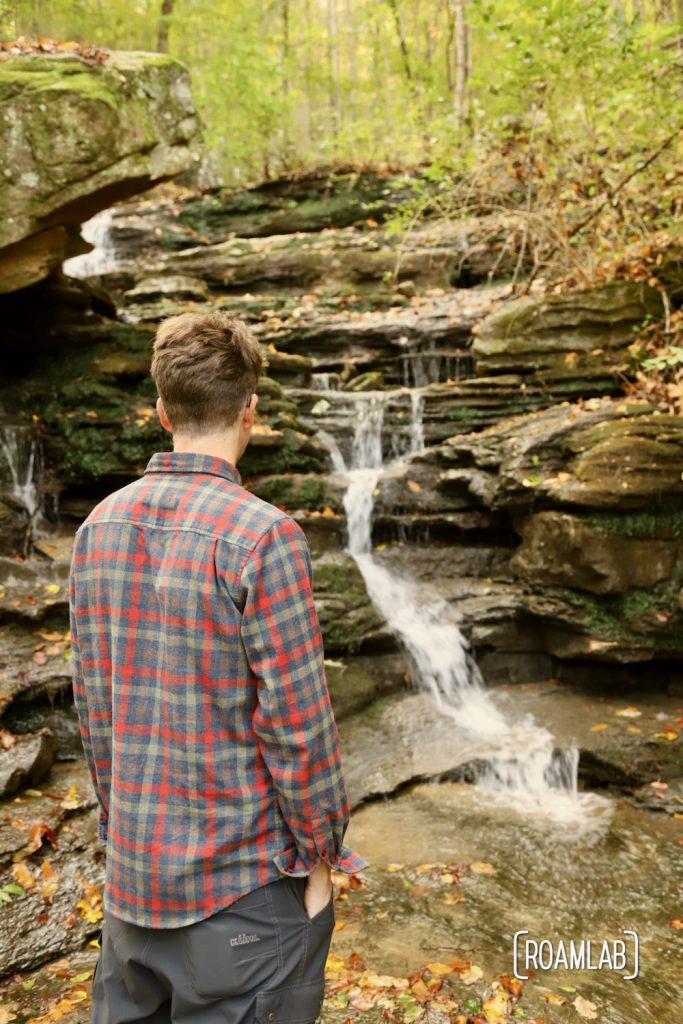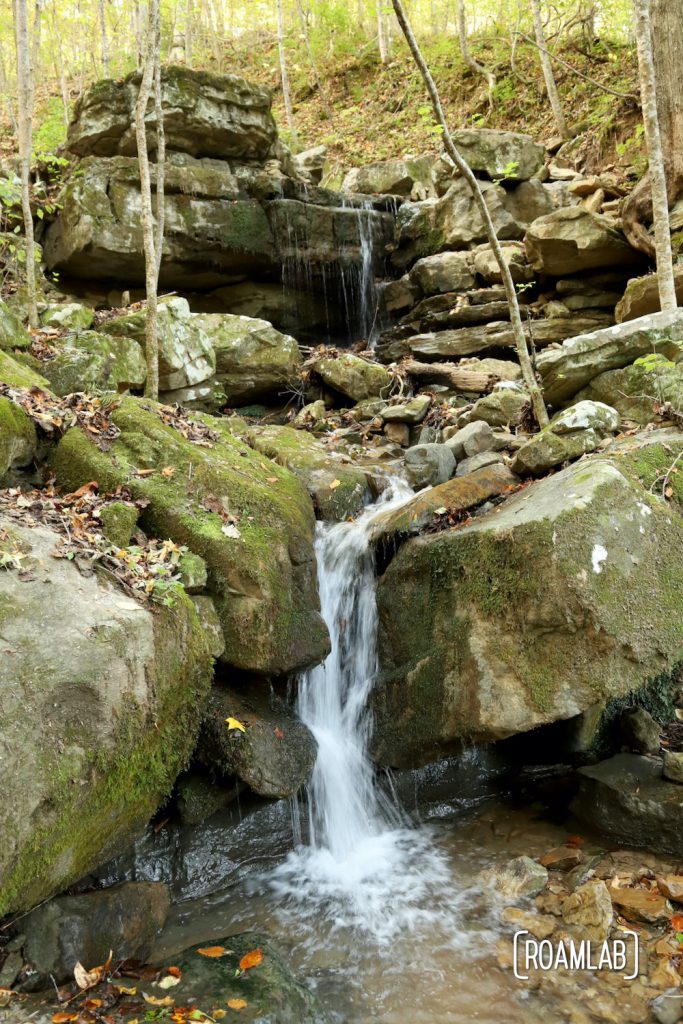 Some may be tempted to turn around on the second mile, where the trail gains most of the elevation with a sustained, steep grade, flights of steps, and a few switchbacks. Granted, there is a particularly notable reward along this stretch. Blowing Wind Falls is a 30-foot waterfall that tumbles along an exposed rock face. But it isn't directly on the trail. To reach it, we take a break from the sustained uphill trudge to dip into a little gully. I was almost tempted to skip over the waterfall rather than have to climb any more steep trail than necessary. But the detour is minor, and missing this waterfall would be a huge mistake. Take the time and bring a camera.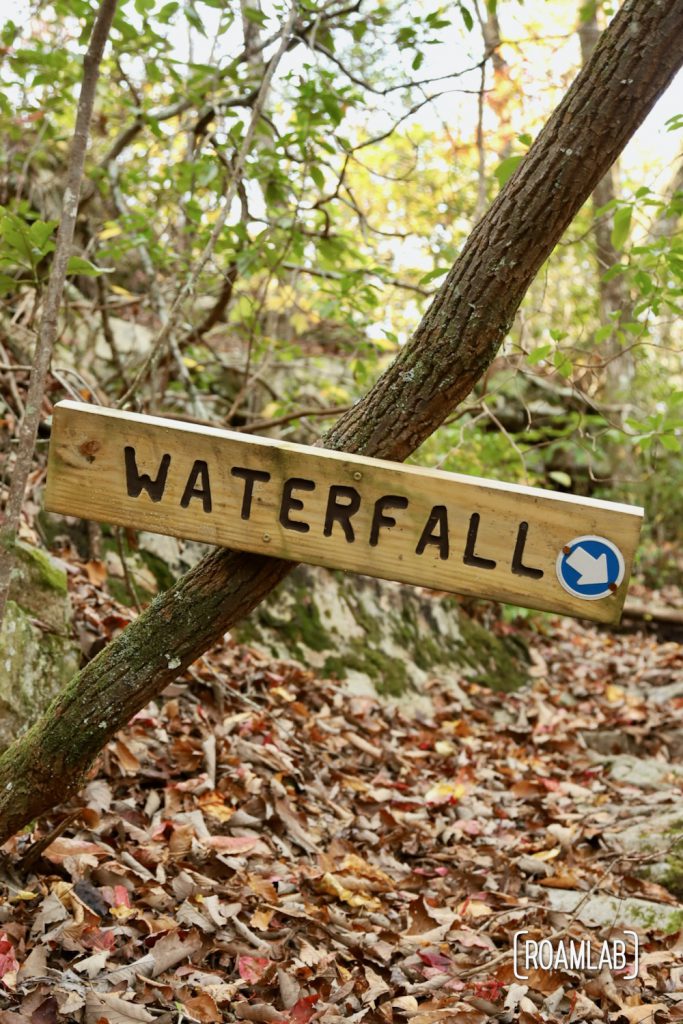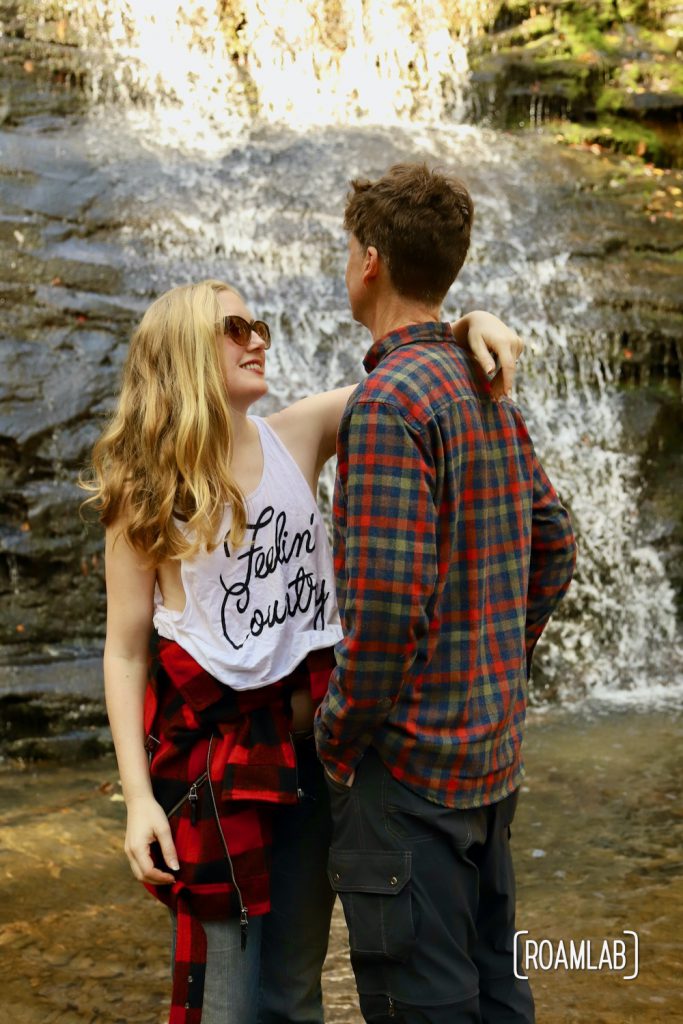 Davis Pond Campground Distraction
The last .7-miles of the hike is relatively flat. The trail continues to gain elevation but at a much more gentle incline. Even so, there isn't much to see beyond Blowing Wind Falls. Richie Hollow trail concludes with Davis Pond Campground. While the campground could be a convenient site to camp or picnic, it doesn't have much else to offer. There are no notable views, no bathrooms, and only a few amenities aside from shady picnic tables and a level grassy field to play and camp. The campground is also accessible by Davis Pond Road and an accompanying parking lot.
Frankly, we don't consider this section of trail to be worth covering unless, like us, you have the completionist's need to reach the end. Otherwise, there is a much better use of your energy.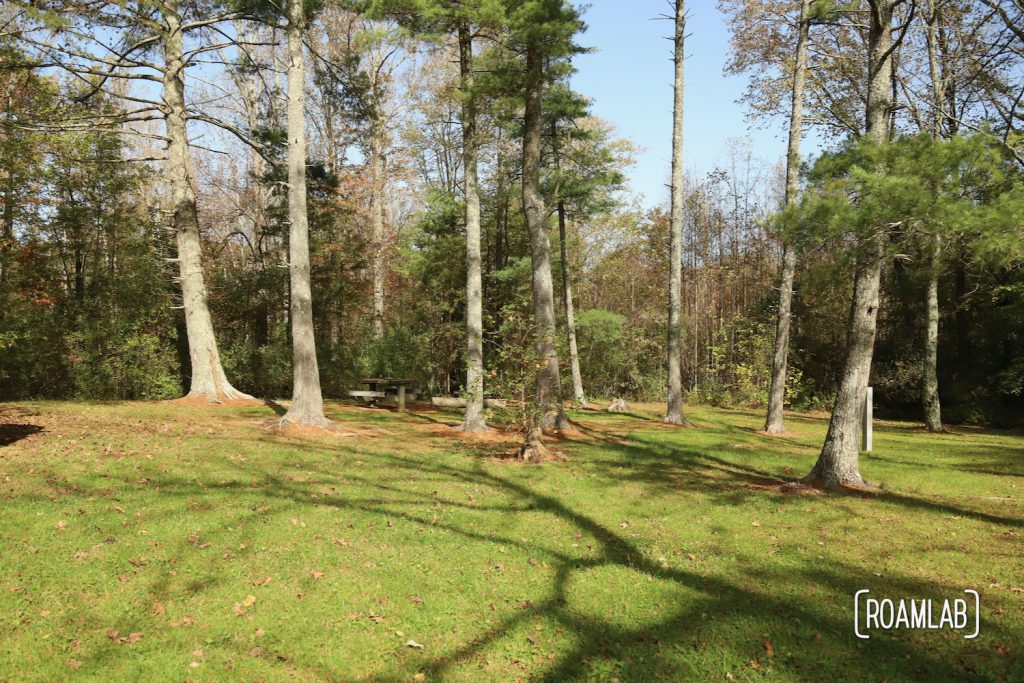 Pot Point Trail & Snoopers Rock
Just because the trail itself doesn't have much more to offer, it doesn't mean you should turn around after reaching Blowing Wind Falls. About a quarter-mile past the falls, Ritchie Hollow intersects with Pot Point Trail. While this loop trail covers about 4-miles, we are interested in the next 1.6-miles of the north branch (to the right), which takes us to Snooper's Rock. This scenic overlook is well worth the 3 miles round trip detour. Sure, by the time we reached it, we were exhausted, but the view alone is enough to distract us from our aching calves.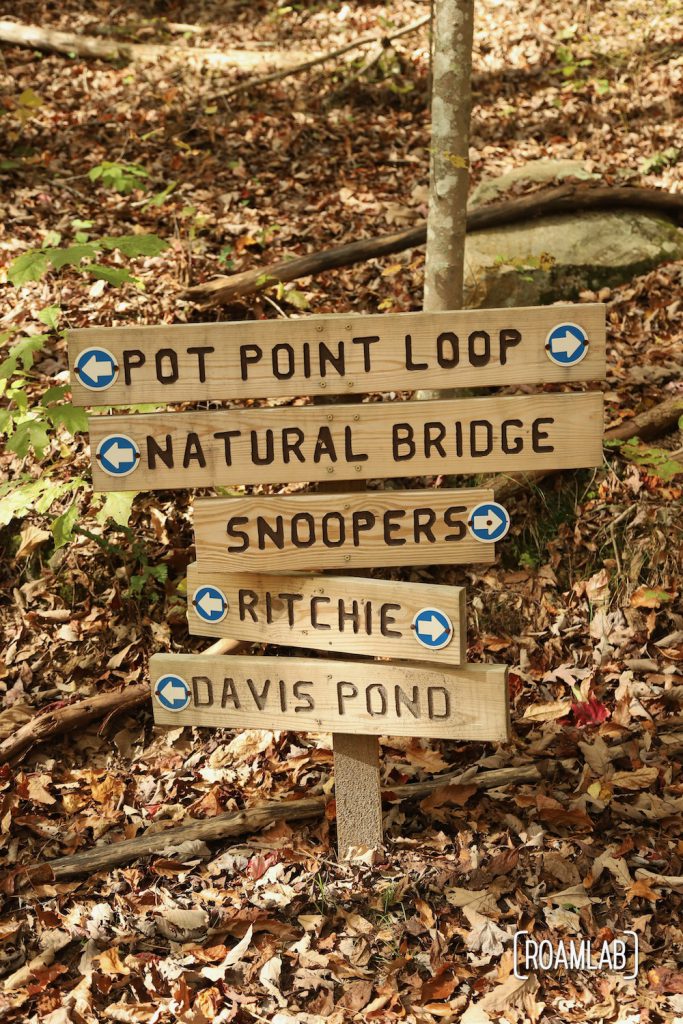 A Few Final Tips Hiking Ritchie Hollow Trail
When I planned the Richie Hollow hike, I budgeted half a day for it. I should know better. We augmented our hiking time with frequent stops for pictures and the Snoopers Point detour. Despite our early start, we completed our hike around 4 PM. We were starving and worn out with little time left before the short Fall day gave way to night. Focused hikers can cover the ground much more efficiently than us. Yet, I'd advise against rushing. Pack a picnic lunch and take your time.
On the other hand, it appears that you could cut the hiking time in half by concluding at Snooper's Rock. This outlook is only a short hike from a small parking lot. With a little coordination between a group of drivers or calling rideshare, you could theoretically make this a one-way trip. Granted, this is a hypothetical on our part. We didn't drive that route, and the trail might not be accessible to all cars. Since we didn't have anyone to pick us up, we went ahead and hiked back down the Ritchie Hollow trail. While the hike up did a number on our muscles, the way down was particularly unkind to our joints.
Also, a season note: We visited the park in the fall. It is worth noting that this trail is close most weekends this time of year for hunting. Fortunately, we visited mid-week when the area is open to casual hikers.