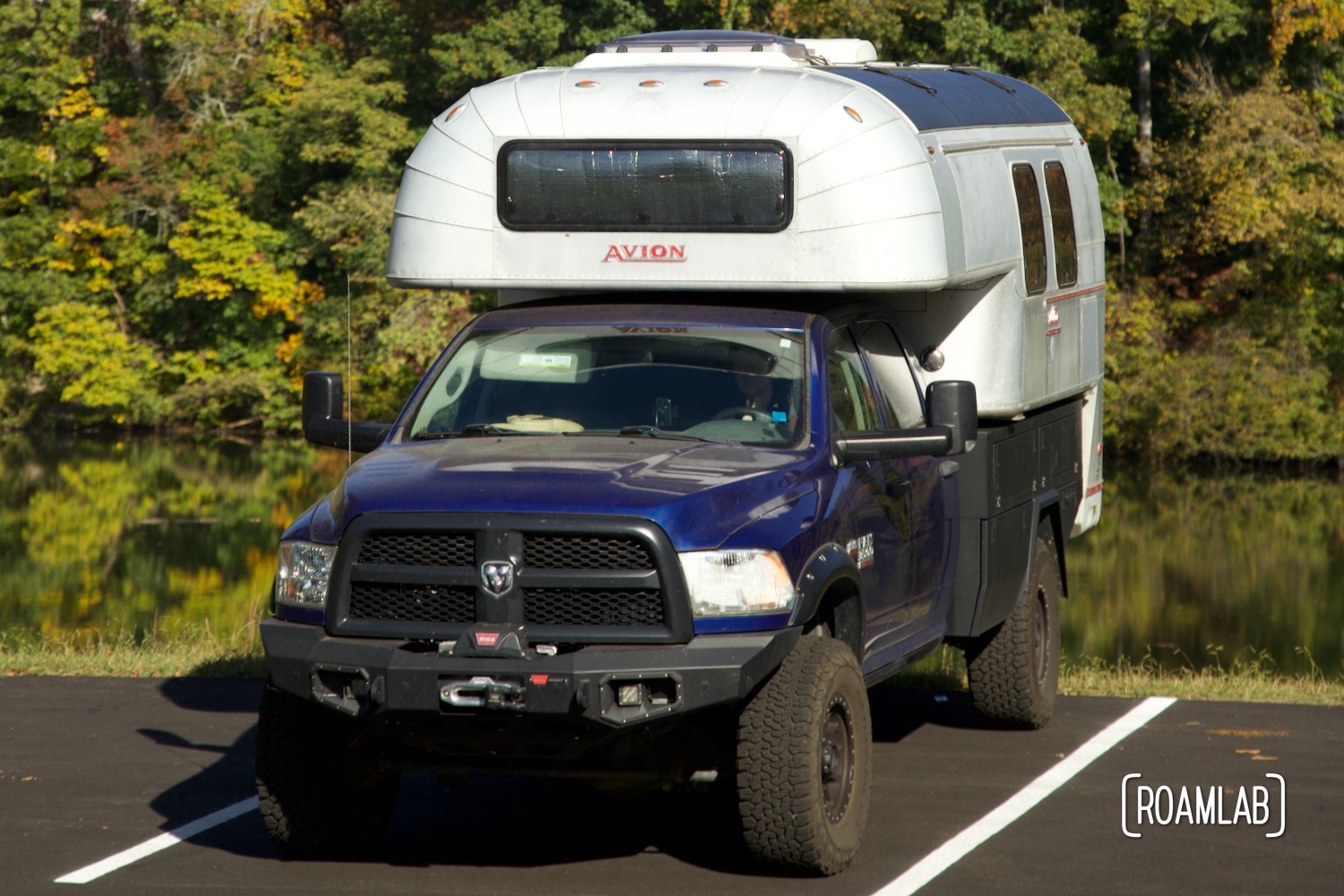 Warriors Path State Park is a great place to camp, hike, bike, fish, and kayak in northeast Tennessee. The park is located off highway 81 and has 10 hiking trails, the best bike trails in the area, and great fishing and kayaking on the Holston River.
About Warriors Path State Park
Warriors Path State Park is a 950-acre Tennessee state park situated along the banks of the Patrick Henry Reservoir. The park is named after the Great Cherokee War and Trading Path. Today, the park is a remarkable place to camp, hike, bike, fish, and kayak.
Camping
Warriors Path State Park General Campground
Warriors Path State Park has 94 campsites hemmed in by the Patrick Henry Reservoir and shaded by mature trees. The campsites offer electric and water hookups along with a fire ring and picnic table. Despite these RV-friendly amenities, campers with larger rigs should double-check the size of each site as the uneven ground and retaining walls throughout the campground limit the size of rigs in many spaces.
There are also a number of bathhouses with showers and restrooms in the park and two dump stations. There is also a little shop and event space at the entry to the campground offering a few conveniences including ice cream.
Cedar Ridge Hammock Campground
Along with RV camping, Warriors Path supports primitive hammock camping at the aptly named Cedar Ridge Hammock Campground. Along with space for hammocks, each site offers a picnic table, fire ring, grill, lantern hook, and access to water. The campground stands out not only for its opportunity to camper close to nature but its reliance on recycled and reutilized materials.
Hiking Trails
There are 12 miles of hiking trails in Warriors Path State Park skirting the banks of the Patrick Henry Reservoir, wandering along bluffs, and winding through fields. Check out the Lake Shore Trail self-guiding booklet with informative stops along the trail. Or consider the 1.15-mile Devil's Backbone Trail, the 1-mile Fall Creek Loop Trail, or the 0.45 Holston Bluff Trail loop. Many of the trails intersect with each other. So, hikers looking for an extra challenge can string trials together for one extended route.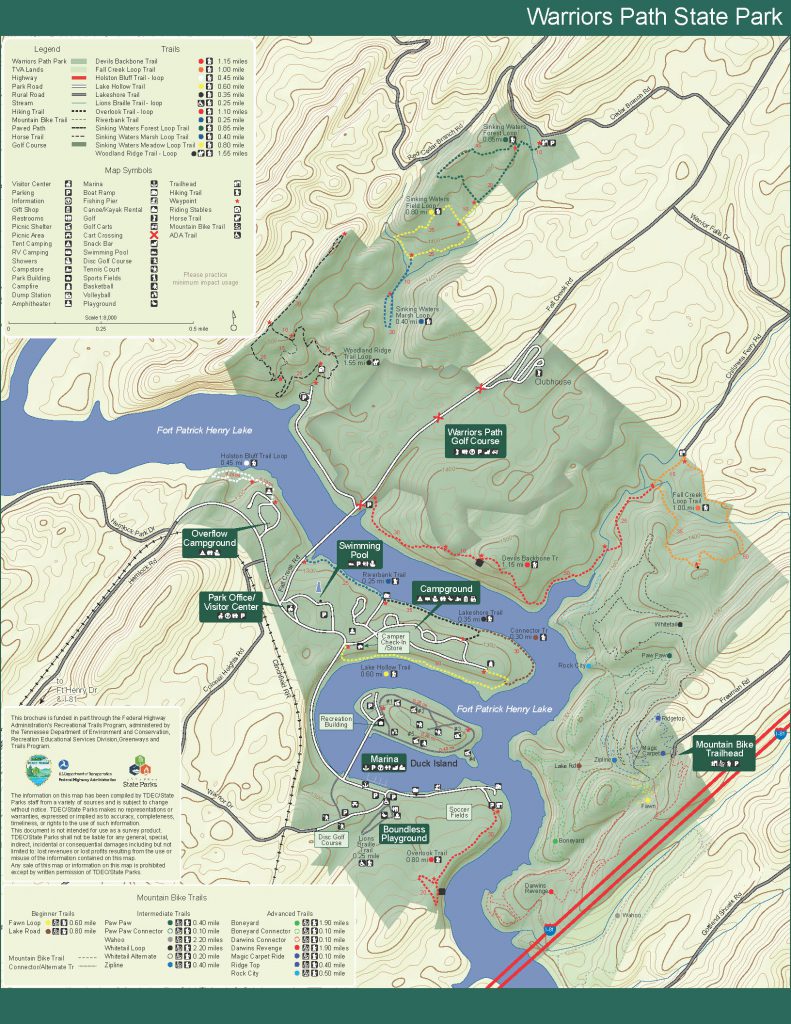 Biking Trails
Along with hiking trails, Warriors Path State Park includes a wide range of biking opportunities. While the paved roads throughout the park tend to be quiet enough for biking, there are also over 12 miles of designated beginner, intermediate, and advanced mountain biking trails. Be sure to confirm which trails are open to bikes. There tend to be unambiguous signs at the trailheads where bikes are not allowed.
Boating and Fishing on the Holston River
Of course, with so much waterfront, water sports are popular at Warriors Path State Park. There are boat launches throughout the park, including in the campground. For those without their own craft, visitors can rent paddle boats, single and tandem kayaks, paddleboards, paddleboats, and canoes at the marina.
Whether in a boat or on the shore, visitors can also enjoy fishing along the banks of the Patrick Henry Reservoir. This man-made lake offers opportunities to catch bass, crappie, Hybrid Striped Bass, catfish, and trout.
Accessing Warriors Path State Park
Warriors Path State Park is remarkably convenient, located just a few miles off Interstate 81, along the Virginia, Tennessee border. Even so, while the park may be surrounded by shops and neighborhood communities, it occupies an odd grey zone when it comes to GPS navigation. When traveling northeast, Google maps will get a little over-creative in its navigation, directing drivers to a road that may once have allowed through traffic but certainly does not anymore. It's a big enough problem that written directions come with any online reservation:
"If you are coming in from I-81 northeast of the park, access the park via Exit 66 SR 126 to Fall Creek Road. If you are coming from the southwest, access Warriors' Path State Park via Fort Henry Drive (SR 36) to Hemlock Road."
Our Experience
We spend the night at Warriors Path State Park on our way to Overland Expo East. Its convenient location right off Interstate 81 makes it an ideal overnight stop. But the network of trails and scenic overlooks have us lingering the next morning, exploring the landscape by foot and bicycle. If not for our need to reach the event in a timely manner, we would have stayed another night to explore the waterways and a few more trails. It is certainly worth a visit!