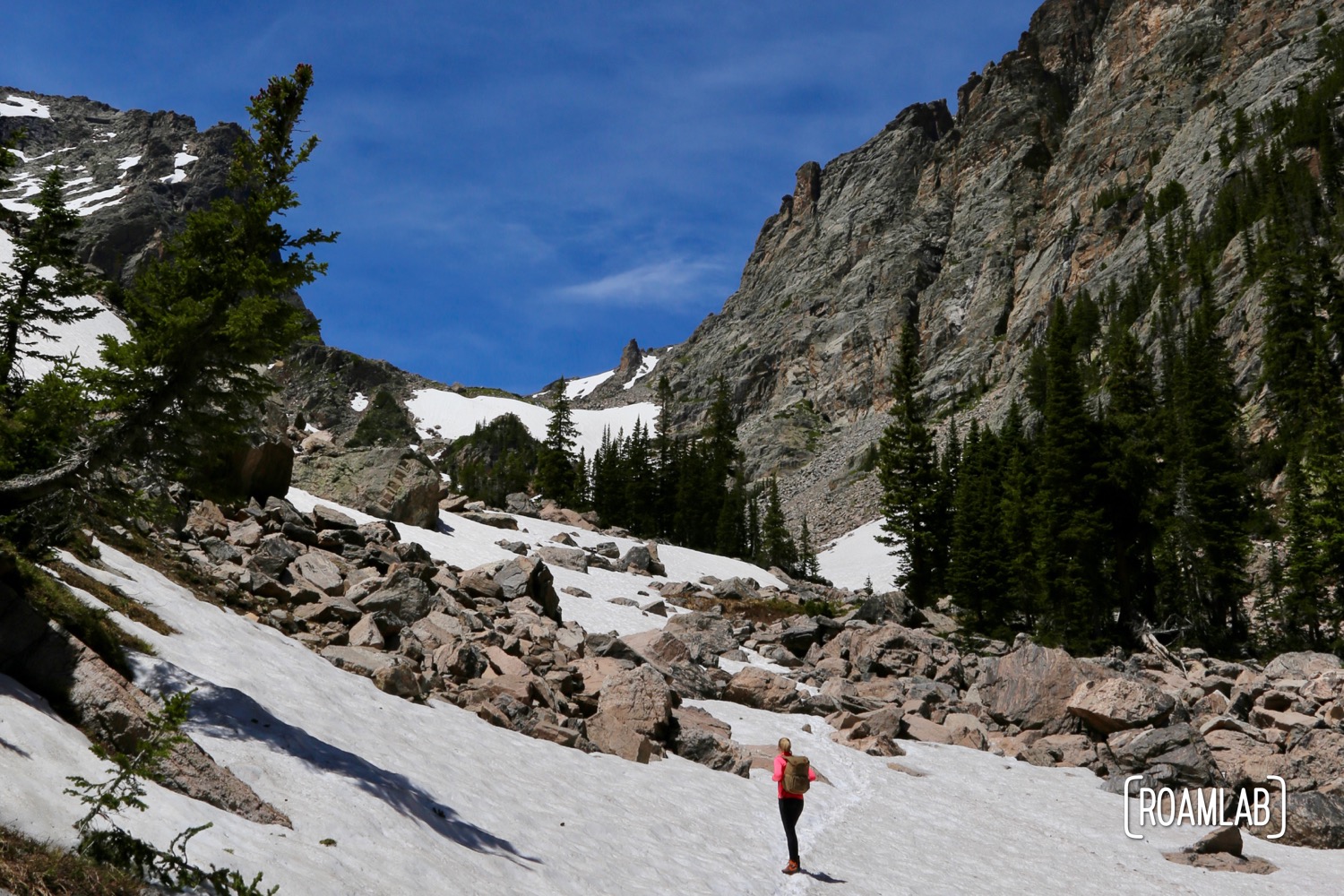 Andrews Glacier Trail is a 9.3-mile in-out hike in the Bear Lake Area of Rocky Mountain National Park. It is one of a series of iconic hikes sprouting from the core Glacier Gorge loop. The hike itself is considered so minor among the group that, in a list of 17 Bear Lake Corridor Trails, it isn't even listed. But, that's part of the reason we chose the trail. Because when everything is as awe inspiring as Rocky Mountain National Park, the popular trails are clogged with traffic and the lesser trails—only lesser in the most relative of senses—are practically empty.
The hike from the Bear Lake Parking lot to the split for Andrews Glacier is packed with hikers. But as soon as we split from the Sky Pond trail, there is no one else around. The trail is so unused that sections of the trail are difficult to distinguish from virgin ground. The occasional line of rocks or other man-made feature is a relief to assure that, yes indeed, you are still on the allotted trail.
There is even primitive camping allowed up at Andrews Tarn, a marshy flat area just below the glacier. Permits must be made in advance and campers need to pack in and out everything they intend to use. But the view is fantastic.
Instead, we continue to the Glacier. Even in mid July, the trail travels over the snow pack. After all, the Andrews Glacier Trails gains 2,300 feet from beginning to end. In some sections, you can hear water rushing below. We only hike a little onto the glacier. Having already stepped through a few snowy sections, we are concerned about hiking onto a portion that may be deep enough that we could fall into and be trapped. So, after a few pictures and finding a scenic spot for a snack, we turn around to complete our hike.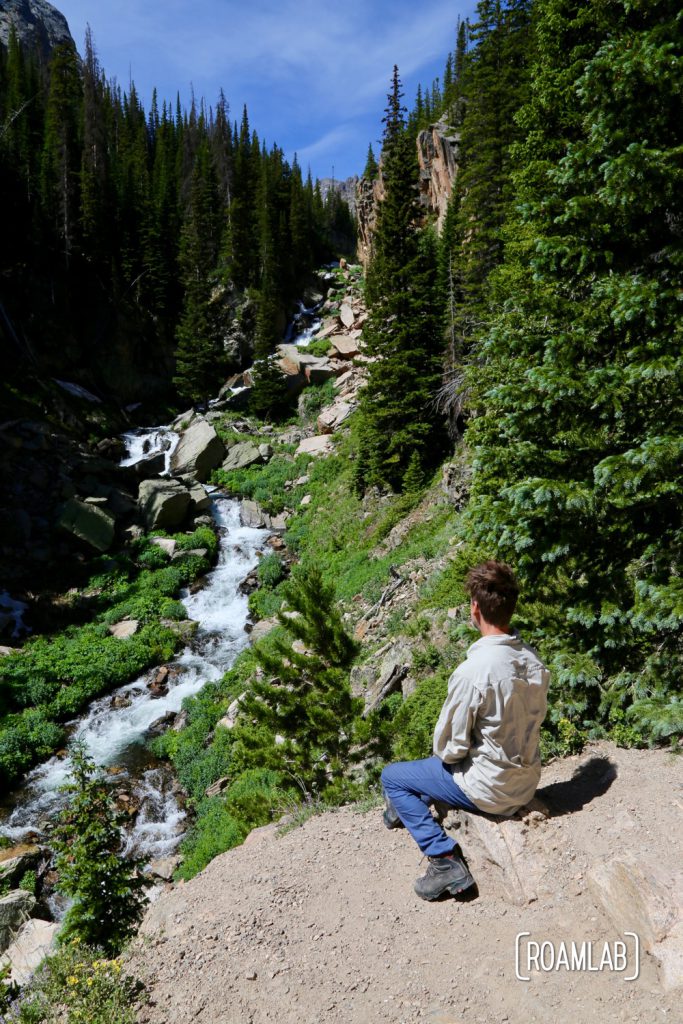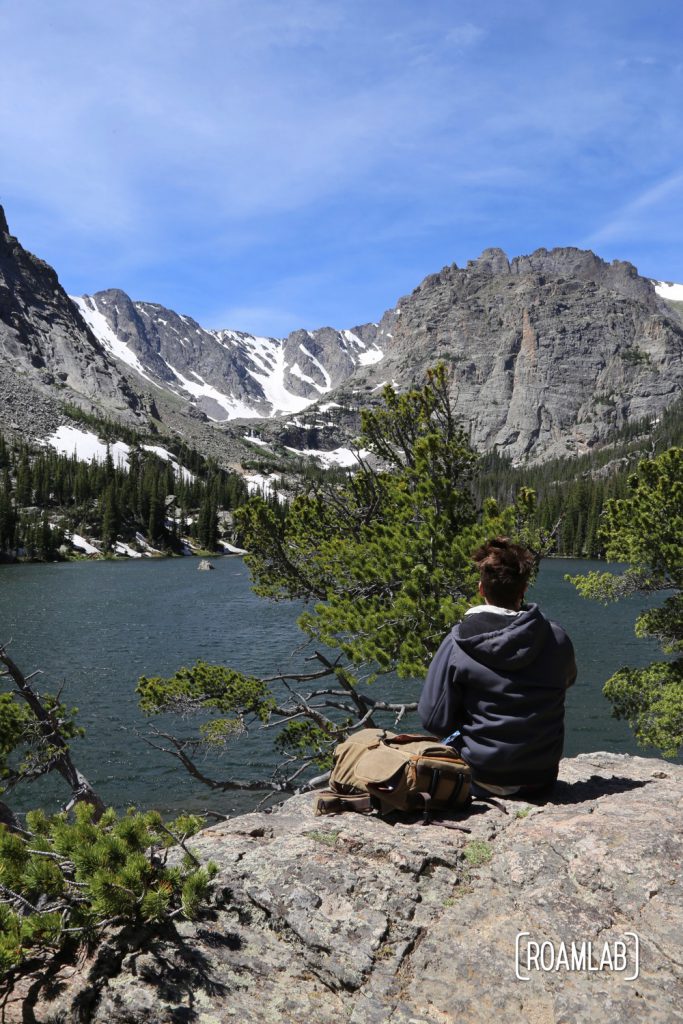 Andrews Glacier Trail Alternative Route
To mix things up, we tackled Andrews Glacier from a less conventional angle. Starting from the Bear Lake Parking lot, we took the Glacier Gorge loop in a counter-clockwise direction, headed toward Dream Lake. While adding ____ miles to the overall route, It also started the day with brilliant views of Nymph and Dream Lake. From there to the Andrews Glacier Trail, we encountered almost no one. It was a beautiful break from the crowded trails. In this direction as well, it meant that our initial climb was steep and the return hike was almost all down hill.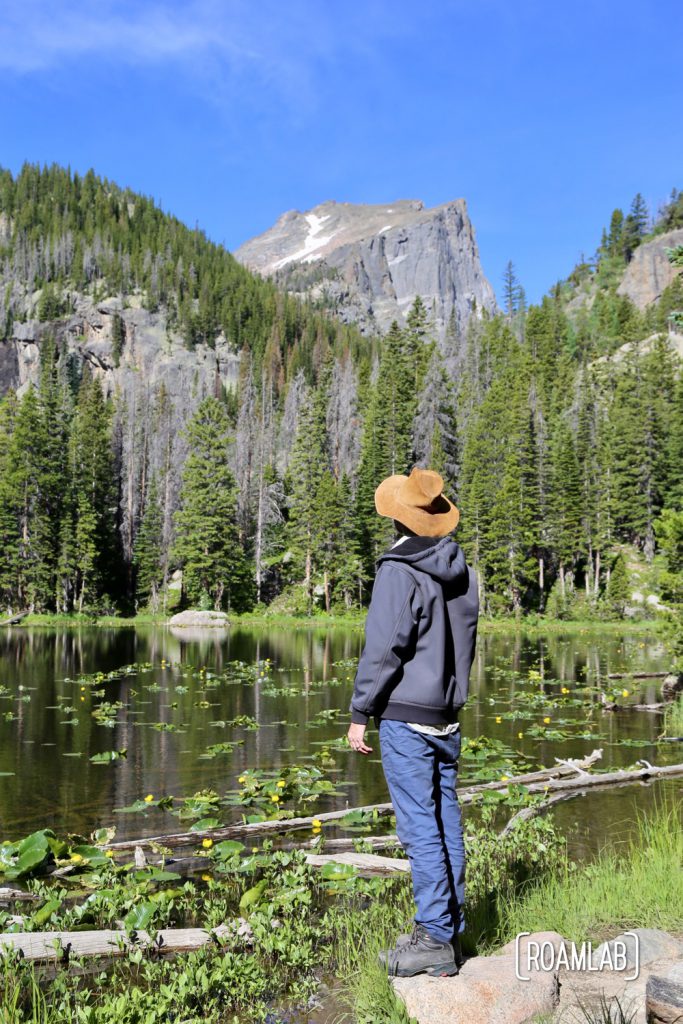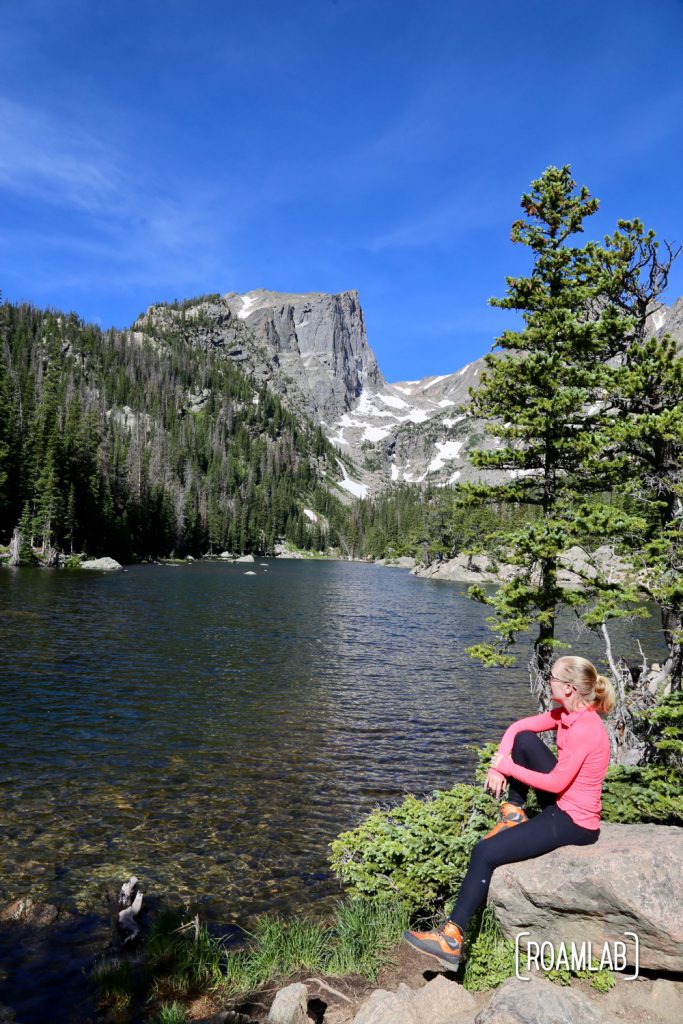 A Note On Parking
Park rangers won't mince any words when talking about parking for the Bear Lake Area. The lots fill up fast each day. For this hike, we decided to camp on the east side of the park so that we could reach the hiking trails early, before the Park & Ride lot filled up for the day. We heard horror stories about lots filled to capacity by 8 AM. But there was plenty of space for our truck when we arrived at 8:30. The lines for the busses that would take us to the trail head were a bit of an annoyance but gave us time to munch down a breakfast bar before packing onto the bus and starting the trails.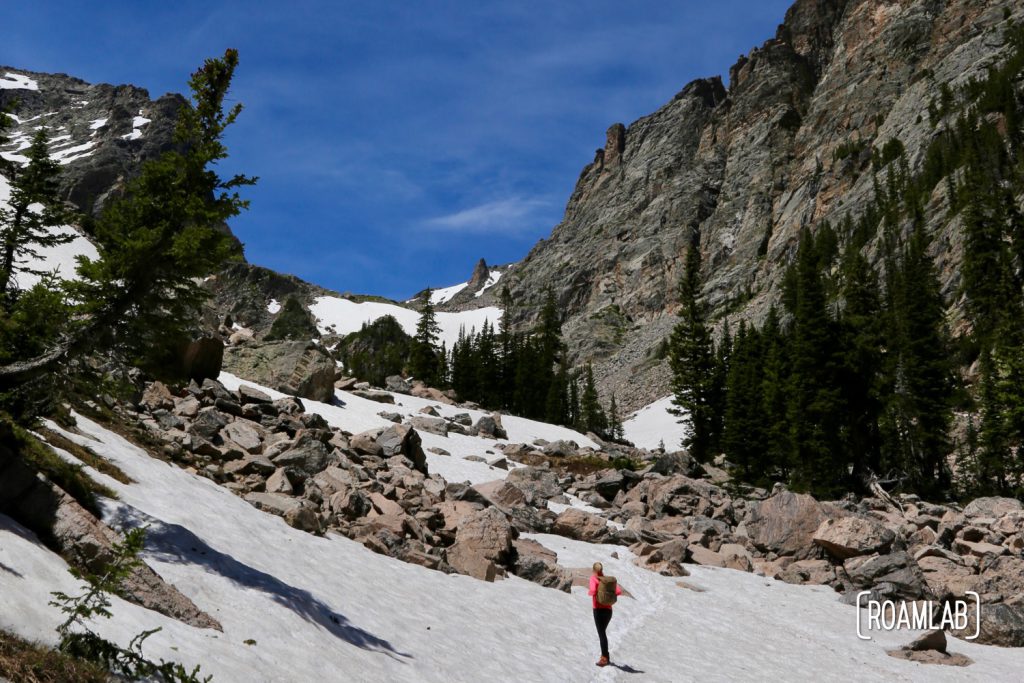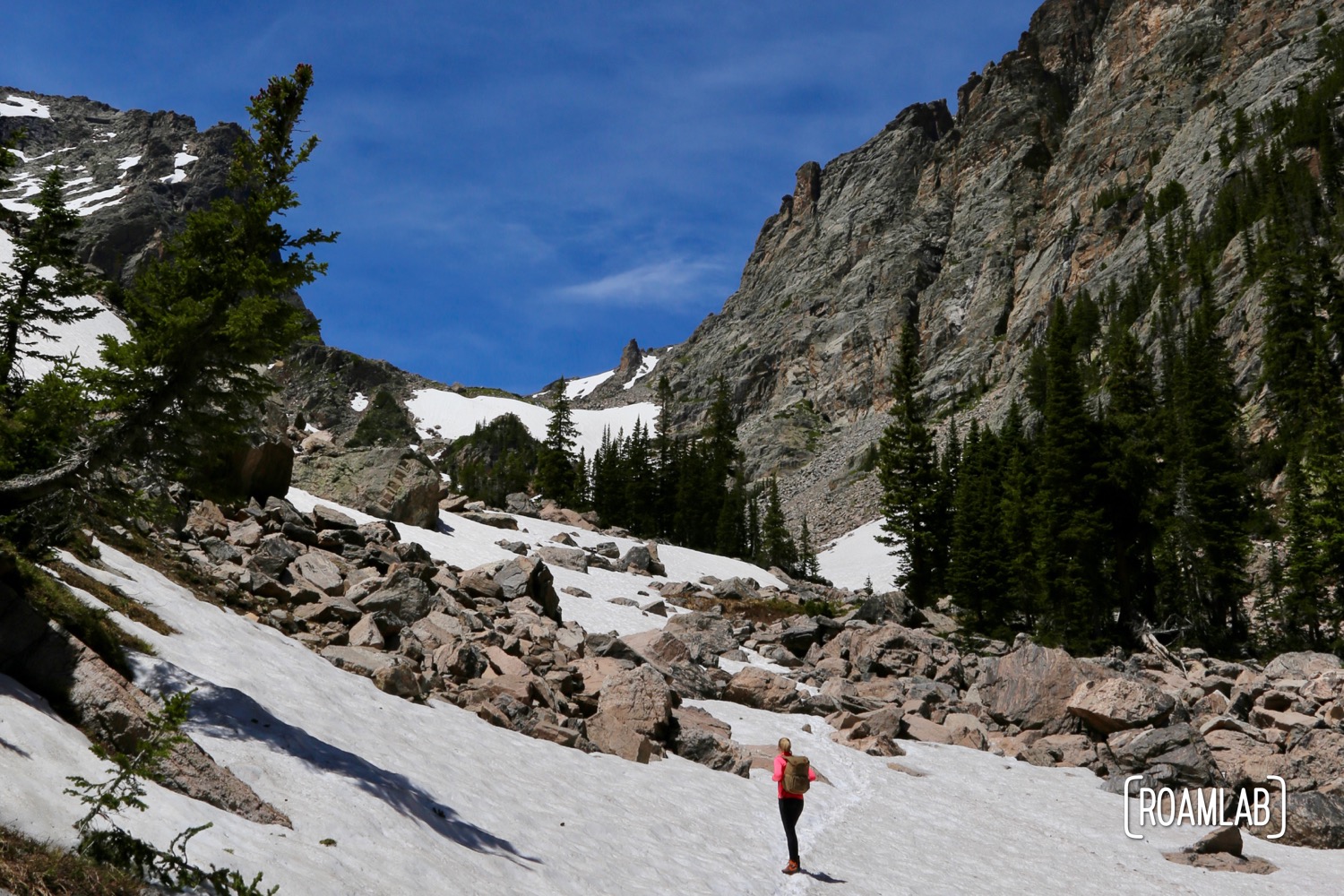 Safety On The Trail
Like any hiking trail, it is important to keep safety in mind. Along with bringing water, snacks, sun protection, and a map, there are other, more location specific considerations. Rocky Mountain National Park has spotty cell coverage. Do not count on having any cellphone access while on the trail. The weather is highly changeable. Be sure to pack for sun and rain. If there is lightning, seek lower ground immediately. And, remember, this is high elevation. If you start to feel short of breath, headaches, nauseated, or generally off, it might be altitude sickness. The worst thing you can do is try to power through. Rest, drink lots of water, and consider putting your hike off to another day when you are better acclimated to the elevation.