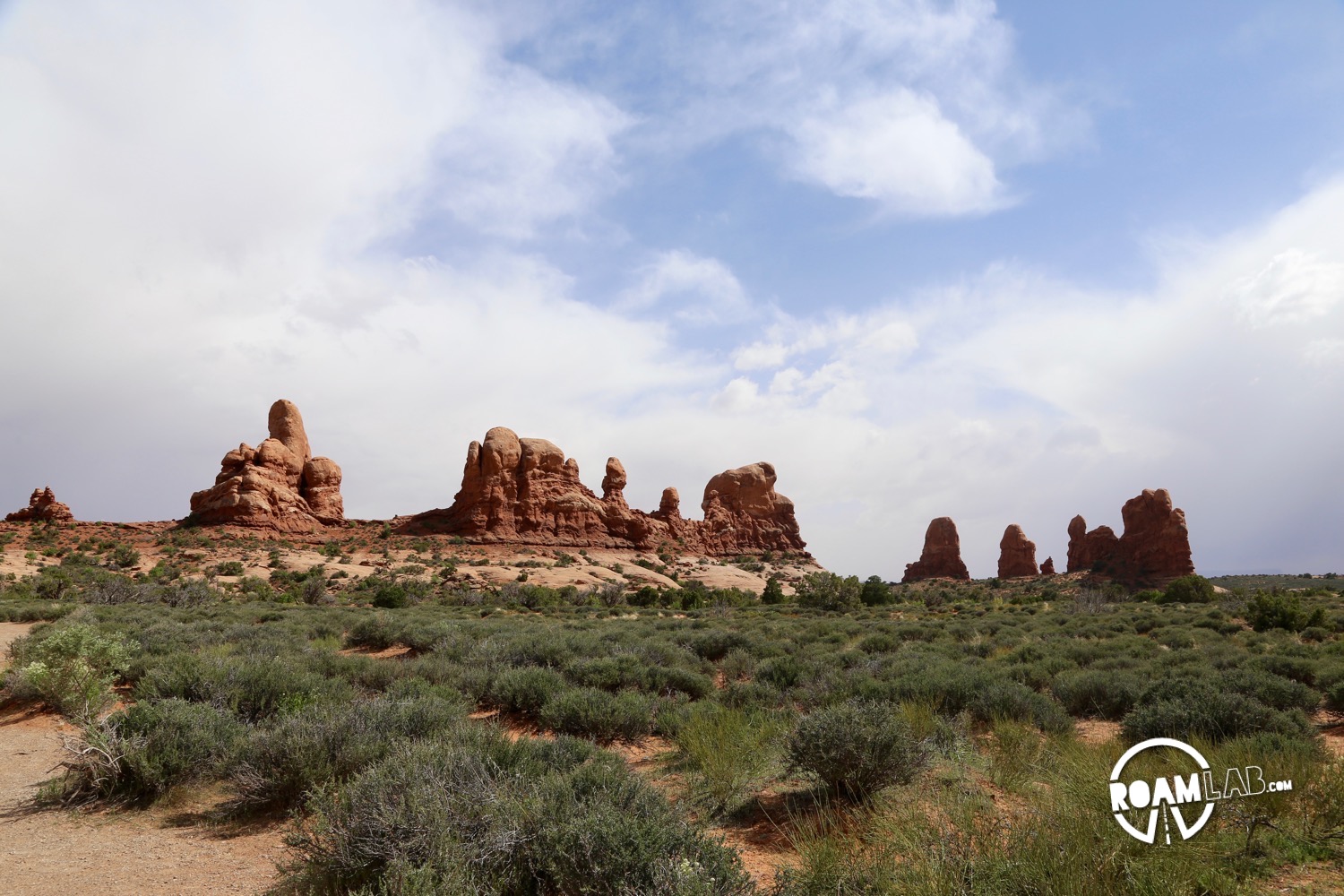 We wing things. That's what we do. I've made a map of places we would like to go to and then base our routes on our final destination and what mapped points fall between our current location and destination. Exactly how our trip plays out each time is something we play by ear. In this case, we had ten days to travel to Oregon. Half way in, we discovered that we would be swinging by Arches National Park. Arches ranks as one of the most exciting National Parks that neither of us has ever visited. So, of course, we went.
Along the drive into Arches, we noticed looming clouds. A quick perusal of the weather forecast only reaffirmed our gloomy suspicions: rain. But there would be an hour before the rain was supposed to hit. So we rushed into the park and onto a trailhead. Despite the anticipated rain-free window, hail suddenly began pummeling us as we reached the Double Arch. Waves of sleet would come and go with such speed and intensity that we never were quite certain what would happen next. Yet, just as we began to descend the rocks for fear of the stone might become too slick to safely travel, the sun peaked out of the clouds. Before we could even reach the ground, there was blue sky and brilliant light.
The next hour was spent feverishly running around and taking pictures. Everything revolved around trying to capture dramatic angles of formations against a shrinking patch of blue sky. (I know I could go for moody overcast pictures, but it just isn't my style.)
As dusk began to fall, it was time for us to find a campsite and not learn our lesson of planning ahead. Despite it being a Tuesday and a stormy Tuesday at that, it seemed everyone was decided to go camping. The Arches campground was full. All of the BLM campgrounds that we stopped at (about 7) were full. Finally, we came to a private campground along the Colorado river with open spaces. We willingly paid the $10 markup over the BLM sites just to stop looking and get down to business: camping. Having a camping spot was a welcome change compared to Walmart and truck stop parking lots. We found a site in the far corner of the park, next to the river and cooked dinner over an open fire.