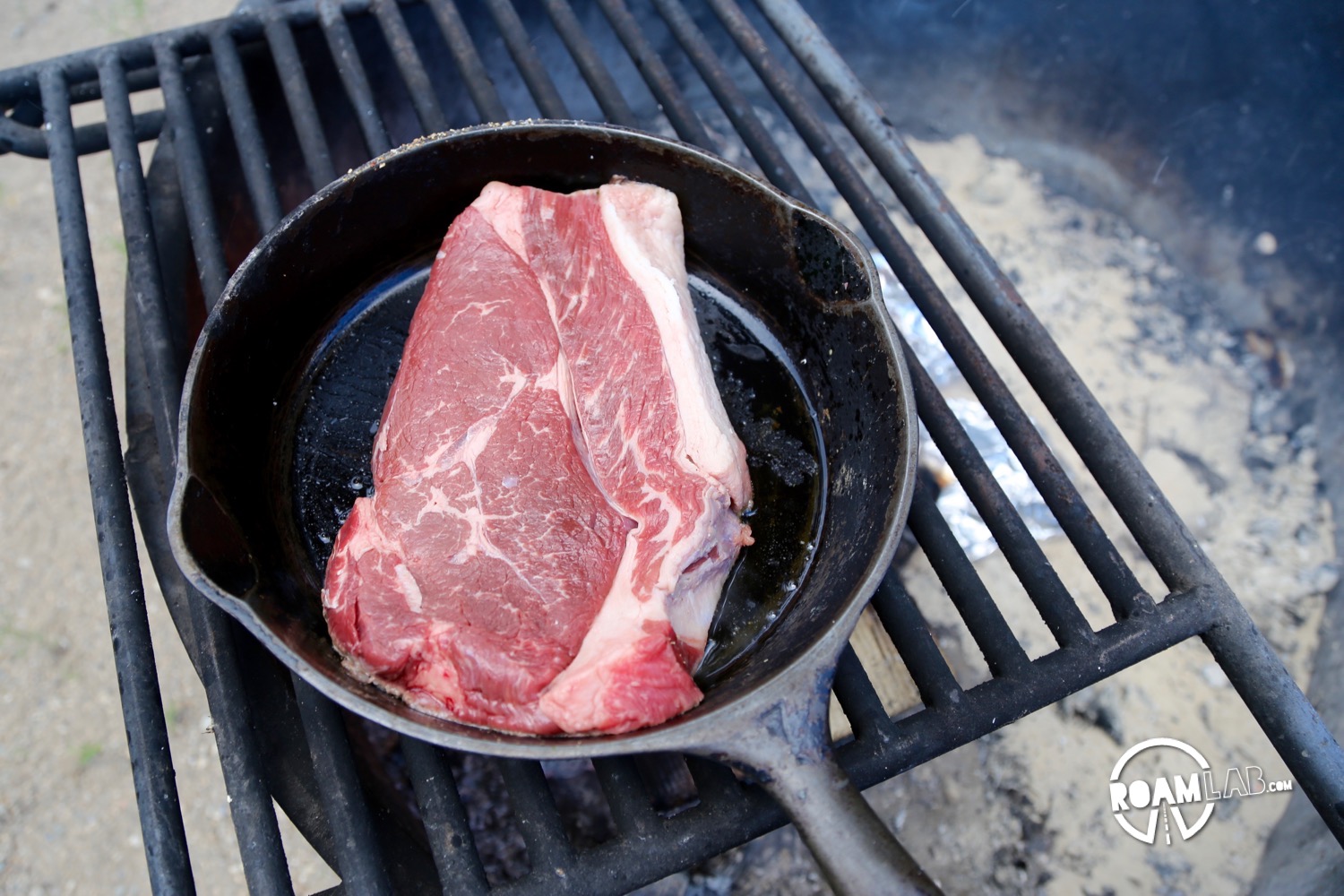 I've never reserved a camp site in advance before, but I am a convert now. After our agonizing experience searching for a camping site near Arches at 5PM, I went ahead and booked our campsites for this trip. Tonight, we lounge in the most remote site within Big Pine Creek Campground—flanked by the titular big pines and less than ten feet from the creek. It is private and enjoys the delightful comfort of white noise from the creek.
Better yet, we arrive two hours before sunset and I have a new experiment to try: campfire cooking. I have used camp stoves and even stuck the odd can of baked beans or saucer of water into a fire to warm up, but I have never cooked a proper meal over an open campfire. Fortuitously, Sunset Magazine was devoting untold millions into reading my mind and one of their recent issues included and overview of how to cook over a campfire and some excellent recipes. Less fortunately, I left the magazine at the till when I was buying ingredients for the next two nights' dinners. Thus, I was left with hazy memories of recipes and directions I had read over a week ago and all the ingredients for two different meals. So, it was left for me to wing it.
Tonight I'm making steak with mushrooms and an apple crisp for desert. After stacking up the wood in a log cabin-teepee hybrid design that I vaguely remember from the Sunset article, I light up the fire with none of the accustomed false starts and get to chopping.
First I prepared the apple crisps: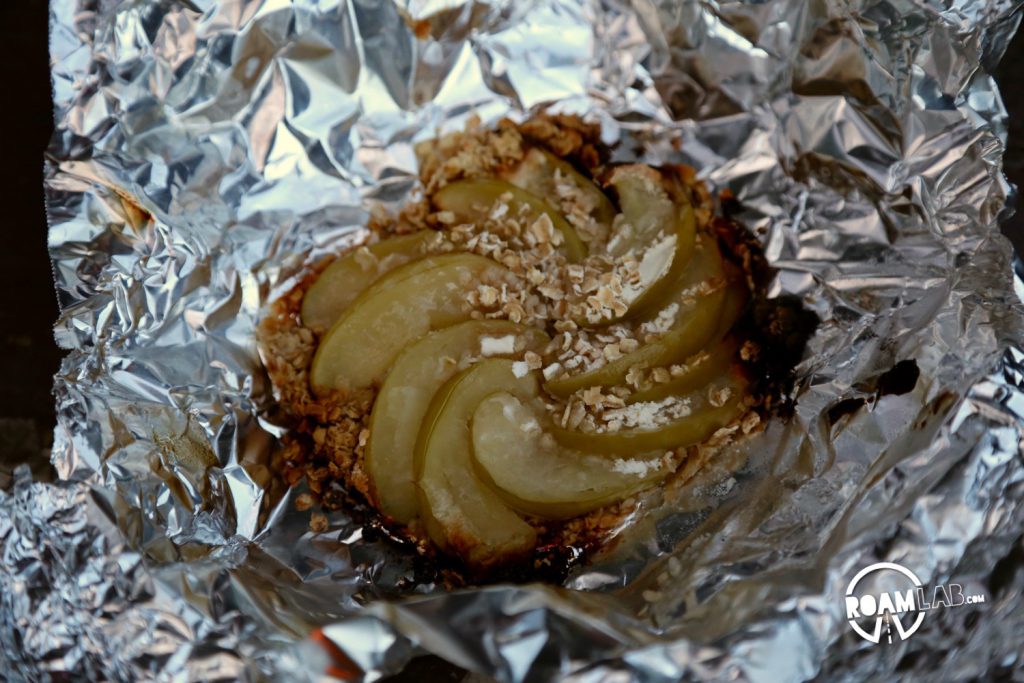 Campfire Apple Crisp
1 apple
butter
oatmeal
flour
cinnamon
sugar
tin foil
Feeds 2
On two separate sheets of tin foil, I poured a layer of flower and a layer of oatmeal, with a few dabs of butter on top. I sliced the apple and arranged half the slices over each of the tin foil sheets. To top it off, I sprinkled sugar, oatmeal, and a little more butter on top of the apple pieces. Then I wrapped each into a packet using the tin foil and placed them by the fire, rotating them on occasion.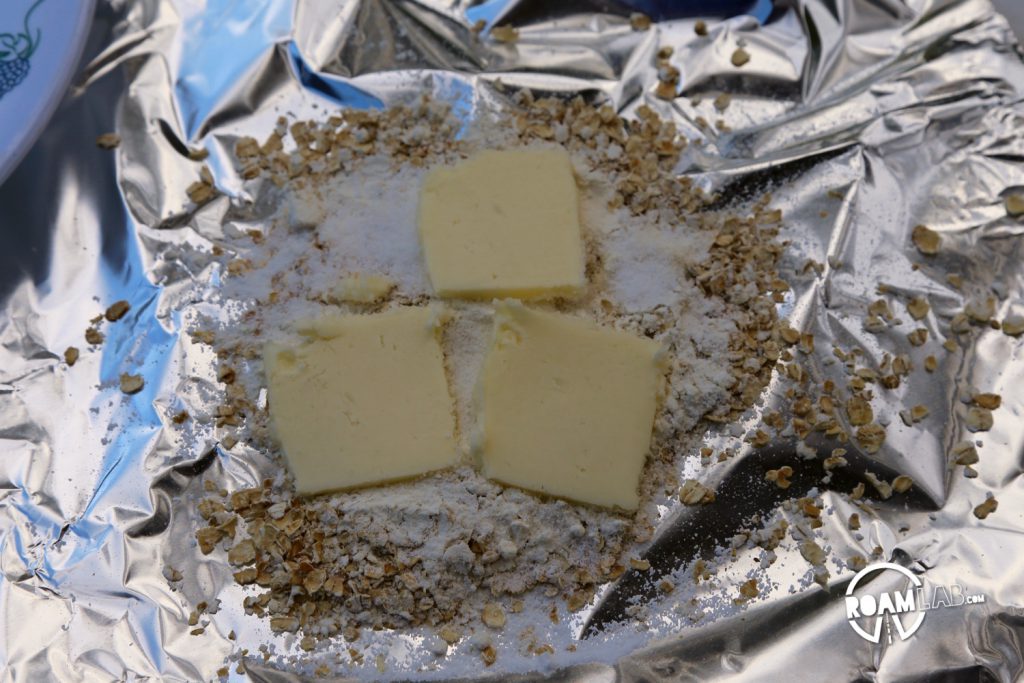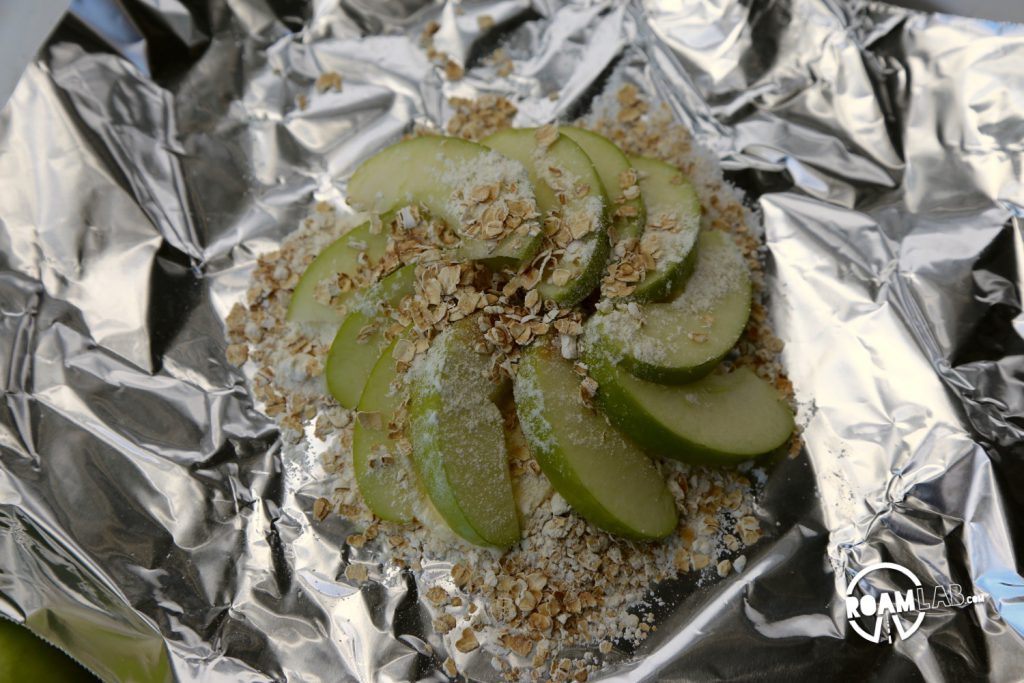 Next, I prepared the steak: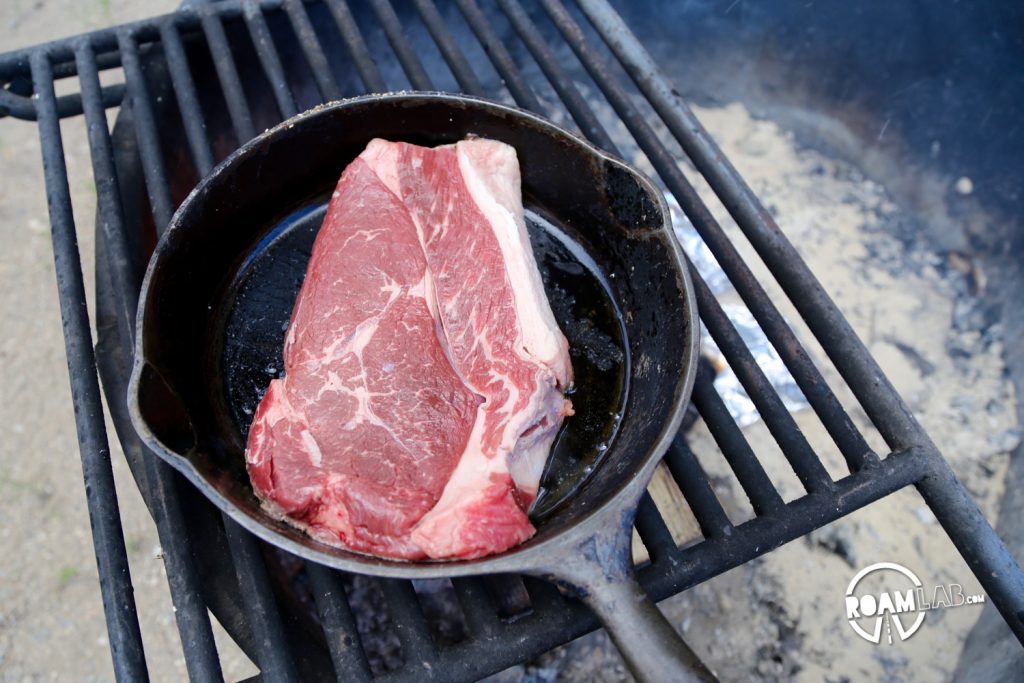 Cast Iron Steak
Cast iron skillet
steak (mine was a skirt steak but I'd get a better cut next time)
salt
pepper
rosemary
olive oil
Once the fire had settled down a little, I placed the cast iron skillet on the fire to warm up with a table spoon of olive oil. I sprinkled the steak with salt, pepper, and rosemary and then placed it in the pan when the olive oil was hot. We tend to like our steaks medium rare, so I only left the steak on for a few minutes on each side. This can be a little troublesome as the heat of the fire can be variable. I believe the Sunset article said something about embers and whatnot but I'm on my own, so this is how I'm doing it.
Finally, mushrooms:
Campfire Sautéed Mushrooms
mushrooms
olive oil
salt
pepper
dry red wine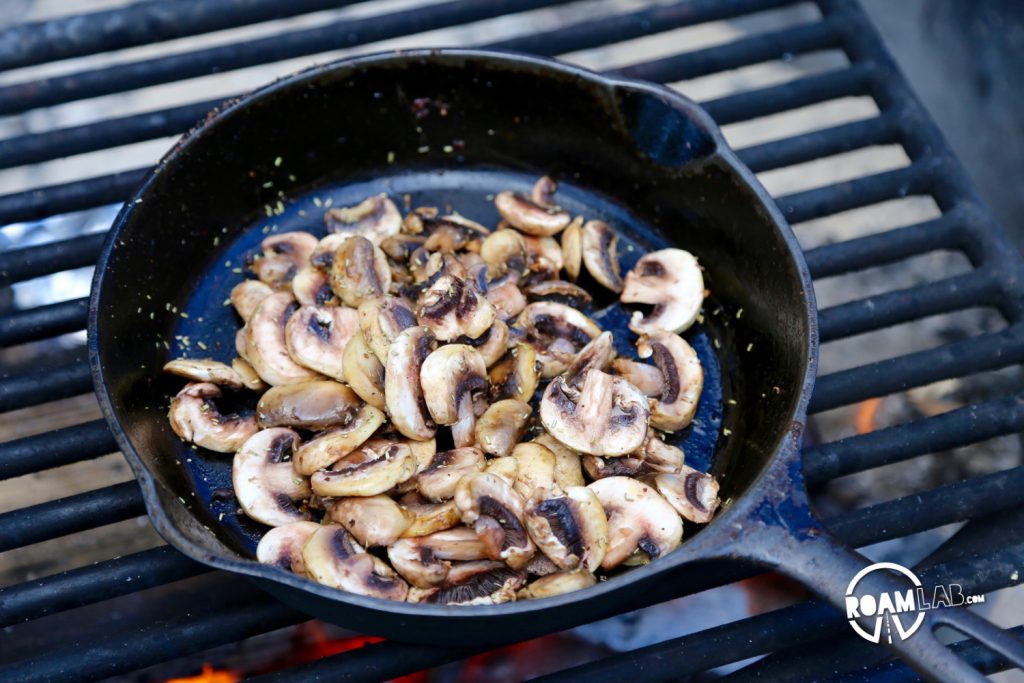 In the same pan that the steak was cooked in, place the mushrooms. I needed a bit more oil, given how the steak cooked. I also sprinkle in a little more salt and pepper. Once they are mostly cooked through, I pour in a little dry red wine. My mom always preferred Cointreau for mushrooms, but who goes camping with a bottle of that? After all, we will be drinking the remaining red wine with the steak. Once the red wine cooks down into the mushrooms, it's time to serve.
We sliced up the steak with a side of mushrooms and continued to occasionally rotate the apple crisps while we ate dinner.  I really should have cooked the steak a bit longer.  Despite the loud sizzling, campfire cooking takes a lot longer than stove top. The temperature dropped and the steak got a little cold, fortunately, the fire was still going, so we just dumped all the steak and mushrooms back into the pan to warm them up again and finish dinner.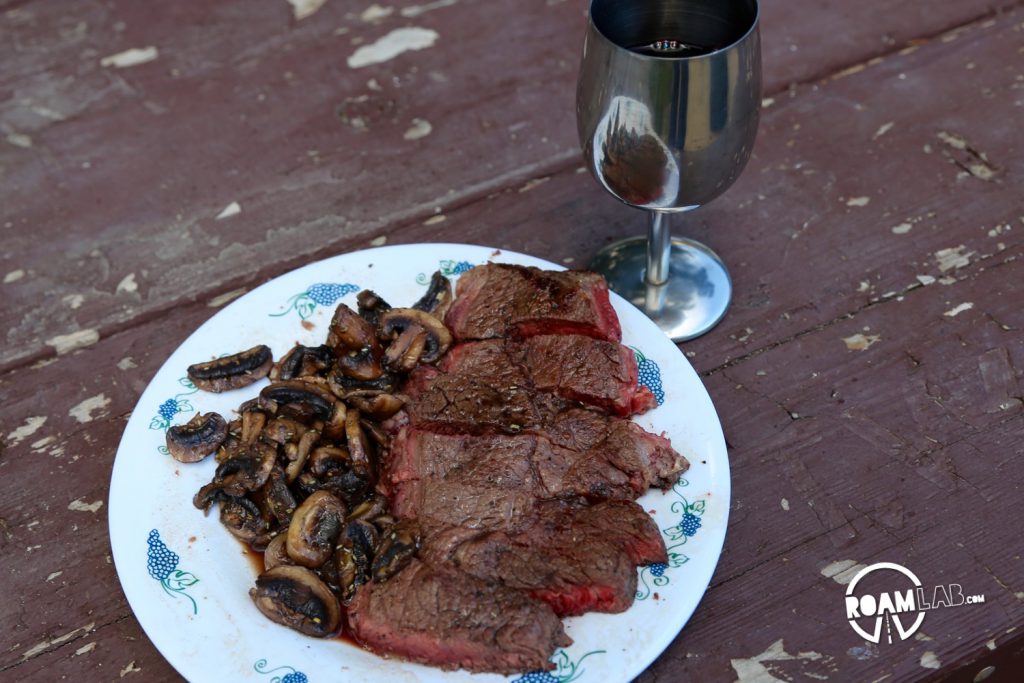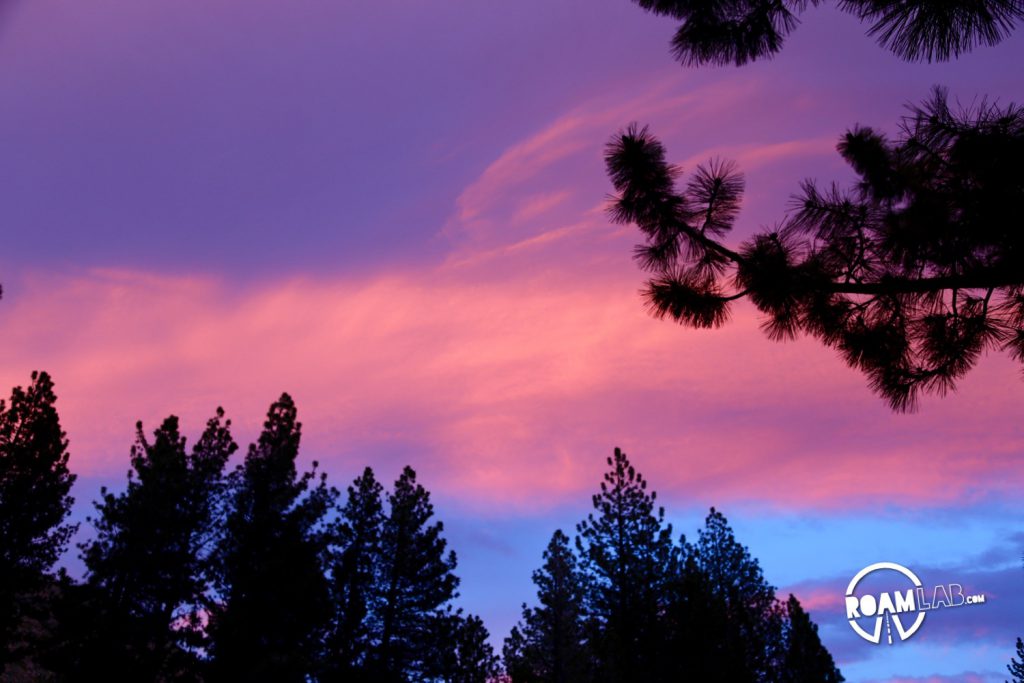 After dinner, we took a moment to tidy up and get any unnecessary food items into the bear locker. It was getting dark and we didn't want to leave anything out to tempt the wildlife. Once we were done, it was time to pull the apple crisps out of the fire.
Turns out, putting the flour and oats on the bottom was not a good idea. That put them too close to the fire and there was some burnt oats. The apple however, cooked down nicely. I just so happen to have a second apple, I guess we'll try a different version of apple crisp tomorrow night.
I have booked two nights here so that tomorrow we won't be racing off to some other site. Instead, we will go hiking and enjoy another relaxing evening.