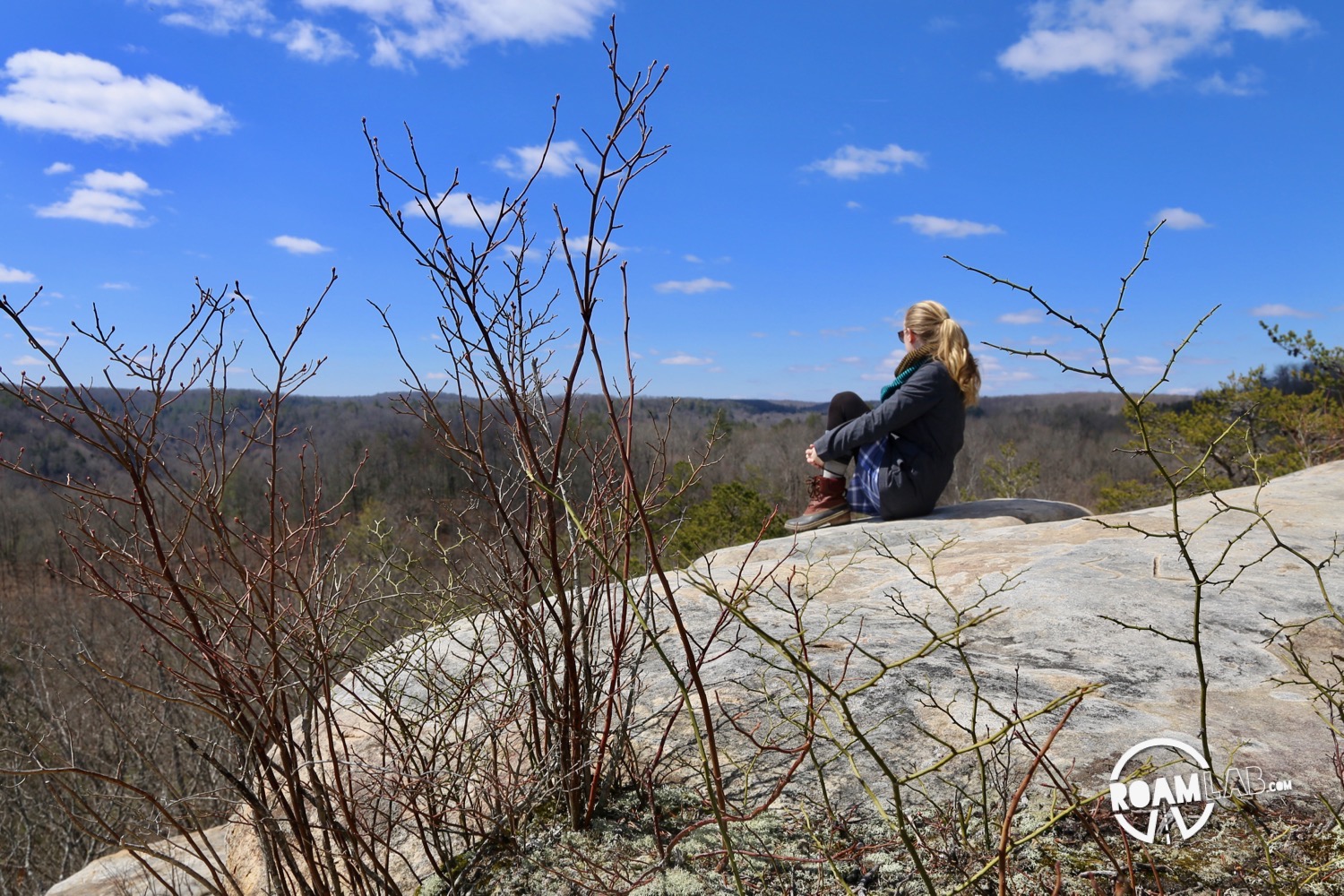 My dress smells of campfire smoke, my hair is tangled by the wind, and my boots are caked with mud. And I couldn't be more content. We are visiting Big South Fork National River and Recreation Area, straddling the Tennessee and Kentucky border for a weekend of camping, cooking, and hiking with friends.
We arrived in the Bandy Creek Campground Friday evening. We are celebrating a friend's birthday, so we have two adjacent camp sites for a weekend of delight. We are extra excited because Duluth Trading Company sent us some new wardrobe additions to try out. So, we are taking a break from the same old plaid we have been wearing in exchange for some fresh new plaid. Yup, we are still dressing like our rugged, outdoorsy selves. After all, that's kind of what Duluth Trading Company specializes in.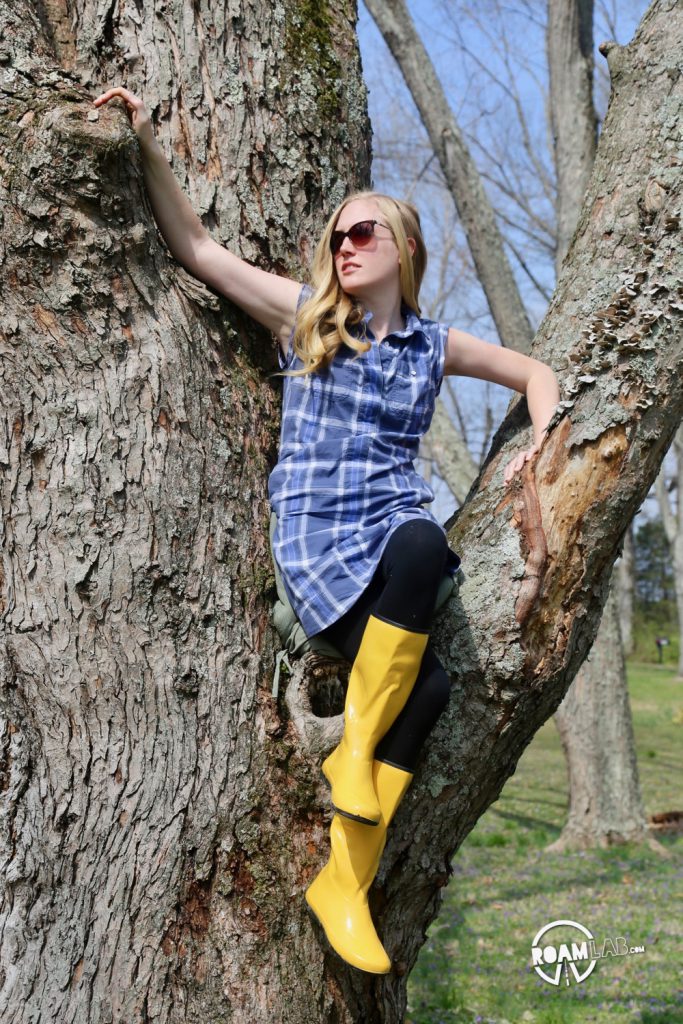 Our First Night Was…Eventful
Lightening is never quite so stunning and thunder so ferocious than when experienced camping. The wind tore past the the canvas table covers and torrential rain sought out every nook and cranny. While one of our friends was sleeping in a tent, we were grateful to curl up in our protected truck bed to go to sleep.
We woke to shouts of "left face!" Our camping neighbors were drilling in the road that looped through the camp ground. Not everyone is following our rigid itinerary of eating, drinking, and occasionally hiking. Nevertheless, now is as good a time as any and we get up. This is one of those occasional hiking times.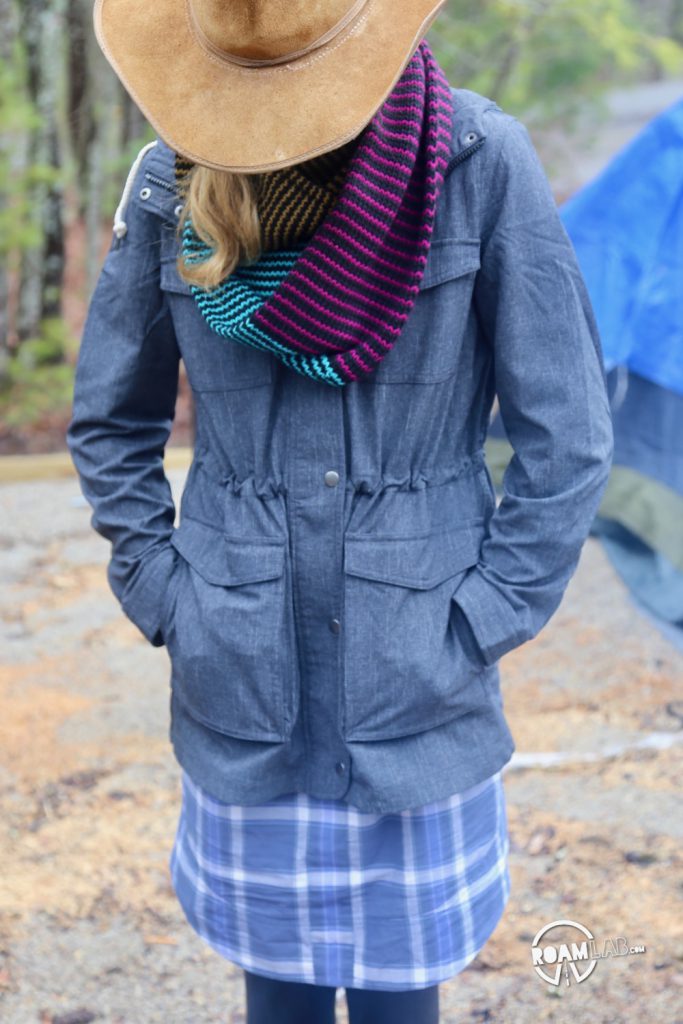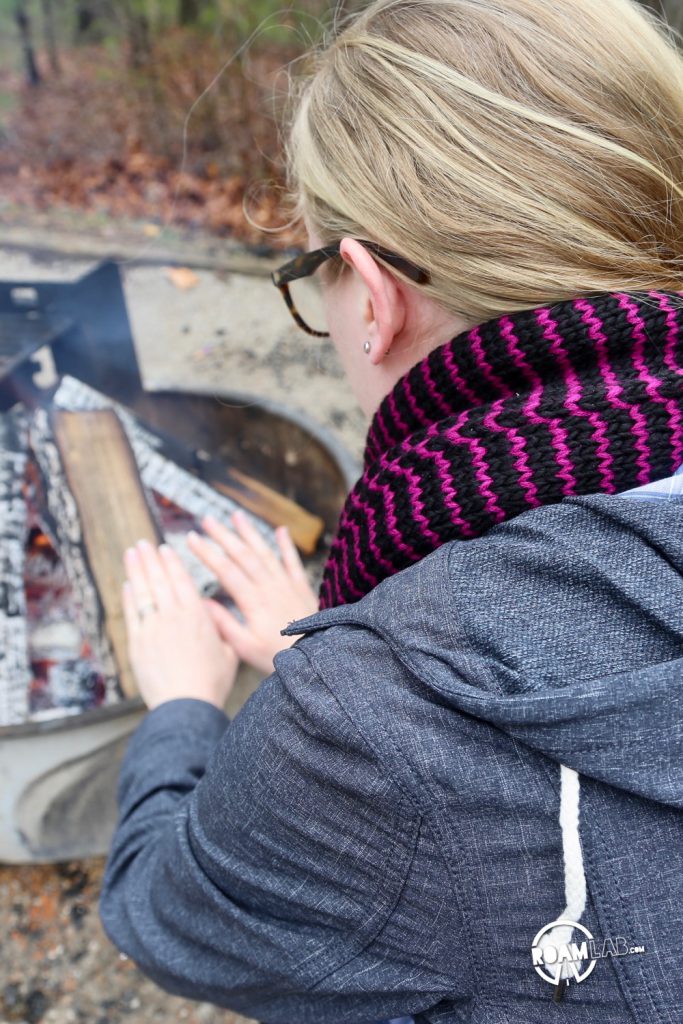 Angel Falls Overlook Trail
Despite the powerful storm that had rocked us to sleep the night before, the morning clouds soon gave way to blue skies. And we were ready to hike along the Angel Falls Overlook Trail. Better yet, rain water from last night had revived the seasonal springs and creeks along the route. We hiked past waterfalls, mossy cliffs, and skirting the awesomely flooded Big South Fork Cumberland River. Fortunately, I packed a pair of rain boots. They roll up into a small bag, and easily fits into my small hiking backpack with a couple bottles of water.
When the trail eventually cut away from the river, we hiked switchbacks to a cliff overlooking the river valley. As we gained elevation, we shed layers. No need for a coat. No need for a scarf. No more need for the long sleeved undershirt.
We huff and puff to the top then pile all the layers back on as the bitter wind whips about us on the exposed cliff. Once snug in our layers, we gape at the river elegantly snaking below us.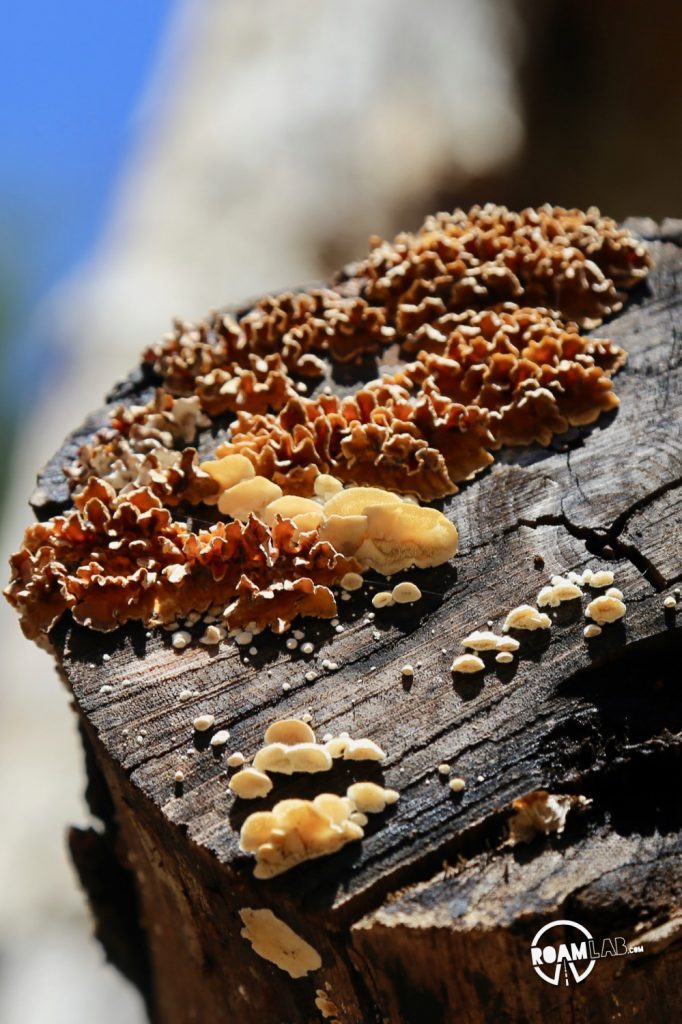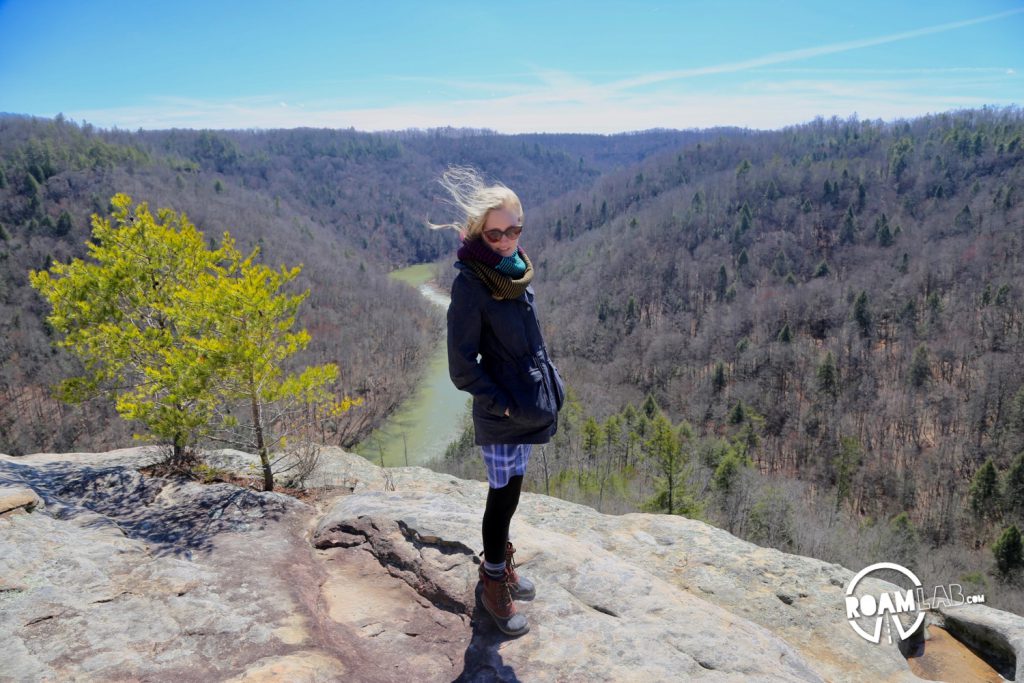 The six mile round trip left us exhilarated, exhausted, and ready to lounge around the campsite for the rest of the day.
The next morning, we didn't hear any drilling but we did hear packing. It is Sunday morning and all our friends have work tomorrow. We look forlornly as tents are broken down and chairs are packed away. We watch the last of the firewood burn itself to coals. As each car pulls out, we wave goodby, and then turn to Dodgy. It's time for one last hike.
Twin Arches Upper Loop Trail
The Twin Arches Upper Loop Trail is only 1.2 miles but it manages to be incredibly satisfying. Hiking down, I hadn't anticipated the sheer scale of the arches. They stretched over 100 feet above our heads. It was rather disconcerting to walk close to the arch walls and see the surface riddled with holes from years of wind erosion.
These sandstone arches are the largest in the states of Tennessee and Kentucky. In fact, Big South Fork National River and Recreation Area is home to the greatest number of arches in a US park east of the Mississippi. The specification is rather necessary when there is a park in Utah named Arches National Park. But that shouldn't devalue the impressive scale and natural artistry found in these formations.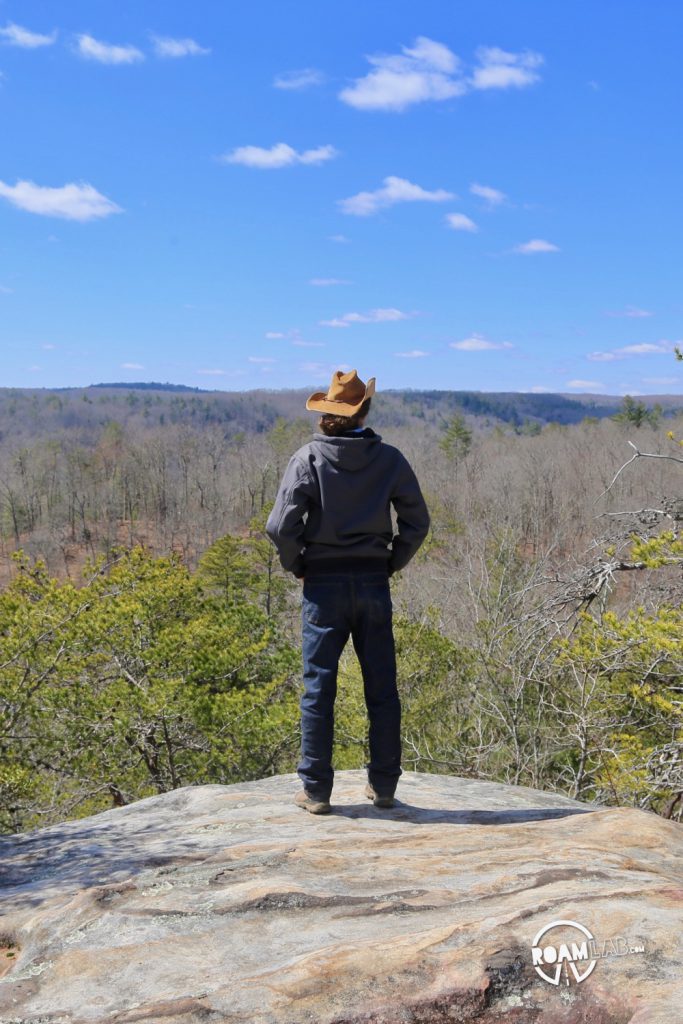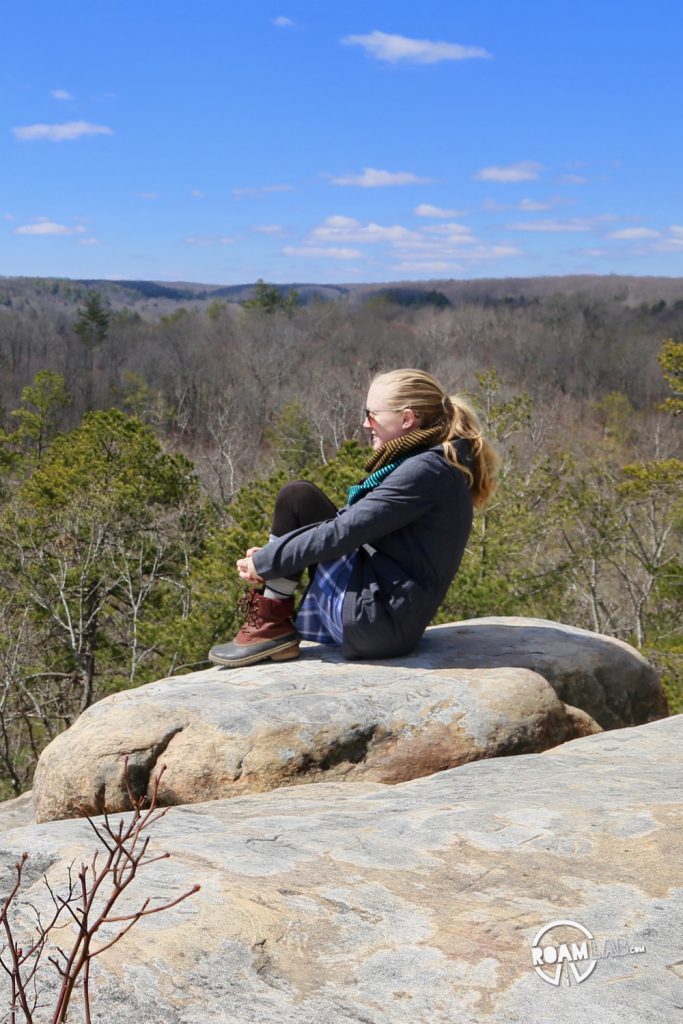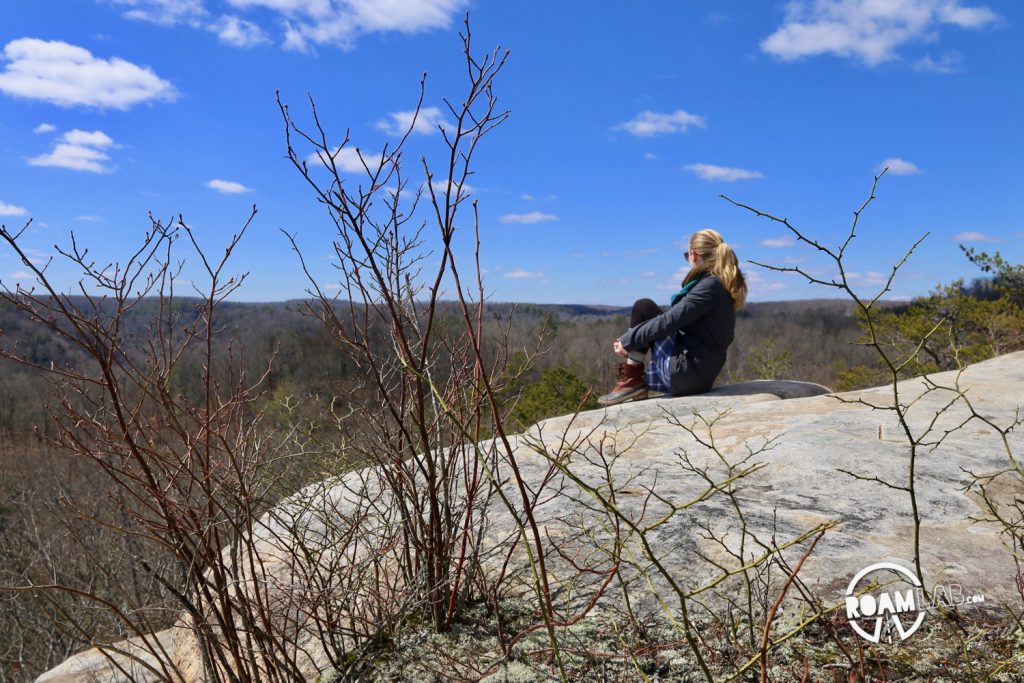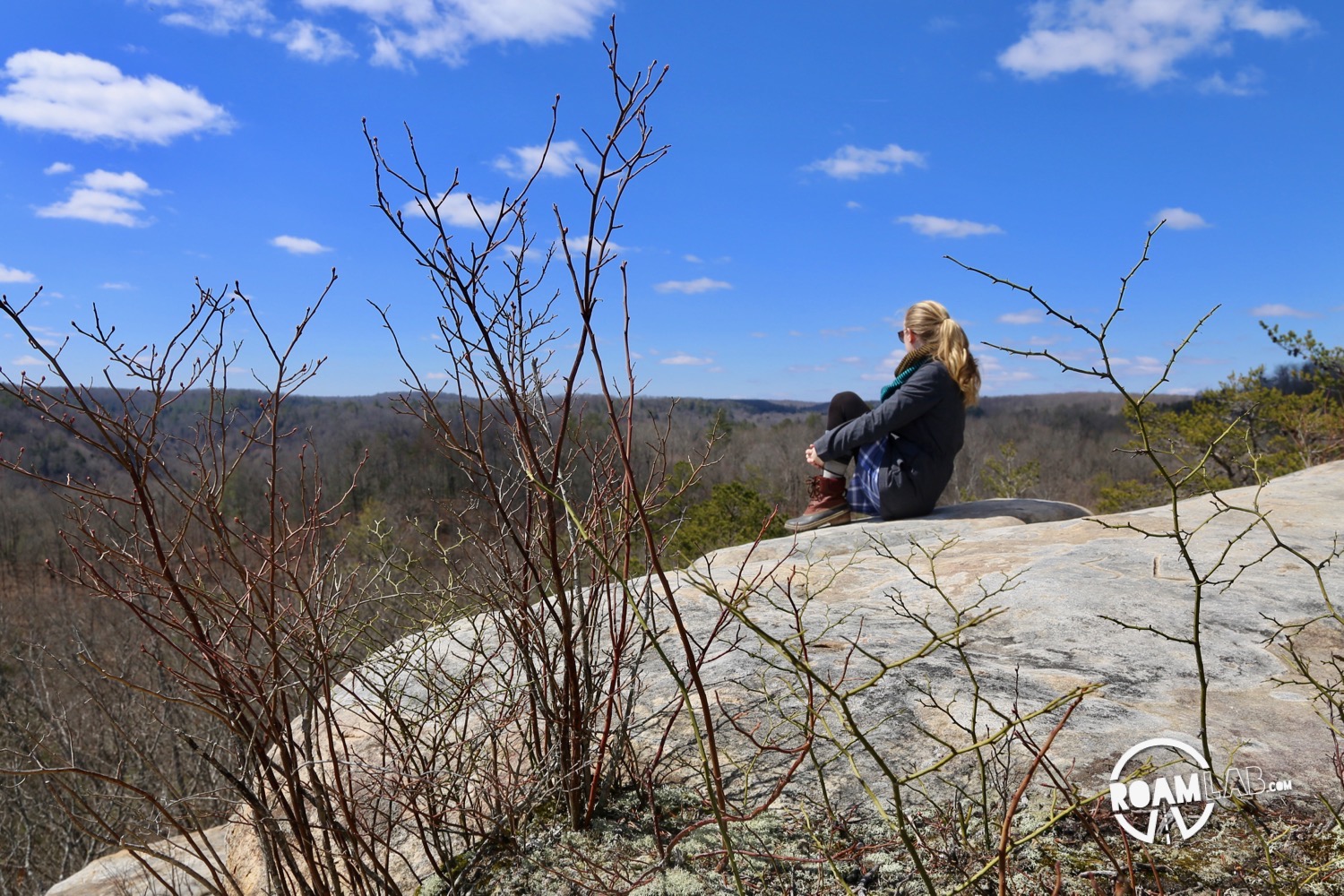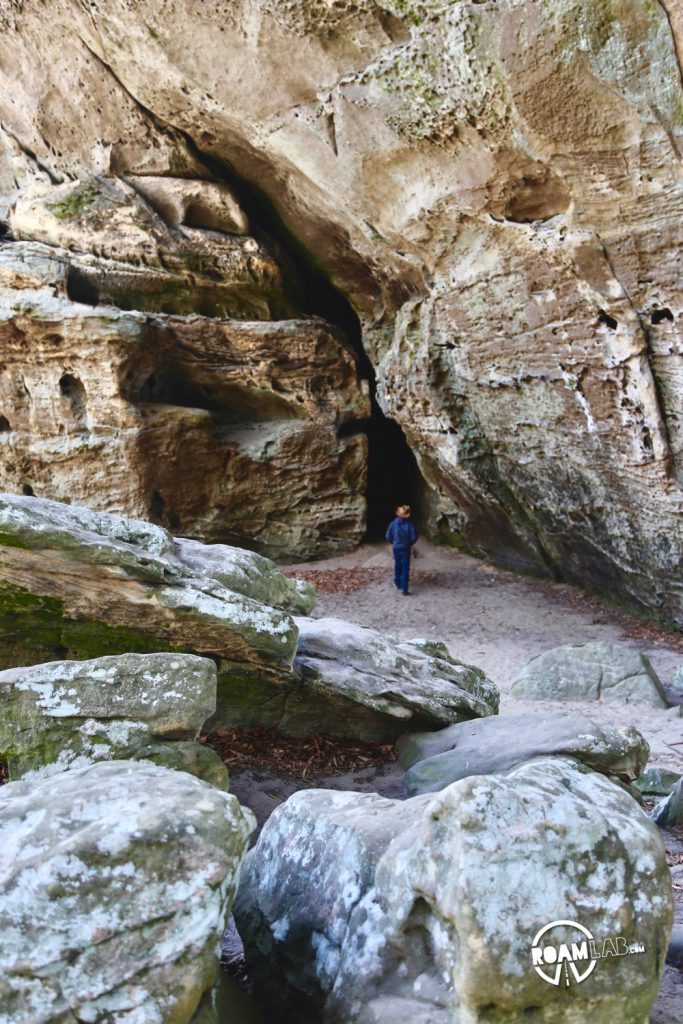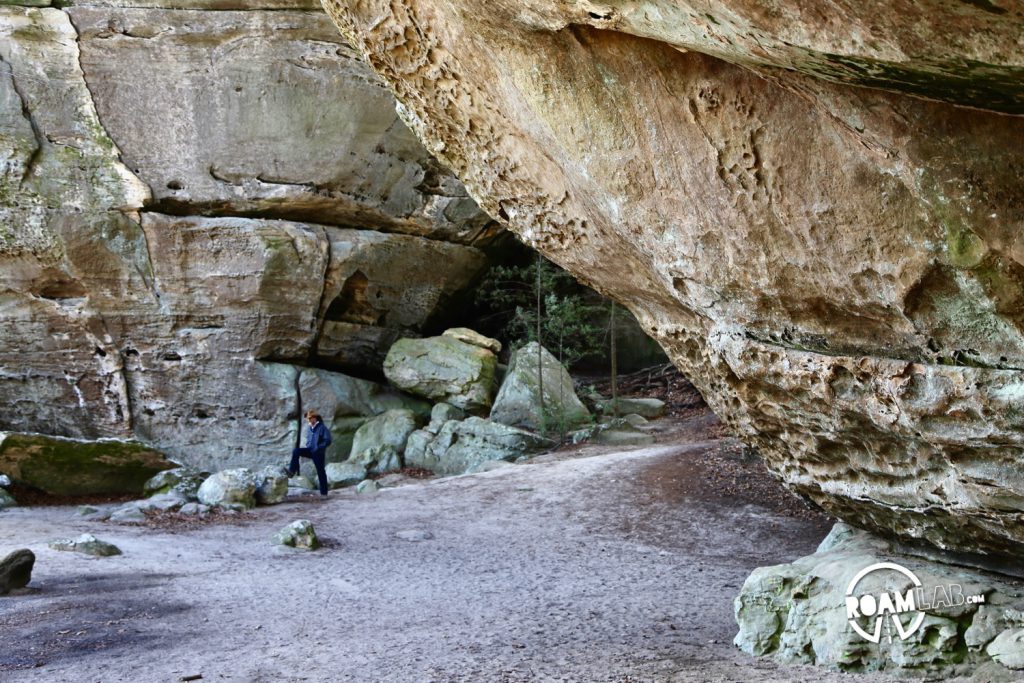 On The Road Again
The weekend only lasts so long and we find ourselves back on the road. Like each of our stops, though, we leave a little bit richer. We have hiked to a magnificent cliff. We ate and chatted with friends. And we have expanded our wardrobe. If anyone wants to follow suit, check out Duluth Trading Company. They have been so kind to us. Be kind to them.