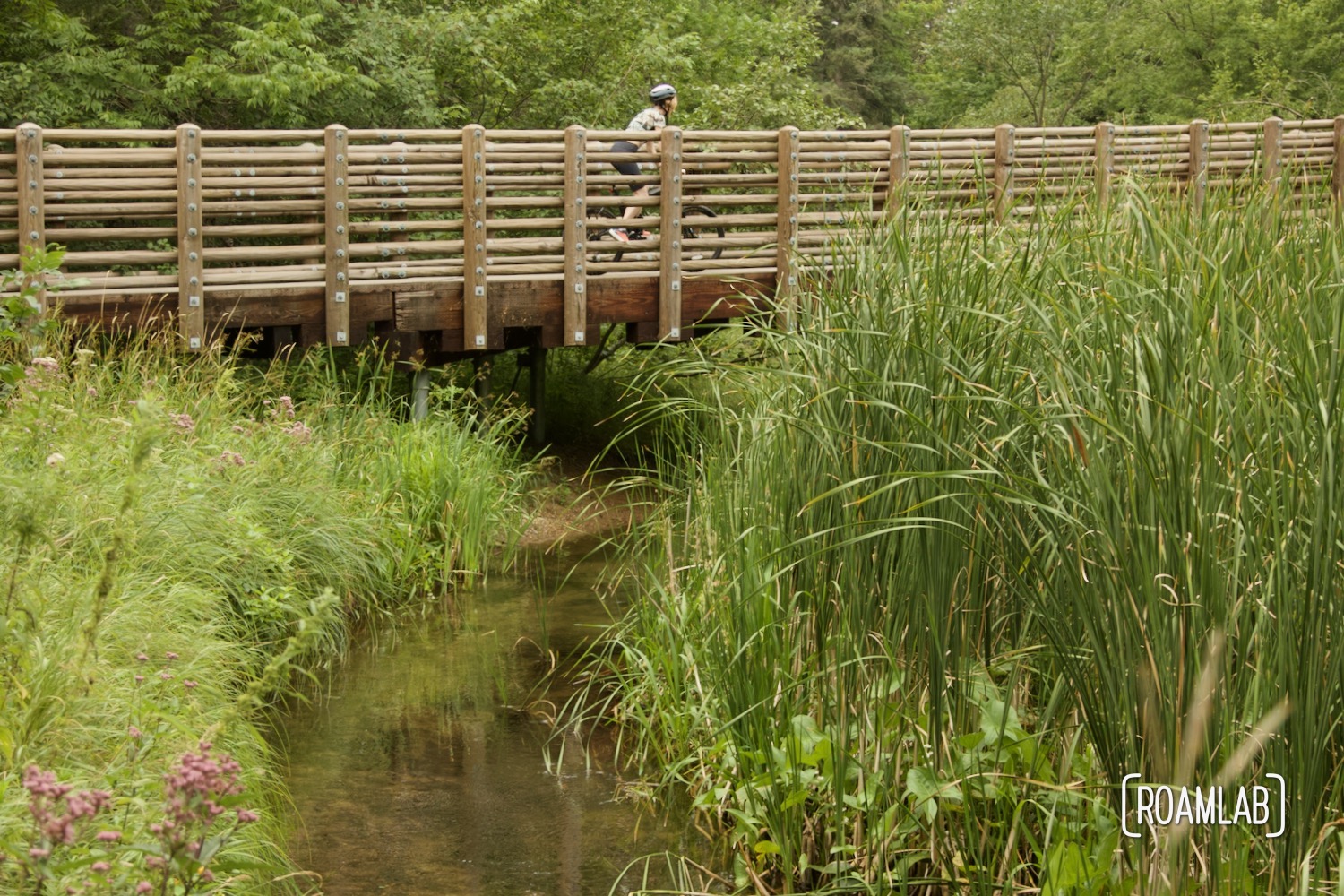 Biking Itasca State Park
Pedaling along the Mississippi Headwaters
Nestled in northern Minnesota, Itasca State Park is renowned for its diverse landscape, historical significance, and, of course, the headwaters of the mighty Mississippi River. It is a destination brimming with history and opportunities for outdoor recreation. And there's nothing quite like taking it all in by biking Itasca. Trails wind through old-growth hardwood forests, skirting tranquil lakefronts, and connecting all that Itasca has to offer with bike-friendly routes.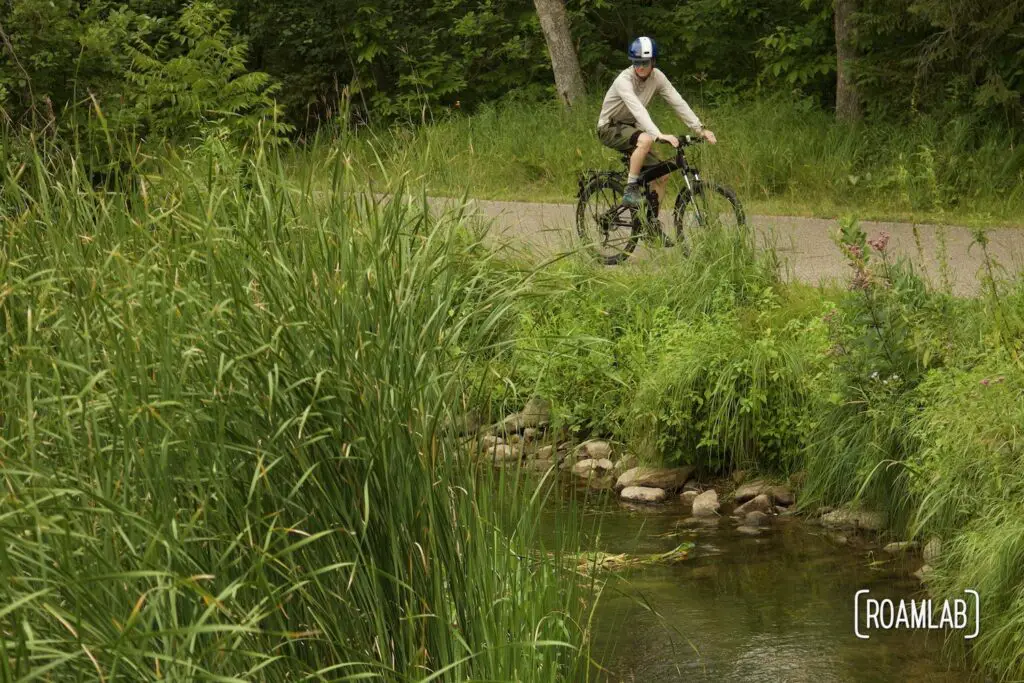 The Lay of the Land
Itasca boasts over 16 miles of paved bicycle routes that can be connected into a grand loop around Lake Itasca, accessing most of the park's points of interest. Yes, they are paved paths. Bicycling on hiking trails is prohibited. But there's no shortage of bicycle racks for cyclists to secure their bikes before exploring a visitor center, grabbing a bite to eat at the Douglass Lodge, or walking the last few yards to wade in the Mississippi Headwaters.
Aside from a few short branches that connect other trails to campgrounds, points of interest, or other visitor resources, the biking options can generally be broken down into two main trails: the "Bike Trail" that roughly follows the Main Park Drive and the Wilderness Drive and Bike Rout that diverges from the main Park Drive to explore old growth forest deep in Itasca's wilderness. Where one trail ends, the other picks up, creating a 16-mile grand tour loop of the park with regular opportunities to pause and explore whatever may strike our fancy.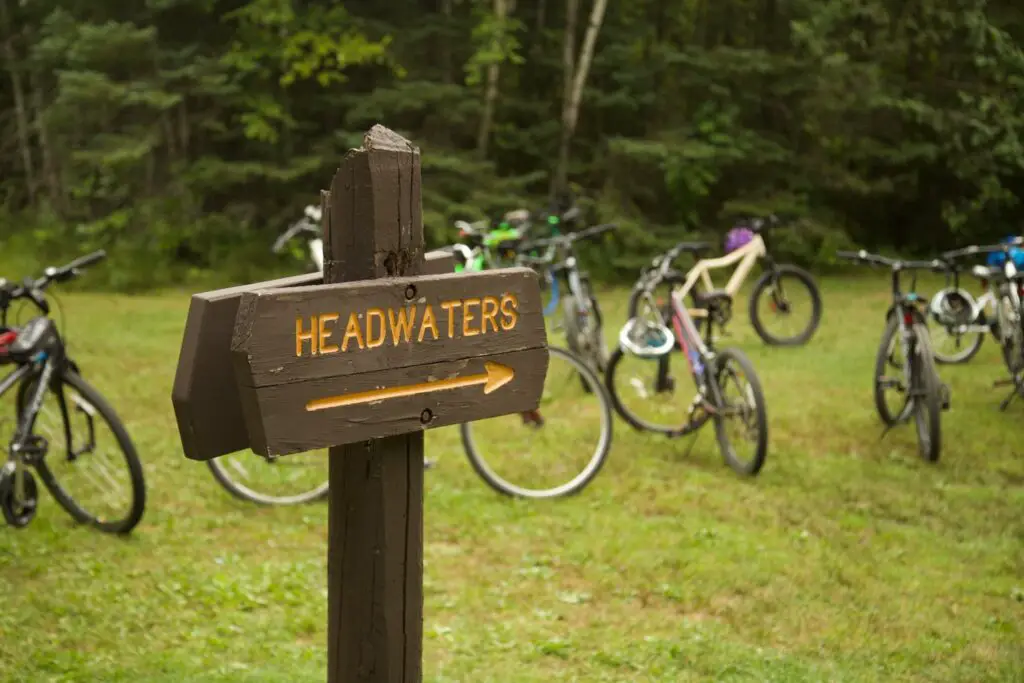 Wilderness Drive and Bike Route (10 miles)
This scenic route lives up to its name, diving deep into the Itasca State Park wilderness. The trail is shaded by old-growth pine, basswood, and aspen trees, tracing a rough square west of the Main Park Drive and circling Lake Itasca and the Lake Itasca Wilderness Sanctuary. It isn't really a trail. The bike route shares the road with other motorized vehicles.
The route's first leg skirts the park's northern edge along a two-lane, two-way road. Shortly after the route turns south, the road narrows into a single-lane, one-way route. The pavement is fairly wide for a one-way road, allowing a reasonable amount of space for a considerate car to pass by a cyclist with little trouble. That said, you are also exposed to inconsiderate cars, who might miss a cyclist while backing out of a parking space at a trailhead. In all, it's reasonably safe for road cycling, but it is road cycling, nonetheless.
For more about this route and its attractions, we've written more about the Wilderness Drive and Bike Route in its own article.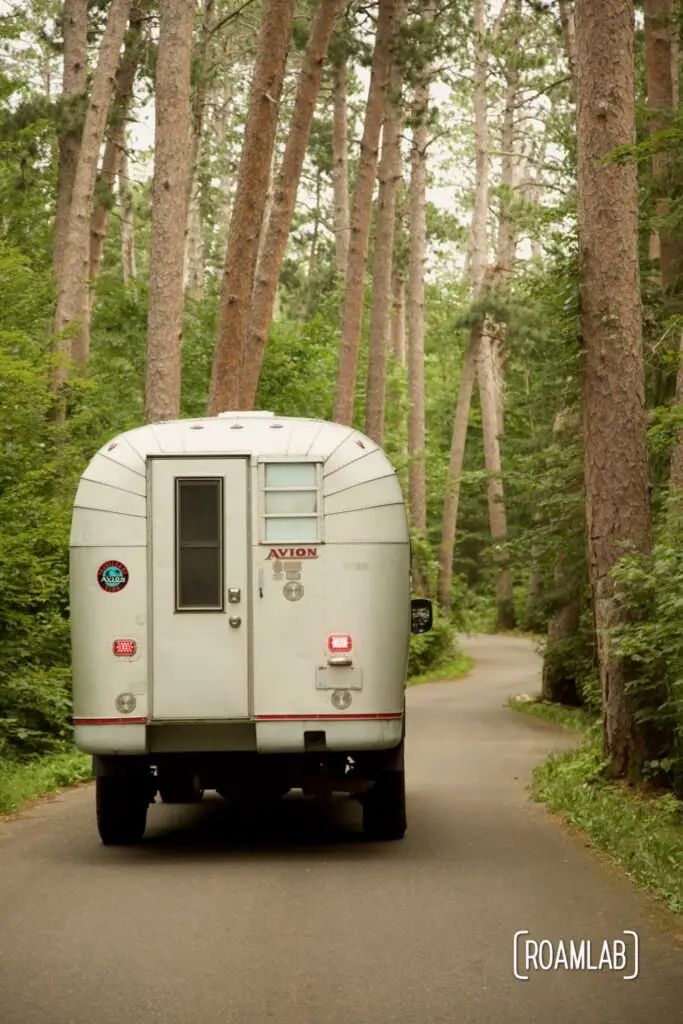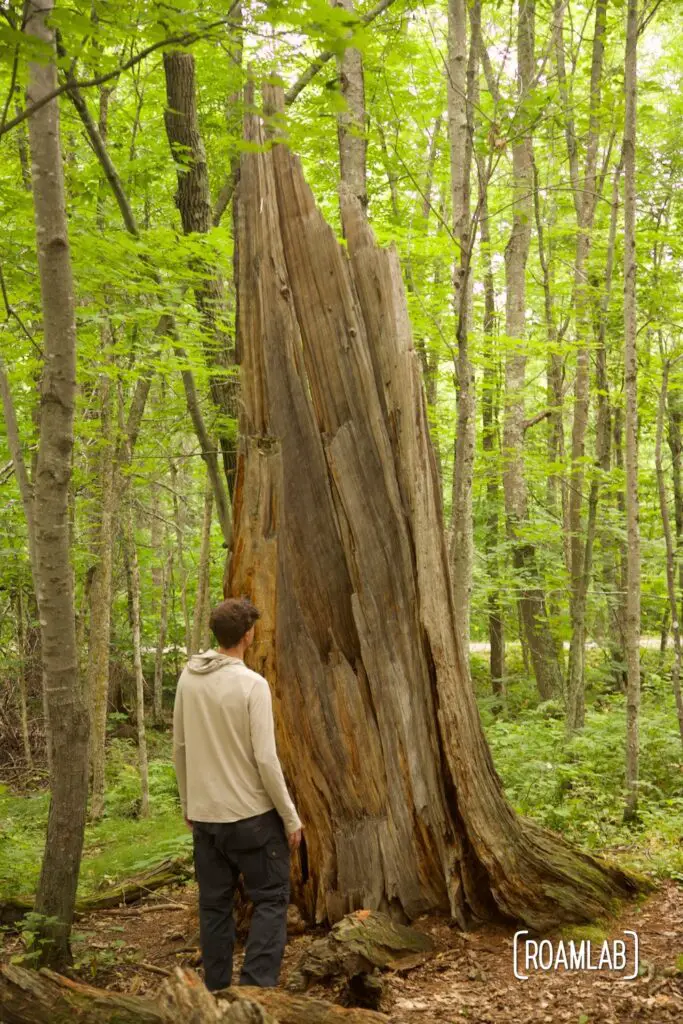 Mississippi Headwaters Bike Route (6 miles)
On the park map, this paved route is designated the "Bike Route" and connects the Douglass Lodge Complex (near the east entrance to the park) to the Marry Gibbs Mississippi Headwaters Center (near the north entrance). In between, it dips and winds around Main Park Road, connecting visitors centers, picnic areas, campgrounds, points of interest, and even a bike rental shop. The trail offers scenic views of Lake Itasca, shady coverage from trees that turn the trail into a tunnel, and modest hills. This is the ideal trail for casual cyclists, with plenty of opportunities to stop and explore. There is no particular need to complete the route, so cyclists can bike as much or little of the trail as they prefer.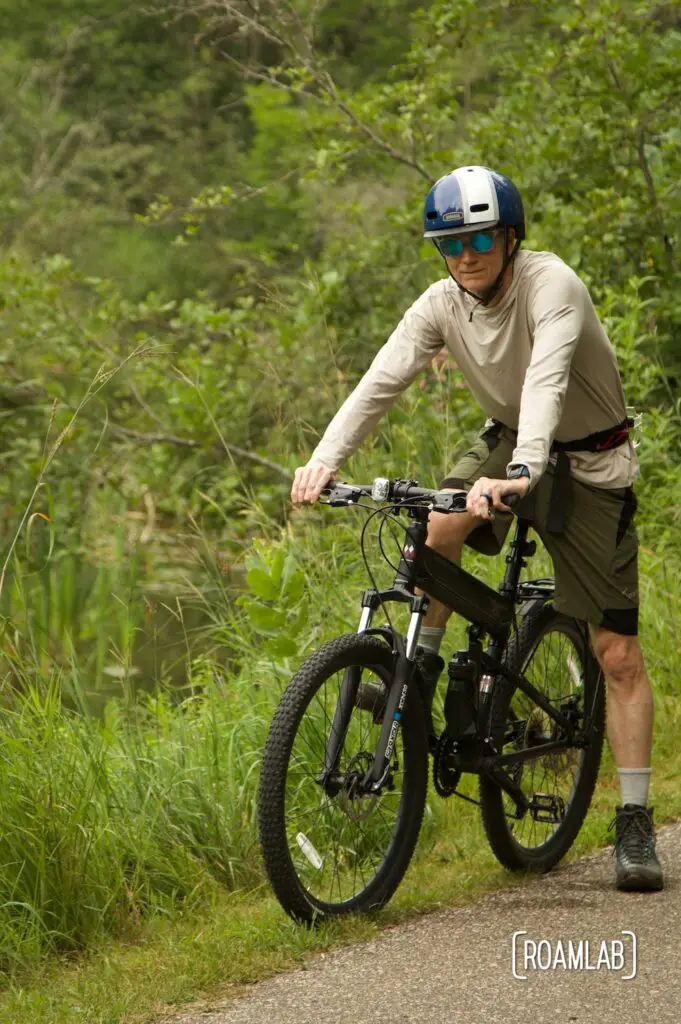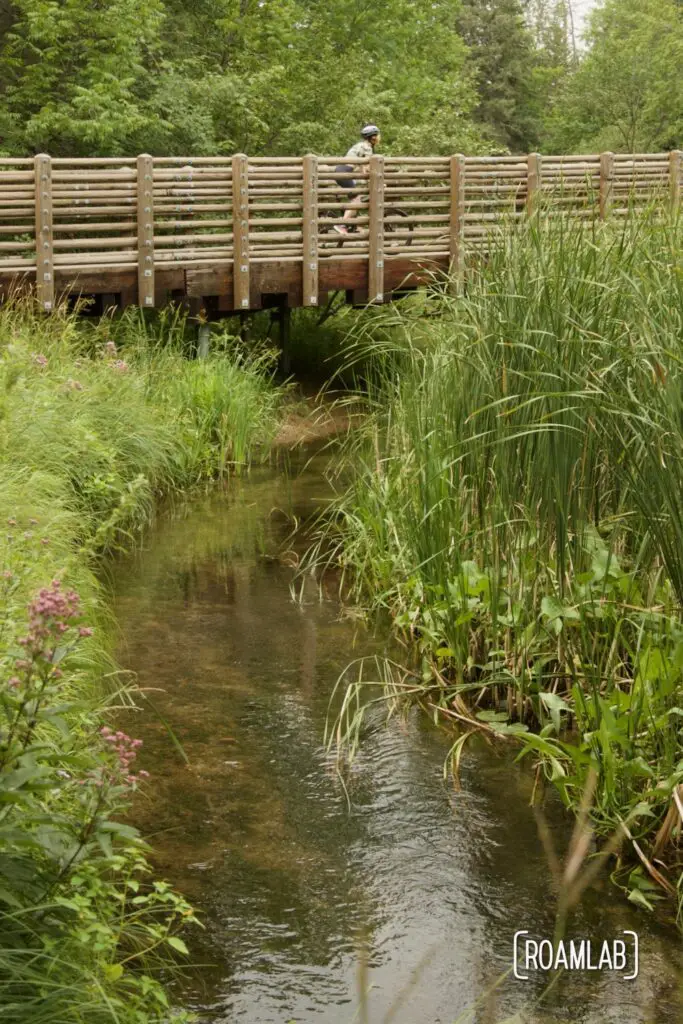 Accessibility and Tips for Biking Itasca
Bike Rentals: If you don't have your bike, both classic and ebike rentals are available in the park, off the Main Park Road.
Trail Maps: Be sure to grab a trail map or consult online resources to plan your route.
Seasons: Spring through fall is the ideal time for biking in Itasca State Park, with well-maintained paths and pleasant weather.
Safety: Always wear a helmet, follow trail signs, and carry water and snacks for longer rides.
Our Experience Biking Itasca
We pull our mountain bikes out of the truck with the intention of biking the Wilderness Drive and Bike Route. Despite our best intentions, we clock a few miles down the trail before tiring of sharing the road with cars. Chris pauses and asks how far a ride I've planned. The truth is, it's a bit longer than we had intended and with an old shoulder injury acting up, we accept that the Wilderness Driver may be a bit over-ambitious.
We turn around and head to the paved Bike Trail that weaves along Main Park Drive. The joke is on us, though. By the time we finish, we've already biked over 10 miles. Perhaps we should have gone ahead and finished the Wilderness Drive.
That said, we do see the entirety of Wilderness Drive, just by truck. So, while we may not have biked the entire Itasca trail system, we have a fairly comprehensive taste. Our takeaway: Itasca is a delight. I wish we arrived earlier with more time to justify biking the entire loop. After all, we managed to bike the least pleasant section (sharing the road with two-way traffic) without enjoying the complete change of pace that comes when the road narrows into a one-way route.
Either way, It's a welcoming attraction for cyclists of all skill levels…unless you're looking for dirt or gravel. But if the pavement is your pace, this is a delightful place to pedal a few miles and pause for plenty of pictures.