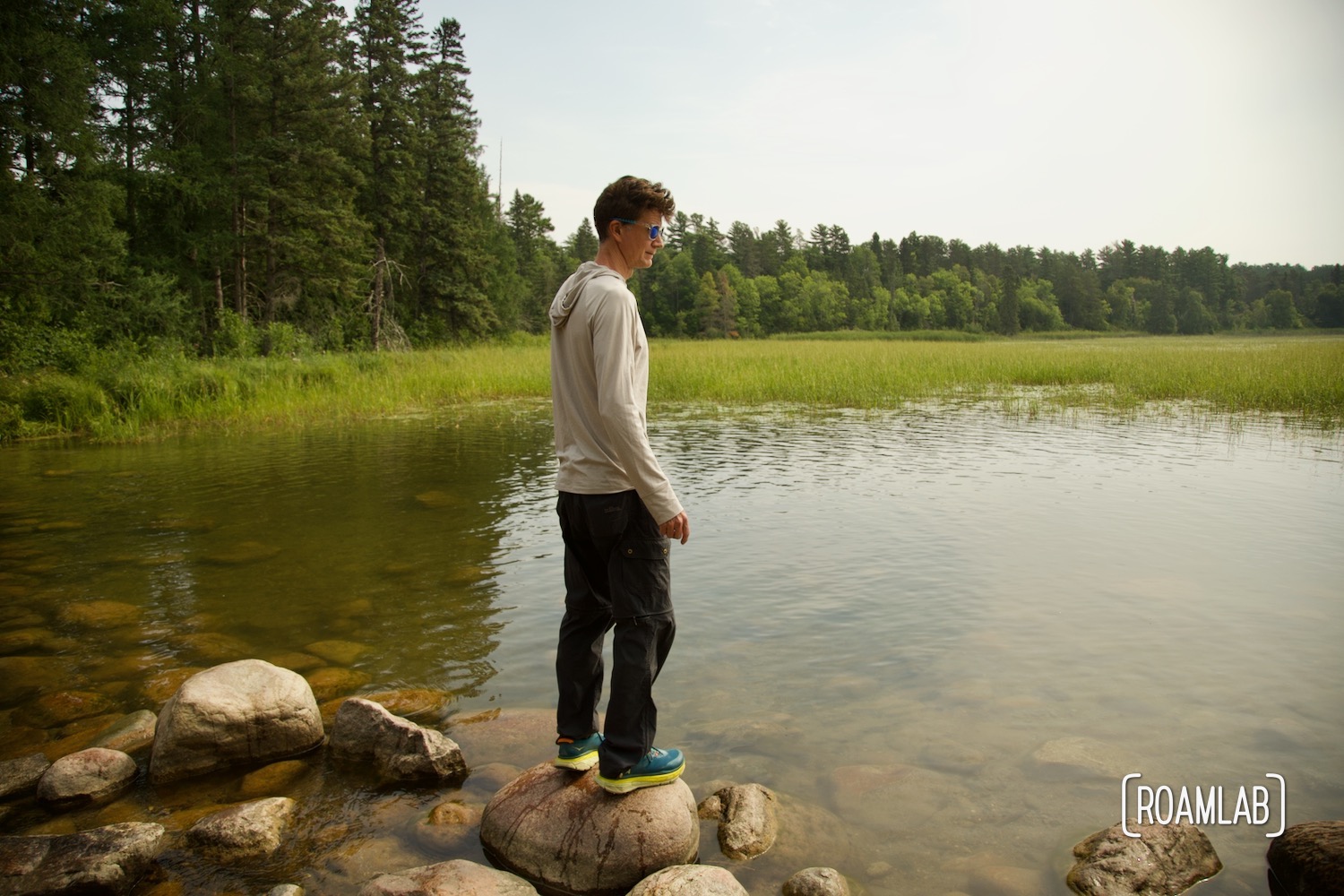 Itasca State Park
Headwaters of the Mississippi
Minnesota's Itasca State Park is an emblem of natural beauty and outdoor exploration, where the grand Mississippi River takes its first humble steps. Here, the Great River is little more than a creek where visitors can literally walk across its headwaters along a collection of stepping stones. And while this young incarnation of the Mississippi may be surprisingly modest, its home offers a grand tour of towering old-growth forests, scenic lakes, and no end of opportunities for outdoor recreation.
Geography and Natural Features
Located in northern Minnesota, Itasca State Park stretches over 32,000 acres and encompasses more than 100 lakes. The park's crown jewel, Lake Itasca, serves as the headwaters of the Mississippi River, a spot that has fascinated us for its symbolic significance in connecting this grand state to the wider world.
Even within the park's borders, visitors can experience the intersection of three terrestrial biomes: coniferous forest, deciduous forest, and prairie. These varied environments play home to a diverse collection of flora and fauna that draw not only tourists but researchers at the Itasca Biological Station and Labs (IBSL). But you don't need a degree in Biological Sciences to appreciate what the park has to offer. It's there to discover however we want.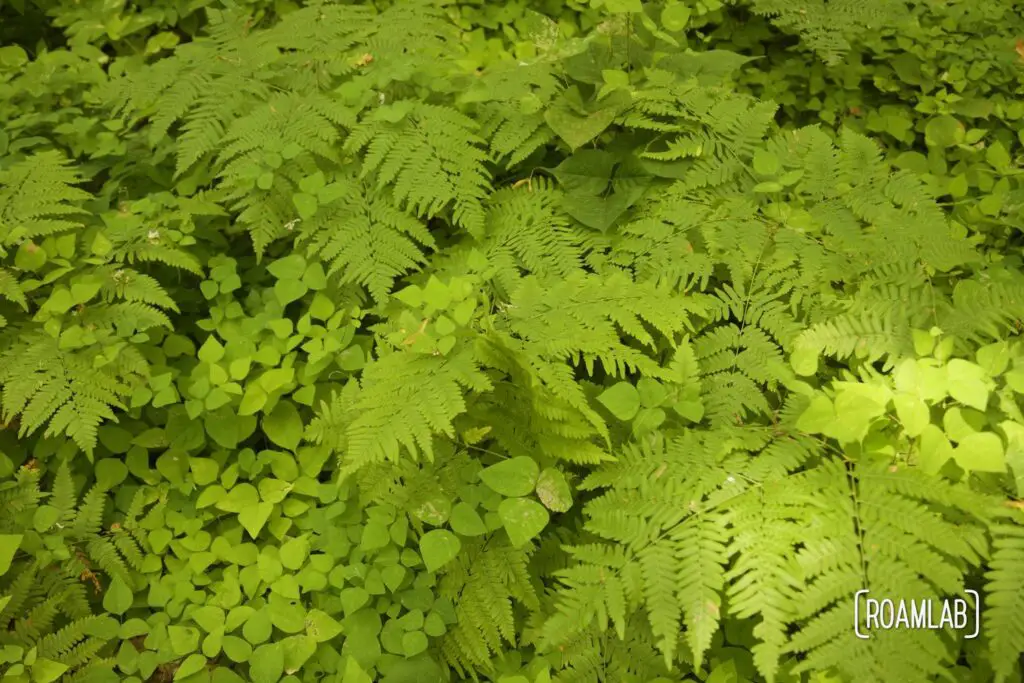 Activities and Recreation
Itasca State Park offers activities and recreation opportunities for visitors of all types. Educational visitor centers, museums, hiking trails, biking trails, scenic roads, boat launches, and points of interest dot the park and can easily be combined for a day full of adventure. Well, many days, of adventure. We can't do them all, but we can share some of the park's highlights.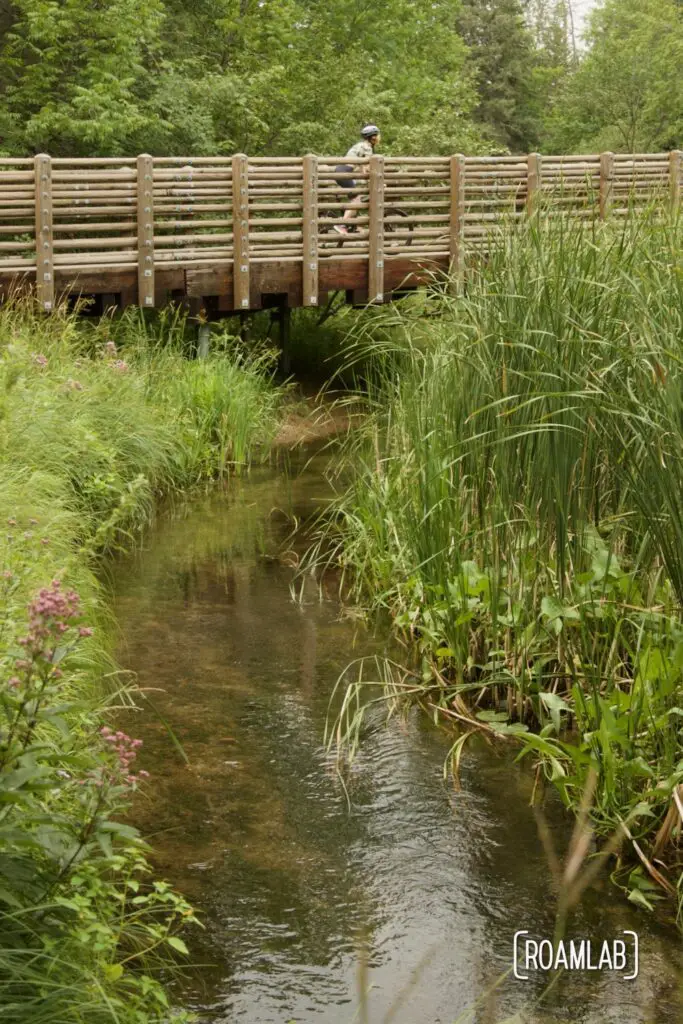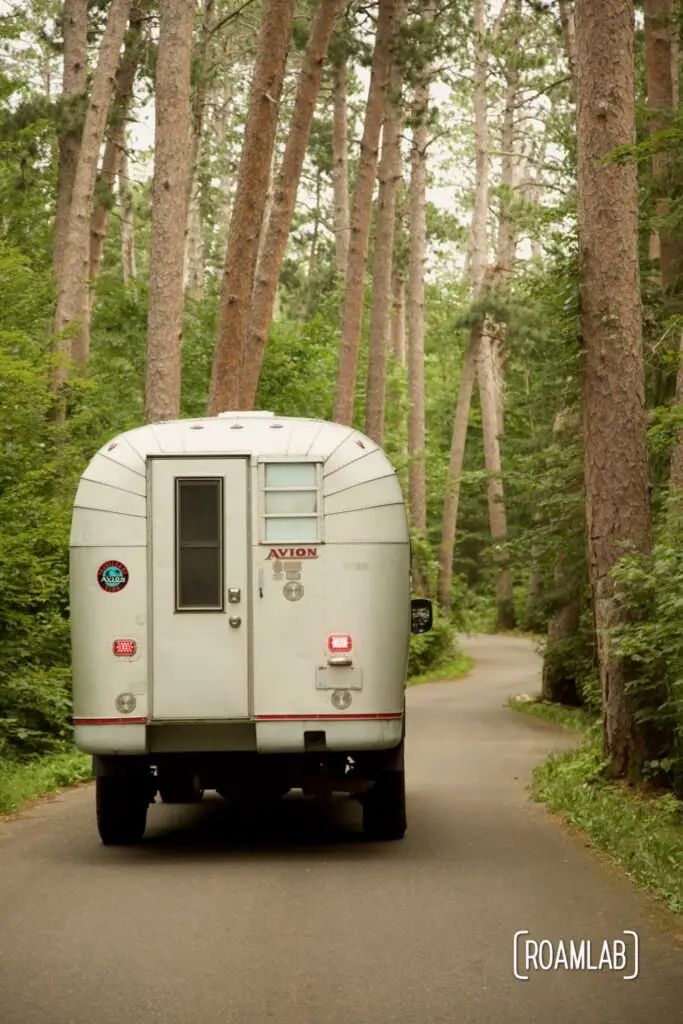 Scenic drives
Main Park Drive
Main Park Drive roughly follows the eastern shoreline of Lake Itasca with brilliant views of the lake and the forest that surrounds it. As the main corridor through the park, connecting the Jacob V. Brower Visitor Center and the Mary Gibbs Mississippi Headwaters Center, the road is also the main access point for most of the park's resources, including picnic areas, campgrounds, lake access, trailheads, and other facilities.
Wilderness Drive and Bike Route
Wilderness Drive, is a scenic 10-mile single-lane, one-way paved road that offers glimpses of ancient forests and pristine lakes. Along with the views, the drive is interspersed with trailheads and other points of interest. While there is only one lane, it is reasonably wide and shared by motor vehicles and bikes. While we intend to ride this route, we wind up driving it, and you can learn more about it in Wilderness Drive.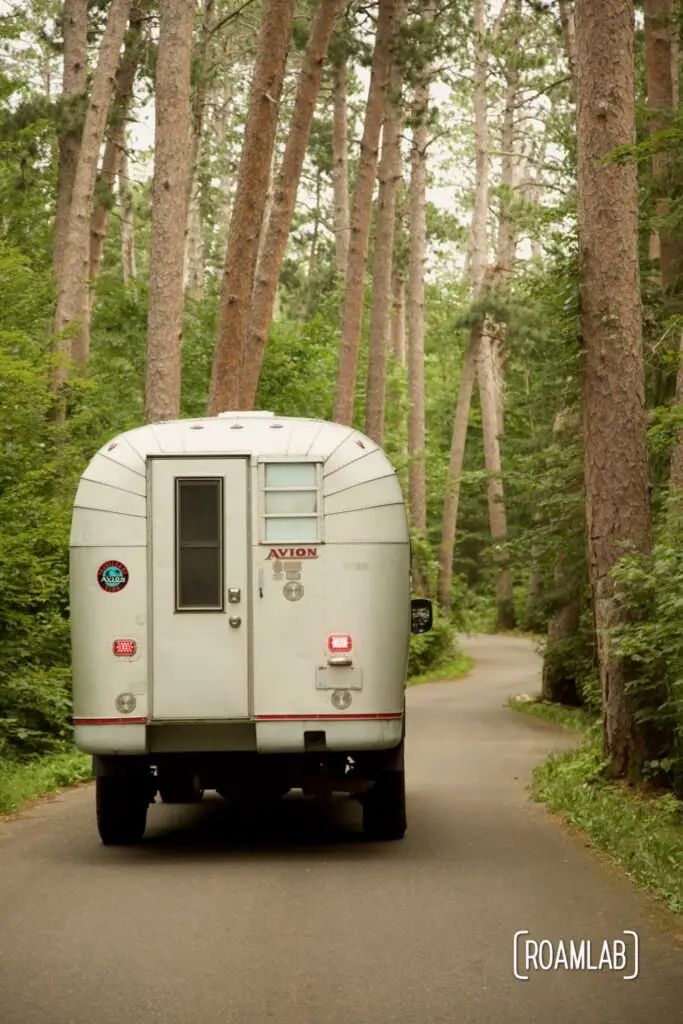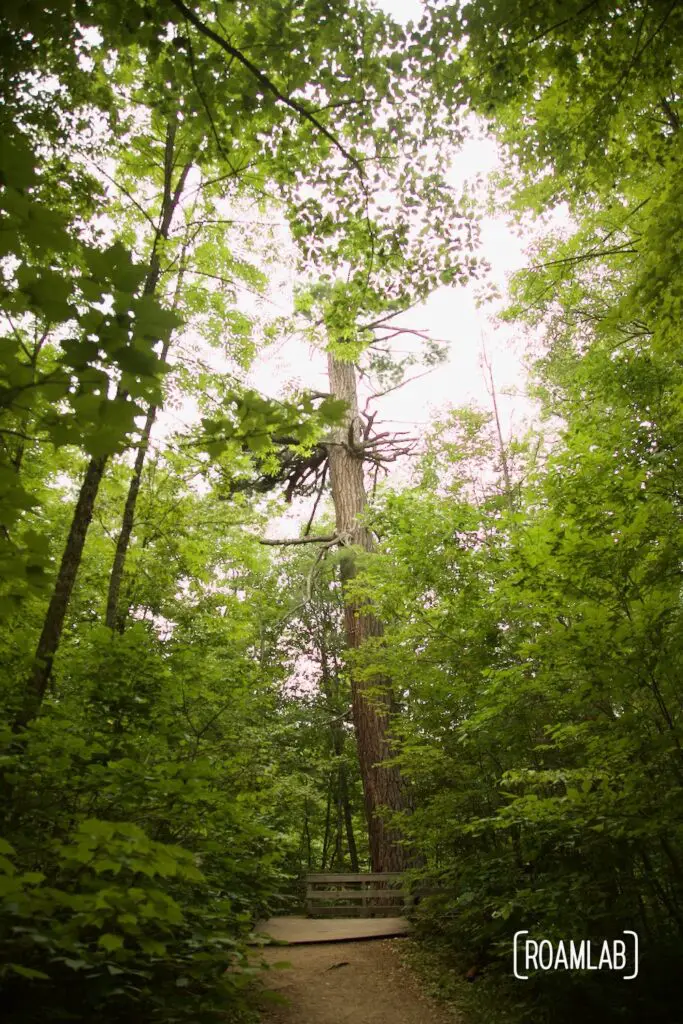 Hiking
With only a few roads in the park, much of Itasca is wilderness, only accessible by boat or by foot. As such, Itasca's over 45 miles of hiking trails offer an exclusive experience of Northern Minnesota nature. Itasca's rolling terrain makes for reasonably gentle hiking trails. Though, the 100 lakes can also mean marshy conditions in some sections and the flying menaces that come with it. Be sure to wear proper footwear, sun protection, and bug repellant.
Headwaters of the Mississippi Trail
The symbolic start of the mighty Mississippi River, the headwaters at Lake Itasca, offered a poignant moment of reflection – metaphorically and literally. On a calm day, the lake is a mirror, only broken when it spills over the rocky start of the Mississippi. Accessing the Headwaters is a .5 mile trail starting at the Mary Gibbs Mississippi Headwaters Visitor Center and concluding at the headwaters.
How one reaches that end (and returns) is a matter of personal choice. There are two hiking trails, one bike trail, and an aquatic option. The Mississippi is shallow enough that visitors can even wade back for part of the way (given appropriate weather conditions.)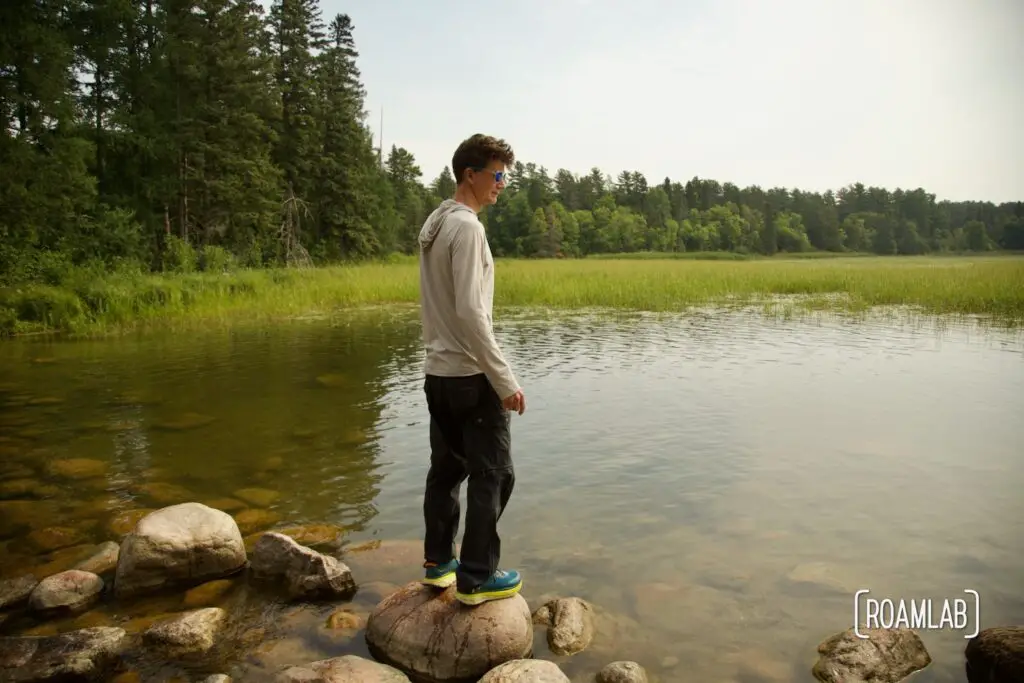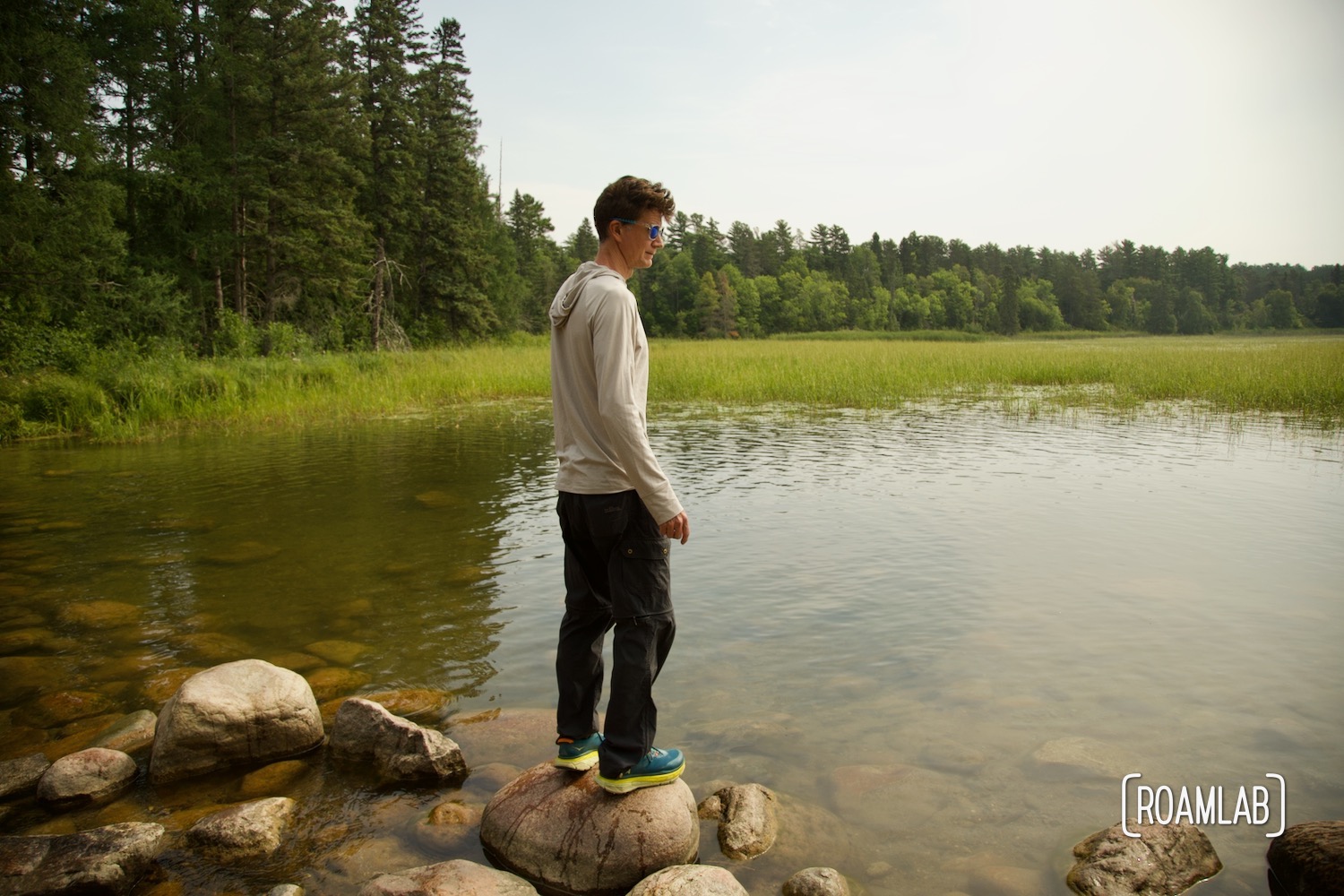 Aiton Fire Tower Trail
Catch an aerial view of Itasca from the Aiton Fire Tower. This 100-foot talk historic viewing platform offers panoramic views of the Itasca wilderness where lush forests blend with sparkling waters. Accessing it is a .5 mile hike along a wide dirt trail from the fire tower parking lot. We describe this hike in depth in Aiton Heights Fire Tower Trail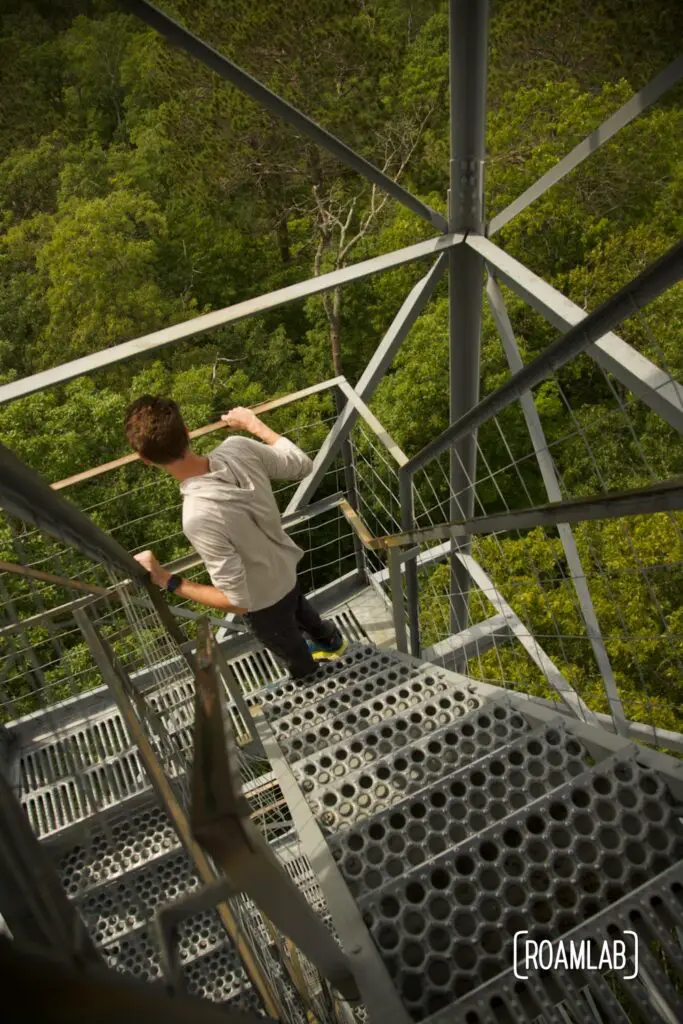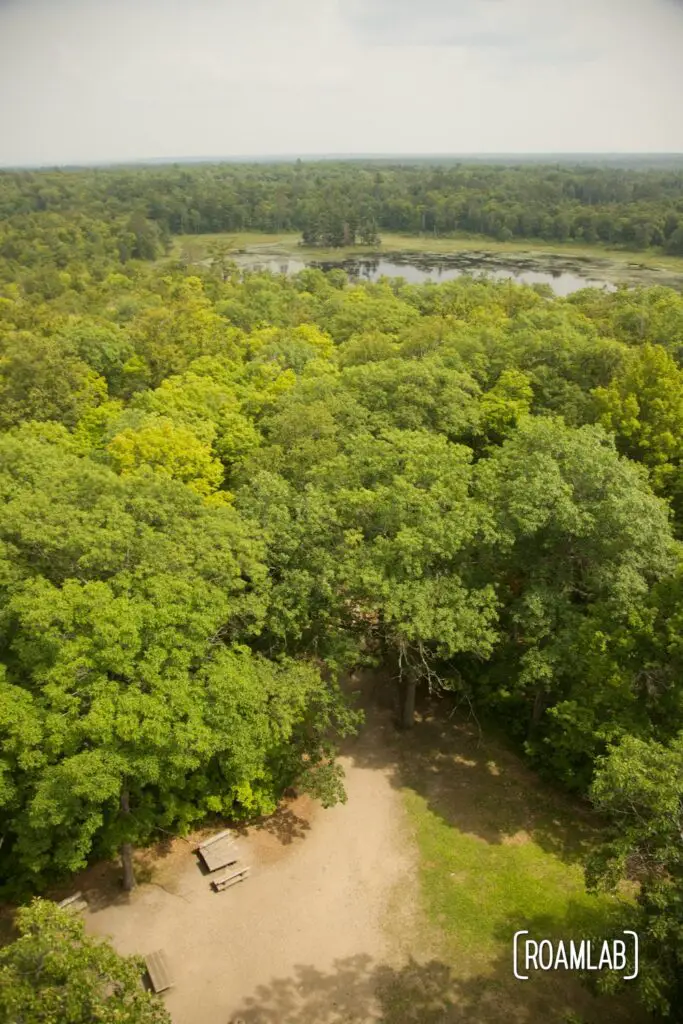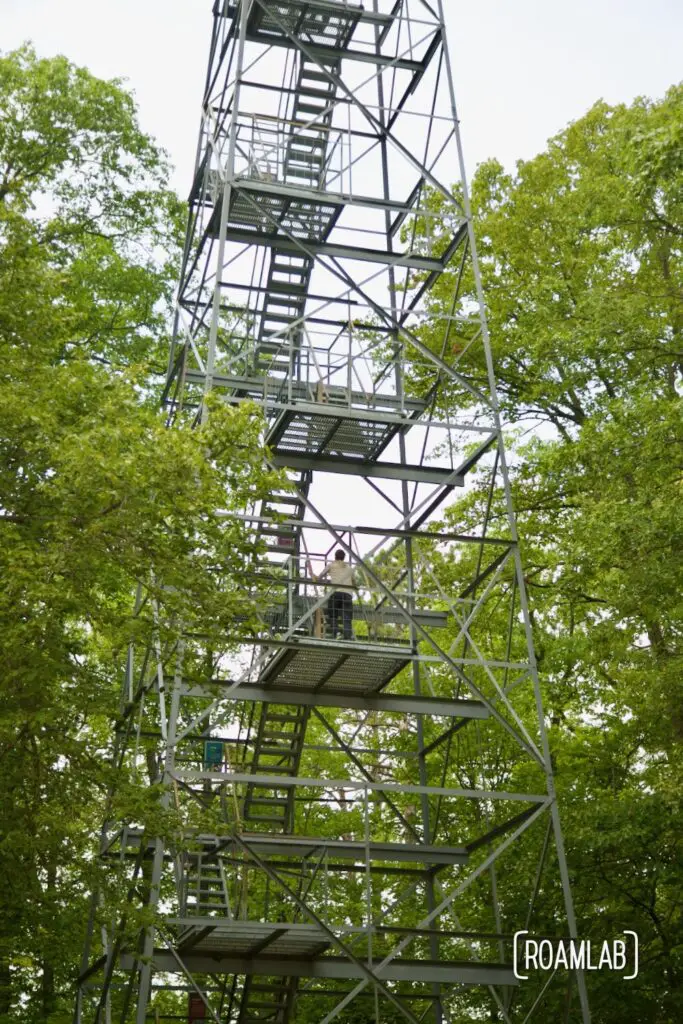 Biking
Itasca State Park offers over 16 miles of paved bike trails, including the scenic Wilderness Drive. With a gently hilly terrain, the trails are accessible for most bikers. Even those without a bike can rent a manual or eBike from a retailer in the park.
We recommend the main bike trail to anyone and everyone interested in going for a ride. For those looking for more of an adventure, Wilderness Drive is a 10-mile commitment biking with vehicular traffic, plus 6-miles on the main bike trail to complete the loop. It's not a hard ride, but it is a long one. We offer more details in Biking Itasca State Park.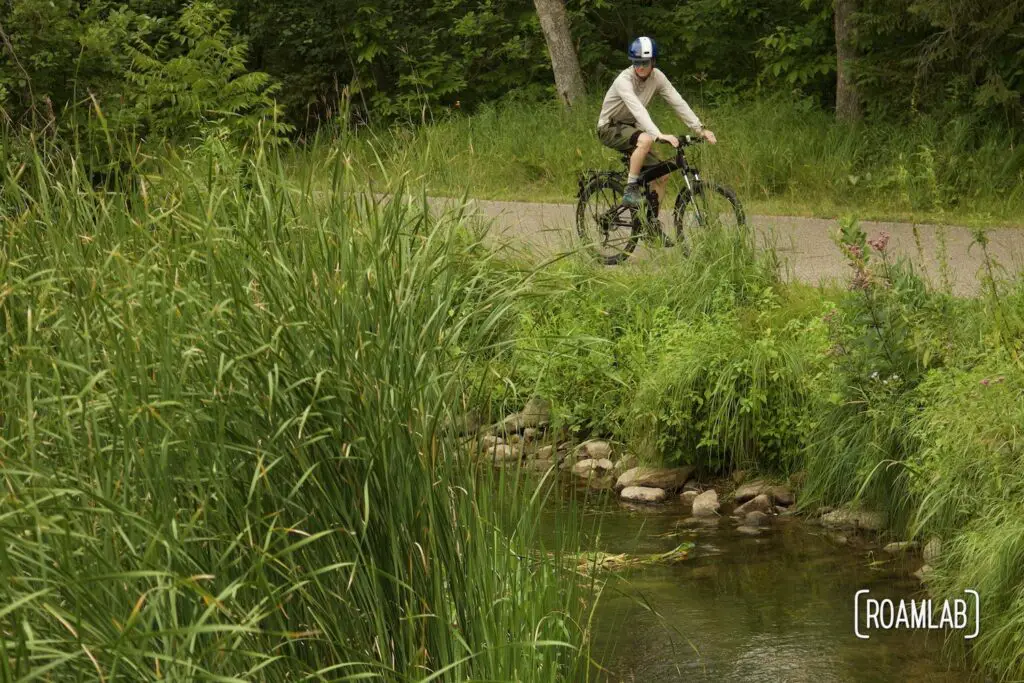 Water Recreation
Lake Itasca and surrounding waters provide endless fishing, boating, paddling, and swimming opportunities. The park includes several designated swimming areas, fishing piers, and boat launches for both trailers and carry-in. Experience the serene timelessness of the water's clarity and the surrounding natural beauty.
Wildlife Viewing
The park's diverse ecosystems support various wildlife species, including white-tailed deer, bald eagles, and black bears. For your best odds at seeing wildlife, arrive early and escape the crowds by exploring more remote parts of the park such as hiking trails or distant lakefront.
Camping and Lodging
Itasca State Park offers a variety of lodging options, from drive-in campsites to hotel accommodations at the Douglas Lodge and Forest Inn. There are several cabins and campgrounds scattered across the park. But plan ahead. Weekends and holidays are sure the book up in advance.
Visitor Facilities and Services
The park offers well-maintained visitor centers, picnic areas, and other facilities. Most are located off the Main Park Drive.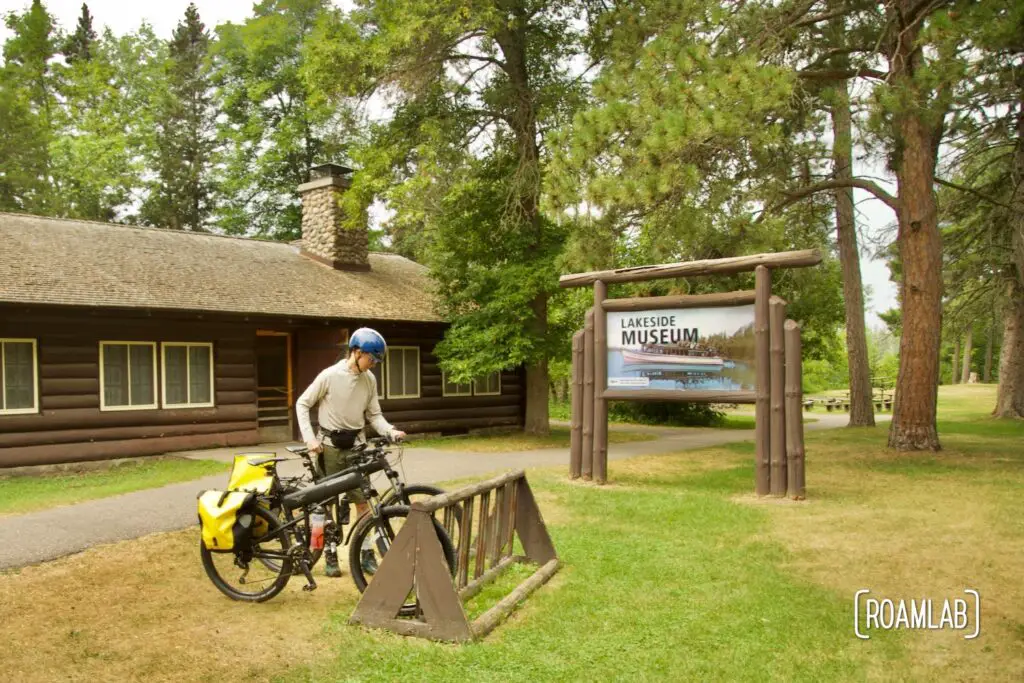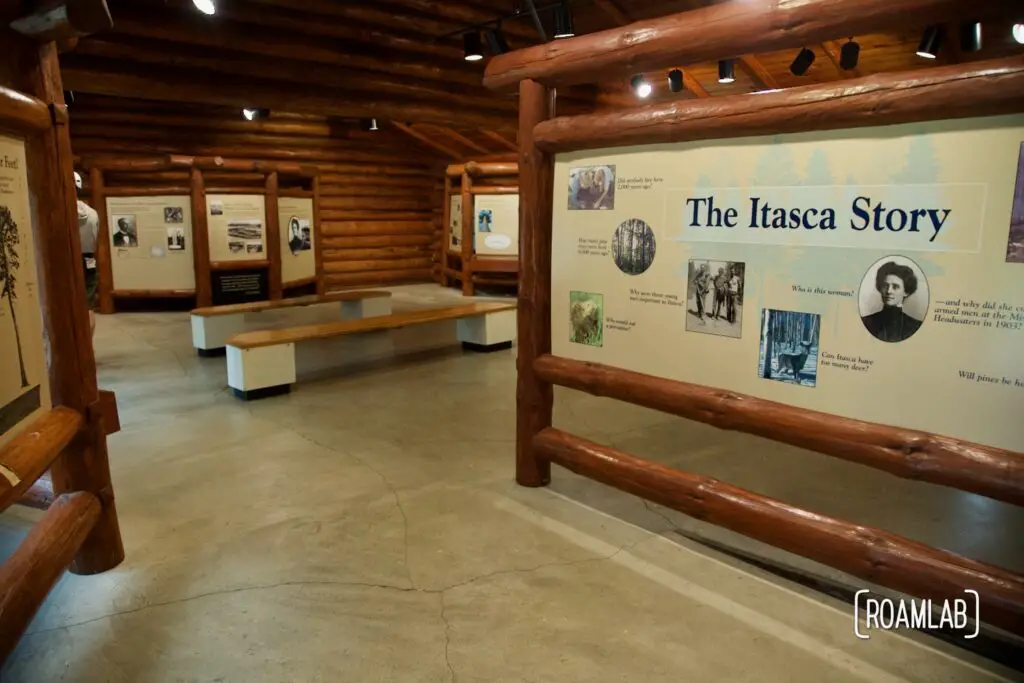 Our Experience
We roll into Itasca overwhelmed with options but with one clear objective: the Mississippi Headwaters. So, we start at the Mary Gibbs Mississippi Headwaters Center and hike down to wade in the waters of the fledgling Mississippi. Once we get our feet wet, we are eager to see as much of the rest of the park as possible. That starts with a bicycle ride where we scout portions of the Wilderness Drive and main Bike Trail. Along the way we also pause to get some history of the park the Lakeside Museum.
Despite only getting a taste of the park, we were about ready to head out and head the siren call of Bemiji and a big blue Ox when Chris spotted a sign for a fire tower. A scenic overlook? What a perfect end to our visit! But it's hardly the "end" when said fire tower is accessed at the end of Wilderness Drive. Not knowing better, we follow the road and only realize what we are getting ourselves into when the road narrows to a single lane. But we have no regrets after enjoying the scenery and points of interest along the drive, including Aiton Fire Tower.
It was half a day's adventure, but oh, what an adventure. Itasca State Park, with its rich tapestry of landscapes and outdoor activities, has gotten under our skin. Whether exploring the headwaters of the Mississippi, biking through picturesque landscapes, or simply enjoying the tranquility of nature, at Itasca State Park, we have a feeling we'll be back sooner than later.