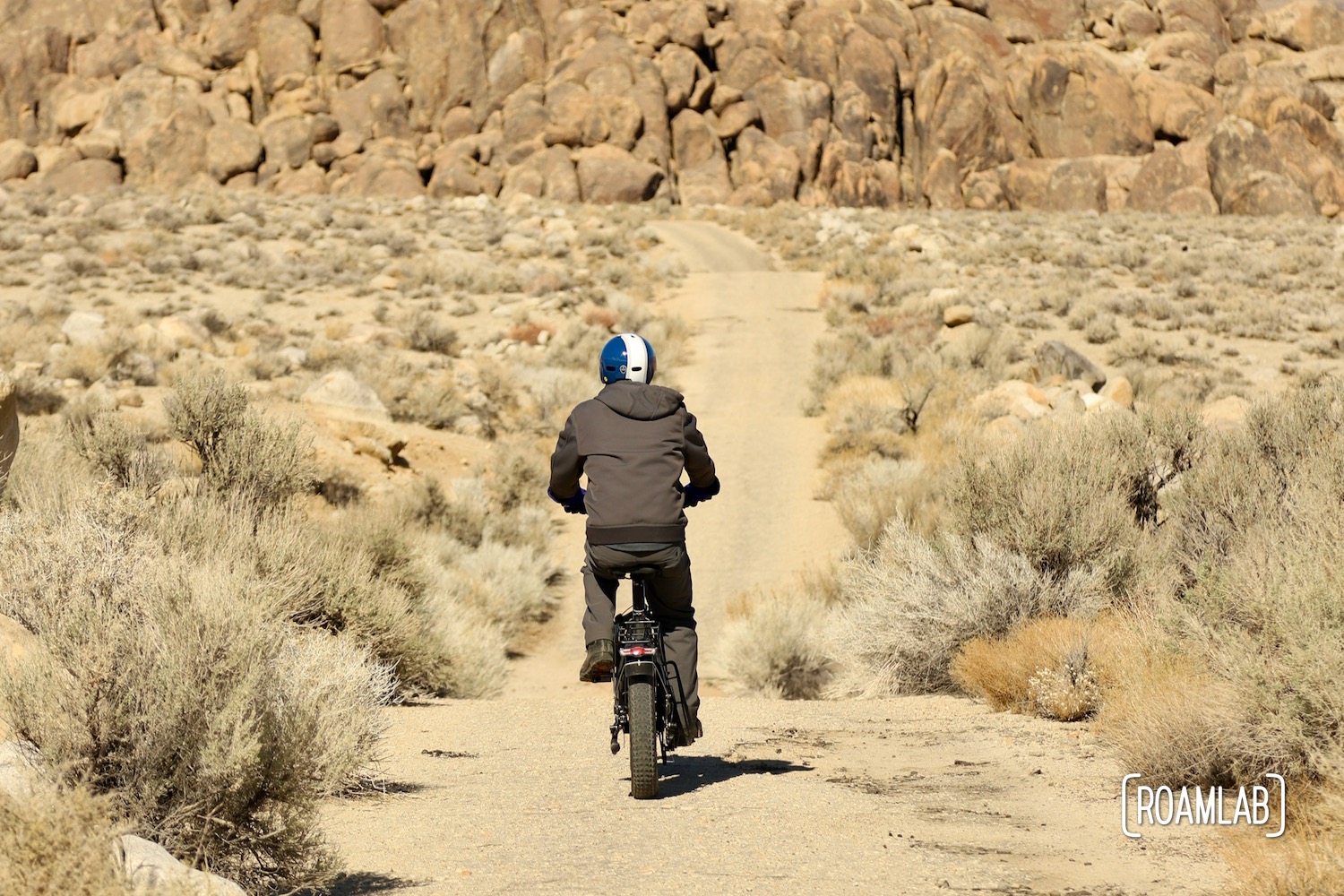 Biking Movie Road
Alabama Hills
The Alabama Hills have been a draw for moviemakers since the early days of Hollywood in 1920. The massive glacier-carved granite boulders and striking Sierra Nevada mountains have stood in for locations across the west. They even have posed as India, Afganistan, African jungle, and fantastical alien worlds in over 400 films. Gunga Din, How the West was Won, Tremors, Gladiator, Superman, Iron Man, and Star Trek include scenes captured in the Alabama Hills. Today, Movie Road is the main access to the heart of the Alabama Hills. It takes visitors by many of these iconic filming locations. The route is most commonly traveled by automobile. But with road conditions that keep vehicles at speeds below 20mph, and with relatively low congestion, this route is also well suited for bikes.
About Movie Road
Movie road isn't just a scenic ride. It is accompanied by a downloadable Movie Road Touring Brochure. Visitors can also pick up a physical brochure at the Museum of Western Film History. (Be sure to download the tour before reaching the hills because cell service is patchy to non-existent.) The brochure not only lists sites where filming took place but offers background on the film and the particular scene that was shot at that location with illustrative pictures. It highlights classic films such as Gunga Din, Showdown, Rawhide, The Gay Caballero, The Tall T, How the West Was Won, and Hell Bent For Leather.
For more recent productions, check out the map at the end of the BLM's Alabama Hills Map And Guide. Along with popular hiking trails and climbing spots, the map highlights filming locations for Django Unchained, Tremors, Man of Steel, and Iron Man.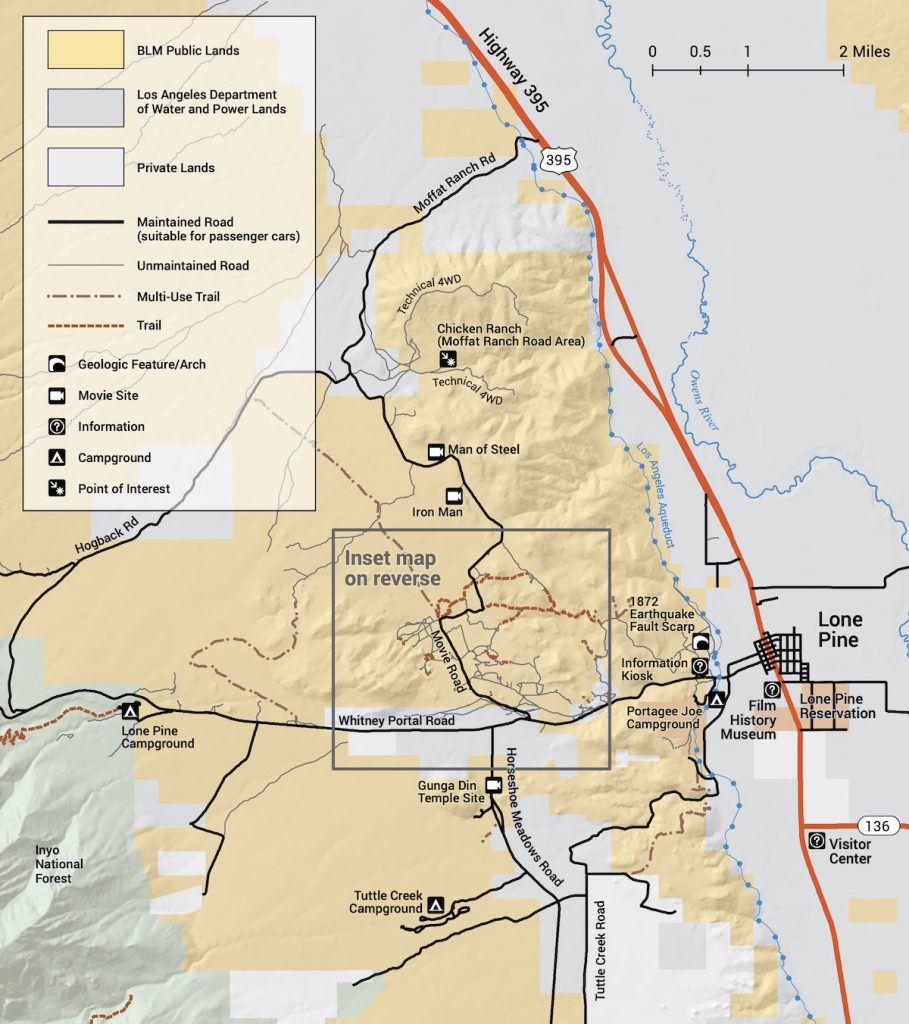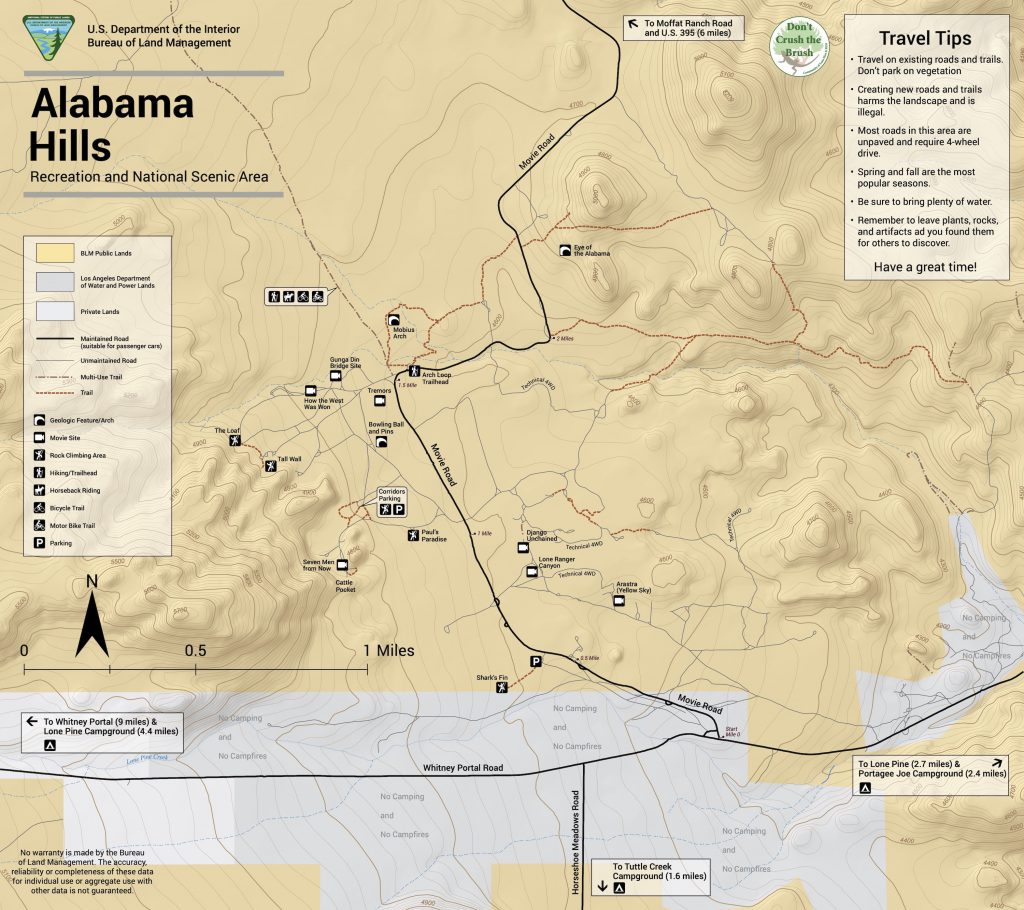 Biking Movie Road
The initial stretches of Movie Road are level and an easy bike ride. Bicyclists can avoid much of the washboard that plagues the main road. It makes the route far more pleasurable on two rather than four wheels.
After the Mobius Arch parking lot, 1.5 miles down Movie Road, the route gives way to more steep and winding terrain. There's still plenty of fun to be had wandering the level region, for those not ready to tackle the steeper section. Otherwise, the tour continues another five miles before it splits into Moffat Ranch Road and Hogback road. If we want to make the trip a loop, you can take Hogback Road to Whitney Portal Road. Alternatively, we can cut across on a multi-use trail a little over a mile down Hogback. We turn back 4-miles down Movie Road at the end of the elevated vista section. In favor of some more hunting along the main drag.
More to See…
There are many offshoots that can be a fun though challenging diversion. Difficult routes often include signs at the turn-off listing what vehicles are qualified for the route. Look for Jeep, motorcycle, and bicycle icons. Having wandered down a few on our bikes, I would take these recommendations seriously. On one offshoot, Chris demonstrated his years of bicycling proficiency. His front-wheel became bogged down in a sandy section of trail. While his body's moment propelled him over the handlebars, Chris ducked into an elegant roll. He came out none the worse for wear. Lesson learned: these side shoots can get rough.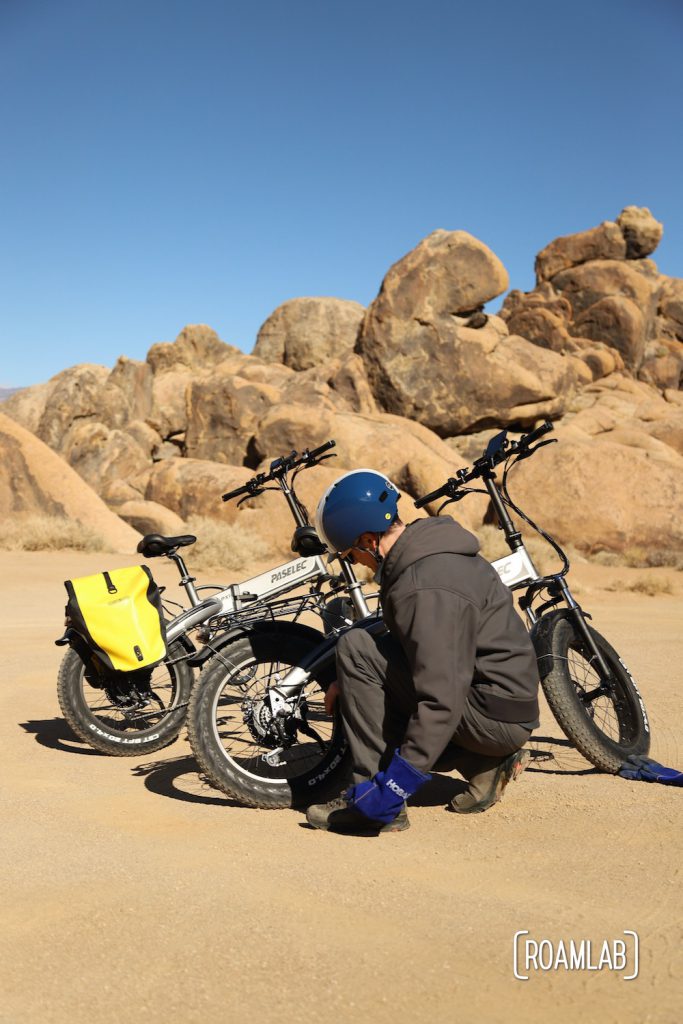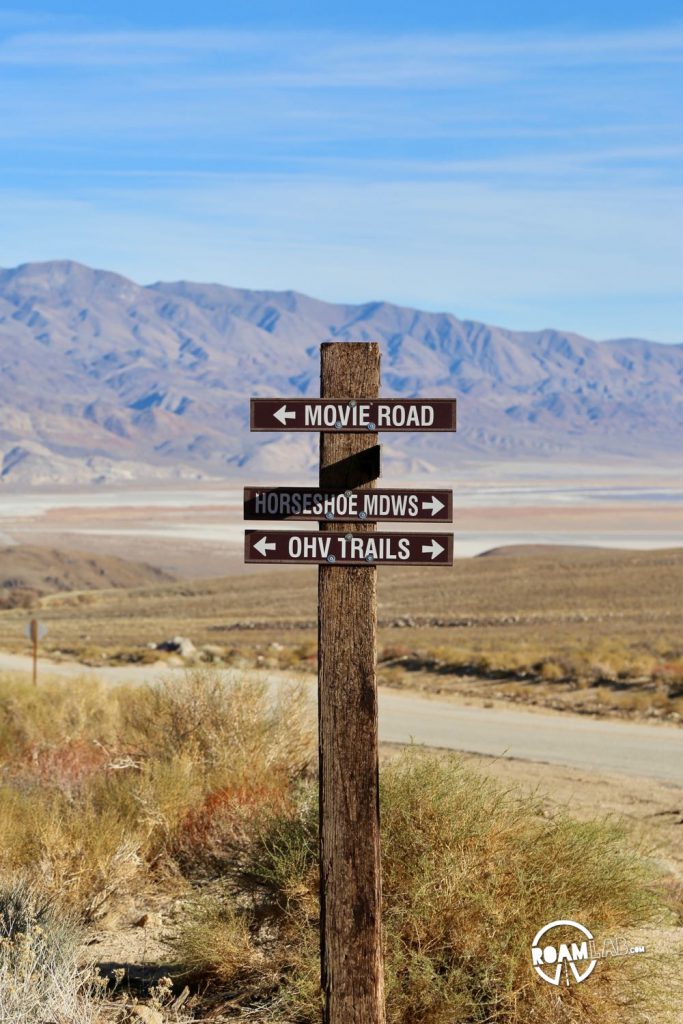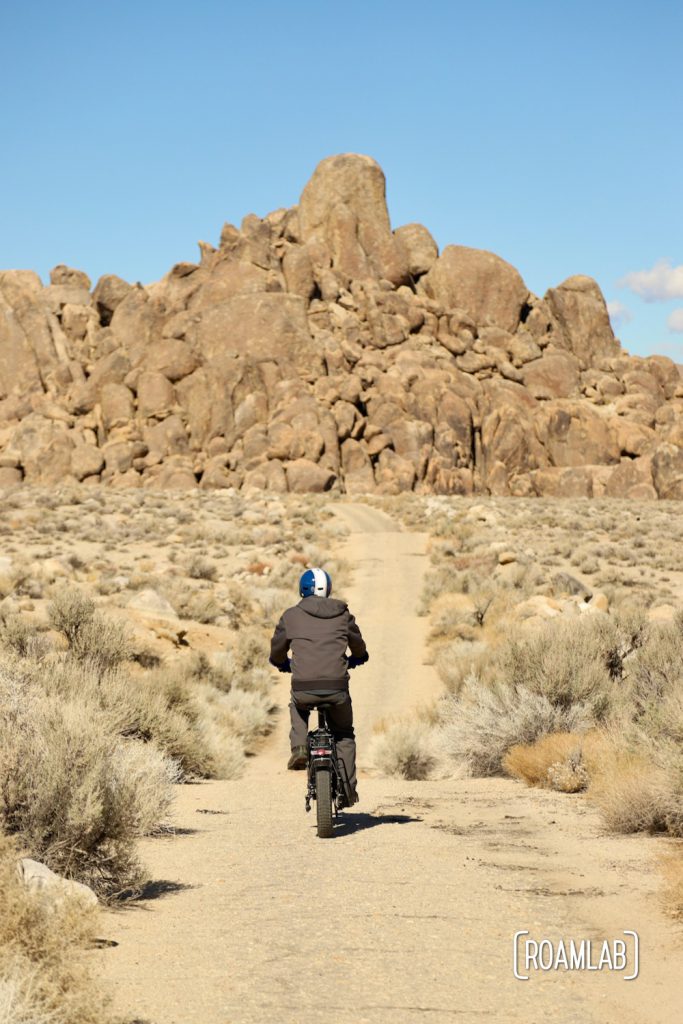 Preparation
Movie road may be beautiful but it's important to remember that, even in winter, this is the desert. Be sure to bring plenty of water to stay hydrated. It doesn't hurt to overplan, since the many offshoots will likely have you biking more than just the main road.
This trail is not on pavement, so it is worth airing down your tires to have better traction on the dusty and occasionally sandy road. If you have the option, fat tires are a plus on this rough road. But however you approach it, this route is full of scenic and historic spots to enjoy.
Access
While the Alabama Hills may look remote, Movie Road starts only 2.5 miles down Whitney Portal road from the main drag of Lone Pine, California (Highway 395). This means you have plenty of opportunities to gear up before tackling any trails. Lone Pine is a relatively small town but it is provisioned to serve the outdoor recreational activities encountered throughout the Sierra Nevada. There are multiple gear shops, restaurants, gas stations, and other resources. Whatever cannot be found in Lone Pine can easily be fount in Bishop, an hour's drive north.
When you're ready to tackle Movie Road, there are two main parking areas along the route. The first is right at the beginning of the road, as it gives way to dirt. That said, while this is a dirt road, it is well graded so that even two-wheel drive, low clearance vehicles can tackle the first 1.5-miles. Most visitors park their cars at the Mobius Arch trailhead parking lot. The lot marks the end of the level, straight road, so it's an ideal spot to stop and pull out the bikes to proceed down the steeper and more windy portions of Movie Road.
Beyond the Parking Lot
If you are considering driving further, it's worth noting that the road also becomes narrower and there are fewer pullouts or turnarounds after the Mobius Arch parking lot. I wouldn't worry about vehicles with 4-wheel drive, but 2-wheel vehicles may find the trail challenging and want to turn around. Of the few spaces along the road, many may already be occupied by campers. So scout out the road ahead of time if you are unsure that your car can handle the route rather than being forced to proceed further in search of a turnaround.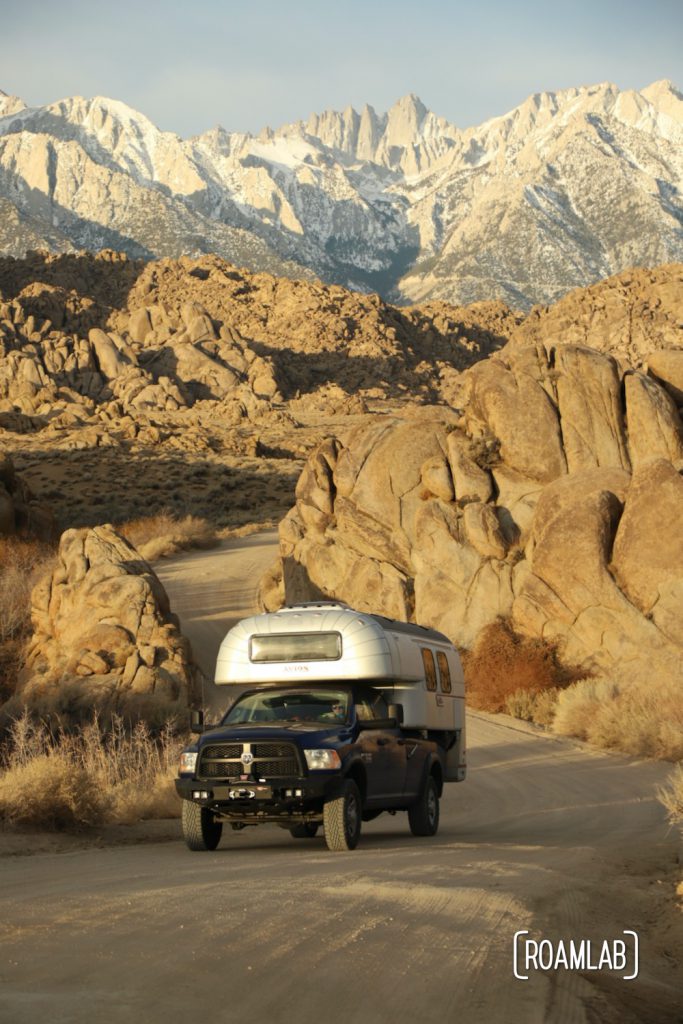 Additional Activities
There are also several hiking trailheads in this region. In particular, the popular Mobius Arch trail has a large parking lot and a johnny on the spot.
The Alabama Hills are also a popular bouldering destination. The large, rough, and round rock formations that typify this iconic landscape allow for a wide range of climbing options from beginner to advanced. We clamber up one less challenging boulder to enjoy lunch with a view.
While there are several established campgrounds in the area, such as Tuttle Creek, the Alabama Hills are also a popular boondocking spot. The relatively flat roads mean that even 2-wheel drive rigs can often find a spot to camp. But this first-come free for all comes with little beyond the view. Campers must pack in all their supplies, pack out their waste, and either have a toilet or dig a latrine.
What ever you choose to do, the Alabama Hills are full of activities that can easily fill up a day or even a week.