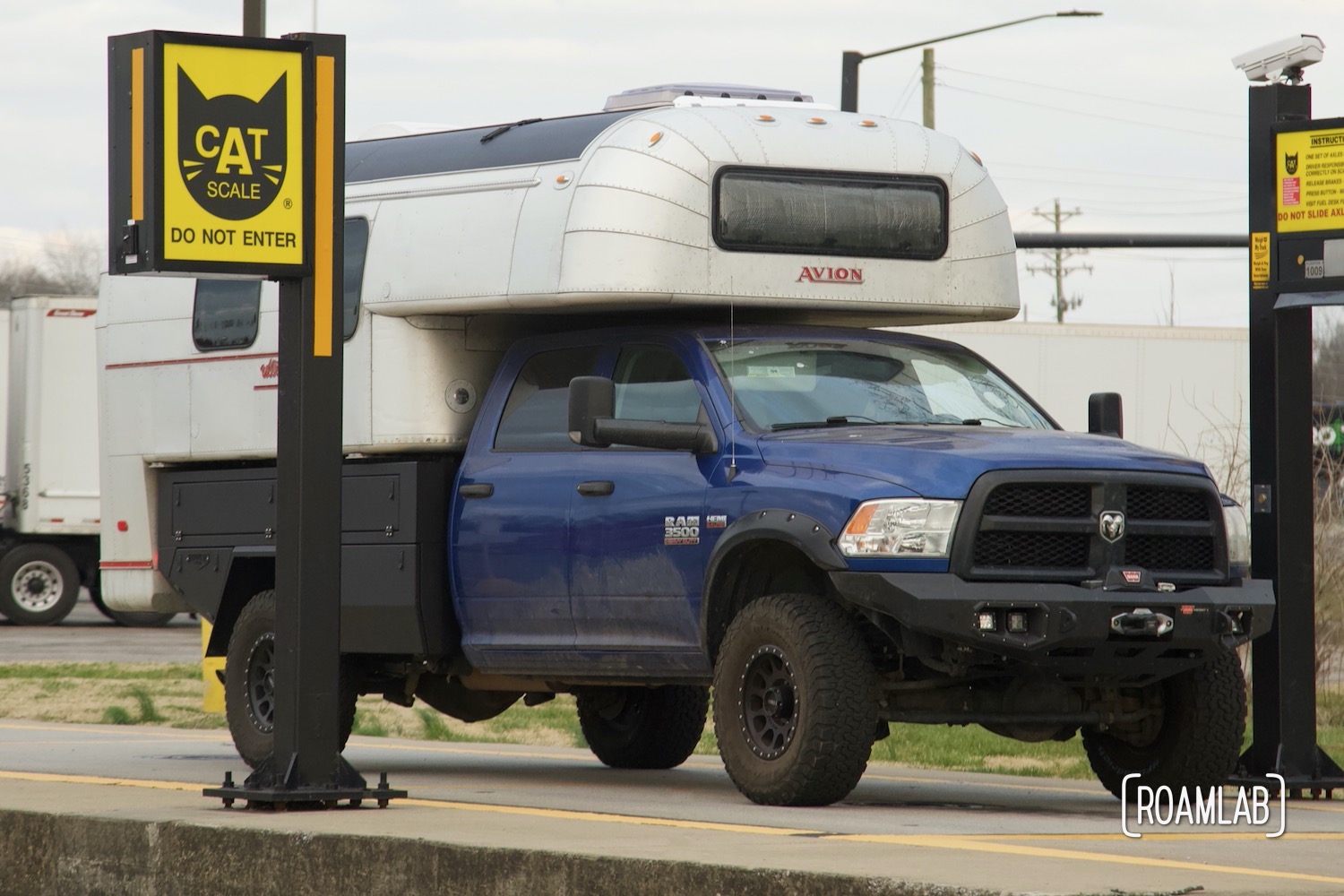 Hey Everybody!  This is Lexi from Roamlab and today we are sharing our first of its kind Bowen Customs truck bed specifically made for our 1970 Avion camper. 
Our Avion is spacious for a truck camper, but we can always do with more storage.  After all, truck campers miss out on a lot of potential storage space because their bodies cut away to fit around the truck bed's walls and wheel hubs.  And that adds up to a lot of unused space. So we've been on the lookout for an aftermarket truck bed that can turn that space into storage while still securing our camper and keeping the center of gravity low.
Finding a truck bed that fits our truck camper, however, is a difficult challenge and calls for a custom solution.  Fortunately, we met Brent of Bowen Customs last summer and he was willing to take on the task.
Brent and his team did an amazing job working with us to design a truck bed that took into account all the somewhat inconsistent measurements, and unique curvatures of a truck camper that is more than a half a century old.  With this, we have tons more storage and a whole new tie-down system.  
So, why don't we check it out?
We have three storage boxes on each side of the truck bed.  Technically, the top storage is one box with two doors.  That means we have a nice long storage space for fishing poles or skis though we are mostly using it for our day-to-day outdoor gear like folding chairs and our picnic blanket.
Another cool customization that was certainly not what they had in the 70s is an internal tie-down system.   To access it, we unscrew these nuts to release this removable, waterproof internal wall and expose the inner truck bed where our camper is mounted. Instead of our old, external tie-down system which would have blocked our storage doors, this custom internal system lets us attach a modular tie-down point to an airline-style L-Track that runs the length of the bed and then hook the other side onto custom mount points on the camper wings.
With the truck camper secure, we can close up those interior walls and the upper box doors and move on to the front lower box.
This box is only half the volume of the upper box.  But it is the tallest.  So it is well suited for our more bulky items.  Right now, we are storing our recovery gear.  
Here, we have another surprise addition.  Our truck's fuel fill was built into the factory truck bed's sidewall.  Now that we have a custom truck bed where our sidewalls are mostly doors to access storage boxes, our fuel fill is located inside this storage box.
Finally, we come to the rear lower box.  This is our smallest box but that doesn't make it any less special to us.  We can store all sorts of handy equipment in here.
Every bit of storage matters, after all.  All told, this truck bed adds about 40 cubic feet of storage space to our rig.  And considering our limited storage in our truck camper, this will be a game-changer for our travels.
For more details and pictures of our truck bed, check out our website, roamlab.com If you found this helpful, please give it a like.  And subscribe to Roam Lab for future truck camper projects.