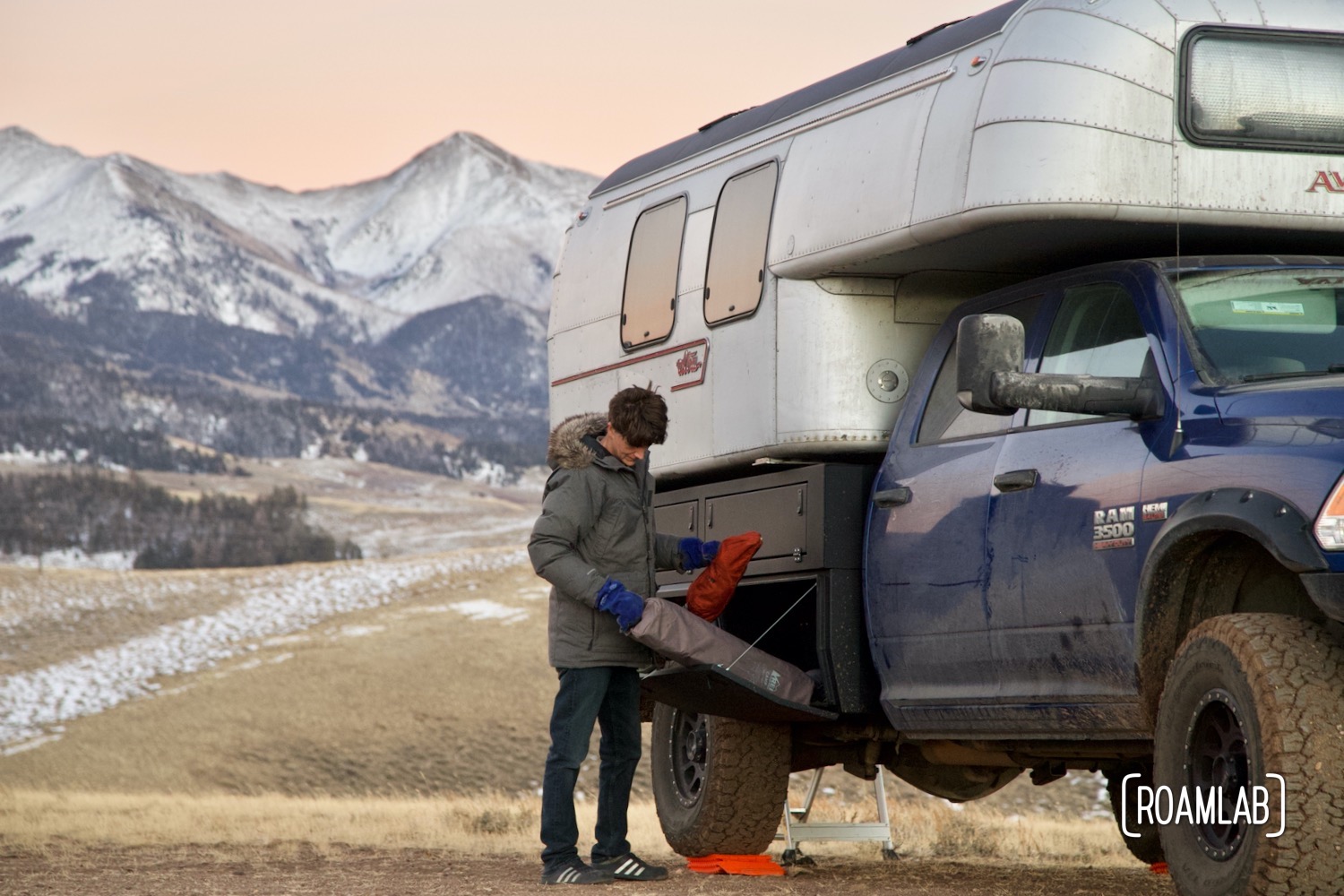 Bowen Customs Aluminum Truck Bed Tour
DIY Truck Camper Mod
Overland rigs are never "done." There is always some new upgrade in the hopper. And while we have mostly been focusing on renovating our 1970 Avion C11 truck camper, that's not to say we've been ignoring our truck. Along with upgrading our tires and wheels, we've had another upgrade that's been in the works for the past few months, and we can't wait to show off the final result.
We have a new truck bed. But it seems wrong to just call it a truck bed. It's more than just that. It's a truck camper bed because it is designed with our Avion truck camper in mind. Truck campers are remarkable. They are modular RVs that can be (relatively) quickly and easily slid in and out of a truck bed for travel and convenience. But like many modular products, there is a lot of space wasted in the gaps between the camper and the truck bed. Nearly 16 inches on both sides, to be precise. This is the portion of the truck bed left empty by the camper to make room for the truck's wheel wells. But that is a lot of space lost. And after five years of traveling and renovating our Avion truck camper, it's time to reclaim that space with a custom truck bed.
We meet Brent Bowen of Bowen Customs at the 2021 Overland Expo Mountain West. After seeing his past work and sharing our vision for our truck bed, we agree to collaborate on a remarkable addition to our adventuremobile.
In earlier posts about this truck bed, we dive into the process of designing and installing the bed. Now, the bed is on the truck, with our camper in place, it's time to give a tour.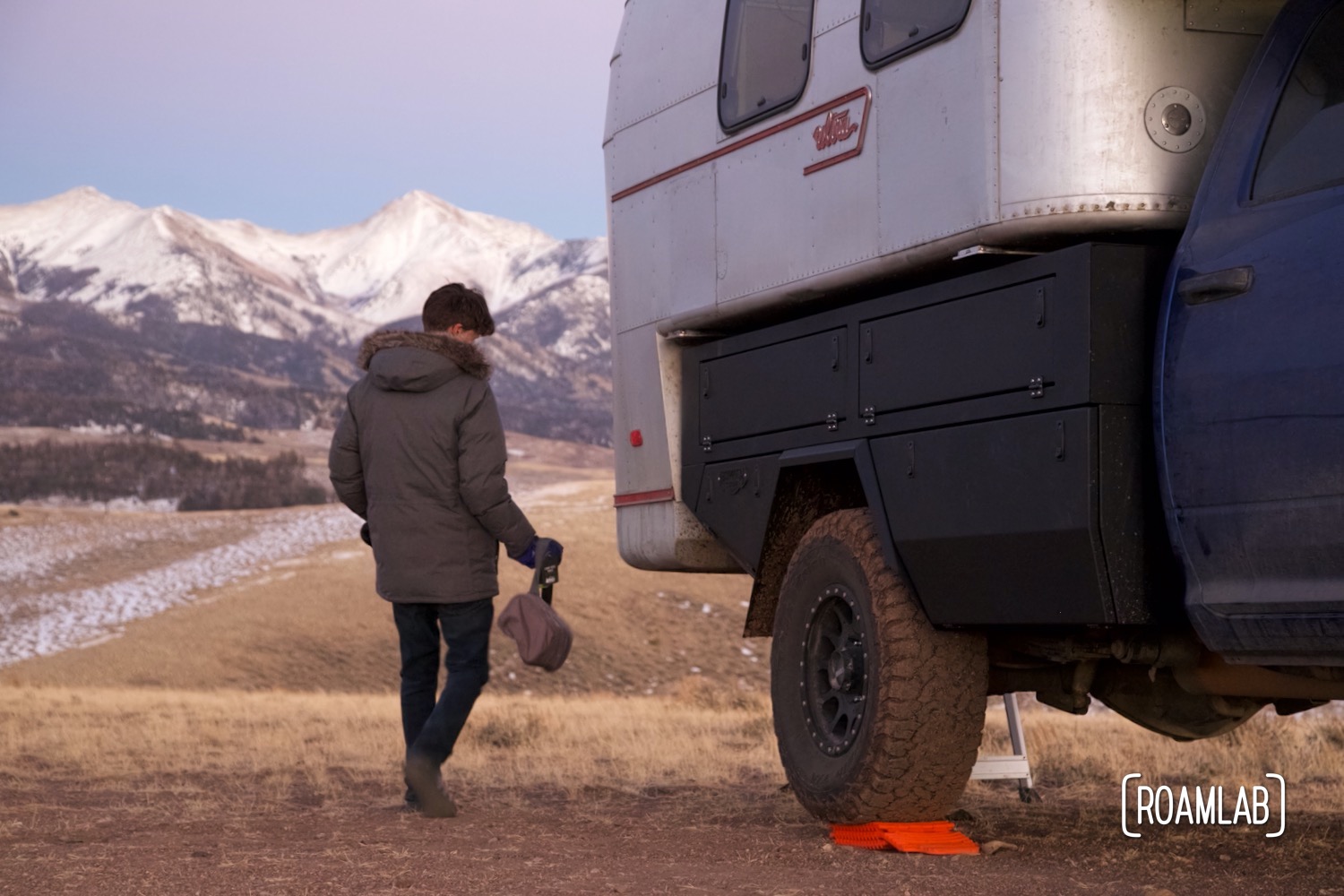 Bowen Customs Truck Bed Concept
This Bowen Customs truck bed is the first of its kind. We work with Bowen to create a lightweight, rugged, and efficient bed ideal for our unique camper. From the beginning, we know we want an aluminum bed to minimize weight. Of course, we want lots of storage. And we are constantly brainstorming how to reliably secure our camper in the truck bed. But what exactly that looks like takes months of back and forth as we evolved our vision from a flatbed with removable boxes to a utility bed fit for a truck camper. By early January, we have the design formalized and fabrication begins. When we pick up our truck in mid-February, the complete truck bed fully realizes our guiding vision of clearance, attachment, and storage.
Clearance
Truck campers grant a lot more mobility compared to the average RV, but their design comes at a cost. The height of the living space starts with the truck bed height. Our camper is about 6 and a half feet tall with a total height of 10′ 4″ when mounted in our truck bed. Compared to most other RVs, that height significantly raises the center of gravity of the rig and the risk of tipping over on rough trails and in gusty environments.* On the other hand, clearance is also an issue when driving through tunnels, under tree branches, and near rocky outcroppings. We are already too high to park in most garages and covered carports.
Anything that raises the truck bed height further limits our mobility—such as a lift, larger tires, and (surprise, surprise) a new truck bed. Aftermarket truck beds are generally mounted higher than factory truck beds. Most common flatbeds go so far as to raise the bed above the wheel wells so that the bed can be completely flat to maximize large loads without having to make space for the rear wheels. This would raise a truck camper several inches. Not only that, but it creates an extra gap between the truck camper's cabover and the roof of the truck cab. This gap increases drag when driving and also just looks weird. Fortunately, Bowen did a great job keeping the deck of the truck bed thin and sturdy so the camper sits about the same height in the truck bed and maintains a 3-inch gap between the cabover and the truck cab.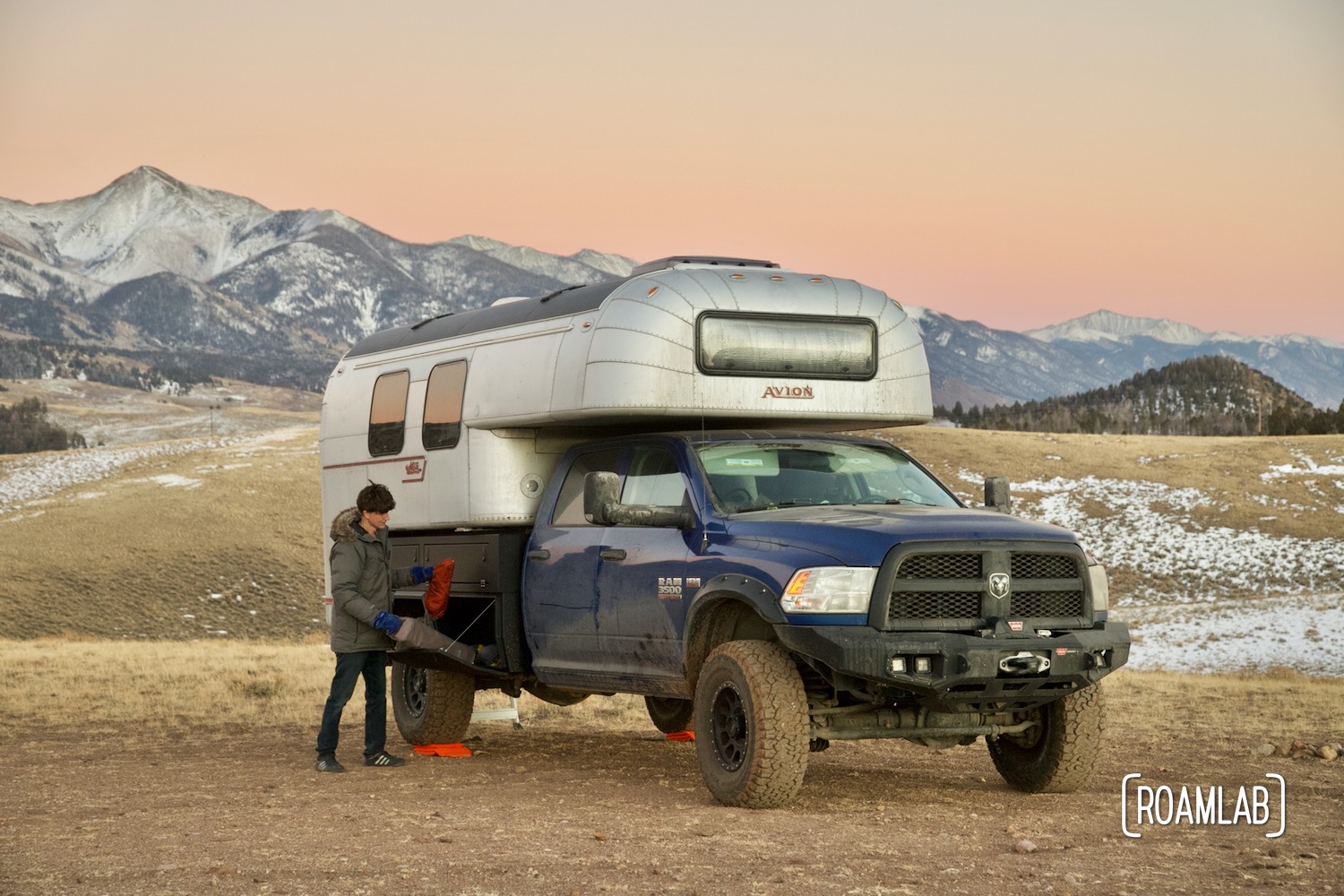 Attachment
With a new truck bed, we also want to reassess how we mount the truck camper to the truck bed. Most recently, we have been using the HappiJac Frame Mount Camper Tiedown System. But this design uses external turnbuckles that will block the bed storage doors from opening. So, we work with Brent to move the attachment points behind the boxes with an interior tie-down system.
Tie Downs
The bed includes two rows of airline-style L-track concealed behind the truck bed boxes. (The same track that we use along the top of our camper for mounting equipment like lights, a cell booster, and an awning). The rails are secured to the truck frame for extra security. These can technically be used for many applications, but our primary interest is as a tie-down point for the camper itself.
We clip four-wing studs with ring attachments into the L-track as the new tie-down point. One wing stud for each corner of the truck camper. We can then hook ratchet straps through the wing studs and into the truck camper's mount points.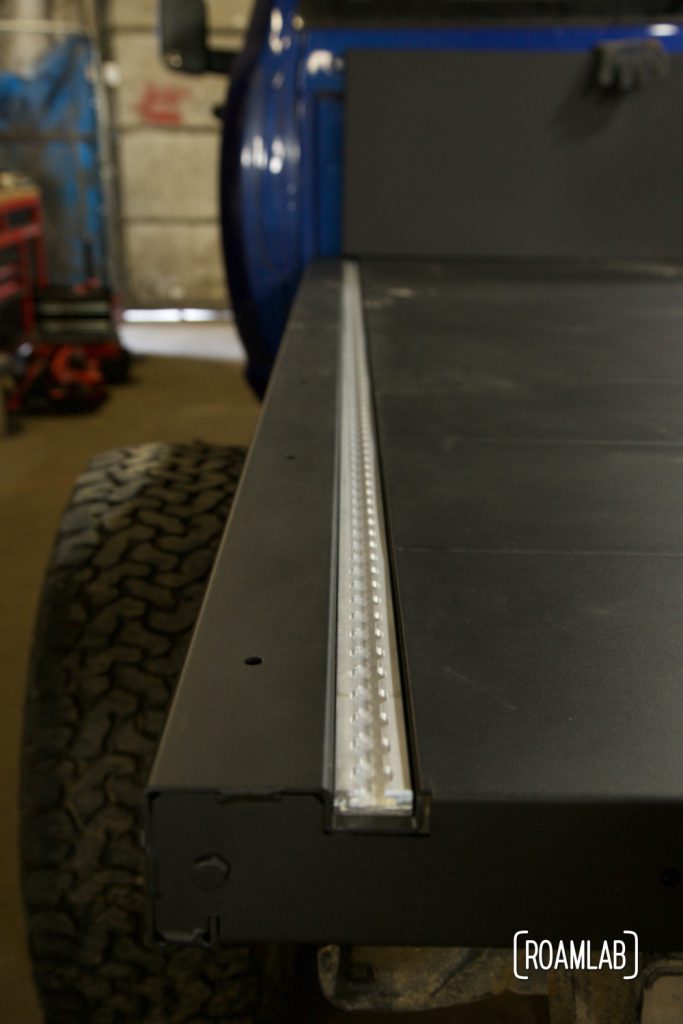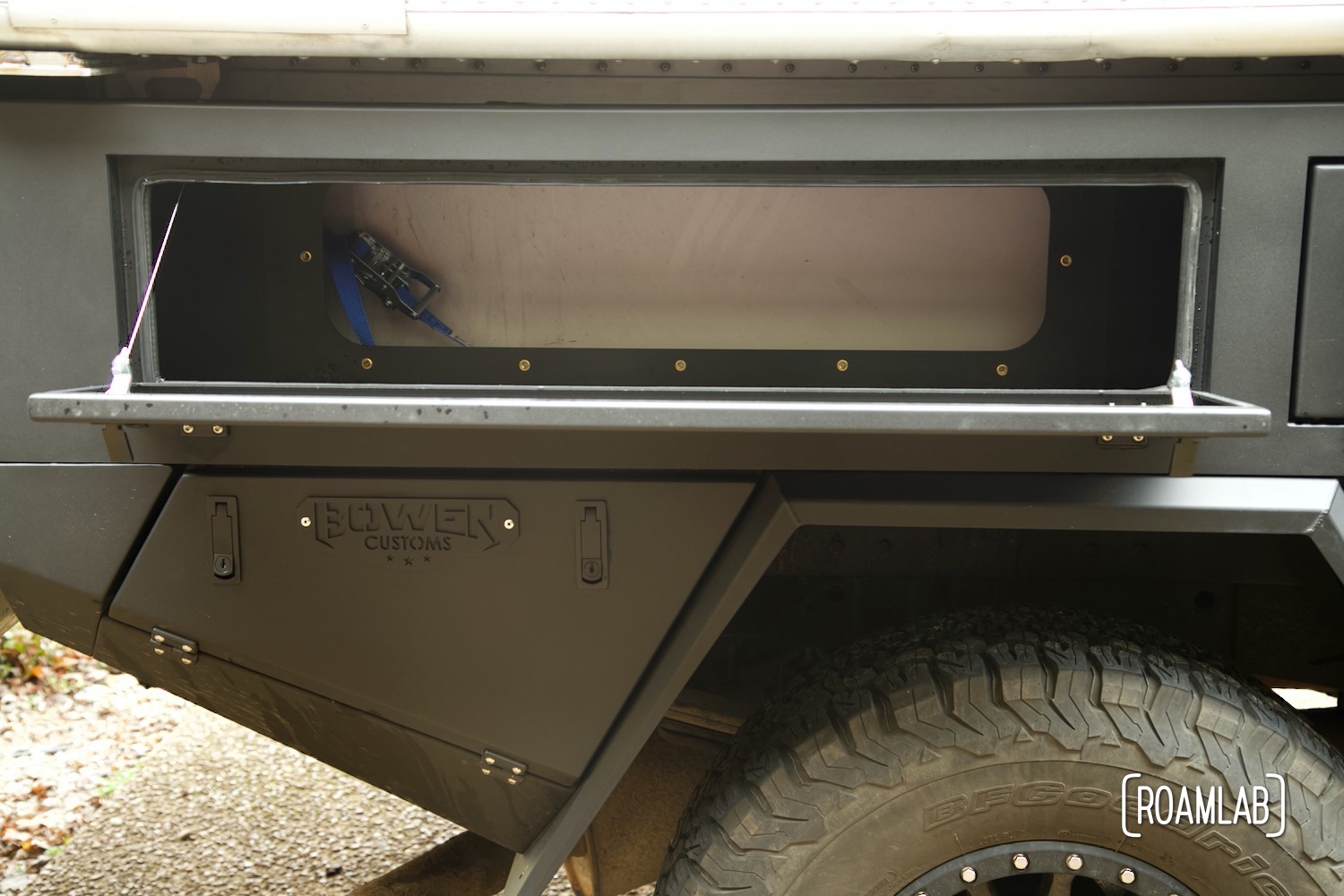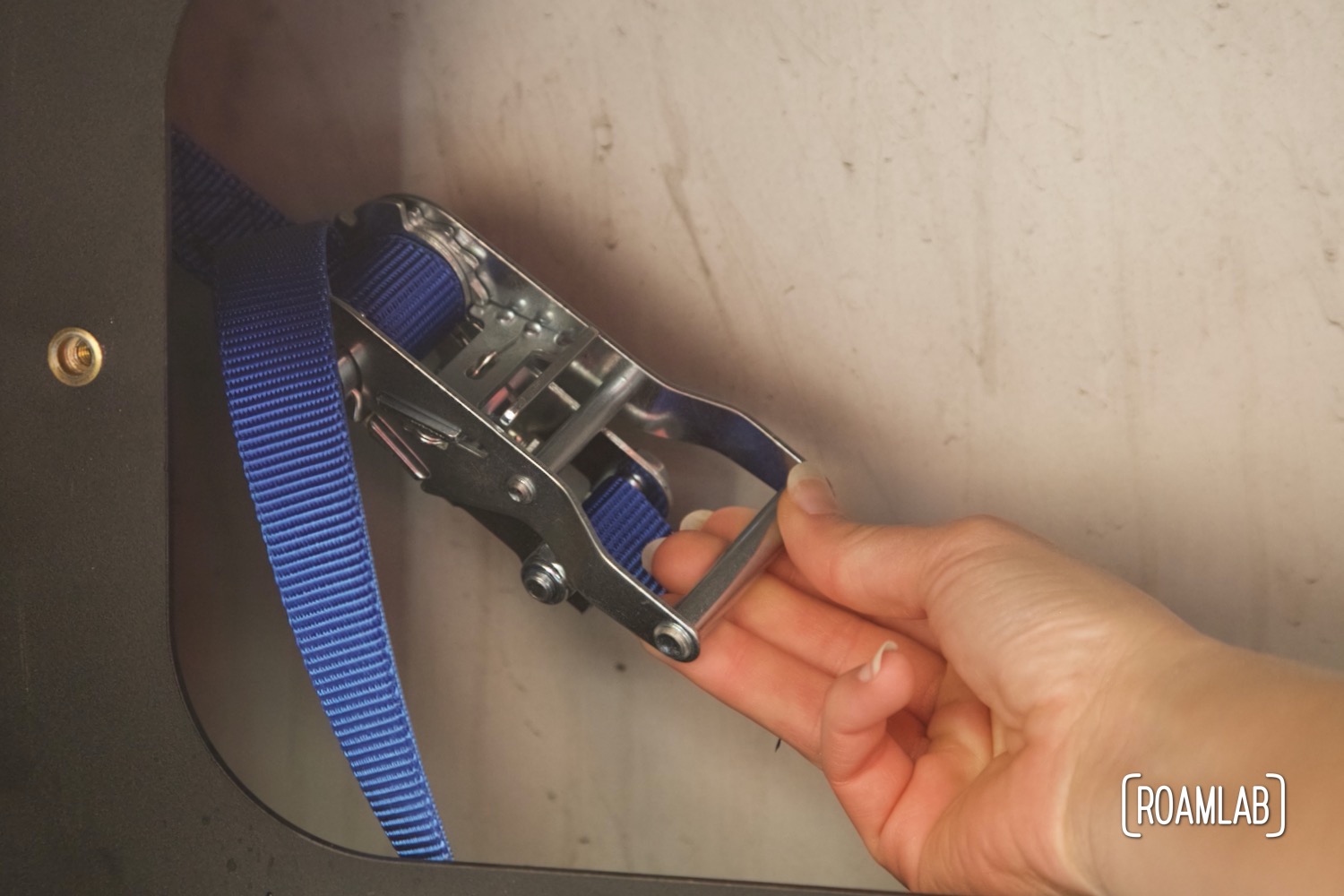 Making Storage Space
Finally, we come to storage. Creating storage is a balancing act. We want as much storage as is reasonable without consuming so much interior space that we cannibalize the interior space needed to reasonably load and unload the truck camper. As such, we settled on a design that still leaves two inches of "wiggle room" on each side between the inner wall of the camper and truck bed. The new bed is also a little wider than the factory bed, matching the width of the Avion camper rather than the truck cab and allowing for more storage. Thus, the storage boxes are 13.5-inches deep.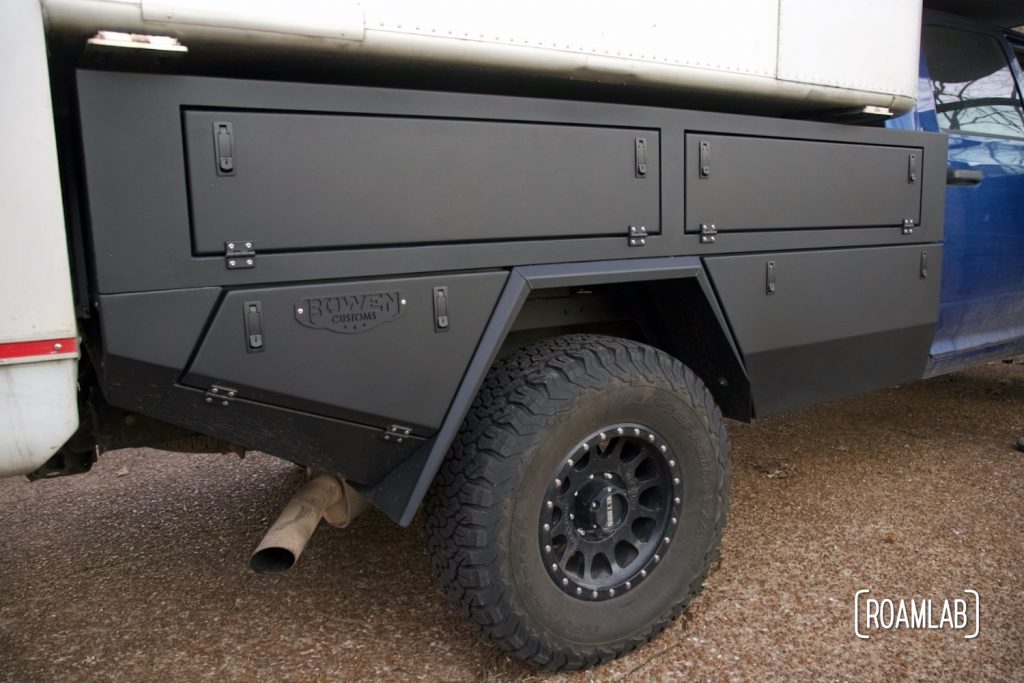 Storage Boxes
The bed includes three boxes on each side. All the boxes are enclosed on all four sides with locking doors and rubber gaskets to keep the interior space dry and clean from rain and dust. The top box may have two doors, but the interior is one continuous space, convenient for storing long items like fishing poles. The back wall of this box is removable, allowing access to the bed interior when the camper is mounted. Here, we can access the tie-down points in order to secure the camper to the bed.
Below the top box, we split into two bottom boxes that flank the rear wheel. The larger front storage box can hold up to 6 cubic feet. This large space is ideal for large bulky items such as our inflatable kayaks. The smaller box at the far bottom rear of the truck bed holds a little under 3 cubic feet.
| | Height (feet) | Width (feet) | Depth (feet) | Volume (cubic feet) |
| --- | --- | --- | --- | --- |
| Upper Box | 1.167 | 8.417 | 1.125 | 11 |
| Lower Forward Box | 1.583 | 2.917 – 3.833 | 1.125 | 6 |
| Lower Rear | 0.667 – 1.417 | 0.1 – 2.583 | 1.125 | 3 |
Box Dimensions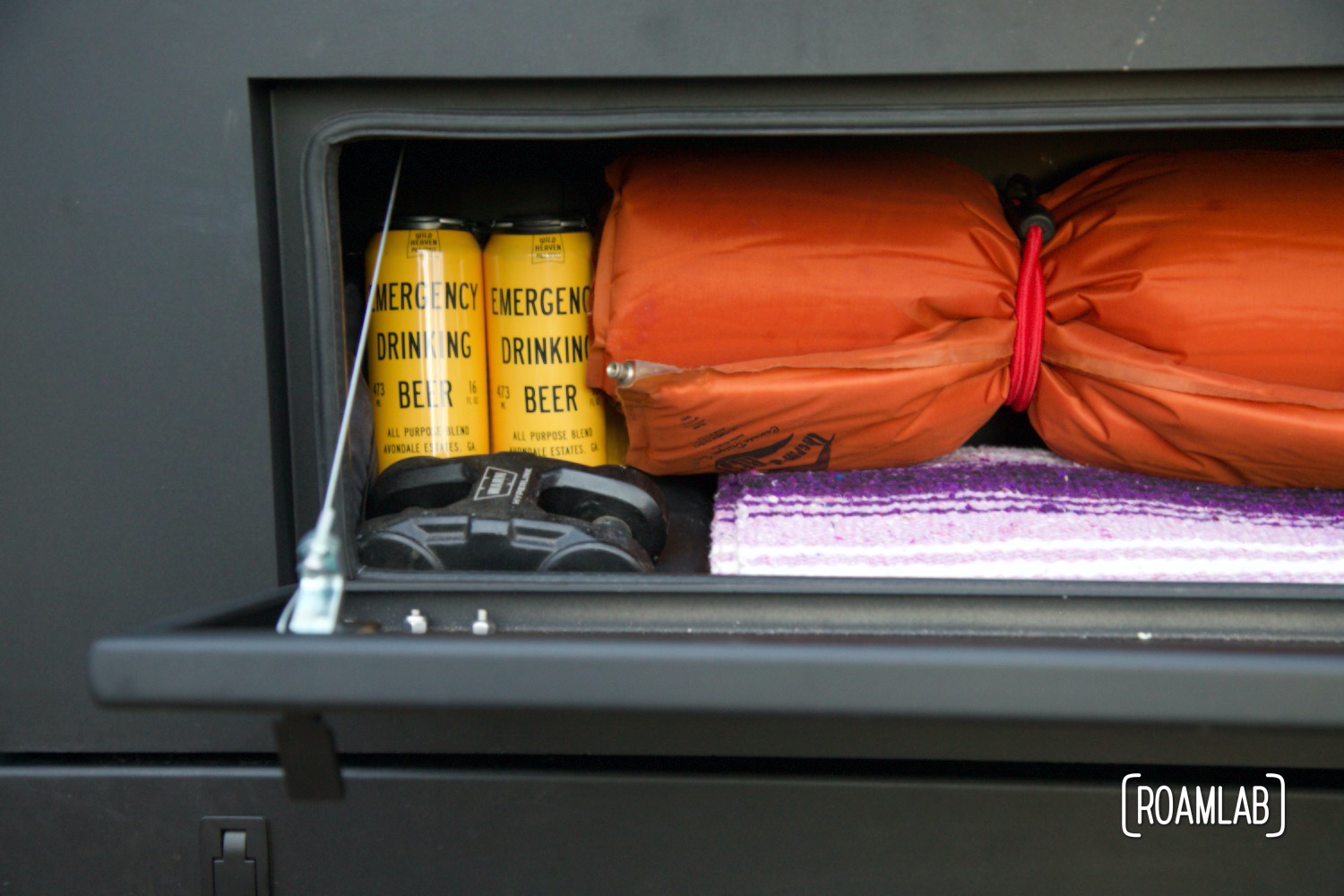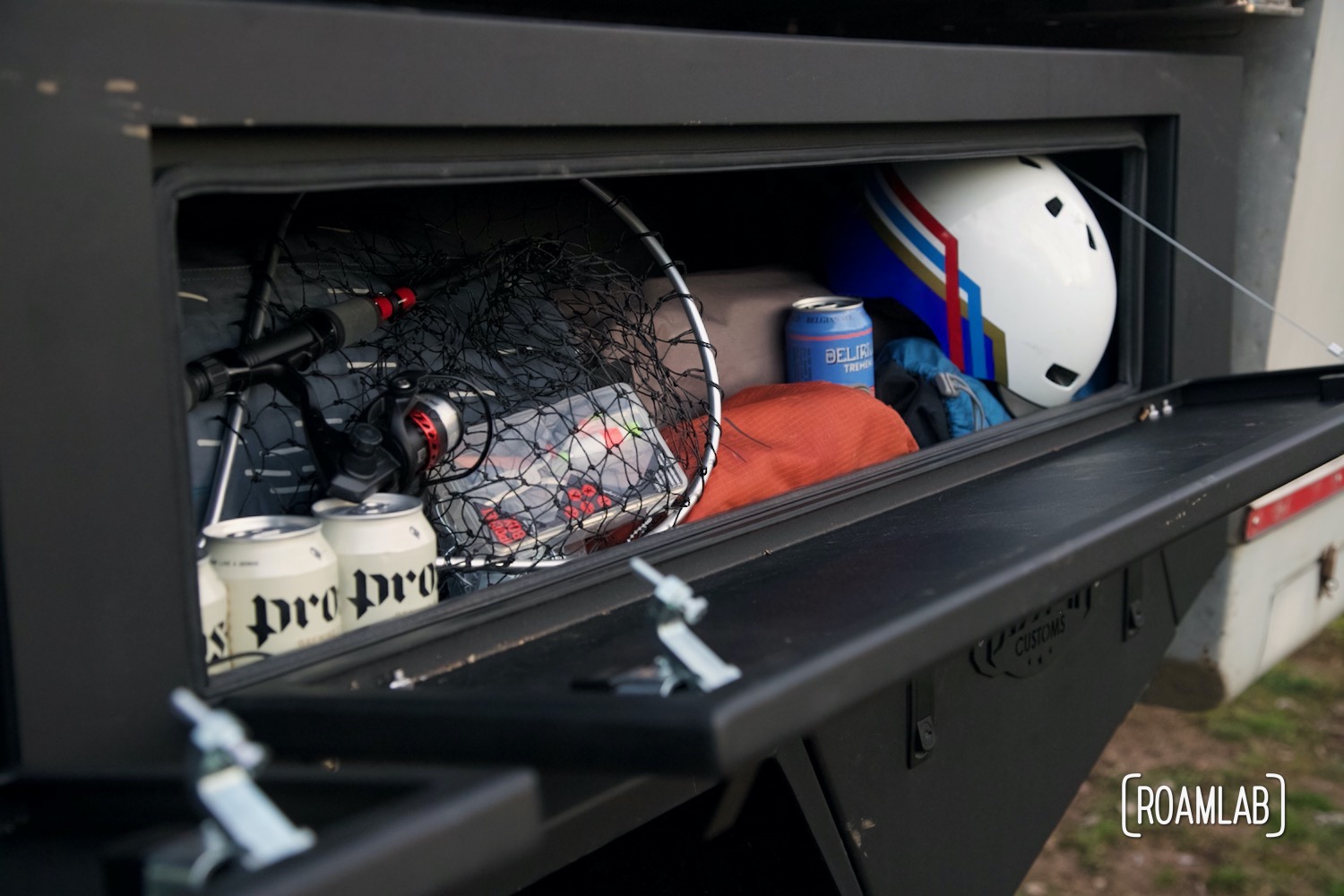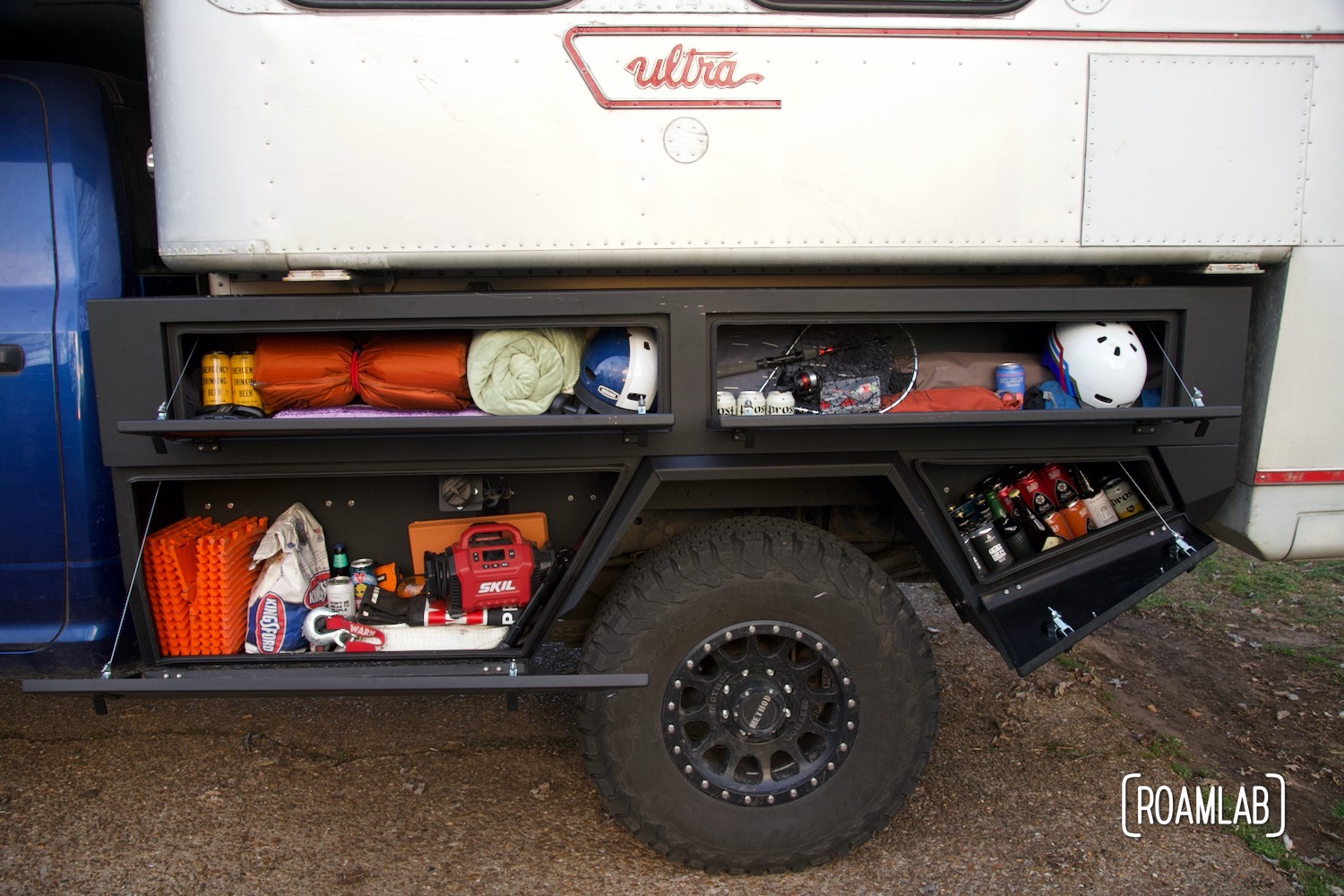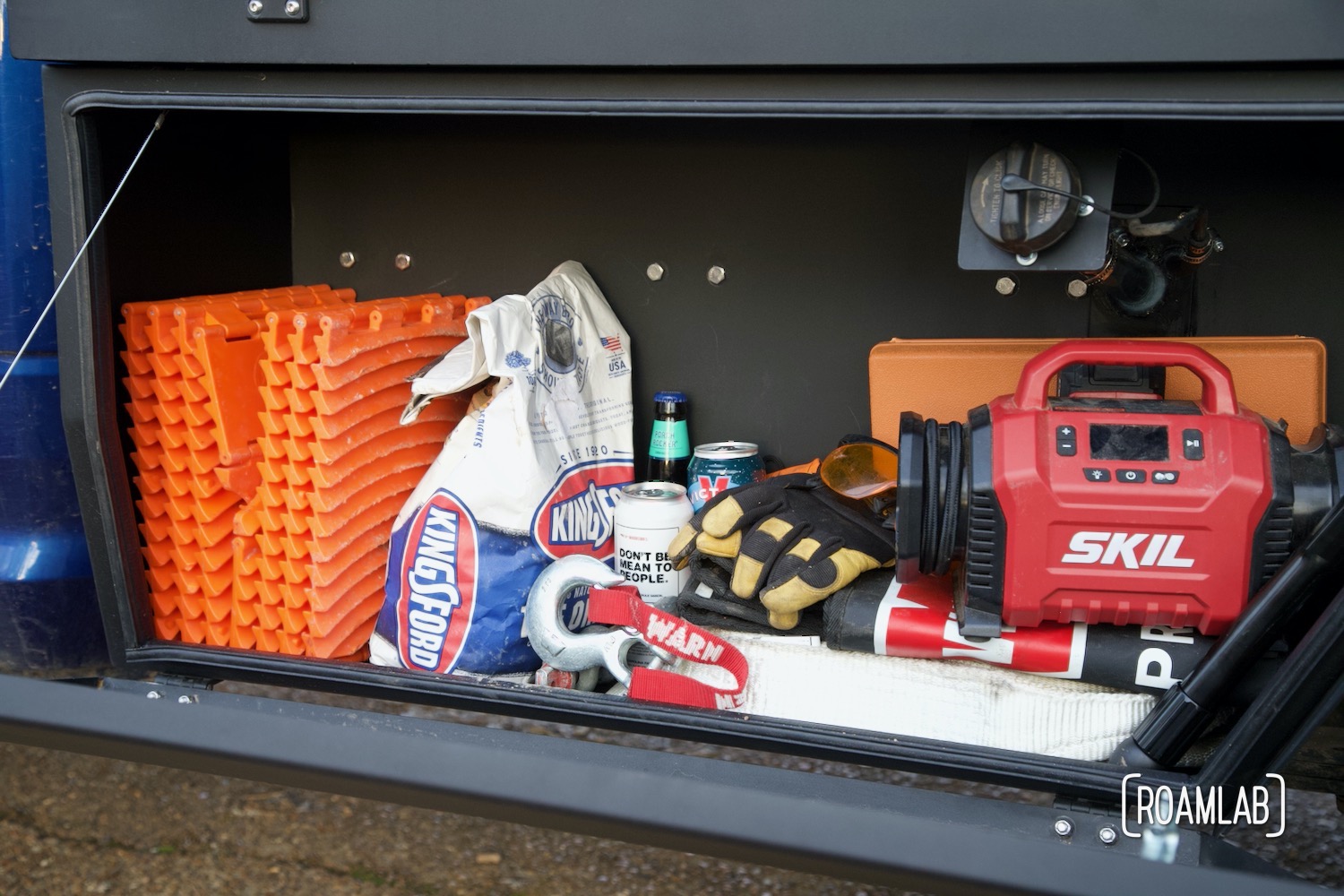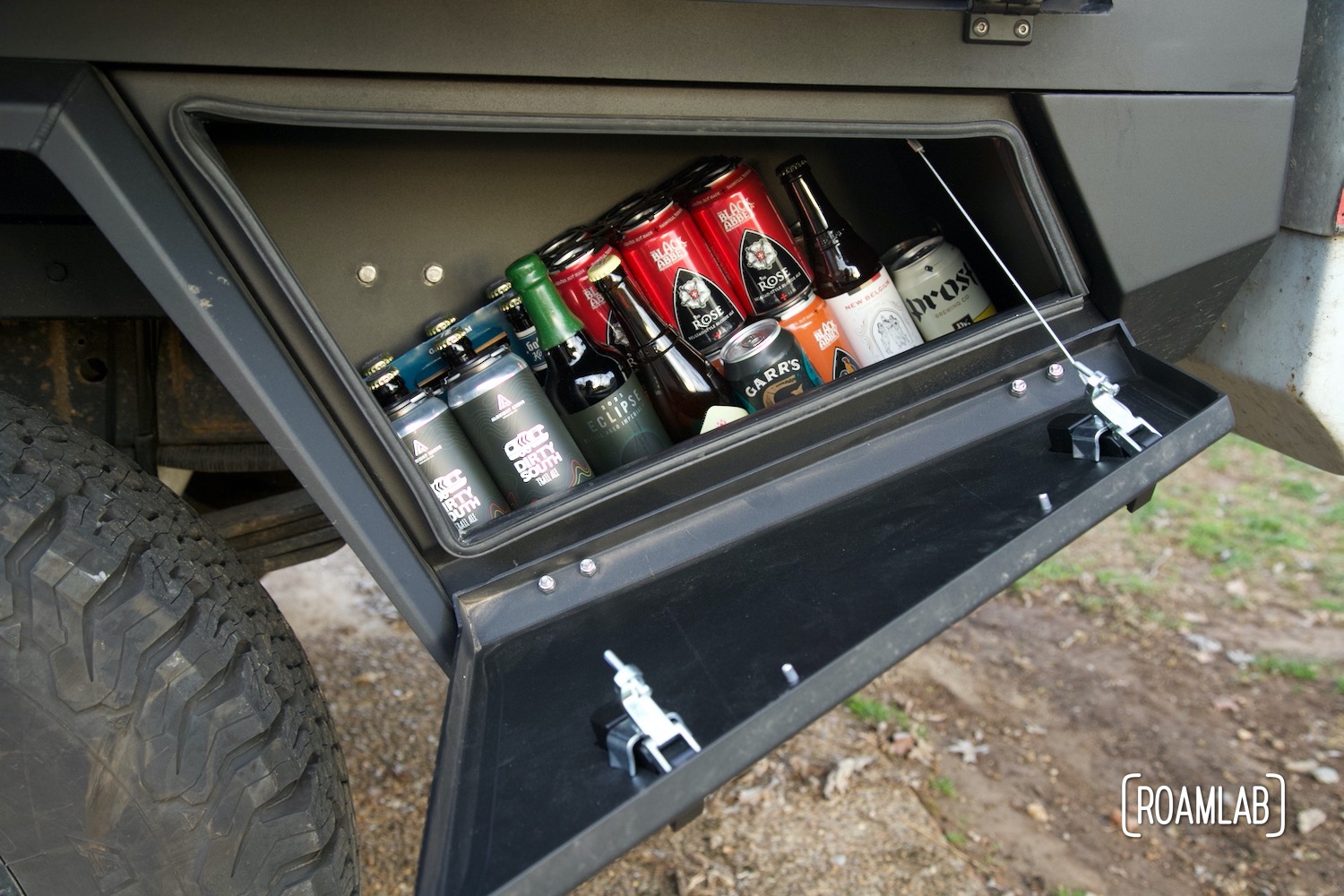 Fuel Fill
One additional detail is the truck's fuel fill. The factory fuel fill is on the driverside wall of the truck bed. So we need a place for the new fuel fill as well. You may not see it at first glance. That is because it is hidden inside the bottom front driver's side storage box. When we open the box, it is front and center.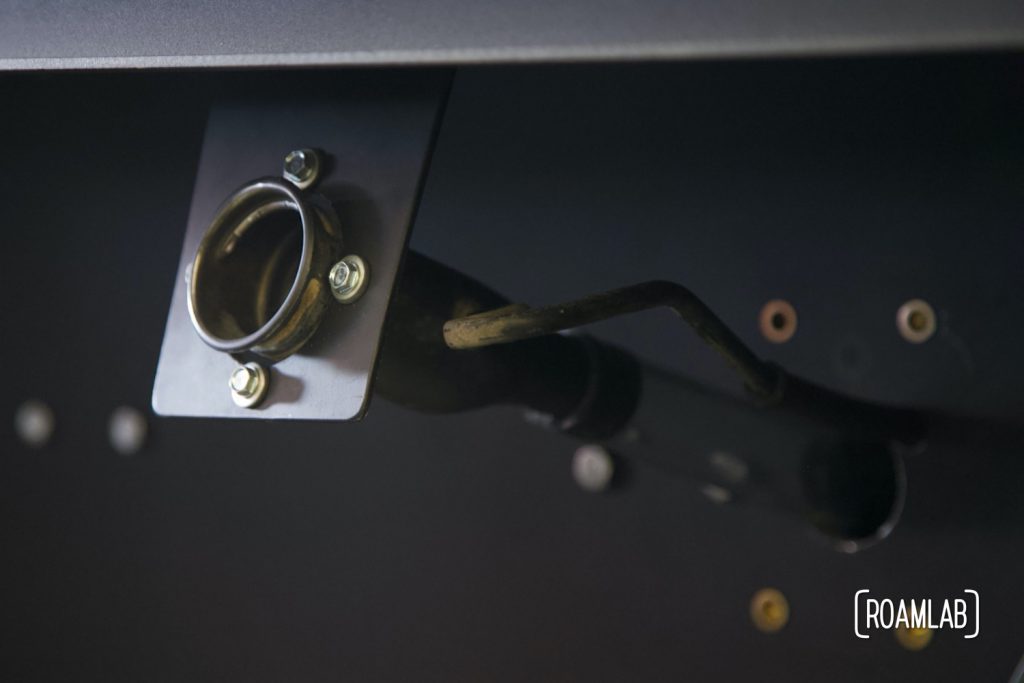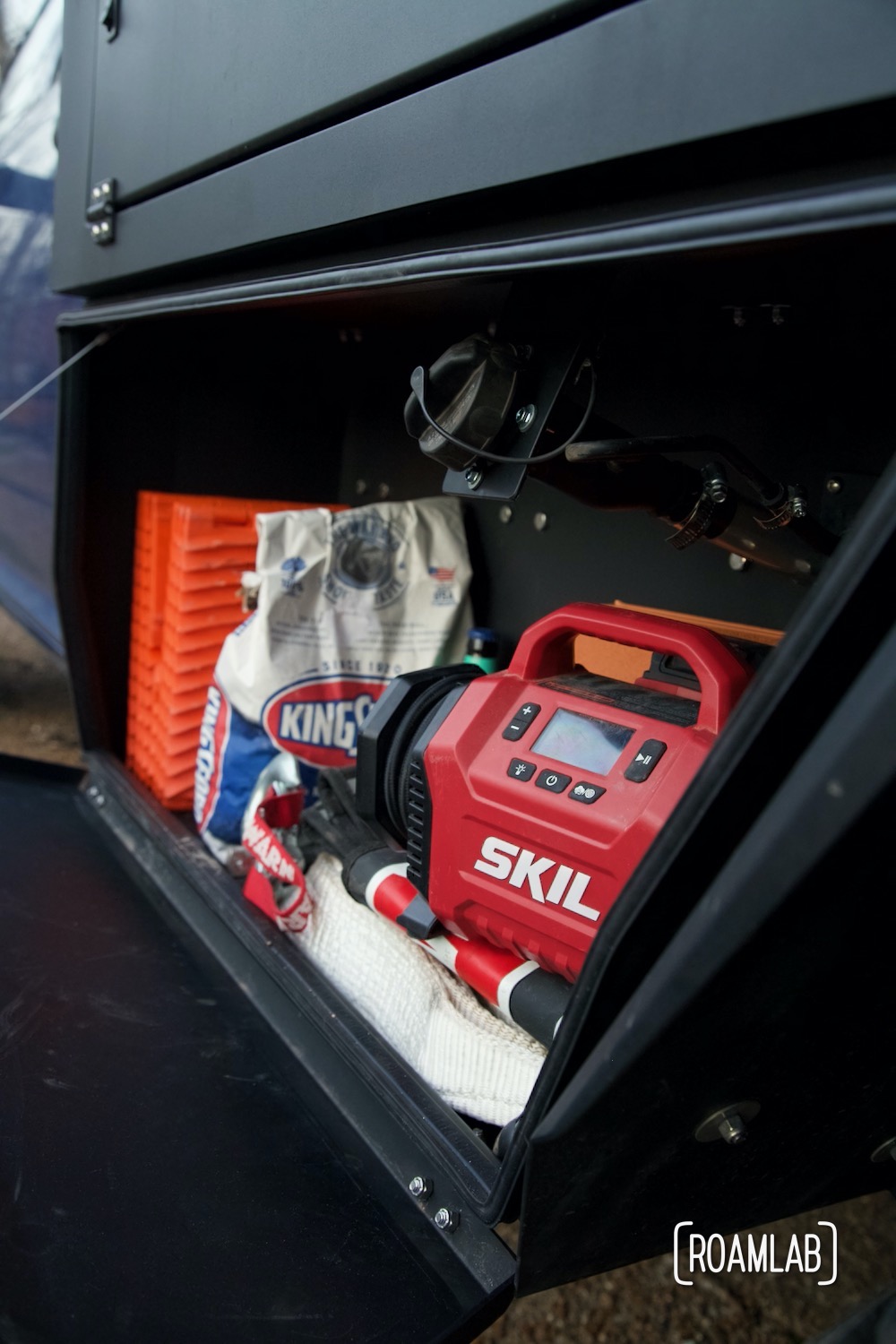 Other Fun Details From Bowen Customs
Probably the most noticeable flares on the truck bed are the fenders. This is a classic Bowen Customs feature on Brent's truck beds that is now included in the truck camper bed designs as well.
A flare that is less obvious is the brake lights. We can't see them when the camper is mounted because they are blocked by the camper's rear overhang. But they are another classic Bowen detail with two horizontal lights.
Tailgate
We do still use our rig for more than just the camper. Our truck is our only vehicle and there are times we need to use it to haul equipment and materials. As such, we also needed a tailgate to hold contents in the truck bed when we are driving. The tailgate is easily removable.
Our Takeaways
Building a truck bed is a huge undertaking. We spent years brainstorming what we wanted (and did not want). But the reality of building a bed is a far cry from the vagaries of imagination. Every inch matters and designing something that optimizes storage while still allowing us to load and unload the camper comes with a constant barrage of conflicts.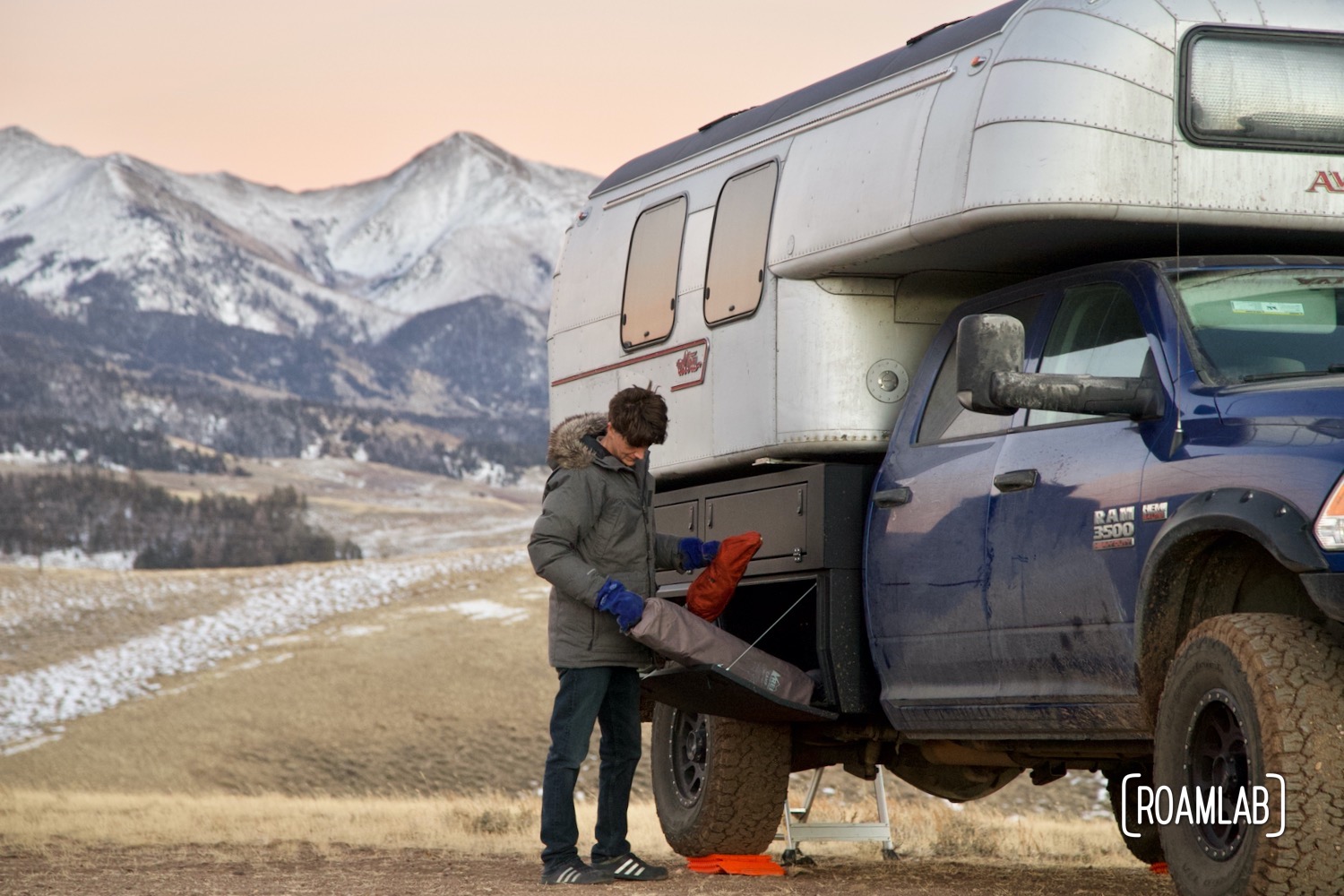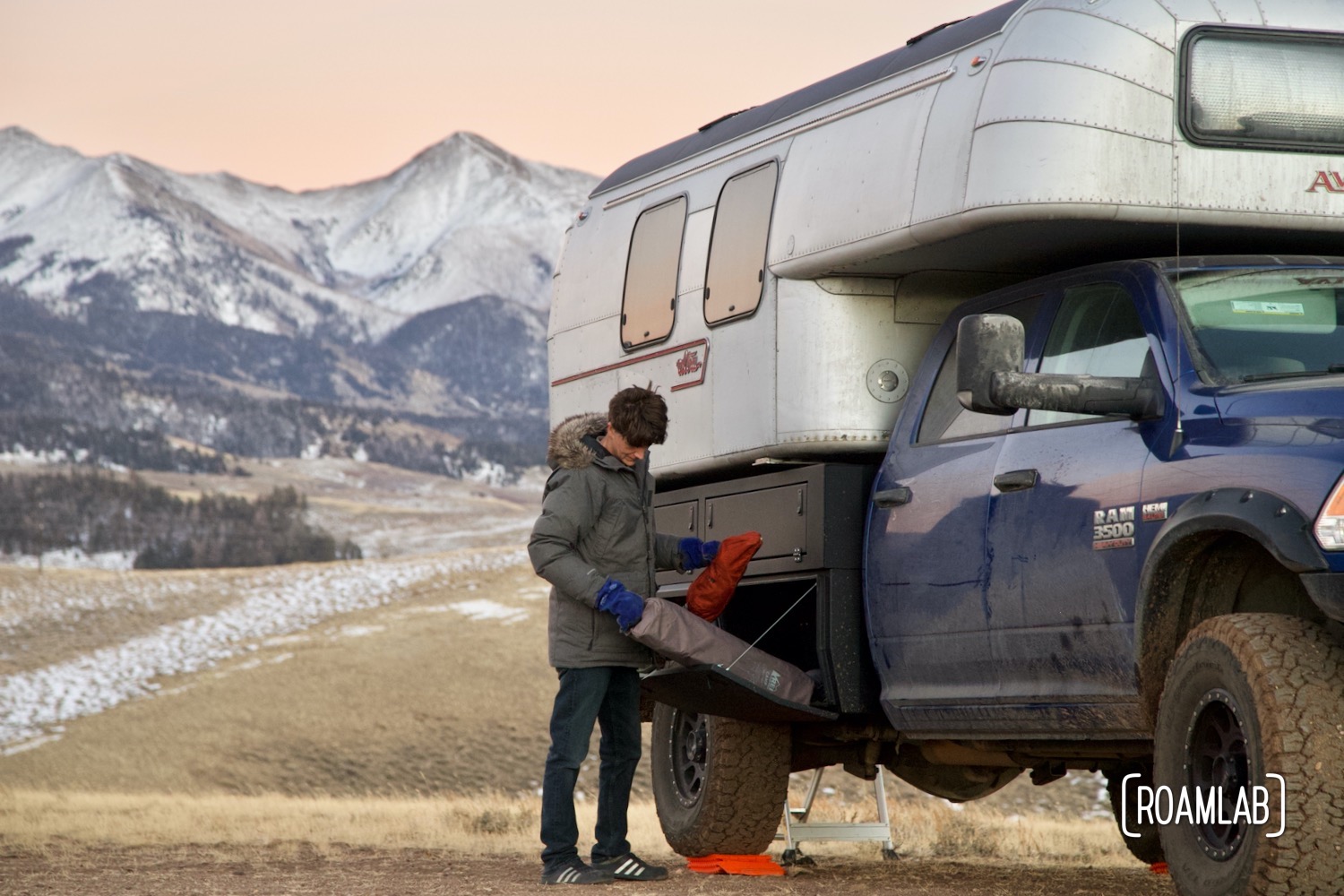 Holding it all Together
Foremost among them was the matter of our jack points. They are critical for mounting and unmounting our camper but they blocked access to the truck bed storage doors. After being a constant roadblock in our design process, the CAD designer we were working with had a flash of brilliance. What if we got rid of the jack points when they are not in use? We'll share that solution in our next post.
---
* We've seen enough pictures of flipped truck campers to be suitably cautious. Some truck campers mitigate this risk by having a popup roof. When closed, these rigs will have a much lower profile, but also have more limited storage and setup times.