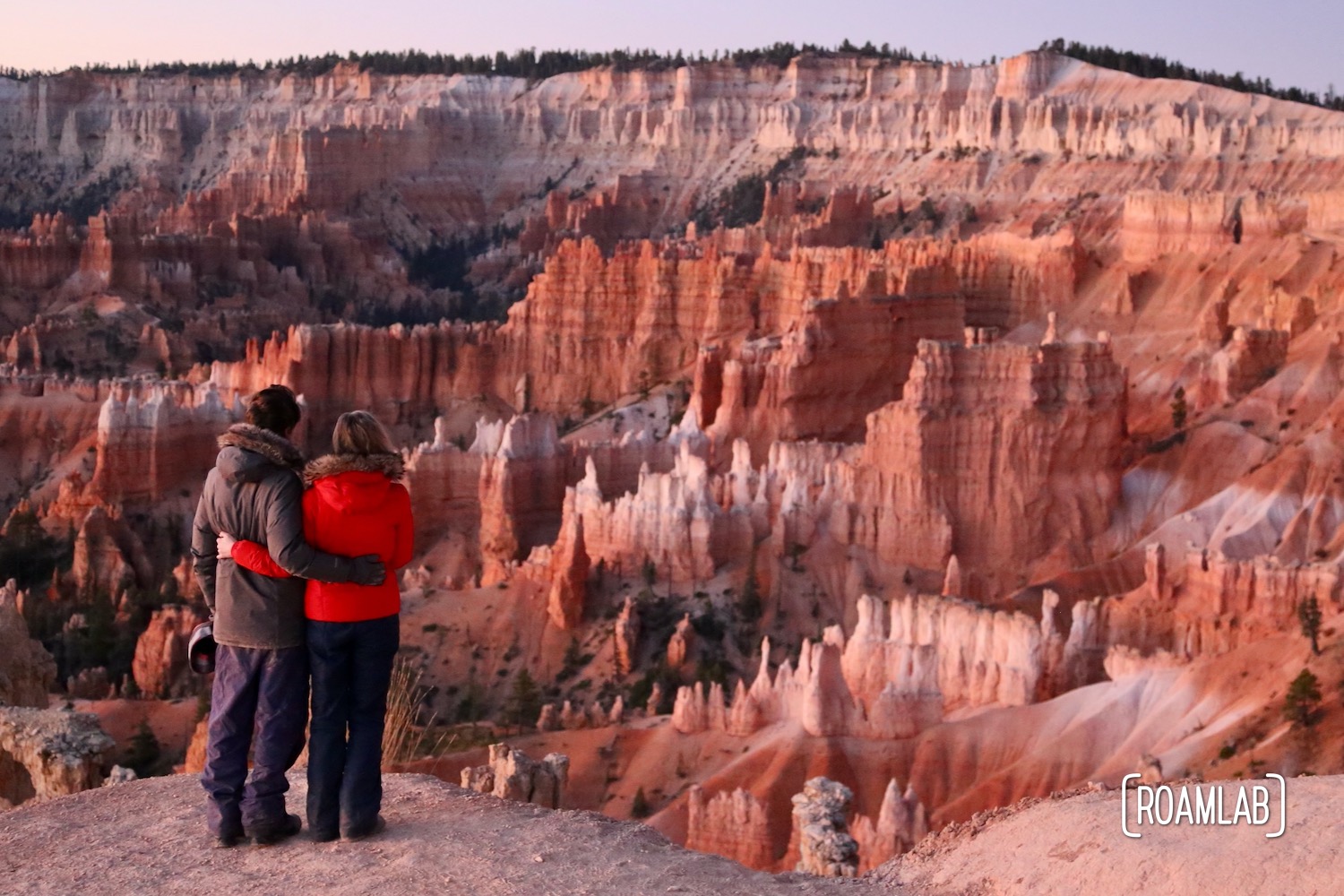 It's 5am and I lie in bed contemplating sleep. It would be so nice, but it seems to be avoiding me. To my right, Chris stirs.⁠ "Can't sleep?"⁠ Part of it is the sleeping. ⁠Part of it is the opportunity.⁠ We are parked right outside of Bryce National Park. The sun will be coming up in an hour or so. We have time to get there to see the sunrise. But it means facing the below freezing temperatures outside of our cozy bed. Even so, this very well may be a once in a lifetime opportunity.⁠ We are both tired, but even Chris doesn't grumble as we layer on ski pants, heavy coats, and dash for the truck cab. ⁠
We didn't dress to hike. No, we dressed to hunker down against the cold. We dressed to capture that first rosy touch of light and then return to the road. But what started as a stakeout at Sunrise Point trickled into the Canyon as each vista revealed a new, stunning point to capture.⁠ Before we knew it, our predawn photo session turned into a meandering morning hike. And I can't think of anyone else I would rather share such a spontaneous adventure.⁠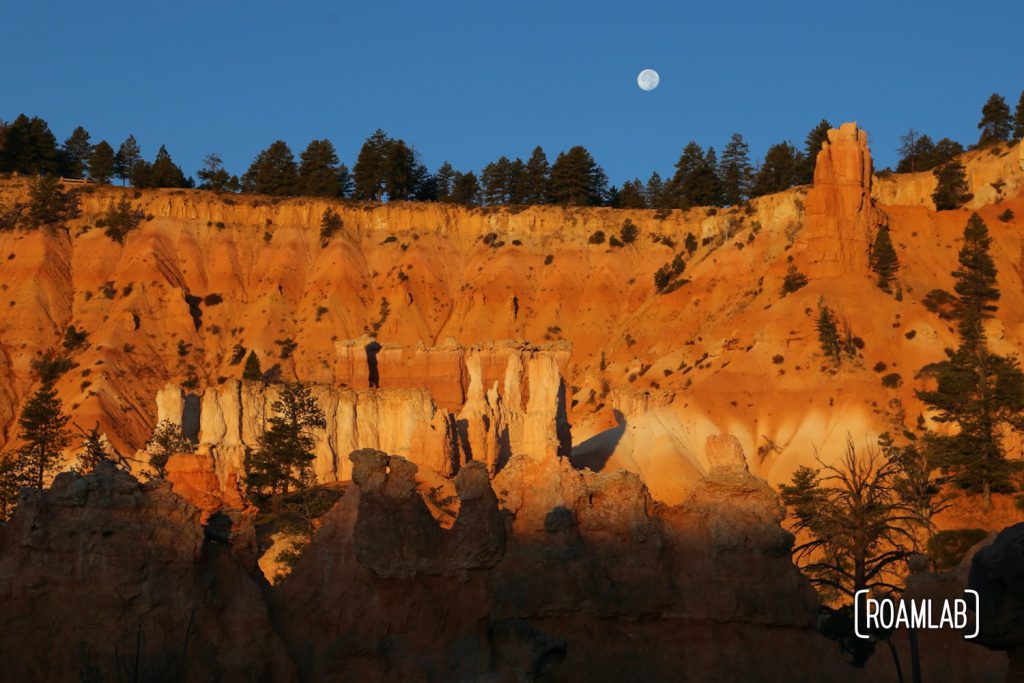 Sunrise Point
We start the predawn views at Sunrise Point. It is the logical launch point for any sunrise view. Bryce Canyon is laid out below and shifts into brilliant color as the sun rises. While it is an ideal vantage point, it is also a popular one. Even late in the year, a group of people begins to form at predawn. So, we start considering alternate vantage points. Fortunately, Sunrise Point is also the starting point of Queens Garden Trail. So, we pick up our gear and start hiking.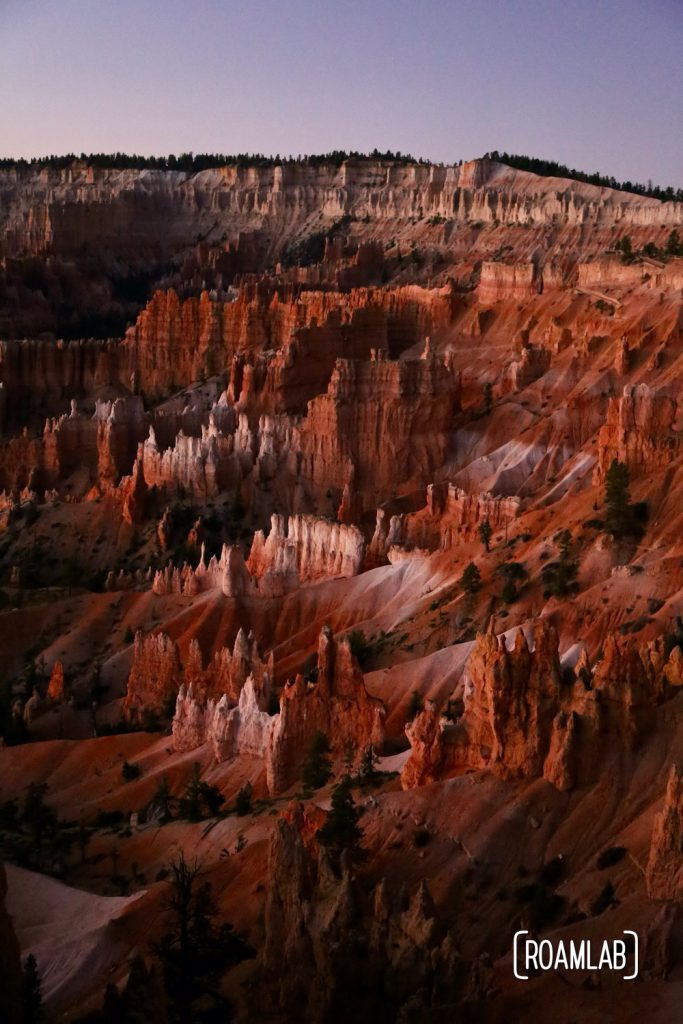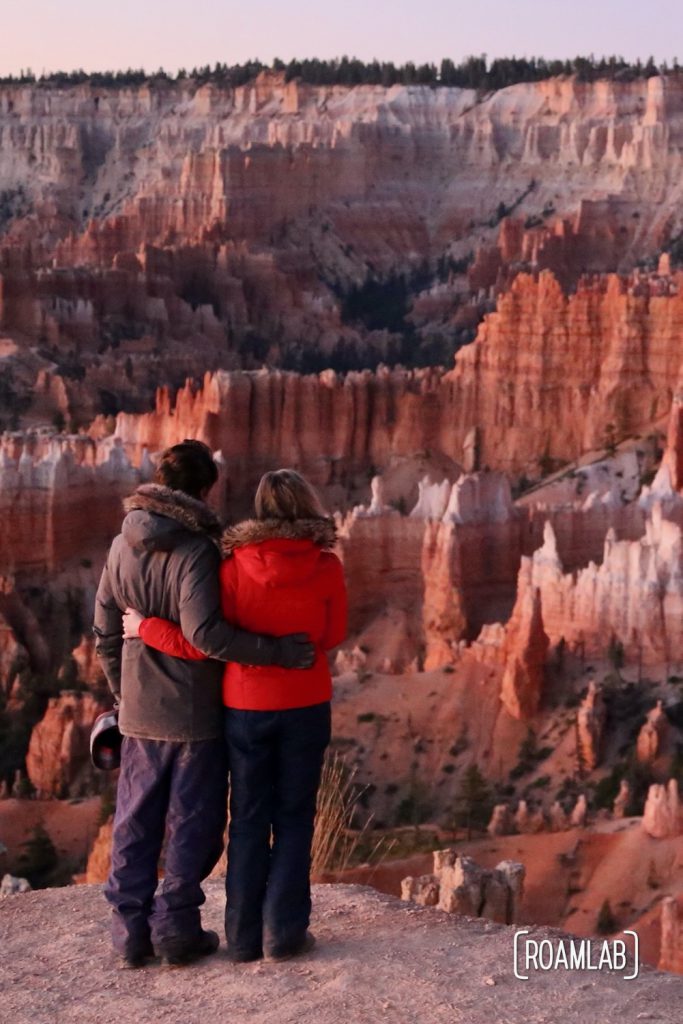 Queens Garden Trail
Queens Garden Trails is a relatively short but steep 1.8 mile in-out hike from Sunrise Point. It is considered the least challenging trail when entering the canyon from the rim. Granted, we didn't know that wen we started down. For those looking for a sunrise hike, this really is an ideal choice. As you wind deeper along the hoodoos, the sun continues to rise, revealing new, breathtaking perspectives.
The trail's terminus, a hoodoo resembling the profile of Queen Victoria is sadly in shadow at this early hour. Despite being eponymous feature of the trail, for us, it is the least remarkable in the dawn light. Instead, we focus on the colorful, sun soaked hoodoos along the way.
As beautiful as the hike is, we are not interested in a simple in-out hike. Fortunately, many of the trails in Bryce Canyon National Park intertwine. So, while, we hike down to the canyon floor on Queens Garden Trail, we hike back up along Navajo Loop Trail.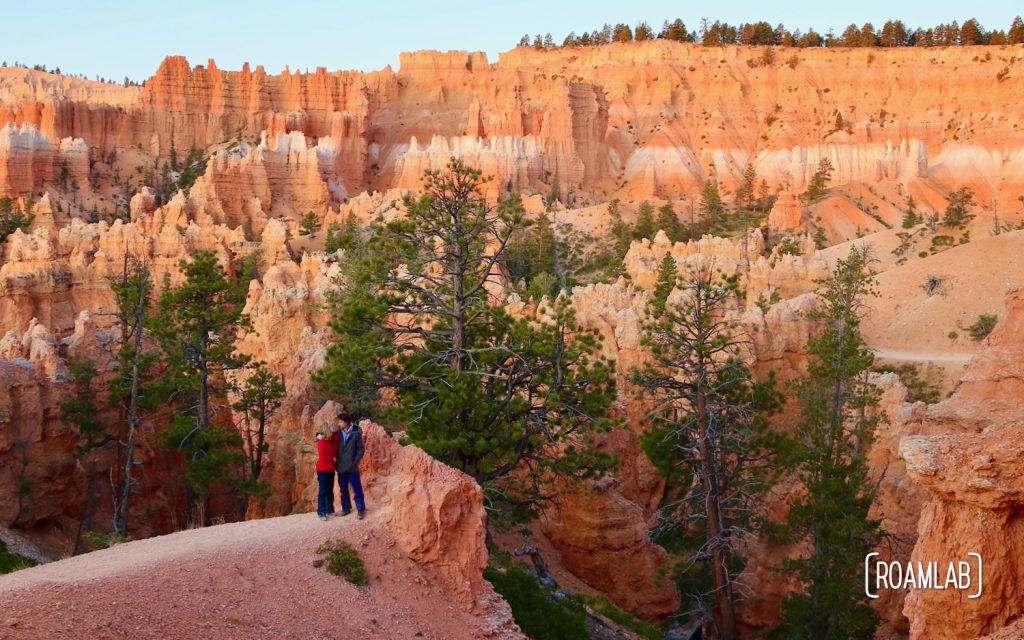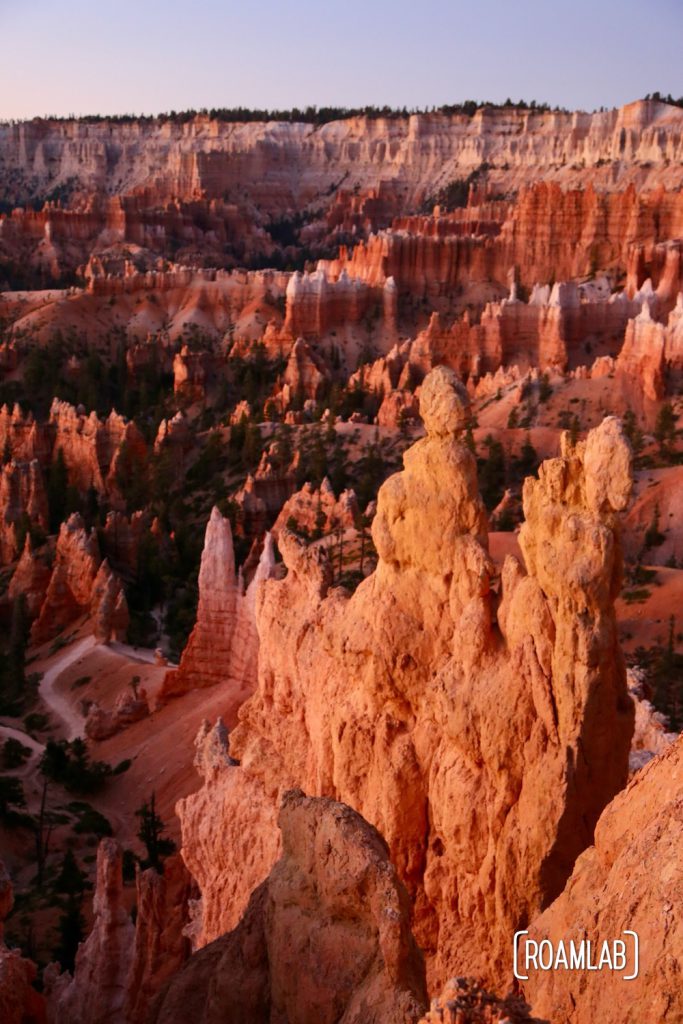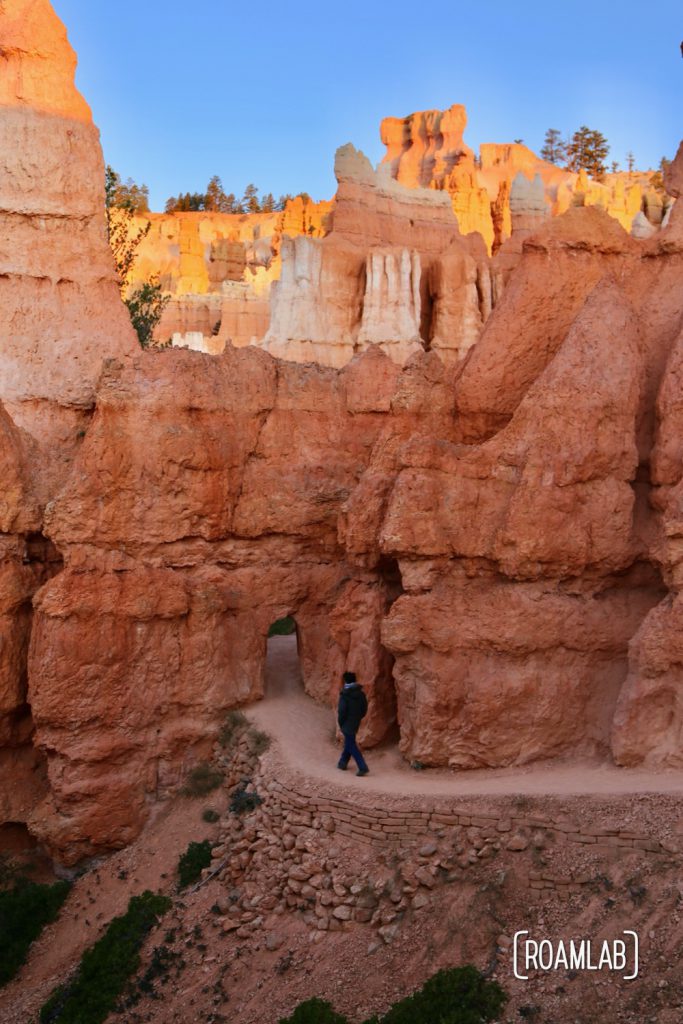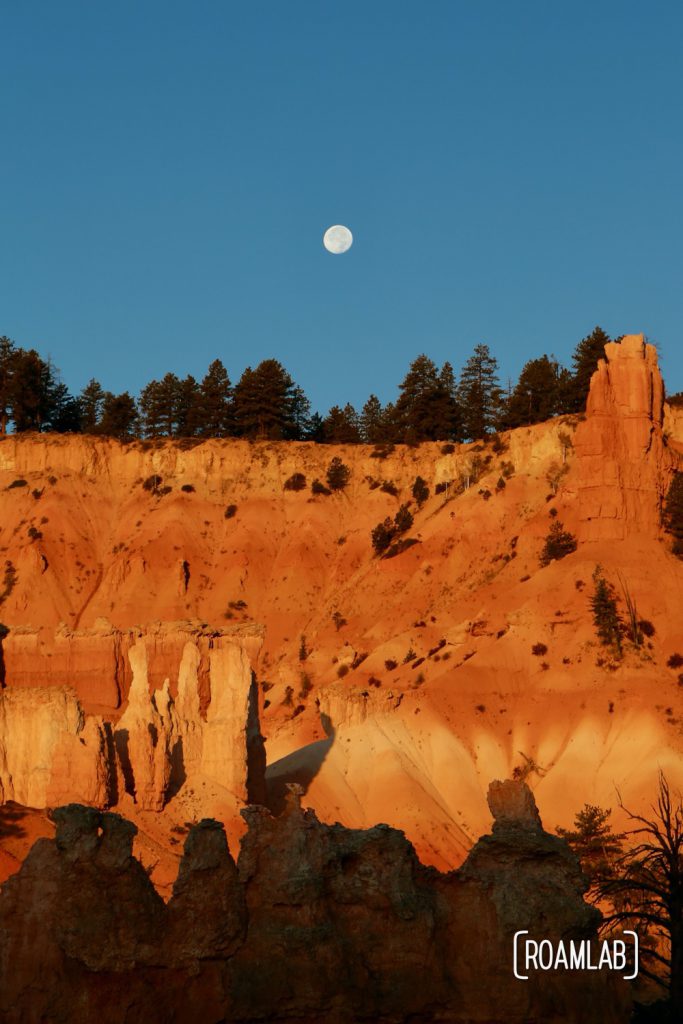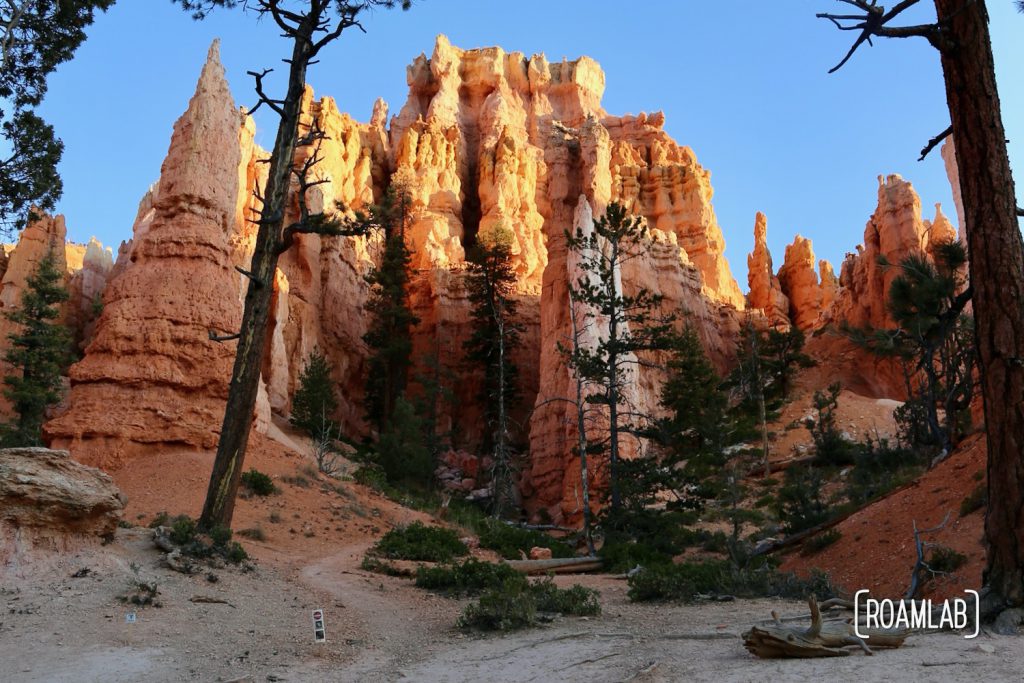 Navajo Loop Trail
Navajo Loop Trail, as the name suggests, is a 1.3 mile loop trail. As we came down on Queens Garden Trail, this means that we only take half of the loop back up. But what a half we choose! Our ascent is along Wall Street: a series of tight and steep switchbacks rising to the canyon rim and Sunset Point flanked by steep, high stone walls. It is understandable that so many visitors stop by to take pictures along this route. Unfortunately, at this point, my camera is out of batteries. So, I have to be satisfied with my previous pictures as we ascend to Sunset point and then hiked along the Rim Trail back to our car.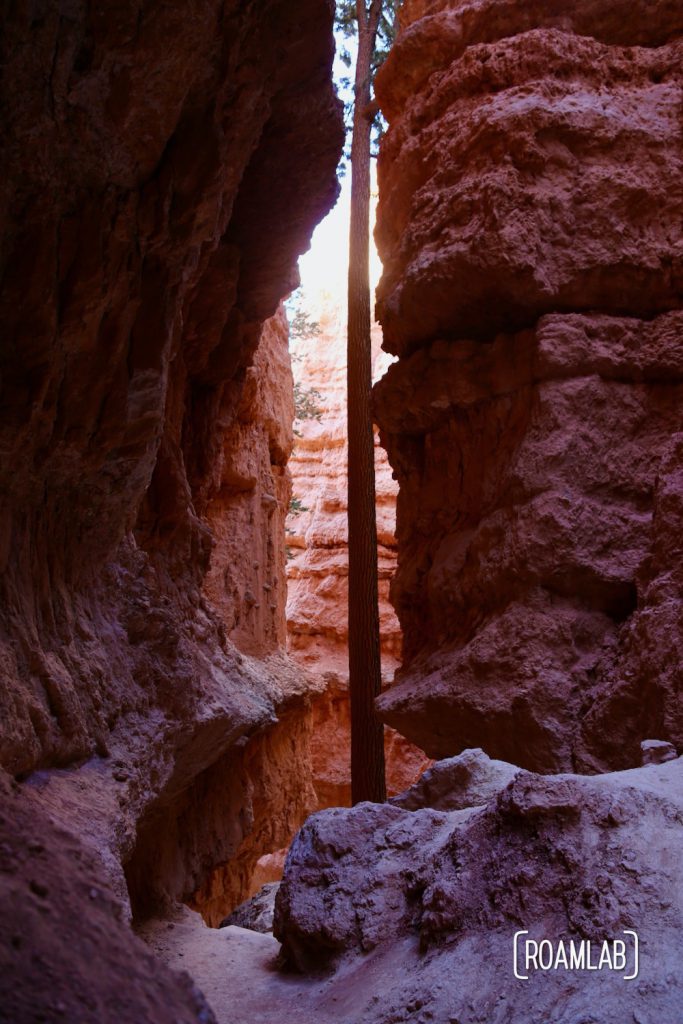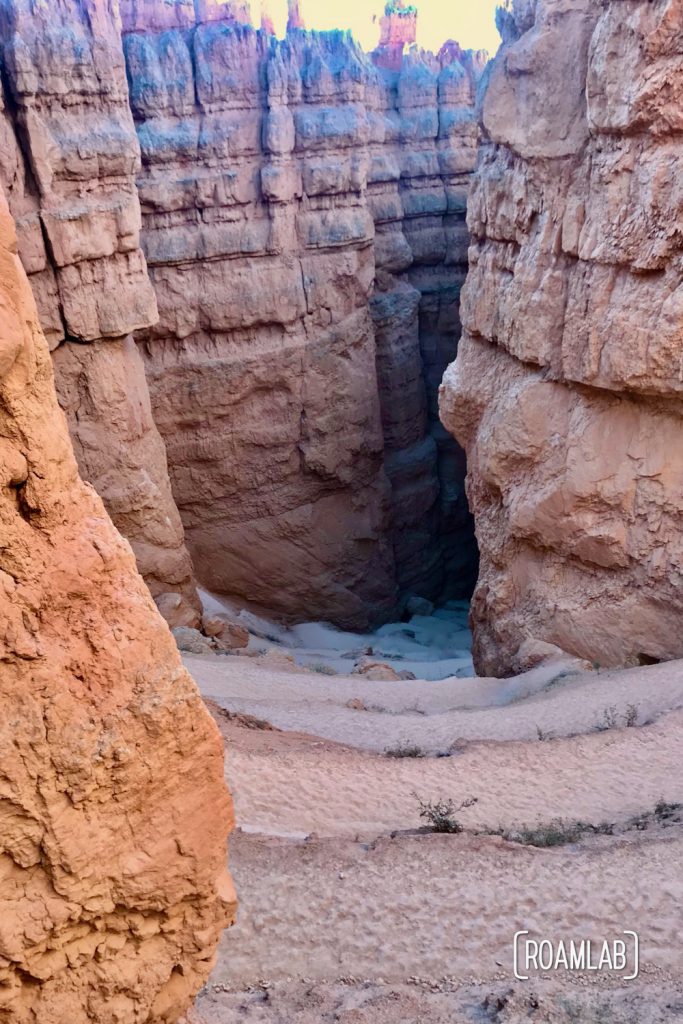 Notes For Your Own Sunrise Hike
While our sunrise hike was spontaneous, we absolutely advise others to plan for one and gear up accordingly. The temperature change between pre dawn and the full light of morning is dramatic. Couple that with the chillier moments of sitting and watching the sunrise versus the heated hike out of the canyon. In total, you have a wide range of temperatures to dress for so layer up, bring some water, and make sure your camera batteries are fully charged. If you have a tripod, this is a great time to get that memorable shot.
Have you have a story about visiting Bryce Canyon for the sunrise? Do you have any questions for us? Share them in the comments!