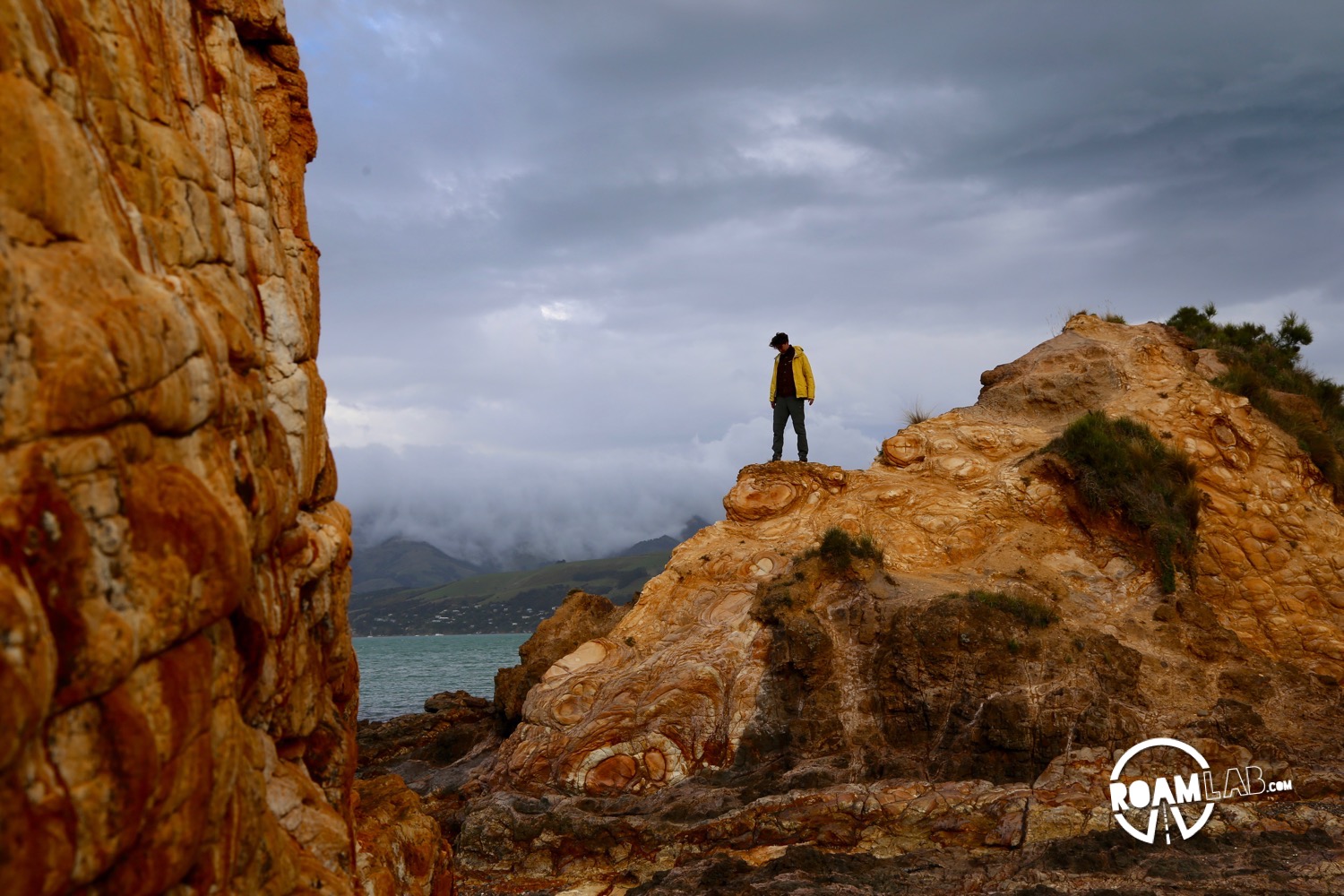 We only spent one night in Twizel and launched back on the road for one last bid for a rain free hike. This time we aim for Christchurch and its scenic peninsula.
Hilltop Restaurant and Bar
After a 4-hour drive, we are delighted to crest the final ridge of Banks Peninsula to look down into Barrys Bay. Clouds in the distance threaten us with our constant enemy: rain. We pause at the Hilltop Restaurant and Bar for a beer, pizza, and reconnoiter as we decide next steps. There isn't much debate.
Our eyes are immediately drawn to a small peninsula dangling in the bay. Could we hike there? Yes we could. Well, it's decided then. We zip down to the shore where the clouds have already taken half of the bay. No time to waste, it is only a matter of time before the rain will interrupt our day.
Onawe Track
The peninsula may as well be an island. The narrow spit of rocky land that connects the grassy hills to the shore show evidence of submersion at higher tides. We, however, enjoyed unencumbered access to the hiking trails and, what we discovered to be an ancient Maori burial ground. One certainly can appreciate how such a dramatic geographic feature could become a spiritual landmark.
In a striking departure from yesterday, we complete our hike with ne'ry as drop of rain. It is only once we are in our car, headed back to that night's rental that the clouds open up and fat drops of rain strive to overwhelm our windshield.
Return to Christchurch
In a proper closing to our final day with our full traveling party, we conclude the Lord of the Rings series by finishing Return of the King. With each faux ending, additional traveling companions give up, and go to bed. Less than half of us remain to watch Sam and Rosie close the door on the whole business and for "The End" to confirm the conclusion.
And, this is the end…of our road trip.