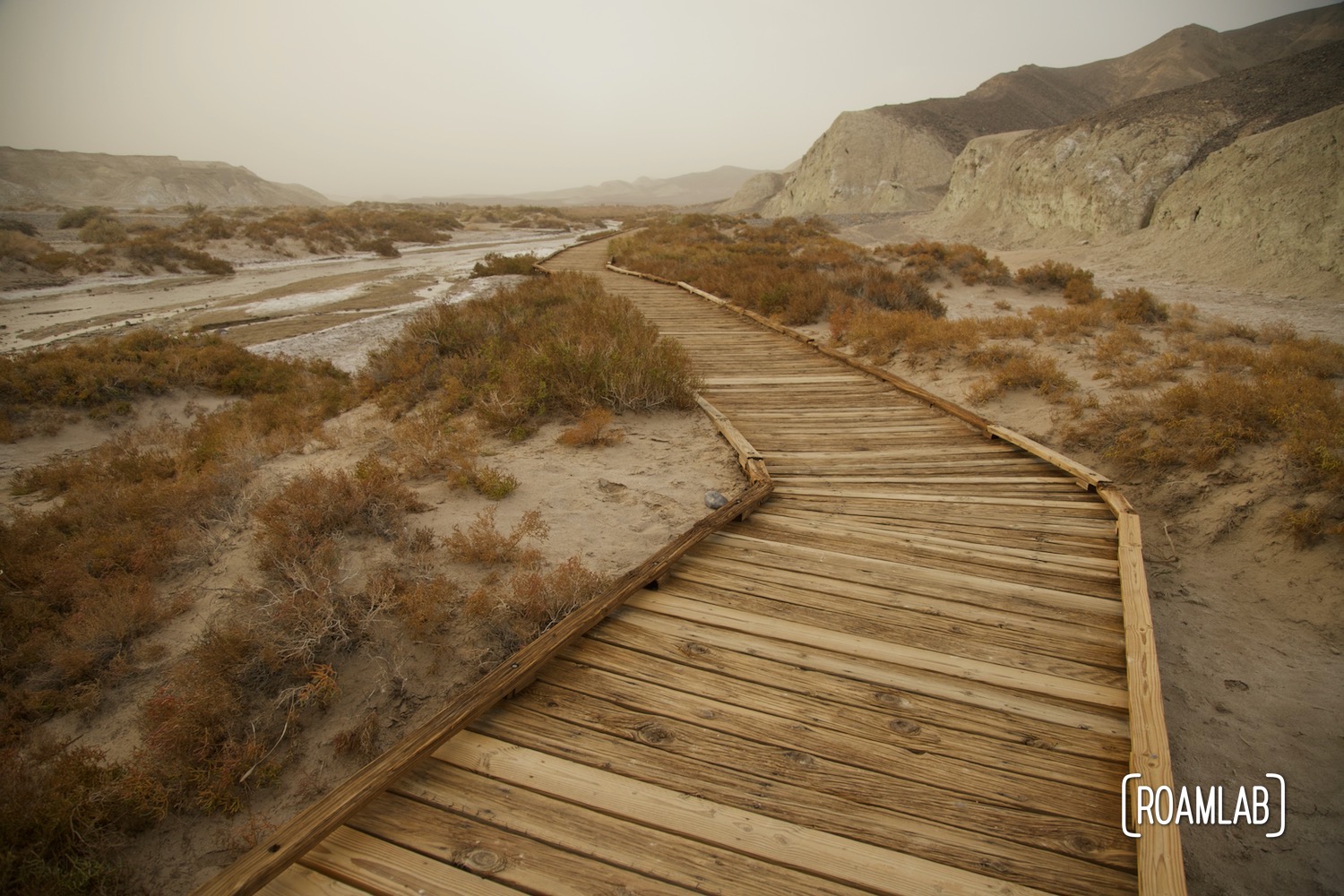 Dust Storms
Death Valley National Park
We aren't too alarmed when we hear about the wind advisory in Death Valley. After our December experiences with tornados in Kentucky and Kansas, we don't think much of winds in sunny California. Even so, we don't have to be in Tornado Alley for winds to whip up quite a storm. Rather than dropping tree limbs and flipping trailers, this wind kicks up a dust storm so great as to block out the surrounding mountain range and, later on, the sun. We wander Death Valley through a muted haze. Even in that midday twilight, we wear sunglasses and masks to protect our eyes and airways from the grit and dust kicked up by the wind.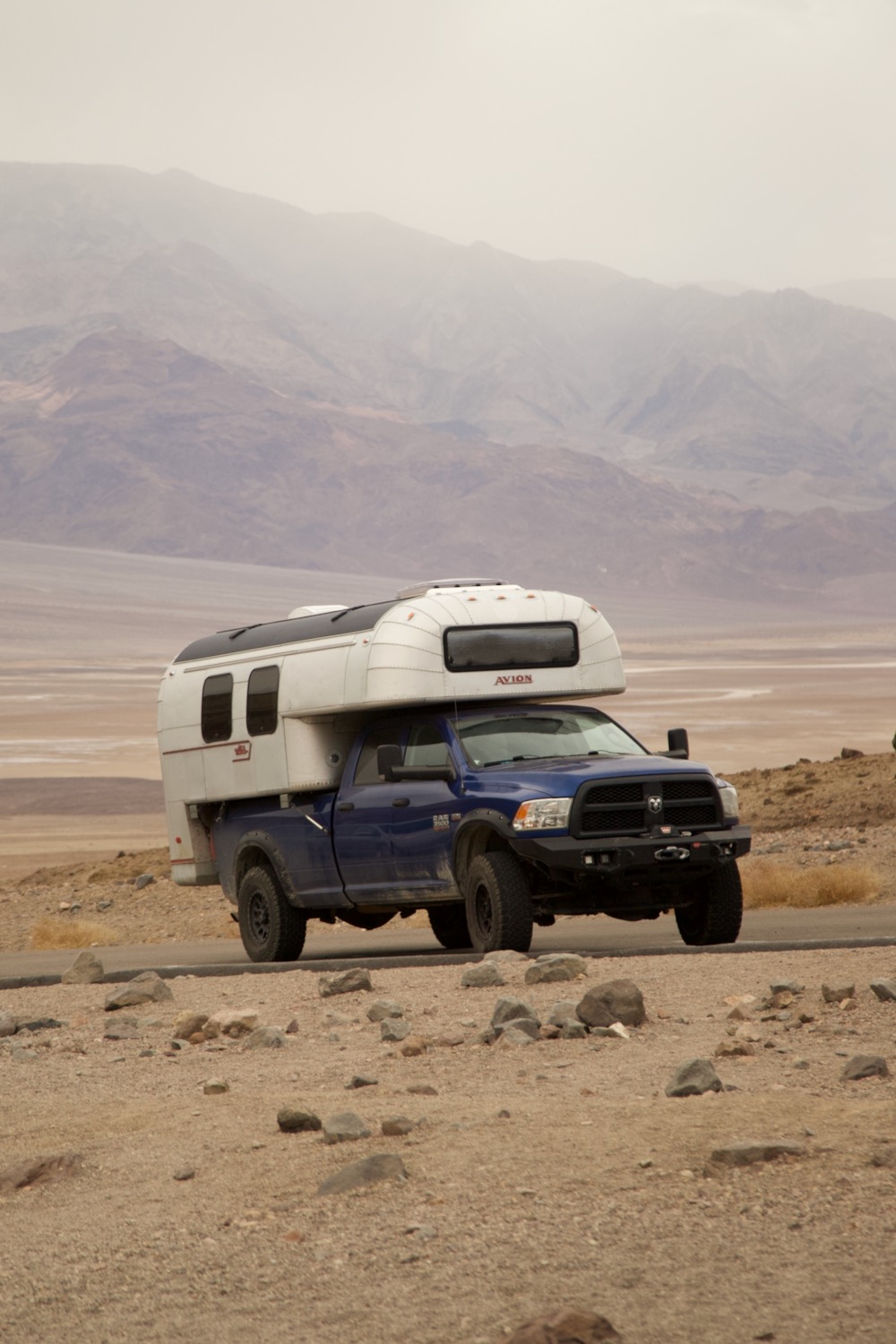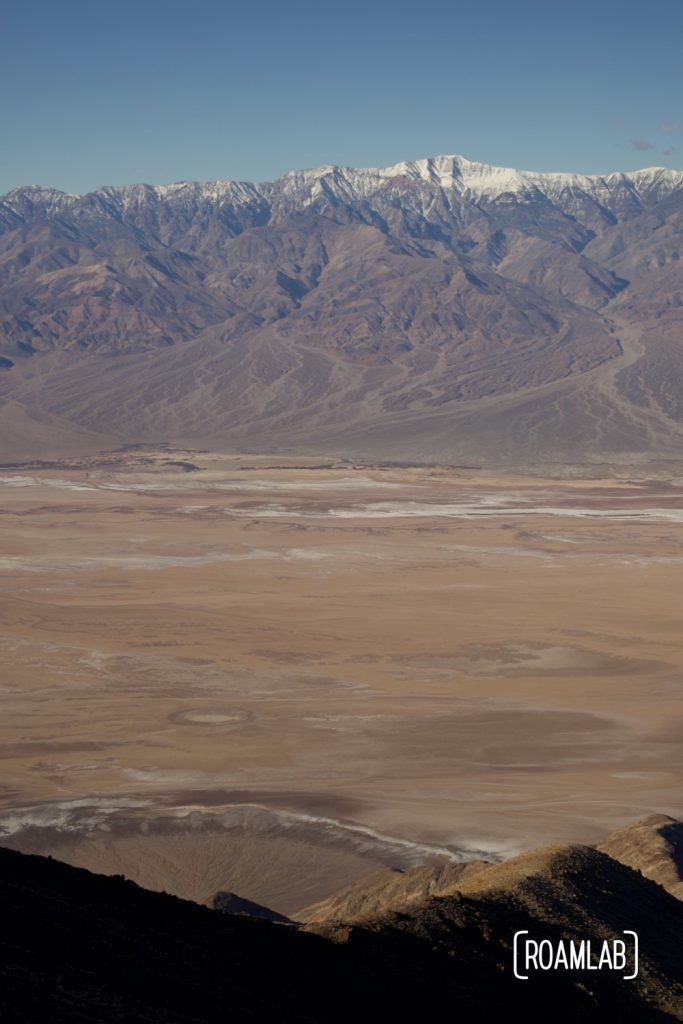 Frankly had we not been visiting with friends at the time we would've moved on. Dust storms are at best unpleasant and at worst, dangerous. Our clothes, skin, hair, and the inside of our camper are covered with dust. Try as best as we can, dust can travel into our nose, mouth, and eyes and potentially cause harm. The poor visibility in is dust storm makes driving incredibly dangerous (more on that later). And possibly most scary, dust storms can significantly increase the risk of fires.
It isn't as if we can necessarily anticipate this wind when we checked the weather a week earlier. Then, it looked like we were going to have a perfect visit with warm temperatures and clear skies. Nevertheless, here we are. So, it is good to have a fallback solution for these kinds of visits. Windstorms aren't that uncommon in Death Valley. 
Instead, with no vistas to take in, we focus on attractions that are close enough to see through the haze such as the Borax Works, Salt Creek Trail, and other less complicated hiking trails.  Unfortunately, the dust is a particular problem around the Mesquite Flats where the wind picks up sand from the dunes and flings it high in the air. Everything downwind of the dunes is obscured.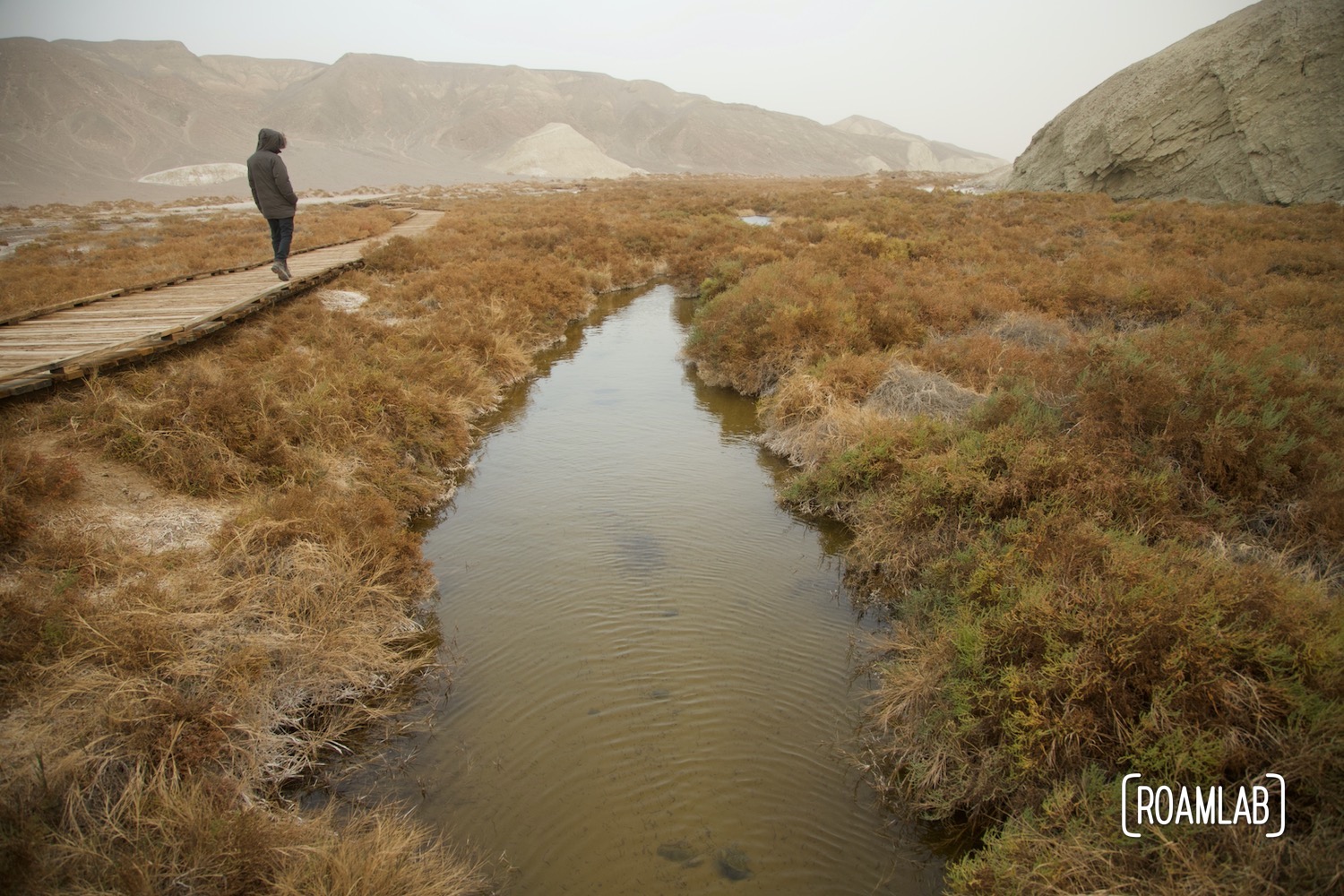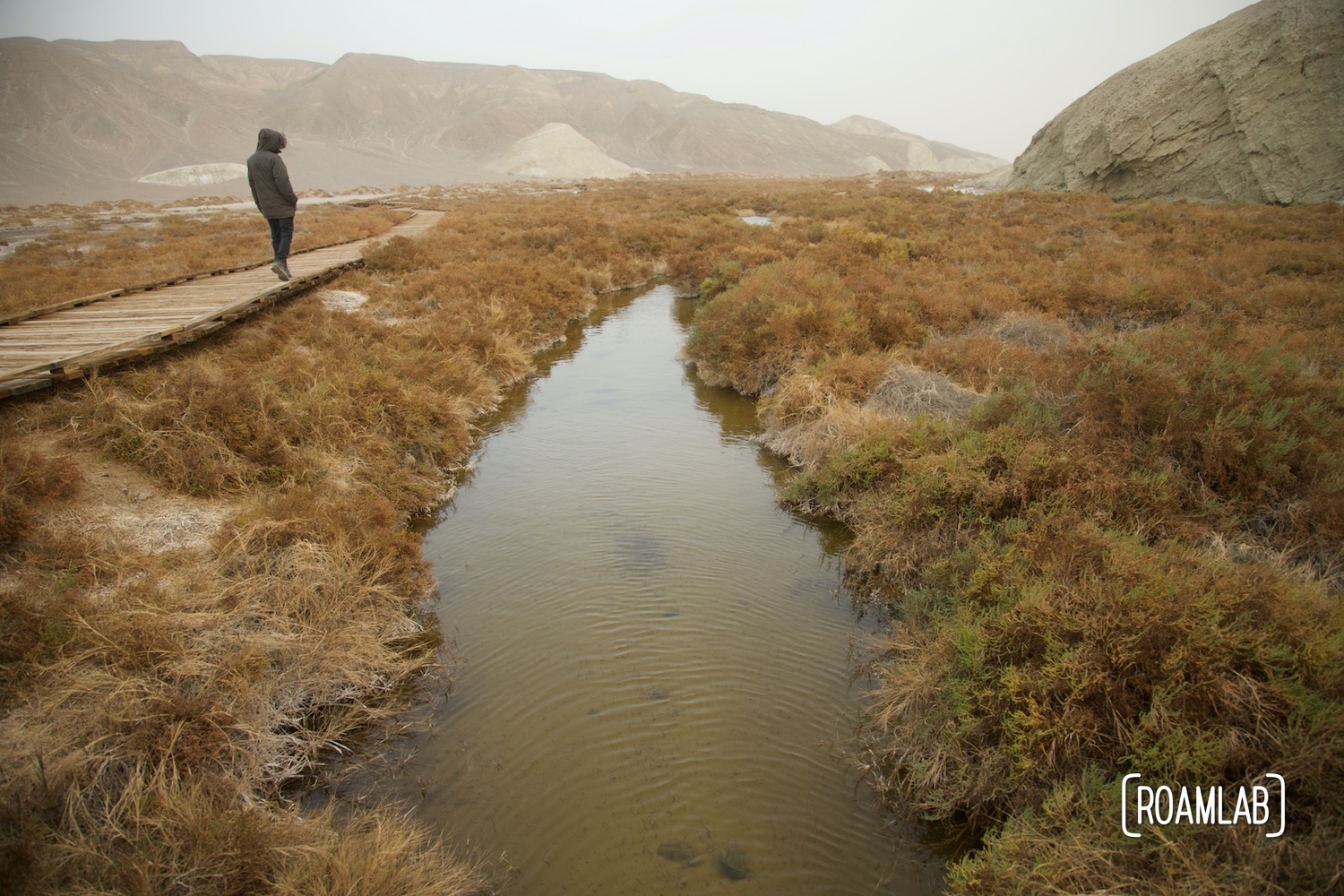 Preparing for a Dust Storm
All the same, lesson learned:
Pack mask and glasses to protect sensitive eyes, nose, and throat from dust. 
Be aware of geographic problem spots (sand dunes, exposed mountainsides)
Keep plans flexible. There's no point in driving all the way to Dante's View if all you can see is dust. 
The wind shifts, so places that were obscured can clear up. 
Even though we stuck around through the storm, we do manage to have fun. Death Valley is huge, so there is something to do if you just know where to go.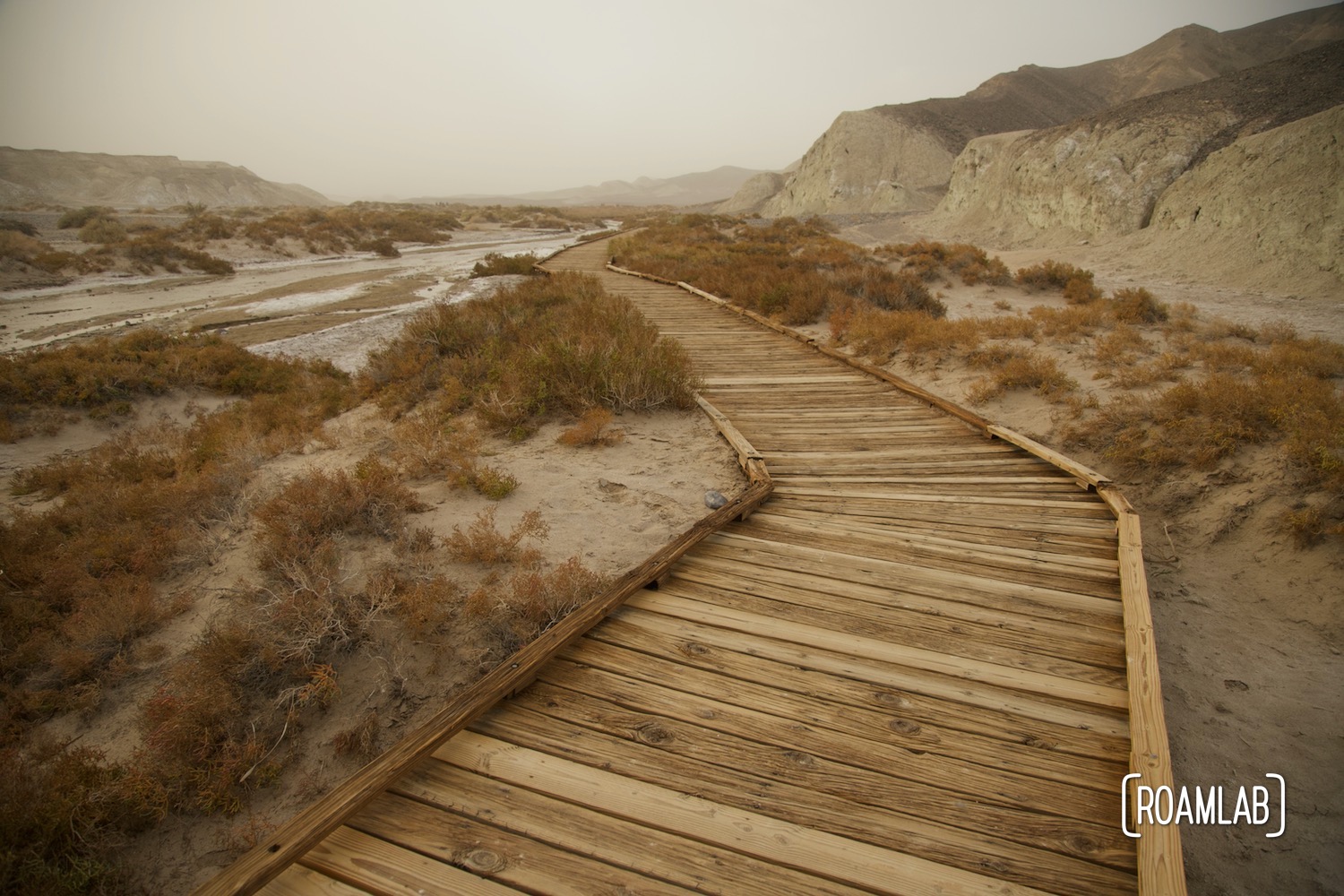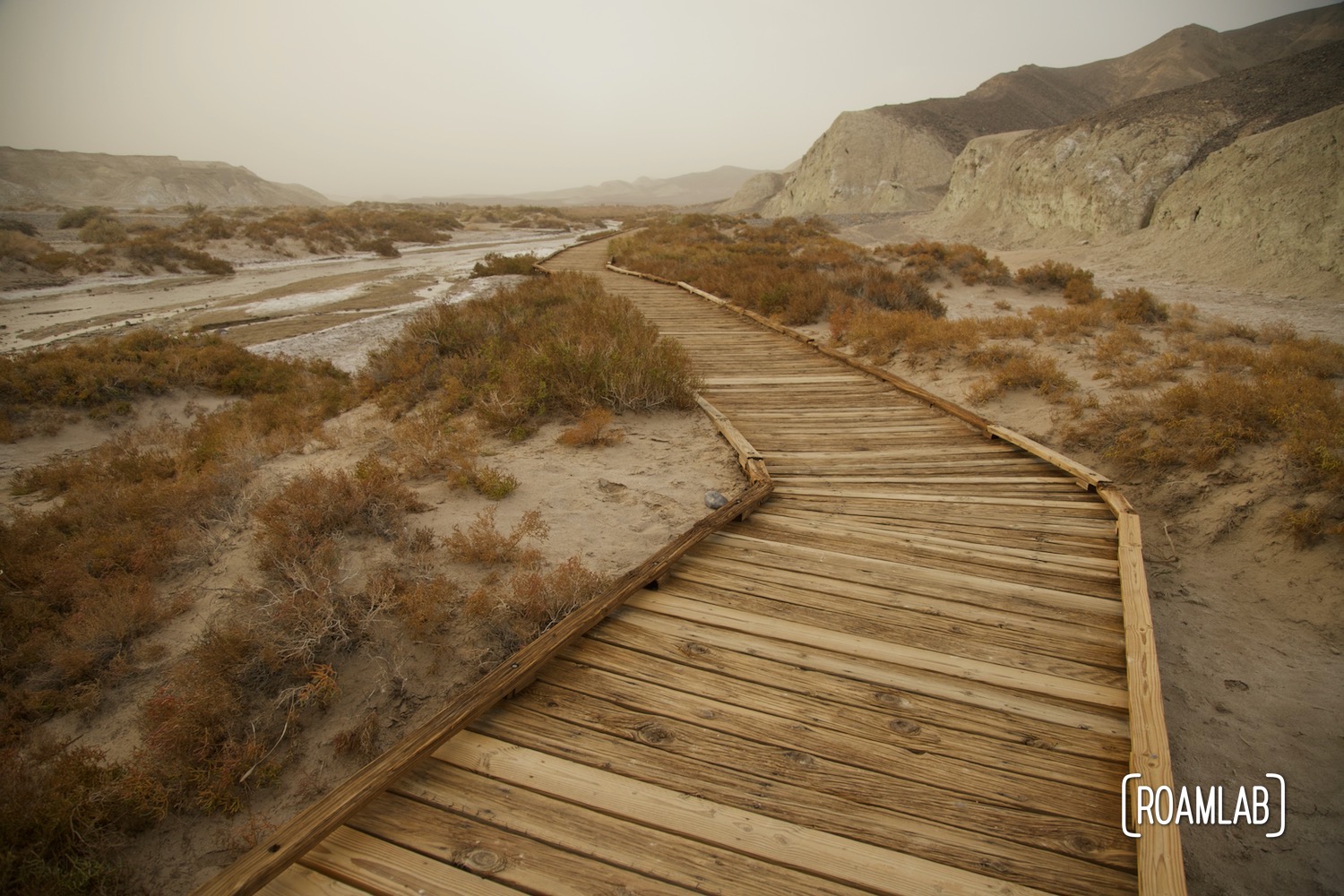 Driving in Dust Storms
Of course, dust storms vary in intensity. Our experience in Death Valley illustrated how certain areas can fluctuate in intensity based on shifts in wind and locations of loose dust to pick up. We were able to drive in Death Valley. But there are occasions when even that is not safe.
After our plan derailing experience in a Death Valley Dust Storm, I am a lot more conservative with our plans in New Mexico. Anyone who has driven Highway 10 may know why. The stretch around Las Cruces, New Mexico is a broad, flat, sandy section dotted with warning signs about what to do in a sand storm.
This stretch is notorious for massive dust storms and related accidents. In 2017, a dust storm caused zero visibility conditions leading to a 25 vehicle pile up, leaving 6 dead.
So, here are some pointers, courtesy of the Arizona Department of Transportation:
Don't drive into a dust storm. It may seem passible at the moment winds can intensify, lowering visibility. If at all possible avoid it.
If you encounter a dust storm, immediately check traffic around your vehicle (front, back and to the side) and begin slowing down.
Do not wait until poor visibility makes it difficult to safely pull off the roadway — do it as soon as possible. Completely exit the highway if you can.
Do not stop in a travel lane or in the emergency lane. Look for a safe place to pull completely off the paved portion of the roadway.
Turn off all vehicle lights, including your emergency flashers. You do not want other vehicles approaching from behind to use your lights as a guide, possibly crashing into your parked vehicle.
Set your emergency brake and take your foot off the brake.
Stay in the vehicle with your seatbelts buckled and wait for the storm to pass.
Drivers of high-profile vehicles should be especially aware of changing weather conditions and travel at reduced speeds.
We had been considering camping in southern New Mexico to keep warm. But tired of sand storms, we decided to head north, hoping for clear skies with a minimal chill.