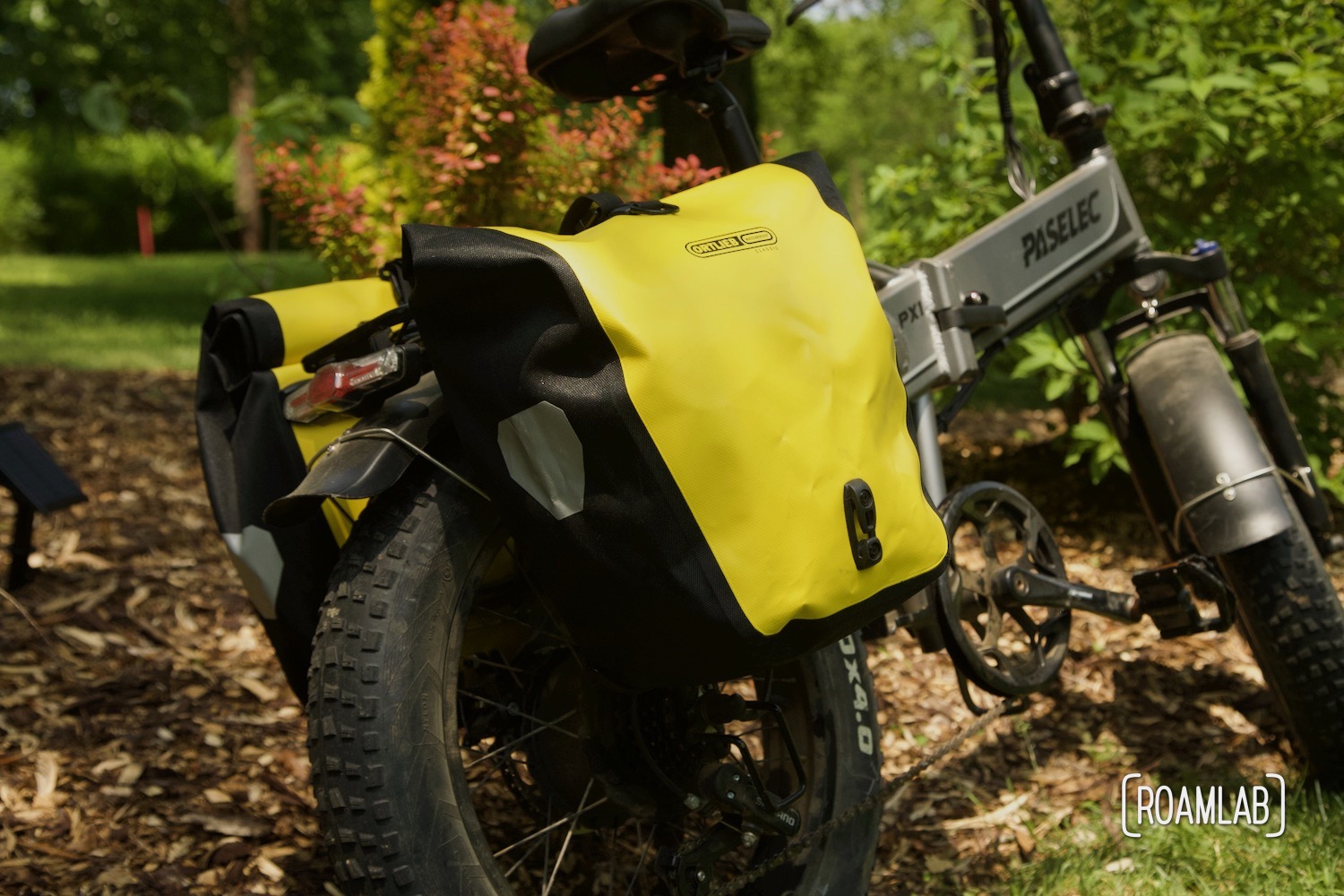 Ebike Gear
Top 5 eBike Accessories
eBikes seem to have it all. Not only the manual features of a conventional bike but the power to take you that extra distance on battery power. But while lithium batteries have changed the game, there are still some basic tools that you still need to consider as soon as you've picked out your eBike. Here are our top 5 recommendations for eBike gear.
Helmet
Sure, this may seem obvious, but there's a difference between owning a helmet and wearing it. Sure, it messes up your hair, but just because your bike is now electric, it doesn't change the serious risk of head trauma that you run on two wheels. As someone that has been hit by cars and suffered serious head trauma, it's no joke. Protective headgear can make the difference between life and death. (And even if you survive, the difference between a "normal" life and one full of migraines.)
That said, these days, helmets come in a wide range of styles and can become part of your own self-expression as well as safety. Brands such as Nutcase, Thousand, and Smith bring their own flair to head protection. So find a design that appeals to you. Because it doesn't matter how protective your helmet is if you don't wear it.
We opted for Nutcase helmets. Their colorful, graphic prints make us stand out from the crowd and make it easy to spot each other on busy trails. Every time I visit the website, there's a new pattern that makes me wonder how weird it would be to start collecting helmets like some people collect shoes. See the latest designs on the Nutcase website.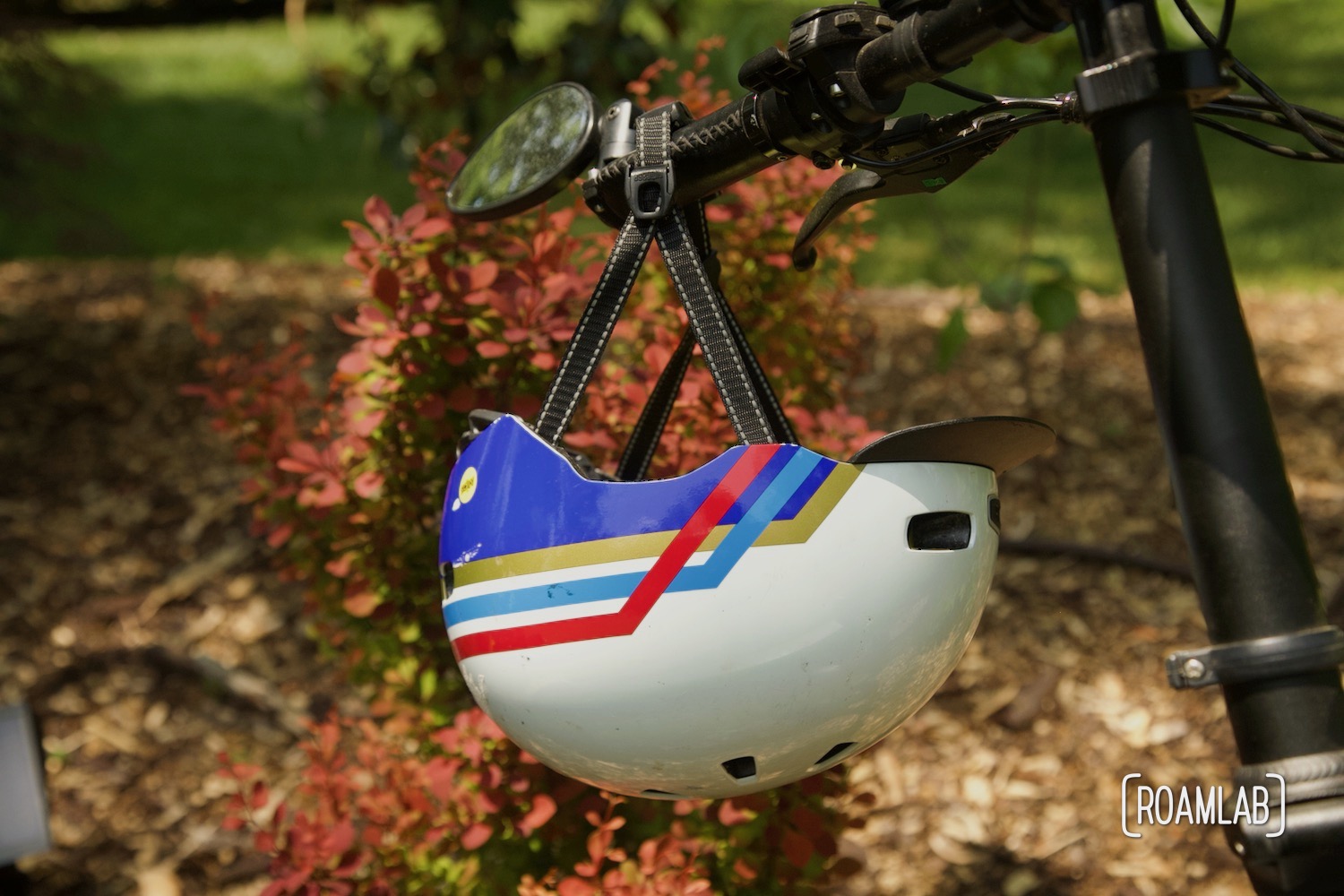 Bike Lock
Bicycle theft has always been a problem and it's even more so when you can be leaving upwards of a thousand dollars worth of equipment out on the street that can act as its own getaway vehicle. So having a bicycle lock is an important piece of gear for peace of mind.
While locks come in many form factors with many frills, the most important trait in a bicycle lock is that we use it. If the lock is too troublesome or restrictive, we may take the risk of leaving the bikes insecure, or (more likely in our case at least) we may skip a stop that we would like to make because we don't want to abandon our bikes and protecting them is too troublesome.
Overly heavy and bulky locks may be left behind in favor of reserving that storage for other, possibly lighter items. Similarly, specialized locks may limit your options to what you can use. If you only bike in the city, a u-lock may make sense. This solid design is very secure, but it limits the diameter of things that one can lock to.
When we are biking in more remote locations, we don't always have a bike rack handy. This is why we choose to use cable locks. They are generally considered less secure. But for people who need to be able to lock onto a picnic table more often than a bike rack, the cable keeps our options open while serving as a disincentive for any opportunistic passerby.
Rear View Mirrors
They come as a default on most motorized vehicles, but for some reason, rearview mirrors don't come with most eBikes. That said, when zipping down a path at 30 mph, we don't want to be constantly turning around to check on the progress of our partner. So we picked up a set of rear view mirrors that attach to the ends of our handlebars. This particular model also includes lights on the opposite side as a safety precaution when biking in the dark. While small, they are easy to adjust and fold out of the way when we are storing our bikes.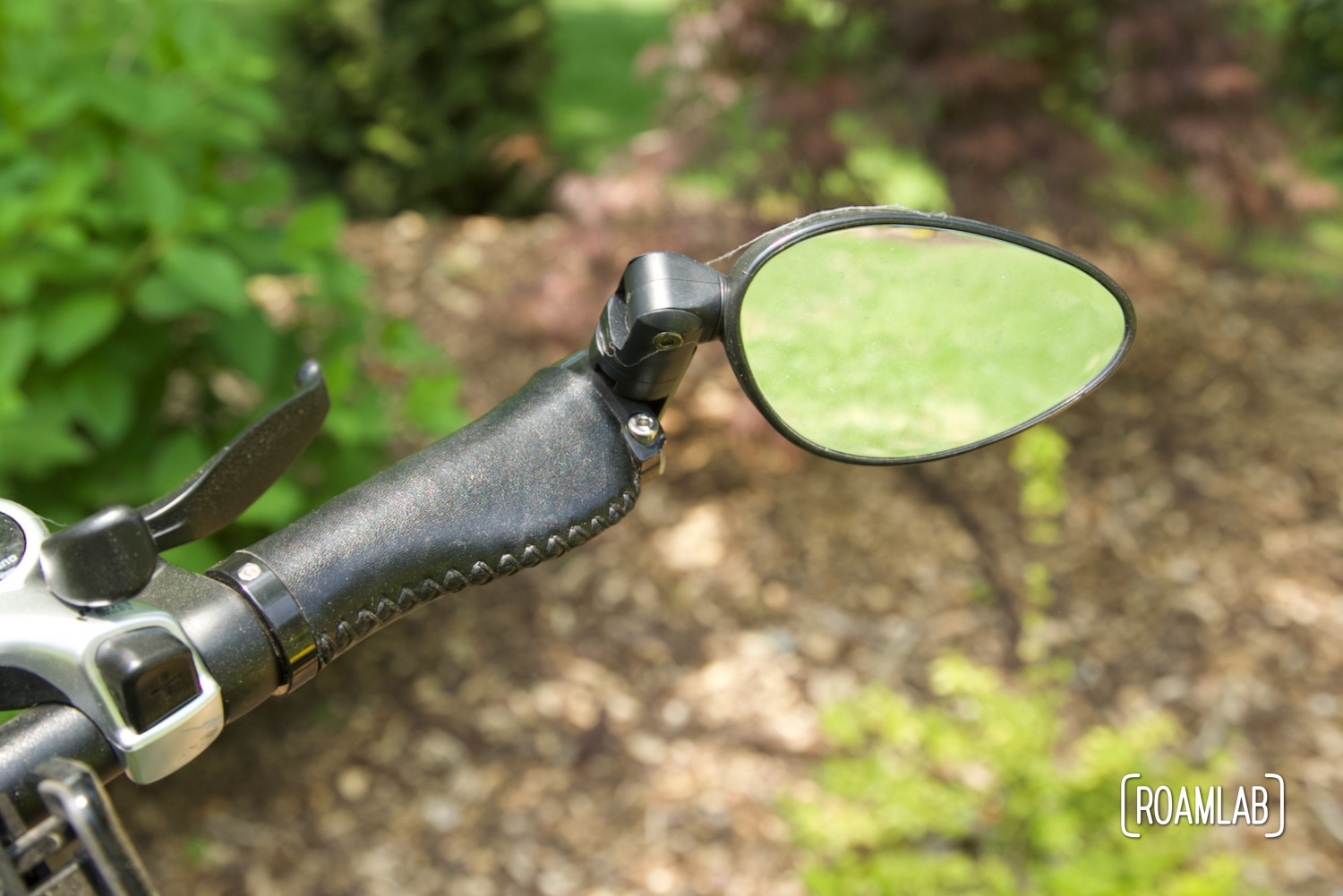 Pannier Bags
Opinions on paneer bags are mixed. For people who use bicycles solely as a means of exercise, paneer bags are generally a bulky distraction. But most people who get an ebike aren't getting them just for exercise or why bother with the electric part of that name? We use our eBikes to run small errands as well as exploring trails, so paneer bags are handy for carrying groceries as well as a picnic lunch or bulky coat.
We are split on the paneer question. Chris prefers to bike with a backpack. But, personally, I prefer the panniers. They take the weight off my back and lower the bike's center of gravity by storing the contents at wheel level.
There are downsides to panniers: sometimes I might kick a bag while biking if I haven't properly mounted them. Depending on the design and protection on the bike, they also can stress some of the wires for your ebike.
I bike with a pair of Ortlieb Back-Roller Classic Panniers. The coated polyester fabric makes the contents waterproof. The elegantly simple QL2.1 mounting system makes the panniers easy to mount and unmount. And 40-liter carrying capacity means that I can transport a sizeable grocery haul while still stowing these bags flat when we are back in the truck. As an added bonus, I chose the bright yellow bags so, along with the reflective side panels, these bags increase my visibility to cars or other traffic.
Check out the Ortlieb website to find a storage solution that fits your needs.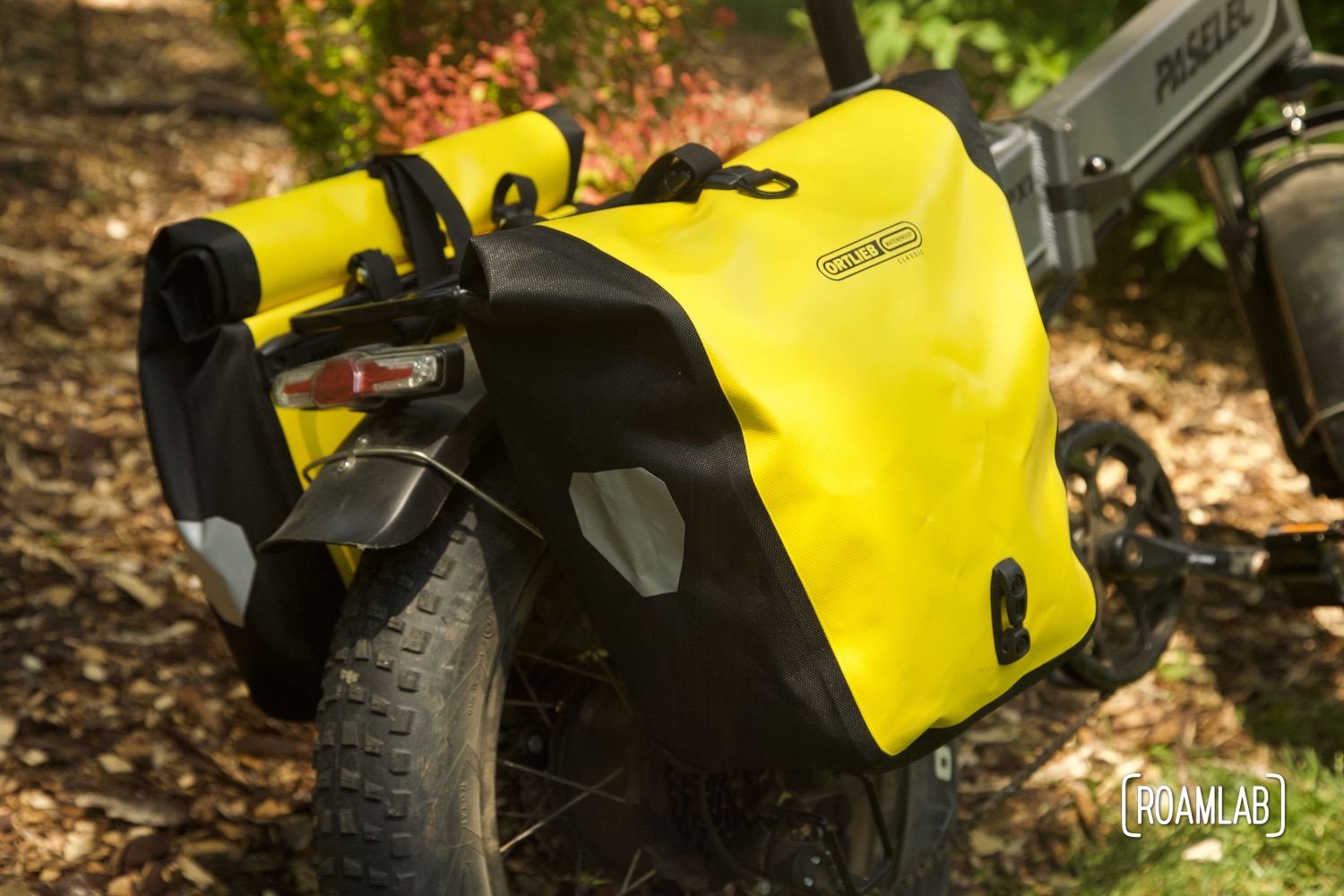 Gloves
I put this at the bottom of the list because it isn't life and death like a helmet or something that protects your investment like a lock. But while biking, at some point we all fall. And when that happens, we almost always wind up cutting up our hands…unless we are wearing gloves. A good pair of biking gloves include padding on the palms to protect our hands during falls and prevent blistering. At the same time, using moisture-wicking fabric to allow the rest of our hands to breathe. Gloves with a snug fit also allow us to easily manipulate the ebike controls and shift gear. For example, the button for my bike's headlights is very small, so it would not be easy to engage while biking if I was wearing heavy work gloves instead of my purpose designed biking gloves.
We wear the Truck ZRP mountain bike gloves. I have the colorful Blue Azul gloves while Chris has the rugged Black Beauty pair so that we don't mix up our gloves. After all, these are very fitted gloves so we have different sizes. Check your measurements against the sizing chart on the website and order your own fitted pair.
More eBike Gear
Of course, there are tons of other pieces of gear to improve our experience while biking. We've addressed our top five purposeful purchases, but that isn't to overlook the value of additional investments. Protective eyewear, lights, raingear, sports communications devices, and a repair kit are all useful additions.
Do you think we missed a key piece of gear? Let us know in the comments!