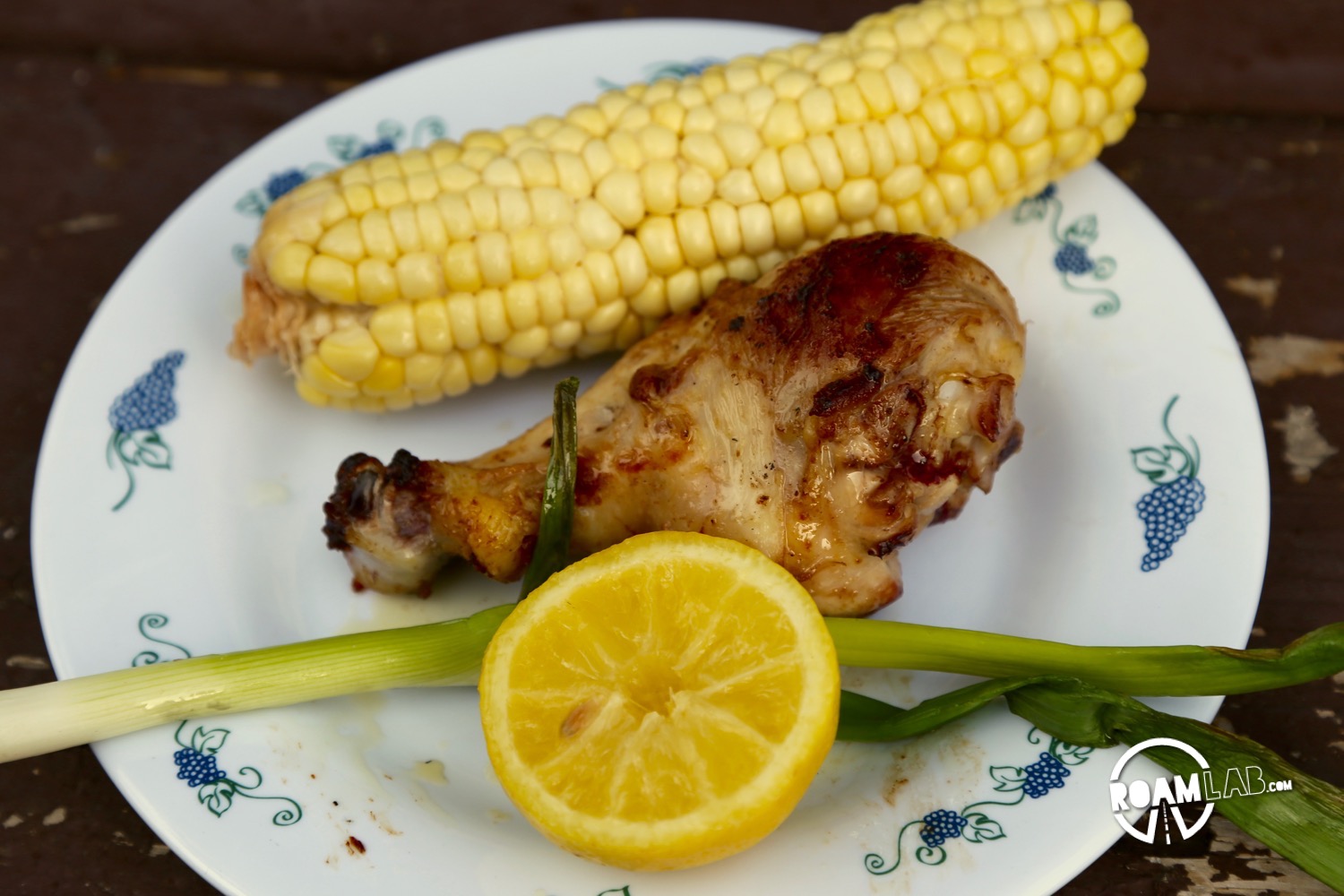 After our hike, we were exhausted. Fortunately, I had already done the preparation work for tonight's dinner that morning. Now, with my dogs barking and my calves screaming, it was time to set up the fire and sit down to chop apples for another round of experiments in campfire cooking.
Once again, I started with the apple crisp. Since I didn't want the apples to brown, I waited until I was ready to cook them before preparing my new experiment in apple crispness: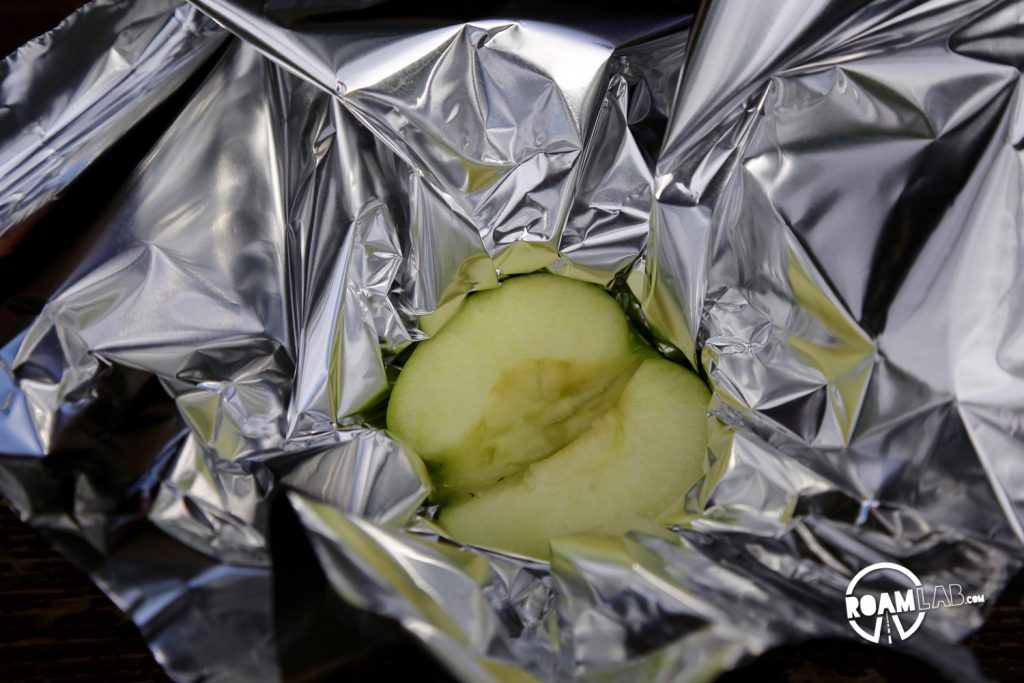 Tin Foil Apple Crisp
1 apple
butter
oatmeal
flour
cinnamon
sugar
tin foil
feeds 2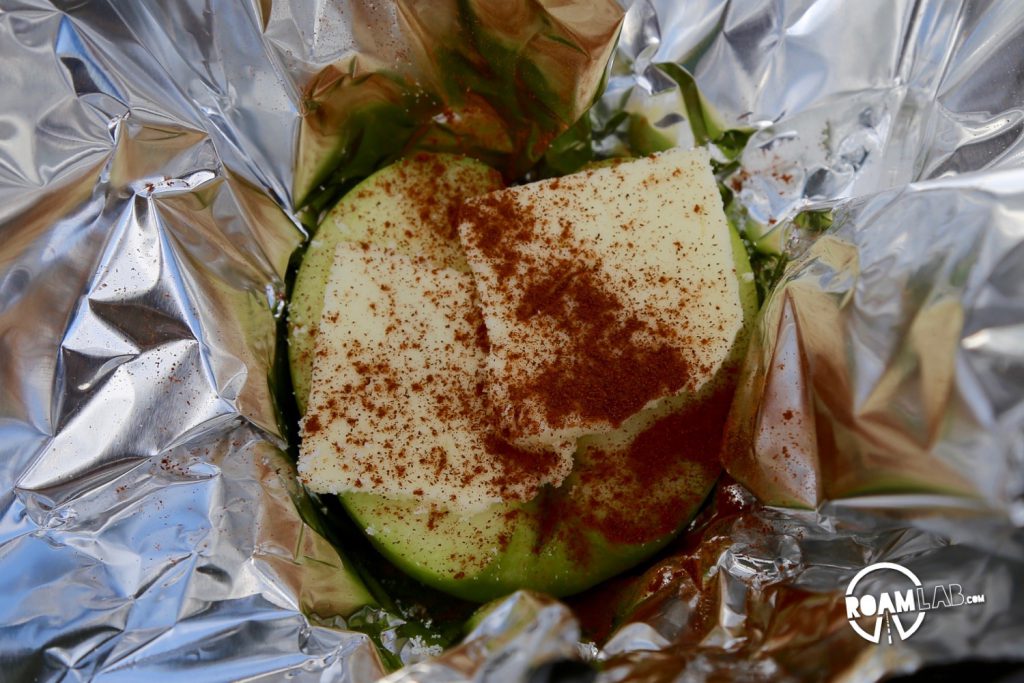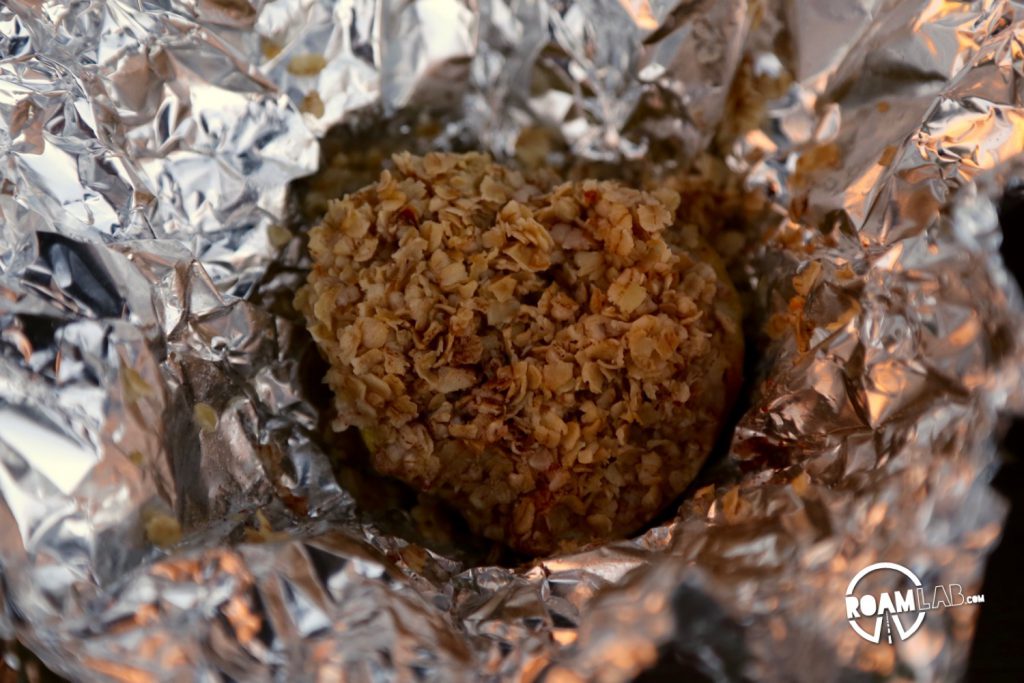 This time, I only cored the apple and cut it into halves. I wrapped the apple half in tin foil so that only the flesh was exposed. On the flesh, I sprinkled sugar, cinnamon and flower. Then I alternated pats of butter with a layer of oatmeal. Once each apple half had it's primordial crisp topping, I wrapped the tinfoil into packets and placed the packets by the fire, rotating them occasionally.
Next, I moved on to the corn: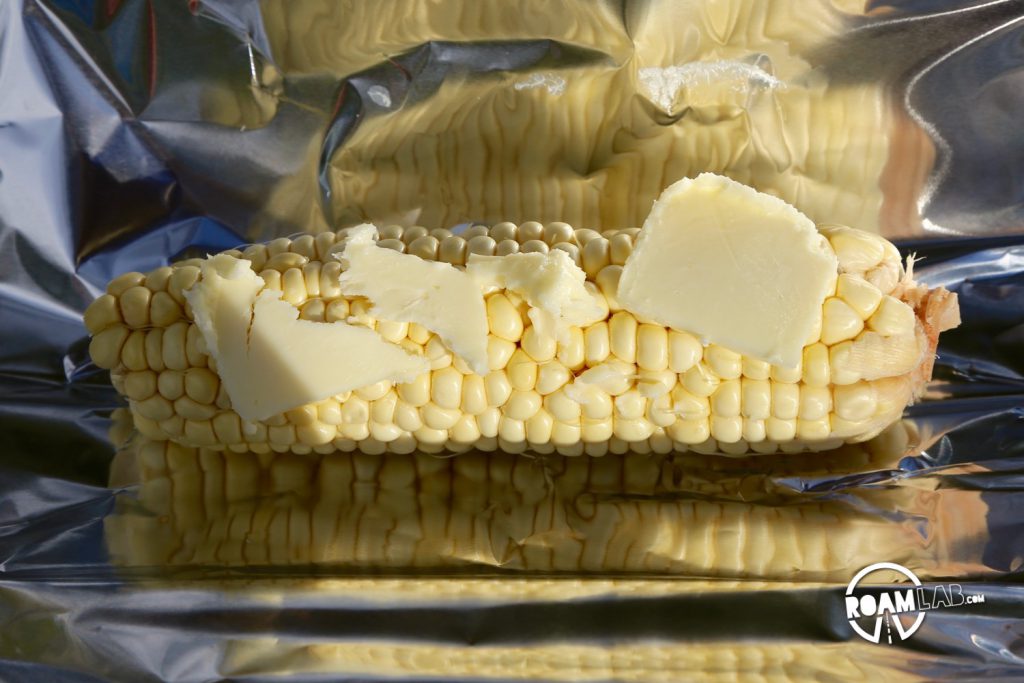 Roasted Campfire Corn
2 ears of corn, shucked
butter
tin foil
Corn was pretty simple. I made tinfoil packets with the corn ear and some butter on top and placed them in the fire with the apple crisp. Now, each time I rotate the crisps, I rotate the corn as well.
Finally, chicken legs!
Campground Chicken
4 chicken legs
3 lemons
6 garlic cloves
salt
pepper
olive oil
green onion
cast iron skillet
tin foil
serves 2 if you are gluttons like us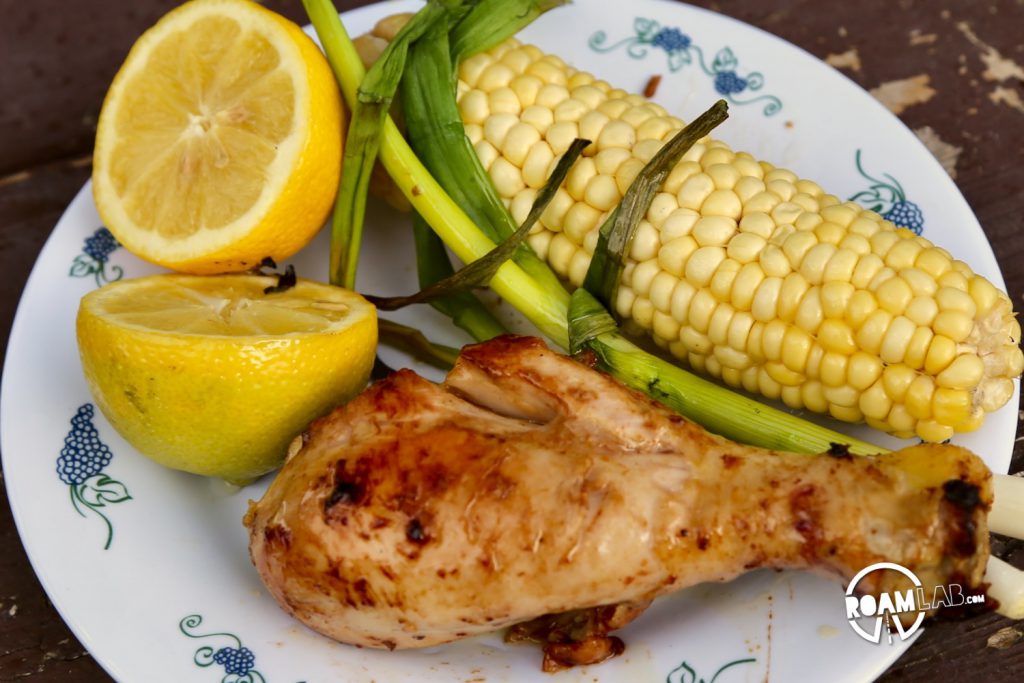 I remember that Sunset called for chicken thighs, but my driver loves chicken legs the best so I decided to be thoughtful for a change. That morning, I had placed the chicken legs in a plastic bag with olive oil, lemon juice, salt, and pepper. In hind site, I should have added garlic then, but I only remembered that when I was five miles up a mountainous trail. Instead, once the corn and apple crisp were in the fire, I placed the skillet on the fire to warm with olive oil and several whole cloves of garlic. Once everything was nice and hot, I added the four legs of chicken. The campfire grill was rather uneven, so I had to make sure to regularly swish the olive oil around the pan and rotate the positions of the chicken legs. Since the temperature of the fire can be variable, I had to keep a close eye on the chicken and rotate it regularly, as well. It probably took a little over 20 minutes to cook the chicken through. At one point, I cut open a leg to make sure the meat on the bone was cooked. While it could have been rather tedious, I was perfectly happy to sit in my chair and do nothing other than rotate chicken. The result was perfectly cooked through.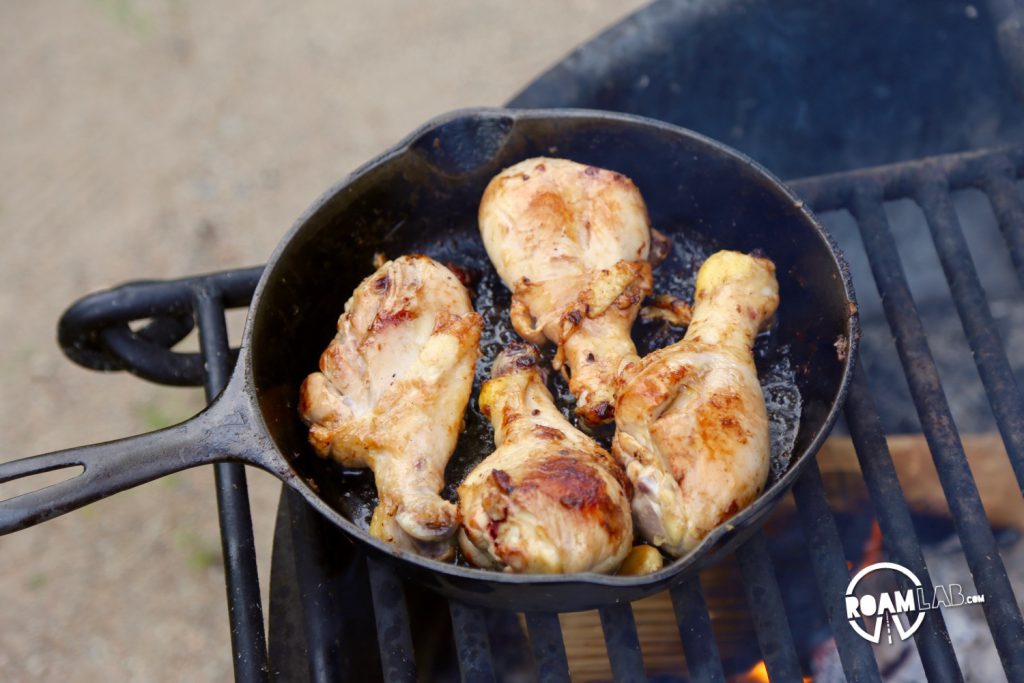 As I grew near to completion, I put down an additional piece of tin foil over the fire grill and placed four lemon halves, face down, on the tin foil along with a couple sprigs of green onion. Ideally, these should have been placed directly on the grill, but it was so very dirty and I didn't have the equipment to clean it off.
Once the chicken was done, I plated each piece with green onion, roasted lemon, and a cob of corn. This wound up being definitively better than last night's dinner. I'll continue experimenting with this recipe.
The apple crisp was a mixed success. With the flour and oatmeal on top, it wasn't burned like the last time, but the apple was a bit too firm. Next time, I think I'll try the same arrangement of oats and apples as today but slice up the apple first.