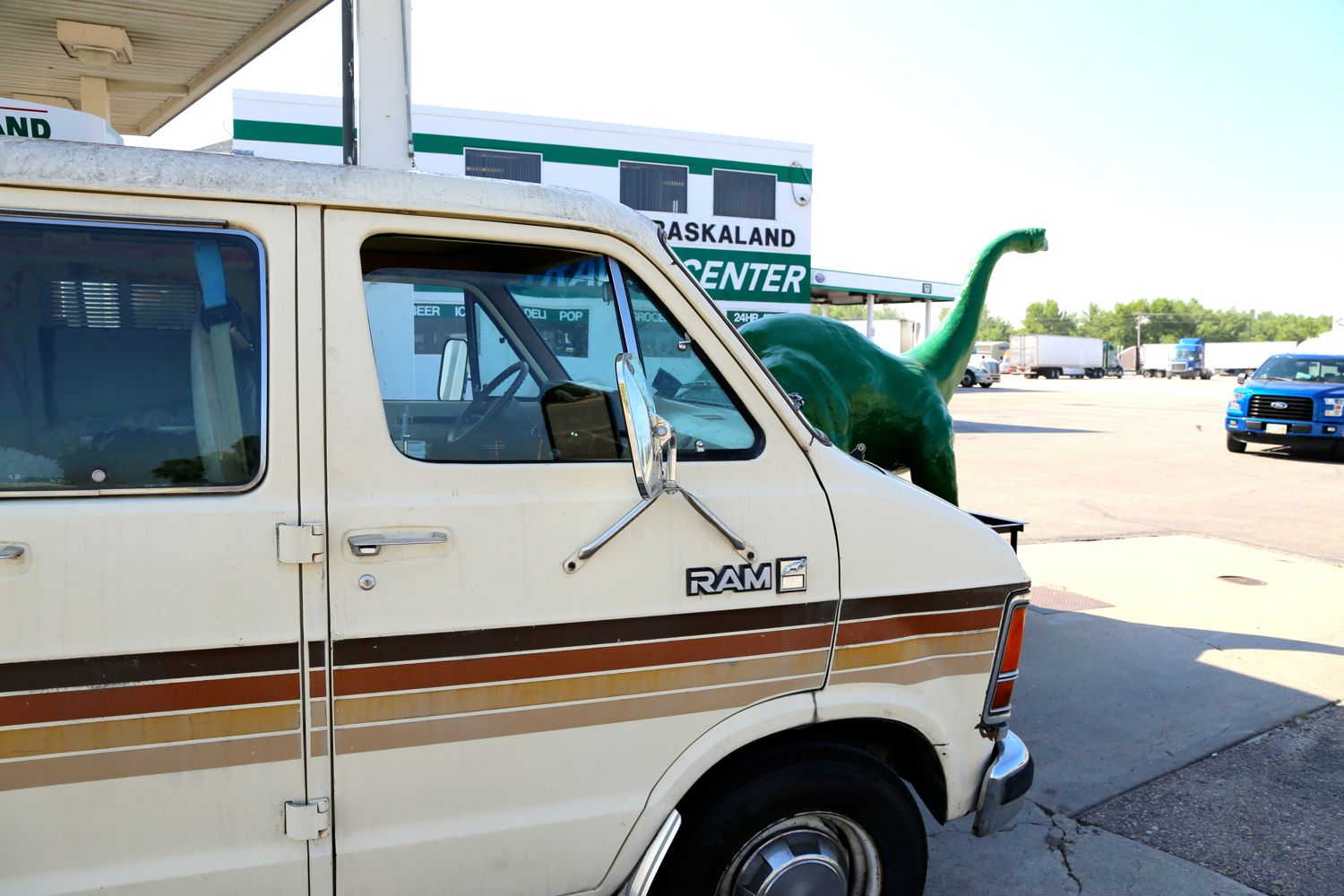 Going With The Wind
Look, earthquakes I grew up with. I get that. Even hurricanes I've learned to live with. But tornados? Thats something different that I do not understand. I think they have sharks in them and they take you to Oz?
Today started like any other: we woke up in Nebraska, piled into Dodgy and drove through three states. Nebraska continued its routine of cornfields and cows. Then we spiced things up going through Iowa…which continued the corn and cows theme. Then we quickly turned into Missouri and, you guessed it, more corn and cows. For the most part, we considered it a relatively uneventful day. We took a picture with a dinosaur and figured that would be the defining event of the day…
And then we went out to dinner. We were digging into our main course when suddenly, there is a chorus of sirens: individual locations all sounding the same alarm. It took a moment to recognize one location as being my pocket, where my phone announced:
Emergency Alert
Tornado Warning in this area til 8:15 PM CDT. Take shelter now. Check local media. -NWS
Looking at the partner, who has experience with all things midwestern, he said he wasn't sure what the severity of warning was. So we continued dinner. The background music had been turned off after the alert—maybe so we could here the sharks Jaws them playing or munchkins singing as the tornado arrived? Thus, it was extra disappointing for the next music to turn on to be the repetitive alert noise with a new message:
Emergency Alert
Flash Flood Warning this area til 12:00 AM CDT. Avoid flood areas. Check local media. -NWS
At this point, I am getting the distinct impression the Missouri doesn't want us here. We have been in the state for less than five hours and we get tornado AND flood warnings? Of course, a subsequent check of the local weather also informs us that fireworks on the 4th may also not be forthcoming. Ah well.
Afterward
For the record, it turns out that there were tornados and flooding in Missouri that night. Parts of the state received more than 5 inches of rain. In Columbia, there was 1.92 inches of rain and there were several water rescues. In Jefferson County, two mobile home parks were evacuated.