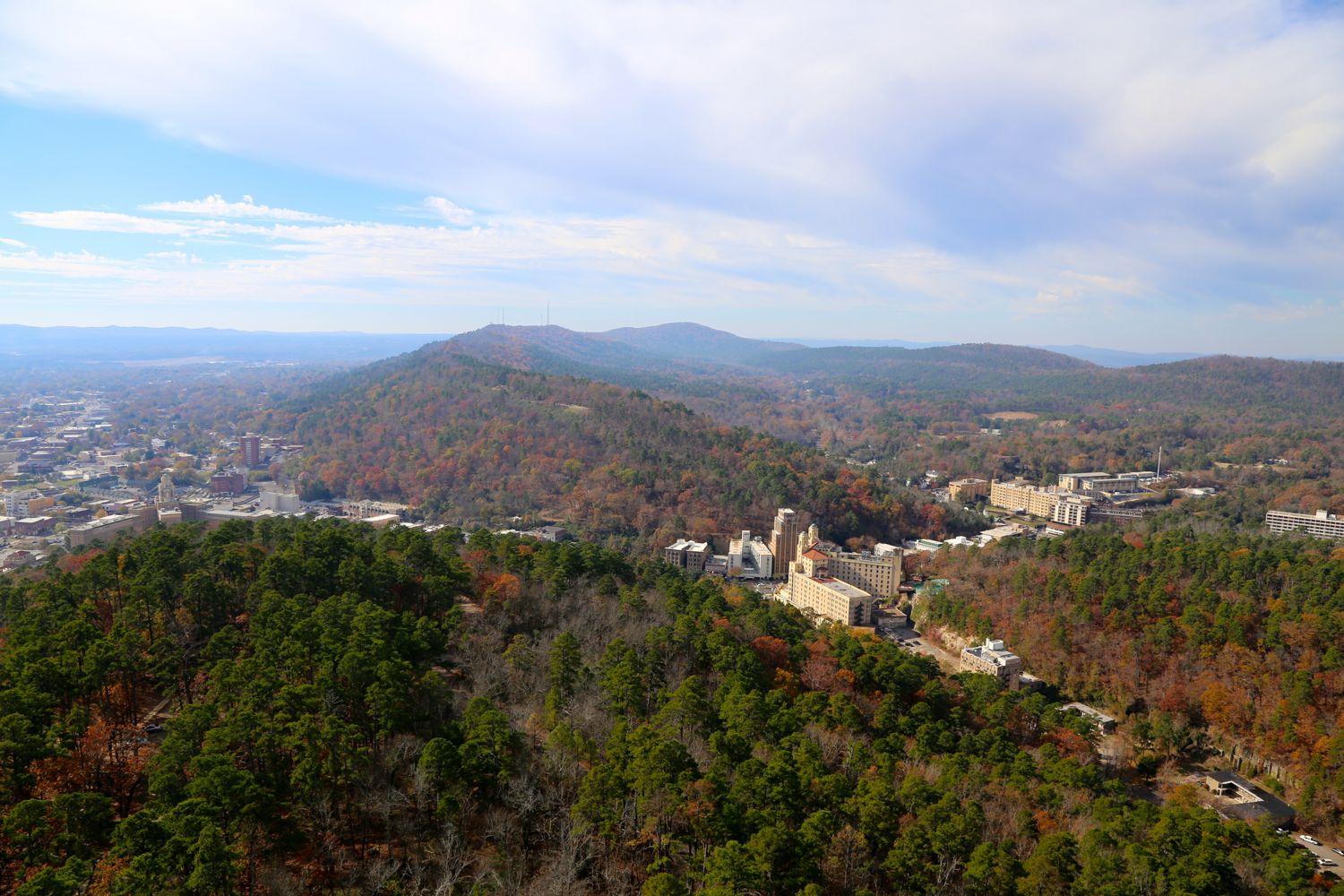 Hot Springs Mountain Tower is a great place to visit if you're looking for breathtaking views of the Ouachita Mountains. At 216 feet tall, the steel truss observation tower offers visitors 360-degree views of the surrounding landscape. At the top of the tower, you will find a multi-story observation deck with both an indoor and outdoor observation deck. Fortunately, if you decide to take the stairs on a humid day as we did, the indoor deck is air-conditioned. If you're not up for the free StairMaster workout, there is an elevator to take you to the top. Both decks offer panoramic views of the surrounding Ouachita Mountain Range, Hot Springs National Park, and the Diamond Lakes area. The lower observation deck also includes a range of exhibits on the history of the Tower and the surrounding area.
The current Hot Springs Mountain Tower is actually the third tower to be built on the location. The original 75-foot-tall wooden observatory was constructed in 1877 by a local lumber and grist mill owner named Enoch Woolman and his son Horace. Unfortunately, this first tower burned to the ground after being struck by lighting.  We don't recall any mention of there being a lightning rod attached to the original tower. Eventually, Horace must have gotten some formal training because he became a civil engineer and went on the help build out many of the roads and walkways in what became Hot Springs National Park.  After the Woolman's tower went down, a second one reaching 165 feet tall was installed in its place by a bank president named Charles N. Rix.  Now known as the Rix Tower, it was a former telegraph tower brought down from the 1904 Louisiana Purchase Exposition.  This one was made from steel so essentially the whole thing was a lightning rod.  In travel publications, it boasted an elevator and a 40-mile panoramic view.  The Rix Tower lasted until 1975 when by that time, it was so unstable very few people were willing to go to the top.  The tower that you see today was built by the city of Hot Springs in 1983 and is now run as a concession within the national park. 
As far as hiking trails go, the 1.7-mile Hot Springs Mountain Trail takes you on a scenic loop around the Tower. The trail is well-marked and easy to follow. It's even possible to hike to the Tower from Bathhouse Row on Central Avenue by picking up the Oertel Trail and taking the 0.2-mile shortcut to the tower loop. It would be a lot of elevation gain, but the rewarding view from the Hot Springs Mountain Tower would be totally worth it.