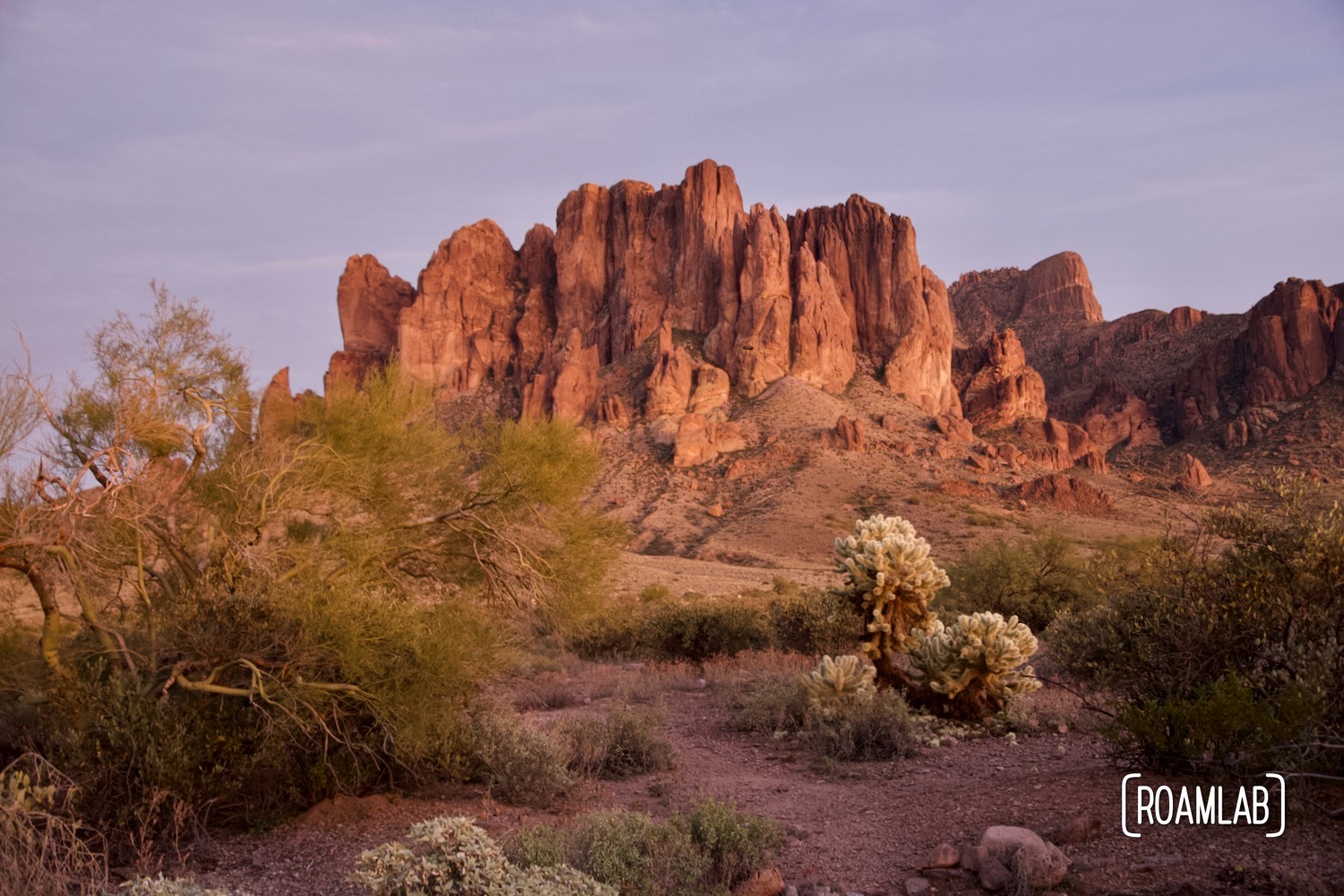 Lost Dutchman State Park
Superstition Mountains
You have seen the Mountains. Maybe in the background of a picture or in a montage of natural wonders in a documentary. They are the Superstition Mountains, and their dramatic red rock spires draw in outdoor adventures of all stripes. The iconic perspective that is most commonly associated with this whimsical landscape is taken from Lost Dutchman State Park. And it's easy to explore in so many different ways!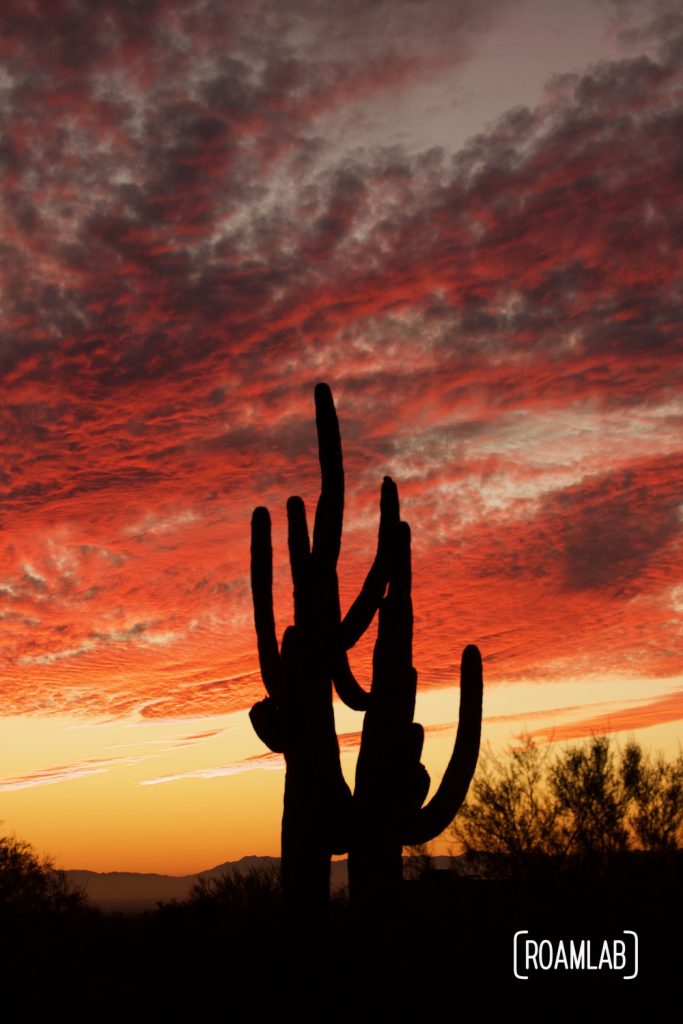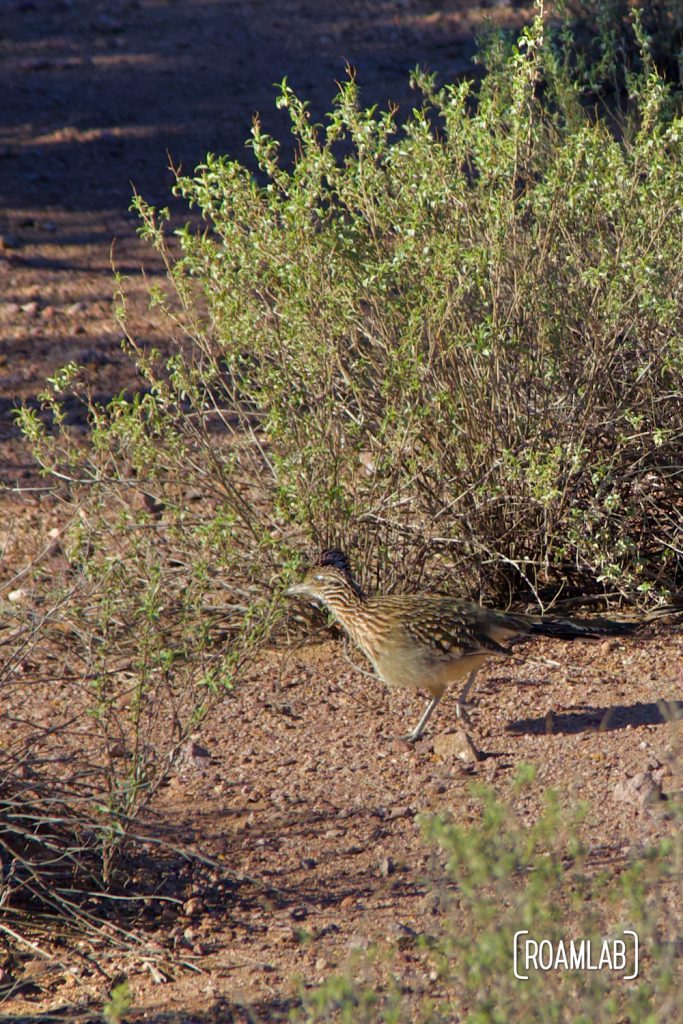 About the Lost Dutchman State Park
The Lost Dutchman State Park in Arizona name is derived from a legend about a German immigrant named Jacob Waltz, who was also known as the "Dutchman." According to the legend, Waltz discovered a rich gold mine in the Superstition Mountains. But he kept its location a secret. After he died, many people searched for the mine, which became known as the "Lost Dutchman Mine." While the location (or even the existence) of the mine remains a mystery, the park that bears its name is easy to reach.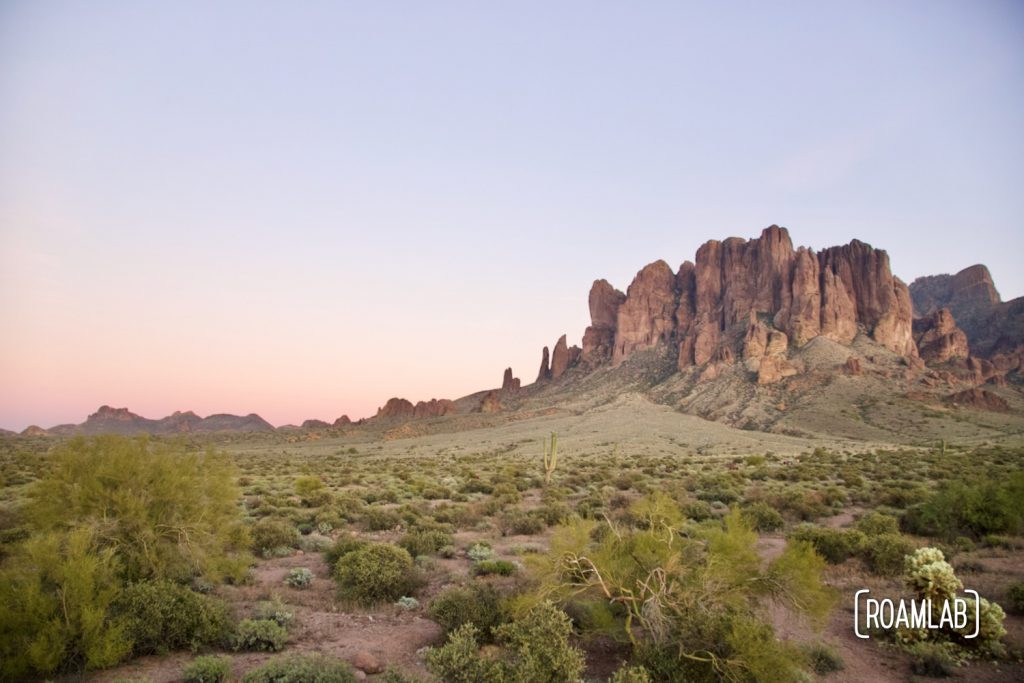 Exploring Lost Dutchman State Park
Treasure hunters still visit the Lost Dutchman State Park with visions of gold. But the park is also an ideal destination for outdoor enthusiasts, nature lovers, and campers. With its stunning desert landscape, diverse plant and animal life, and rich history, there is something for everyone at this unique state park.
For those who love outdoor recreation, the park offers a variety of activities to enjoy. Hiking trails wind through the mountains, offering breathtaking views and the opportunity to spot a variety of wildlife. The park is also home to many rock climbing routes, which attract climbers from all over the country. In addition, the park offers horseback riding, mountain biking, and picnicking areas. It is a perfect place to spend a day in the great outdoors.
Nature enthusiasts will love the Lost Dutchman Mine State Park, as a home to a diverse range of plant and animal life. Cacti, mesquite trees, and other desert plants dot the desert landscape. Visitors may spot various animals, including rattlesnakes, roadrunners, and coyotes. We stumbled across a coyote and a roadrunner without having to leave the campground.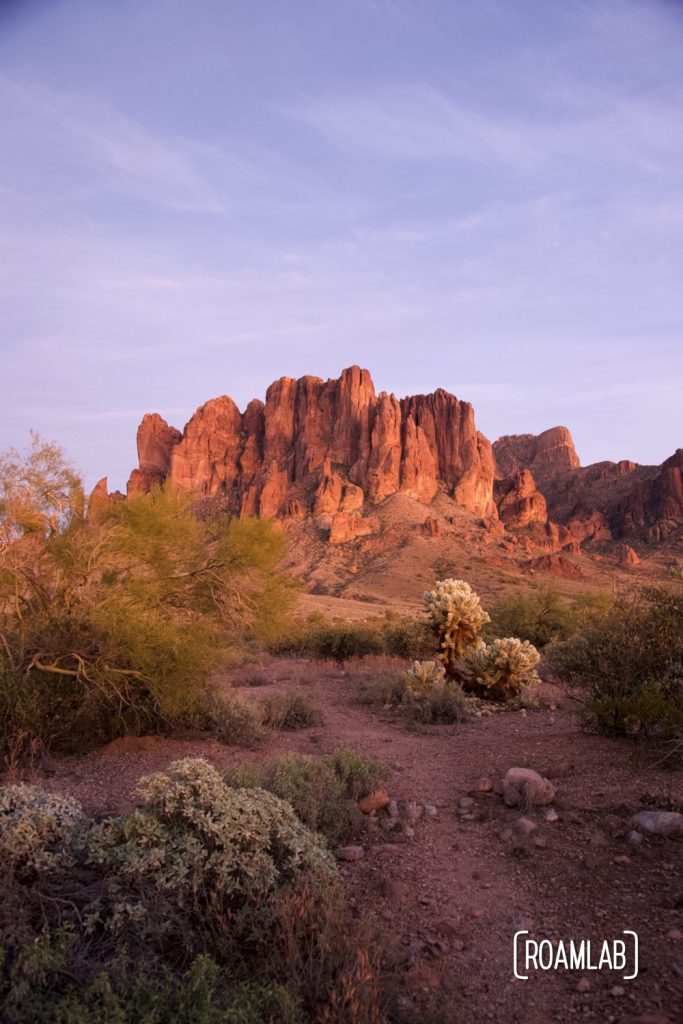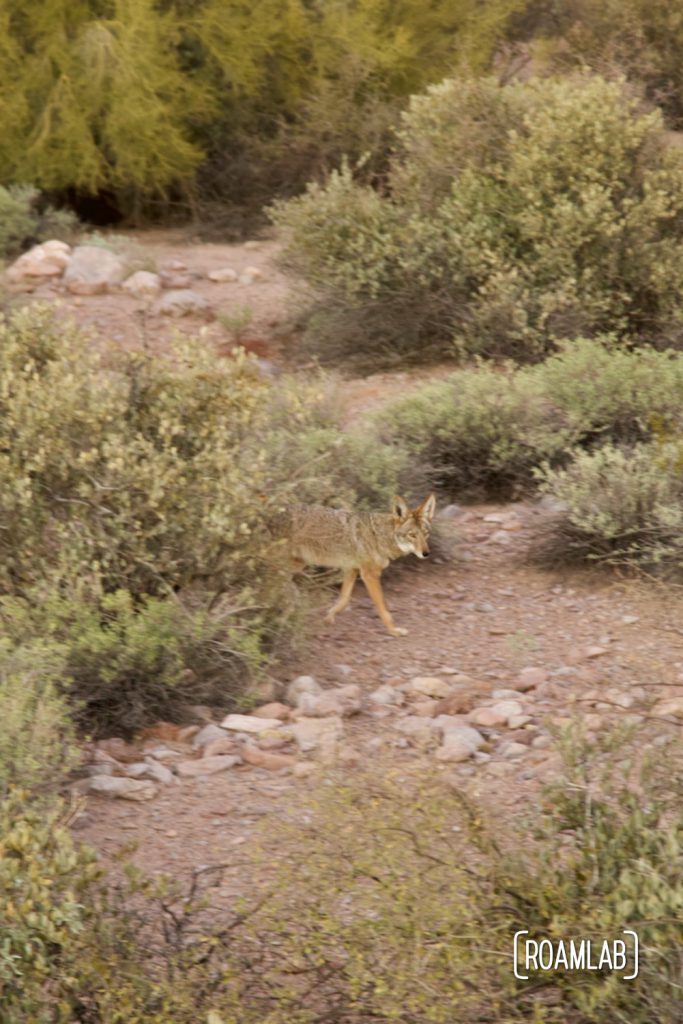 Camping in Lost Dutchman State Park
For those who enjoy camping, the park offers a campground with sites for tents and RVs, as well as restrooms and showers. The campground is located in a beautiful setting, surrounded by the towering Superstition Mountains, and offers a peaceful and serene atmosphere for a relaxing getaway.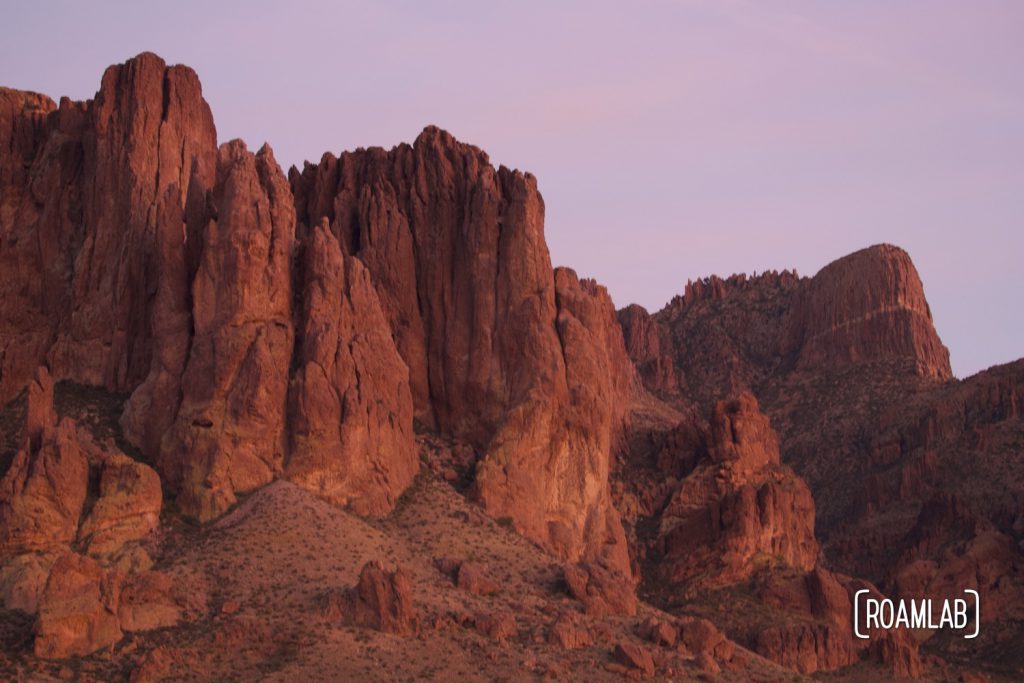 Our Experience At Lost Dutchman State Park
We have visited the Lost Dutchman State Park a couple of times. We learned quickly that this is a stop worth planning ahead. There are plenty of other visitors who will happily reserve popular campsites well in advance. The proximity to Phoenix, Arizona, supplies a steady stream of weekend warriors and day trippers to the mountains.
On our second visit, we reserved our campsite a few days in advance. We were rewarded with an unobstructed view of the mountains.
Give yourself at least a day to explore the park. There are plenty of trails with a wide range of difficulty but all with remarkable views. With its stunning desert landscape, diverse plant and animal life, and rich history, Lost Dutchman State Park offers something for everyone.