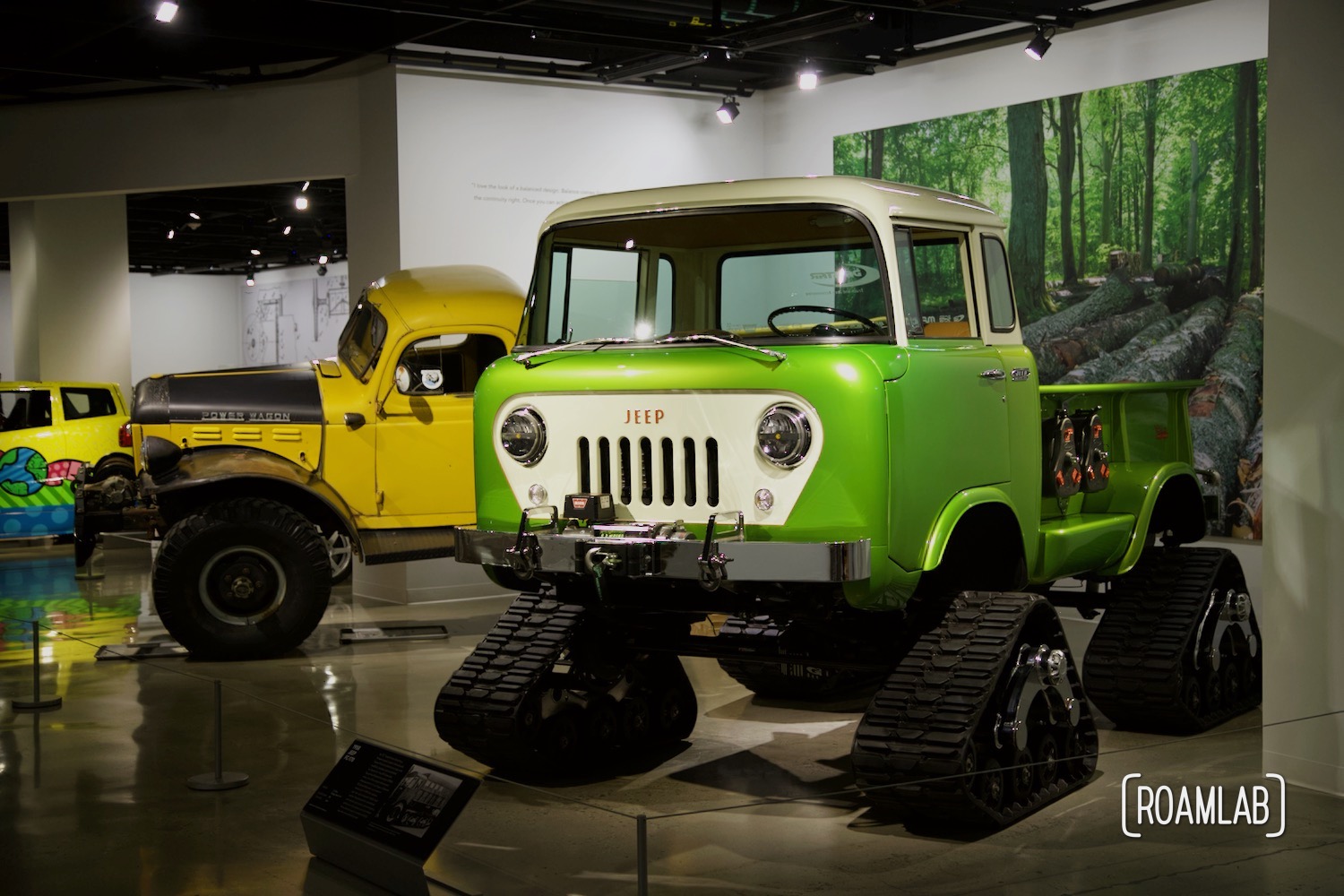 Petersen Automotive Museum
Hollywood Hot Rods and Cutting Edge Concept Cars
The Petersen Automotive Museum is a "must see" for any road trip through Los Angeles. Dedicated to the history of the automobile, this museum features some of the most iconic cars in history. From Mustangs to Rolls-Royces, classic hot rods to cutting edge concept cars there's something for everyone.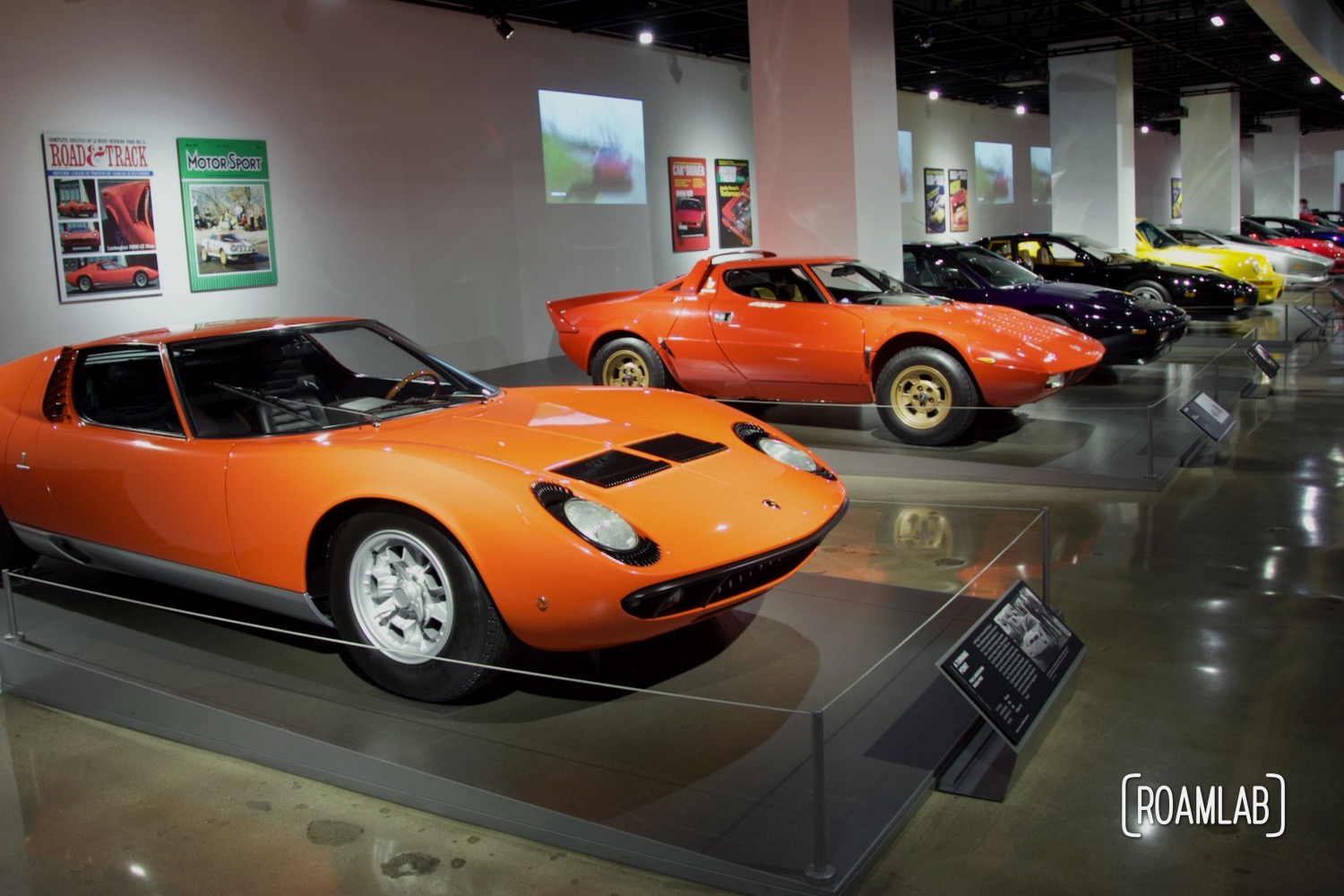 About the Petersen Automotive Museum
With over 150 vehicles on display and a collection of over 300 vehicles, the Petersen Automotive Museum is one of the world's largest automotive museums. The museum also has a library and archives with over 500,000 items, including books, periodicals, photographs, and blueprints.
While the Museum would be notable simply for the scale of its collection, curators have taken the Petersen one step further with meticulous exhibits dedicated to automobiles in film, the evolution of the electric car, and even overlanding rigs. These exhibits are sure to educate and entertain anyone who is interested in cars. So whether you're a car enthusiast or just looking for something to do on your next road trip through Los Angeles, be sure to check it out.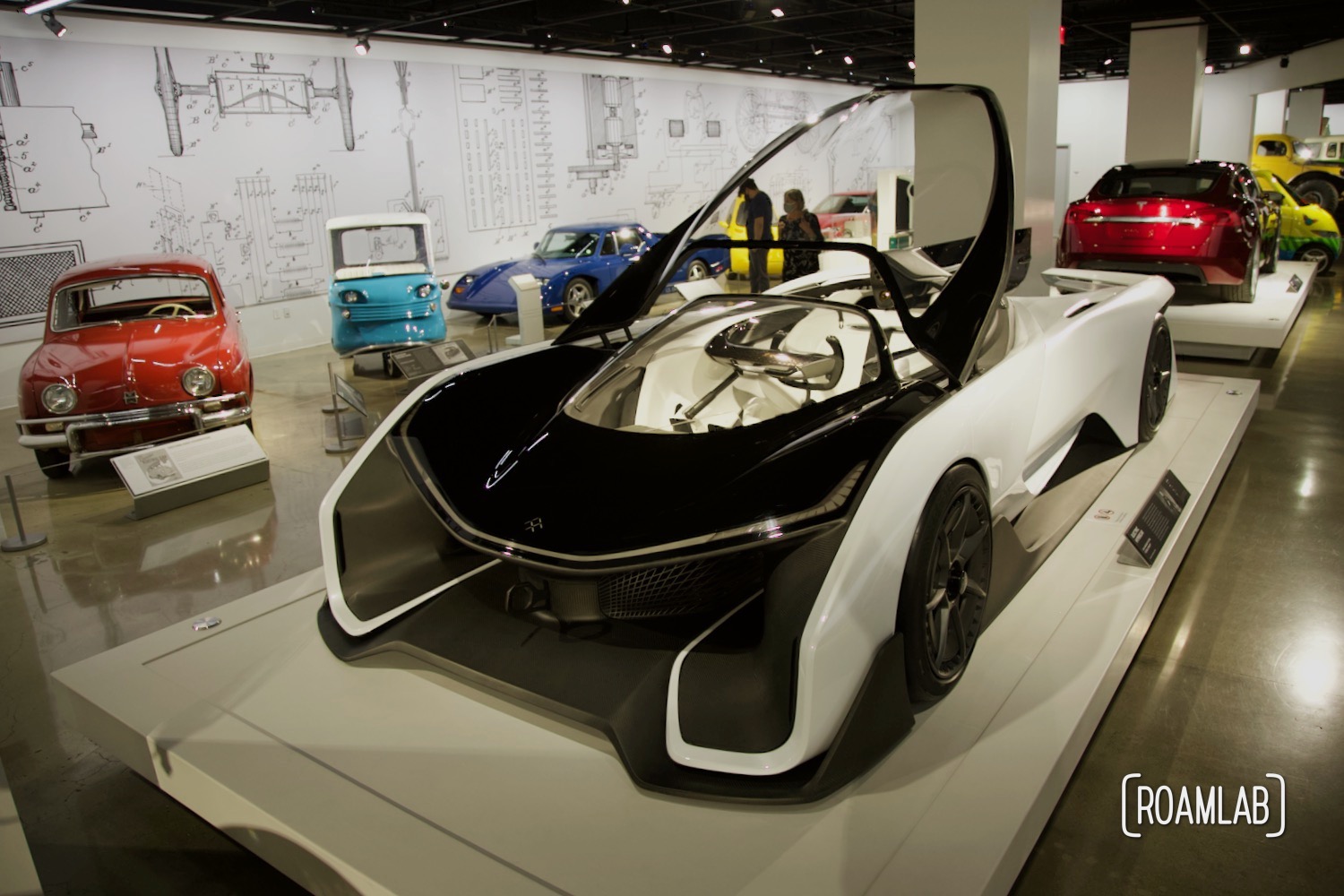 History of the Petersen Automotive Museum
The Petersen Automotive Museum was founded by Robert Petersen and Margie Petersen in 1994, and is now operated by the Petersen Automotive Museum Foundation. The museum has been renovated twice, in 1998 and 2015, and is now housed in a building designed by Welton Becket.
The building strikes an unmistakable pose along the Miracle Mile. While it shares the block with the Academy Museum of Motion Pictures, Los Angeles County Museum of Art, and La Brea Tar Pits, Petersen's façade of stainless-steel ribbon demands attention. This $125 million renovation was designed in 2015 by Kohn Pedersen Fox and required 100 tons of 14-gauge type 304 steel in 308 sections, 25 supports, and 140,000 custom stainless-steel screws. A fitting testament to the strength and style that has epitomized the automotive industry.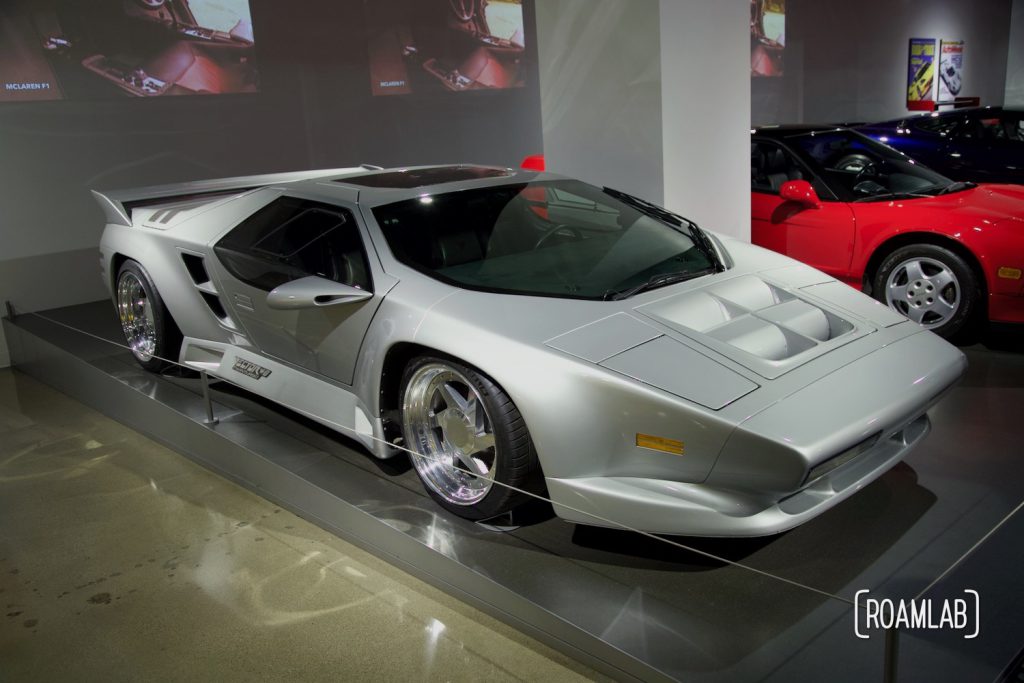 Exhibits At the Petersen Automotive Museum
With three stories, 25 galleries, and 100 vehicles, the Petersen Automotive Museum is an overwhelming homage to the automobile with a remarkable permanent collection as well as regularly rotating exhibits. The museum is divided into themes, around the three floors: art, industry, and history.
Art
Visitors enter on the ground floor to a collection of extravagant cars featuring the artistry of the automotive industry as well as art inspired by it. These rolling sculptures set the museum's tone before visitors even have to purchase a ticket. And don't forget to take a peak in the garage where there's more than just visitor's cars to see.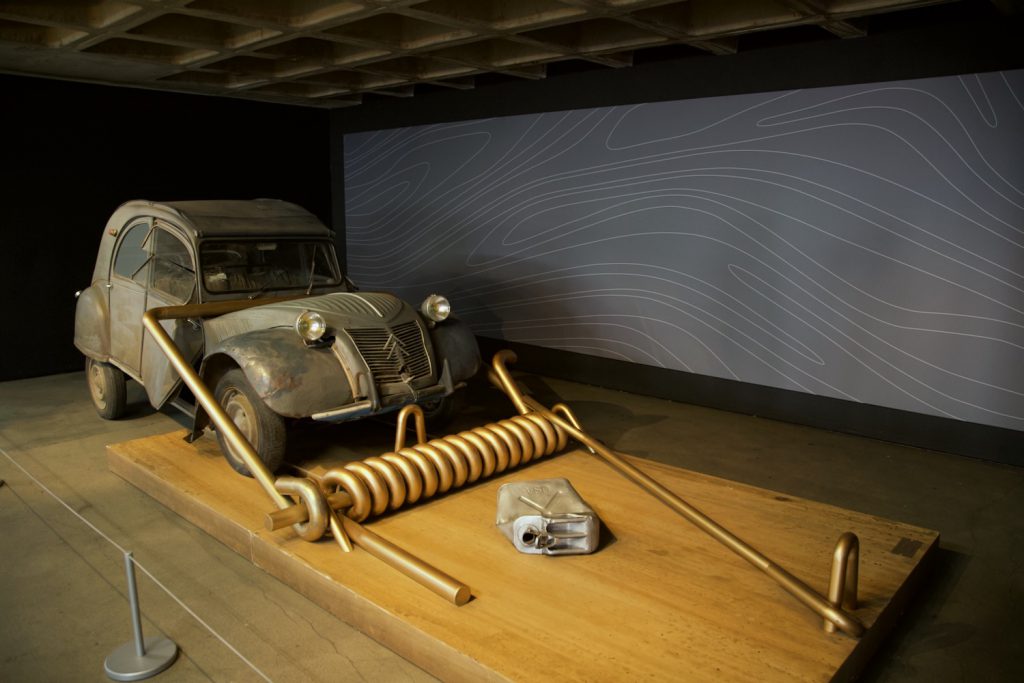 Industry
The second floor dives into the automotive industry. Learn how the dueling goals of speed and efficiency have driven a range of innovations in design and technology. Exhibits highlight industry professionals, vehicle manufacturing, high-performance road cars, alternative power, hot rods and customs, motorcycles, and motorsports.
History
With all that's come before it, it's hard to imagine what more there is to see. Yet the third floor includes many of the exhibits that draw visitors to the museum. This is the History floor. Visitors can not only learn about the classic cars of yore but stand next to many of the iconic rigs that defined their youth. Experience southern California car culture and vehicles featured on the silver screen. Exhibits include the museum introduction, "Why We Love The Automobile", concept cars and art, and "Southern California: A Region in Motion". But what really brings in the foot traffic is the "Cars of Film and Television" gallery.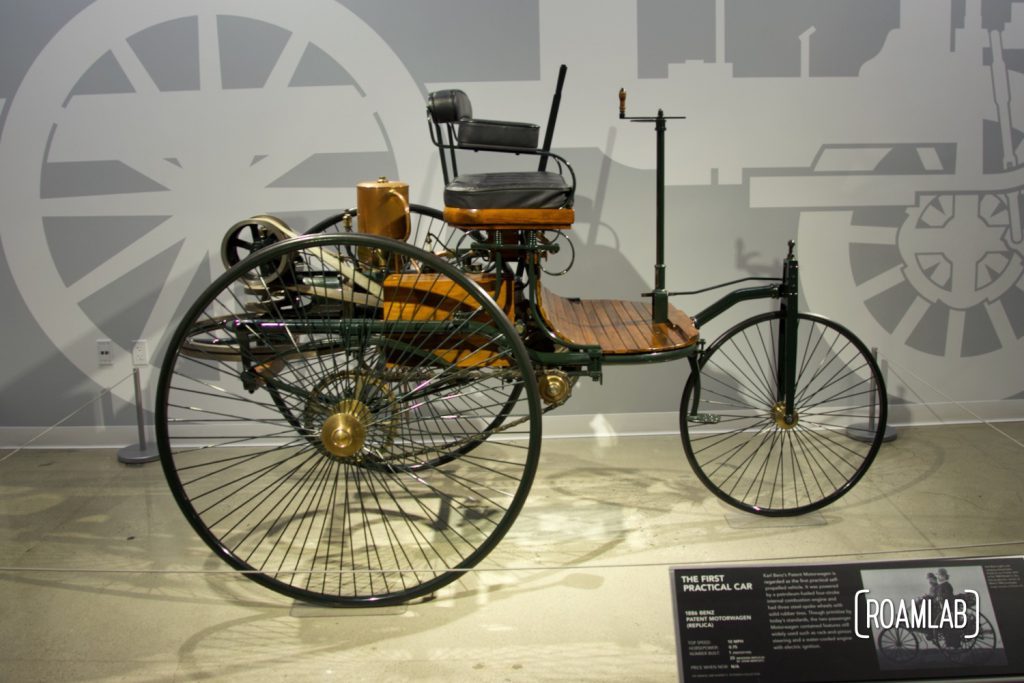 Notable Exhibits
"Cars of Film and Television" showcases famous automobiles from popular culture. See the Batmobile and the DeLorean time machine from Back to the Future. It's a journey of Hollywood-fueled nostalgia with recognizable vehicles from Transformers and Minority Report. And check out some not-quite hovercraft from Star Wars, Blade Runner, and Tron.
"Hypercars: the Allure of Extremes" is a rare opportunity to see some of the most superlative road vehicles in history. These hypercars are intriguing marvels of engineering. Such audacious objects of desire vividly illustrate the state of the art in automotive development. The exhibition is an unprecedented look at these machines that excites as much as it educates.
The electric car exhibit chronicles the history and evolving design of the electric automobile. See early models, mini-personal vehicles, and alluring concept cars that push the limits of electric engines.
"ADV: Overland" tears up the road less traveled with a collection of trucks, jeeps, motorcycles, and other overlanding rigs. Get your fill of beefy treads and 4-wheel drive. See concept cars, rock crawlers, and even space rovers as designed by NASA and Hollywood. It's a glimpse into the past, present, and future of off-road travel.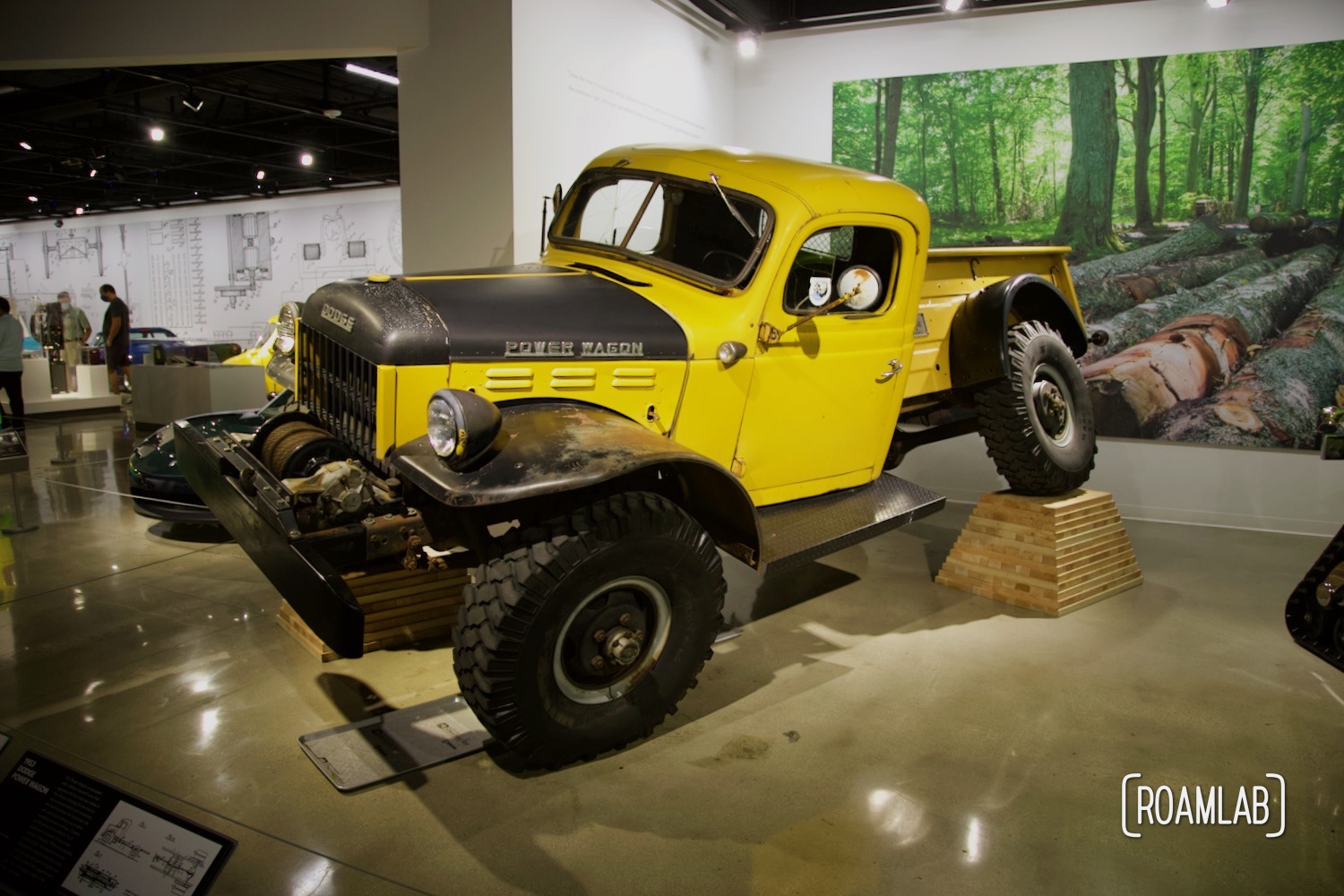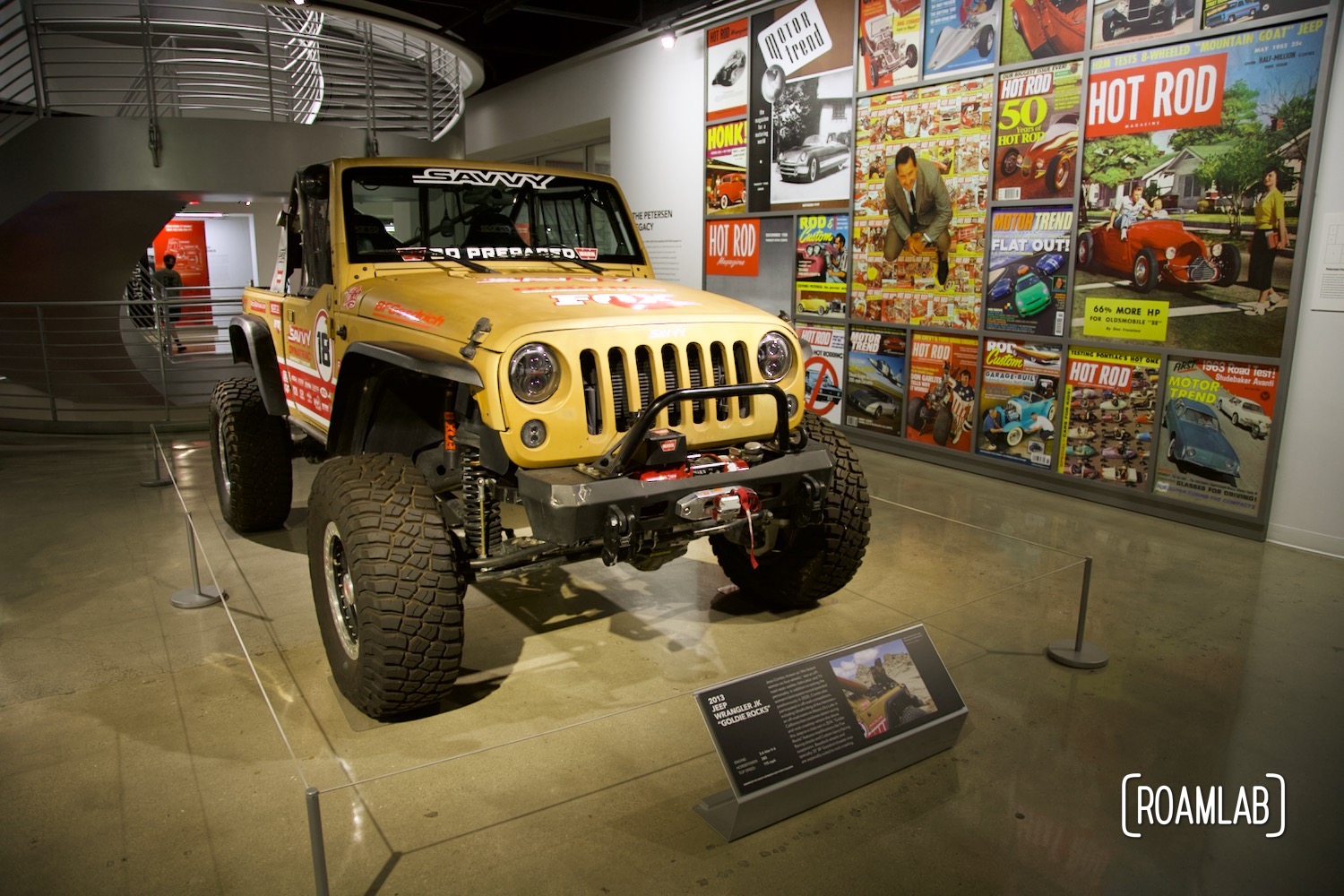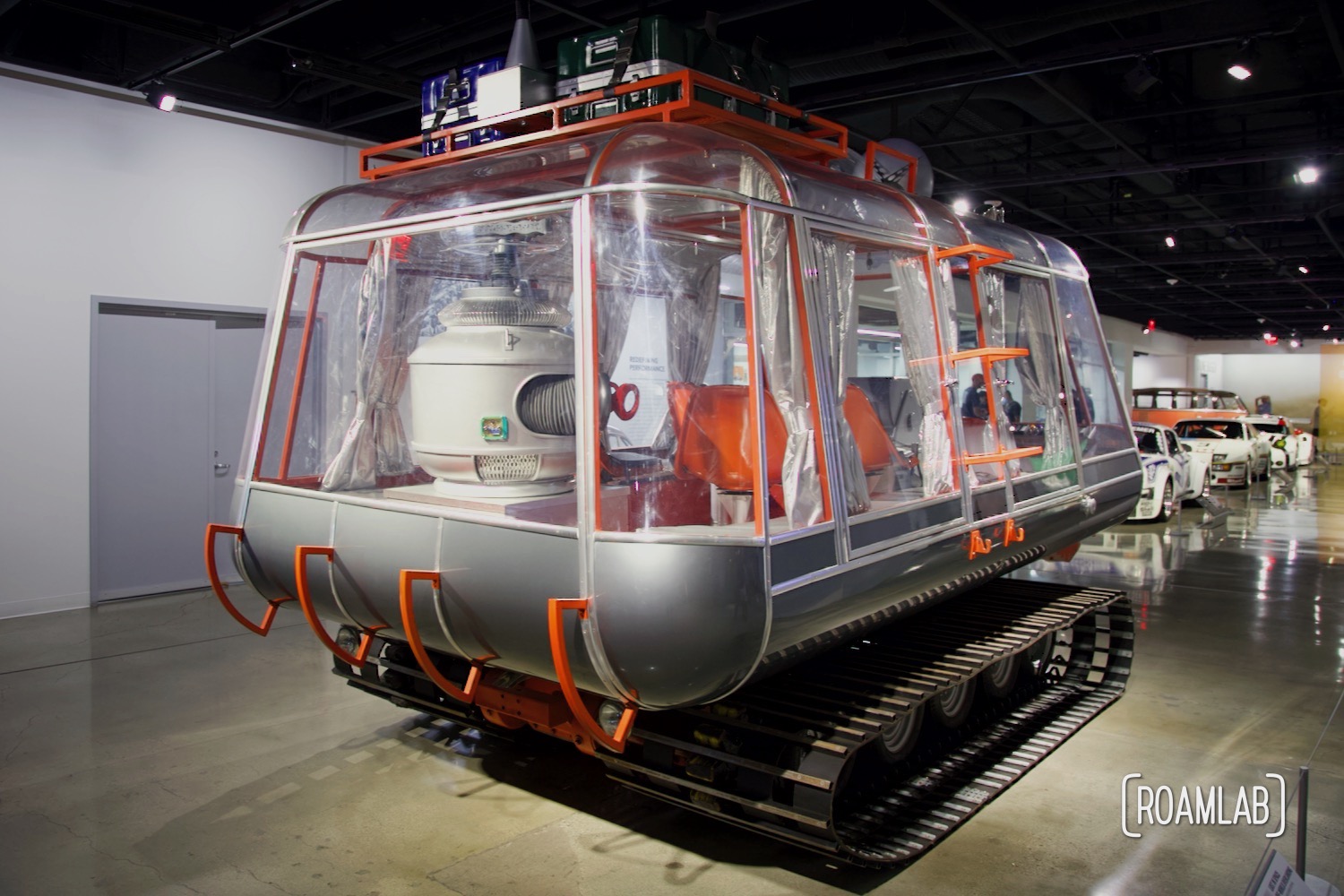 Highlights: What Not To Miss
With so many exhibits, there is no shortage of vehicles to see. But there are some that we absolutely cannot miss such as the 1967 Ford MKIII GT40. Other vehicles stand out by association, such as the 1956 Jaguar XKSS formerly owned by Steve McQueen. or the De Tomaso Pantera which belonged to Elvis Presley
But of course, one of the main reasons to visit the Petersen is to see some of the most iconic cars in pop culture history. The museum houses several famous vehicles, including one of the DeLorean time machines from Back to the Future. Spot all the miscellaneous wires and panels cobbled together to transform this striking 1981 DeLorean into a mad scientist's time machine. Visitors might also be surprised to discover tires on Luke Skywalker's SoroSuub X-34 landspeeder from Star Wars: A New Hope (1977).
1981 DeLorean "Time Machine" driven in Back to the Future (1985), Back to the Future II (1989), and Back to the Future III (1990)
Luke Skywalker's SoroSuub X-34 landspeeder from Star Wars
1992 Batmobile from Batman Returns
Lightning McQueen from Disney Pixar's Cars
1987 Autobot "Bumblebee"
Ferrari 308 GTS Targa used by Tom Selleck in Magnum, P.I.
1956 Jaguar XKSS formerly owned by Steve McQueen
De Tomaso Pantera which belonged to Elvis Presley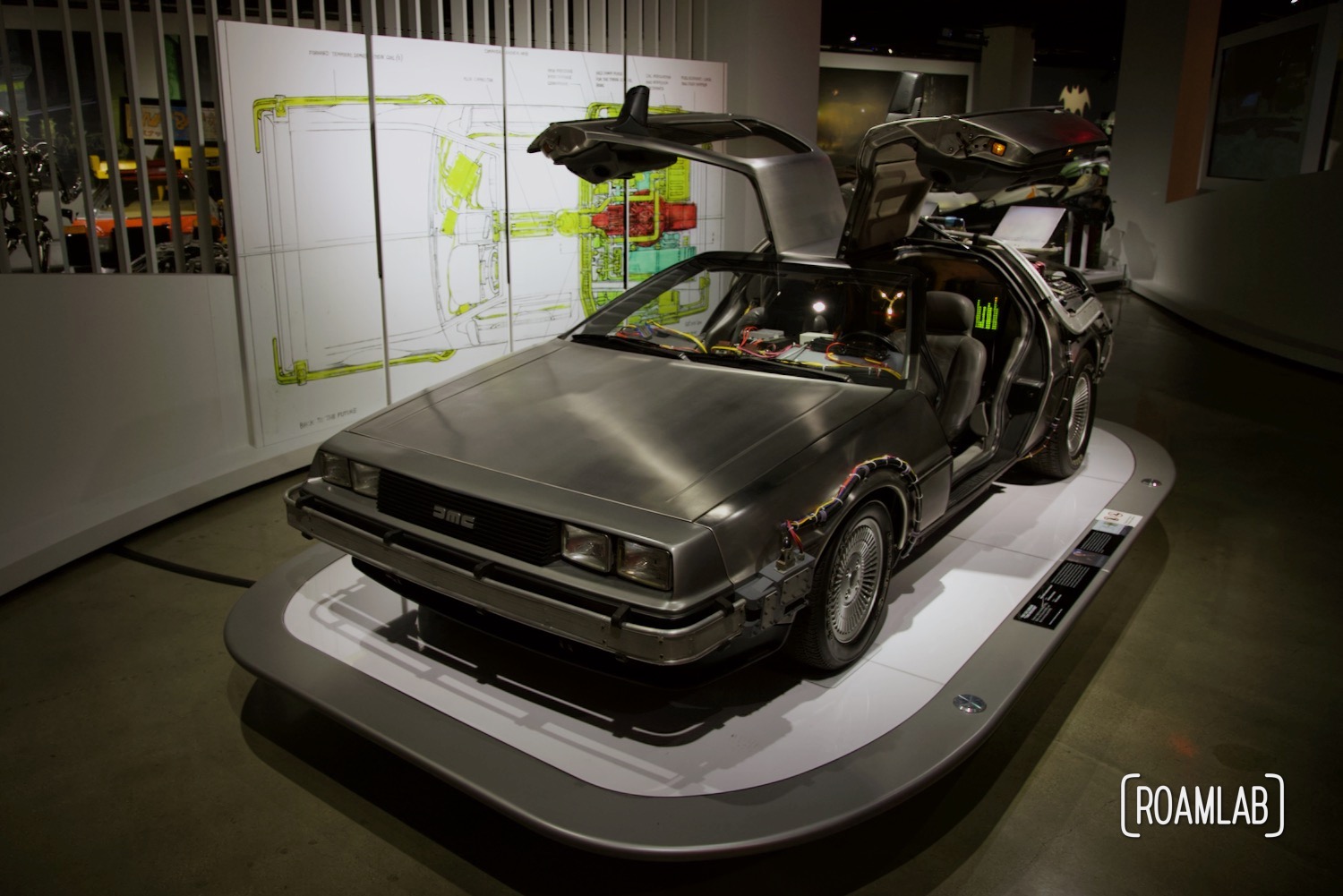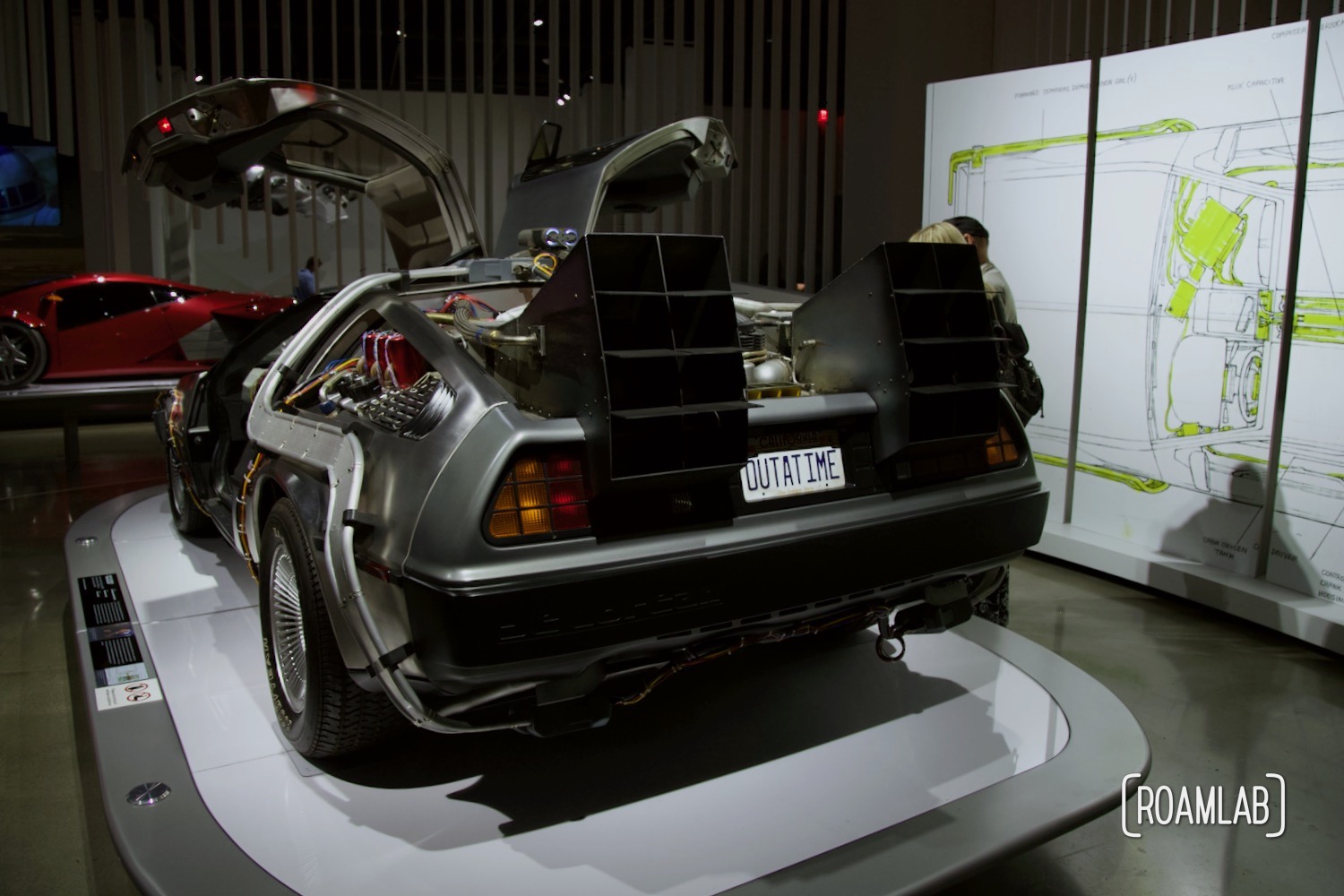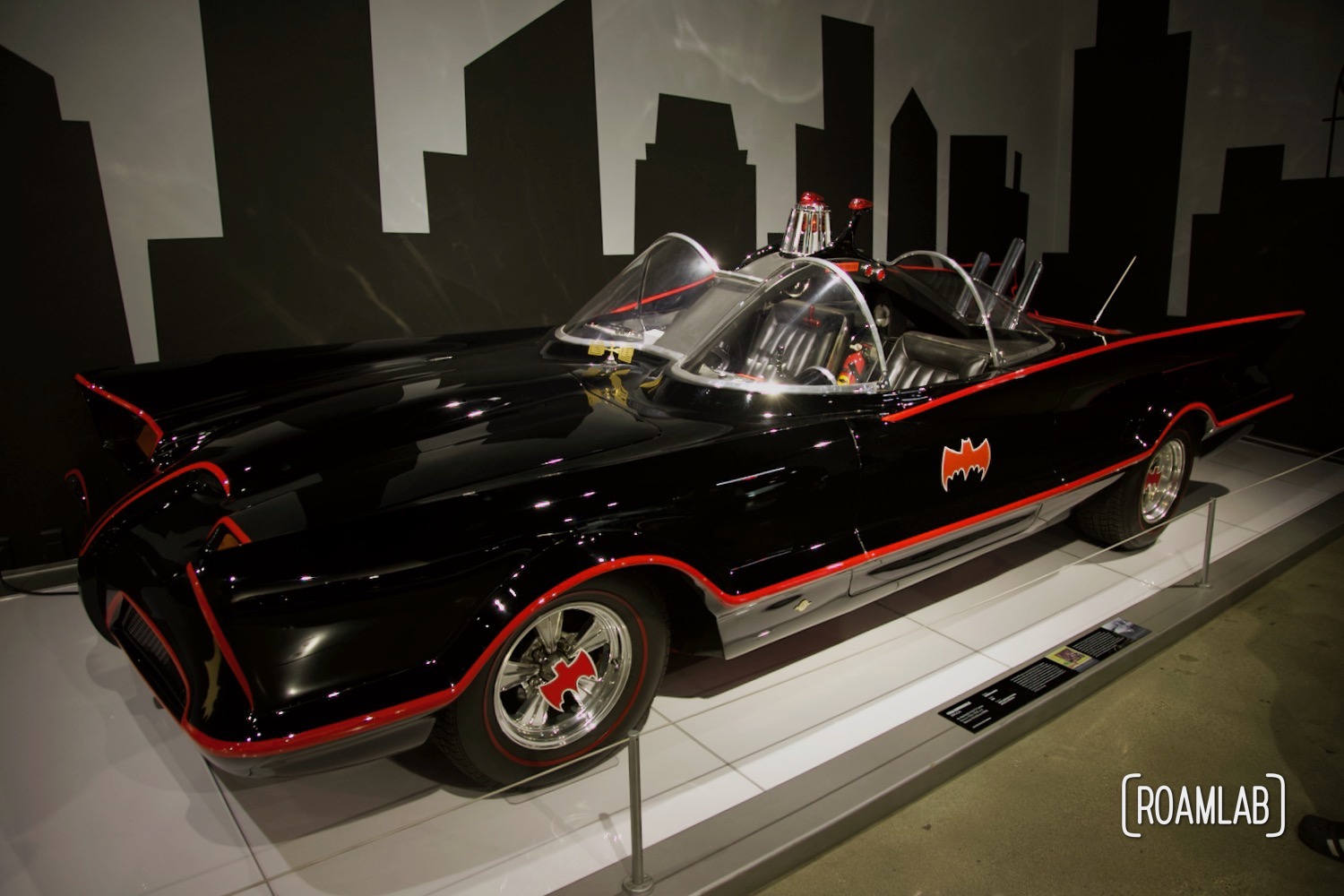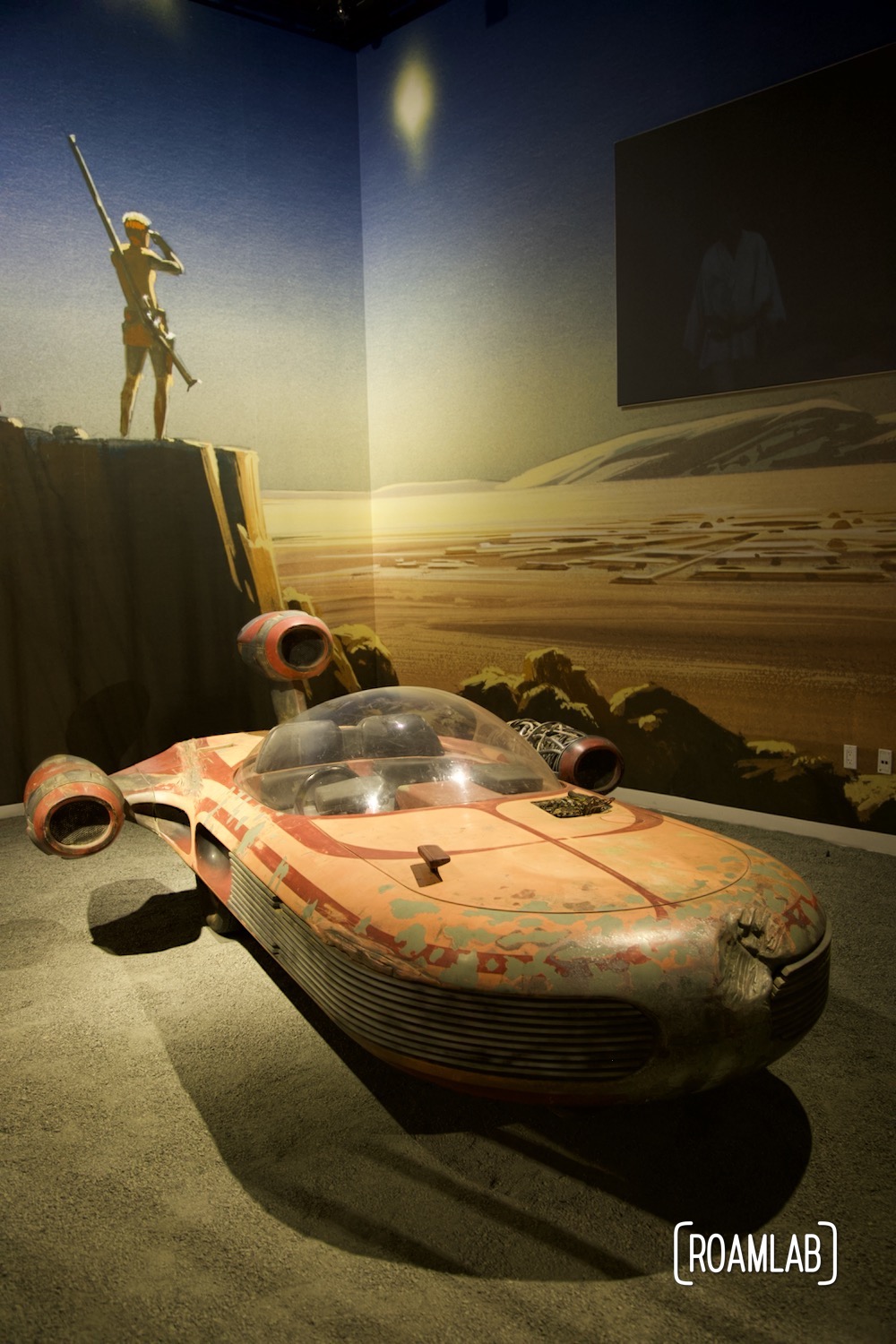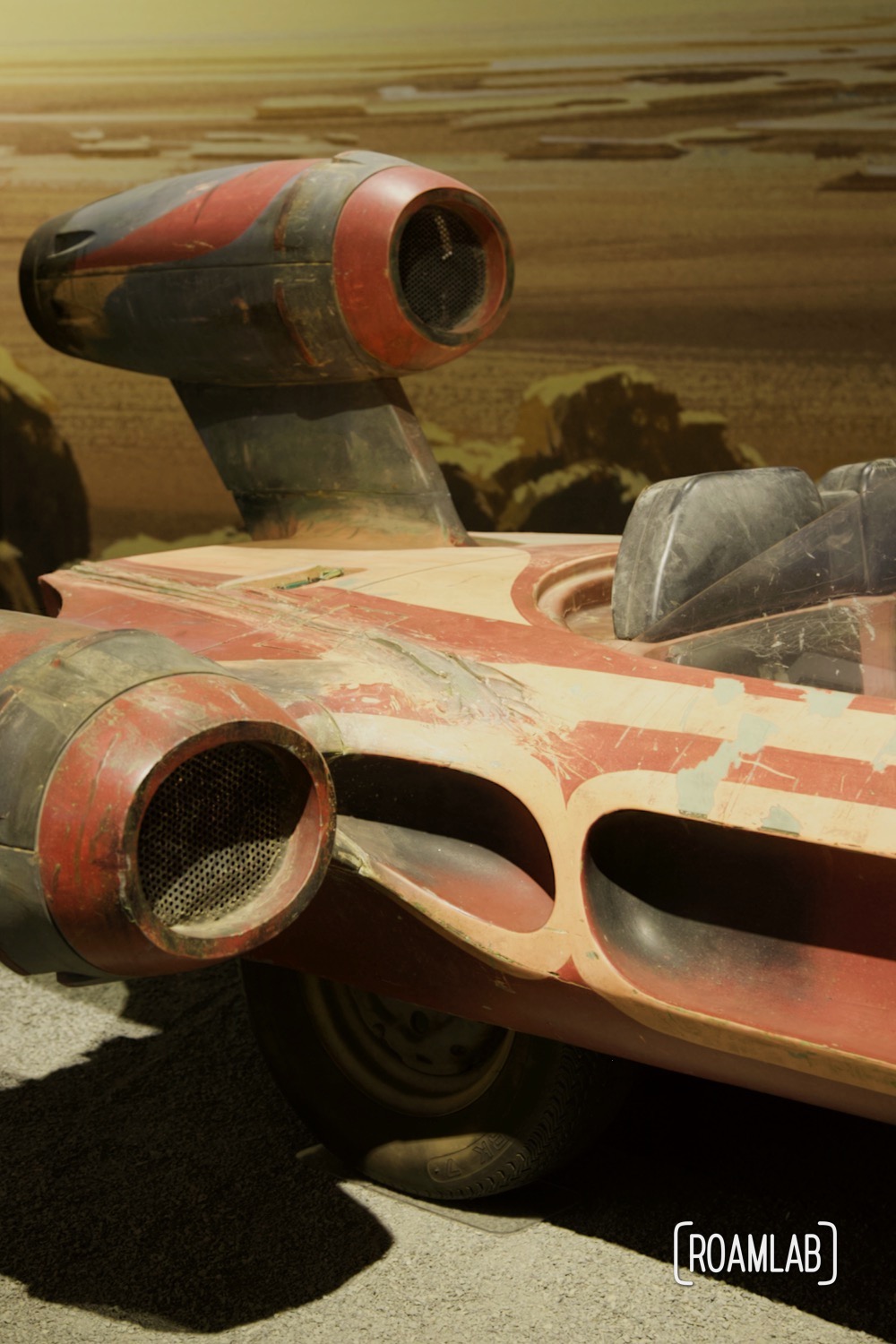 Visiting the Petersen Automotive Museum
The Petersen Automotive Museum is located in the heart of Los Angeles, California at the intersection of Wilshire and Fairfax. Exhibits are open to the public every day from 10 am to 6 pm. Admission is $19 for adults, $17 for seniors, $12 for children (4-17 years old), and children under 4 are free.
For those whose automotive passions can't be satisfied by the exhibits alone, there is one more gallery to explore. Visitors can gain access to The Vault, an underground collection of 250 vehicles from around the world. Accessing The Vault, however, is not covered in the general admission ticket. Instead, self-guided tours are $25 and docent-guided tours are $35.
Be sure to check ahead for any special events. When we arrived, we enjoyed the extra bonus of a car show on the garage roof.
Conclusion
There's no denying that the Petersen Automotive Museum is a must-see for any car lover. But even if you're not a diehard gearhead, there's still plenty to enjoy at this world-renowned museum. So take a stroll down the Miracle Mile and see some of the most stunning vehicles that have shaped the way we travel and will continue to drive us into the future.