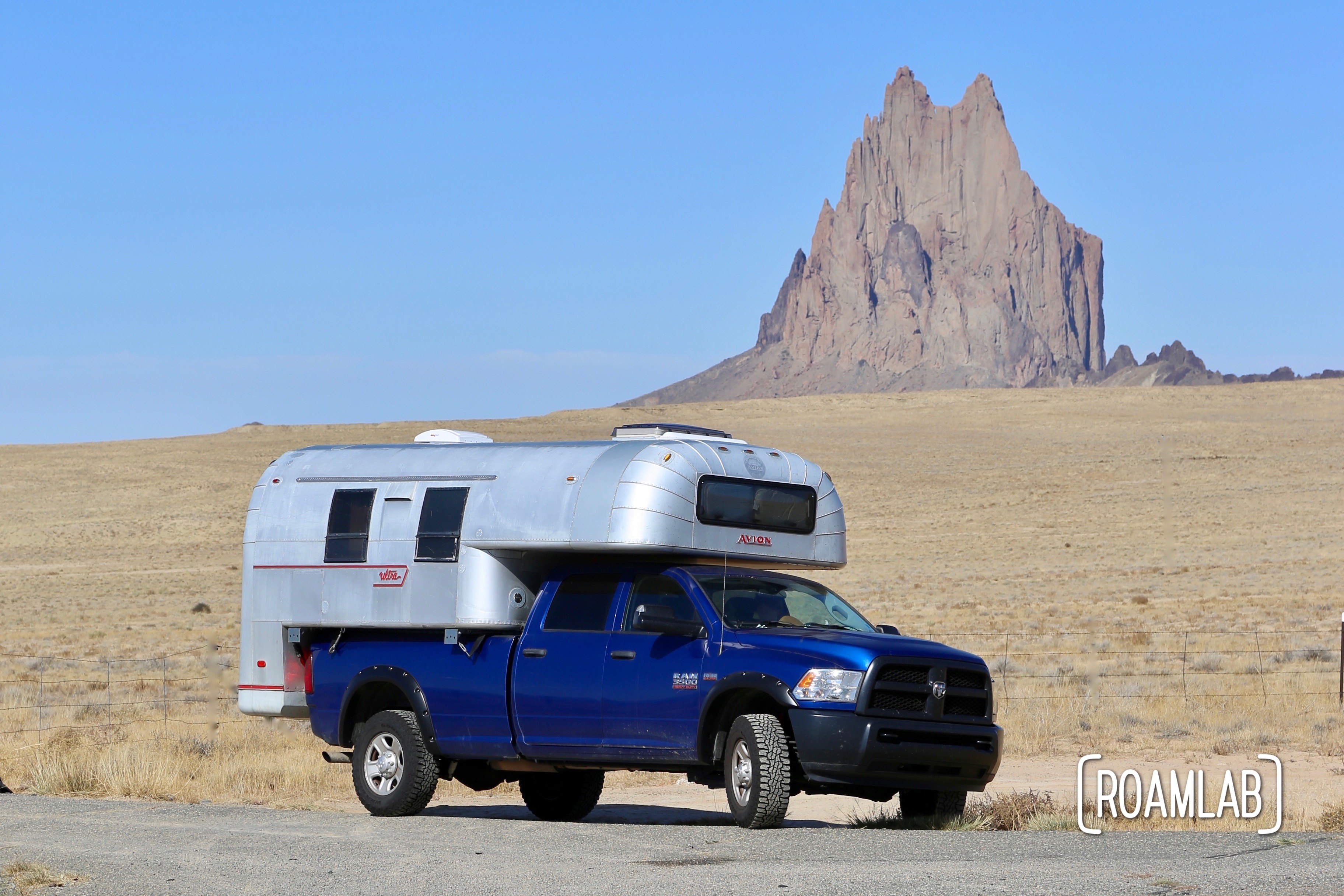 Shiprock
Shiprock—Tsé Bit'a'í, "rock with wings" or "winged rock" to the Navajo people—rises a dramatic 1,583 feet above the desert floor of North-Western New Mexico. These eroded remains of an ancient volcano are sacred the the Navajo who live in the area. While access to the peak itself is forbidden, the dramatic views of Shiprock make it worth a visit.
Shiprock In Navajo Myth
The peak holds a powerful and ominous places in Navajo Myth and is central to many ceremonies. It has been a home to man-eating bird monsters or (Tsé Ninájálééh). In a terrestrial equivalent of constellations, it is considered to be one of several rock features across the area that comprises the "Goods of Value Mountain," a large, mythic male figure in Navajo lore. One tale describes Shiprock as the home of Navajo people, who only decent from the peak to tend to their crops and get water. When a lightning strike obliterates the path between the formation's peak to the desert floor, the women and children on the peak starve to death.
Visiting Shiprock
There is no public park associated with the Shiprock. There are no hiking trails. There are no recreational services that access the rock aside from chartered planes that will fly over it. The iconic rock formation sits on private land held by the Navajo Nation and all access is forbidden.
Ever since a climbing accident on the peak in April 1966, the Navajo Nation has instituted an "absolute, final and unconditional" ban on rock climbing across the Nation. In addition, visitors are not allowed on the private land surrounding Shiprock. According to a website managed by the Navajo Nation, "hiking and/or climbing on the sacred peak or its surrounding rocks is forbidden. Also driving onto the dirt road leading to the formation is prohibited." While you may see locals on these roads, they are solely for religious rights and oversight of the surrounding grazing land.
We are, however, welcome to take pictures from the highway. And, frankly there are plenty remarkable photos to be captured in a perfectly legal and respectful way from pullouts along the public paved routes of Indian Service Route 13 or from US Highway 491. This does not include drones, of course, because drones cannot be legally launched near a highway. So, pull our your cellphone or SLR and take a gander at this magnificent peak.
What do you think of our mini-photoshoot?