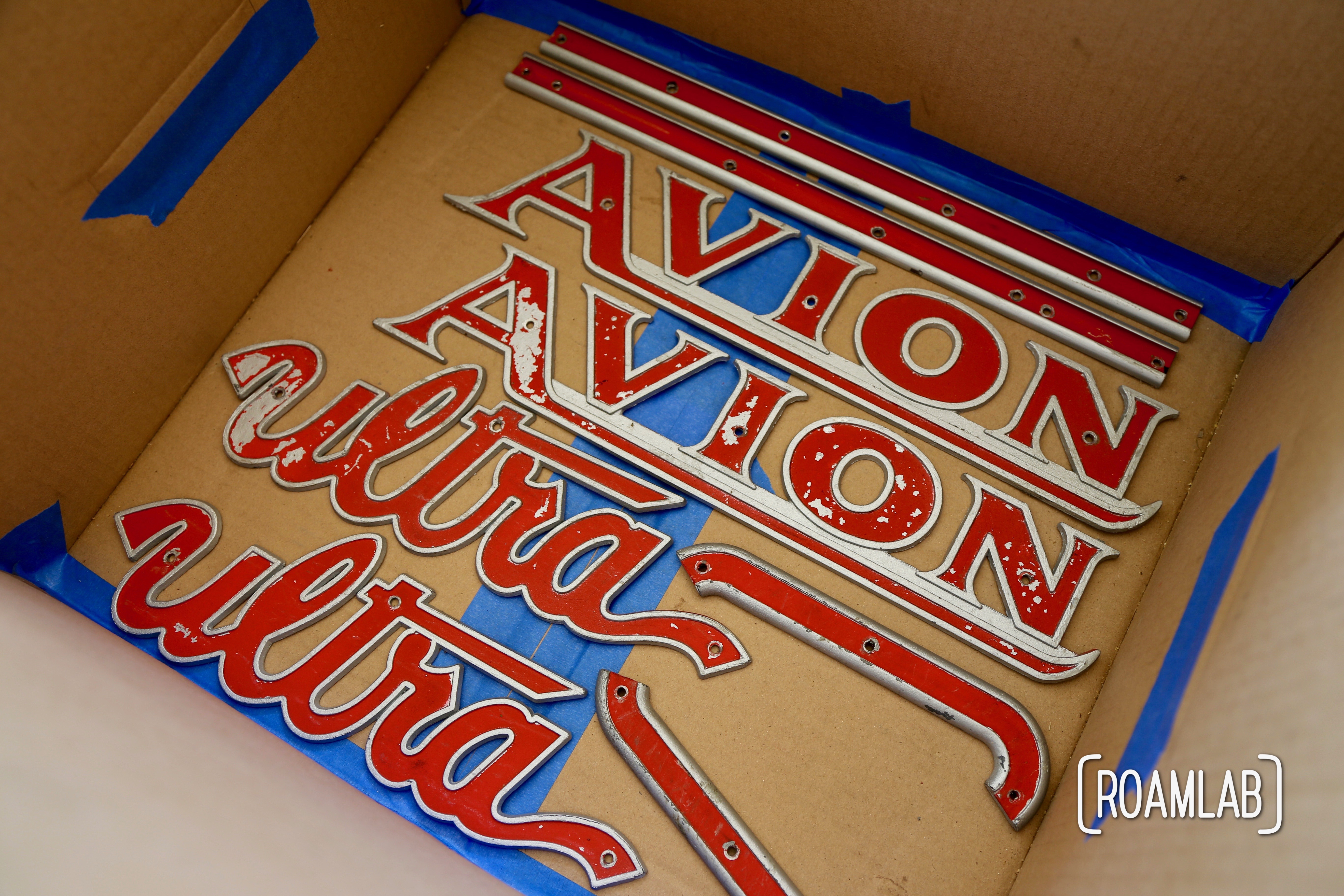 Painting Vintage Camper Decals
Any owner of a vintage camper likely knows the feeling: you have a beautiful, clean piece of automotive history that looks dirty and drab because of some chipped and sun-faded decals. Most manufacturers decorated their camper exteriors with brightly colored metal emblems featuring brand names and model types. The problem is, bright colors such as red are the first to fade. And, after a half century in the sun, it is time to repaint the decals.
Out Avion Ultra truck camper has two "Avion" decals, two "ultra" decals, and red stripes surrounding the "ultra" text. We have painted each decal four separate times. The first round held up well but I used black paint to outline each letter and regretted the decision after seeing the finished products mounted to the camper. The second round looked fantastic, with reflective silver painted outlines and red inner text. I liked the reflective paint so much that even after the paint job immediately started flaking after a day on the highway, I was willing to give it a second chance. My third paint job was with the same paint but better (warmer) painting conditions and attention to detail. Despite being marketed for industrial uses and a more mindful application, the paint just did not hold up. So, while we love the idea of reflective paint for safety applications, on the fourth round, we keep things simple.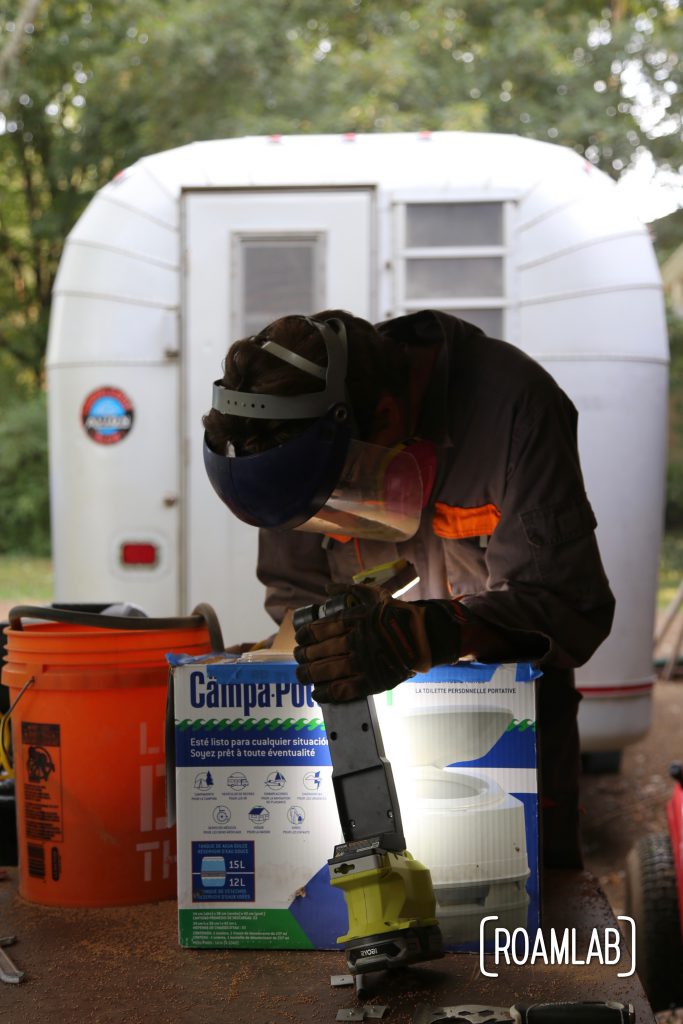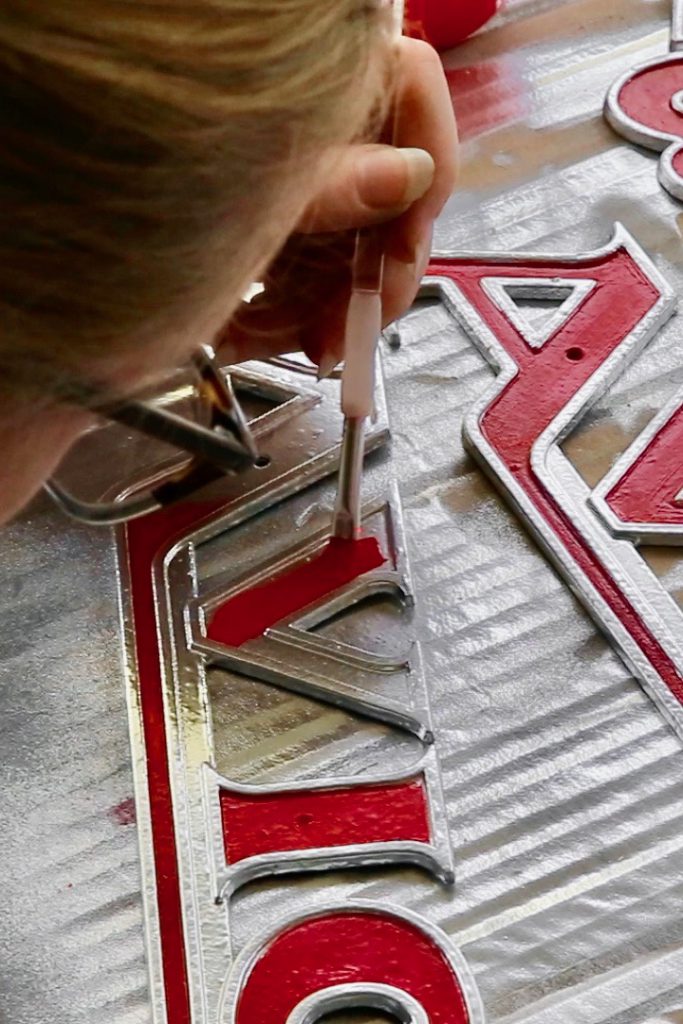 Removing The Old Paint
Walnut Blasting
Sure, the last paint we used chipped easily. But not everywhere. While certain patches continue to chip away, others do their job. So, to start, we have to remove the old paint to make sure the new paint has a secure base to attach. We begin by blasting the decals with pulverized walnut shells. Unlike the better known sand blasting technique, blasting with walnut shells is much more gentle and less likely to harm the base material we are trying to expose. Of course, like any delicate touch, that also means the process is far more time consuming.
While we have a large air compressor for riveting, a blasting attachment, and walnut blasting material, we don't have any fancy blasting cabinet. These often are completely clear boxes with built in gloves for holding the item to be blasted and the blasting gun. Instead, I cut a hole in an old cardboard box, cover it with plastic to act as a view window, and then carefully don gloves, long sleeves, and a mask to protect every inch of skin from blasting material. It's messy, but we manage to remove most of the paint this way.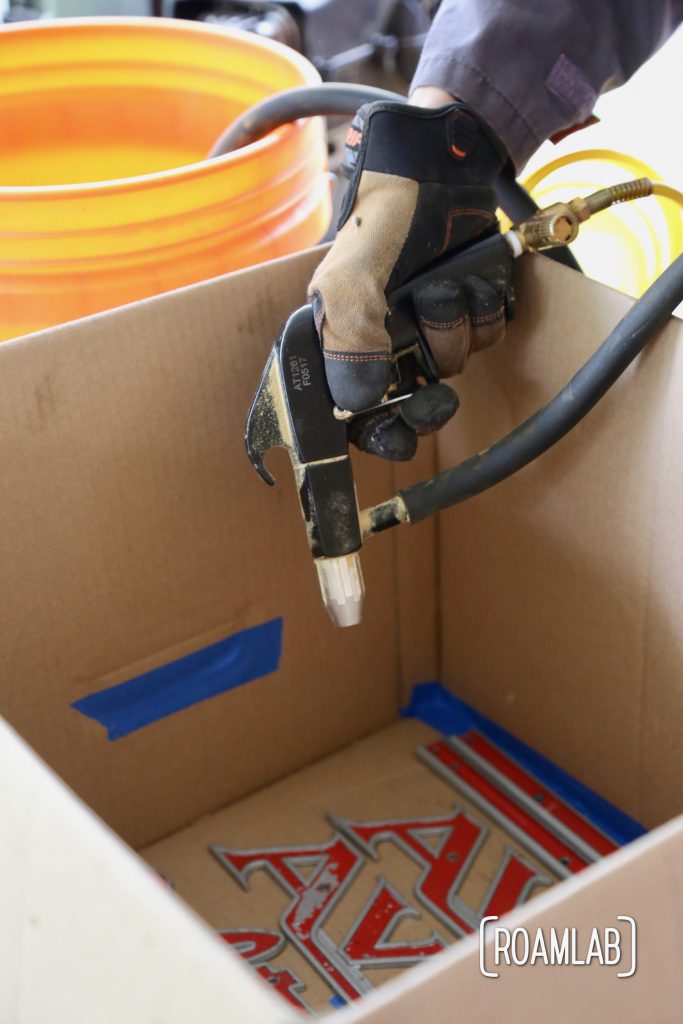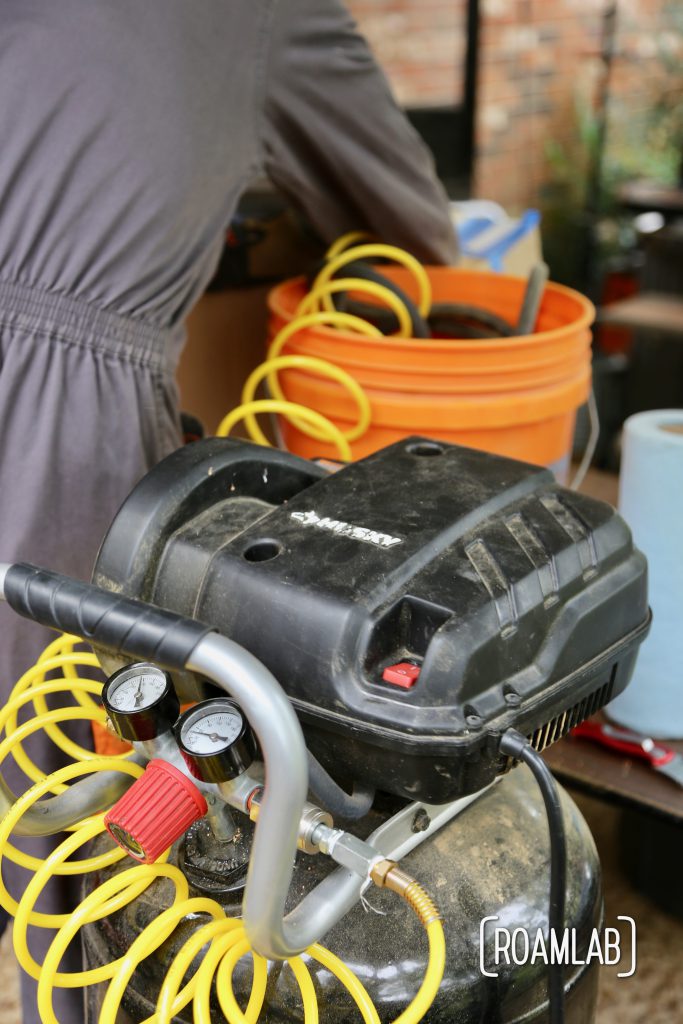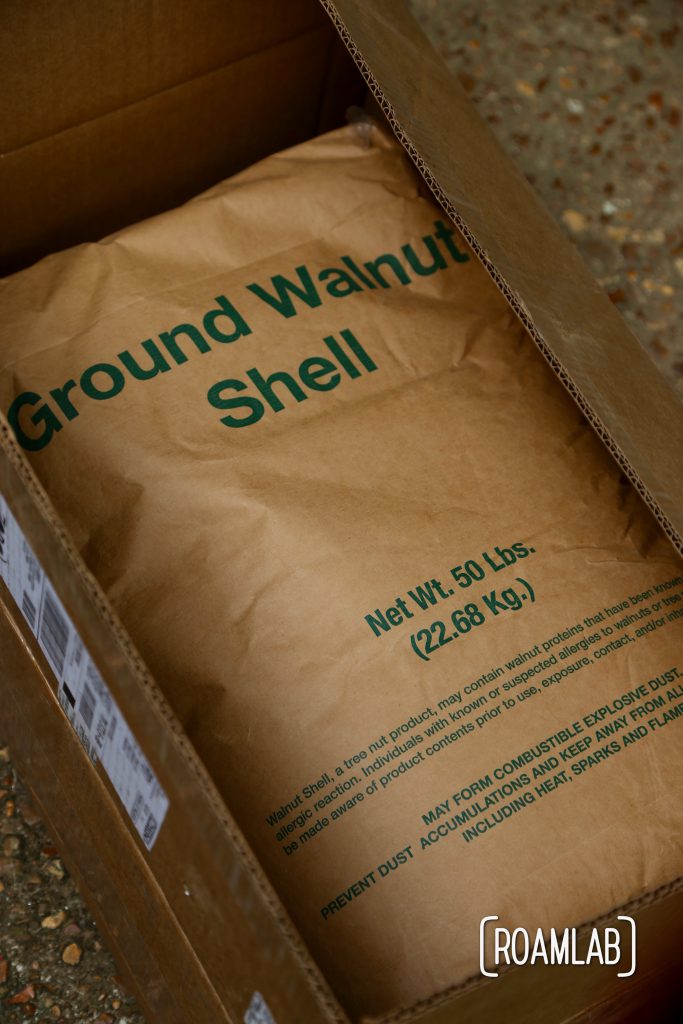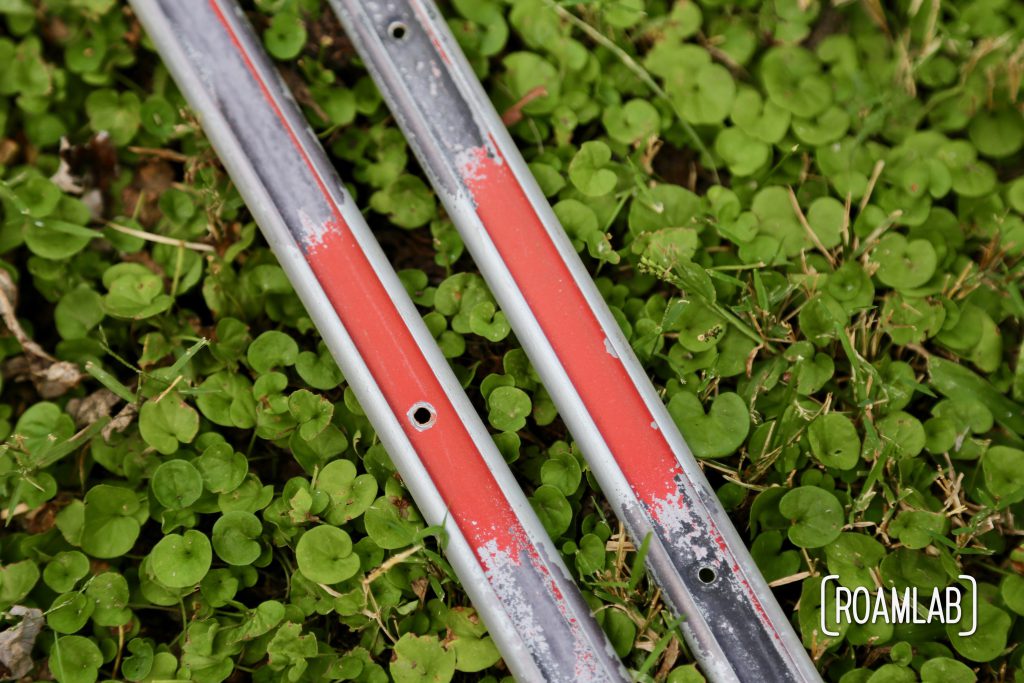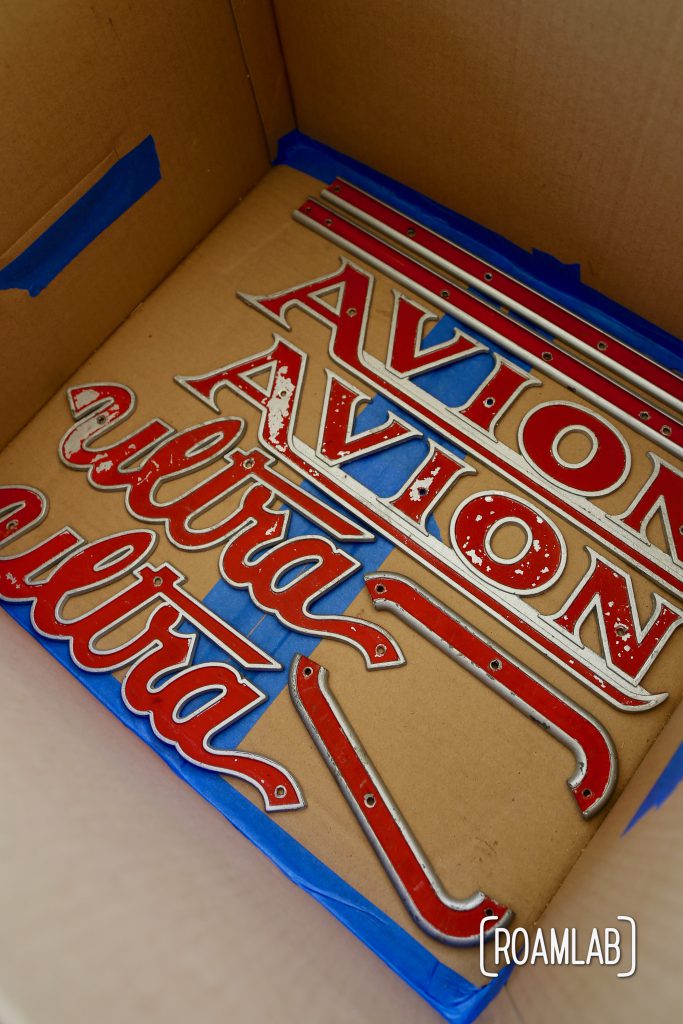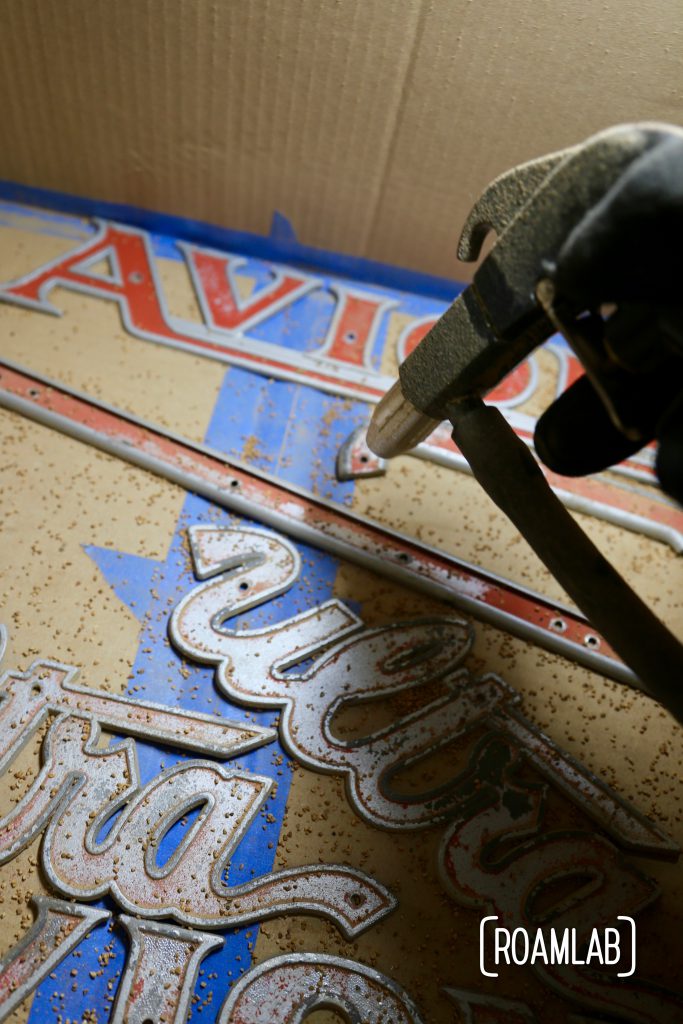 Using a File For Detail Work
Even after the blasting, paint remains in the corners and crannies of the decals. In simple, strait sections that were mostly protected from the blast material, I can make quick work of the remaining paint with a medium grit sand paper. For more difficult to reach corners, I use a small, pointed file and metal bristled brush.
Wipe Down & Wash
To make sure that all loose paint is completely gone, I thoroughly wipe down each decal with a tack cloth (it is a tacky cloth that picks up dust and other fine particles). With all the obvious dirt removed, I wash down the decals with soap and water and let them dry completely before applying paint.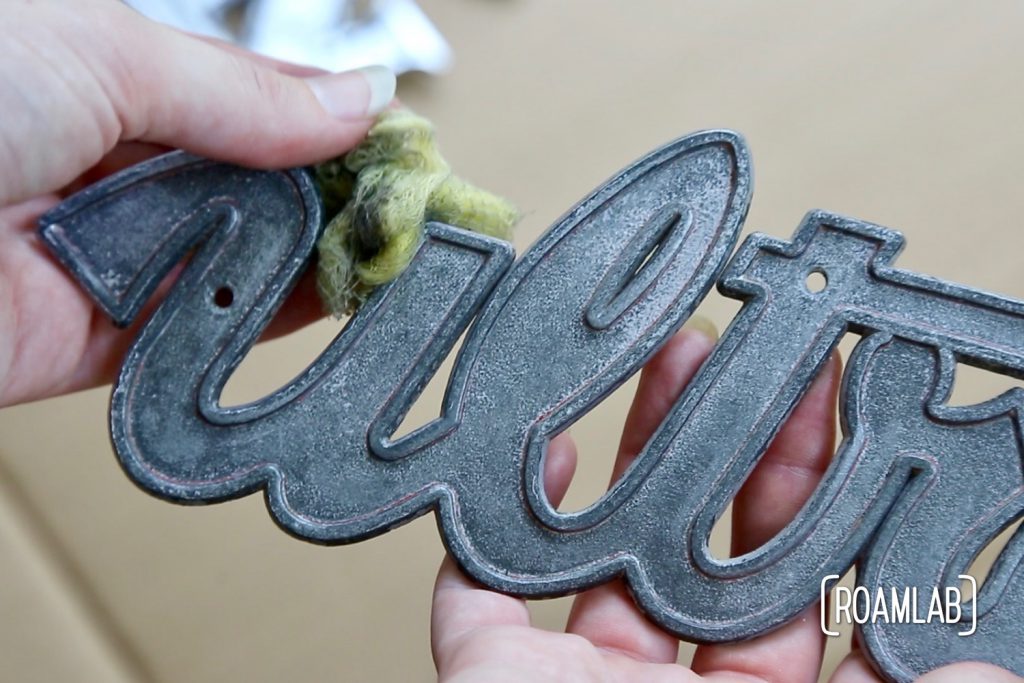 Painting The Decals
Selecting Paint
So, here we are, fourth time around. Both paint color and quality are to blame for past failures. But I have learned a lot in the process.  This time, I decide to use a chrome spray paint base with red brush on paint for detailing, all covered by a clear coat of splay paint.
Why this selection? In the last three rounds of application, I used exclusively spray paint. But, this meant that I had to use masking tape to cover portions of the decals that were meant to maintain the base paint color. The process was tedious, imperfect, and nearly impossible to complete without covering the surface to be painted with oil from my fingers and other collected materials. As all the outlines on the decals (which would be silver) are already raised and the interior (red) is always a flat depression, It seems logical to simply brush the interior paint by hand instead of masking and spraying. As most of my flaking problems are from the red interior paint, this also means that painting over the rivets and any future patching, if necessary, will be a lot more simple.
After my misadventures buying alternative brands, I return the fold, buying only Rustoleum products to minimize any likely conflicts between the paints. I make sure to only buy paint designed for metal applications and outdoor use:
Rustoleum Bright Coat Metallic Chrome Spray Paint
Rustoleum Ultra Cover Gloss Apple Red General Purpose Paint
Rustoleum Protective Enamel Gloss Crystal Clear Spray Paint
If you look up these purchases, you may notice that the Apple Red paint is latex. Why the latex paint? Desperation.  We would have used an enamel red but the latex is the only bright red brush on paint from Rustoleum that we can get at the nearby big box home improvement store.  We even have a spray can of bright red enamel paint that I had used before but I desperately want a brush on paint.
I apply copious layers of each paint. It will take more than a minor nick to remove any of it. My only regret this time is that I don't have more time between applications. As with every past experience painting decals, we are in a rush.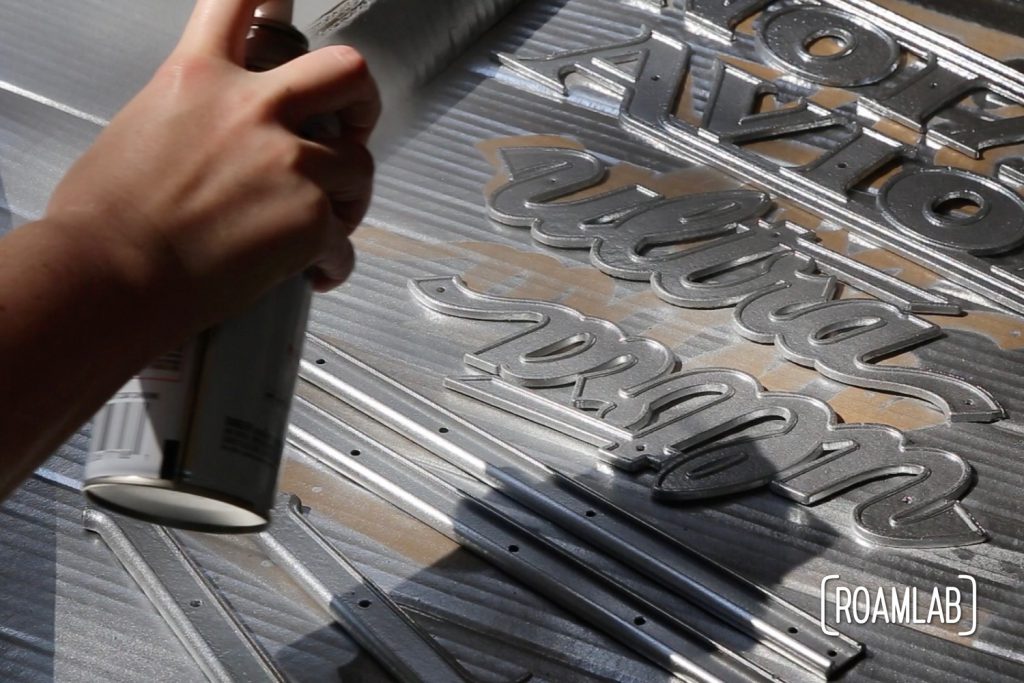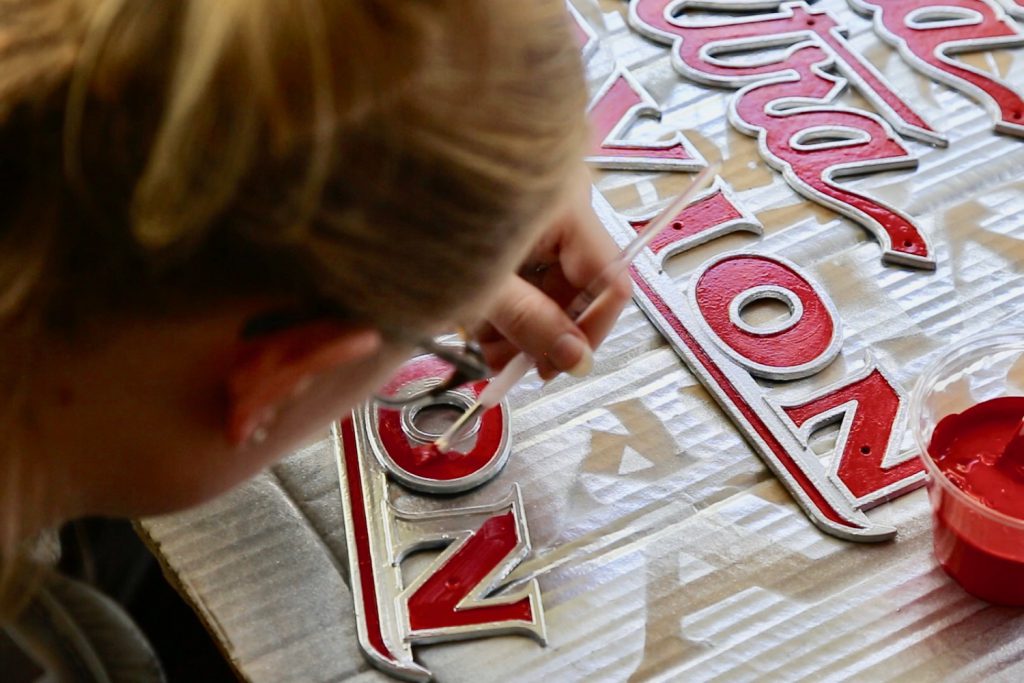 Final Thoughts
While only time will tell how well this approach works, I notably remember the winter of 2018.  By the time we reached Oklahoma, the failure of the reflective paint from Round 2 was obvious. Long strips of read had already pealed off, leaving only the silver base paint.
As it stands…we have covered more miles and the paint is holding up.