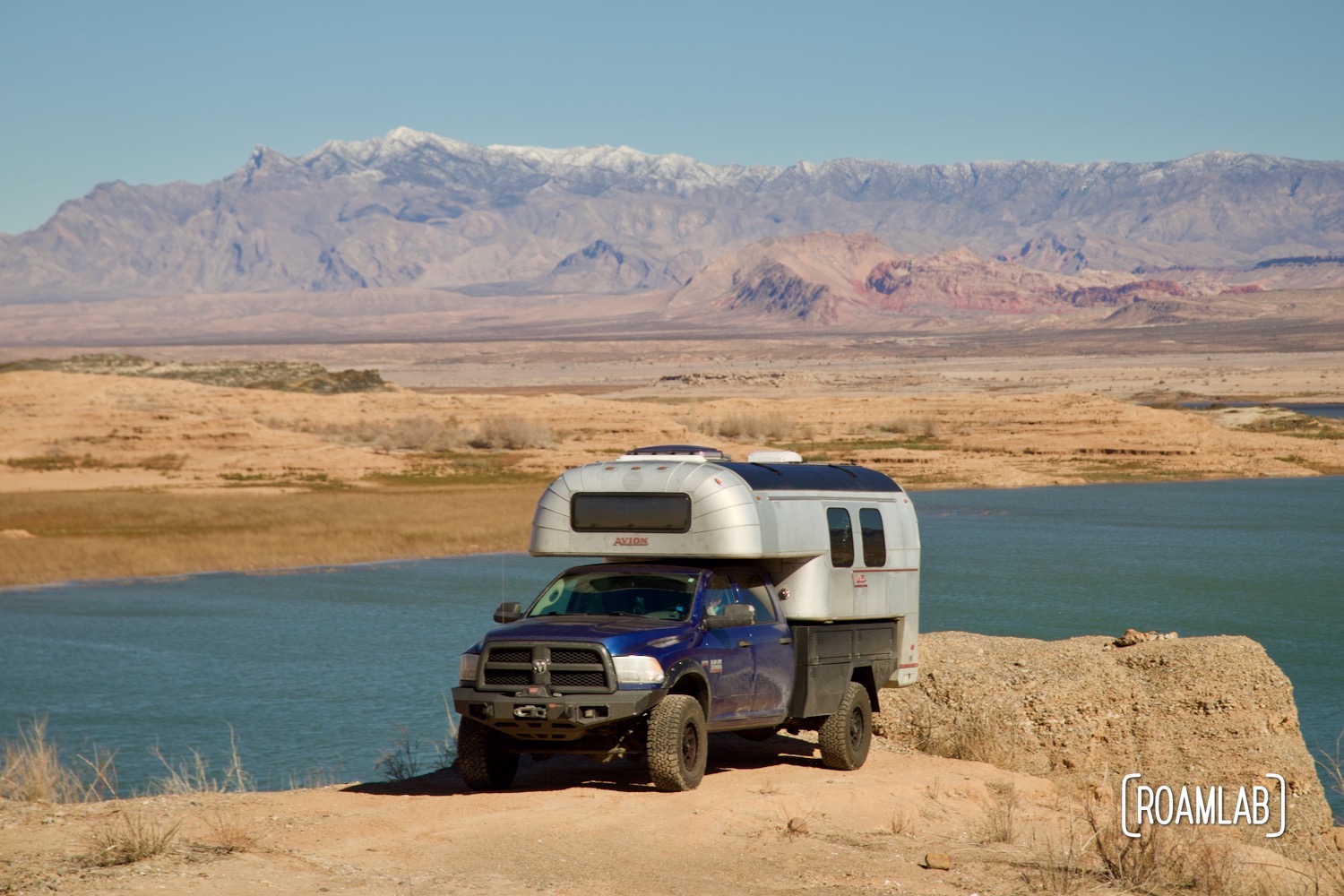 It's not every night we camp on a cliff, surrounded by water with snow-capped mountains in the background. But at Stewarts Point, that describes almost every site we consider. This dispersed campground on the northeast bank of Lake Mead is one of a limited number of designated camping areas in the National Recreation Area. And yet we find relative seclusion along this remote stretch of shoreline.
Lake Mead Nationa Recreation Area covers 1.5 million acres along the Arizona-Nevada border where the Hoover Dam stops up the Colorado River to create an aquatic oasis in the desert just east of Las Vegas. While the lake itself is an obvious recreational draw for boating, swimming, fishing, and wildlife viewing, the colorful red rock formations and rugged desert mountains also offer hiking, biking, and backcountry adventures.
We roll into the park looking for a place to test our new inflatable rafts but dire (windy) weather predictions have us looking for a site to spend the night and wait for better paddling conditions. Lake Mead has several developed campgrounds along the lake shore with extensive amenities. But we want to escape the crowds the best way we know how: with some dispersed camping.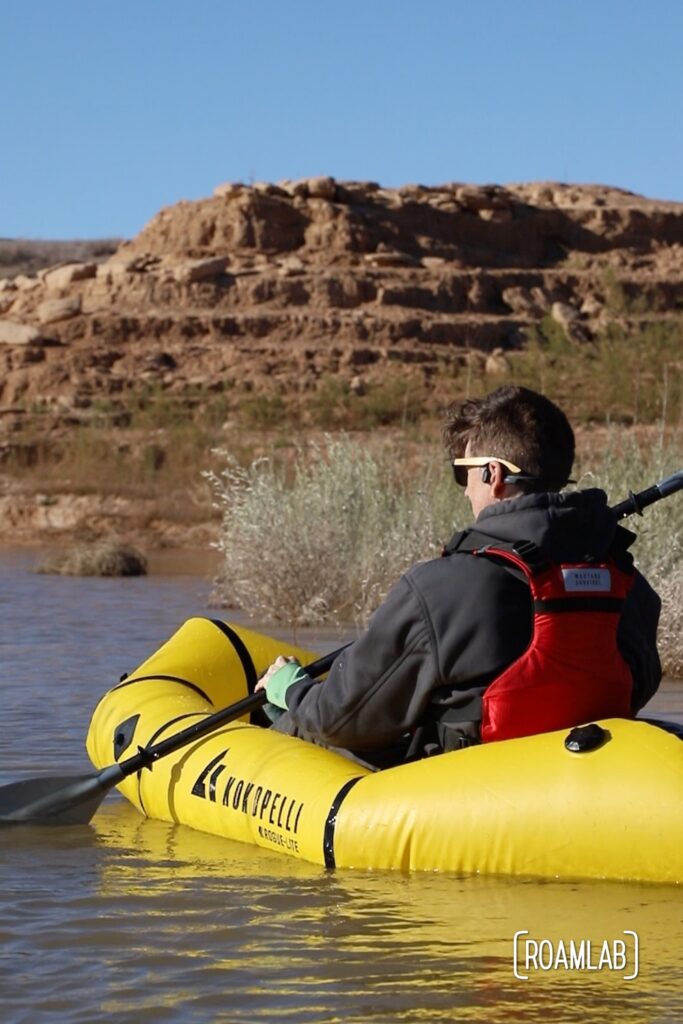 Dispersed Camping in Lake Mead
Aside from the entry fee for Lake Mead National Recreation Area, dispersed camping is free. Every year, we invest in an annual pass from the National Park System, so Lake Mead is just part of our flat annual fee. Even so, the "free" dispersed camping around Lake Mead comes with limitations.
We get used to the freewheeling culture of BLM (Bureau of Land Management) boondocking. It can be easy to overlook local restrictions. Lake Mead, however, is a National Recreation Area overseen by the National Park Service (NPS). While dispersed camping is permitted, it is only allowed in designated areas such as Stewarts Point. Fortunately, backcountry rules are clearly enumerated on the NPS website for Lake Mead.
In the course of driving to Stewarts Point, we pass another dispersed campground at Government Wash. This stretch of level ground along the northwest shoreline is only a 45-minute drive from the heart of Las Vegas and all the conveniences of an urban center. Such proximity and ease of access make this a popular boondocking site littered with campers. They certainly have more space than a conventional campground, but it's far too crowded for our interests.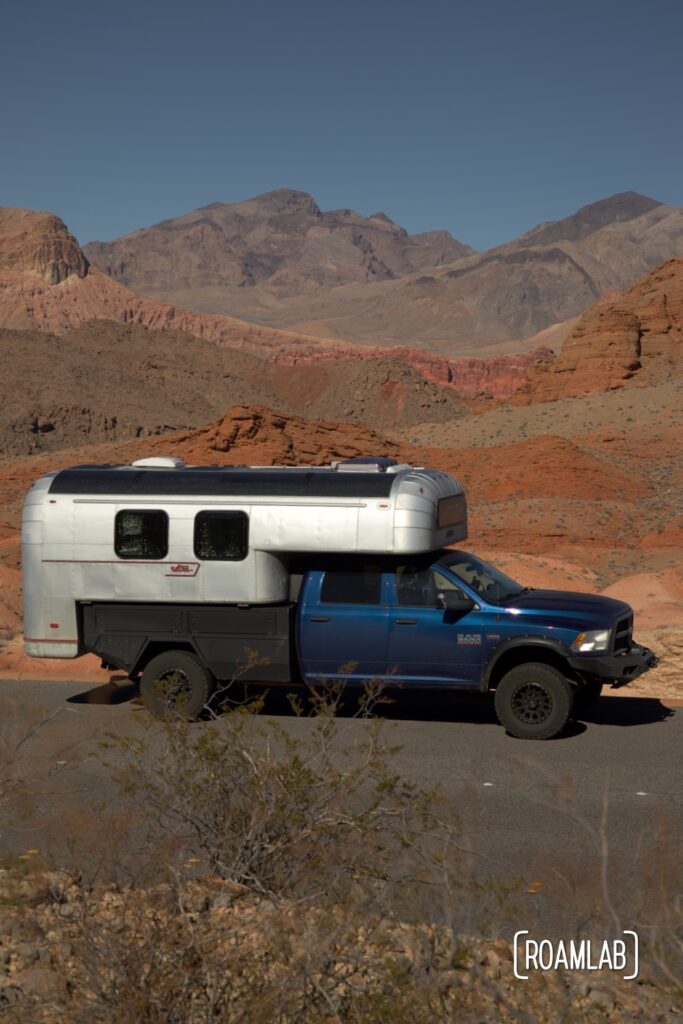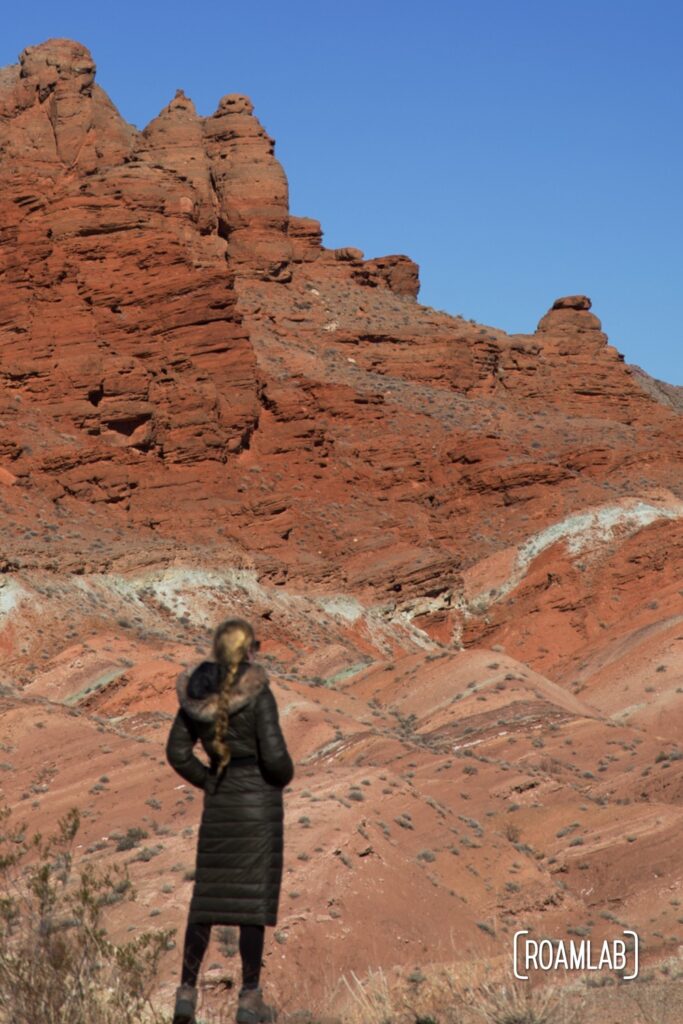 Stewarts Point
We keep driving along Northshore Road. This scenic route through Lake Mead Recreation Area is replete with red rock vistas, numerous trailheads, and access to a couple of developed campgrounds and marinas. We enjoy our last flushing toilet and running water at Echo Bay Marina before turning off Northshore Road for the dirt Stewarts Point Road.
At this point, we are on our own. Dispersed camping means that we pack in what we need and pack out what we consume. We have our own water, food, sanitation, and recovery gear. The closest thing to a developed campground here might be a ring of stones, evidence of a past fire circle.
This is the desert. Summers are hot and dry. Winters are cold. And the temperatures between day and night can swing between shocking extremes. We are relatively lucky, though. The highs are in the mid-fifties and the lows are above freezing. Now, if only the wind could die down so we can paddle.
That brings us back to where we began this piece, perched along a cliff, with views of Lake Mead and the snow-capped mountains to the east. The views are fantastic but this is not a place to bring your motorboat. There is no marina with a boat ramp to back your yacht into the water. Reaching the water involves a climb, finding any semblance of a beach may take some hunting, and bringing gear could take a few trips. But if you can manage it, it's a way to explore Lake Mead and almost forget that there is anyone else on the lake at all.
We settle in for the night and watch the sunset reflected along the mountains. Yes, I think this is a place we will be coming back to, more than once.