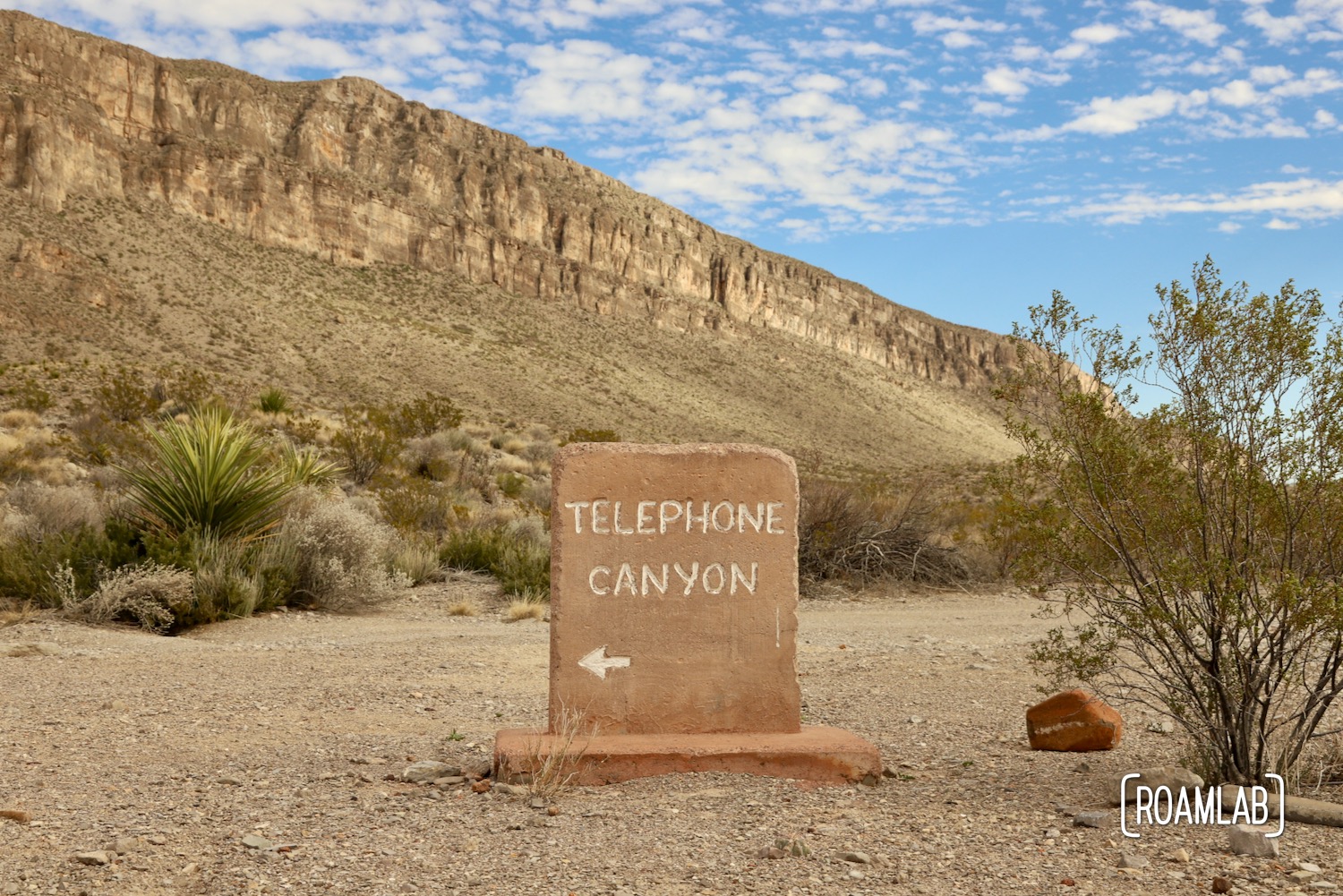 I start getting excited as we approach Telephone Canyon. I can't see the campsite yet, but my maps and the rising cliffside in the distance tell us that we are getting close and the view is going to be spectacular. There aren't a lot of opportunities to have a canyon in a National Park to yourself. But Telephone Canyon 1 (TC-1) is a unique campsite.
Telephone Canyon 1 is one of many dispersed roadside campsites scattered throughout Big Bend National Park's backcountry and one of two in Telephone Canyon. It is among a dozen campsites along Old Ore Road that you can (and must) reserve in advance. While several of the sites are empty when I drive by in the evening and early morning, all of them are reserved for the Sunday night that we visit.  
The amenities are minimal: a relatively flat lot of land and a bear box.  The restrictions are extensive: no ground fires, pack out what you packed in, and if you didn't bring your own toilet, dig your own at least a quarter of a mile from the campsite and 6-inches deep. (That's far from a comprehensive list; I've included the full backcountry regulations below. ) but what you get n return is the kind of solitude you can only dream of while listening to children screaming in a developed campground.
Accessing the Campsite
Access TC-1 is challenging: 12.5-miles from the northern terminus or 14-miles from the southern terminus of Old Ore Road, on an unmaintained trail restricted to 4-wheel drive vehicles with high clearance and 25-foot maximum length. And those requirements are for an excellent reason. Old Ore Road is one of Big Bend's most rough backcountry roads. The trail is narrow, rocky, and uneven. Standard streetcars, motorhomes, and any trailer not designed for overlanding won't make it far down Old Ore Road. Jeeps and small trucks would have a relatively easy ride, but we have to take it slow in our full-sized truck and camper.
Once we reach the turnoff, Telephone Canyon 1 Campsite is a hop skip and a jump down an access road and very well marked. Turn north at the gravestone marking Telephone Canyon and look for a rusted metal sign on a post marking "TC1". The bear box is clearly visible, along with a gravel parking spot and two tent spots outlined in large rocks. The site is in a depression, flanked by small hills on all sides with views of the Alto Relex sheer rock cliff to the west.  Even so, the hills do little to protect the site from buffeting wind gusts that whip through the canyon, sending papers flying and even knocking over light furniture. 
This is certainly part of the desert region of Big Bend. Small scrub brush, yucca, and cacti surround the site. While we didn't encounter any wildlife, coyote scat leaves evidence of at least one visitor.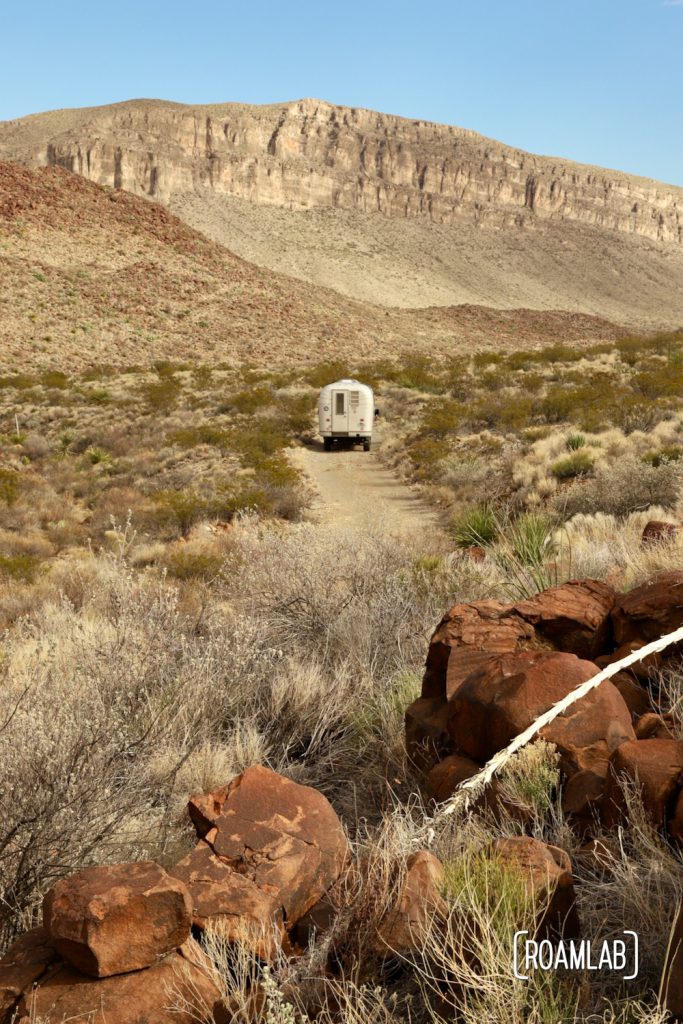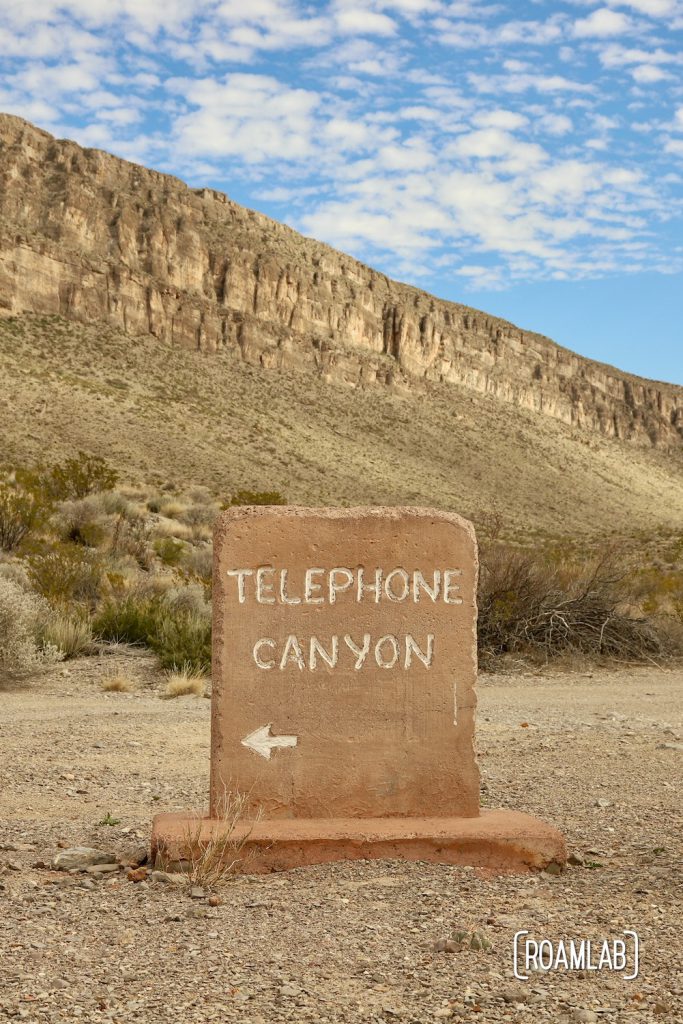 Photographing Telephone Canyon
As a photographer, my first thought when getting situated is: where are the promising photographic opportunities?  I'll often get up early to capture the first sun-rays on a mountainside. But this isn't a sunrise spot. The dramatic rise of the Alto Relex blocks the first rays of the sun from this swath of desert. No, this is a sunset location. The wall is illuminated in golden tones at sunset, and clouds to the west can put on quite a show.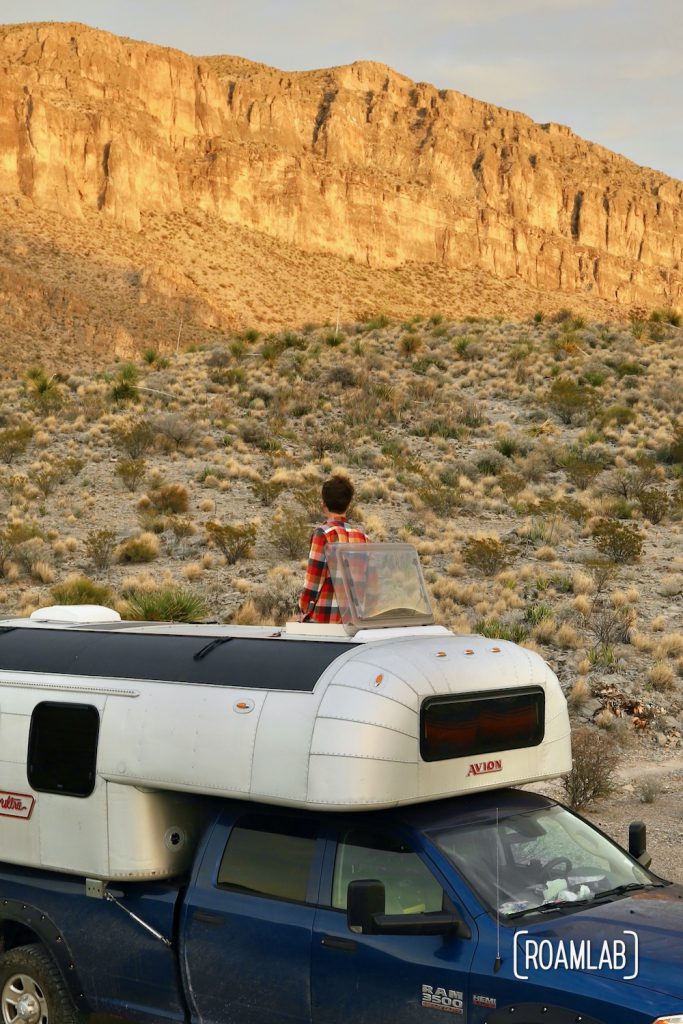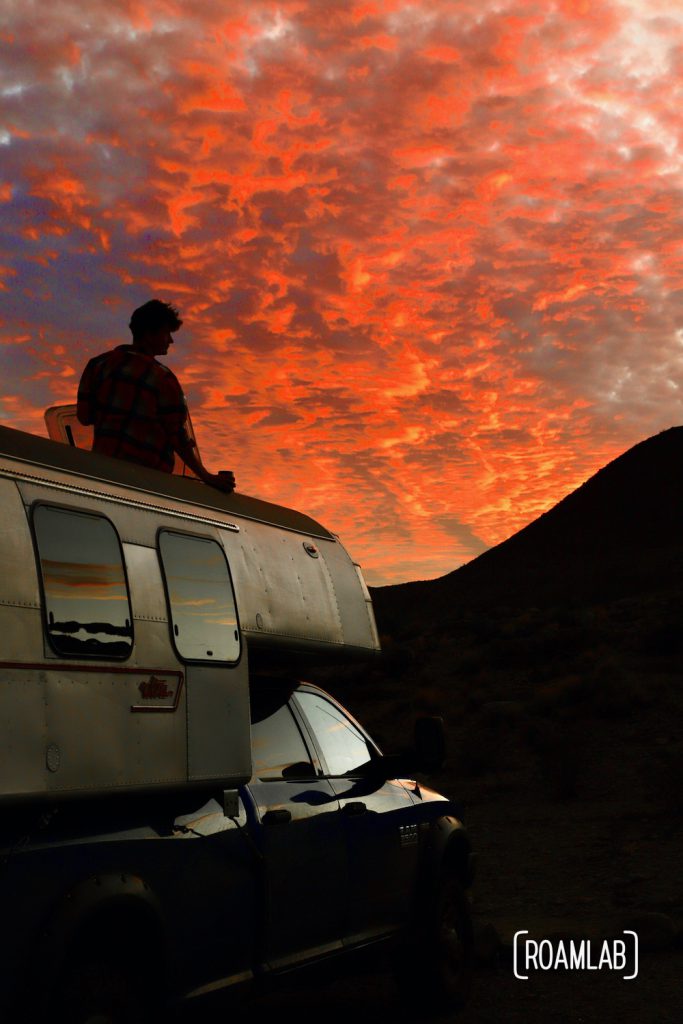 Hiking Telephone Canyon
There is a Telephone Canyon hiking trailhead near the campsites and a small "parking lot," a small patch of gravel. It is considered a difficult hike requiring proper gear and lots of water.   We opted not to attempt the hike, and judging by the empty parking lot and lack of traffic along our access road, so had everyone else that day.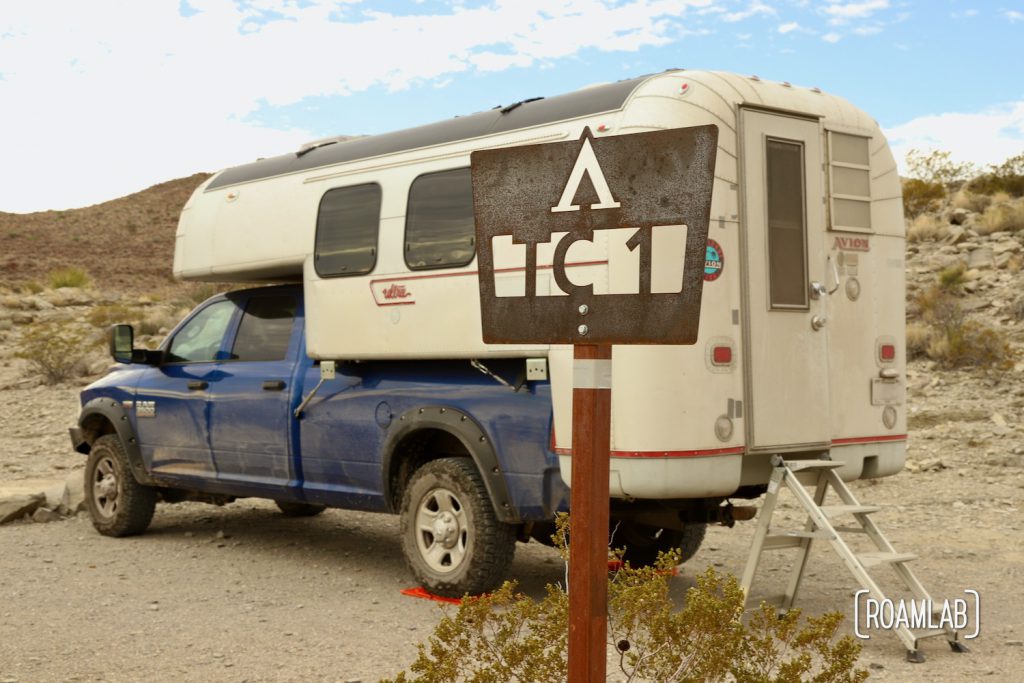 Our Experience
Almost any campsite along Old Ore Road would have been easier to reach than Telephone Canyon. The site is nearly halfway down the road. So it's no surprise that it is the only campsite available the day we reserve our next stay. That said, for completionists such as ourselves, it is a perfect site. Old Ore Road can be a bit of a slog. There are amazing views to be seen, but 26 miles of crawling over rough gravel can get tedious. Maybe not so much if you have a little jeep rather than a full-sized truck and camper. But we are grateful to be able to split the trip between two days, camping in the seclusion and silence of Big Bend's backcountry.
Back Country Regulations
A backcountry permit is required before you occupy any campsite in Big Bend National Park.
Use or discharge of firearms is prohibited. All wildlife is protected by federal law.
Possession of other weapons, traps, or explosives is prohibited.
Groundfires and wood fires are prohibited in Big Bend.
High Chisos and Wilderness Camping—use containerized fuel stoves only.
Backcountry Roadside Campsites—use only pressed charcoal briquets within a BBQ grill. Pack out all evidence of cold charcoal ash.
Food Storage
All food, water, food products, food trash, unclean cooking utensils and other aromatic items must be stored in a hard-sided vehicle, or where provided, a bear resistant storage locker. If backpacking in the open desert, attend your food, water, and aromatic items by keeping them packed up and within immediate reach. Consider preparing and eating food a distance from your sleeping area. Keep your campsite clean at all times.

The caching of food and water is prohibited unless items are stored within a bear resistant storage container that has been certified and approved by the Sierra Interagency Black Bear Group (SIBBG) or the Interagency Grizzly Bear Committee (IGBC). For more information visit the backcountry food storage page.
Contain your trash and pack it out.
Animals are attracted to trash. Use bear proof storage boxes when you are away from your site and pack out all trash when you break camp, including cigarette butts and toilet paper.
No pets on trails or in the backcountry.
Pets may harm or be harmed by wildlife and can attract predators. Pets are not allowed on park trails; pets can go only where vehicles go.
Read more about bringing your pet to Big Bend.
Do not take shortcuts on trails.
Cross-country hiking is allowed, but when on a marked trail, do not take shortcuts.
Collecting or disturbing any natural or historical feature or object is prohibited.
Leave park features intact for others to enjoy.
Contaminating natural water sources and their surroundings is prohibited. Camp at least 100 yards from any water source.
Desert water sources and springs are fragile and vital for the plants and animals that depend on them for survival. Soaps, oils, skin lotions, and food residues from bathing and washing can seriously impact water quality. Minimize your impact to areas surrounding springs, seeps, and other temporal water sources.
Camp within designated sites.
Set up tents only on bare ground, not plants, within the designated area outlined by rocks, logs or brush.
Generator use is not permitted in backcountry campsites.
Natural quiet is a protected resource; help preserve a quiet wilderness experience.
Camping Limits
Visitors can stay in the park up to 14 consecutive nights in either a front or backcountry site, with a limit of 28 total nights in the park in a calendar year.

Campers can occupy a specific site up to 14 total nights in a year.
Between January 1–April 15, visitors are limited to a total of 14 nights in the park.

Backpacking Group Size Limit
An organized group or individual party may not exceed a 15 person limit.
NOTICE: COVID-19 Group Size Limits: No more than 8 people

In the Chisos Mountains: There are currently only two Chisos campsites that can accommodate a group this size: it may be necessary to split the group to other campsites. Groups may split into separate campsites however the 15 person size limit cannot be exceeded.
In the desert: Groups over 15 people will also need to split up and backpack into separate, non-adjacent zones.

Wilderness camping: Be at least 0.5 mile and out of sight from any road and at least 100 yards from any trail, historical structure, archeological site, dry wash, or cliff edge.
Backpackers will need to hike for at least 30 minutes to reach the minimum distance from a road. There is no camping along or near any park roads.
Minimize your impact to the natural landscape.
Bury human waste at least 6 inches deep. Pack out toilet paper.
Human waste is unsightly and unsanitary. Carry a digging trowel. Locate latrines 0.25 mile from any water source and well away from camp. Pack out toilet paper.
Motorized vehicles and bicycles are permitted only on designated public roads.
Off-road vehicle travel causes visual and environmental damage.
Do not feed wildlife.
Feeding wildlife is illegal; it often results in rangers having to destroy the animal. Keep food, ice chests and cookgear in a hard-sided vehicle or food storage locker where provided. Don't leave food containers or packs unattended.