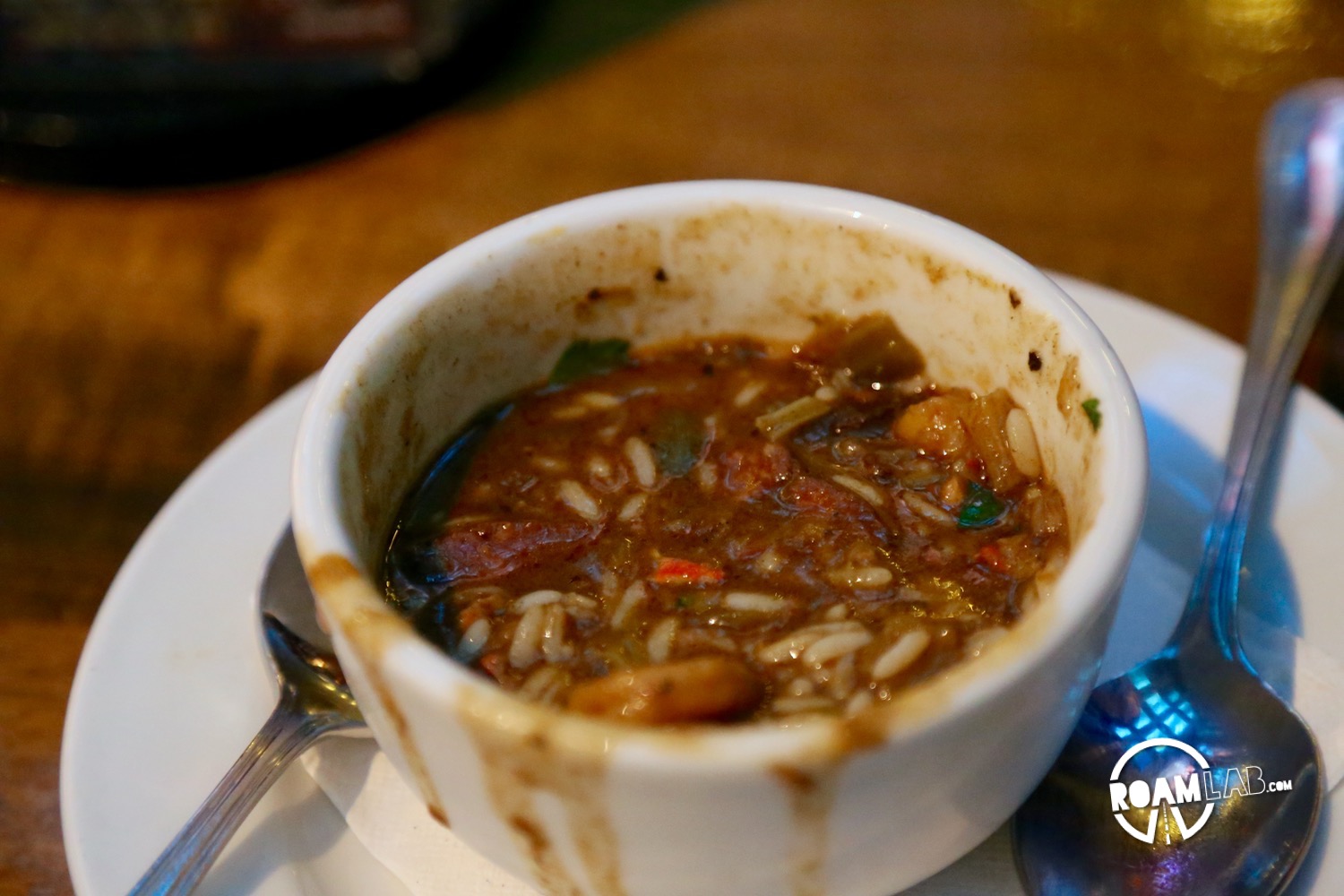 The Great Gumbo Excursion was conceived at the House of Blues when we tasted their gumbo and wondered: is this legit? The broth was so brown, it seemed rice and sausage heavy with a shortage of shrimp and absence of other sea food. It was still delicious and the small appetizer bowl for $7 was an apt entry into the gumbo game. What else could we find and what other music? We had one night in New Orleans and we were going to spend it eating as much gumbo as we could.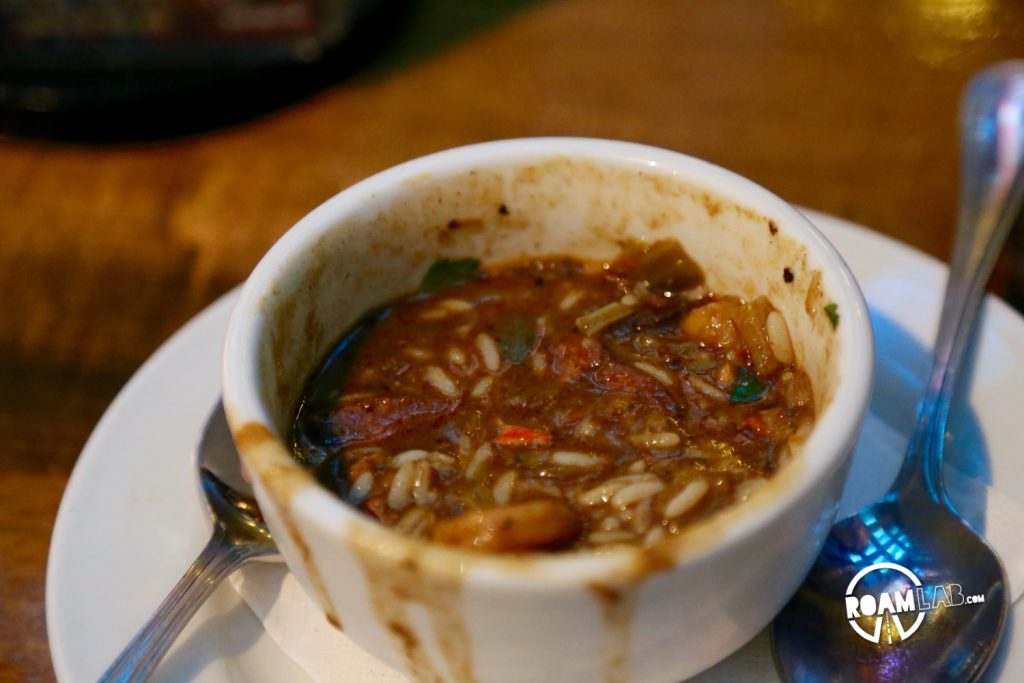 Creole House Gumbo
Our next stop was the Creole House on Canal, where the gumbo was equally brown but with a richer flavored, thicker, and spicier broth. There was some gelatin or other thickener that gave the gumbo more body. The green onion was thickly cut and much more present. Yet, here, there was no sea food at all. I thought seafood was a big part of gumbo. Perhaps I had been wrong all this time?
Tujague's Chicken & Sausage Gumbo
Next, we phoned a friend, a native of New Orleans, for his recommendation on a place for gumbo. He pointed us to Tujague's. Here, we enjoyed the gumbo du jour of chicken and sausage. (Seems like gumbo is usually chicken and sausage) This was a return to a thinner broth but an even more intense heat. The sausage appears to be a much more custom fair. Overall, it was superb. Which would be expected of such an upscale restaurant. For the record, this gumbo was $9, in comparison with the $7 fair from the last two establishments.
A History of Gumbo
Let's pause for a moment and talk turkey. Well, sausage. A traditional gumbo wouldn't have turkey. At this point, we did a little research and discovered that indulging in gumbo is a particularly appropriate dish to stumble upon. It originates here, in Southern Louisiana, in the 18th century. In fact, it is the official cuisine of Louisiana. It is profoundly expressive of a place and time: combining the ingredients and cooking of cultures that were mingling in the area: the French, Spanish, German, West African, and Choctaw.
While gumbo has different variations, it generally consists of a thick beef stock, with meat, rice, celery, bell peppers, and onions. The meat tends to be either a shell fish, fowl, or sausage. We mostly encountered chicken and sausage. Another classic combination is some kind of shellfish medley. Frankly I'm disappointed that we didn't get a crack at shrimp and okra.
Sadly, by this time, most restaurants had closed. So, we headed out to finish the night with the last critical ingredient to complete a stay in New Orleans: Jazz.
We thought that was the end of our gumbo crawl. But there was a coda.
Rita Mae's Seafood Gumbo
Before we left Louisiana the next day, we stopped for lunch in a region that may best be described as a coastal swamp. Morgan City, sat west of New Orleans. This was a town that had flourished around the petroleum industry in the gulf, which meant that it had seen better days. While most shops in town looked sadly neglected, Rita Mae's looked like a hard place to find a parking space. The restaurant is a residential home conversion where one person is seating people in the old parlor, dining room, or family room, takes your order, and cooks your lunch in the back kitchen. We ordered a bowl of chicken and sausage gumbo and a bowl of seafood gumbo at Rita Mae's.
The seafood gumbo has a thin tomato based broth. Spicy, less on presentation. More on taste. The spice creeps up on you. The shrimp is a small local fish. It was more what I had long expected of gumbo. Even the chicken and sausage distinguished itself from the monotony of other gumbos. I understand why sausage is so popular: it brings such a richness to the fare and it is complemented with large generous chunks of chicken
Truly, best was saved for last.
I feel vindicated in our efforts to experience more local cuisine. Like shrimp and grits, this is a new experience that I want to start experimenting with too!