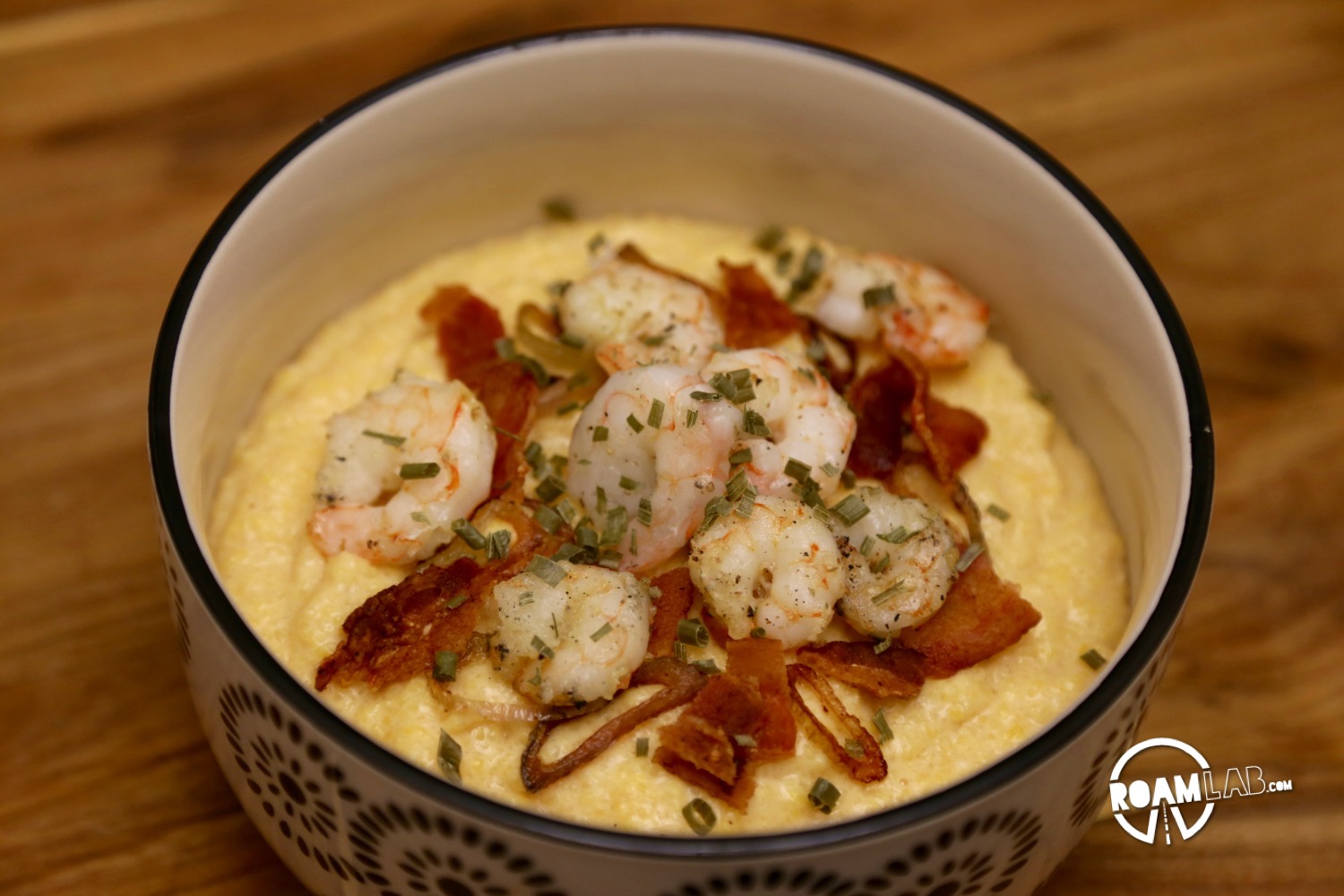 The inception of the Down Home Shrimp & Grits can be traced to our stormy visit to the Biltmore Estate. There, we enjoyed one lavish dinner at the Village Social. We had arrived a day before the Overland Expo began and took the time to visit the mansion, taste the wine, and top off the night by sampling some southern dishes with a cultivated touch. After having their reinterpretation of shrimp and grits, I was hooked.* Now I travel with a bag of grits next to the oats in my food drawer.
Like any experiment, it helps to first develop a strong understanding of the current popular recipe. Shrimp and grits originated as a hearty breakfast for southern fishermen. Over time, there has been many varying interpretations on the dish, but I've started with a pretty common recipe including cheddar cheese and bacon. My own contributions are little tweaks to better accommodate our nomadic limitations. The result, thus far, is the Down Home Shrimp & Grits.
Down Home Shrimp & Grits Recipe
Serves 4
Ingredients
1 pound shrimp
4 strips bacon, chopped
1 cup corn grits
2 cups water
1 cup milk – fresh, condensed, or powdered
1/2 cup shredded cheddar cheese
1 thinly sliced scallion
1 minced clove of garlic
1 tablespoon chopped parsley
Salt
Pepper
Olive oil
Equipment
Down Home Shrimp & Grits Directions
Cooking Grits
Cooking grits over a campfire requires vigilance. A few times, I have gotten distracted and let the bottom burn. Over all, it's pretty simple. Boil water. Add grits. Cook until grits are a soft mush (20-30 minutes). Mix regularly to make sure that you don't burn the bottom like the idiot who wrote this. Once the grits are mostly cooked, add milk.
Milk, of course, is a dicy issue for nomads. Chilling food is a constant limitation. Unless I have plans to consume something within the immediate life span of the ice in my cooler (2 to 3 days) I don't stock up anything that needs to be chilled. So, when possible, I will rely on dry or canned goods. So, while I would still acknowledge that fresh milk is the best, I've been working with powdered or condensed milk instead. I've also read recipes that forgo milk all together, but I'm not quite sold on that. By using milk, I can use less cheese to make the grits creamy. And I do attempt to keep my dishes reasonably healthy.
When the milk is mixed in, add the cheese and stir in completely. Cover and remove from direct heat.
Grilling Shrimp
I'm all about choices and cooking the way you like. I've become a huge fan of cooking shrimp on skewers. So, even when I'm making shrimp and grits, I cook them on skewers. In this case, coat your shrimp with olive oil, salt, and pepper and grill away. Given that you will already have a greasy hot pan from cooking the bacon, though, it probably makes more sense to cook the shrimp with some salt and pepper in that nice bacon grease. Either way, you'll want to cook the shrimp until it is delicately pink. Then take it off the heat, so that you don't over cook it.
Bringing it together
Meanwhile, If you haven't already cooked the bacon, get to it. Once it's crispy, pull out the bacon and pat dry with paper towels. Throw in the scallions and garlic to cook in the bacon grease. When cooked through, mix in the bacon and shrimp.
Divide grits between four bowels. Top with shrimp and garnish with parsley. Enjoy!
---
The chef included green onions and a "Low Country Sauce" which appears to be some kind of barbeque sauce but more tangy than sweet. I haven't figured that part out.