Tinfoil Scalloped Potatoes
Campfire Cooking
BTSP (Before Tinfoil Scalloped Potatoes) I was of the mind set that scalloped potatoes are too fancy for camping. Camping calls for hearty meals, plaid lumberjack shirts, harmonicas, and neckerchiefs. Ideally, conversations should revolve around close encounters with bears or fish and be punctuated by spitting into the fire. Scalloped potatoes would be too "frilly" for such an ambiance.
But then I thought about the preparation of scalloped potatoes: they are thinly sliced. That means decreased density and faster cook times. Suddenly, scalloped potatoes sounded like the best idea all around. And, honestly, they are relatively simple to make.
Tinfoil Scalloped Potatoes Recipe
Serves 2-4
Ingredients
2 pounds new potatoes, thinly sliced
1 cup heavy cream
1 shallot, chopped
2 cloves garlic, chopped
1 teaspoon kosher salt
1/2 tablespoon black pepper
1/2 teaspoon dried thyme
1/4 teaspoon red pepper flakes
2 oz. Fontina or Gruyere, grated
Directions
Thinly slice the shallots and garlic. In a conventional potatoes au gratin recipe, these ingredients would get pulverized in a food processor. But we are camping, so it's extra important to finely chop your ingredients now rather than come across a massive chunk of garlic while eating.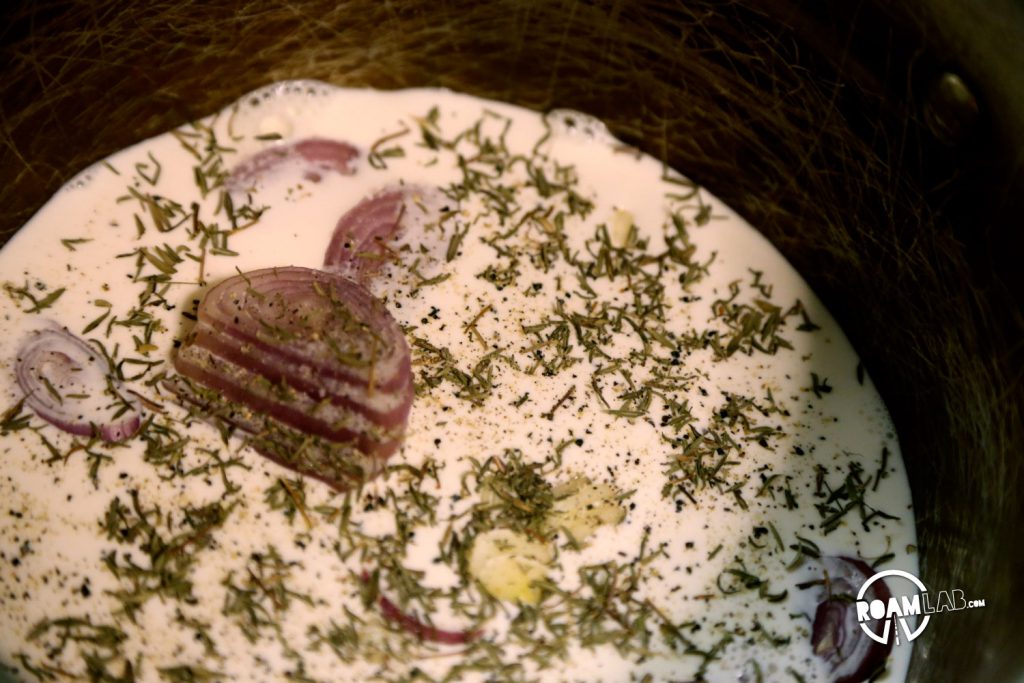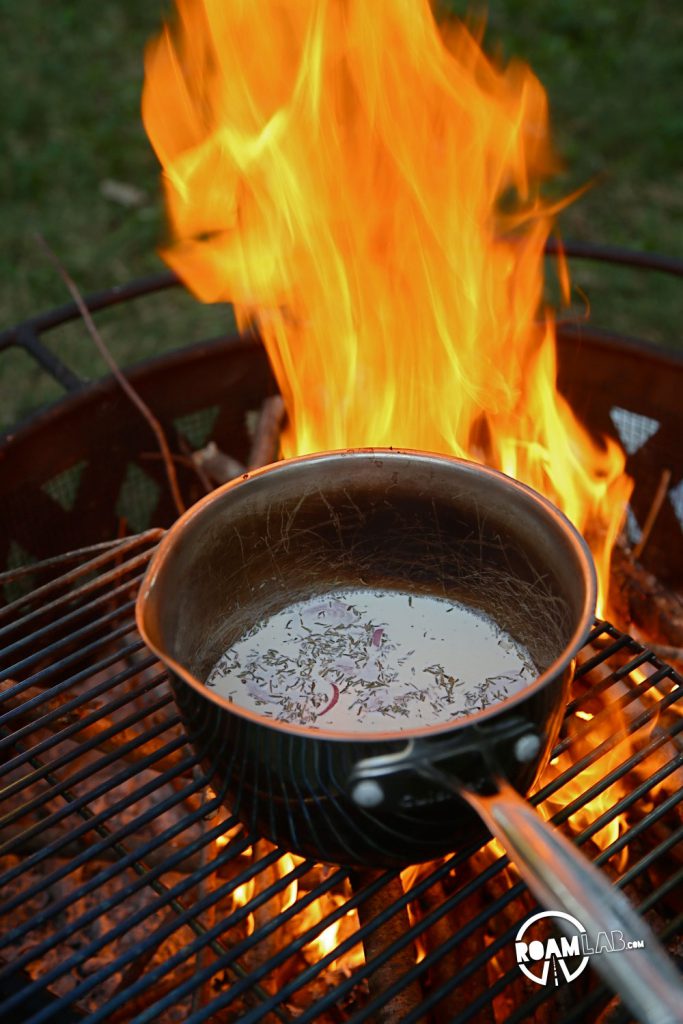 Mix cream, shallot, garlic, salt, pepper, thyme, and red pepper flakes in a small pot and simmer for 10 minutes. Obviously, camping temperatures can be troublesome, but the goal hear is to heat at a low temperature. The cream should be steaming, not boiling. After ten minutes, this would have been the point where the cream sauce would go in a food processor. In leu of electronic cooking gizmos, try to mash the garlic and shallots as well as possible.
Wash, peal, and slice the potatoes as thinly as possible. The thinner the slices, the faster the cook time and the more creamy sauce that can infuse your potatoes. Arrange the potato slices on tin foil, one potato-worth per packet. Partially fold the packets so as to create tinfoil walls to hold in the cream sauce you are about to pour onto the potatoes. Then, split the sauce evenly between the potato packets.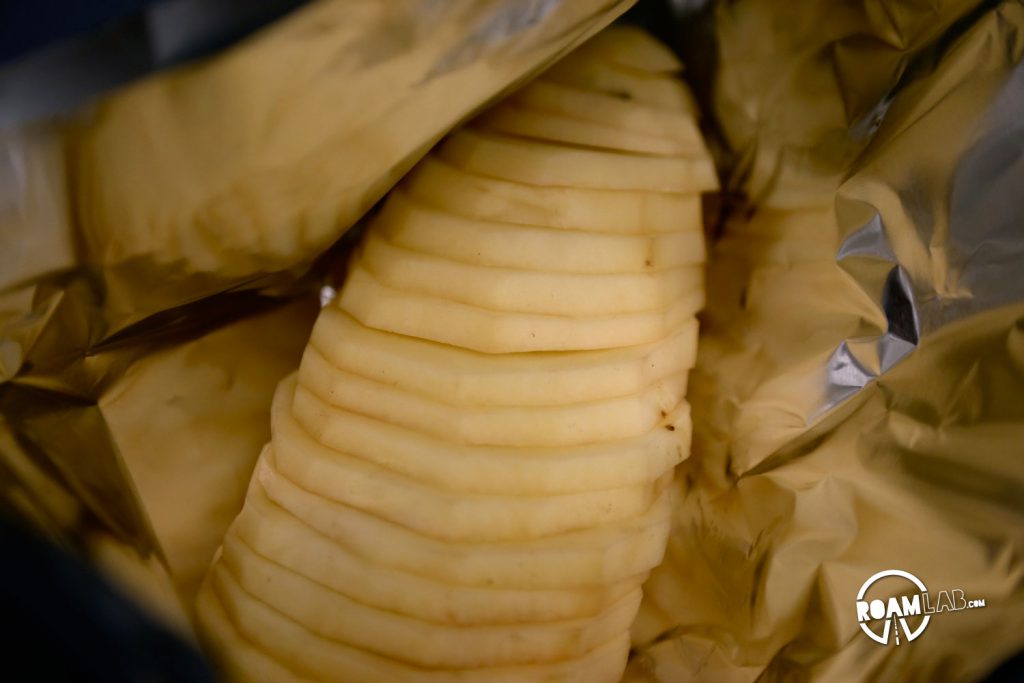 When working with such a runny concoction, it is extra important to properly wrap the potatoes in the tinfoil. Be sure to double wrap the tin foil in case of punctures. Possibly more important, though, is wrapping the potatoes snugly. Given that most grills are not completely level, the cream mix in the packet is likely to collect in the lower portion of the packet. If there is some gaping cavern of tinfoil for the cream to settle in, that means it will just congeal into some shallot and thyme pudding rather than infusing the potatoes with creamy thyme goodness. Of course, no matter how well you seal the packets, odds are, they still could leak from the tops, so don't flip them over.
Grill the packets over indirect heat, turning occasionally. It takes me around 40 minutes for the potatoes to fully cook.
Remove potatoes from fire and sprinkle with cheese. Then, recover and return to fire for another ten minutes or until the cheese is nicely melted.
Serve warm and enjoy!
Of course, there are a lot of ways to add a personal spin on the scalloped potato. I think my next foray will involve bacon but I am sure there are plenty of other tweaks. Do you have any suggestions?